A Myrtle Beach travel guide – championship golf and 60 miles of beaches
A Myrtle Beach travel guide – championship golf and 60 miles of beaches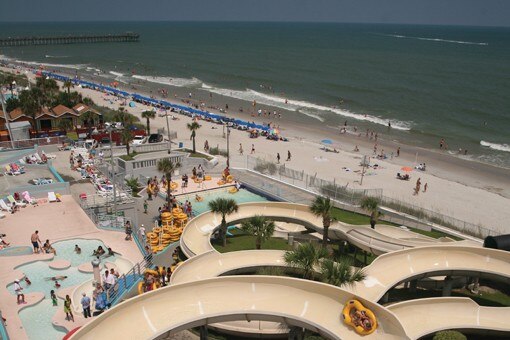 Take a vacation in Myrtle Beach and you've entered one of the South's great playgrounds, with white, sandy beaches, immaculately manicured golf courses and fresh-from-the-Atlantic seafood. Book a Myrtle Beach hotel and get ready to play.
Tee time
Over 120 courses compete for golfers' attention in Myrtle Beach, where temperate Atlantic coast weather means resorts stay open year-round. One of the finest is Legends. With six courses, 54 holes and fairways lined with live oaks and palmettos, it's a golf aficionado's ideal Myrtle Beach getaway. Arcadian Shores offers golfers an 18-hole course that incorporates the area's natural beauty – and hazards – twisted oaks, natural lakes and sugar sand traps. In North Myrtle Beach Azalea Sands frustrates golfers with its own collection of inland lakes on a challenging 18-hole course.


The Grand Strand
Myrtle Beach's 60-mile coastline, the Grand Strand, attracts beach-goers from all over the world for swimming, sunbathing and fishing. Head to Ocean Boulevard near Ninth Avenue for people- watching and a location convenient to many Myrtle Beach hotels. North of 79th Avenue the beach becomes less congested. A rare oceanfront maritime forest survives at Myrtle Beach State Park for shaded hikes on the Sculptured Oak Trail. Look for a fishing pier, a long and tranquil stretch of pristine beach, and, if you're lucky, dolphins and sea turtles.


Theme parks
Enjoy man-made water fun at Myrtle Waves Water Park, home to the world's tallest water ride, a gentler river float and water slides. Log flumes, a classic wooden roller coaster and South Carolina's largest Ferris wheel entertain families at Family Kingdom Amusement Park. Farther north, the minor-league Myrtle Beach Pelicans play baseball. Grab a hot dog and a Coke and settle in to watch America's favorite pastime.
Discover
Find your perfect holiday in Myrtle Beach
From 2650 hotels.