Goa Tourism and Sightseeing Guide – Find the Best Places to Visit in Goa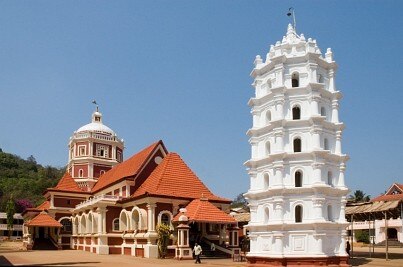 The unique background and architecture of the city makes tourism in Goa comparable to no other place in India or the world. It seamlessly blends old colonial Portuguese styling and architecture with modern India. The state has a wide variety of impressive sightseeing options, interesting attractions and ancient landmarks.
The historic past of Goa is best seen in Old Goa, which is listed as an UNESCO World Heritage site. Goa offers countless sightseeing attractions for visitors to see here. It also boasts some fantastic beaches and wildlife sanctuaries.

Vagator Beach has been a favorite with tourists for years and offers a relaxed atmosphere and scenic landscape. Bhagwan Mahavir Wildlife Sanctuary is one of the favorite places to visit for nature lovers and a thriving natural habitat for native animals and fauna.


Goa Tourism Sightseeing Attractions


Bhagwan Mahavir Wildlife Sanctuary
Originally named Molem Game Sanctuary when it was first opened in 1969, Bhagwan Mahavir Wildlife Sanctuary is the largest of its kind in Goa and provides some spectacular natural landscape filled with an abundance of native wildlife. There are guided tours or visitors can self-navigate through the forest pathways.


Old Goa
Old Goa is a significant city that was once the capital and had a higher population than both Lisbon and London. The historic city is listed as an UNESCO World Heritage site and has several main sites and attractions to visit including Basilica of Bom Jesus, the Church and Convent of St Monica and Divar Island.


Vagator Beach
This rocky sand-less beach is a favorite with visitors to Goa for its serene landscape and relaxed atmosphere. The beach offers an array of water-related activities to enjoy as well as coastal walks along the rugged shoreline.
Cabo Palace
This historic building was originally built in 1540 as a Portuguese fort and then later in 1594 it was turned into a Franciscan monastery. Nowadays it's the governor of Goa's official residence. The palace can be viewed by the public and offers an interesting collection of old décor and furniture.


Dudhsagar Waterfalls
Situated in the far west of Goa are the spectacular Ddudhsagar Waterfalls, which offer a fun and exciting outdoor activity for travelers. The waterfalls are popular with younger visitors to Goa, providing beautiful scenery and a welcome relief from the scorching temperatures.


Goa State Museum
Located in the capital city of Panaji, the Goa State Museum has an extensive collection of Hindi sculptures, artworks from around India, ancient manuscripts and wooden and bronze pieces from centuries past. The museum is opened daily and offers visitors an interesting look into the historic past of Goa.

Find more information about Goa and hotels in the area:
Goa hotels | India hotels | Goa Hotel Special Deals