Hobart Travel Guide - Your destination overview of Hobart, Australia
Hobart Travel Guide - Your destination overview of Hobart, Australia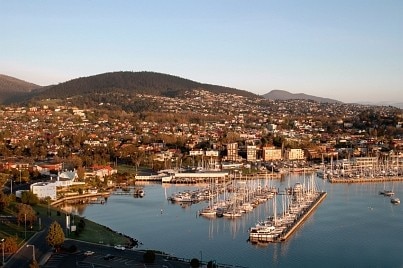 Combining natural beauty and interesting attractions, Hobart is the capital city of the state of Tasmania. This small and enchanting city contains a large number of both natural and historical attractions, while those who are interested in water sports will also be able to practice scuba diving, fishing and sailing.
Most of the city's main tourist attractions and facilities are centrally located, making it easy for tourists to find their way around. Visitors should start their tour of the city by climbing to the top of Mount Wellington to witness stunning views. Some of the main attractions here include the informative Tasmanian Museum and Art Gallery and the picturesque Franklin Wharf.

Hobart is known for its vibrant nightlife and lovers of live music will find plenty of bars and clubs to choose from. Accommodation comes in all shapes and sizes here, with luxurious hotels offering stunning ocean views. Hobart is also an excellent place to shop or simply relax and soak up the sunshine near the shore.


Queen's Domain
Located on a hill on the northern side of Hobart, this area was once reserved for use by the governor. Offering spectacular views across Hobart city center and Derwent River, this area contains a number of popular tourist attractions such as wildlife reserves.


Hobart Waterfront
This is one of the trendiest areas of the city as it features plenty of chic street cafés, bars and restaurants. The district centers around Franklin Wharf and contains museums, heritage buildings and plenty of shops.


Mount Wellington
This area is popular with both tourists and those who live in the city as Mount Wellington offers stunning views of the city. There are walking trails running around the mountain and places to sit and soak up the view.


Salamanca
Situated around Salamanca Square, there is an excellent range of accommodation in this area. This is also a great place to shop as visitors will find a weekly flea market and a wide range of stores here.


Battery Point
Hobart's historic center, Battery Point was named after the prominent gun battery. Nestled amongst workers' cottages and mansions, visitors will also find shops, restaurants and bars here.


Sandy Bay
This coastal resort features plenty of large hotels and enchanting scenic views. Visitors will be able to wander through picturesque gardens, shop for bargains, soak up the view at one of the area's outdoor cafés and perhaps try their luck in the casino complex.
Bellerive Village
This district is particularly popular with tourists who are interested in Hobart's history and culture. Located in eastern Hobart, a collection of more than 20 historical buildings here date back to the 19th century.


Eastern Shore
Sports fans will want to travel to the Eastern Shore district to visit the Bellerive Oval cricket stadium. International cricket matches are often held here, while those interested in water sports will be able to try their hand at scuba diving, sailing and swimming in the area's cool, clean waters.


Derwent Valley
Featuring vineyards and wineries, this picturesque district is located in northern Hobart. Nature lovers will also find a number of walking trails, rainforests and national parks to explore here.

Find more information about Hobart and hotels in the area:
Hobart hotels | Australia hotels
Discover
Find your perfect holiday in Hobart
From 210 hotels.