Xiamen Food and Dining Guide - Restaurants, where to eat, and more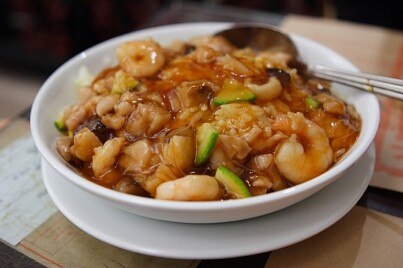 Fujian cuisine prevails in Xiamen, but a few decades of heavy colonial influence left their mark. As a result, everything seems authentic, from the local soups to the foreign steaks.
As expected from an island city, seafood is the most popular local ingredient. Not only that, but the best restaurants stand on or near the water and offer excellent views in the afternoon and evening. Adding to the atmosphere, many of the restaurants in the colonial district are housed in century-old mansions.

Peanuts are featured prevalently in Fujian cuisine. Peanut soup (huasheng tang) is sweet and seems simple, but it's actually quite complicated to make. It is usually paired with steamed buns or dim sum. Visitors are likely to find that the local cuisine is easy on their foreign palates.


Huli
Huli is a particularly upscale neighborhood dominated by the success of the Mandarin Hotel. Beyond the world-class restaurants in the Mandarin, there are a range of other dining option in Huli fit for traveling business executives and those trying to impress.


Gulangyu
The island is popular with tourists and has a built-up dining scene. Rows of teahouses and restaurants here line the pedestrian avenues and specialize in seafood. Prices are higher here, but the atmosphere is worth it. A few inexpensive food stalls and noodle shops are also in the area.


Kaiyuan
This downtown district has Xiamen's broadest selection of restaurants, with a mix of Chinese and international options. Many of the eateries here cater to the late-night club crowd with inexpensive snacks and noodles.
Xiamen restaurants
The House
Baihe Lu 10-1, Siming district
Phone: +86 592 204 4368
Indicative of the kind of international restaurants found in Xiamen, The House occupies a French mansion from the 1920s but serves the kind of creative gourmet fare served on the US west coast. This is one of Xiamen's most stylish restaurants, and it commands a strong following of faithful expatriates.

Puzhaolou Vegetarian Restaurant
Siming Nan Road, Siming district
Phone: +86 592 208 5908
There are several excellent vegetarian restaurants in Xiamen, most of which keep close to Nanpuoto Temple in Siming. Puzhaolou Vegetarian Restaurant stands out with its traditional cuisine, which relies on mushrooms, pine nuts and tofu in lieu of meat. White tablecloths and brightly-decorated rooms add to the atmosphere.

Huang Zehe Peanut Soup Shop
Number 22 Zhongshan Road, Siming district
This restaurant doesn't list a phone number because it doesn't need to. Widely regarded the best place to eat peanut soup in Xiamen, Huang Zehe features plenty of other Fujian-style dishes as well. It is open 24 hours.

Jade Lake
101 Yuehua Road, Huli
Phone: +86 592 602 3333
Part of the five-star Mandarin Hotel, Jade Lake serves a blend of flavors representing different regions in China. Most of the dishes are built around seafood and reflect local Fujian, Sichuan or Yangzhou influence.

Find more information about Xiamen and hotels in the area:
Xiamen hotels | China hotels