Wellington Travel Guide - Your destination overview of Wellington, New Zealand
Wellington Travel Guide - Your destination overview of Wellington, New Zealand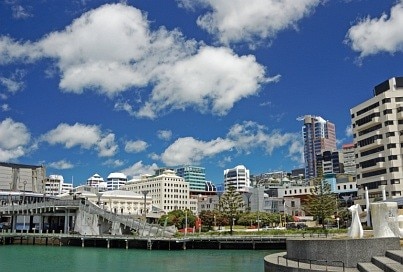 The capital of New Zealand is a fantastic city to spend time in. It has bags of character and allure, with distinct districts going from the hills to the sea to downtown, and it also boasts many classy museums and landmarks.
Wellington was supposedly founded in the 10th century by Kupe, the Polynesian explorer, yet it wasn't until the arrival of the British in the mid-1800s that the area was settled proper. It has grown immensely and is now New Zealand's political center, as well as being the cultural and entertainment capital. It also has a unique buzz.

The city is almost completely flanked by hills and has a substantial waterfront, with a buzzing downtown area in between. Downtown is home to colonial houses, interesting government buildings and has shopping and dining areas all around. The most interesting districts are located all around the downtown area and you can see it all on foot.


Downtown Wellington
The city center is just behind the waterfront and is focused on the busy, tourist-friendly Lambton Quay, Courtenay Place and Cuba Street. It is the most popular area of Wellington and it has the bulk of the landmarks, attractions, shops, eateries and bars.
Wellington Waterfront
The waterfront area is long and goes from downtown all the way to Oriental Bay to the east, encompassing many areas of interest. The best walking and seafood restaurants can be had at Wellington Waterfront and here you will also find the top museum in the country, Te Papa Tongarewa.


Cuban Quarter
Wellington's Cuban Quarter is centered on Cuba Street in the heart of downtown. It has a bohemian feel, with its alternative stores and trendy markets, and is largely traffic-free. This area also has some good eating and nightlife options and is a focus during the big festivals.


Mount Victoria
Mount Victoria provides the best views in town and lies just to the south of downtown Wellington. It has a stunning backdrop of forestry and has good scope for walking and mountain biking. From the summit, at about 600 feet, you can discern downtown, the harbor and the airport. The view from here is a full 360 degrees.


Thorndon
Thorndon is one of Wellington's northern suburbs and is within walking distance of downtown. It features many of the city's oldest buildings as it survived a major earthquake in the 1800s. Ascot Street and Tinakori Road are the main thoroughfares with the best shopping and nightlife. Ascot Street is particularly nice as it retains many hillside houses dating from the 1800s.