A Prague guide on where to shop – designer must-haves to thrift store heaven
A Prague guide on where to shop – designer must-haves to thrift store heaven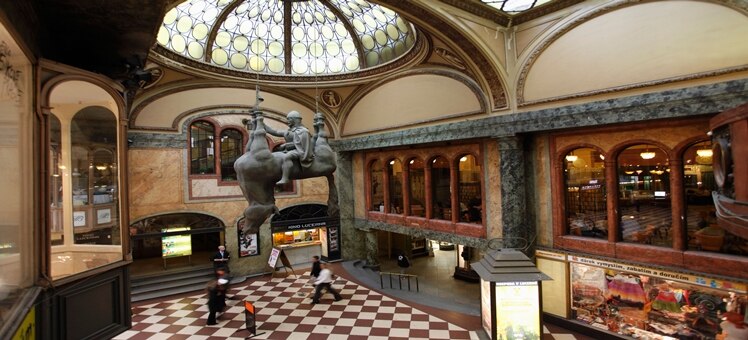 Since the abandonment of Communism in the early 90's, the quality and quantity of products available in the Czech Republic has improved dramatically to keep up and exceed tourists' expectations. This beautiful, old city may not strike you as a shopping mecca, but look a little closer and you'll find a myriad types of shops for a myriad types of shopper.
A city famed for its art and history, a lot of its shopping reflects this and can be found down winding, cobbled alleys bearing quaint, hanging signs proffering artisanal goods, lovingly restored antiques and the famous Bohemian crystal. Design shops also litter the streets touting Art Deco furnishings, Cubist chairs and blown glass lamps in the shape of teardrops. Similarly, Prague now has a booming mall culture, with the ever popular Wenceslas Square offering a more international flavor in the shape of expensive designer price tags and dependable, ever-open department stores.
Palladium
The shiny, new Palladium towers across Náměstí Republiky in the center of Prague and is a gargantuan five-story building with a whopping 170 shops and 30 restaurants and cafés. It's seriously easy to get to by public transport (you can enter the mall directly from inside the subway station), and if you drive, there are 900 underground parking spaces. Stores there include Benetton, Foot Locker, Guess, H&M and Marks & Spencer – so not exactly the ideal place to find something unique or one-of-a-king, but spectacularly reliable for anything you might need at any hour.
Staroměstská
Located in the very heart of the city is Prague's most proud export, Klara Nademlýnská. One of the Czech Republic's top fashion designers, she trained in Prague and worked for almost a decade in Paris. She's returned now with her own boutique and clothes that are characterized by clean lines, simple styling and quality materials, making for a very wearable range that covers the spectrum from swimwear to evening wear via jeans, halter tops, colorful blouses and sharply styled suits.
Pštrossova
Just outside the center, in Praha 1, you can find the jaw droppingly pretty Globe Bookstore and Café. There's a fantastic range of new fiction and nonfiction, a big selection of secondhand books and newspapers and magazines in English, French, Spanish, Italian, German and Russian, plus art exhibitions and film screenings. There's also a buzzy little café that offers delicious coffee, cocktails and great burgers, salads, pastas where you can munch while you read.
Havelska
Home of Havelske Trziste, this is the city center's permanent market. Popular with both locals and tourists; you can rummage through the stalls for fruit and vegetables, flowers, arts and crafts, leather goods, wooden toys, ceramics and extra special souvenirs. Open all year round from 9am to 6pm, it's just a few minutes' walk away from the Old Town Square and Wenceslas Square. If you're looking for something even more local, head out to the River Embankment in Praha 2 (the pleasant stroll is worth it alone) to the Prague Flea Market. You'll find clothes, jewelry and old pictures aplenty for pennies.
Wenceslas Square
Traditionally a setting for demonstrations, public announcements and celebrations, Wenceslas Square (technically more of a boulevard) is heaving with department stores, local designers, international shopping and cafes and restaurants where you can treat yourself with a coffee (or perhaps a cocktail) after a long day of shopping. Walk from there to Old Town Square and the Lesser Town (Mala Strana) and you'll swap the commercial, high-end stuff for boutiques, art stores and souvenirs. You'll also find Pařížská Street which is famous for its Czech garnet jewelry.
Prague shopping tips
When it comes to buying souvenirs or something a little more special, it's always wise to get off the beaten track. Don't get sucked in to the tourist trap of cloned, mass-produced memorabilia – if you hunt around you're guaranteed to find something much better and be less likely to get taken for a ride. Also, be sure to keep your eyes out for pickpockets on the bridges and in the squares – tourists are almost always the only target.