Where to eat – Reykjavik's best restaurants, whatever your flavor
Where to eat – Reykjavik's best restaurants, whatever your flavor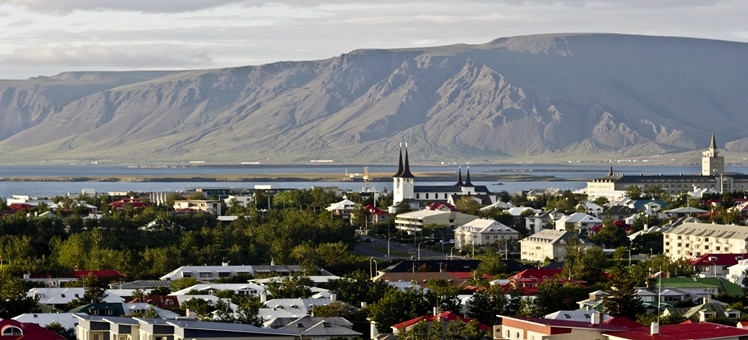 Like any contemporary, cosmopolitan city, Reykjavik's dining options are varied and diverse. Boasting an excellent selection of international food restaurants, the city has an answer for any pizza, curry or burger craving. However, it is nothing short of sacrilege to visit and not sample a rustic, steaming plate of hangikjöt (aromatically smoked lamb) or tucking into a hunk of rúgbrauð (spiced rye bread). Icelandic meals are always filling and full of meat and dairy produce, but vegetable dishes have become much more commonplace in recent years. Fish also finds its way into most traditional dishes in Reykjavik, due to the miles of coastline and harbors.
Icelandic Food
Hearty and warming, Icelandic dishes are definitely an antidote to the often biting climate of Reykjavik. Due to the country's many coastal regions, fish features heavily in the diet of any Icelander, and the same is true of Reykjavik's many Icelandic restaurants. For excellent, traditional Icelandic food in the city, there is no better a destination than 3 Frakkar, a firm favourite amongst natives and tourists for an authentic local experience. For traditional fare with a historical twist, Lækjarbrekka is situated in one of the oldest houses in the city, and never disappoints when it comes to hearty portions.
•
3 Frakkar
, Baldursgata 14, Reykjavik Centre, 101, + 354 552 3939•
Lækjarbrekka
, 2 Bankastræti, Reykjavik Centre, 101, +354 551 4430
Seafood
Fish is the pinnacle of culinary excellence in Reykjavik. Something of a local speciality, the city's many coastal regions inspire and infuse the local cuisine with fruits of the sea. For a true experience of fine dining, the best seafood restaurant to head to is without a doubt, Fiskfélagið in the city center. With a stylish yet rustic interior, and presentation to die for, this is the place to enjoy traditional seafood with a truly contemporary twist. For fish with a view, there is none better than Vid Tjörnina, a beautifully homely restaurant situated on the edge of the city's stunning pond. However, for a truly authentic seafood meal, Höfnin has the added draw of overlooking Reykjavik's harbor, in a lovingly converted fisherman's hut. The food here is cooked with fresh and locally sourced ingredients, straight out of the sea.
•
Fiskfélagið
, Vesturgata 2a, Reykjavik Centre, 101, +354 552 5300•
Vid Tjörnina
, Templarasund 3, Reykjavik Centre, 101, +354 551 8666•
Höfnin
, Geirsgata 7c, The Harbor, +354 511 2300
Fusion Food
For those who like their flavors fast and furious, Reykjavik's fusion restaurants will definitely tickle the taste buds. Best enjoyed in multiple small dishes, fusion food takes inspiration from the finest elements of international cuisine, and the result is nothing short of a flavor explosion. For small tasters from around the globe, head to Forréttabarinn, a contemporarily decorated restaurant serving nothing but starters. This is the perfect way to sample dishes from all manner of cultural origins, and is perfect for both lunch and evening meals. In the city centre, Budda Café is nestled, serving a vibrant and ever-changing menu of Asian fusion dishes. This is the perfect dining destination for those who like their meals healthy and innovative.
•
Forréttabarinn
, Nýlendugata 14, Reykjavik Centre, 101, +354 517 1800•
Budda Café
, Laugavegur 3, Reykjavik Centre, 101, +354 571 5522
World Food
Despite the delectable array of traditional dishes on offer in every area of the city, any tourist would be forgiven for craving a hearty portion of pasta, pizza or fajitas whilst saying here. Luckily, Reykjavik rises to the occasion with an amazing selection of world food restaurants, from Italian to French Bistro, Mexican to Oriental, you are sure to find it somewhere in the city. Popular with locals and travelers alike, Hornið restaurant serves up expertly prepared Italian dishes. For a spicier experience, head to Tabascos, a Mexican restaurant brimming over with passion and traditional flare. The tastiest oriental style cuisine in the city can be found in Bambus, which offers a delicious buffet serving everything Thai, Chinese and Japanese.
•
Hornið
, Hafnarstraeti 15, Reykjavik Centre, 101, +354 551 3340•
Tabascos
, Hafnarstræti 1-3, Reykjavik Centre, 101, +354 511 1980•
Bambus
, Borgartun 16, Reykjavik Centre, 101, +354 517 0123
Light Bites
For lunchtime meals or lighter dinners, Reykjavik offers a wealth of options. For snacks with a twist, The Laundromat Café in the city centre is a fun and funky café, serving a delicious selection of homemade sandwiches, cakes and pastries and fresh juices and smoothies. For healthy breakfast, lunch and dinner options, Bergsson Mathus offers an incredible array of exciting and inventive dishes that are prefect for a quick food-stop. Working wonders with locally sourced ingredients, Saffran restaurant offers humble, tasty dishes from all manner of culinary origins all day long. Perfect for lunch or dinner, there is sure to be something on this menu to tempt any traveler.
•
The Laundromat Café
, Austurstræti 9, Reykjavik Centre, 101, +354 587 7555•
Bergsson Mathus
, Templarasund 3, Reykjavik Centre, 101, +354 571 1822•
Saffran
, Glaesibaer Shopping Center, Reykjavik Area, 104, +354 578 7874
Discover
Find your perfect holiday in Reykjavik
From 410 hotels.