Where to eat in Lisbon – a guide to local cuisine and dining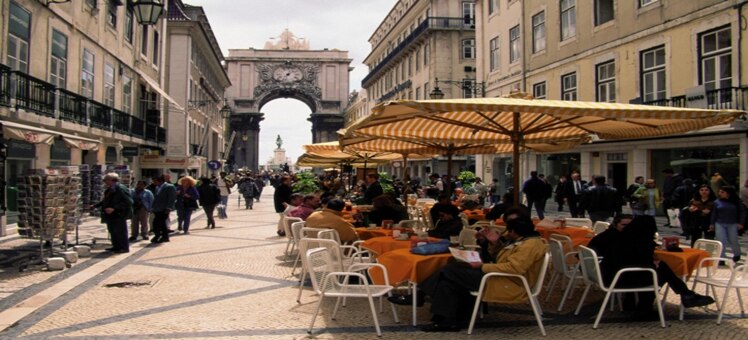 Portugal and its capital hold a rich culinary heritage, and with Lisbon being so close to the water, a lot of fresh seafood is served up in the restaurants, which are usually the dishes of the day or make up part of a tapas selection. Fresh local foods can be picked up at the local markets or in shops based around the main square.
Lisbon prides itself on its vast selection of cafés whilst also offering a large choice of good-value restaurants that offer reasonably priced set menus and dishes of the day. Higher end restaurants can also be found across the city that mainly offer up French-Portuguese cuisine. As well as local food, it's also easy to find restaurants dishing up cookery mainly from the former colonies including Brazil, Goa, Cape Verde, Mozambique and Angola.
Salt cod and custard tarts are typical national Portuguese dishes, which can be found easily in Lisbon, whilst caracóis is a popular snack enjoyed by many locals when accompanied with a cold beer in a neighbouring taverna.
Bairro Alto district
This area has the largest selection of restaurants in the city, offering local cuisine as well as international eateries. Pap'Açorda is housed in a converted bakery and is a more fashionable restaurant offering trademark dishes whilst 100 Maneiras is one of the best in Lisbon for Portuguese cuisine. For Italian food, Casa Nostra offers a small menu at a reasonable price.
•
Pap'Açorda
, Rua de Atalaia 57, Lisbon. Tel: + 351 21 346 4811•
100 Maneiras
, Rua do Teixeira 35, Lisbon. Tel: + 351 21 099 0475•
Casa Nostra
, Travessa do Poço da Cidade 60, Lisbon. Tel: + 351 21 342 5931
Rua das Portas de Santo Antão
An extensive stretch of restaurants can be found along Rua das Portas de Santo Antão, with seafood being the speciality. This street is popular amongst tourists for its high quality fresh fish; however it is best if you avoid the over-touristy restaurants as they can be over-priced. Restaurante Inhaca is a good beer house and restaurant to try local lobster and prawn, whilst Casa do Alentejo is a hidden gem amongst the stretch of busier restaurants.
•
Restaurante Inhaca
, Rua das Portas de Santo Antão 8, Lisbon. Tel: +351 21 347 7039•
Casa do Alentejo
, Rua das Portas de Santo Antão 58, Lisbon. Tel: +351 21 340 5140
Parque Das Nações
This area is best for more international restaurants and eateries that you may be more familiar with. Some local cuisine is still on offer and most of the restaurants provide river views on the terrace. Servejaria offers a selection of steaks and beers, whilst being ideal for families. Bica do Sapato is located along the riverfront and is more a favourite with the locals for its swish interior and eclectic menu, serving up dishes from sushi to typical local cuisine.
•
Servejaria
, Rua da Pimenta 15, Lisbon. Tel: +351 21 895 7041•
Bica do Sapato
, Avenida Infante Dom Henrique Armazém B, Cais da Pedra, Lisbon. Tel: +351 21 881 0320