Where to stay in Tasmania – a neighborhood guide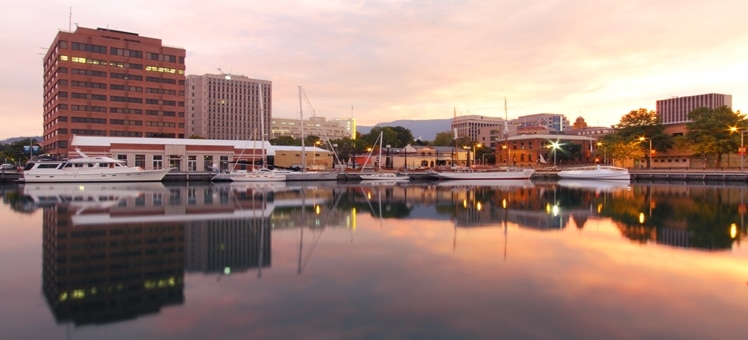 A Tasmania getaway varies from the urban charm of Hobart rich in colonial heritage and buzzing with colorful markets and hip urban cafes, to the colossal tracts of pristine wilderness and paradisiac beaches. Whether you want to live it up in a five-star hotel, get in touch with nature in a camping site or a wilderness lodge, or save money in a hostel, accommodation in Tasmania caters to every budget and type of traveler.
Hobart
Hobart's focus is around Sullivans Cove, where the mystique of the colonial past and the island's spellbinding natural beauty meet a funky and lively atmosphere embodied in its festivals, world-class restaurants and hip cafes. An unmissable point for art lovers is MONA, housing one of the world's most controversial collections of art. If you stay in Hobart, there's a feast of attractions within an hour drive, from the idyllic Bruny Island to the mesmerising history of Port Arthur.
Hotels in Hobart
For thrifty travelers, affordable accommodation is easy to find in the city and by the waterfront. More on the pricey side, but still affordable, there's a wide selection of B&Bs and self-catering holiday apartments in Battery Point.
Launceston
Launceston has emerged from the ashes of its colonial-outpost roots and recreated itself as a glorious historic town with a glam of its own. Boasting superb restaurants and one of the best regional museums in Australia - Queen Victoria Museum -, 'Lonnie' is a happening place. The city's major tourist drawcard, however, is the Cataract Gorge, a rugged ravine only a 15-minute walk from Lonnie.
Hotels in Launceston
Accommodation in Launceston offers better value than Hobart. You'll find most motels along Brisbane Street, but there's an abundance of B&Bs, hotels, backpackers and self-catering accommodation scattered around the city.
East Coast
If you're looking to escape the madding crowds, stay in the East Coast, featuring long pristine beaches and an easygoing vibe. But action freaks are also welcome to its coastline, perfect for kayaking and diving. Hunt for the Killiecrankie 'diamond' or dive into a world of giant crabs and crays in Flinders Island. Don't miss the touristic town of Swansea, home to some fascinating historic buildings and powder beaches.
Hotels in the East Coast
Swansea has the finest choice of accommodation in the East Coast. Not much of it is cheap, but there are some affordable options, such as B&Bs.
Northwest Coast
Nature lovers will have a blast exploring the coastal heathlands and rainforests of the Northwest coast. Westward is the Arthur River, where the untamed coastline at 'The Edge of the World' meets the ancient Tarkine, Australia's largest temperate forest. Head to Marrawah, a surfer's mecca, and ride the colossal waves or laze on the pristine beaches of Penguin and soak up the small town's quirky vibe.
Hotels in Northwest Coast
Whether you prefer to tuck yourself away at a beach house or camp out in a wildlife wonderland, staying in the Northwest Coast won't disappoint. There's a fair spread of accommodation in Devonport and Sheffield.
Discover
Find your perfect holiday in Hobart
From 210 hotels.