A Wellington shopping guide – where to shop and what to buy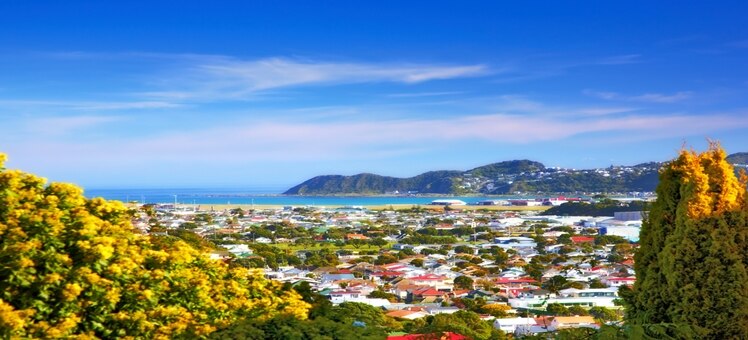 Even the most reluctant shoppers will find something to pique their interest in the streets of Wellington. Start with the Golden Mile, a popular shopping area with all the high street trimmings. Then, if you fancy delving into the more bohemian side of the city, head to Cuba Street – home to vintage fashion, quirky bookstores and lashings of street art. Of course, there are also plenty of weekly produce markets for fresh local veg, seafood and even cookery classes.
The Golden Mile
Stretching down Willis Street and through Lambton Quay, the Golden Mile is Wellington's most popular shopping district, boasting a contemporary mix of high street stores, malls and arcades. This retail destination is also dotted with cafes and restaurants, providing a welcome break from shopping and a chance to enjoy a bite to eat or a pick-me-up coffee. Fancy a little history to spice up your shopping? Head to the iconic department store Kirkcaldie & Stains on Lambton Quay; this landmark store was established in 1863 and is a sucker for the tradition of excellent customer service and quality goods – great news for shoppers! Find local and international brands of cosmetics, clothing, jewelry and luggage to name a few.
Cuba Street
If you're after something a little less conventional, hotfoot it to Cuba Street, home to an eclectic mix of quirky boutiques and creative curio shops. You'll find plenty of independent stores here, from a number of quality vintage shops to several well-stocked secondhand bookstores, plus popular offerings such as handmade jewelry and international clothing labels. Cuba Street also offers an entertaining stroll on a sunny day, whether you're looking to shop or not – look out for the famous Bucket Fountain, vibrant street art and the colorful cafes that dot the sidewalk. You can pick up a guide to Cuba Street at the Wellington i-SITE Visitor Centre.
Weekly Markets
Markets are a well-known way of meeting locals and really getting to know a town. Soak up Wellington's foodie culture every Sunday at the city's oldest market, The Harbourside Market. A surprisingly sophisticated event, you'll find everything from fruit and vegetables to fresh bread, cheese, meat and chutneys. With a harbor backdrop, tasty hot food and local entertainment, you'll be hard pressed to find a better Sunday stroll. Other weekly markets offer varying shopping experiences – Wellington Underground Market showcases emerging designers, crafts and live music, whereas City Market is a chance to try top wines, craft beers and even cooking classes.
Souvenir Shops
Buying souvenirs is an inevitable part of a holiday, but in Wellington it won't be a chore. For the classic 'I Heart Wellington' t-shirts and similar touristy items, Victoria and Willis Streets are a good idea, while Cuba Street and Courtenay Place will provide plenty of quirky and fun souvenirs at minimal cost. If you're after something a bit more tasteful, why not head for an area that specializes in a certain item? Lambton Quay boasts some great original Kiwi jewelry, chocolate and fudge are the highlights of Hataitai, while the northern suburb of Thorndon is the place for luxury glassware and furniture.
Art Galleries
Wellington's central business district is home to most of the city's art establishments, with the streets of Wakefield and Cuba featuring a couple of incredible galleries. Art in the city is an interesting mix of striking Maori art and contemporary Kiwi works, including some sculptures. If you fancy a day of browsing, move on to Ghuznee Street, Courtenay Place and then Willis Street – you'll find some larger galleries with gift shops attached, and these offer the perfect chance to grab an arty and memorable souvenir. If you're after hangings, head to one of the smaller galleries on Arthur or Webb Street, where you can buy authentic artworks right off the wall.