Where to eat in Ecuador – a food and dining guide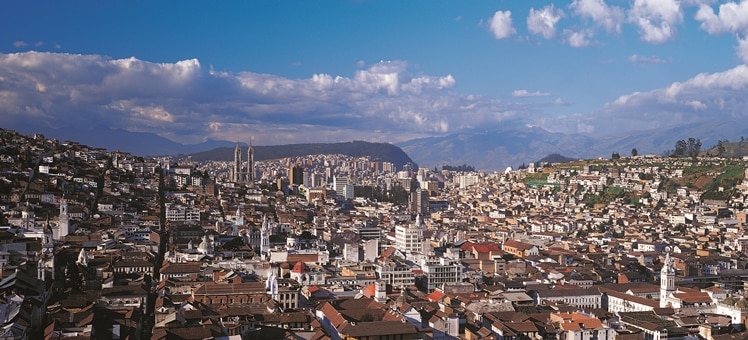 Food is a huge part of Ecuadorian life: it is the foremost welcome to visitors and a prime example of the country's hospitality. Ecuadorians show their generosity through their food, and feature it at every important life event. With a rich history, the national food is hearty and nutritious, while its budding restaurant culture embraces the rest of the world and its assortment of flavors.
The Galapagos Islands
The Galapagos Islands' cuisine is nearly as diverse as its wildlife! The Red Mangrove Restaurant and Sushi Bar is a waterfront Asian restaurant with an extensive sushi menu featuring maki rolls, yakitori and sashimi dishes, all made with fresh, local seafood. At Angermeyer Point restaurant Latin American cuisine takes center stage. The restaurant was founded by Karl Angermeyer, whose life is documented on the walls of the interior and is a popular choice because of its high quality meals. Italy isn't far behind at Il Giardino, a new addition to the area and one that has proved popular by both locals and tourists.
•
The Red Mangrove Restaurant and Sushi Bar
, Charles Darwin Avenue, Puerto Ayora, Galapagos Islands. Tel: +593 7288 7979•
Angermeyer Point
, Punta Estrada, Puerto Ayora, Galapagos Islands. Tel: +593 9 9903 7486•
Il Giardino
, Charles Darwin & Charles Binford, Puerto Ayora, Galapagos Islands. Tel: +593 52 526 627
Quito
Quito itself may be a historical city, but its restaurant culture is far from old. While street vendors and traditional restaurants like Pim's Panecillo embrace Ecuadorian cuisine, many others offer snippets of others: grab a quick pancake breakfast and smoothie at American-themed Magic Bean restaurant. Meat lovers can devour an Argentine steak at Los Troncos. Seafood fanatics can sample fresh fare at Mare Nostrum. Whatever you fancy, Quito will tickle your taste buds with one of its many diverse eateries.
•
Pim's Panecillo
, Isabel La Catolica 915 & Cordero, La Floresta, Quito. Tel: +593 2222 1875•
Magic Bean
, Juan Leon Mera, Quito Canton, Ecuado. Tel: +593 2256 6181•
Los Troncos
, Shyris Avenue 1280, between Portugal & Suecia, Quito. Tel: +593 22250 875•
Mare Nostrum
, José Tamay & Mariscal Foch, La Mariscal District, Quito. Tel: +593 2252 8686
The Andes
Traditional Andean cuisine would include 'cuy', or 'guinea pig' as it's more commonly known, which is considered to be one of the finest meats by Ecuador's indigenous people. While many restaurants cater to this request, like Restaurantes El Ventanal, most Andean restaurants are somewhat less ambitious. At Tiestos Café-Restaurant, typical Ecuadorian cuisine is served within a charmingly rural setting, but the menu features more commonly used meats. El Crater Restaurant is altogether a different style, with its clean white-wash walls and modern décor. It does, however, retain Ecuador's national cuisine on its vast menu, like the potato and corn based dishes.
•
Restaurante El Ventanal
, Carchi & Nicaragua Streets, San Juan Park, Quito. Tel: +593 2257 2232•
Tiestos Café-Restaurant
, Juan Jaramillo 7-34 & Presidente Antonio Borrero, Cuenca, Southern Andes. Tel: +593 7283 5301•
El Crater Restaurant
, Mirador del Pululahua, Pululahua, Northern Andes. Tel: +593 2243 9254
Coast
Eating around Ecuador's southern coast is sure to include fresh fish. Seafood takes on a European style at La Riviera Ristorante, alongside pastas, meats and fine Italian wines. For those not so keen on fish, a visit to one of Ecuador's top restaurants, El Caracol Azul, is on the menu. The busy restaurant serves outstanding internationally themed cuisine through its friendly and efficient staff and within a warm and welcoming atmosphere.
•
La Riviera Ristorante
, Victor Emilio Estrada 707 & Ficus, Guayaquil, Southern Coast. Tel: +593 4288 8298•
El Caracol Azul
, 9 Octubre 1918 & Russell, Guayaquil, Southern Coast. Tel: +593 4228 0461
Rainforest
While the native Ecuadorian people's diet consists of 'yuca' (cassava root), the dishes served at rainforest's hotel restaurants are a little more refined. At the Sanilodge the house chef creates three exquisite meals within a contrastingly earthy setting – you can bird watch from the open air dining room! Similarly, La Sevla Ecolodge's restaurant is also open aired, but also sits on the shores of Garzacocha Lake, allowing guests to enjoy their hearty cuisine with a unique view.
•
Sanilodge
, Challuacocha Lagoon, Nr Coca. Tel: +593 2222 4628•
La Sevla
, Ecolodge & Spa, Garzacocha Lake, Nr Coca. Tel: (from USA / Canada) +1866 687 3109 (from UK) +44 080 0032 8271
Local dish
Cebiche is an Ecuadorian favorite made up of shrimp, onions, tomatoes, herbs and the zesty juice of 10-15 lines and one orange.