Top Travel Tips For Navigating Santa Monica Like A Local
Top Travel Tips For Navigating Santa Monica Like A Local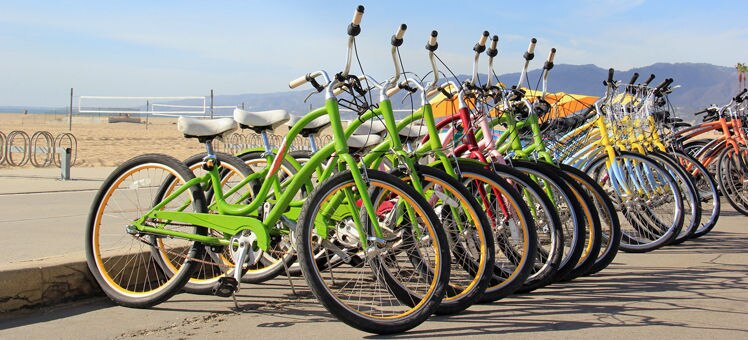 Developed as a seaside retreat in the early 20th century, Santa Monica has grown into one of America's most desirable destinations. Its warm, sunny weather, easygoing vibe, and beachside location draws a cross section of inhabitants from affluent professionals and families to surfers and students. The city is known for its constellation of activities like biking and surfing, as well as cultural outposts, upscale shops, and a respected film festival.
Best time to travel
Santa Monica's moderate weather is a large part of its appeal. The city's Mediterranean climate means its highest temperatures tend to hit in September, when the thermometer hovers around 75 degrees F (24 C). May, June, and early July tend to be foggy, although the gloom often dissipates by the afternoon. Temperatures rarely drop below 50 degrees F (10 C) in the winter. The summer months see the most tourists, while March also ushers in student spring breakers.
Not to miss
No visit would be complete without a day at the beach or exploring the historic Santa Monica Pier, characterized by its iconic Ferris wheel. Other attractions at the pier include the carousel, the aquarium, and Pacific Park's thrill rides. If you're seeking upscale L.A.-style shopping minus the attitude, Santa Monica Place and Third Street Promenade are ideal spots. For anyone hoping for a slice of Southern California's famous foodie culture, several weekly farmers markets and food truck nights fit the bill.
Getting around
Santa Monica is serviced by 2 airports: Santa Monica Airport (SMO) and Los Angeles International Airport (LAX). Because the former specializes in local flights, most travellers fly into LAX. If you aren't renting a car, you can take a taxi into Santa Monica, or opt for the more economical airport shuttle bus or a shared ride van. Once in Santa Monica, walking is your most viable way of getting around. Or you can take the municipal Big Blue Bus, which also serves the Brentwood, Westwood, and Venice Beach areas.
Cuisine
With a beachy SoCal lifestyle comes a proclivity for fresh, local, and healthy food. You'll find myriad mid-priced and high-end restaurants that pride themselves on serving California's finest fish and produce, often sourced from one of Santa Monica's many farmers markets. However, this area of America is also known for starting food trends, and food truck culture is a deep thread in the city's foodie fabric. You'll find trucks peddling everything from gourmet burgers and Mexican tacos to gussied-up grilled cheese and fancy hotdogs.
Customs and etiquette
As you can imagine, Santa Monica is fairly laid-back. There isn't a lot of hustle and bustle, so you won't encounter busy sidewalks where you have to strategically plan your next step. However, basic etiquette on the bus (don't put your bag on the seat, for example) is expected. Be prepared to tip 15 to 20 percent in restaurants, bars, spas, and beauty salons. As far as dress goes, this town's beachy vibe lends its residents a casual demeanor, but with SoCal style - think jeans, layered tops, and designer accessories along with your flip-flops.
Fast facts
Population: 90000

Spoken languages: English

Electrical: 110 volts, 60 Hz, plug type A, B

Phone calling code: +1 310

Emergency number: 911
Discover
Find your perfect holiday in Santa Monica
From 30 hotels.