Travel Tips for Experiencing the Best of Santa Cruz
Travel Tips for Experiencing the Best of Santa Cruz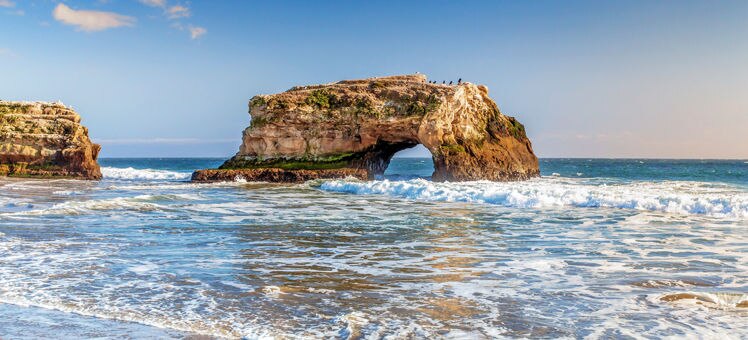 Locals attest that Santa Cruz is enjoyable year-round, thanks to its mild Mediterranean climate and its prime location between the mountains and sea. A diverse population makes this city home, from well-heeled escapees from major metropolises to world-class surfers living out of their trucks above the surf breaks. Amid this creative, outdoorsy bunch, you'll enjoy ocean-fresh food, seaside fun, and lots of live music.
Best time to travel
Summer is the high season in Santa Cruz, with plenty of warm, sunny weather and outdoor activities in full swing. Because of its position on Monterey Bay, the area is known for fog or misty cloud cover in the evenings and mornings, especially in summer. Fall, winter, and spring are equally inviting in this oceanside community, with loads of annual events, wildlife watching, and your choice of lodging, since the crowds are thinner.
Not to miss
Check out the Santa Cruz Beach Boardwalk, known as the oldest continuously operating seaside amusement park in the country. Natural wonders abound here, too: Santa Cruz is a prime location for watching the annual migration of 20,000 or more gray whales and 100,000 monarch butterflies, typically November through March. April through November, other transient whales and resident humpback whales feed in Monterey Bay. While you're in the area, why not have a go at surfing? Santa Cruz is one of the world's best spots to learn and compete.
Getting around
The nearest airports are in San Jose (SJC), 33 miles north, and San Francisco (SFO), 65 miles north over the Santa Cruz Mountains. Buses and shuttles run south from these airports, but most visitors rent a car to get into the city, then walk, cycle, or take public transit between attractions. A trolley runs between downtown Santa Cruz and the Santa Cruz Beach Boardwalk, and the metro bus system is reliable and affordable.
Cuisine
With fresh fish and shellfish available locally, most restaurants have seafood on the menu, prepared in styles as diverse as the city's residents. You'll find langostinos (small lobster-like crustaceans) in a traditional Italian pasta in Capitola Village and fish and chips on the Santa Cruz Boardwalk. The cuisine also features fresh fruits and vegetables from California's famous agricultural regions farther south. Additional choices include Thai, Mediterranean, American, and Creole foods, with new venues opening regularly.
Customs and etiquette
As a destination for surfers worldwide, Santa Cruz is known for casual, beach-inspired dress and relaxed scheduling, though restaurants do expect you to arrive on time for reservations, and some nightspots may have dress codes. Tipping of 15 to 20 percent is considered courteous in restaurants and for taxi services. Considerate guests also tip their hotel maids - usually around $2 to $3 per night.
Fast facts
Population: 63000

Spoken languages: English

Electrical: 110 volts, 60 Hz, plug type A, B

Phone calling code: +1 831

Emergency number: 911
Discover
Find your perfect holiday in Santa Cruz (and vicinity)
From 90 hotels.