Wild West Shows, Zip lines, and History - Family-Friendly Attractions in Jackson Hole
Wild West Shows, Zip lines, and History - Family-Friendly Attractions in Jackson Hole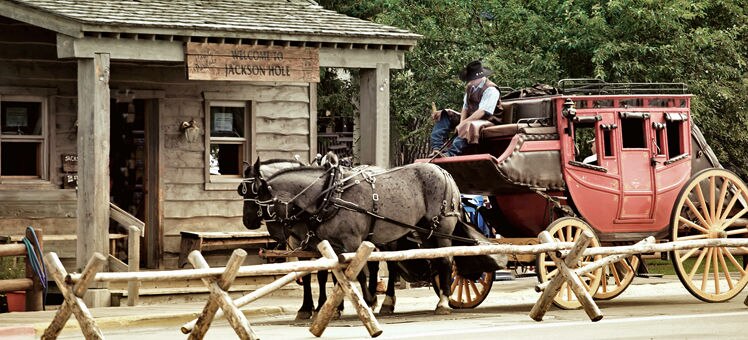 Jackson Hole offers a creative variety of kid-friendly events and activities, making it easy for everyone in the family to experience cowboy culture and mountain adventures. You can explore downtown museums and take part in unique Old West events specifically geared to kids. Love the outdoors? There are nature and wildlife expeditions tailored to families, and outdoor activities for all ages at local mountain resorts.
Downtown Jackson museums
You and the kids can view the collection of oddities at Ripley's Believe It or Not! Delightfully weird exhibits include shrunken heads and the world's biggest barbed wire ball. From there, you can walk 2 minutes to Jackson Hole Historical Society and Museum to learn about the lives of early settlers via replicas of homestead cabins. At Jackson Hole Children's Museum, a 4-minute stroll away, kids can play in a food market or glide along a 30-foot indoor zip line.
Jackson Hole Children's Museum
Suitable for newborns and young children, this museum is located less than 5 minutes on foot from Jackson Town Square. Exhibits are focused on hands-on learning, and include a creativity studio stocked with art supplies and an indoor climbing area.
174 North King Street, Jackson Hole 83001Tel: +1 307 733 3996
Jackson Hole Children's Museum website
Old West events
Jackson Hole offers plenty of western-themed events geared to families, including the famed Jackson Hole Shootout. Performed every summer evening in Jackson Town Square, the show features locals dressed in period costume reenacting a Wild West gun battle. At the Jackson Hole Rodeo, kids can take part in the sheep run. If you're craving a cowboy night complete with cowboy cuisine, you can book a chuck wagon dinner that includes a homespun musical show.
Bar T 5 Covered Wagon Cookout
A horse-drawn wagon takes you through a mountain canyon to a cookout site where you can enjoy a chicken and roast beef dinner. Afterwards, you and your clan can take in comedy and music entertainment courtesy of a cowboy troupe.
812 Cache Creek Drive, Jackson 83001. Tel: +1 307 733 5386
Bar T 5 Covered Wagon Cookout website
Outdoor fun for everyone
Kids can experience the raw beauty and wildlife of the area on a safari led by experienced local guides. If you have particular sights in mind, some companies offer the option of designing your own itinerary. At Jackson Hole Kids Ranch, your little active ones can learn or perfect their skiing and mountain biking skills, among other things. Thrill seekers will love Snow King Mountain's family-friendly Alpine Slide, an adventure that starts with a chairlift up the mountain followed by an exhilarating sled ride down a 2,500-foot track.
Scenic Safaris
Year-round tours of Yellowstone National Park and Grand Teton National Park include stops at Old Faithful, and wildlife expeditions along Elk Refuge and Antelope Flats. Summer options include ATV tours, while most winter tours take place in a heated coach.
545 North Cache Drive, Jackson 83001. Tel: +1 307 734 8898
Scenic Safaris website