From Festivals to Stone Circles - Arts and Culture in Keswick
From Festivals to Stone Circles - Arts and Culture in Keswick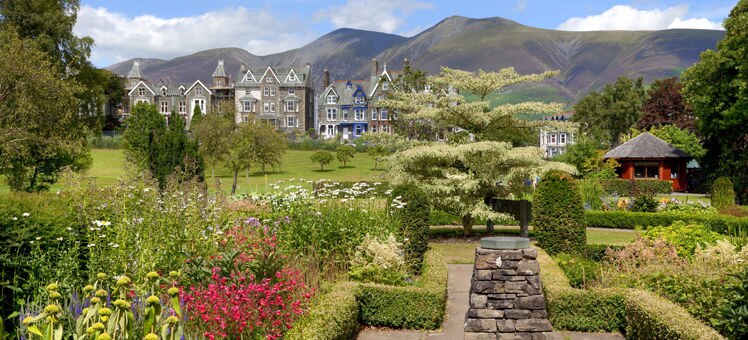 For a small town, Keswick has a rich cultural scene. As well as historic monuments, a clutch of museums, and a nationally acclaimed theatre, the town hosts a raft of festivals throughout the year. Indeed, the jazz festival draws international musicians. If you know where to look, you'll find high-quality, original art, and the 19th-century poet Robert Southey is buried here.
Museums and galleries
Keswick Museum & Art Gallery's collection may be small but covers the weird and wonderful, from stuffed birds to cockfighting spurs. It also has a collection of 19th-century oils and watercolours, both portraits and local landscapes. Original contemporary art and crafts can be found at Thornthwaite Galleries, located in Braithwaite on the town's outskirts, as well as in Keswick's Viridian Gallery.
Keswick Museum & Art Gallery
The eclectic collection ranges from industrial heritage and archaeology to mountaineering history and manuscripts of Lakeland poets and writers including William Wordsworth, John Ruskin, and Robert Southey. The latter is buried in the town's Crosthwaite churchyard.
Station Road, Keswick CA12 4NFTel: +44 17687 73263
Keswick Museum & Art Gallery website
Thornthwaite Galleries
A 200-year-old barn houses this long-running gallery, which exhibits paintings, sculptures, pottery, and diverse handicrafts. After enjoying the large collection you can relax with a hot drink and scones in the tearoom.
Thornthwaite, Keswick CA12 5SA. Tel: +44 17687 78248
Thornthwaite Galleries website
Historic buildings and monuments
The joy of handsome, 17th-century Mirehouse - apart from its shocking-pink colour - is that the house is still lived in. You can poke around the rooms and pick up photographs while, in the background, someone plays the piano.The gardens stretch down to the shores of Bassenthwaite Lake where, a little further along, tiny St. Bega's church, with Norman origins, is beautifully peaceful. Much older is Castlerigg Stone Circle, a mysterious group of mini-Stonehenge stones located a 30-minute walk from Keswick.
Castlerigg Stone Circle
Built around 3,000 BC, this Neolithic stone circle of 38 boulders encloses a rectangle of stones. It was clearly an important meeting place, but whether it had religious significance is still unknown. The views from the plateau are stunning.
Castlerigg CA12 4TE. Tel: +44 370 333 1181
Castlerigg Stone Circle website
Mirehouse
Built in 1666, this stately home has been owned by the same family since 1688. Children can enjoy an owl hunt or history quiz while their parents examine the fine furnishings and collection of rare manuscripts.
Keswick CA12 4QE. Tel: +44 17687 72287
Mirehouse website
theatre and festivals
Overlooking Derwentwater, "Theatre by the Lake" enjoys arguably the finest setting of any English theatre. With a year-round program of both classic and new writing, it also hosts the annual 'Words by the Water' literature festival. The theatre, together with art deco cinema, the Alhambra, stages the town's annual film festival. Keswick Jazz Festival is the UK's largest celebration of traditional, New Orleans, and mainstream jazz. Many concerts are held outdoors, weather permitting.
Theatre by the Lake
A modern theatre with 2 stages, in-house productions range from Shakespeare to Ayckbourn. It's also the Lake District's primary venue for national touring companies of dance, music, opera, and comedy.
Lakeside, Lake Road, Keswick CA12 5DJ. Tel: +44 17687 74411
Theatre by the Lake website