Pubs, Clubs, and Live Music - Where to Find the Best Nightlife in Swansea
Pubs, Clubs, and Live Music - Where to Find the Best Nightlife in Swansea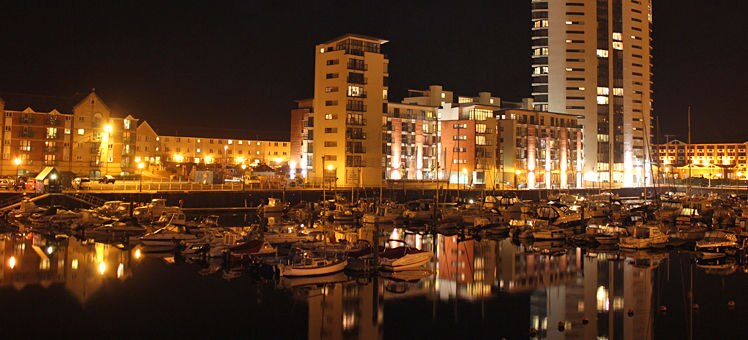 Swansea has a vibrant nightlife scene, with an abundance of pubs, wine bars, and nightclubs. For younger revelers, Wind Street is the liveliest spot in town. It's lined with bars and clubs that stay open into the early hours. If you're looking for something more sedate, you may want to head to the rejuvenated docklands area, the Maritime Quarter. You'll find numerous waterfront bars there.
Bars and pubs
There are plenty of pubs and wine bars in central Swansea, and you won't have to travel far to find a fun night. Whether you're looking for a traditional British scene or a chill vibe, you'll find both at the No Sign Bar. It has a narrow frontage, but the long interior has 4 different bars, each with a distinct character. For a classic British pub, visit The Queens Hotel, a historic drinking corner with nautical connections, located in the Maritime Quarter.
No Sign Bar
This long, narrow pub and wine bar has 4 different bar areas. Its cellar hosts live music.
56 Wind Street, Swansea SA1 1EGTel: +44 1792 465300
No Sign Bar website
The Queens Hotel
This old-fashioned pub with carpeted floors has nautically themed decor, reflecting its past as a hangout for local sailors. Today it serves some of the finest beers in Swansea.
Gloucester Place, Maritime Quarter, Swansea SA1 1TY. Tel: +44 1792 521531
Discos and nightclubs
If you prefer the rhythmic sounds of DJs, you can easily find ways to dance the night away. Several popular party spots grace Wind Street, and more exist around The Kingsway. Long-running Sin City has variously themed DJ nights and occasional live music. Fiction Swansea's dance nights are hosted by top local DJs, and guest DJs from around the world.
Sin City Nightclub
Sin City has student nights, rock nights, and regular club nights. There's also occasional live music.
14-16 Dillwyn Street, Swansea SA1 4AQ. Tel: +44 1792 468892
Sin City Nightclub website
Fiction Swansea
Top local and international DJs host nights here and cover a variety of music genres.
Salubrious Place, Little Wind Street, Swansea SA1 1ED. Tel: +44 1792 828777
Fiction Swansea website
Live music venues
Visit Swansea's bars during the evening and you'll see diverse live acts. There might be rock or jazz, folk or experimental, and many of the events are free. Established international stars often play at the Swansea Grand Theatre. For local and national rock acts, try The Scene or The Vault. The latter is located in a medieval wine cellar.
The Scene
The Scene hosts rock, punk, and metal bands from around Britain. It also has a monthly punk rock DJ night.
50 Plymouth Street, Swansea SA1 3QQ. Tel: +44 1792 448010
The Scene website
The Vault
Located beneath No Sign Bar, The Vault was a wine cellar in the 15th century and features the work of Dylan Thomas. Accommodating up to 250 people, concerts here cover various music genres.
56 Wind Street, Swansea SA1 1EG. Tel: +44 1792 465300
The Vault website
Taking in a movie
If you want to check out a Hollywood blockbuster, or see the latest British costume drama, you can find several multiplex cinemas in Swansea to do so. Vue Swansea can accommodate more than 1,750 moviegoers across its 12 screens. Odeon Swansea, situated in the Parc Tawe Retail Park, has 10 screens. To catch an arthouse movie, check out what's on at the Taliesin Arts Centre, on the campus of Swansea University.
Vue Swansea
This centrally located cinema can seat up to 1,762 people across12 theatres.
York Street, Swansea SA1 3LZ. Tel: +44 8712 240240
Vue Swansea website