Launceston's Art and Culture - Galleries, Design, and Festivals
Launceston's Art and Culture - Galleries, Design, and Festivals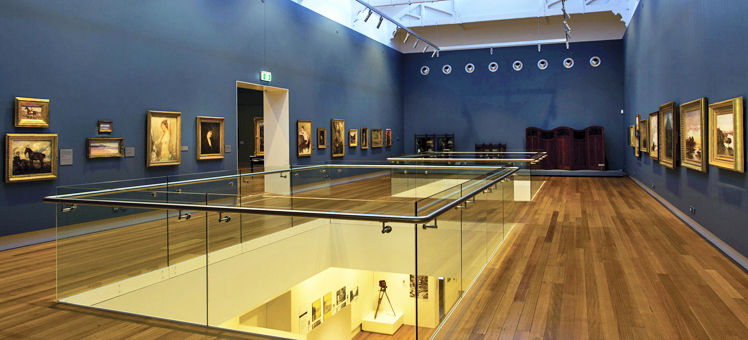 Inveresk is Launceston's arts and cultural precinct. You can easily spend a day here viewing exhibitions, visiting an art school, and, at the end of it all, relaxing with a coffee at the Blue Cafe Bar. Further into town, you can check out smaller, independently run galleries. If you're here in spring, visit the experimental Junction Arts Festival, and in summer, the MOFO festival.
Launceston's galleries and arts festivals
Launceston has a remarkably edgy arts scene, which might make even some sophisticated city folk stand up and take notice. The government-funded Sawtooth Gallery runs a successful experimental program, and the annual Junction Arts Festival gets bigger and better with each edition.
Sawtooth Gallery
This large warehouse-like space is filled with natural light and showcases emerging and established artists, both Australian and international. Sawtooth Gallery also features a writers' program.
Level 2, 160 Cimitiere St., Launceston TAS 7250Tel: +61 3 6331 2777
Sawtooth Gallery website
Junction Arts Festival
Generally held in early spring, the Junction Arts Festival makes use of under-utilized spaces across the city, turning them into arts venues for 5 days. The program focuses on contemporary visual art and participatory and site-specific performances.
Albert Hall, 45 Tamar St., Launceston TAS 7250. Tel: +61 3 6331 1309
Junction Arts Festival website
Launceston's art and education
The University of Tasmania's School of Architecture and Design resides in the cultural precinct of Inveresk. Inside, The Academy Gallery exhibits student and graduate work. A short walk away, there's more to view at the Inveresk branch of the Queen Victoria Museum and Art Gallery (QVMAG).
Queen Victoria Museum and Art Gallery at Inveresk
Converted from a railway workshop dating from the 1870s, the QVMAG Inveresk branch is worth visiting for its setting alone. On Sundays, you can join the free "Tasmanian Connections" tour, which explains the state's natural science and history collections.
2 Invermay Rd., Inveresk TAS 7248. Tel: +61 3 6323 3777
Queen Victoria Museum and Art Gallery at Inveresk website
Academy Gallery
The Academy Gallery at Tasmanian College of the Arts features exhibitions from established and emerging Australian artists. You can check out fresh talent from the college's students too.
School of Visual and Performing Arts, University of Tasmania, Launceston. Tel: +61 3 6324 4450
Academy Gallery website
Launceston's applied arts
In a place with so much history and stately architecture, it's not hard to see why a strong design culture thrives here. There's a pleasing aesthetic feel to Launceston, from the grandiose architecture of Holy Trinity Church to the contemporary objects and furniture at Design Tasmania.
Holy Trinity Church
This Gothic-style church stands tall above Launceston. Among its many features to admire are the stained glass windows dating from 1842, quirky gargoyles, and a historic organ.
Corner Cameron and George Streets, Launceston TAS 7250. Tel: +61 3 6331 4460
Holy Trinity Church website
Design Tasmania
Along with changing exhibitions of local and national importance, this venue also hosts the state's annual design awards. It is located in an old heritage building that has been enlarged with a modern extension and frontage.
Corner Brisbane and Tamar Streets, Launceston TAS 7250. Tel: +61 3 6331 5506
Design Tasmania website
Tasmanian woodwork
Tasmania's famous forests, with giant redwoods, Huon pines (from the Huon Valley) and ash trees, are one of its most singular assets. This natural wealth has led to a strong tradition in woodwork and carpentry. You can pick up finely made cutting boards, bowls, and other small objects in craft markets, and they make wonderful take-homes. Larger pieces of furniture and sculptures can be seen specialty shops and art galleries.
1842
This glorious gallery, shop, workshop, and showroom occupies one of the oldest commercial buildings in Central Launceston. Owned by an accomplished furniture maker, his elegant, handcrafted pieces are for sale, along with antiques, clocks, and paintings by Australian artists.
Corner St John and Cimitiere Streets, Launceston, TAS 7250. Tel: +61 3 6331 2213
1842 website