Beachfront Beauty and Island Activities - A Guide to Sanibel
Beachfront Beauty and Island Activities - A Guide to Sanibel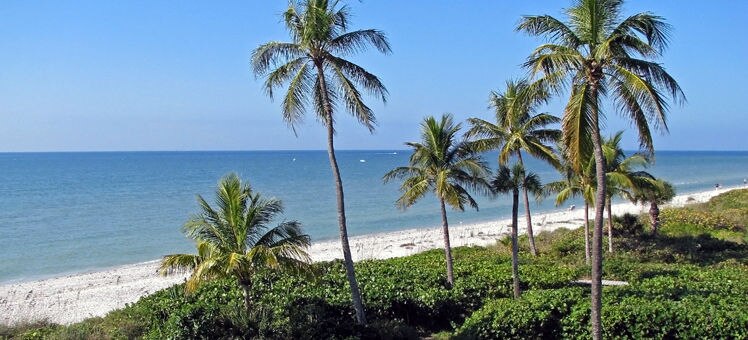 Located 3 miles from Florida's west coast in the Gulf of Mexico, Sanibel is an idyllic holiday destination ringed by glittering, shell-rich beaches. A popular spot for activities such as fishing, water sports, and golf, the conservation-minded island draws people wishing to observe its magnificent wildlife like bald eagles, bobcats, and American alligators in its reserves, and dolphins and manatees offshore.
Brilliant beaches
Driving over the Causeway, you are greeted by the historic Sanibel Lighthouse at Point Ybel, flashing from the island's eastern edge. Built in 1884, the 98-foot-tall structure is in popular Lighthouse Beach Park, where many come for the Gulf views and fishing pier, and to sift through the sand in hopes of uncovering some prized shells. Bowman's Beach, about a 25-minute drive west, is equally renowned for its shell bounty. Set away from area hotels, the secluded grounds are home to one of Sanibel's most serene beaches for swimming, windsurfing, or just lazing on the shore.
Lighthouse Beach Park, 112 Periwinkle Way, Sanibel 33957; Tel: +1 239 472 3700; Website: Lighthouse Beach Park

Bowman's Beach, 1700 Bowman's Beach Road, Sanibel 33957; Tel: +1 239 472 6397; Website: Bowman's Beach
Wildlife watching
The wide, undeveloped stretch of land comprising the J.N. "Ding" Darling National Wildlife Refuge is home to more than 250 species of coastal birds, 51 different reptiles and amphibians, and 32 mammals. Though 4 miles of the refuge are traversable by car, you can also enter the lush mangrove landscape by boat, bicycle, or on foot. For an edifying experience, the volunteers who treat injured species at CROW - Clinic for the Rehabilitation of Wildlife - host a lecture series on animal rehabilitation in its visitor education centre.
Boat tours
While the wildlife refuge dominates the northern mainland-facing side of Sanibel, there are still plenty of creatures to be spotted on the island's Gulf Coast. To see playful dolphins bounding from the waves and graceful manatees floating just beneath the surface, take a cruise on one of Sanibel's many boat tours. Some specialize in 90-minute trips focused on dolphin watching, while others provide longer voyages with stops along Captiva and Cayo Costa islands. These longer cruises also often include stops for shell-gathering, snorkeling, kayaking, and stand-up paddle boarding.
Relaxing spas
After a few days at the beach, nothing rejuvenates body, mind, and spirit like some refreshing downtime at a spa. Sanibel's spas provide services like Dead Sea mud or lavender-scented mask skin treatments, sea salt body scrubs, sugar rubs, and warm beach stone exfoliation sessions. Enjoy hour-long Thai, deep tissue, or shiatsu massage paired with steam therapy or the scent of essential oils in an aromatherapy session for 2. Traditional beautifying amenities for a full-on makeover with hair, makeup and mani-pedi are also readily available.
Live music and theatre
For a relatively compact island, Sanibel's BIG ARTS centre rolls out large-scale cultural events year-round, with a full schedule of live music, theatre, dance, film, art shows, and lectures. The 409-seat Schein Performance Hall hosts genre-spanning performances ranging from classical and jazz to folk, Western, and big band, as well as family-friendly comedy and holiday-themed events. Situated just a mile to the south, the intimate Herb Strauss theatre presents professional live performances, including Broadway shows and serious drama.