Chic Shops and Seafaring Gifts - A Shopping Guide to Sanibel Island
Chic Shops and Seafaring Gifts - A Shopping Guide to Sanibel Island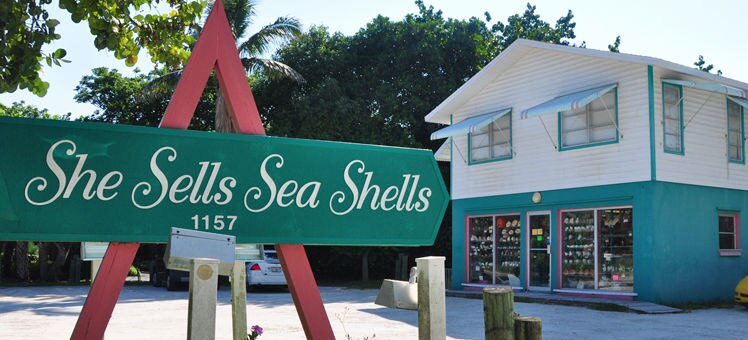 Most of Sanibel Island's shopping happens in and around Periwinkle Way. Small shopping centres dot the street, and they tend to be filled with an eclectic mix of quirky gift stores, high-end boutiques, and unfussy restaurants. If you plan on spending some time on adjacent islands, you'll find clusters of shops whose wares run the gamut from fine jewelry to maritime knickknacks.
Periwinkle Place
This is Sanibel Island's largest shopping centre. Its office park-style buildings are linked by tropical garden plazas, which are ideal for people-watching or just relaxing, especially when the trees are lit up at night. The original Chico's boutique is located here, and you can browse its collection of women's apparel, jewelry, and accessories just like you could when it opened as a humble standalone store in 1983. If you want to add a touch of the island to your abode, Island Style Galleries specializes in lively home decor and tropical-themed decorative arts.
Chico's, 2075 Periwinkle Pkwy. #4, Sanibel 33957; Tel: +1 239 472 0202; Website: Chico's

Island Style Galleries, 2075 Periwinkle Pkwy. #6, Sanibel 33957; Tel: + 1 239 472 6657; Website: Island Style Galleries
Olde Sanibel Shoppes
Located at Periwinkle Parkway's western terminus, this charming pet-friendly shopping centre is a popular place for locals to bring Fido for a walk. The gifts at Amy's Something Special capture the essence of the island in several ways, from tropical-scented soaps and lotions to aquatic-themed collectibles. Sanibel Art & Frame also showcases the island's natural wonders through its collection of wildlife and beach paintings, which can be shipped to your home if wish.
Amy's Something Special, 630 Tarpon Bay Rd., Sanibel 33957; Tel: +1 239 472 4421; Website: Amy's Something Special

Sanibel Art & Frame, 630 Tarpon Bay Rd. #8, Sanibel 33957; Tel: +1 239 395 1350; Website: Sanibel Art & Frame
Captiva Island
Sanibel's skinny northern island neighbour features plenty of stores that specialize in beach gear and accessories. It's also home to several funky boutiques that go well beyond the realm of flip-flops and sunscreen. Shirley Allen specializes in artwork and avant-garde clothing, including several colourful fashions dubbed "wearable art." Want to do some antiquing? Step inside the pastel-coloured Albert Meadow Antiques and browse its collection of estate jewelry, rugs, and other treasures.
Shirley Allen, 11528 Andy Rosse Ln., Captiva 33924; Tel: +1 239 472 3289; Website: Shirley Allen

Albert Meadow Antiques, 15000 Captiva Dr., Captiva 33924; Tel: +1 239 472 8442; Website: Albert Meadow Antiques
Fort Myers
A drive across the Sanibel Causeway will place you in the heart of this bustling coastal city, where you'll find a mix of familiar and singular shopping experiences. Tanger Outlets shopping mall is home to stores devoted to some of the world's most famous labels - think Tommy Hilfiger and Polo Ralph Lauren. If you wander down to the Fort Myers Beach area, you'll encounter Palmettos Apparel and its collection of fashionable resort wear from brands like Frank Lyman and Lauren Vidal.
Tanger Outlets, 20350 Summerlin Rd., Fort Myers 33908; Tel: +1 239 454 1974; Website: Tanger Outlets

Palmettos Apparel, 7205 Estero Blvd., Fort Myers Beach 33931; Tel: +1 239 463 1515; Website: Palmettos Apparel