Your Essential Guide to Big Sur - Jewel of California's Golden Coast
Your Essential Guide to Big Sur - Jewel of California's Golden Coast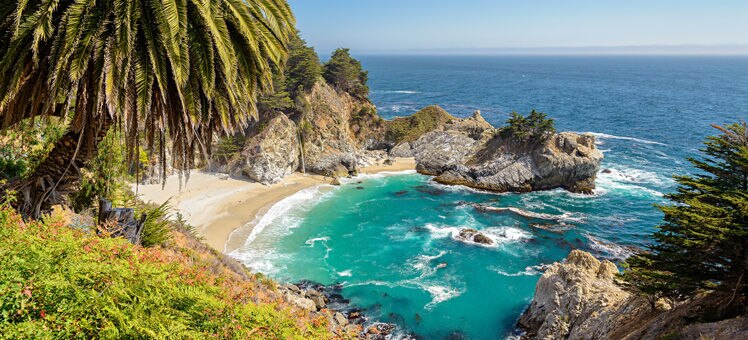 Juxtaposed between the cobalt Pacific Ocean and the verdant Santa Lucia Mountains, California's Big Sur region treats visitors to some of America's most magnificent scenery. Expect dramatic terrain, magical vistas, and wildly rugged shores. Come for the views, wildlife, and spirit of adventure - as so many writers, soul-searchers, and nature-lovers have before.
The ultimate coastal drive
Highway 1 snakes along the Central California coastline, with numerous worthy stops along the way. Before you cross much-photographed Bixby Bridge, stop at a roadside viewpoint to take in the dizzying sight of the crashing surf 260 feet below. The drive at points veers close to the mountains' edges, at other points cruises alongside the ocean. You can stop at Julia Pfeiffer Burns State Park and take a short hike to McWay Falls, a silvery, 80-foot cascade plummeting into the ocean. Or take a guided walking tour of Point Sur State Historic Park & Lighthouse.
Bountiful State Parks
Ancient redwoods, untouched beaches, and hidden lagoons: Big Sur's bountiful State Parks make up much of its land and appeal. Point Lobos State Natural Reserve, on the oceanfront, is rightly called the "crown jewel of the California State Parks." Bring your binoculars, and keep a close eye out for sea lions, otters, seals, and migrating whales, along with hawks, herons, and pelicans. At Andrew Molera State Park, you can walk coastal bluff trails overlooking the windswept beach, photograph meadows dotted with wildflowers, or trace a route across the Big Sur River to oak woodlands.
Literary legends
Whether for its natural beauty, Native American spirit, or proximity to San Francisco and Los Angeles, Big Sur is a magnet for thinkers, artists, and literary greats. The Henry Miller Memorial Library, dedicated to the iconoclastic writer and Big Sur resident, hosts cultural and community events May through October. Journalist Hunter S. Thompson worked at the Esalen Institute, the New Age retreat set in 120 acres of wilderness. Stop for a bite at Nepenthe, a renowned restaurant with panoramic views. It's just off Highway 1. At the southern end of Big Sur, you can tour legendary Hearst Castle.
Henry Miller Memorial Library, 48603 Highway 1, Big Sur 93920; Tel: +1 831 667 2574; Website: Henry Miller Memorial Library

Nepenthe, 48510 Highway 1, Big Sur 93920; Tel: +1 831 667 2345; Website: Nepenthe
Charming Carmel
Big Sur stretches from Carmel in the north to San Simeon in the south. The former artists colony of Carmel is today home to some of the most expensive real estate in the US. Stroll past storybook cottages down to Carmel City Beach, where you can take off your shoes and sink your toes into the soft, clean sand. Take time to browse Carmel's stylish boutiques, then enjoy dinner at a top-tier restaurant. If you love wine, you can take a side trip about 11 miles inland to the Carmel Valley viticultural area, with more than 20 tasting rooms.
Discover
Find your perfect holiday in Big Sur
From 8 hotels.