Affordable Guesthouses, Secluded Villas, and Luxury Beachfront Resorts - Where to Stay in Patong
Affordable Guesthouses, Secluded Villas, and Luxury Beachfront Resorts - Where to Stay in Patong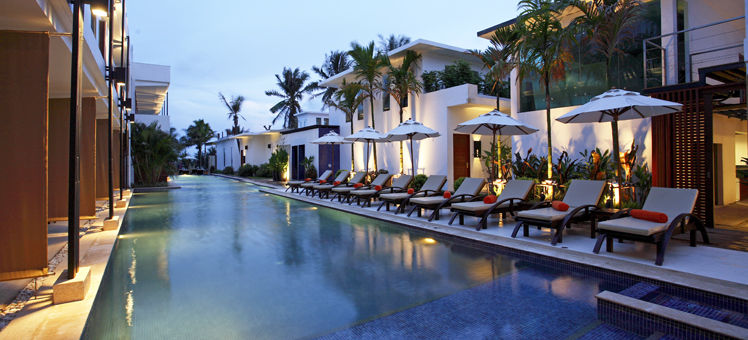 Patong is Phuket's most popular destination. Whichever hotel you choose, you're sure to be in the thick of the action - Patong beach is only 300 meters long and 500 meters from the centre of town. If you'd like to be outside but near Patong's bustling nightlife scene, Karon Beach to the south and Kamala Beach to the north are both easily accessible, with a wide variety of accommodation.
Patong's main beach is fronted by an array of hotels and guesthouses, some right on the sand, while others are set back from the beach road. All offer easy access to the waterfront and the water sports shops and eateries along its length.
It seems unlikely now, but once upon a time Patong was a sleepy fishing village. As the area has burgeoned into a popular vacation destination, resorts, hotels, and guesthouses of every ilk have popped up. Today, whether you're looking to rent a small guesthouse room or a suite overlooking an infinity pool and the bay beyond, you can find it here.
Patong City centre
People say that New York is the city that never sleeps, but NYC has nothing on Patong. From laid-back sports bars to raunchy go-go bars in the seamier neighbourhoods, the city throngs with souvenir-seeking tourists by day and all strata of society by night.
Patong city centre and Patong beach are close together, and there isn't really any border between them. Accommodation closer to the busier ends of Rat-U-Thit and Bangla roads will place you in the thick of the nightlife action, although you may have to sacrifice pool size and amenities for party-ready convenience.
Kalim Beach
Located to the north of Patong Beach on the same curve of bay, Kalim Beach offers a little extra seclusion. Some of Patong's best restaurants are located along this section of the beach road, and most enjoy jaw-dropping views of the bay, especially at sunset. It's a great place to enjoy a relaxed dinner. Then, if the mood takes you, you can take a leisurely half-hour stroll or 5-minute taxi ride into Patong's hectic downtown, and see where the night takes you.
Accommodation options here run the gamut from basic and extremely cheap to no-holds-barred opulence. From simple family rooms with 2 queen beds to stand-alone villas with private infinity plunge pools, Kalim Beach has it all.
Search for Kalim Beach hotels