Vatican City Hotel Accommodation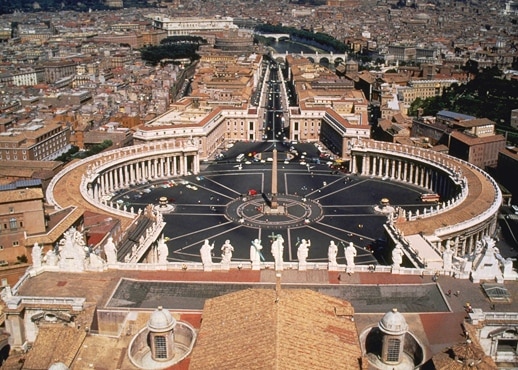 Search 552 hotels in Vatican City
Find out more about Vatican City
Where to stay in Vatican City
Exploring Vatican City
The tiniest city-state in the world and the heart of Roman Catholic Christianity, Vatican City comprises a walled enclave, 13 buildings in the surrounding small districts of Vaticano, Monte Mario, and Prati, and historic Castel Gandolfo, the traditional summer residence of the Pope. Officially, only 800 people live within the city state, with many Catholic dignitaries, clergy, members of the Swiss Guards, lay workers, and nuns residing in adjacent districts and commuting to work in the Vatican. The magnificent architecture of St Peter's Basilica and the Vatican itself are set within St Peter's Square, believed to be the site of the death of St Peter during the Roman emperor Nero's persecution of Christians.
All roads lead to Rome, as the ancient saying goes, and most roads in Rome lead eventually to St Peter's Square and Vatican City. From nearby neighbourhoods, an exquisite walking route to the piazza starts at Piazza Venezia via Via del Plebescito and Corso Vittoria Emanuele, ending in Via della Conciliazione for the square and passing by many of Rome's architectural delights. From Navona on the far bank of the Tiber River with its charming Hotel Raphaël-Relais, you'll pass by ancient Castel Sant' Angelo with its secret tunnel leading to the Vatican.
Accommodations near Vatican City
There is a range of options for all travelers. The most popular hotel in Vatican City is the Al Colonnato di San Pietro, which has been booked 5 times from our Hotels.com verified guests. Our guests also highly recommended Maison Cavalleggeri in Vatican City as it has been reserved 5 times.
There are some amazing options offering top-notch services and facilities. Check out Starhotels Michelangelo and Hotel Columbus.
Sightseeing near Vatican City
Of the many chapels in Vatican City's Apostolic Palace, the Sistine Chapel is the crowning glory due to Michelangelo's Last Judgment panel and frescoed ceiling, considered to be the artistic genius's finest work. Refreshed by a somewhat controversial clean-up, the chapel now features glowing colours in its frescoes which show every detail of the artist's work.
The Basilica, designed by Michelangelo, Bernini, Maderno, and Bramante, and consecrated in 1626 is perhaps the world's most glorious religious building, with its elaborate interior traditionally home to St Peter's tomb. Michelangelo's Pieta is here, and numerous works by other great Renaissance sculptors adorn the tombs of popes and Roman dignitaries. The Papal Altar and sanctuary containing the Chair of St Peter were designed by Bernini, and the many side chapels hold famed examples of Renaissance art and architecture.
Transportation near Vatican City
If you're staying in the city centre, bus number 64 runs to Vatican City, and taxis are available across the city. Vehicles are not allowed inside the walls of Vatican City, but its small size makes for easy exploration on foot.