10 Best Things to Do in Sydney
What is Sydney Most Famous For?
The best things to do in Sydney include exploring historic streets and museums, as well as shopping in thriving markets and modern retail centres. This vibrant city is known for its yacht-studded harbour, superb beaches, and the iconic Opera House with its towering sail structure.
Once a British colony of exiled convicts, Sydney has grown into Australia's most diverse and cosmopolitan city with an exciting food, arts and entertainment scene. You can enjoy coastal walks and its spectacular Harbour Bridge that could be climbed by day or seen in its full glittering glory at night from a rooftop bar. Here are just a few ideas on things to see and do in Sydney.
What are the best things to do in Sydney?
1
Sydney Opera House
Soaring sails on the harbourfront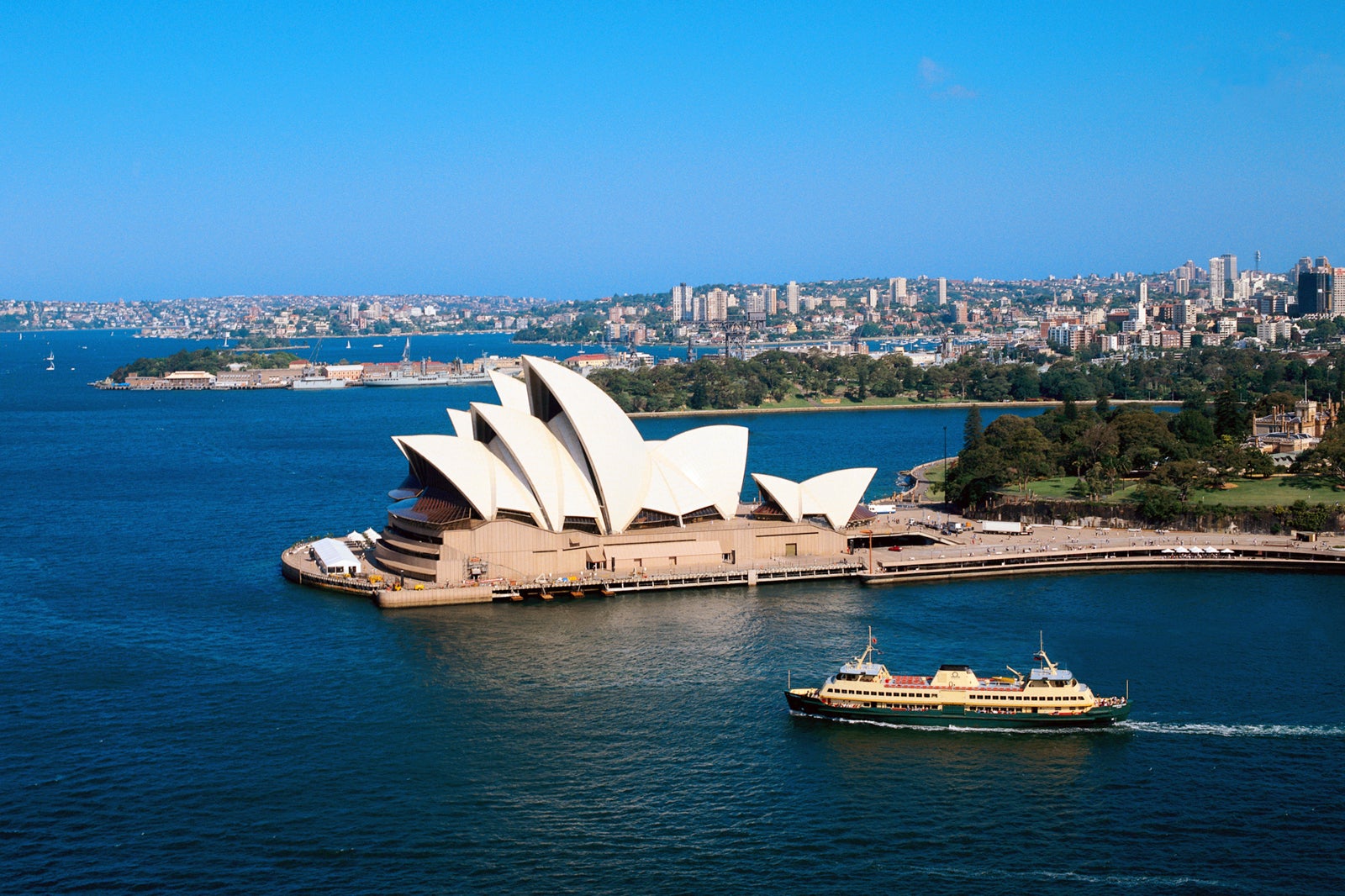 Sydney's Opera House is an architectural masterpiece that's become one of the world's most recognisable landmarks. Among the 40 shows a week performed here, you can choose from live music concerts, ballet, modern dance, opera, symphony orchestras and plays. The Opera House not only attracts talents from around the world but is home to seven resident performing arts companies including Opera Australia and the Australian Ballet.
Take a tour to learn more about its colourful history and backstage stories, or head up to the Opera Bar relax with a sea view. For an elegant meal before the show, book a table at Bennelong, serving modern Australian cuisine in a cathedral-like setting.
Location: 2 Macquarie Street, Sydney, New South Wales, 2000, Australia
Phone: +61 (0)2 9250 7777
2
Sydney Harbour Bridge
Enjoy a thrilling walk over the bridge arch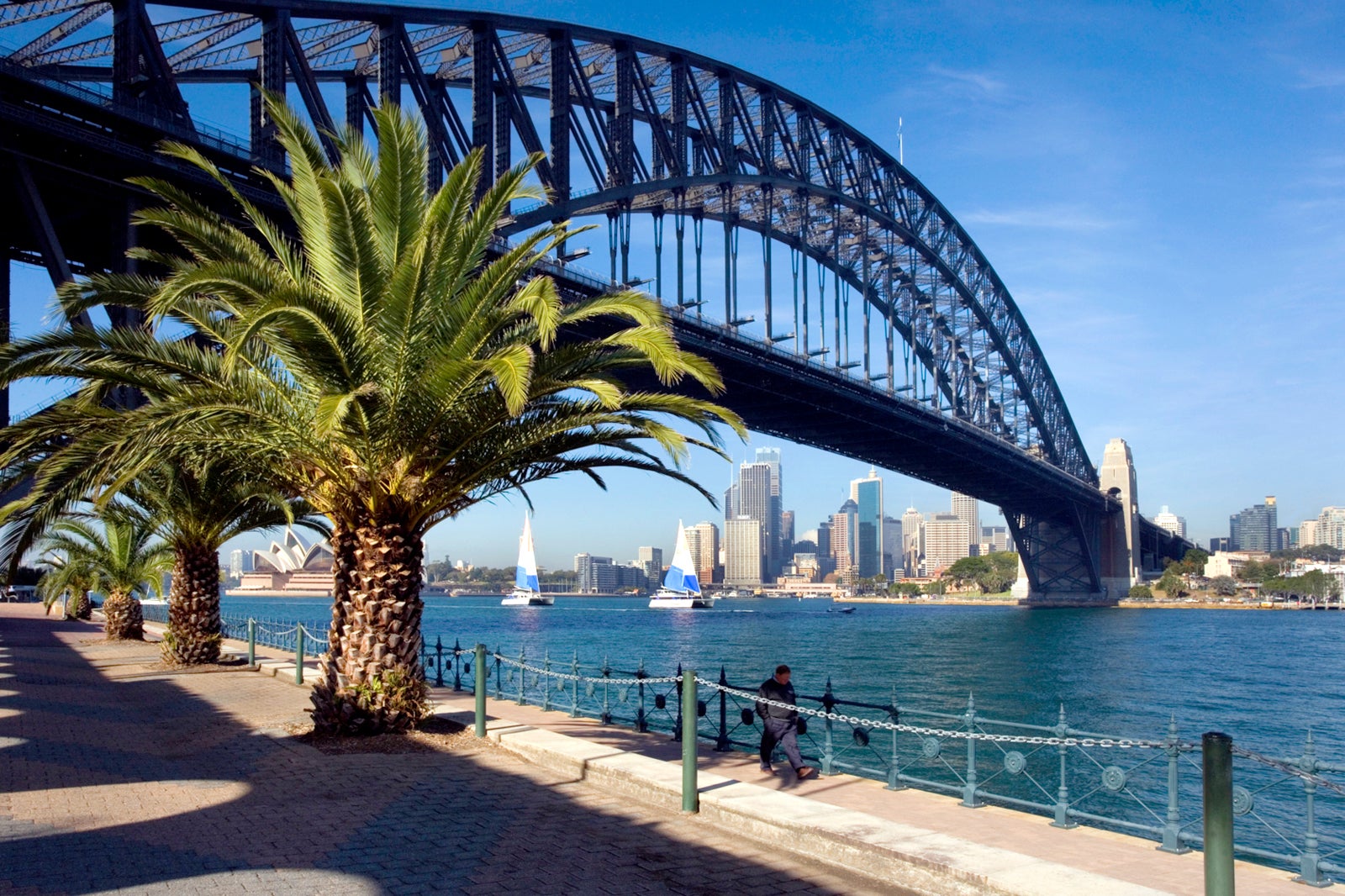 On this adrenalin-pumping guided tour over the arch, you'll hear stories about the history of the bridge and the city as you take in the amazing views over Sydney harbour. It doesn't come cheap, but the price includes all safety equipment and photos taken by the guide (cameras are not permitted).
Joining the tour is the only way to navigate the arch, but if you're keen to explore the bridge independently there's a footpath parallel to the road that's free. You could also pay a small fee and do the 200-step climb up the Pylon Lookout, which also offers a fabulous bird's eye view of the harbour.
3
Bondi Beach
Keen surfers hit the waves at sunrise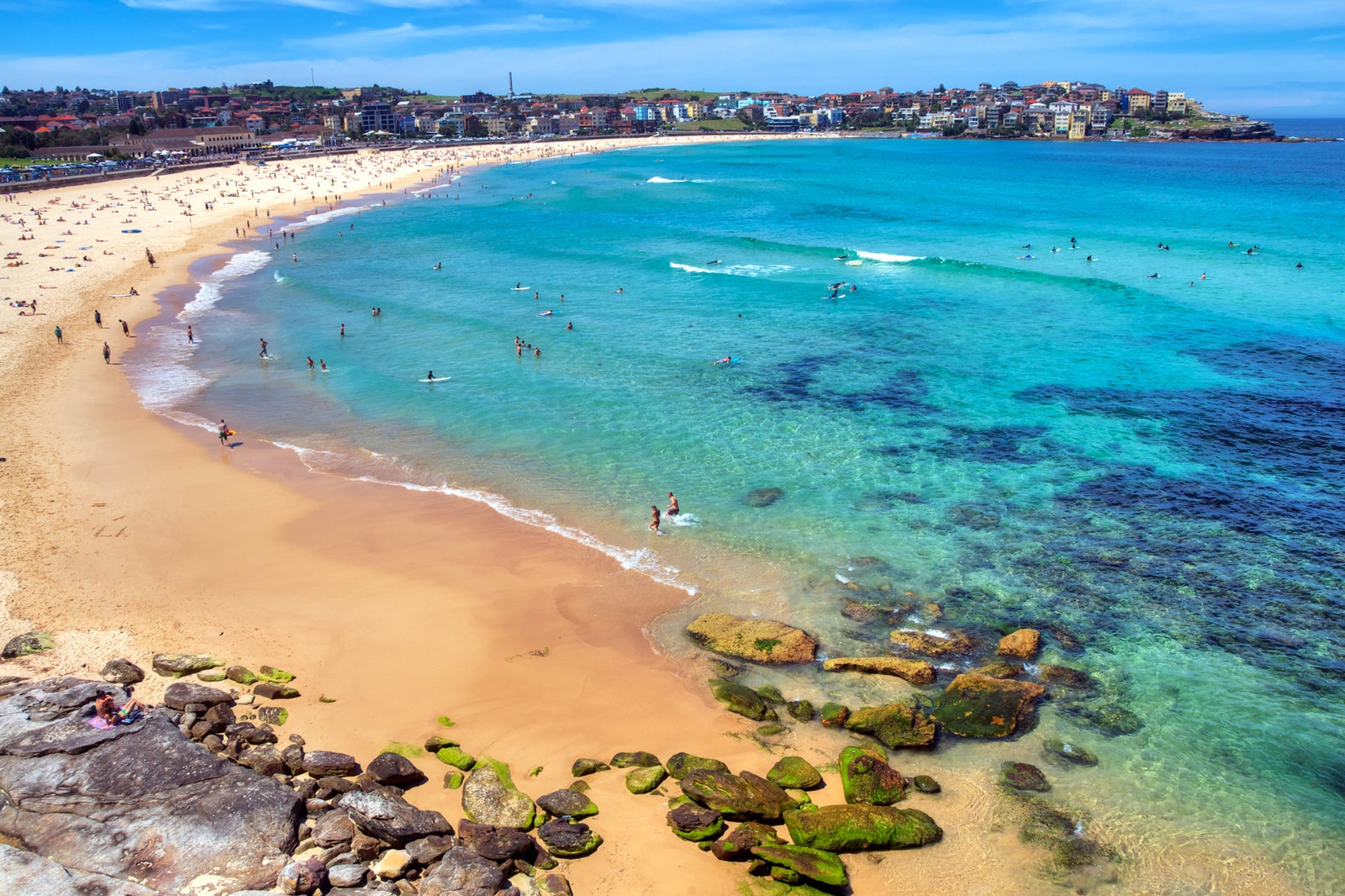 Just 8 km from Sydney's city centre, Bondi Beach is a busy stretch of beautiful golden sands. While you could easily spend a lazy day here relaxing on the sands, it's also a great place to surf. Experienced surfers will find challenging waves at South Bondi, while newbies to the sport could take lessons from one of the surfing schools lining the beach.
Board rental is also available, and when it's time for a break, just stop in at one of the beachside cafes or wander to Gould Street for a bit of shopping.
4
The Rocks
Former convict settlement turned trendy arts district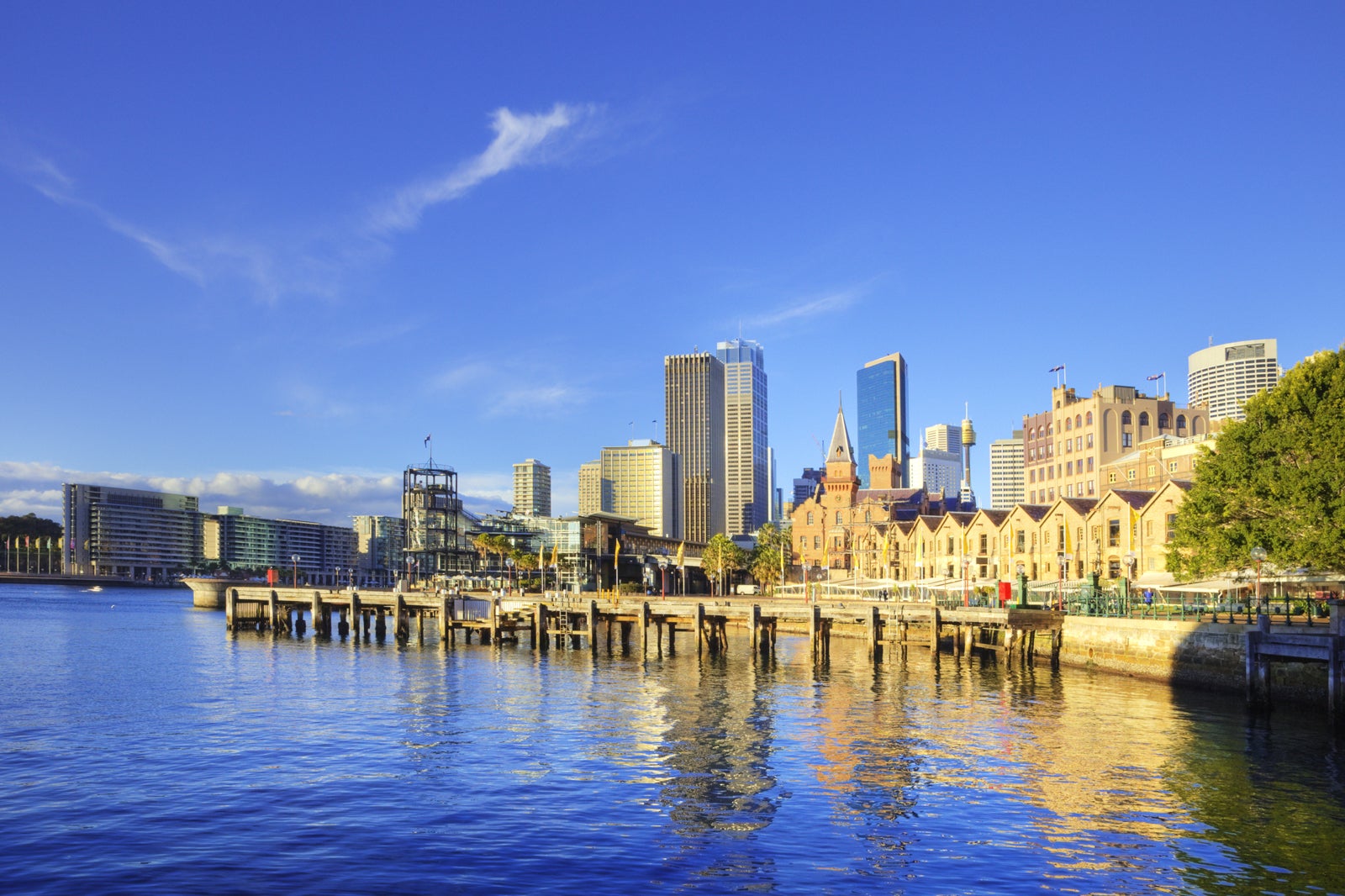 Once a convict settlement, the cobbled lanes of Sydney's oldest neighbourhood are now lined with markets, art galleries, cool cafes, boutique shops and pubs.
Find local handicrafts and souvenirs at The Rocks Markets every weekend or learn more about the history of the area at the historic Cadman's Cottage, built in 1816. Next door is the Museum of Contemporary art, with more than 4,000 works by Australian and Aboriginal artists. Good spots for a rest stop include the Hero of Waterloo pub, reputedly haunted, and the rooftop bar at Glenmore Hotel, offering with harbour views.
5
Manly Ferry
Short journey with spectacular views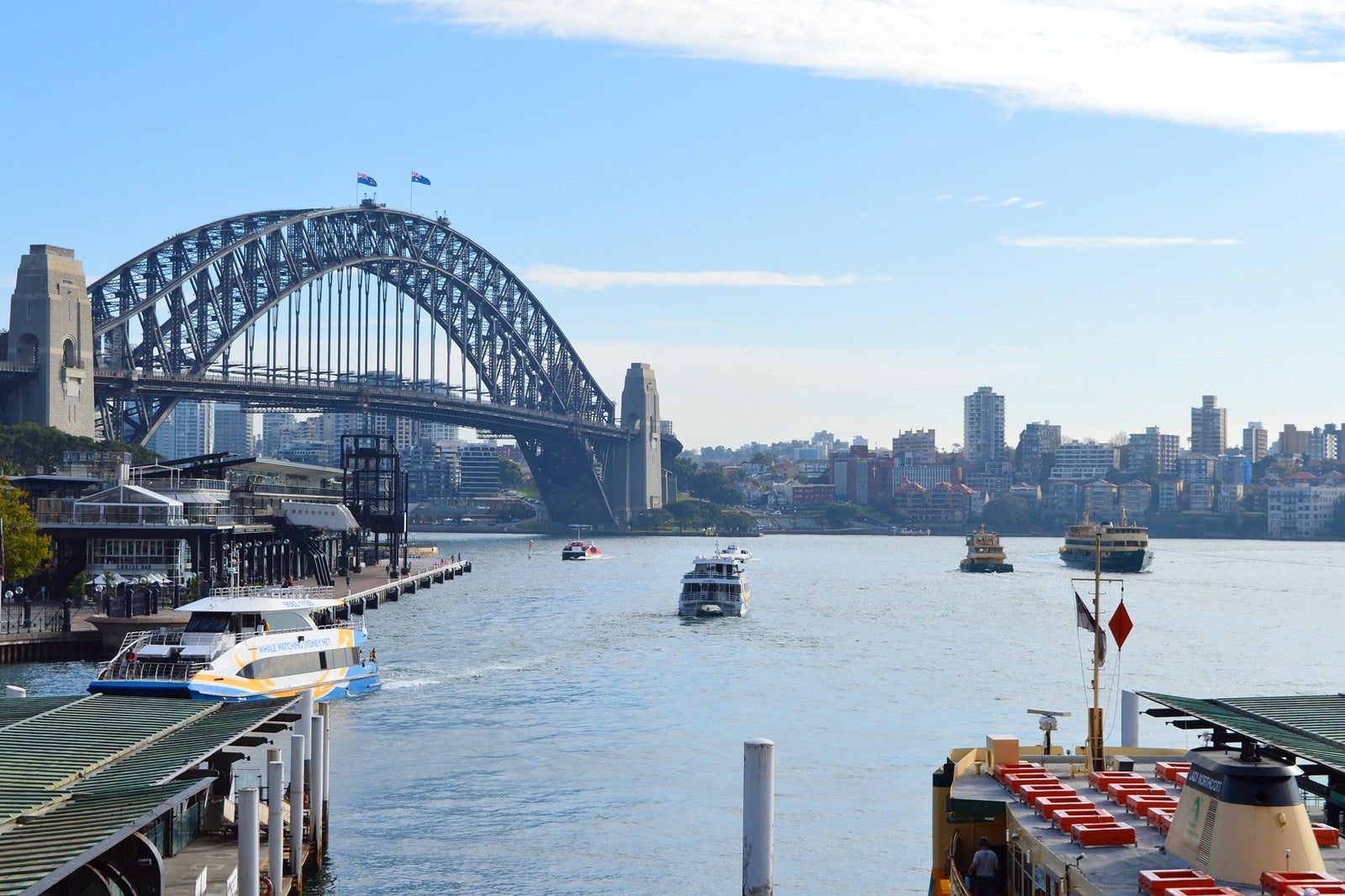 There are plenty of guided boat trips around Sydney's coastline, but a cheap and easy way to do it is by catching a ride to Manly on the ferry. The 30-minute trip from Circular Quay to Manly glides under the Harbour Bridge and past the Sydney Opera House, giving you a close-up view from the water.
The sturdy wooden ferry has been operating this route since 1855, with a newer fast ferry making the trip in less than 20 minutes. Linger on for at least a few hours to relax in a sea-view café and take a swim at one of Manly's lovely beaches.
6
Bronte Baths
Visit early to catch a sunrise sea view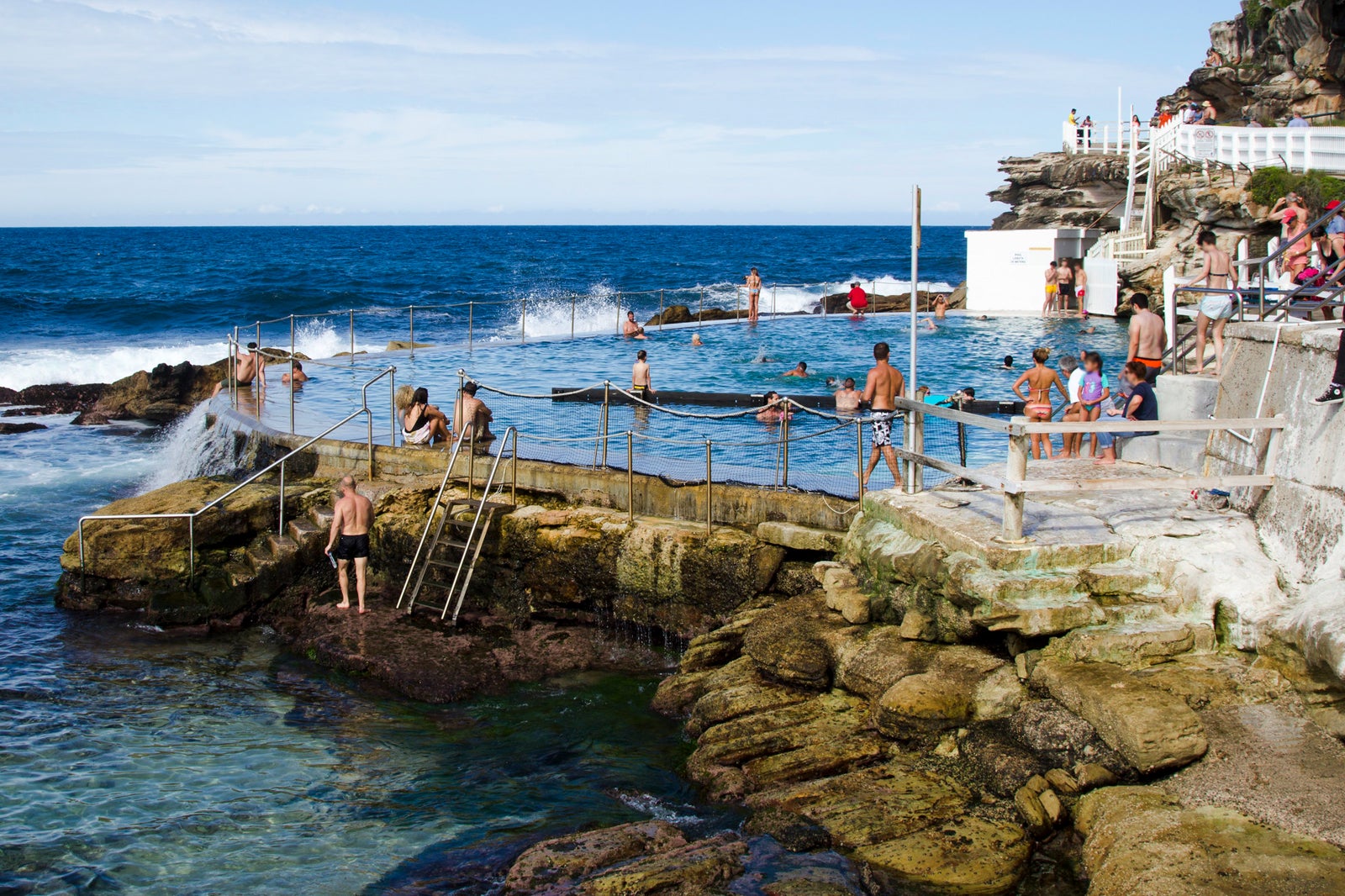 Families
Photo
Budget
Adventure
Set on a rocky cliff at the edge of Bronte Beach, this large saltwater pool is a stunning spot to go for a dip. Found between Bondi and Coogee beaches, Bronte Baths has become one of the most photographed seaside rock pools in the state since it opened in 1887.
Go early and you'll be rewarded with spectacular sunrise views. There's a shallow section for kids, with changing facilities and showers on site. Best of all, you can use the pool for free.
Location: Beach Park, Bronte NSW 2024, Australia
Phone: +61 (0)2 9083 8000
photo by Paul Hussey (CC BY 2.0) modified
7
Sydney Fish Market
Sample fresh seafood at this historic centre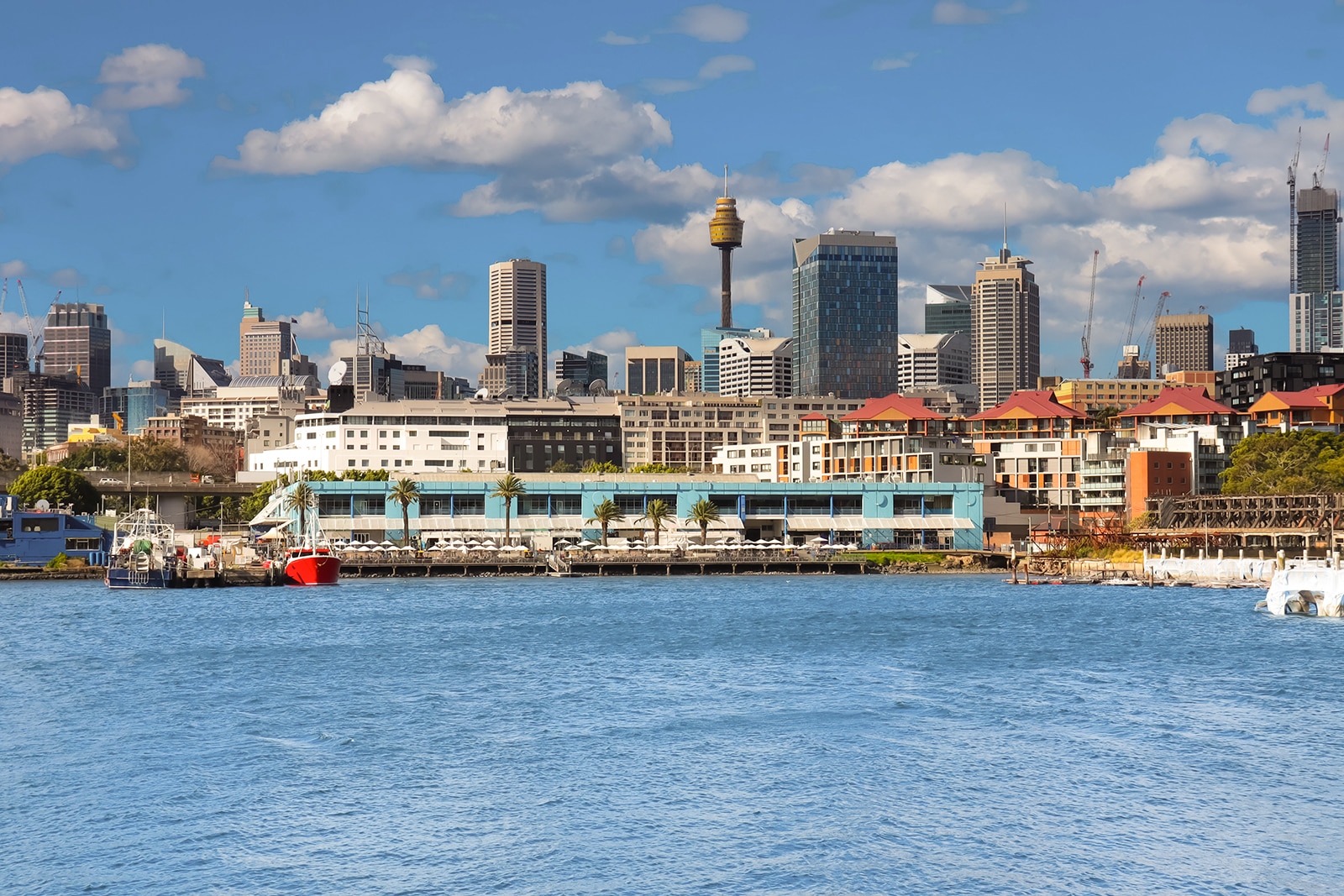 Sydney Fish Market is not only a huge centre of trade for local fisherfolk, it offers a full foodie experience with many restaurants, cafes, bakeries, gourmet delis and wine shops on site.
Book an early-morning tour to watch the daily fish auctions in action and see more than 100 species of seafood for sale. Or take the Brunch Tour to explore the market and watch some oyster shucking before settling in for a tasty brunch with the catch of the day – sashimi, prawns, king crabs, and more. Seafood cooking classes are also available.
Location: Corner Pyrmont Bridge Rd &, Bank St, Pyrmont NSW 2009, Australia
Open: Monday–Thursday from 7 am to 4 pm, Friday–Sunday from 7 am to 5 pm
Phone: +61 (0)2 9004 1108
8
Sydney shopping malls
Browse world-renowned brands at Queen Victoria Building and The Strand Arcade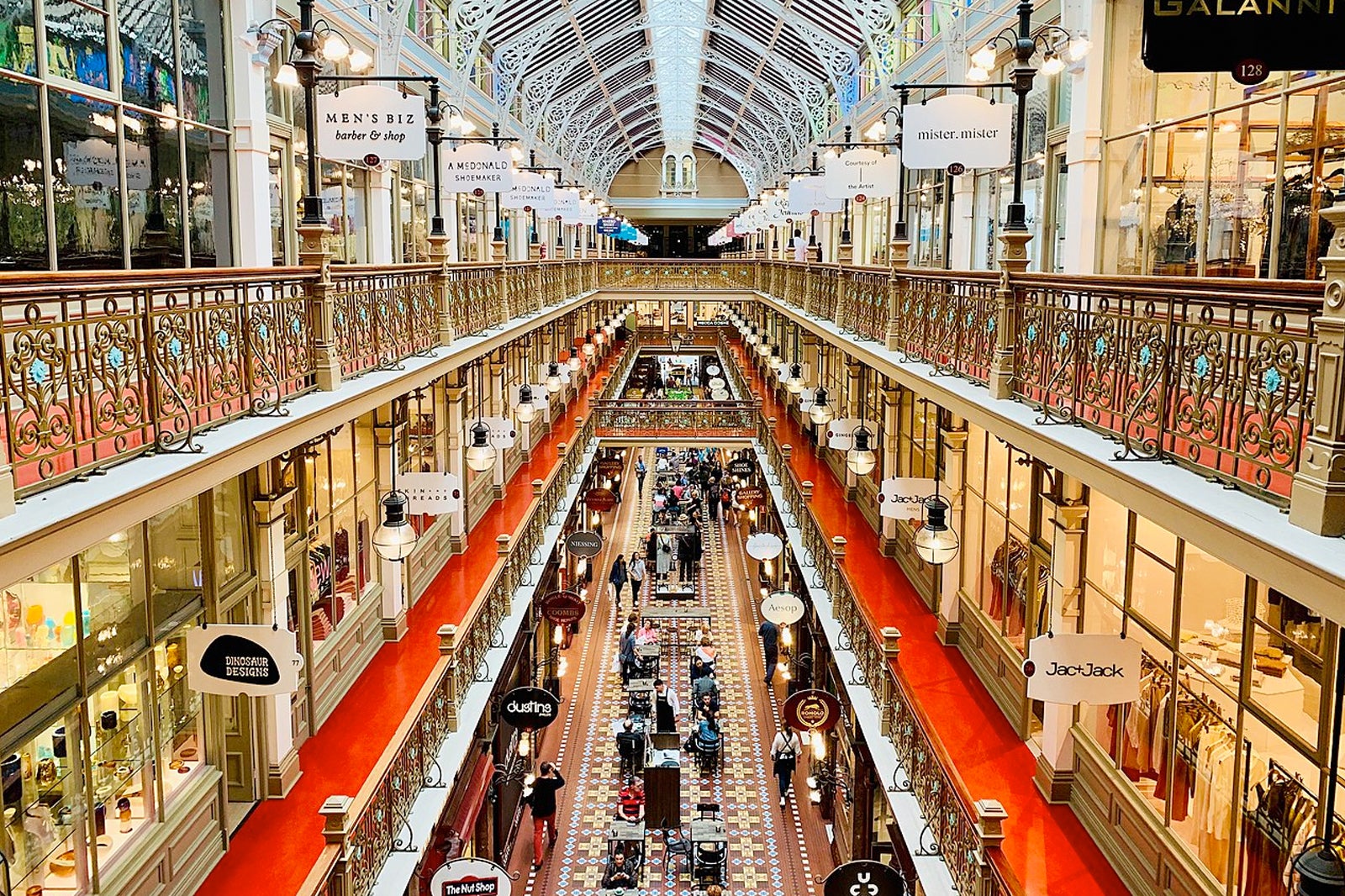 Sydney has a great range of places to shop, but 2 Victorian-era shopping centres add a dash of regal beauty to the experience. Find a mix of luxury and affordable fashion brands at Queen Victoria Building, which has been revived to its 1890s splendour with intricate stain-glass windows and its original staircase. Go for an elegant break from shopping with high tea in the QVB Tea Room.
The Strand Arcade is a historic glass-domed landmark just a few blocks away, where Australian designer brands like Aje and Dion Lee are among its mix of high-end boutique stores, cafes and restaurants.
Location: 455 George St, Sydney NSW 2000, Australia
Open: Monday–Friday from 9 am to 6 pm, Saturday from 10 am to 4 pm, Sunday from 11 am to 4 pm
photo by Kgbo (CC BY-SA 4.0) modified
9
Sydney Tower
Sip a cocktail in the revolving bar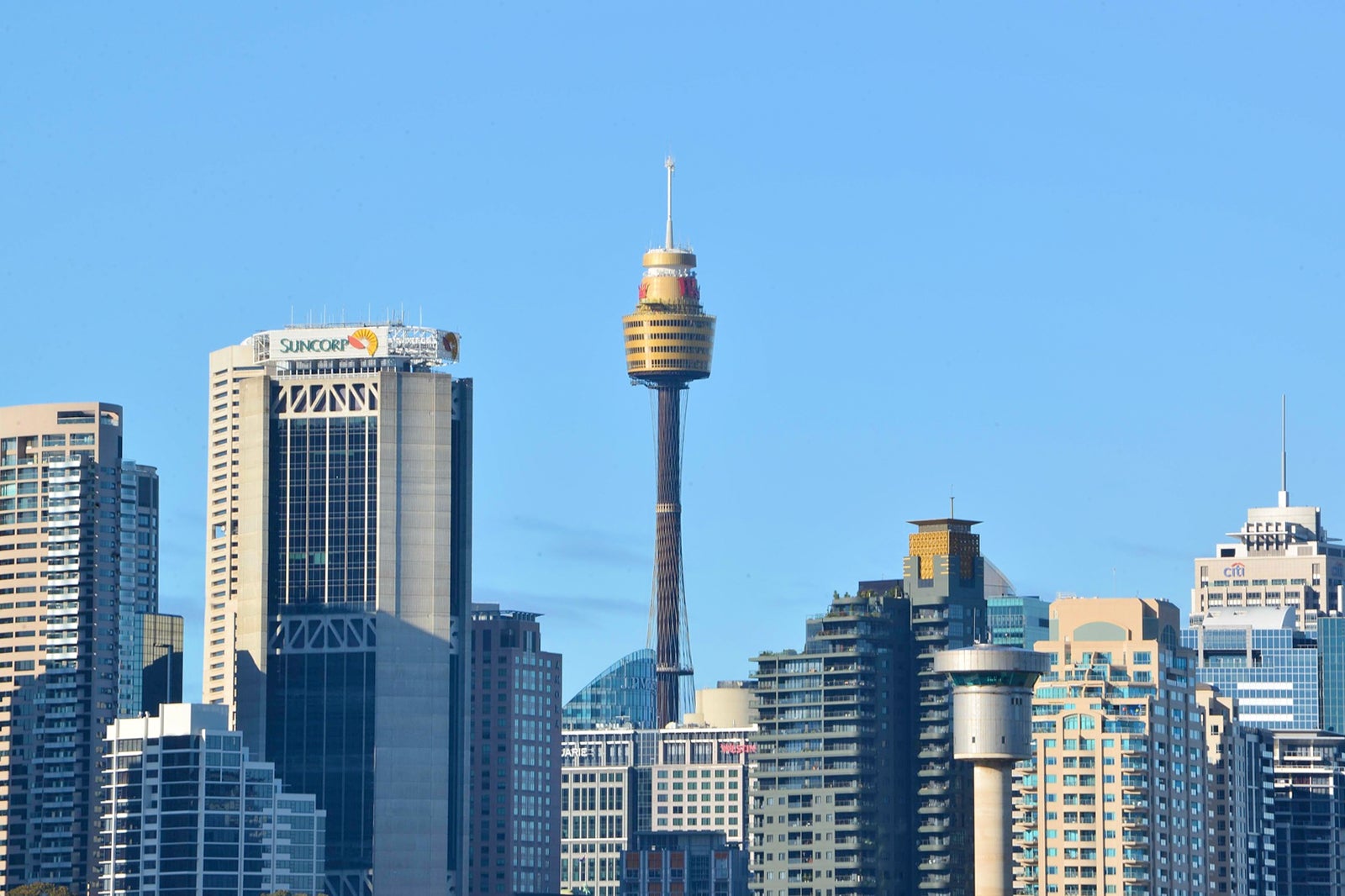 Enjoy awe-inspiring views across Sydney and the sea in the 360 Bar and revolving restaurant. Found near the top of the 300-metre-tall Sydney Tower, the bar is an elegant space in dark mahogany wrapped with floor-to-ceiling windows to offer a full view of the spectacular city panorama. One full rotation takes about 80 minutes.
Those short on time could just drop in for a sunset cocktail. Note that there's a "smart casual" dress code and open-toe shoes are not allowed. Booking ahead is recommended for dining.
Location: F4 Castlereagh Street, Sydney NSW 2000, Australia
Phone: +61 (0)2 8223 3883
10
King Street Wharf
A sleek seaside party zone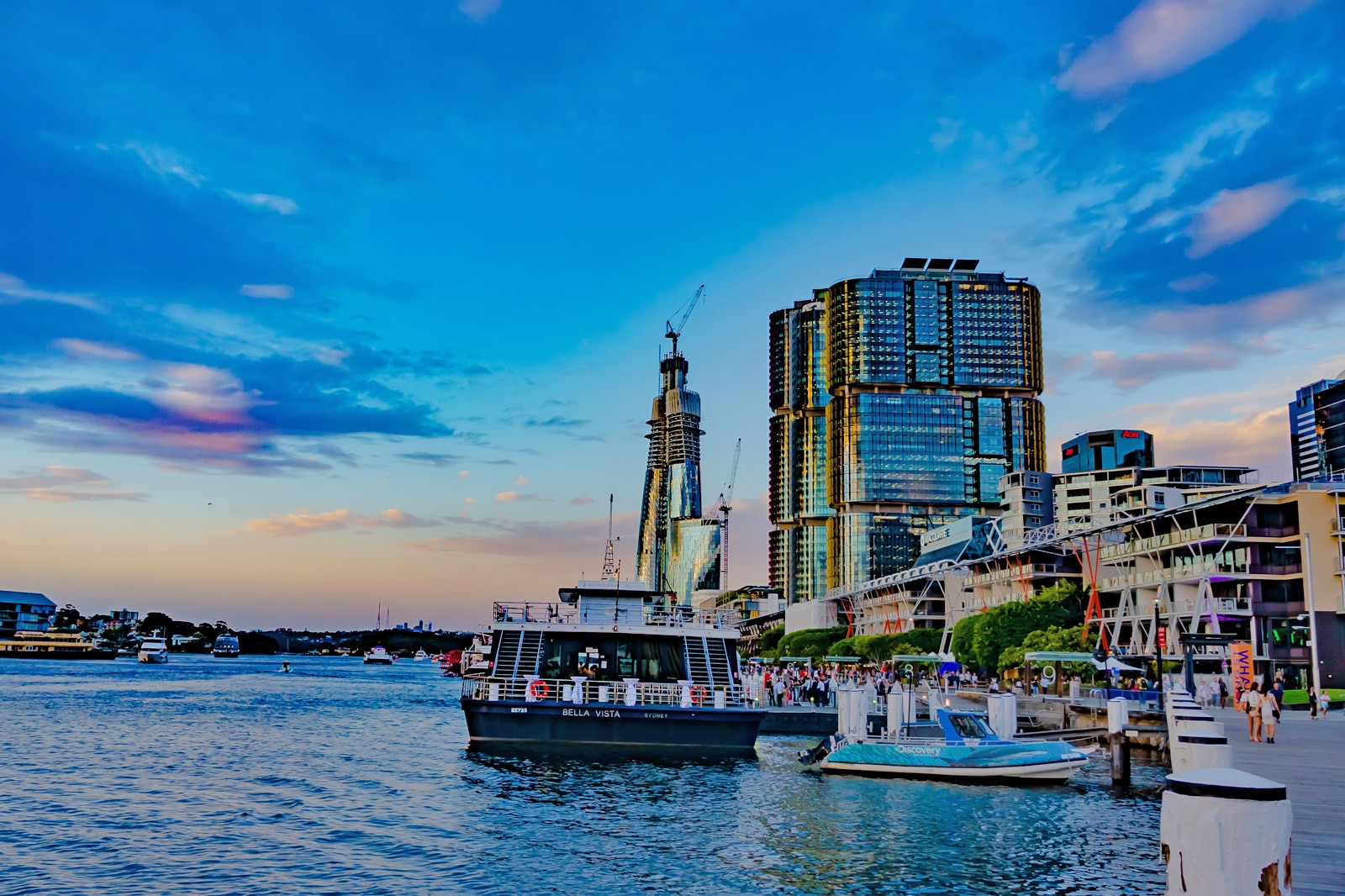 Set along Darling Harbour, King Street Wharf has a string of trendy bars and restaurants that crank up the fun as the sun goes down. You could start the night with refreshing drink in the beer garden at All Hands Brewing House or try the 2-for-1 cocktails at Kobe Jones Lounge Bar.
Fuel up for the night at Manjit's @ the Wharf, serving a rich variety of Indian dishes, or The Malaya for a taste of spicy and aromatic Malaysian flavours. Wander to Bungalow 8 or Cargo Bar for DJ dance parties that last late into the night.
Back to top