10 Most Charming Towns and Villages in Germany
Idyllic German Towns & Villages
Germany's vast landscape is dotted with dozens of charming villages and towns dating back to the Middle Ages (with some going back as far as ancient Roman times). The southern region is home to villages with views of the snow-capped Bavarian Alps, while picturesque lake towns in the north are close to modern cities such as Hamburg and Berlin.
You can visit these destinations all year round, but the best time to experience their timeless landscape is during wintertime. You're bound to feel as if you've gone back in time when the medieval buildings are blanketed in snow and vibrant Christmas markets fill the central squares. Plan a fairy-tale-like vacation in Germany with our pick of idyllic German towns and villages you have to visit (and take loads of picture of).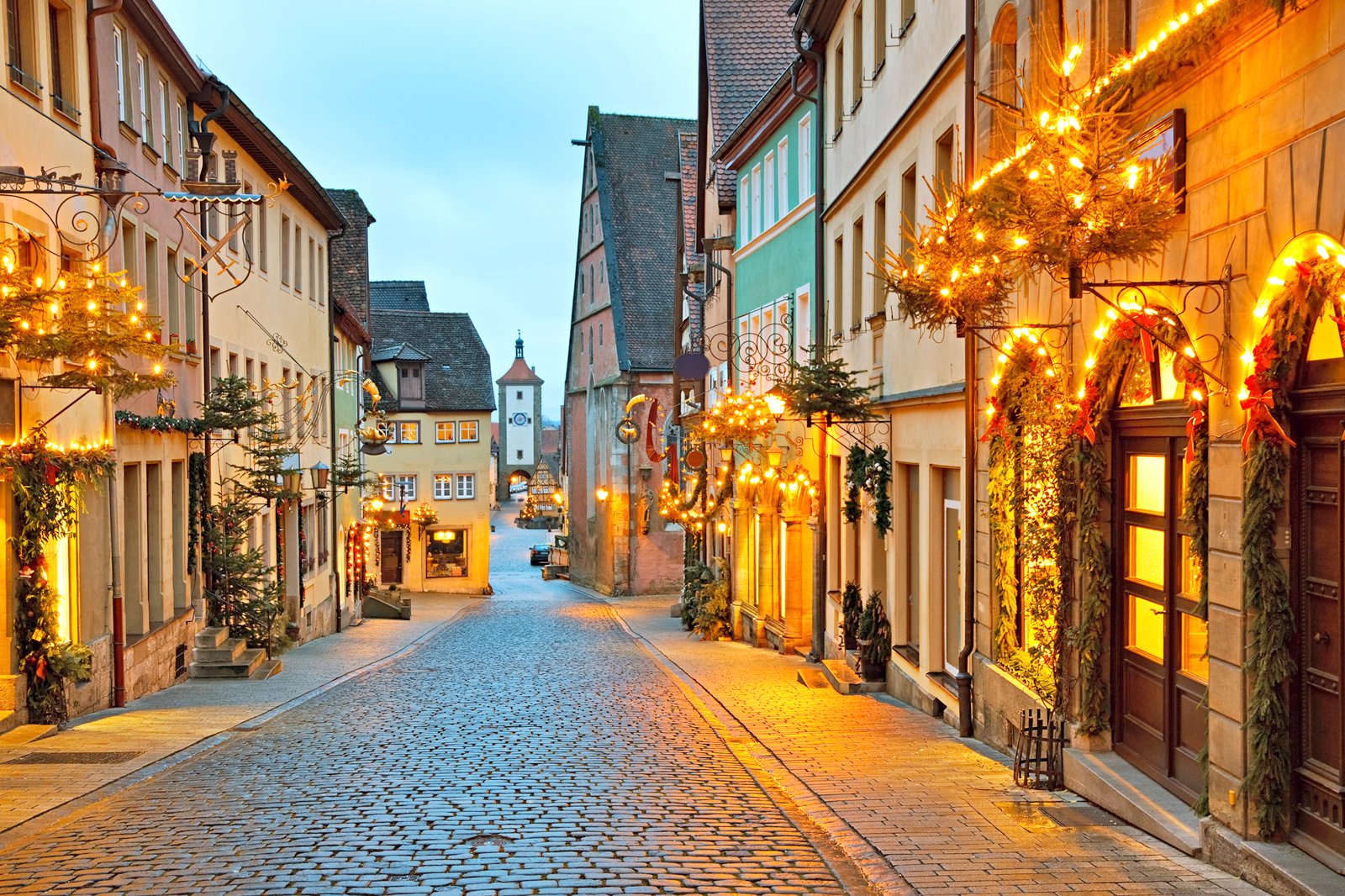 Rothenburg ob der Tauber
A fairy-tale town with half-timbered buildings
Rothenburg ob der Tauber, 115 km northeast of Stuttgart, is a fortified town dating back to the Middle Ages. The cobblestoned streets within the Old Town are lined with half-timbered houses and shops, as well as historical landmarks such as the Rathaus (Town Hall), Baumeisterhaus (Master-Builder's House), and Gerlachschmiede (Old Forge).
During winter, Market Square transforms into a picturesque Christmas market, with dozens of stalls selling ornaments and German delicacies. Rothenburg ob der Tauber's fairy-tale-like setting has been featured in many Hollywood films, including Chitty Chitty Bang Bang (1968) and Harry Potter and the Deathly Hallows (2010 and 2011).
Couples
Families
History
Photo
Single
Group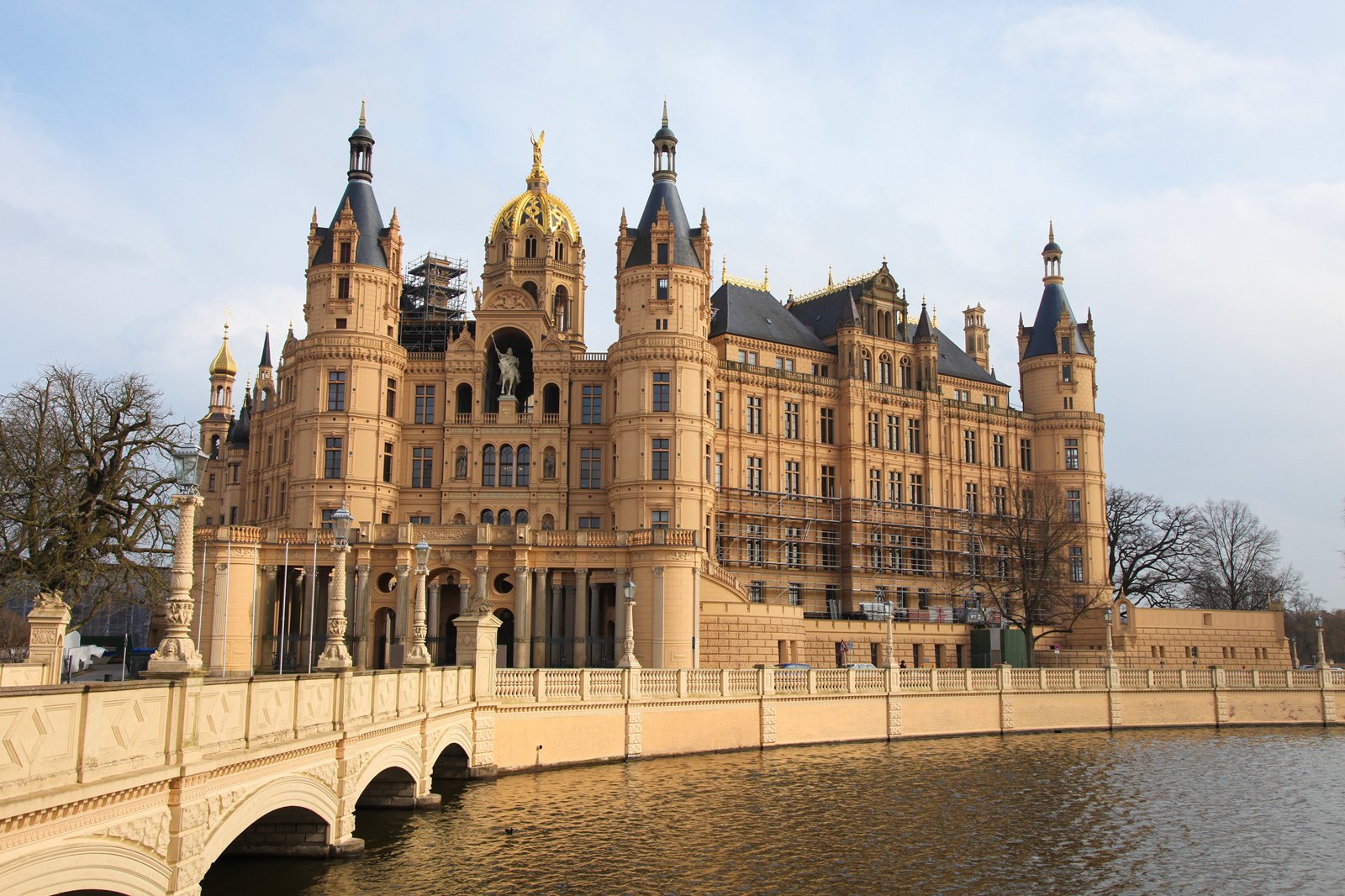 Schwerin
Germany's smallest state capital
The capital of Mecklenburg-Vorpommern, Schwerin is surrounded by 7 lakes and has many medieval structures that somehow survived the destructions of World War II. The town's most impressive landmark is Schwerin Castle, located on an island between Lake Schwerin and Lake Burgsee.
Other notable buildings near the castle include Altes Palais (Old Palace), the neoclassical State Art Museum, and Staatstheater. Schwerin attracts fans of classical music with its Open-Air Opera Festival, which takes place every summer at the Old Garden Square.
Couples
Families
History
Photo
Budget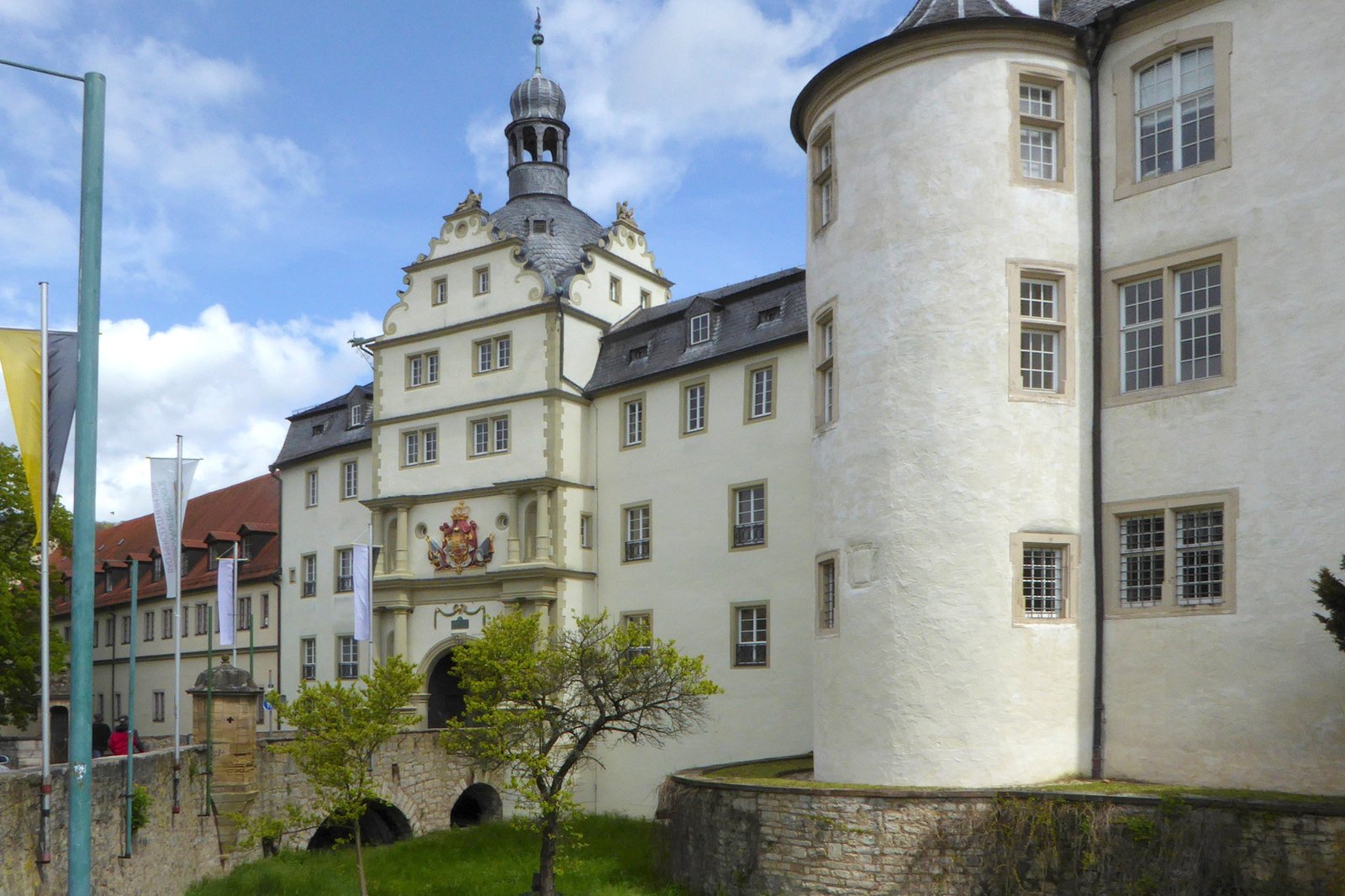 Bad Mergentheim
Idyllic spa town in southern Germany
Bad Mergentheim attracts many with its mineral springs, which are known for therapeutic benefits such as relieving heartburn and hyperacidity. Like most villages in Germany, Bad Mergentheim has cobblestoned pathways and half-timbered buildings dating back to the Middle Ages, but it' also one of the largest spa towns in Germany.
The Spa Park covers 70,000 sq m, where you get to explore beautiful lavender and medicinal herb fields, a rose garden, and a Japanese garden. If you want to stay active during your stay, Bad Mergentheim has over 140 km of walking trails. The local panorama walk is about 18 km in length and offers views of the town and the surrounding Tauber Valley.
Couples
Families
History
Photo
Budget
Single
Group
photo by Pierre André LECLERCQ (CC BY-SA 2.0) modified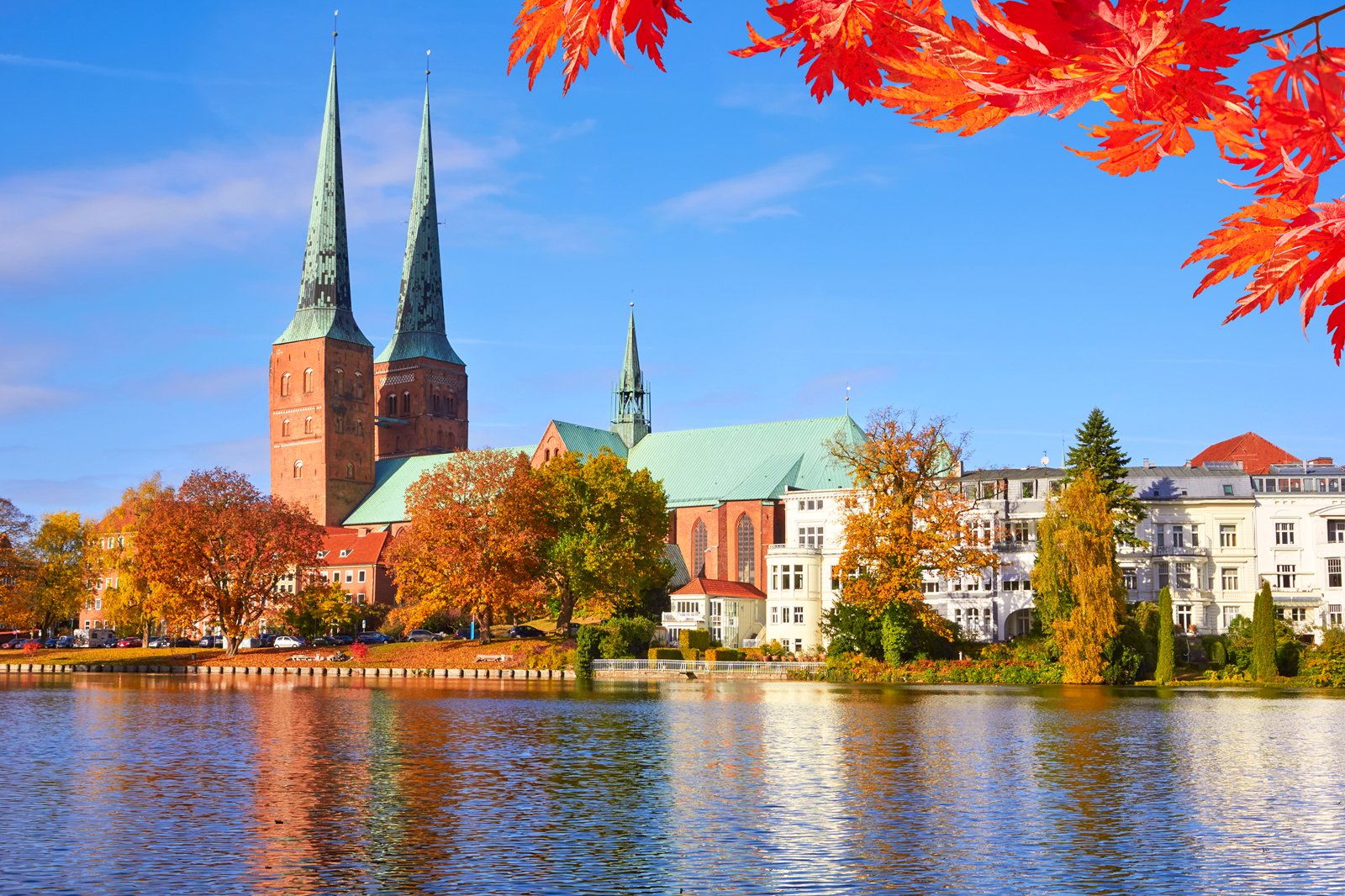 Luebeck
A UNESCO World Heritage Site in northern Germany
Luebeck dates back to the 12th century and served as one of Germany's major ports. Today, this UNESCO-listed town attracts many with its well-preserved ecclesiastical structures within the Altstadt (Old Town). There are 7 church steeples dominating the medieval quarter, one of which is the late-Gothic and Baroque Lübecker Dom – the city's oldest cathedral.
Luebeck is known for producing marzipan, a bread made with almond meal and sugar (sometimes honey). There's even a museum dedicated to this local confectionary on the second floor of Café Niederegger.
Couples
Families
History
Photo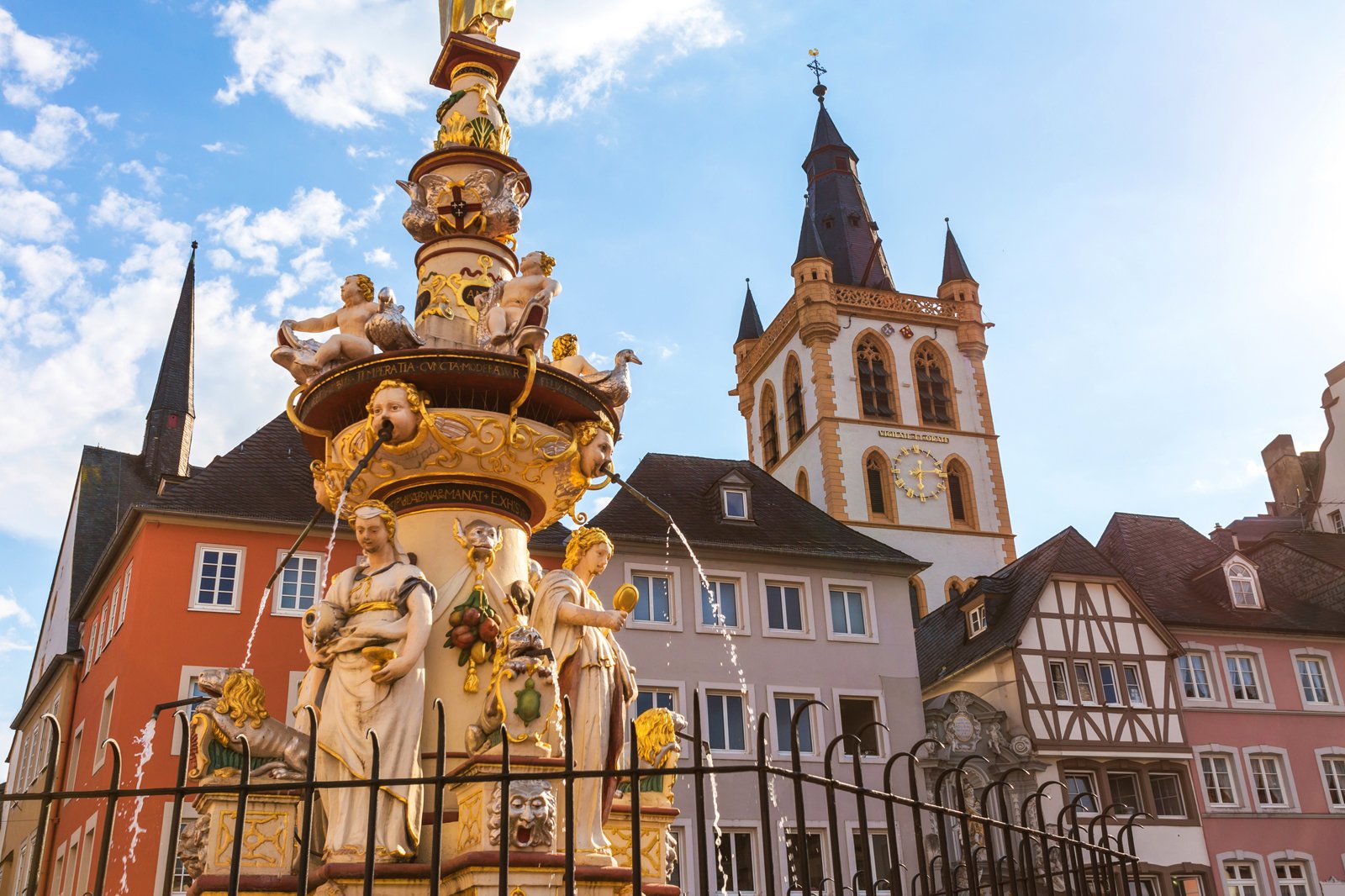 Trier
See the largest Roman basilica in Germany
Trier, one of Germany's oldest towns, was established by the Romans in the 1st century BC. It holds the highest number of Roman structures in Europe, with notable landmarks including the Porta Nigra city gate, Trier Amphitheater, and the ruins of 3 Roman baths. You should definitely visit the city's basilica, which contains the 67-metre-long throne hall of Roman Emperor Constantine.
Trier is also one of Germany's popular wine regions, and is best known for producing Moselle wines. There are dozens of vineyards surrounding this charming town that offer guided tours and wine tastings.
Couples
Families
History
Photo
Single
Group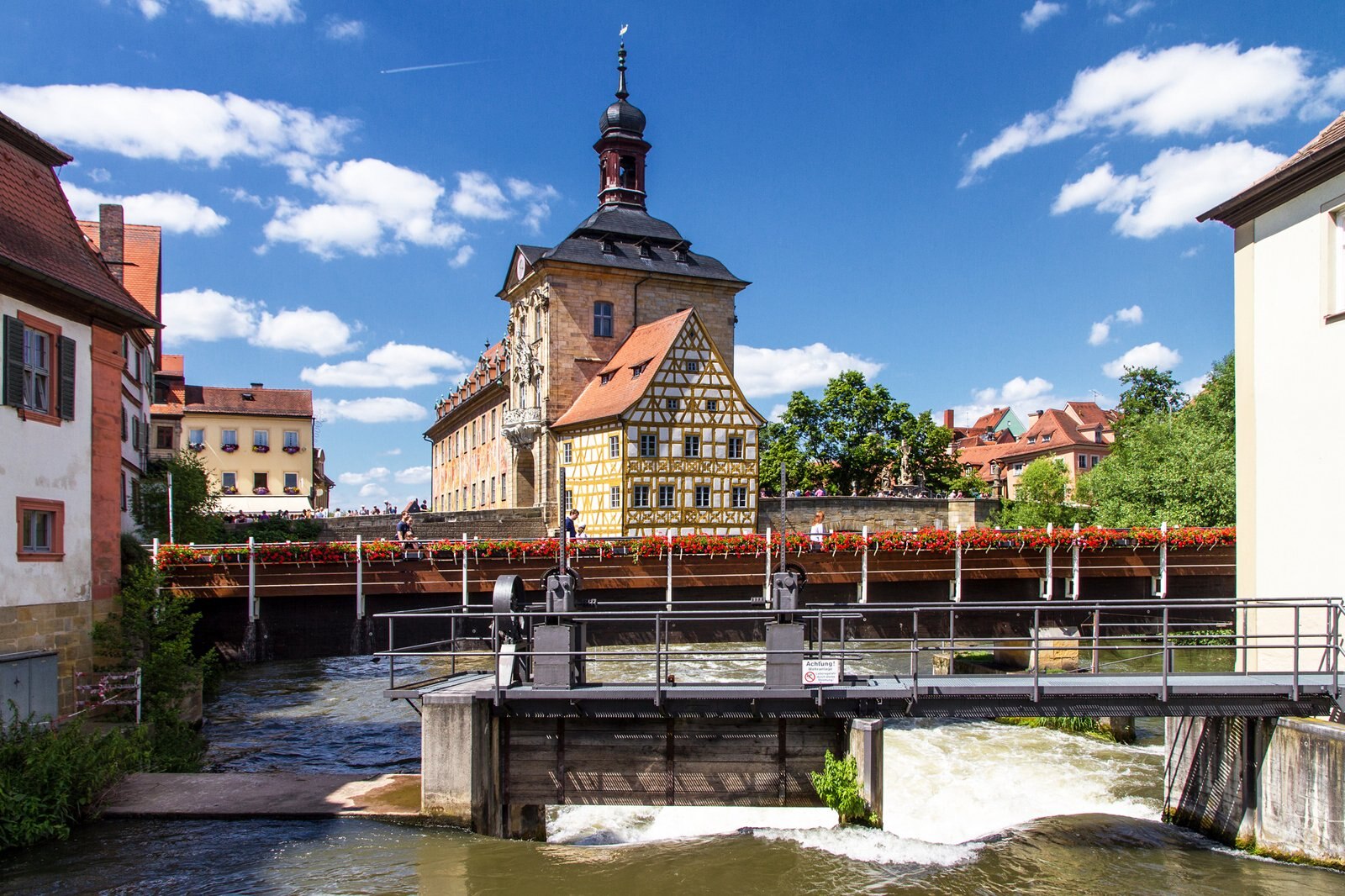 Bamberg
Try Rauchbier, Bamberg's smoked beer
Bamberg, located in Franconia, is made up of 7 hills, each with its own church overlooking the medieval town. The Old Town is a UNESCO World Heritage Site, as it preserves many arched bridges and picturesque buildings from the 11th to 19th centuries. A notable landmark in the city is Bamberg Cathedral, a late Romanesque structure where you can visit the tombs of Emperor Henry II and Pope Clement II. Perched on the town's highest hill, Altenburg Castle dates back to 1109 and was the residence of Bamberg's bishops until 1553.
If you're in the mood for some German beer, the town is also known for its traditional breweries. A must-try in Bamberg is rauchbier (smoked beer) at Schlenkerla and Spezial.
Couples
Families
History
Photo
Budget
Single
Group
photo by rey perezoso (CC BY-SA 2.0) modified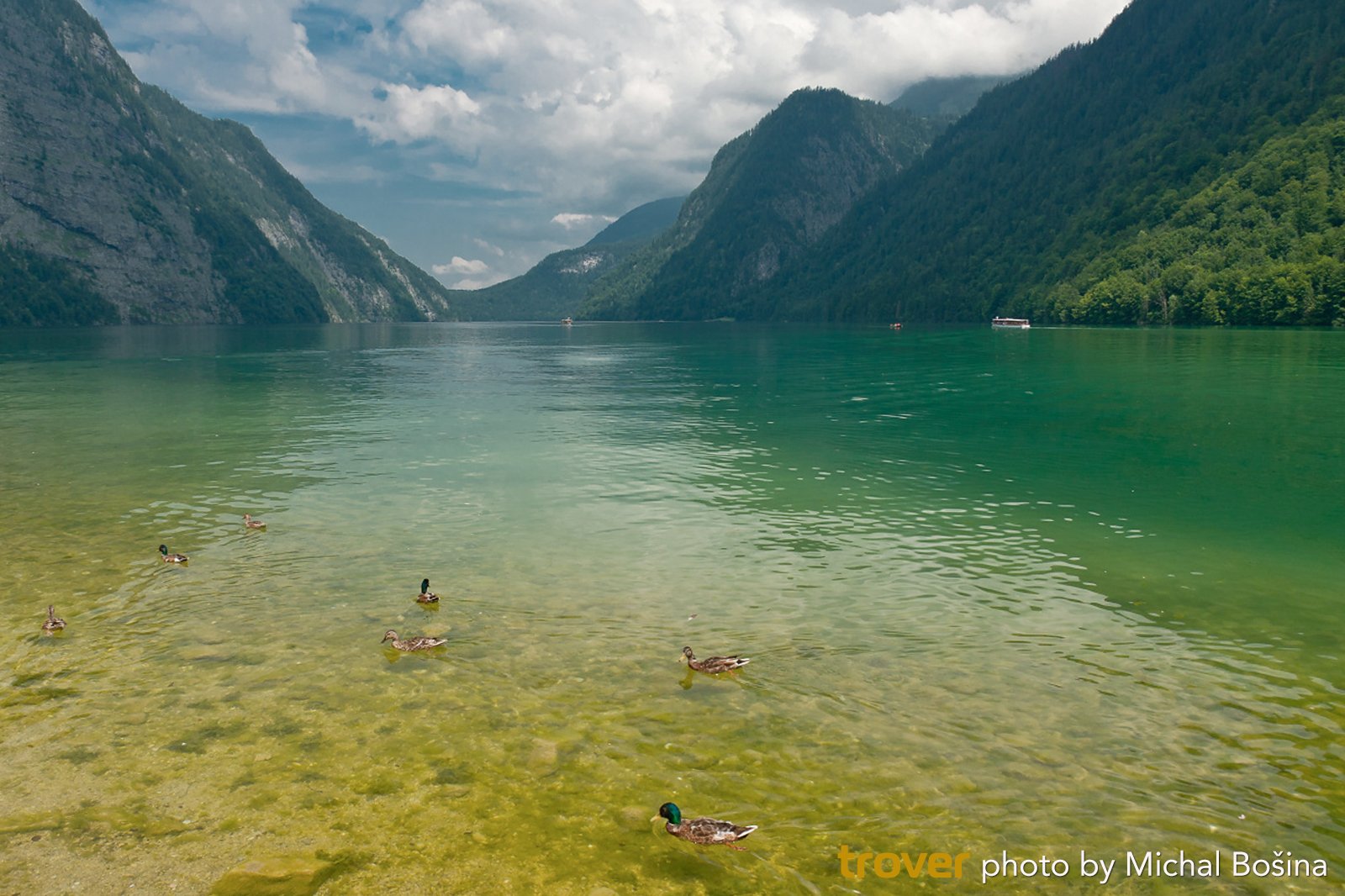 Berchtesgaden
Hike to Funtensee – one of Germany's coldest lakes
If you're in the mood for a wintery getaway, the mountainous village of Berchtesgaden is a must-visit. Known for its breathtaking scenery of the Bavarian Alps, you can enjoy many outdoor activities here, from skiing in Berchtesgaden National Park to sailing on Königssee Lake. There are also miles of hiking trails, one of which leads to Funtensee, the coldest spot in Germany.
Berchtesgaden's market square is usually lively with brass bands and children in Bavarian costume performing folk dances during the day. A 10-minute drive east-southeast of Berchtesgaden takes you to infamous Third Reich-era buildings such as the Berghof and Hitler's Eagle's Nest.
Couples
Families
Photo
Adventure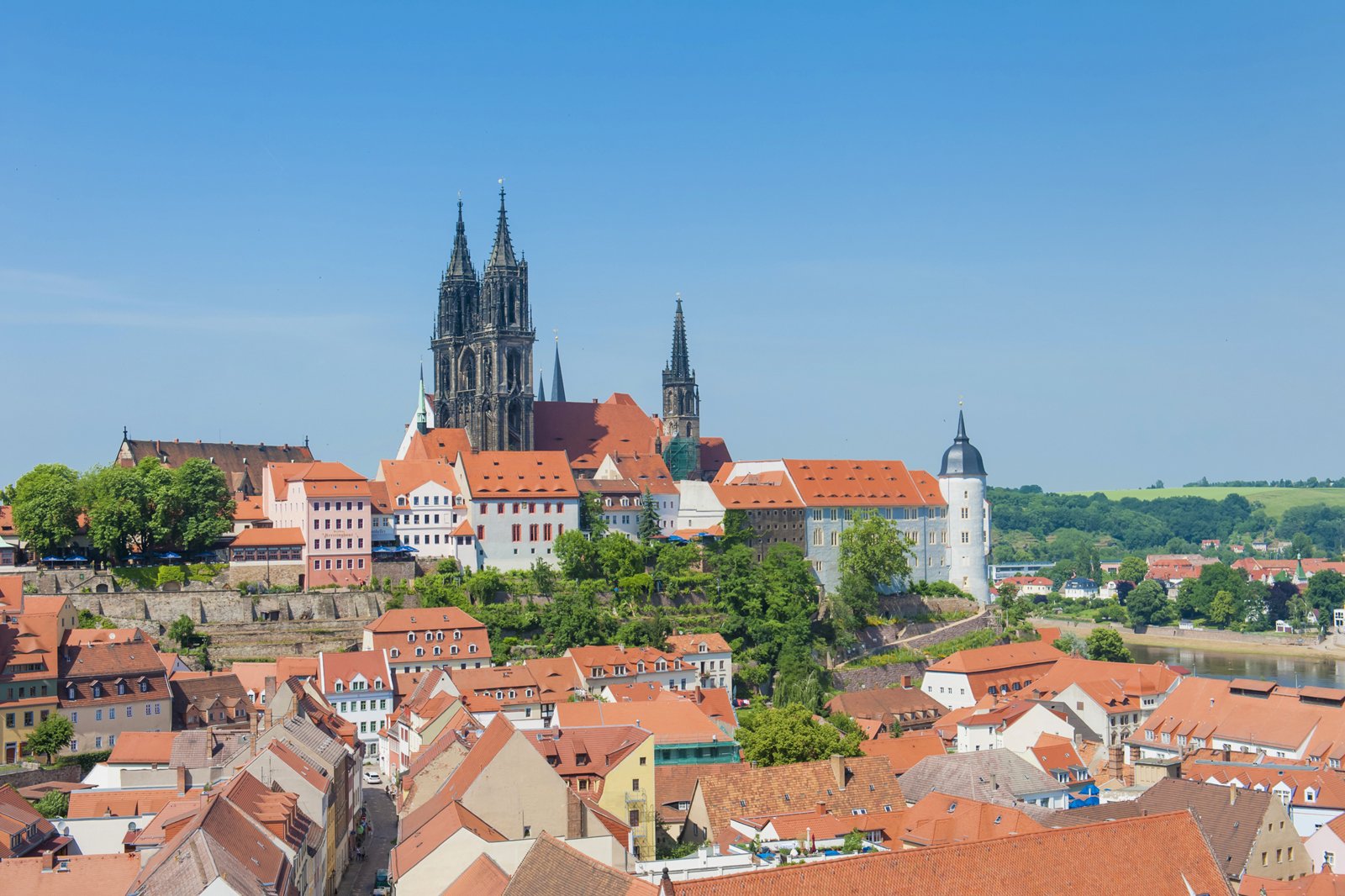 Meissen
A Prague-like landscape in Germany
Meissen lies close to the border between Germany and the Czech Republic, and has a landscape that closely resembles Prague's. This quaint town is dominated by the 15th-century Albrechtsburg Castle and Meissen Cathedral, both overlooking the Elbe River. Meissen is also known for producing some of Germany's finest porcelains. There's a museum displaying some fine examples dating back to the 18th century.
Meissen hosts many festivities throughout the year, including Weinfest, which celebrates the town's wine harvest in late September with live music and wine tastings from the Saxonian wine region.
Couples
Families
History
Photo
Group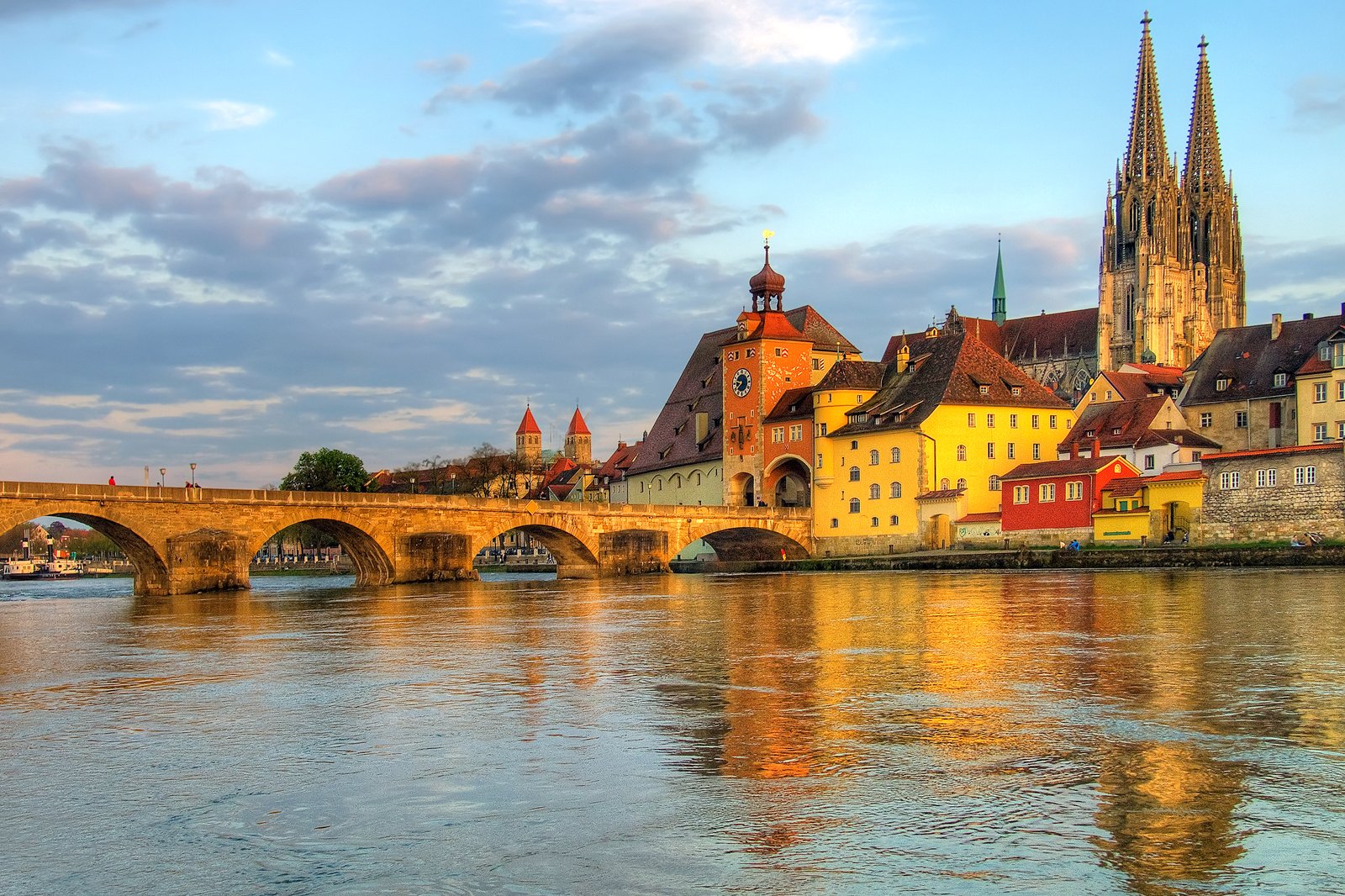 Regensburg
A Bavarian town with its very own Oktoberfest
A UNESCO World Heritage Site in Bavaria, Regensburg is one of the few towns that was untouched by World War II. This medieval town overlooks the Danube River and consists of ancient Roman, Romanesque and Gothic buildings. The Old Town of Regensburg is relatively easy to explore on foot, and you get to see historical structures such as the Old Stone Bridge and St. Peters Cathedral.
Regensburg has a thriving performing arts scene – Theater Regensburg hosts world-class operas, ballet, operetta, and musicals all year round. Another popular event is the Regensburger Dult, the town's equivalent of Oktoberfest. This 2-week-long festivity takes place twice a year, typically in May and early September.
Couples
Families
History
Photo
Budget
Single
Group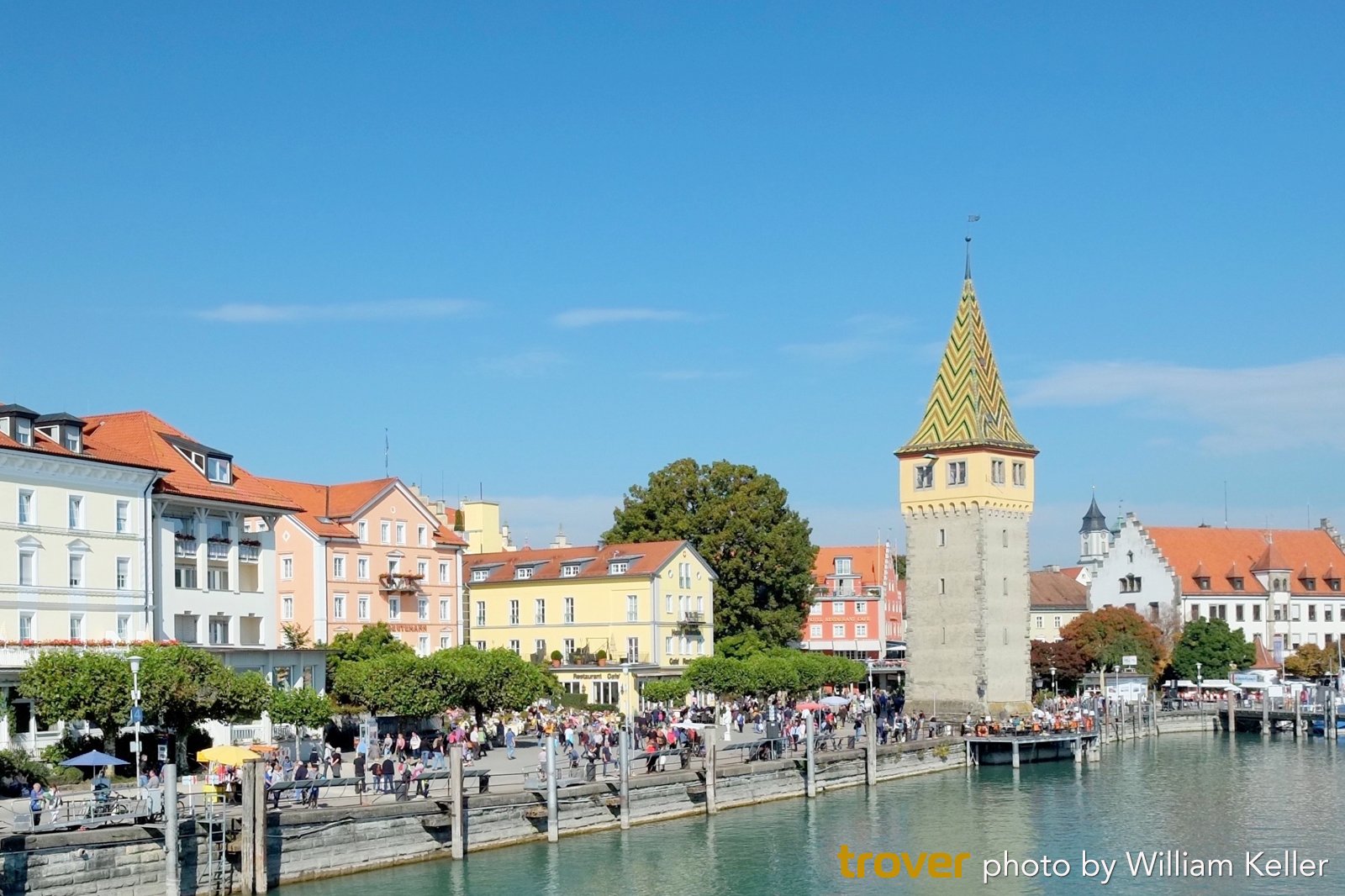 Lindau
An island town in southern Germany
Lindau sits on an island on the border between southern Germany and Austria, with picturesque views of Lake Constance (Bodensee). It's usually busiest during summertime, as the lake is a popular spot for boat trips and swimming. The Bodensee-Radweg trail, which circles the lake with its 260-km-long pathway, is good for cycling.
Half-timbered houses and historical buildings occupy the town centre. The Lindau Lighthouse and the 12th-century Mangturm tower offer panoramic views of Lindau and Lake Constance. One of Lindau's most unique structures is the 13th-century Thieves Tower, a former prison tower topped with colourful roof tiles.
Couples
Families
History
Photo
Budget