10 Best Restaurants in Wan Chai
Where to Eat in Wan Chai
This collection of restaurants in Wan Chai will give any other area of Hong Kong a run for its money in terms of quality and range of cuisine. There are Michelin-starred stunners if you want something extra special, but also cheap and cheerful local restaurants where you can eat authentic Cantonese food for a pocketful of change.
Many of these restaurants require booking in advance and even then you may have to wait for your table. If you're unaccustomed to dining in Hong Kong this might seem unusual, but it's a part of life in Wan Chai and all over the downtown area. Take a look at our best restaurants in Wan Chai below.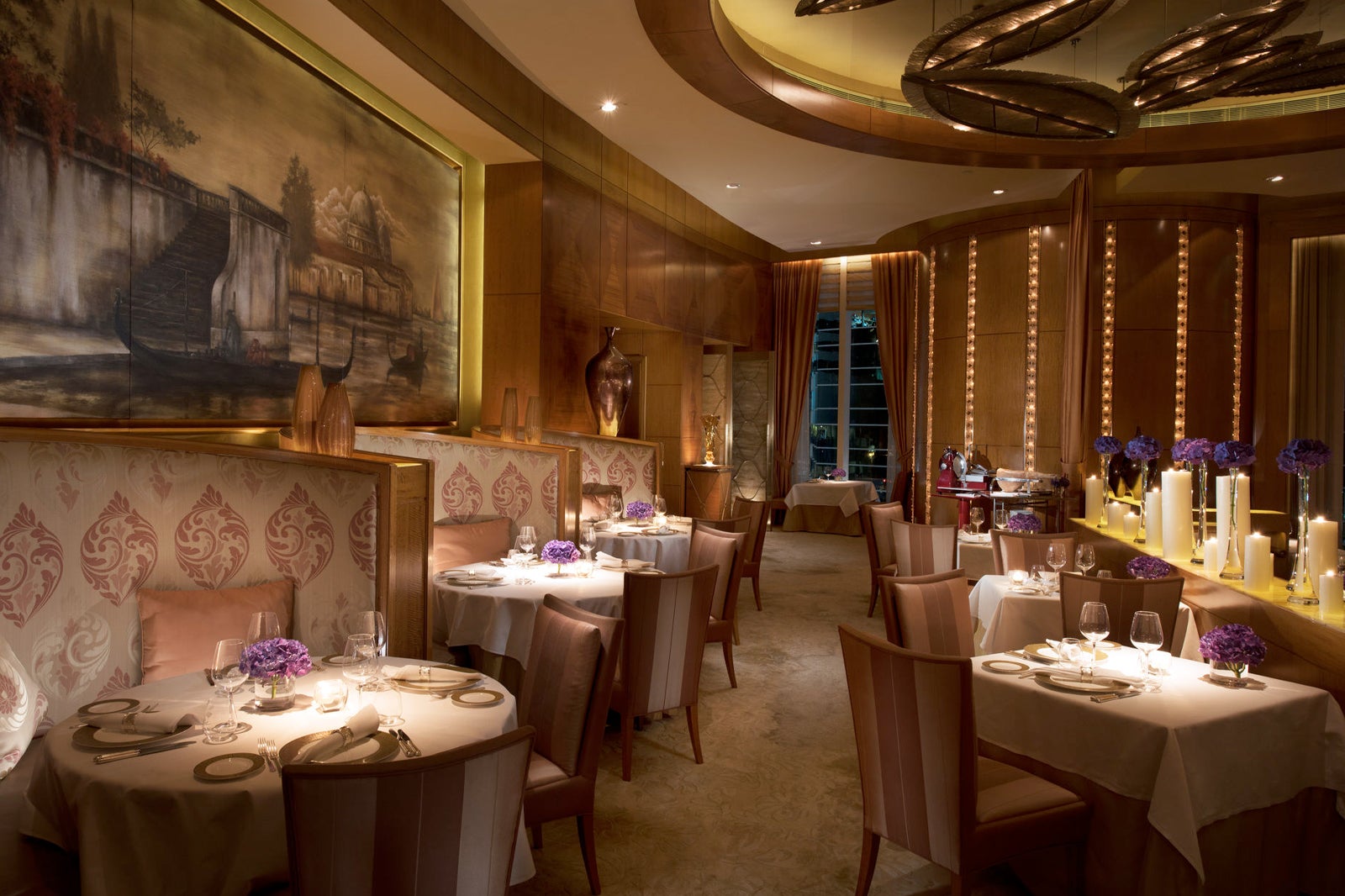 Nicolini's at Conrad Hotel
Nicolini's serves sophisticated Italian cuisine in an 8th-floor restaurant with great views to match. The whole experience is joyful thanks to clean, rich Italian cuisine, seamless service and a beautifully decorated dining room. The food here is exceedingly rich and flavoursome, with standout dishes including the beef tartare and lobster rigatoni.
There's an extensive wine collection at Nicolini's with some Italian Barolos and other prestigious labels to pair with Australian beef and lamb dishes. The Sunday brunch here is also famed as one of the best in Hong Kong. Read more...
Location: Pacific Place, 88 Queensway, Wan Chai, Hong Kong
Open: Monday–Saturday from midday to 3pm and 6.30pm to 10.30pm, Sundays from 11am to 3pm and 6.30pm 10.30pm
Phone: +852 2822 8801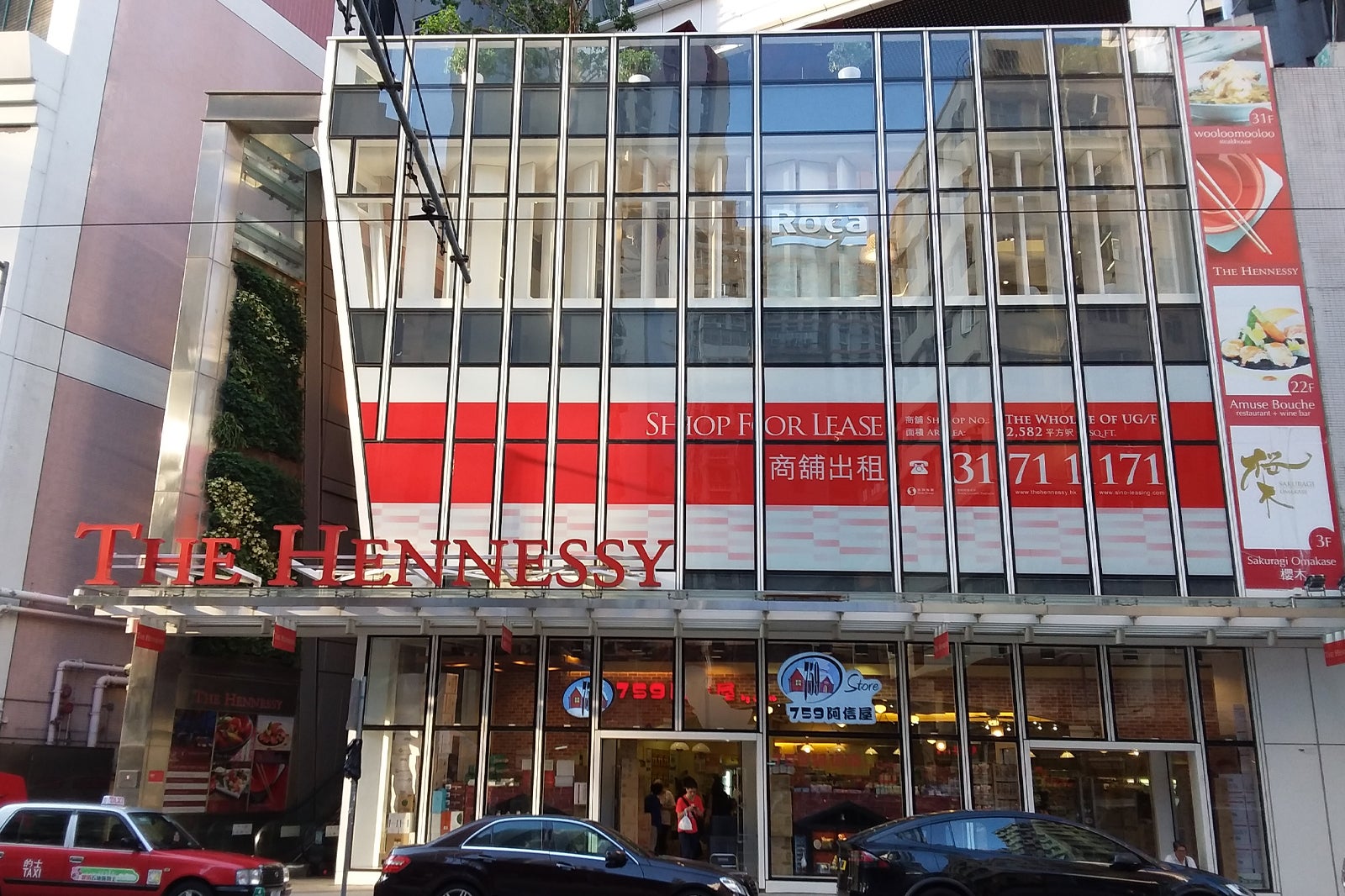 Rooftop views and prime Aussie steaks make Wooloomooloo Steakhouse a sure-fire success. The dining room is decked out in leather and dark wood, while the views from the floor-to-ceiling windows can only be topped by taking a digestif out on the terrace bar connected to the dining room.
On weekday lunchtimes, there's a set lunch for around HK$150 while from the a la carte menu, a 12 oz. Black Angus 150-day grain fed ribeye steak costs around HK$390.
Location: The Hennessy, 256 Hennessy Road (entrance on 213, Johnston Rd) Wan Chai, Hong Kong
Open: Daily from 11.45am to 2.30pm and 6pm to 11pm
photo by Yatharleumshewo (CC BY-SA 4.0) modified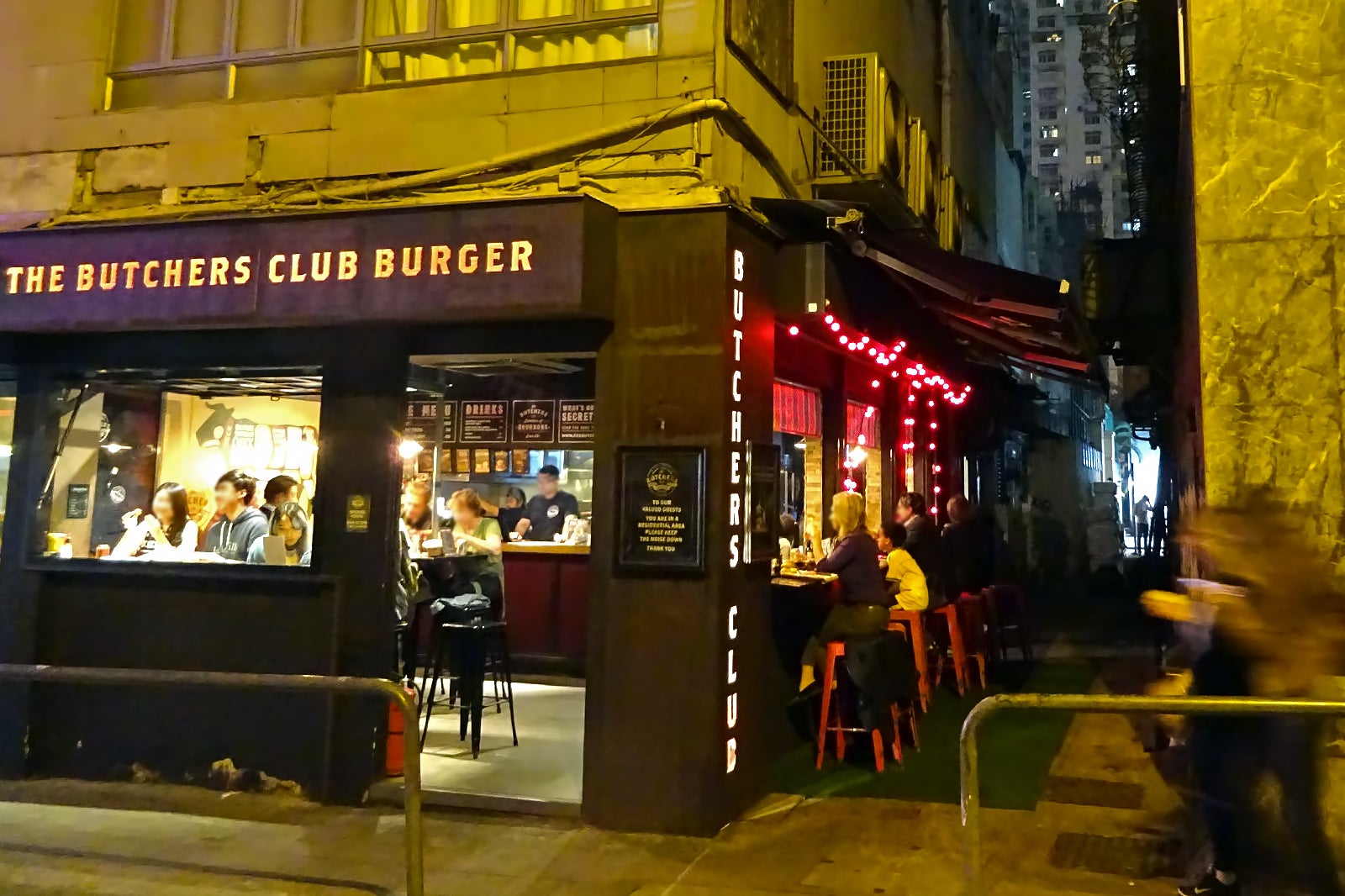 The Butchers Club Burgers
Due to the number of foreigners living in Hong Kong, you're never too far away from a burger joint, but The Butchers Club Burgers in Wan Chai is surely one of – if not the – best of the lot. Strictly Australian beef is used in their monstrous burgers, which are filled with bacon, cheese and pickles on a soft bun. There is a range of beef, chicken, and lamb, as well as thick cut fries. Burgers start from around HK$100.
Location: G/F, Rialto Building, 2 Landale Street, Wan Chai
Open: Daily from 8am to 11pm
Phone: +852 2528 2083
photo by Gokoowcheungg (CC BY-SA 4.0) modified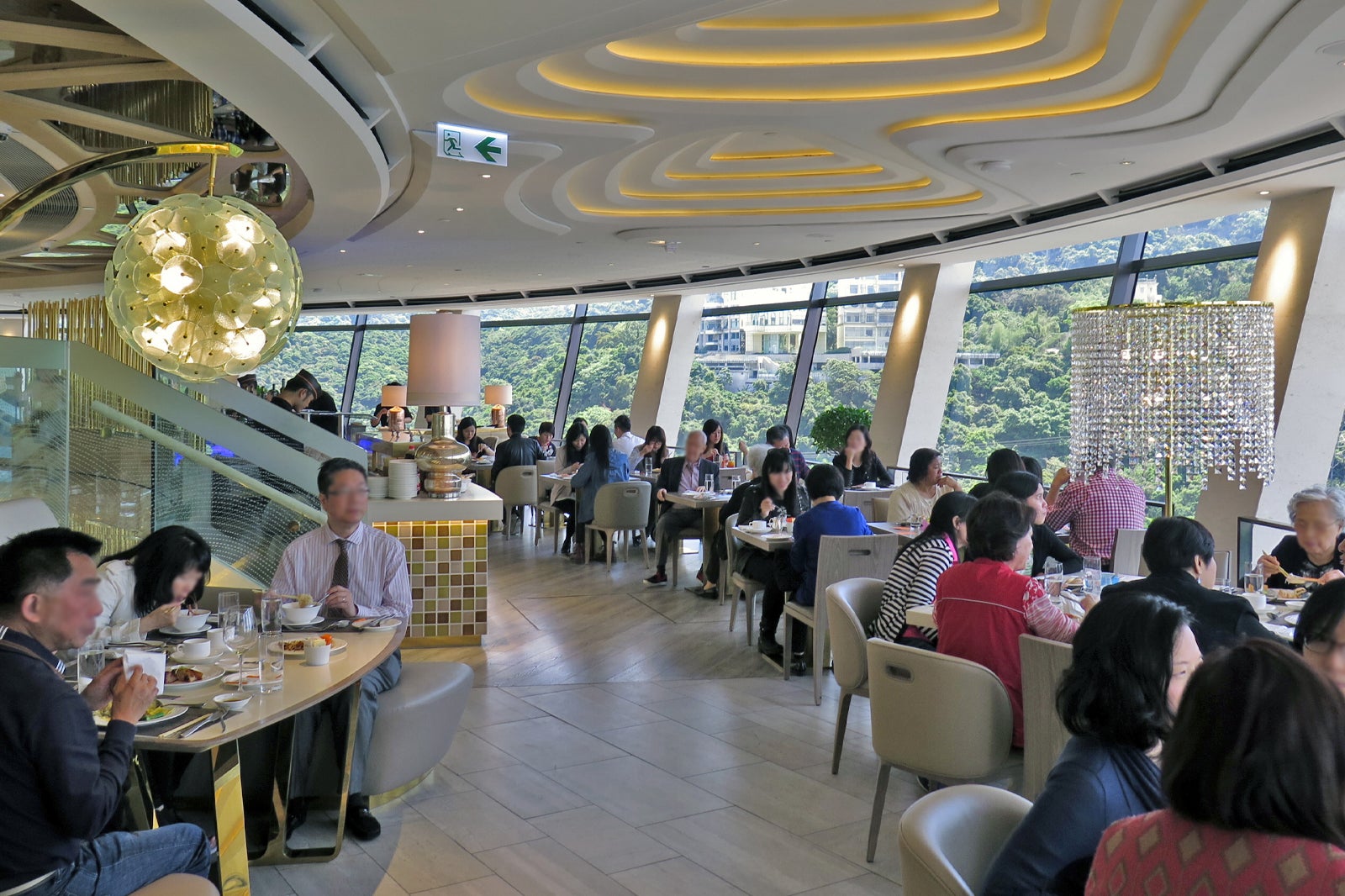 Grand Buffet at Hopewell Centre
Take the journey up to the top floor of the Hopewell Centre on Queen's Road East for a great value lunch with stunning views from the 62nd floor. A full range of Chinese, Japanese and western dishes is available, including crispy pork belly, deep fried fish, lobster, king prawns, scallops, and sushi. You can add a free-flow wine and champagne package for an additional fee.
Location: 62/F, Hopewell Centre, 183 Queen's Rd E, Wan Chai, Hong Kong
Open: Daily from 11.30am to 10.30pm (Sundays from 11am to 10pm)
Phone: +852 2506 0888
photo by Wing1990hk (CC BY 3.0) modified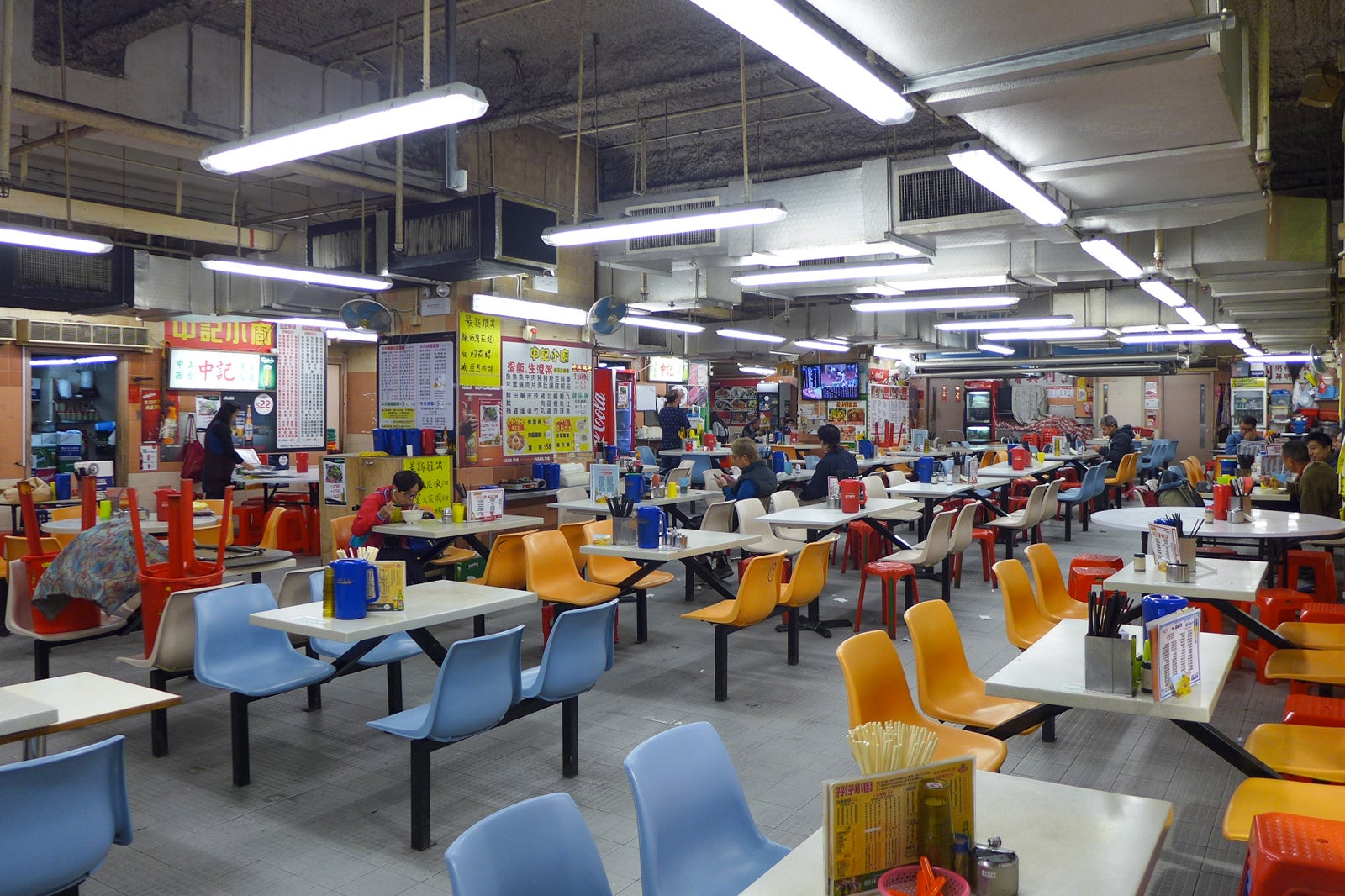 Cooked Food Centre on Lockhart Road
Cooked food centres are Hong Kong's version of hawker centres or food courts. They're a ubiquitous presence throughout the city, usually connected to a fresh market; places where the workers (and adventurous visitors) can get big portions at low prices.
It's a lot of fun just trying to get served as this is as local as you can get, with menus in Cantonese and sometimes English, if you're lucky. Noodle soup, fried beef in black pepper and deep-fried fish are all popular dishes at cooked food centres and this one on Lockhart Road is on the 2nd floor of the wet market. Meals typically cost less than HK$100.
Location: 2nd floor of Lockhart Wet Market, Wan Chai, Hong Kong
Open: Daily from 7am to 7pm (some restaurants close after lunch)
photo by Wpcpey (CC BY-SA 4.0) modified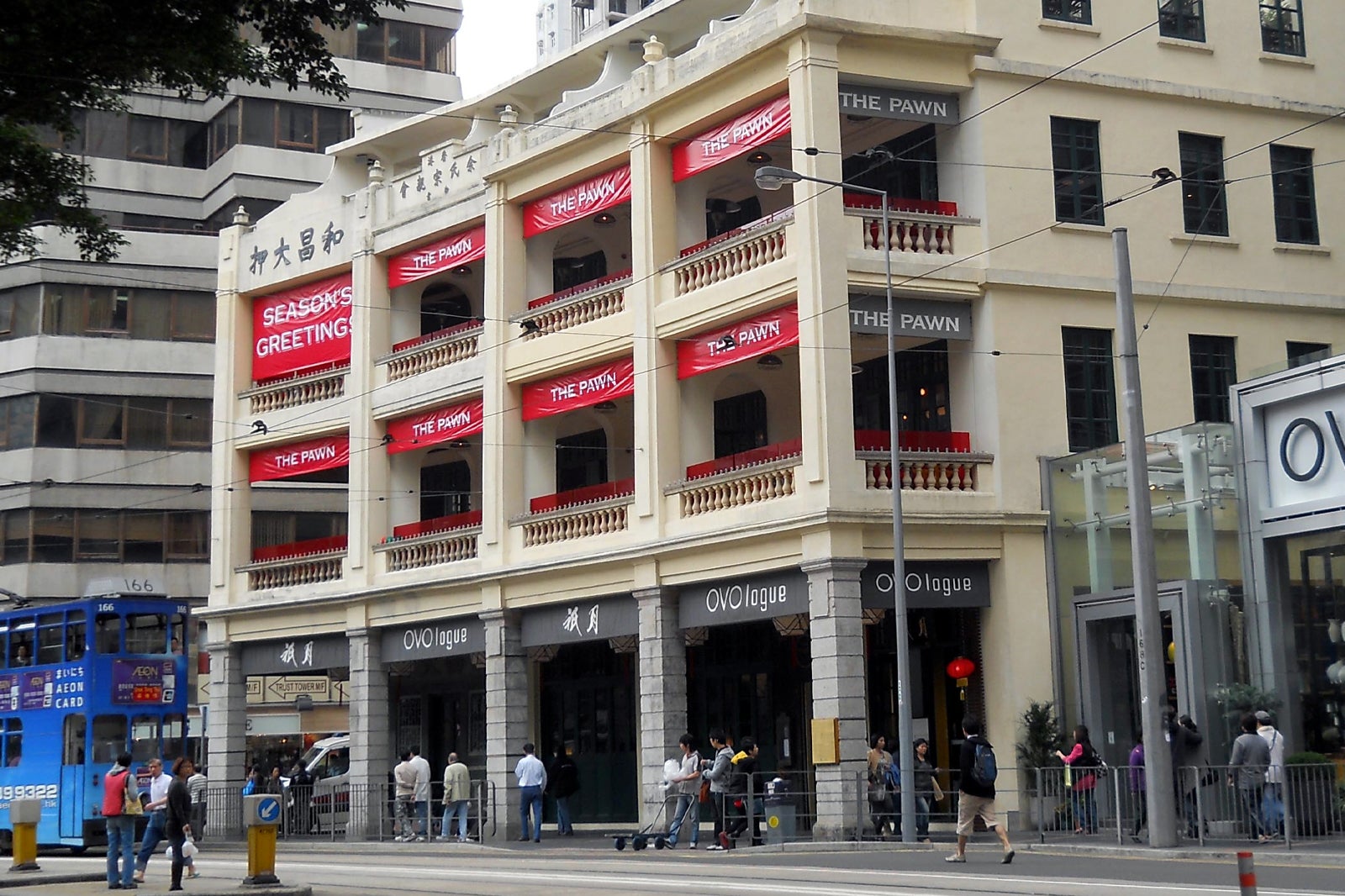 The Pawn is one of the coolest and trendiest spots in Wan Chai. Part bar, part restaurant, and housed in a heritage listed building that used to be an old pawn shop, The Pawn serves creative dishes that often combine the best of east and west.
Your culinary journey can go from the Japanese-inspired tuna tartare with sesame and wasabi, to the Mediterranean flavours of codfish with chorizo and red pepper, or from the lunch menu, there's roasted red snapper followed by steak and ale pie.
Location: 62 Johnston Road, Wan Chai, Hong Kong
Open: Sunday–Thursday from midday to 1am, Friday–Saturday from midday to 2am, Sundays from 11.30am to 1am
Phone: +852 2866 3444
photo by Chong Fat (CC BY-SA 3.0) modified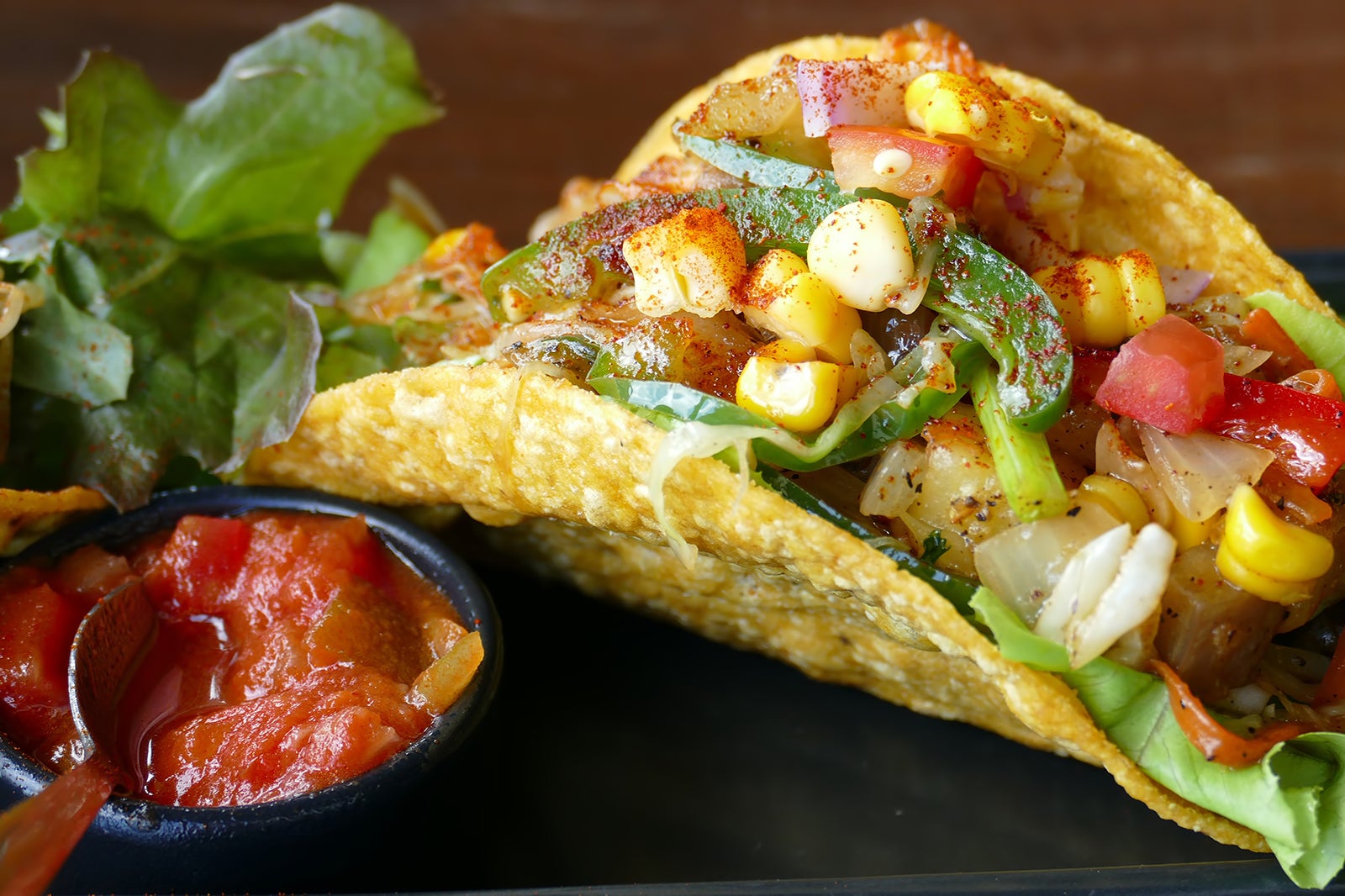 Coyote Mexican Bar and Grill
Coyote Mexican Bar and Grill serves hearty Tex-Mex food with the bonus of frozen margaritas, lively tunes and friendly, English-speaking staff.
It probably won't win any awards for its menu, but the food is enjoyable and offers an easy option when you want something other than Asian food. The sizzling fajitas are recommended and the happy hour runs from 3pm to 8pm every day.
Location: 114-120 Lockhart Road, Wan Chai, Hong Kong
Open: Daily from 12pm to 2am
Phone: +852 2861 2221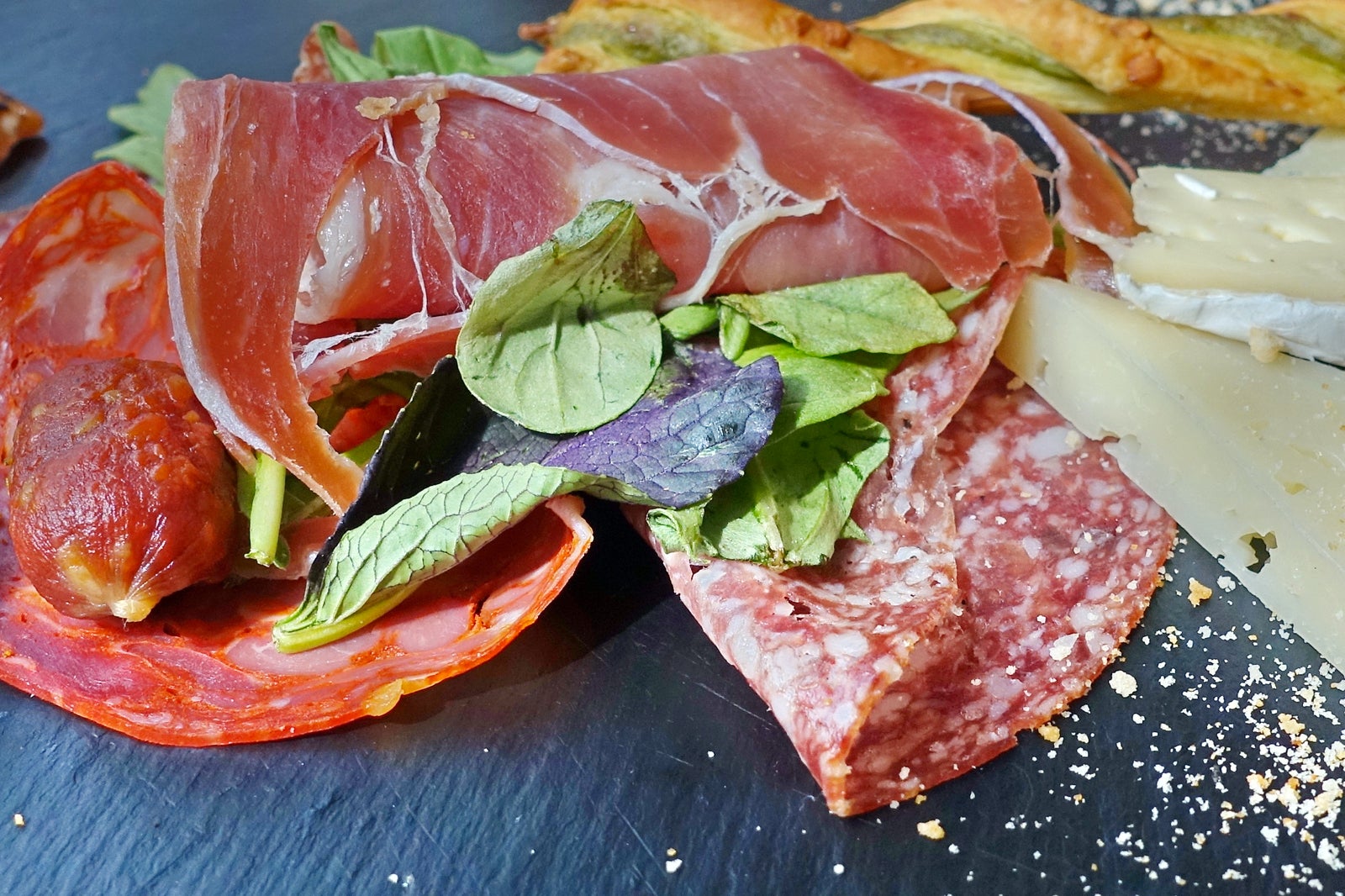 Ultra-modish wine and tapas bar Ham & Sherry is fairly tucked away on Ship Street, but well worth the time to find it if you're looking for something trendy in Wan Chai.
It was established by Michelin-starred Chef Jason Atherton (who also has restaurants 22 Ships and Aberdeen Street Social to his name), and is a sort of restaurant/bar/Spanish taberna crossover. The food is fantastic, but so too is the extensive range of wines, Sherries and signature cocktails.
Location: 1-7 Ship Street, Wan Chai, Hong Kong
Open: Daily from 12pm to 3pm and 6pm to 11pm (Sundays until 10pm)
Phone: +852 2555 0628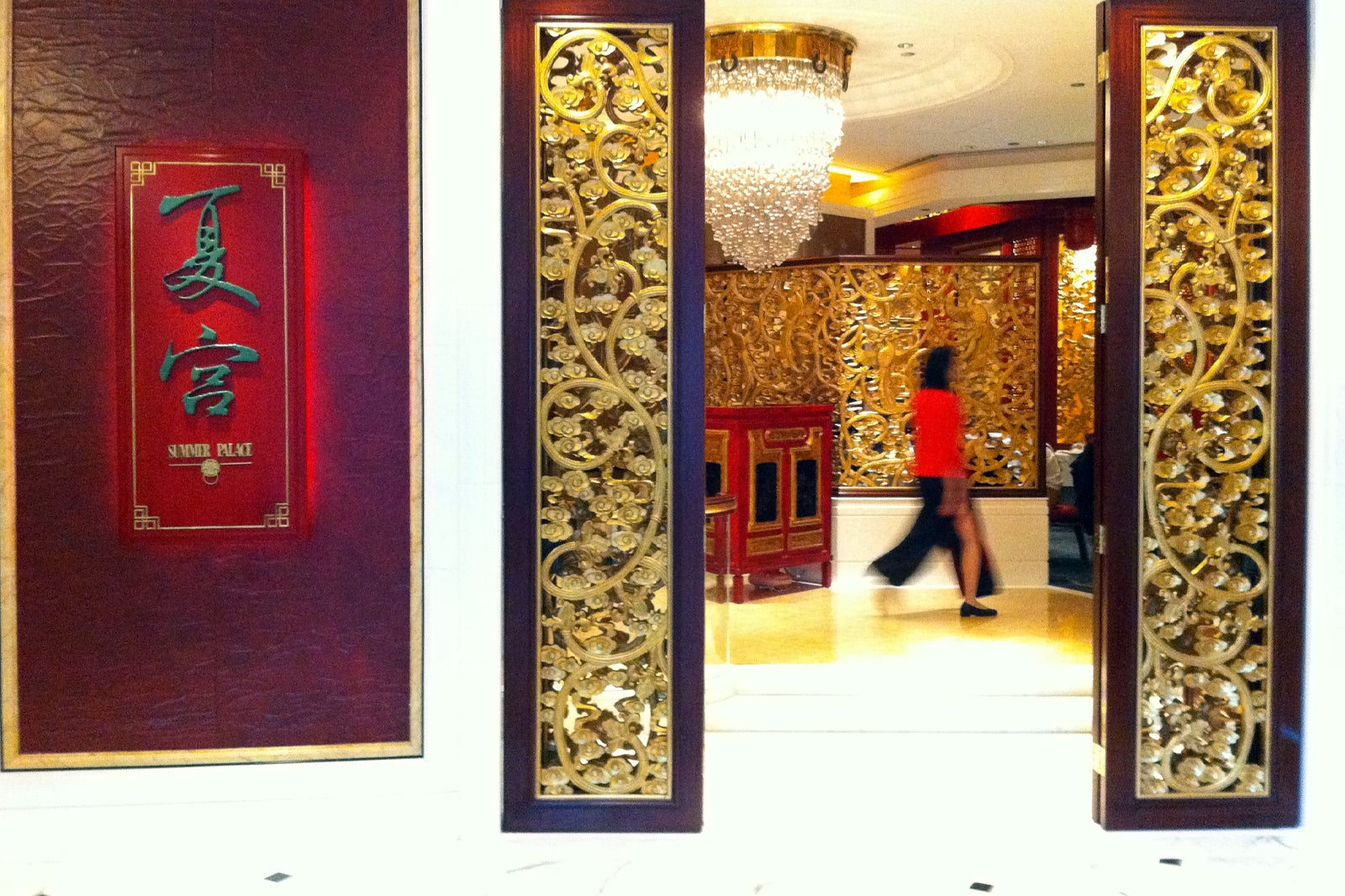 Summer Palace at Shangri-La Hong Kong
This classy restaurant has been at the top of the fine dining scene in Hong Kong for years, and with 2 Michelin stars to its name, the quality of Cantonese cuisine at Summer Palace is as good as ever.
The food here is classic Chinese; Chef Ip Chi Cheung uses premium ingredients to add depth to dishes, such as chicken stuffed with crabmeat and onion and king prawn with black truffle pesto. Dinner (with wine) costs around HK$500 so it's certainly not cheap, but Summer Palace is sure to impress.
Location: Supreme Court Road, Level 5, Pacific Place, Wan Chai, Hong Kong
Open: Daily from 11.30am to 3pm and 6pm to 11pm
Phone: +852 2820 8552
photo by Sezimropkora (CC BY-SA 3.0) modified
22 Ships is a tapas bar and restaurant serving European cuisine in a lively, vibrant atmosphere. The Michelin star chef Jason Atherton has been winning plaudits all across town for his growing collection of restaurants, and this bustling venue on trendy Ship Street is constantly packed.
Try the ham, Manchego and truffle toasty or the chorizo braised in red wine. Music is louder than usual for a restaurant but it runs the gamut of restaurant/bar well.
Location: 22 Ship Street, Wan Chai, Hong Kong
Open: Monday–Saturday from midday to 3pm and 6pm to 11pm, Sunday from midday to 2.30pm and 6pm to 10pm
Phone: + 852 2555 0722