10 Weird Things to See and Do in Budapest
Why Budapest is a Quirky (and Creepy) Capital 
Budapest is rich in history and interesting landmarks. Here, you'll find a cool assortment of weird things to see and do that can make for a fun trip. These include some impressive places hidden beneath the city's elegant and dramatic streets. Some will grant you unique bragging rights too, like 'I've been to where Count Dracula actually pondered the meaning of life'.  
There are plenty of odd sights to discover in the Hungarian capital. Some of these you will stumble upon on your explorations away from the city's central attractions. From solemn memorials, old alchemist's labs, and strange museums, to nightlife spots built around out-of-the-ordinary themes, here are some of the top reasons why Budapest is a quirky (and creepy) capital to visit.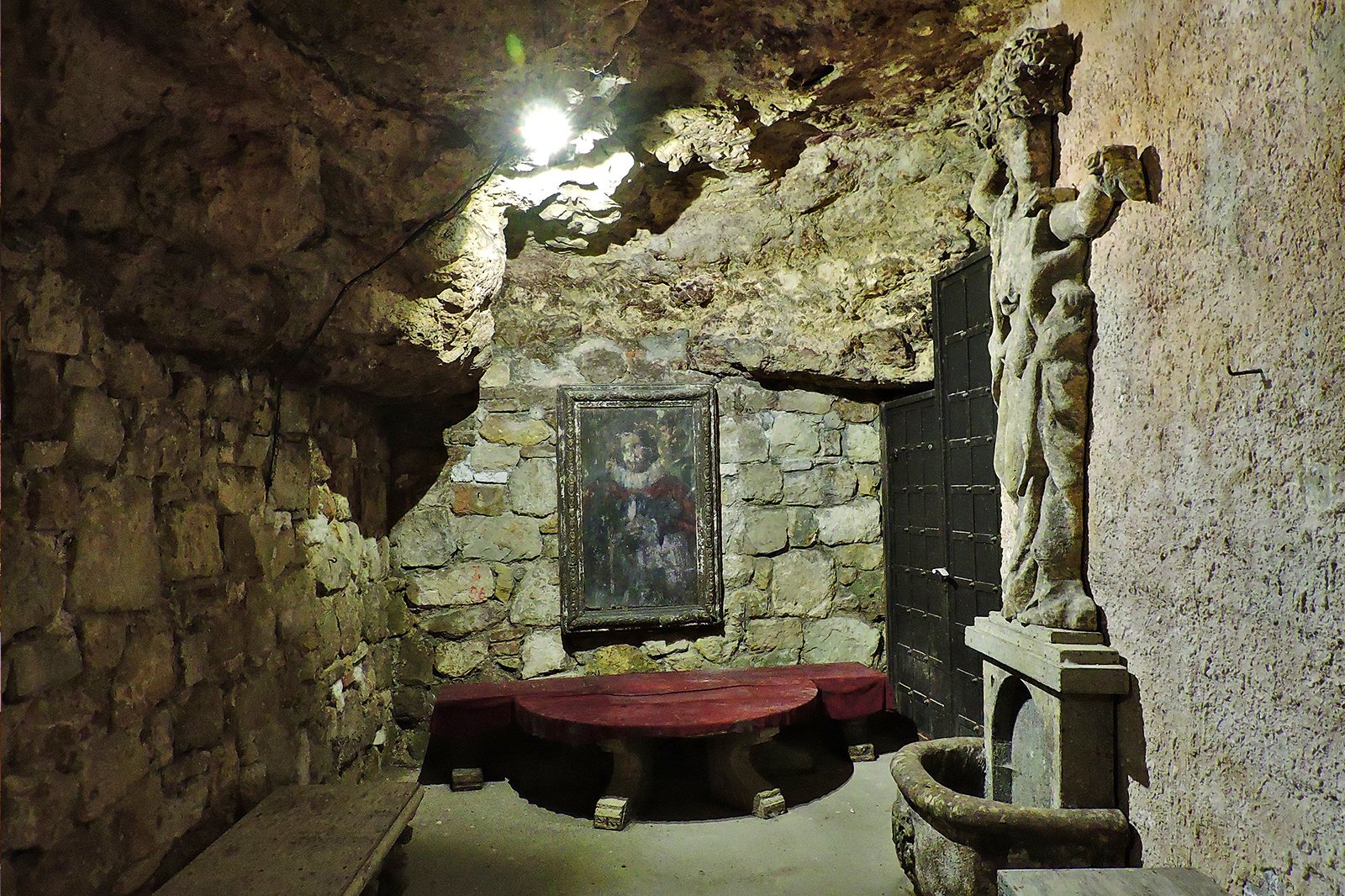 Buda Castle Labyrinth
See where Count Dracula did time
The Buda Castle Labyrinth is one of Budapest's subterranean historical treasures, and it comes with a long history. The castle once held captive the Prince of Darkness, Count Dracula, himself – or at least the historical figure who inspired the fictional character. The dark and damp labyrinthine network of tunnels under Buda Castle once functioned as a harem, a prison, and then, a torture chamber. 
As a prison, the labyrinth's most notorious resident was the Wallachian prince, Vlad Tepes, also known as Vlad the Impaler – the real-life inspiration for Bram Stoker's seminal antihero. You can enjoy this macabre side trip in a 15 minutes' walk from the castle.
Location: Budapest, Úri u. 9, 1014 Hungary
Open: Daily from 10am to 7pm
Phone: +36 1 212 0207
photo by Dimitris Kamaras (CC BY 2.0) modified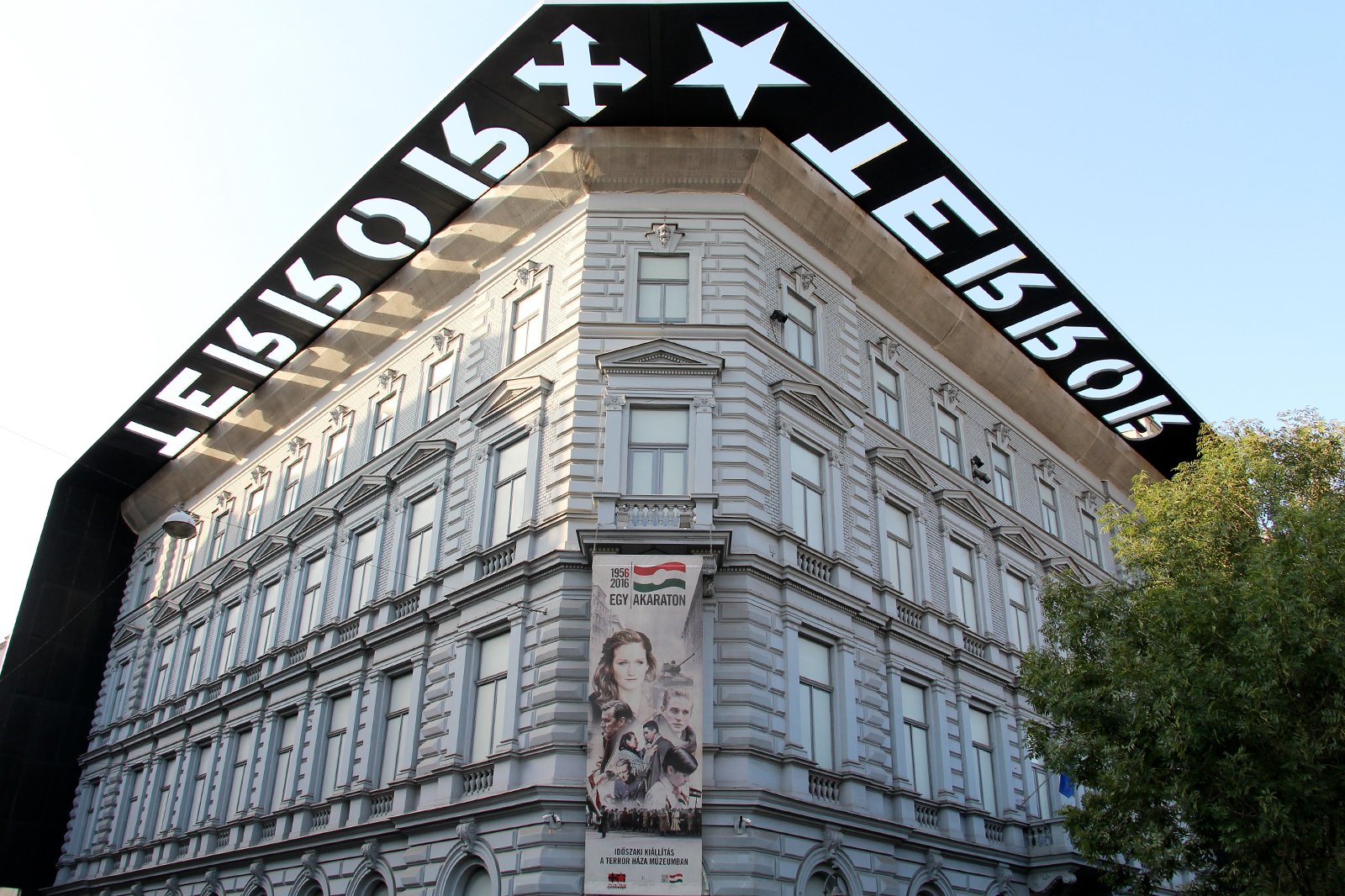 Terror Háza 
Learn about nightmare periods in Hungary's modern history
For a tour of the dark side of more recent Hungarian history, step inside Terror Háza or 'House of Terror'. It's one of Budapest's most unusual museums, featuring exhibits that hark back to gruesome periods of imprisonment, torture, and murder under fascist and communist regimes.  
True history buffs won't find anything to be queasy about here. The museum also serves as a memorial to the victims, so each exhibit is planned out and presented carefully and respectfully. Check out the impressive T-54 tank on display, set against a photography gallery honouring the war victims.
Location: Budapest, Andrássy út 60, 1062 Hungary
Open: Tuesday–Sunday from 10am to 6pm (closed on Mondays)
Phone: +36 1 374 2600
photo by Fred Romero (CC BY 2.0) modified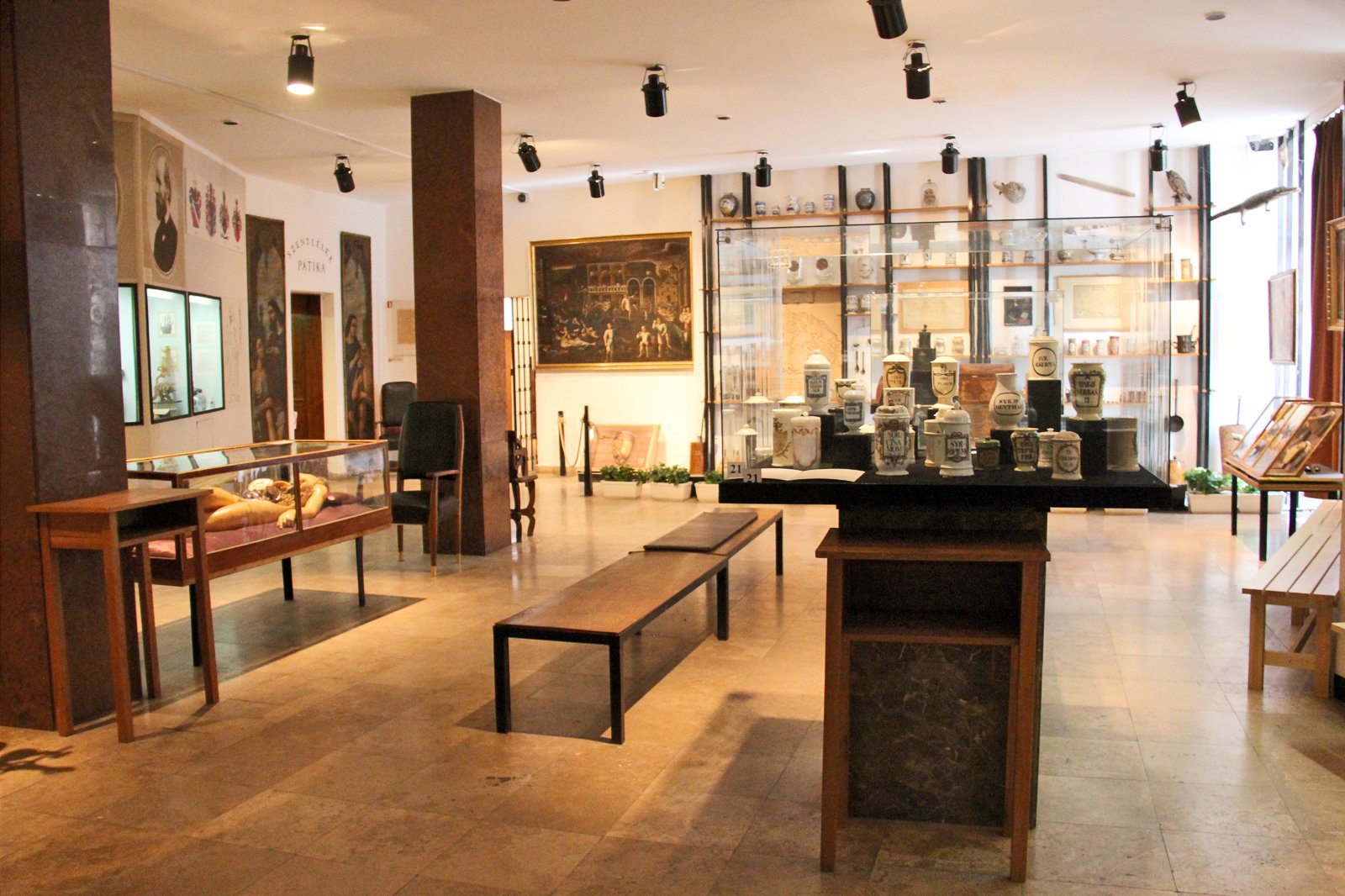 Semmelweis Medical Museum
Discover the remarkable Anatomical Venus
This peculiar museum sits by the Danube, part of the compact row of museums formed by the Hungarian National Gallery and the Budapest History Museum. It's known for its peculiar collection of medical and pharmaceutical objects from over 2 centuries ago.  
The museum is also the birthplace of Ignaz Philipp Semmelweis, a physician who's known as a pioneer of antiseptic procedures. It honours his discovery of the importance of washing the hands with disinfectant in preventing puerperal fever and postpartum infections. Check out the renowned Anatomical Venus and a reproduction of an historical doctor's surgery to get an idea of early medical instruments used in times gone past.
Location: Budapest, Apród u. 1-3, 1013 Hungary
Open: Tuesday–Sunday from 10am to 4pm (closed on Mondays)
Phone: +36 1 375 3533
photo by Laika ac (CC BY-SA 2.0) modified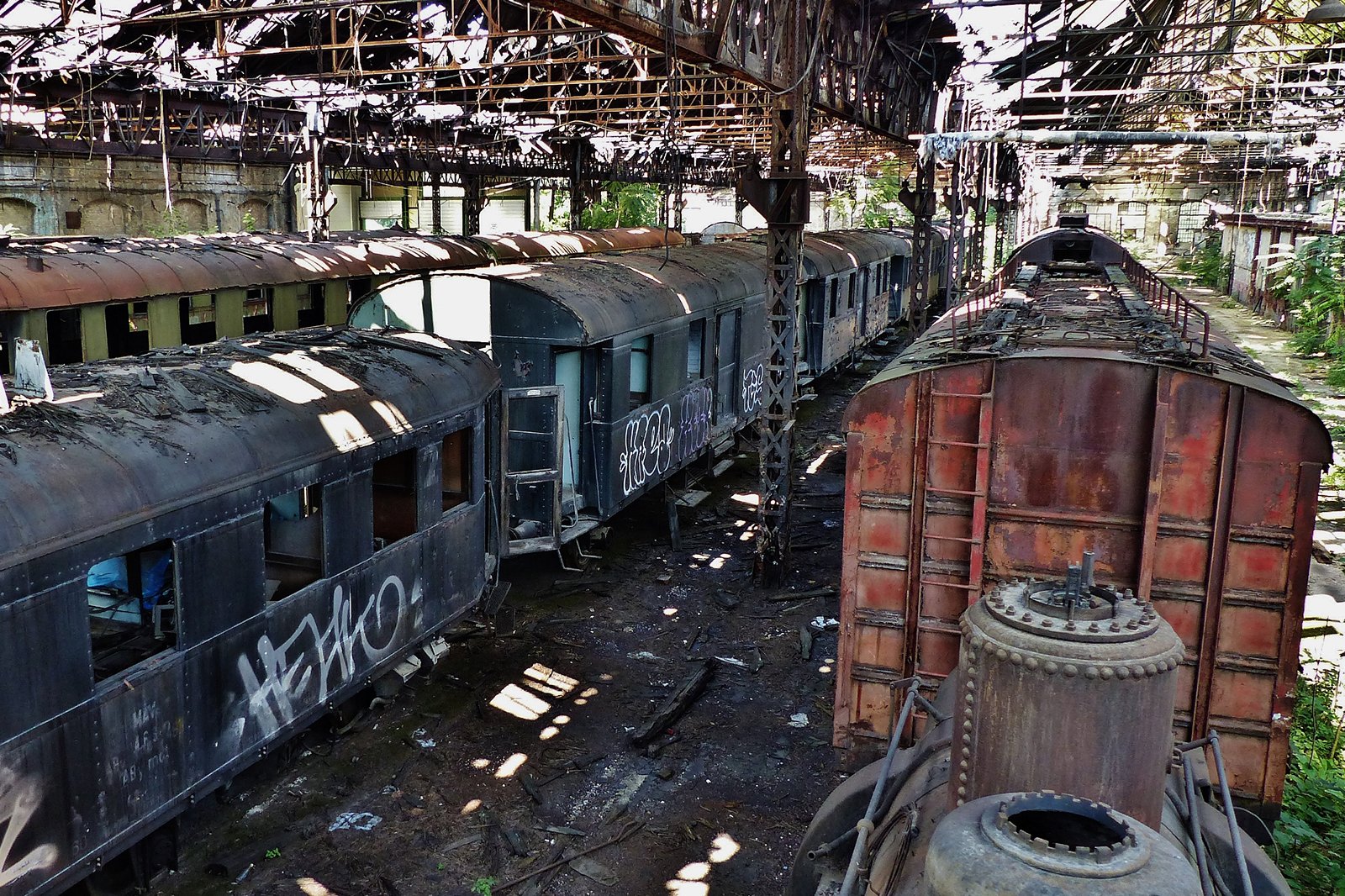 Istvántelek Train Yard
Explore a train 'graveyard' 
You can go slightly 'off track' in Budapest and stumble upon interesting abandoned sites, such as the Istvántelek Train Yard. It's the final resting place, or rusting place rather, for several historical trains. Artefacts here include the prominent 'Red Star Train' that bears a bright red star on its steam engine front.  
Some of the derelict trains here are very rare, including a four-cylinder MAV 301 train that was in service between 1911 and 1914. It's 1 of only 2 models left in the world. 
Location: Budapest, Elem u. 5-7, 1045 Hungary
Phone: +36 1 369 2881
photo by URBEX Hungary (CC BY 2.0) modified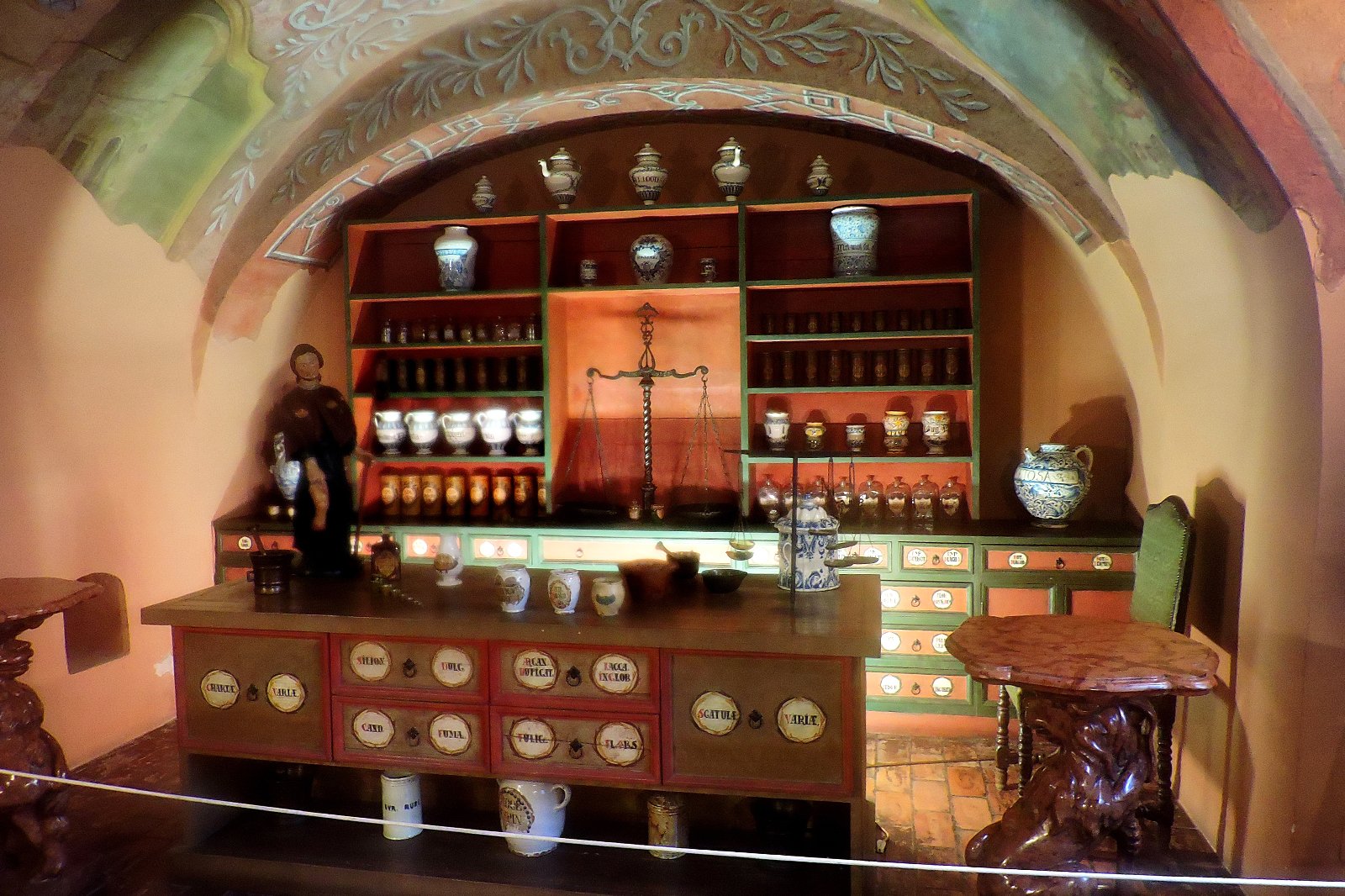 Golden Eagle Pharmacy Museum
Ogle over medical oddities
Enter a medieval alchemist's lab at Aranysas Patika Muzeum (Golden Eagle Pharmacy Museum), a quirky museum in the Buda Castle district that showcases medicinal odds and ends hailing from the Middle Ages. Inside the museum's compact gallery, you can find all sorts of potions and wet animal specimens in jars, herbs in bowls, and 17th century medicine books. 
Odd objects like dried bats and shrunken heads embellish quirky furnishings such as the replica fireplace and an old-fashioned kitchen, giving the place the appearance of a set for a medieval movie. Tickets are from 700 Ft.
Location: Budapest, Tárnok u. 18, 1014 Hungary
Open: Tuesday–Sunday from 10am to 4pm (closed on Mondays)
Phone: +36 (06) 1 375 9772
photo by Dimitris Kamaras (CC BY 2.0) modified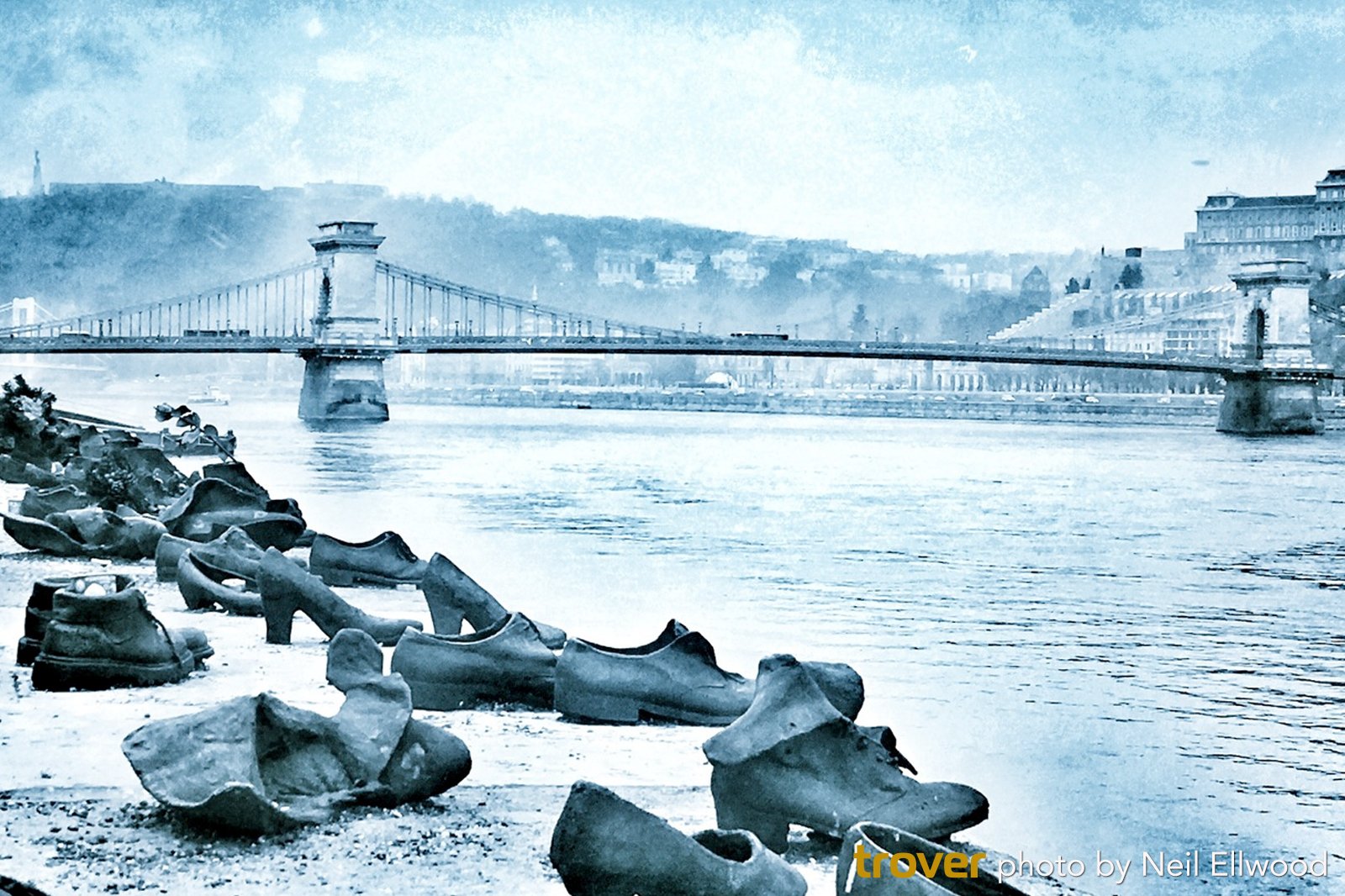 Iron shoes on the Danube Bank
A solemn tribute to WWII victims
Shoes on the Danube Bank is a solemn WWII memorial in artistic form. You can find this assortment of cast iron shoes along the east bank of the Danube. The sculptures of scattered men's and women's shoes represent the Jewish victims who were ordered to take off their shoes before they were shot by fascist militias.  
The sculpture creates a scene of gravity by the river – the empty and unmoving shoes are reminders of the city's dark past as they stand in stark contrast to the grandeur of the buildings along the Danube.
Location: Budapest, Id. Antall József rkp., 1054 Hungary
Vajdahunyad Castle
A castle originally built from cardboard 
Vajdahunyad Castle is a grand landmark in Budapest where you can trace the path of Count Dracula (at least the incarnation in the classic movie). You can find the castle by a boating lake, deep within the Városliget (City Park). The castle's design borrows elements from different parts of the Kingdom of Hungary, most notably the Transylvanian Hunyad Castle.  
A fascinating aspect of the castle is that it was originally made from cardboard and wood, then was rebuilt using brick and stone. Try hunting for the bust of Béla Lugosi, the actor who played Count Dracula in the 1931 classic. 
Location: Budapest, Vajdahunyad stny., 1146 Hungary
Open: Daily from 10am to 5pm
Phone: +36 1 422 0765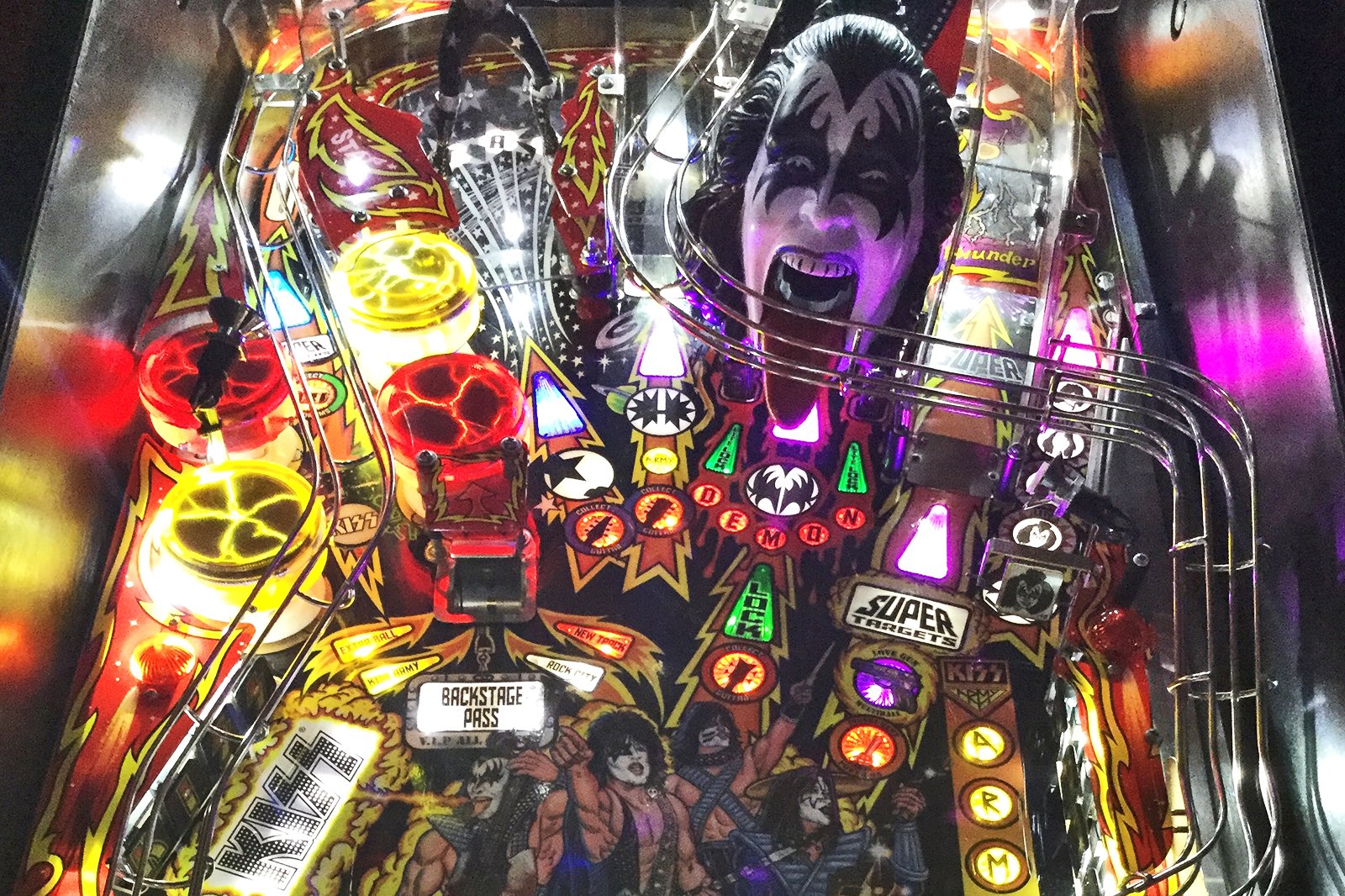 Flippermúzeum
Classic pinball machines galore
The pinball craze never died out in Budapest, at least at the Flippermúzeum, a quirky museum dedicated to the classic arcade game. Call it an 'interactive museum' if you like – buying a ticket grants you endless hours of nostalgic fun as you can try out all the machines in this arcade haven. 
The museum also showcases some modern, but rare, pinball collections that give the nod to arcade fandom and popular culture. Check out the machine adorned in the golden colours and schematics of R2-D2 from Star Wars fame.
Location: Budapest, Radnóti Miklós u. 18, 1137 Hungary
Open: Wednesday–Friday from 4pm to midnight, Saturdays from 2pm to midnight, Sundays from 10am to 10pm (closed on Mondays and Tuesdays)
Phone: +36 (06) 30 900 6091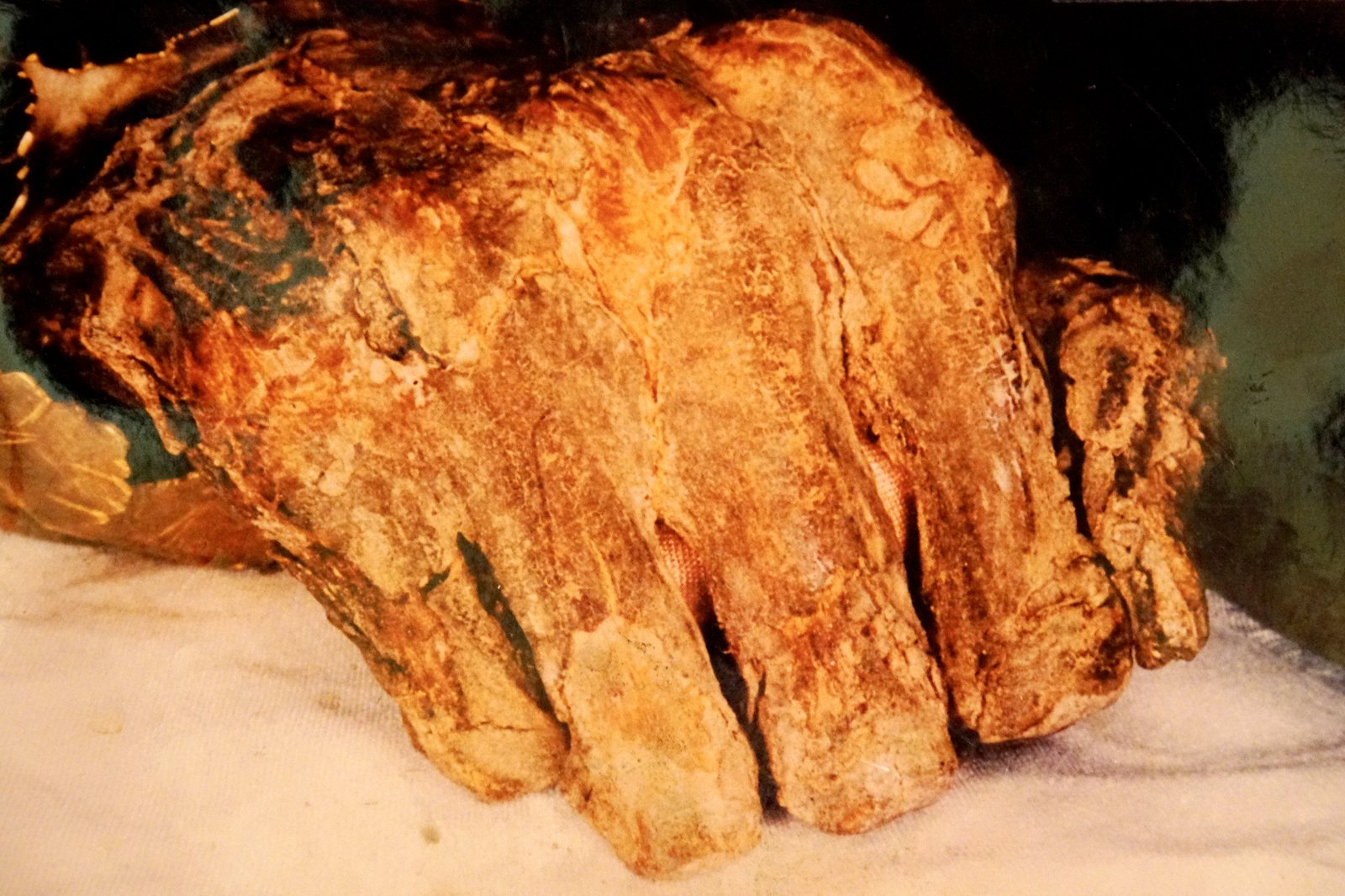 The Holy Right (hand) at St. Stephen's Basilica
The mummified right hand of a saint
A visit to Budapest's St. Stephen's Basilica can be a tour of architectural wonder, as you admire the grand Neo-Renaissance building with its 96-meter-tall cupola. But the basilica's reliquary holds a peculiar treasure – the mummified right hand of St. Stephen, the first King of Hungary.  
The sanctified king's right hand is said to have blessed pilgrims and even performed miracles for those who came to pray in front of it. The hand is illuminated for about a minute after you put a 200 Ft coin into a slot.
Location: Budapest, Szent István tér 1, 1051 Hungary
Open: Monday–Friday from 9am to 5pm, Saturdays from 9am to 1pm, Sundays from 1pm to 5pm
Phone: +36 1 311 0839
photo by Dennis Jarvis (CC BY-SA 2.0) modified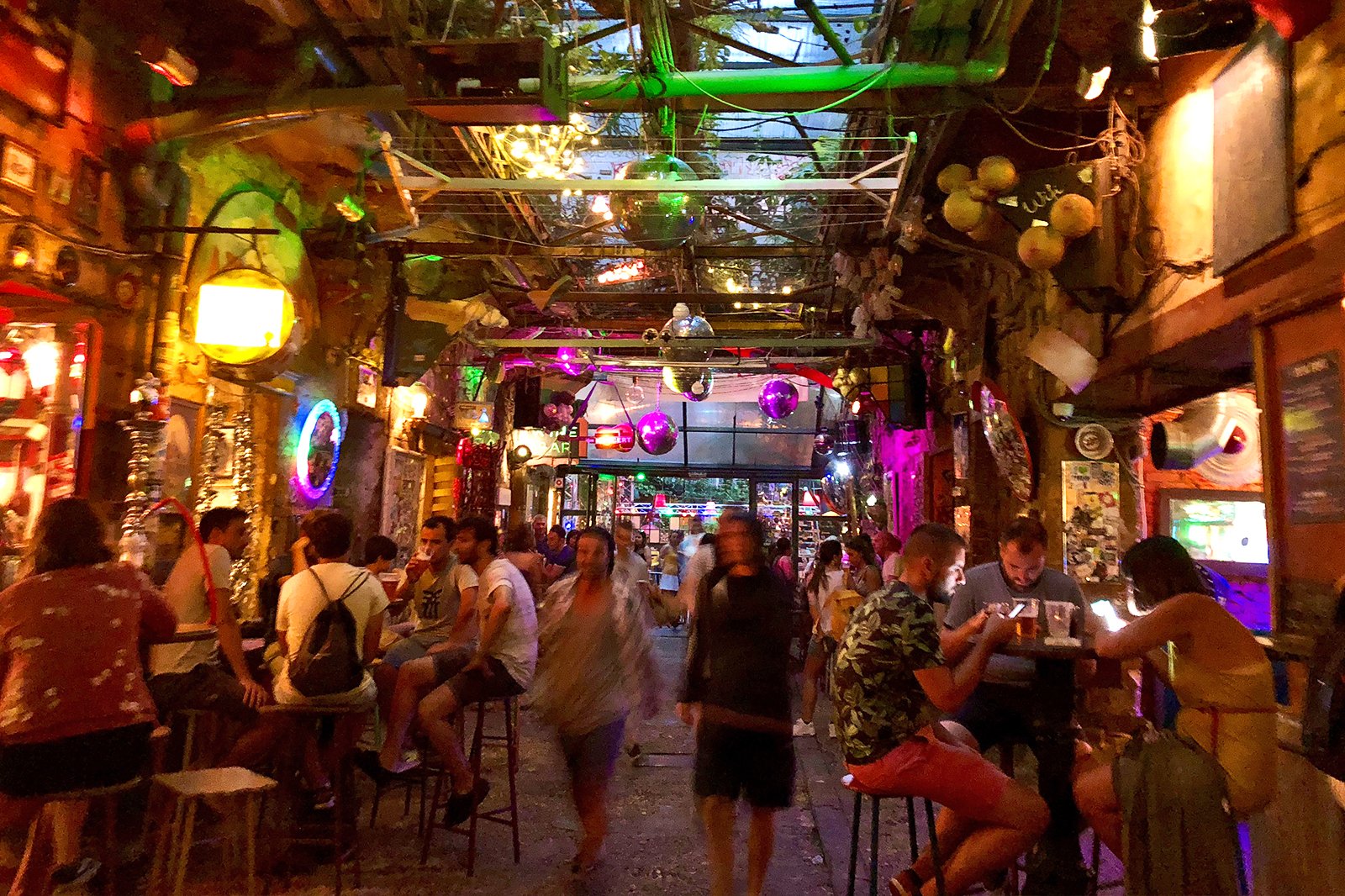 Red Ruin
Raise a glass to a parody of communist propaganda
You'll find no shortage of ruin bars (eccentric bars that are set up among old ruins) in Budapest's Jewish Quarter. Each has its own set of quirky features. A fun one is Red Ruin, which parodies the polemical style of old school communist propaganda. You can raise your glass here before the pithy puns on pop art versions of murals and posters of the communist era – all set against red-brick walls.  
This unique bar serves a great selection of the best beers hailing from various parts of eastern Europe, together with selections of the famous Hungarian fruit brandy, known as Pálinka. Instead of the iconic 'Enjoy Coca-Cola' logo, here you get the stylised 'Enjoy Communism' parody as a cool selfie backdrop.
Location: Budapest, Irányi u. 25, 1056 Hungary 
Open: Monday–Saturday from 2pm to 4am, Sundays from 2pm to 12am
Phone: +36 (06) 20 432 7066
photo by Yann Caradec (CC BY-SA 2.0) modified