Bali on a Budget: Your Ultimate Guide
10 Tips to Save Money While in Bali
Enjoy Bali on a budget with these useful insider tips. You don't need to break the bank to enjoy a full-on Balinese experience. Visiting this world-favourite island destination is easy for almost everyone and even though some resort areas are upscale and filled with Bali's finest resorts and restaurants, a cheap island holiday is possible.
With a bit of know-how, you can sleep, dine, shop and get around the island for much less than you might've imagined. Some attractions don't even require tickets! Here's our Bali on a budget guide with several tips on how you can save money. It shows that Bali is a world-favourite island destination anyone can enjoy.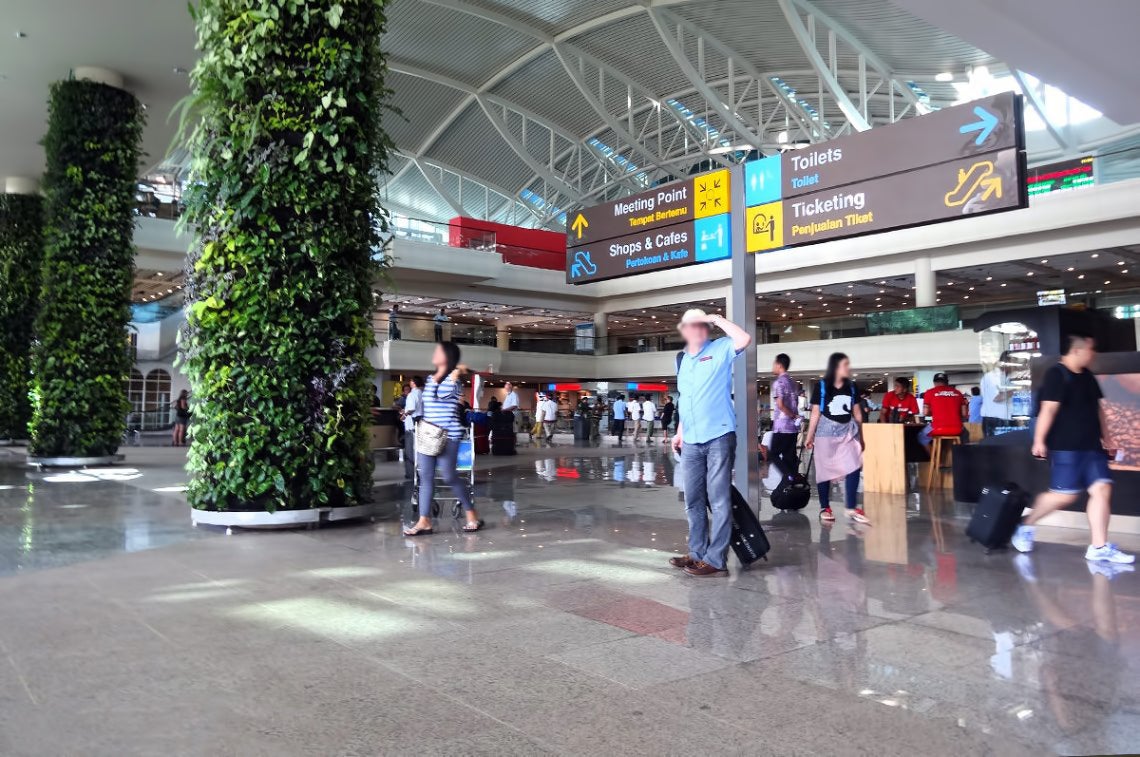 You can enter Indonesia visa-free if you're from one of the listed countries and sovereign states. These include China, Russia, South Korea, Japan, USA, Canada, New Zealand, Mexico, UK, Germany, France, the Netherlands, Italy, Spain, Switzerland, Belgium, Sweden, Austria, Denmark, Norway, Finland, Poland, Hungary, Czechoslovakia, Qatar, UAE, Kuwait, Bahrain, Oman, South Africa, Chile, Marocco, Peru, Equador, Hong Kong, Macau, and most Southeast Asian countries.
With that out of the way, it's time to get yourself the cheapest airfares to Bali. Australians usually get the most fun with some of the cheapest direct flights. Those coming from farther countries could consider splitting their holiday or hop on a different domestic (cheaper) flight and continue to Bali. Go during the low season when the fares are cheaper.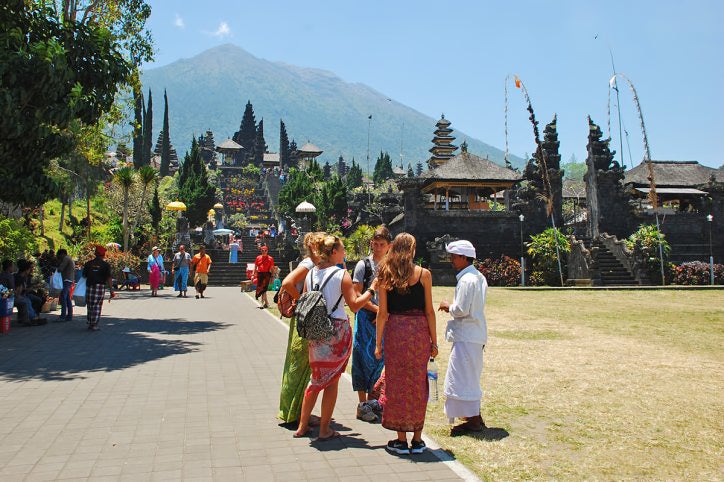 The moment you touch down at Ngurah Rai International Airport and go right out through immigration, not only does Bali welcome you, so do the scams! With anything from trickster money changers to non-metred taxi rides and over-friendly people, you better always keep your radar on and ensure that you and your money are not so easily parted.
Getting out from the airport particularly requires you to get a taxi, but if you want to avoid the monopoly in place there, you can grab your luggage and walk out of the airport to hail metred taxis roaming the public roads. These cabbies aren't allowed to pick up passengers inside the airport.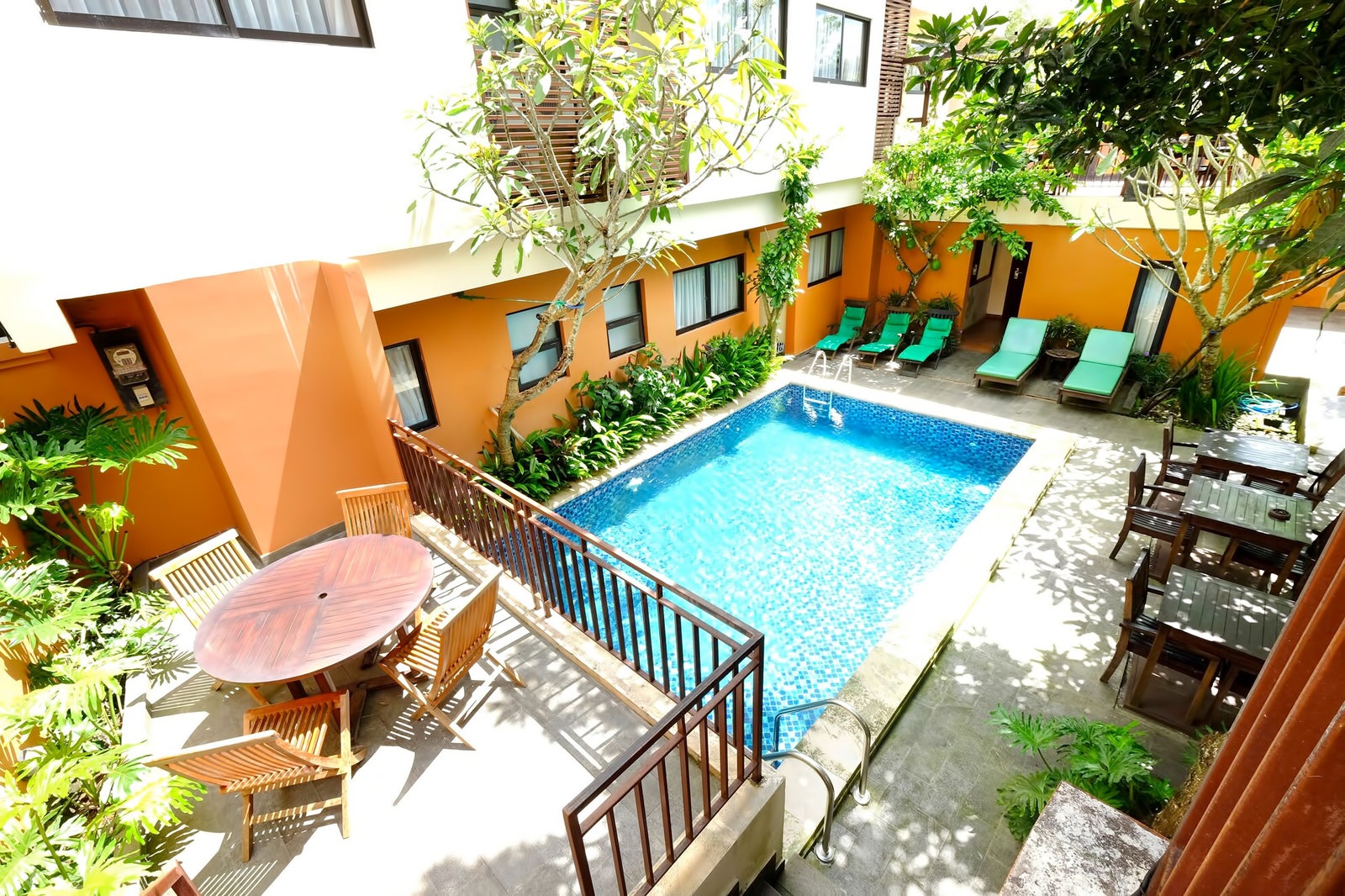 The backpacker's realms in Bali are Kuta, Legian and around Denpasar, while some cheap guesthouses operated by local villagers are also available in resort areas like Sanur and Ubud. Although they tend to be very basic, they're good for a night's sleep. And if you can afford fans instead of air conditioning, you could keep your budget down even further.
Cheaper than that will be a call for challenge and exploration. If you're game enough for walk-ins, you might get lucky around Poppies Lane in Kuta or Jalan Kajeng in Ubud. You don't have to opt for a room with breakfast, as you can search for cheaper snacks and meals right outside your hotel.
4
Eat and drink like a local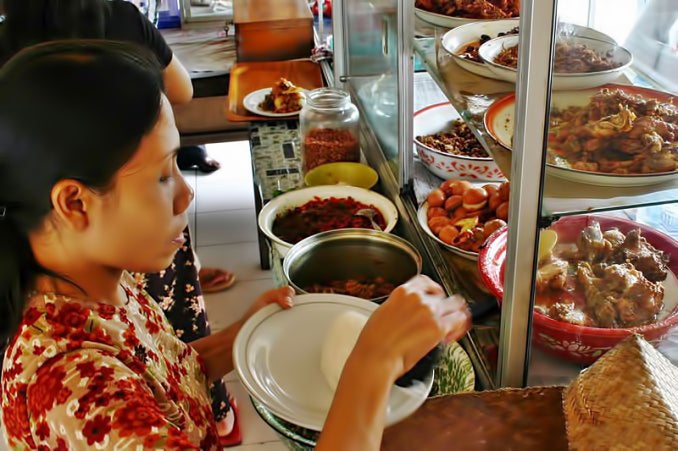 If you're on a tight budget, it's best to avoid the fancy French and Italian restaurants altogether. Instead, go local and enjoy the flavours of local Balinese. Warungs are street-side stalls selling traditional cuisine at local prices. There are plenty of budget restaurants that borrow the name 'warung' and sell very decent dishes in cosy settings, too.
Around Bali's popular beach resort areas and especially along the beach promenades, you'll often find local food galore that can range from meatball soups to nasi goreng (fried rice) and noodles. You might also want to head for the night markets for dinner.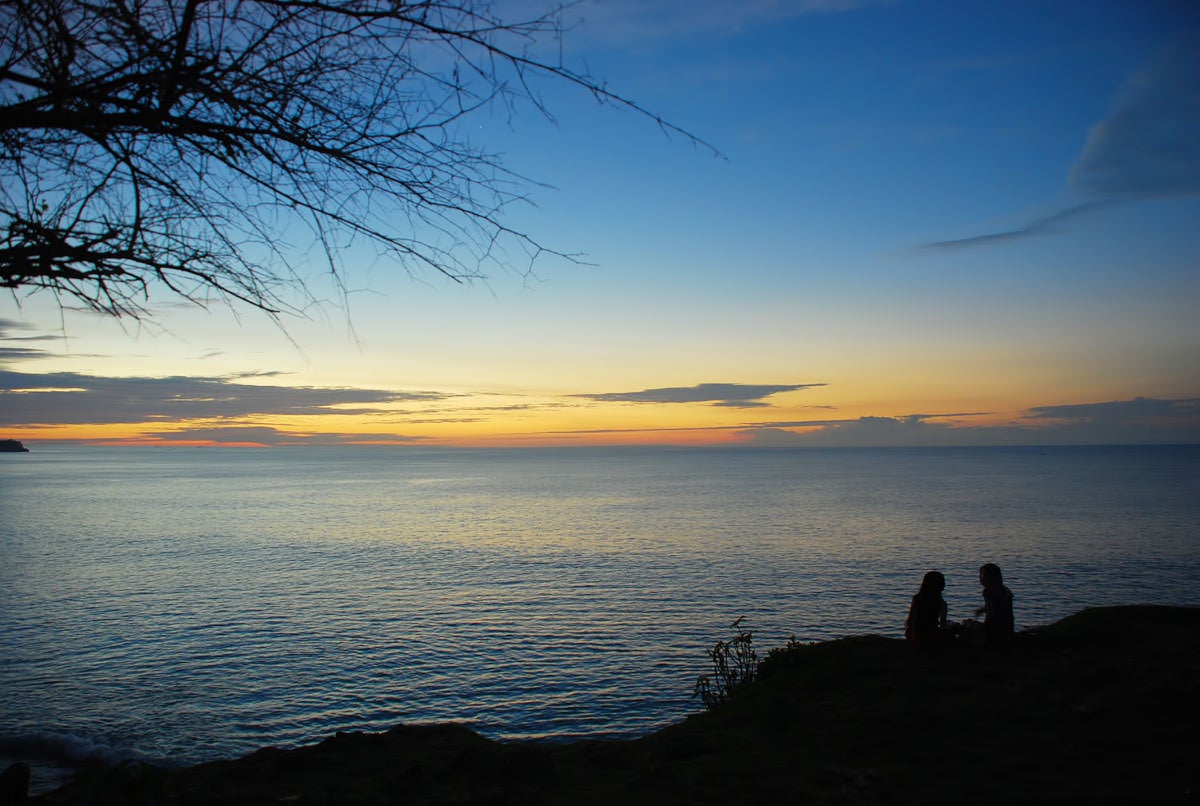 When you're on a budget, sipping fine wines is out of the question. If you're yearning for a cheap Bintang, avoid hotels and restaurants and drop by a convenient store (mini-mart or mini-market as they refer to them here).
And if you want to enjoy a sunset chill-out, most parts of the beaches are free… and so is the strip in front of that popular and sophisticated (read: expensive) beach bar or club. Beats spun from the DJ booths are audible enough from where you're sitting and you've got your own beer with you anyway.
6
Getting around Bali cheaply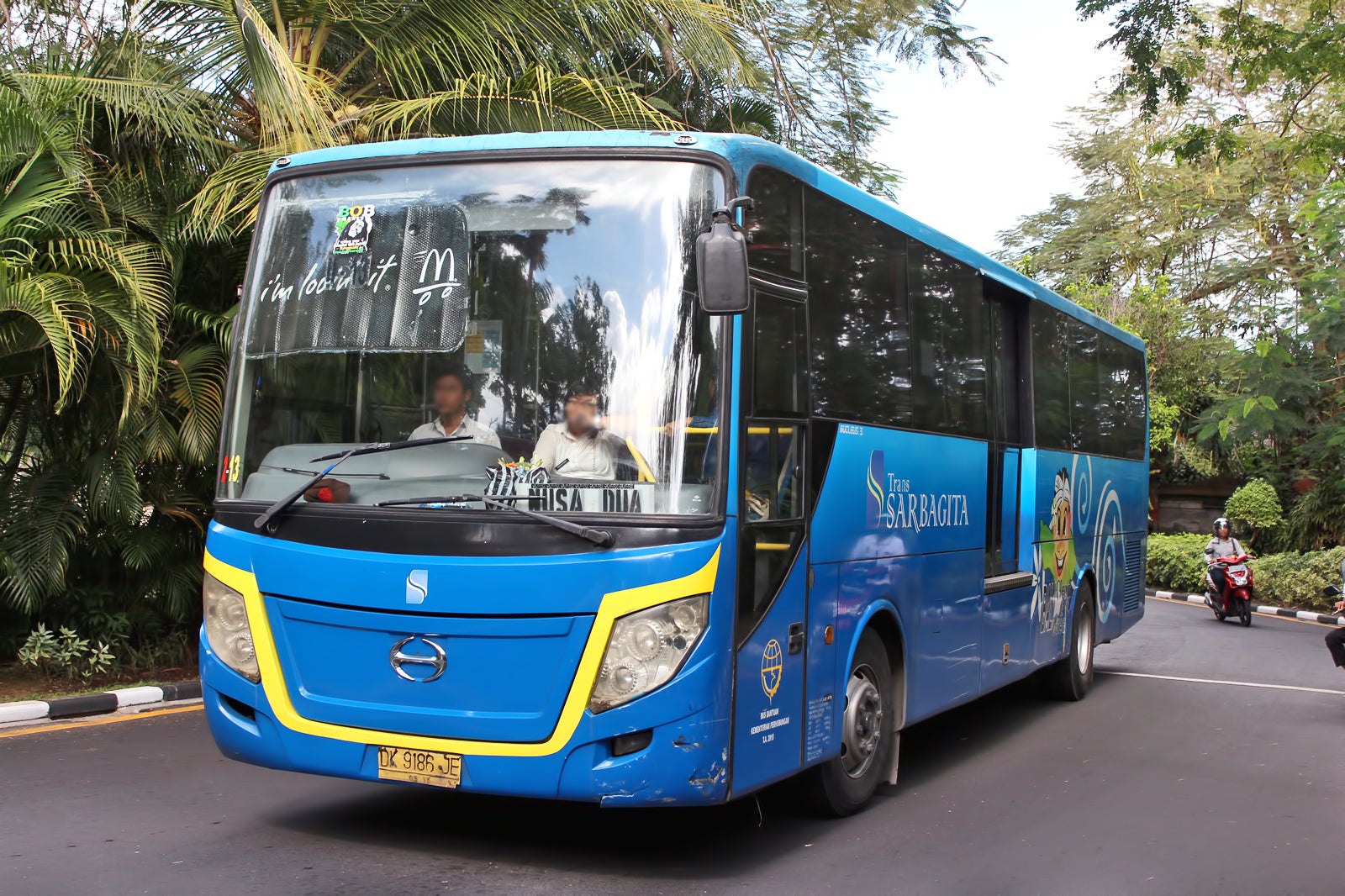 There are several types of cheap ways to get around Bali. Bali has a public bus system called the Trans Sarbagita. These bright blue buses stop at various sheltered bus stops at unpredictable times due to the nature of the traffic in Bali. Fares are very cheap and the bus operates from 5am to 9pm. Mostly targeted at locals, reflected by its routes that aren't much related to tourist destinations, it can be a true backpacking-adventure style of travelling.
For the true spirit of exploration and venturing off beaten tracks, rent a motorbike. Just be sure you have an international license. Drive with caution and always wear a helmet – the police will surely stop you, which can result in a hefty fine.
photo by Rafael.lcw0120 (CC BY-SA 4.0) modified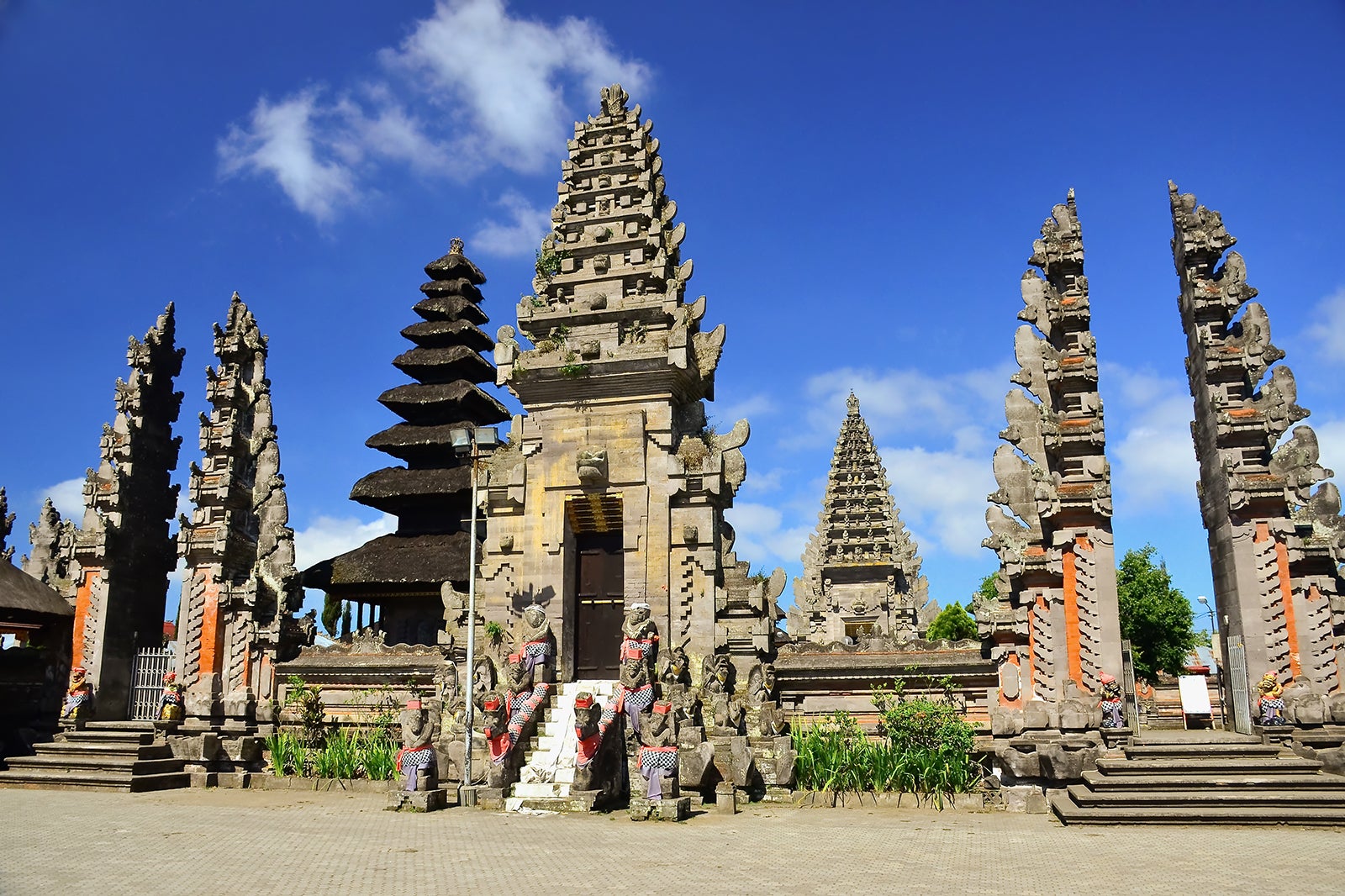 From natural vistas of beaches and mountain panoramas to temples and royal palaces, most of Bali's sights are free. Only some temples urge you to pay a 'donation' at the gates. Watching villagers rehearse dance performances at banjar (communal halls) don't require tickets. Nor does seeing students of the Denpasar Arts Institute practice at their campus amphitheatre behind Denpasar Arts Centre.
Annual festivals put on a public parade for all to enjoy, such as the Bali Arts Festival and the Bali Kites Festival. Among Bali's most unique celebrations are the ogoh-ogoh parades of papier-mâché ogres during the eve of Nyepi or the Saka New Year. You won't be able to do anything or go anywhere the next day, though!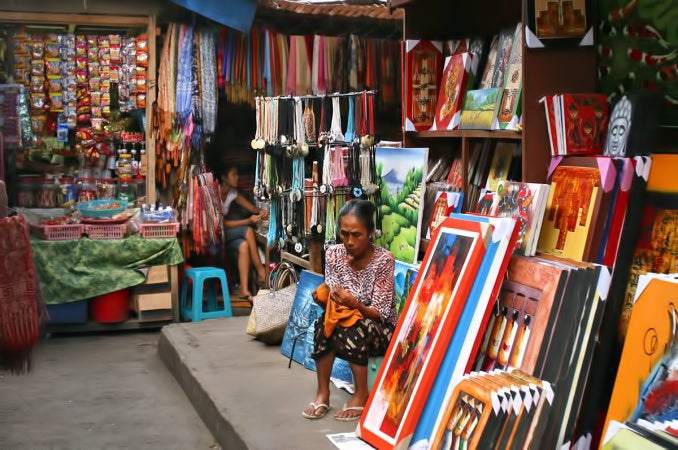 Knock-off items sold by peddlers at the beach can be tempting, especially if that Oakley or Rolex comes with a price that's too good to be true. It usually is, so it's better to just avoid buying it altogether. Bali's wealth of art markets are a good starting point, but it's always hit-and-miss. It all depends on how well-honed your bargaining skills are. It can be a unique shopping experience where you discover a treasure trove of artworks and handicrafts by talented local craftsmen – all at bargain prices.
Aggressive bargaining is by going down to about 35% of the offered price, before working your way up to an agreeable amount. Fixed-price art shops can help you avoid the hassle.
9
Enjoy cheap spa treatments on the beach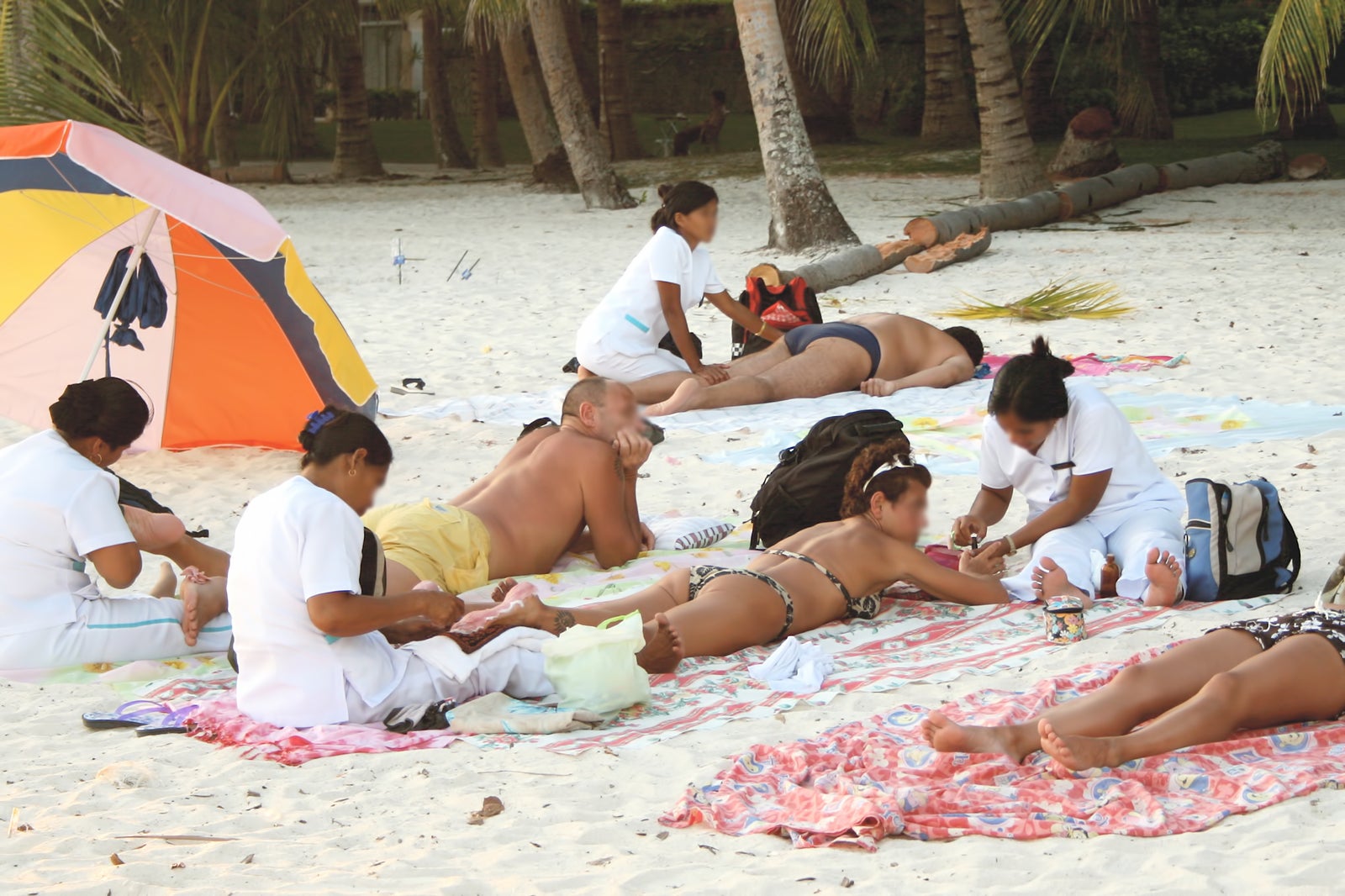 After a long day out exploring Bali's beaches and bargaining at art markets, why not reward yourself by unwinding with a bit of pampering on the beach? Beach masseuses are generally highly skilled and do a pretty good job at kneading muscles and putting you off into a slight slumber – all accompanied by gentle sea breezes. You can also bargain low for your much-needed half-hour back massage or hour-long body massage.
photo by Angelo Juan Ramos (CC BY 2.0) modified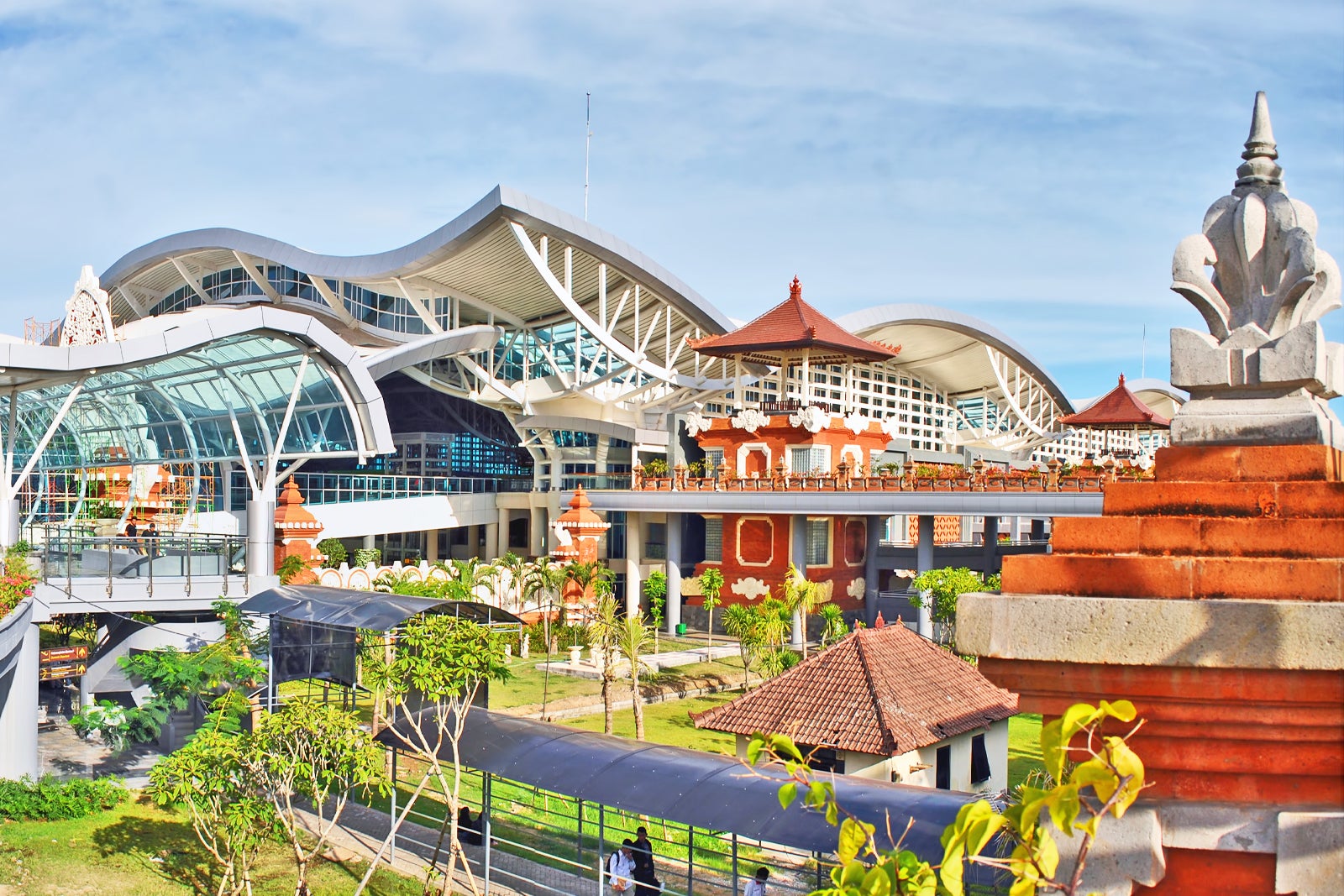 Pre-arranged transfers to the airport for your flight home are always the best option. Even some budget accommodations have free shuttle transfer services – ask your front desk just to be sure. Also, always make sure you have saved enough rupiah for the way back to the airport, including any airport departure taxes.
The departure tax is applied for international passengers but that's often already included in your air ticket. For those who've spent too much on having too much fun while on holiday can even walk to the airport from most accommodations in the Tuban area, which is just north of the airport.
photo by Ya, saya inBaliTimur (CC BY-SA 2.0) modified