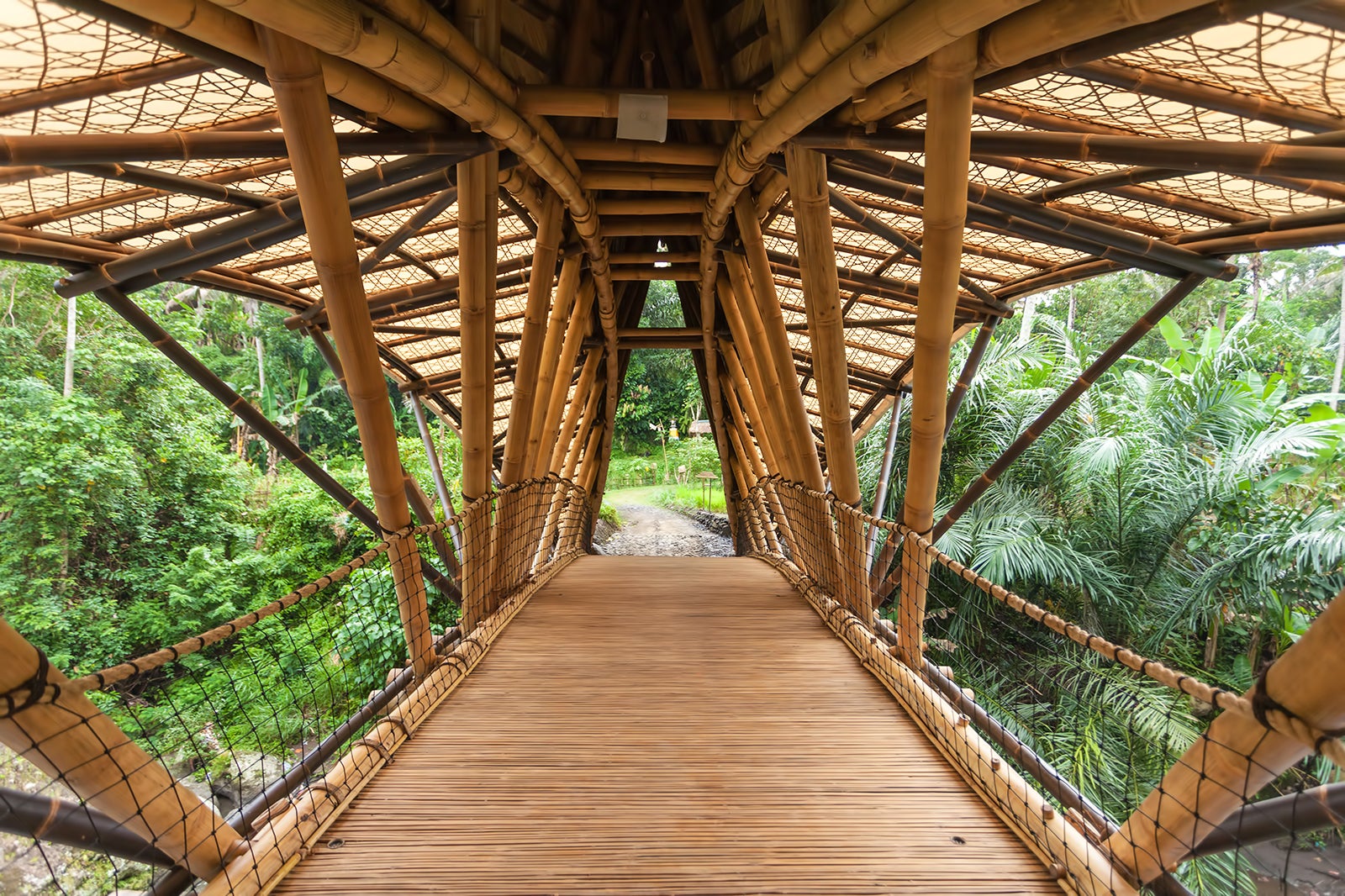 Green School is a private school located in central Bali that features an ecologically-sustainable design throughout. All of the school's building structures are made up of locally grown, treated and manufactured bamboo. As the brainchild of Bali-based jewellery designer John Hardy, the school showcases over 70 large bamboo structures, including a bridge over the Ayung River valley connecting the school to its main entrance.
Tours are available enabling you to see from up close the massive structures, as well as learn about the school's sustainability projects. These include renewable energy using a hydroelectric vortex generator and solar cells at specific points around the campus. The main structure, nicknamed 'The Heart of the School', serves as a centrepiece with its swirling rooftop design over a massive 60-metre long build on bamboo stilts.
Green School in Bali - one of the highlights of 10 Things to Do in Ubud off the Beaten Track (Read all about Bali here)
Highlights of Green School Bali
Other highlights include an organic permaculture farm, a 'living foods' lab and a bird sanctuary. English speaking tours, led by staff and volunteering teachers, are held at a predetermined schedule on both weekdays and weekends. All proceeds from the ticket sales go to the school's Local Scholars Programme, which supports local students.
Those interested in eco-friendly practices and sustainable architecture should have Green School among their list of must-visits in Bali. It will surely inspire with the wonderful properties of bamboo put into real and beautiful use. Visiting lecturers include great world figures and have included Jane Goodall and Philip Zimbardo. It will simply make you feel to want to enrol and go back to elementary grade again.
Green School in Bali
Location: Jalan Raya Sibang Kaja, Banjar Saren, Sibang Kaja, Abiansemal, Badung, Bali 80352, Indonesia
Phone: +62 (0)361 469875
Back to top