10 Best Things to Do in Dublin
What's Dublin Famous For?
Meet Dublin, the friendly capital city of Ireland with great people, good fun and intriguing sights to explore. It's a city of traditions and history, but not stuffy. Literary, but not pretentious. Cool, but not aloof. It's a city of musicians and poets whose songs and stories flood the local pubs and cafes, and even spill out to the bustling streets. It's an academic and museum-filled city, but you'll always find time to enjoy a pint or 2. If you're new to Dublin and not sure where to start, here are our suggestions on what to see and do on your first day.
What are the best things to do in Dublin?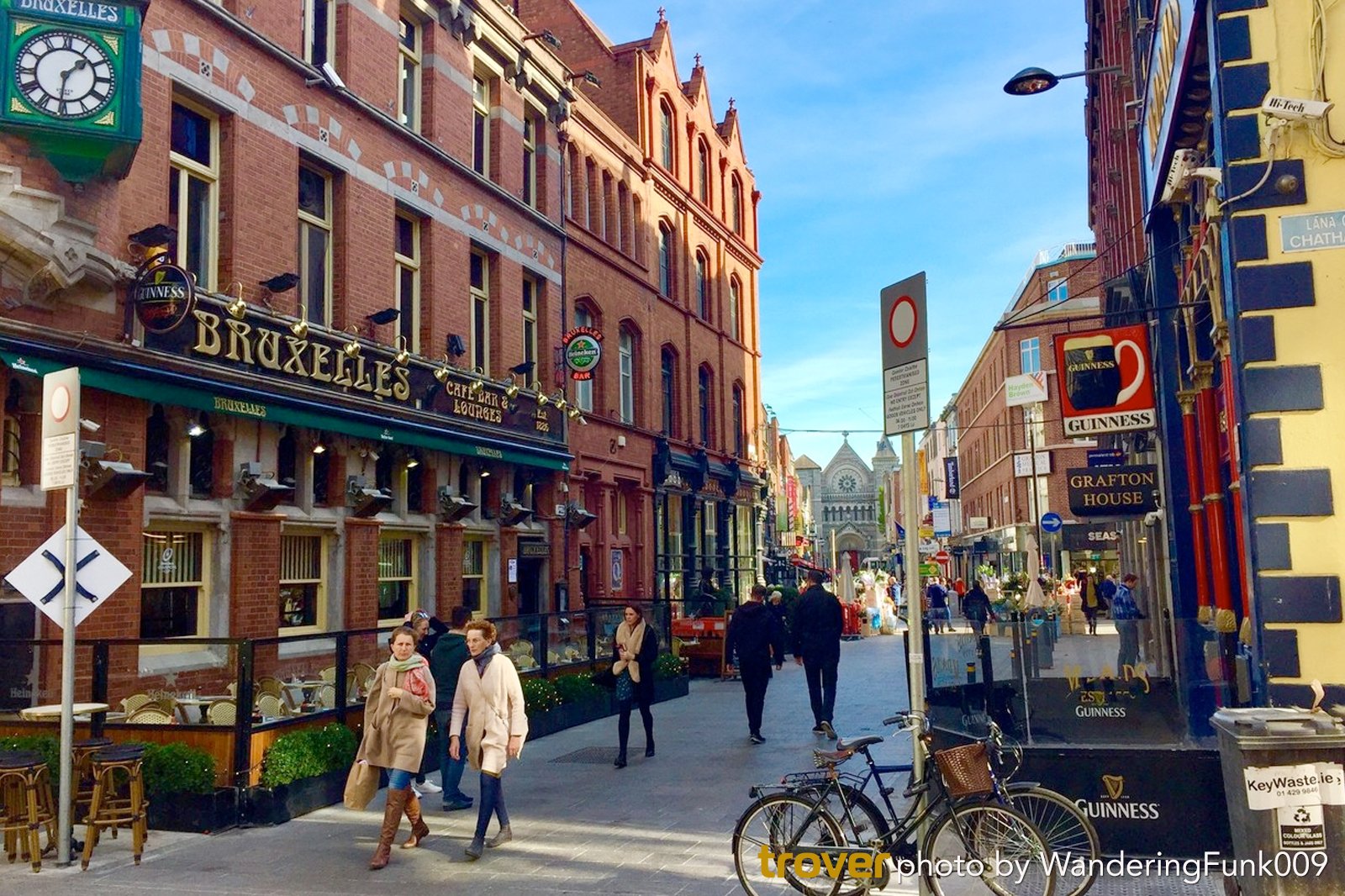 Start the day on Grafton Street
With a storybook setting of historic buildings, this lively, narrow walking street twists and turns its way from St. Stephen's Green to Trinity College. Packed with cafes, pubs and shops selling anything from cigars to books, vintage clothing to brand-name fashions, Grafton Street is a shop-and-stroll heaven.
Stop to watch the poets, musicians and other buskers performing their hearts out for the street crowds. Fuel up for the day with a full Irish breakfast or linger over a cup of tea at Bewleys Oriental Café. Among the city's oldest cafes, Bewleys even makes an appearance in the novel Dubliners by James Joyce, just 1 of its famous patrons.
Couples
Shoppers
History
Food
Group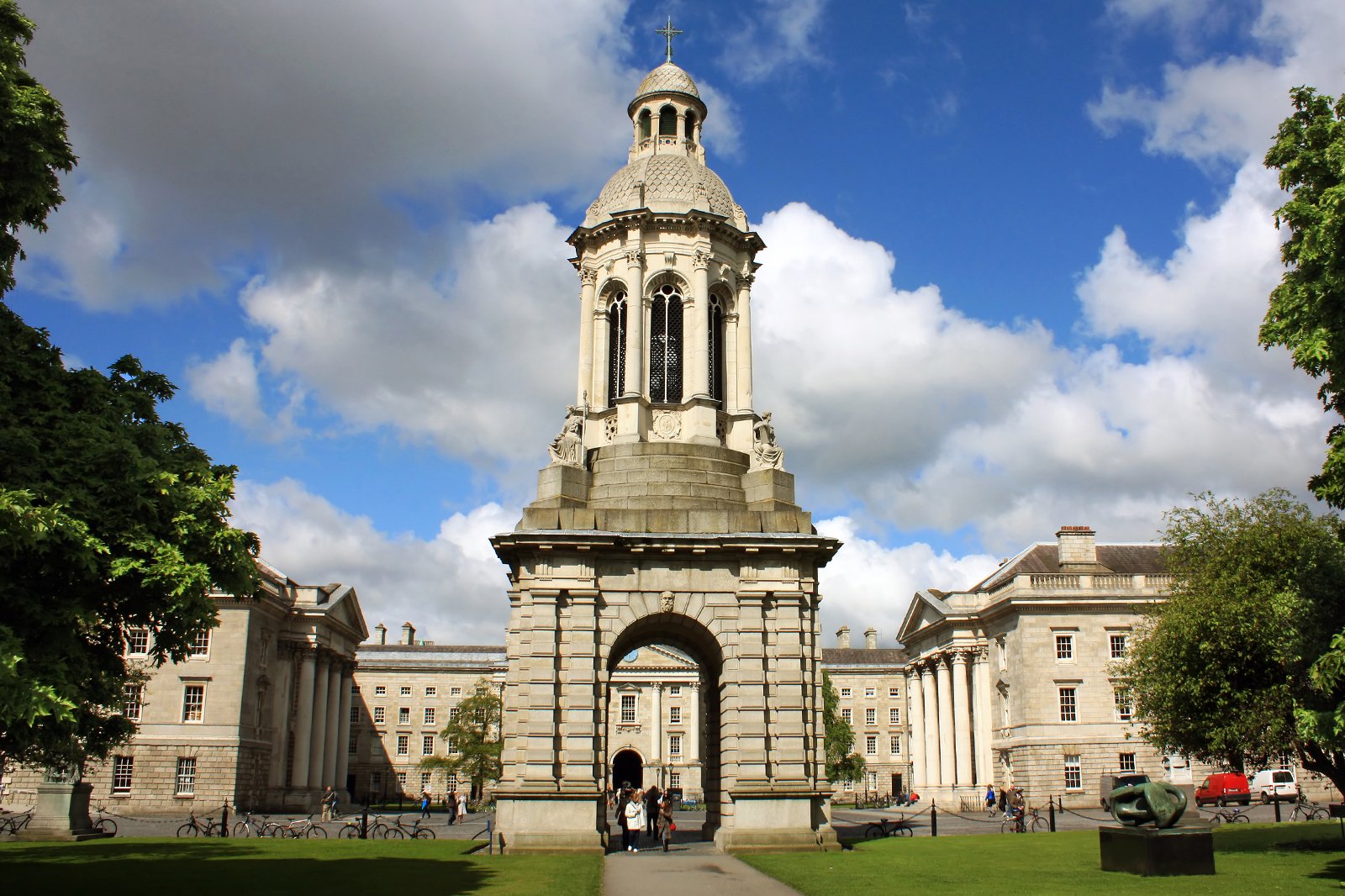 Founded in 1592 by Queen Elizabeth, Trinity College is Ireland's oldest university with Bram Stoker and Oscar Wilde among its legendary graduates. For literary inspiration, make your way to Trinity's Long Room, a cathedral-like space in the Old Library lined with stately books from floor to ceiling. Among the ancient texts housed here is the Book of Kells, a medieval manuscript depicting the four Gospels of the life of Jesus Christ. You'll need to pay an entry fee to see the Book of Kells, and photography is not allowed. Save a few euro by booking the entry ticket together with the 35-minute guided tour of Trinity College, offered several times daily.
Read more
Location: College Green, Dublin 2, Ireland
Phone: +353 (0)1 896 1000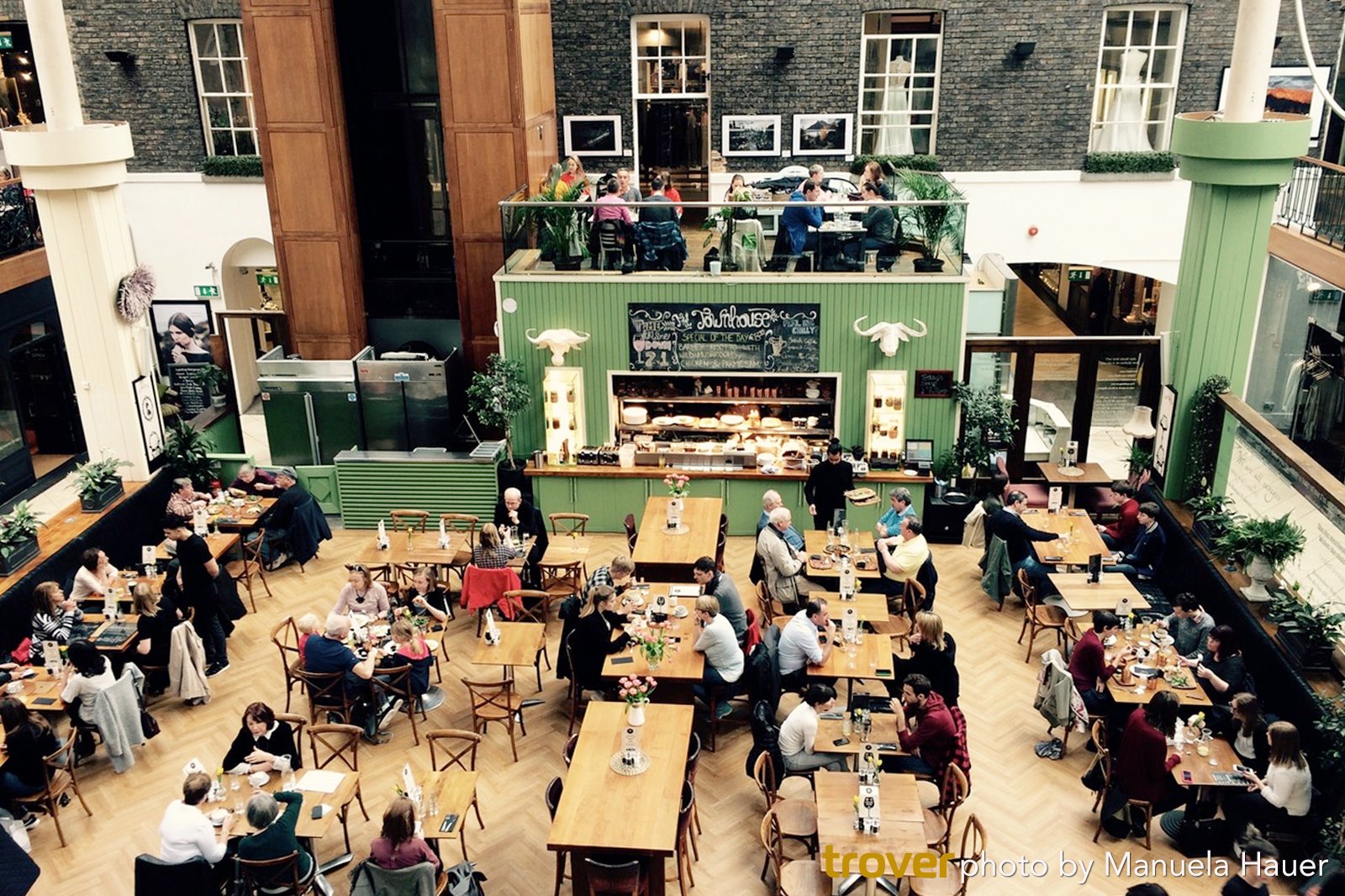 Shop at Powerscourt Centre
Found in the Creative Quarter just off Grafton Street, Powerscourt Centre is one of the finest examples of Georgian architecture in Dublin. Built in the 1700s by Richard Wingfield 3rd Viscount Powerscourt and his wife Lady Amelia as a place for high-society entertaining, it's now a vibrant hub for shopping and dining.
You'll find brand name retailers like French Connection here, as well as a mix of boutique stores and family-run jewellers. Search for one-of-a-kind collectibles in the antique shops, try on some stylish new outfits by an emerging Irish designer, or indulge in a slice of carrot cake at the Pepper Pot cafe. Visit during the festive season when Powerscourt glitters up with elaborate Christmas decorations.
Location: 59 William St S, Dublin 2, Ireland
Open: Monday–Friday from 10am to 6pm (Thursdays until 8pm). Saturday from 9am to 6pm. Sunday from 12 noon to 6pm.
Phone: +353 (0)1 679 4144
Couples
Shoppers
History
Luxury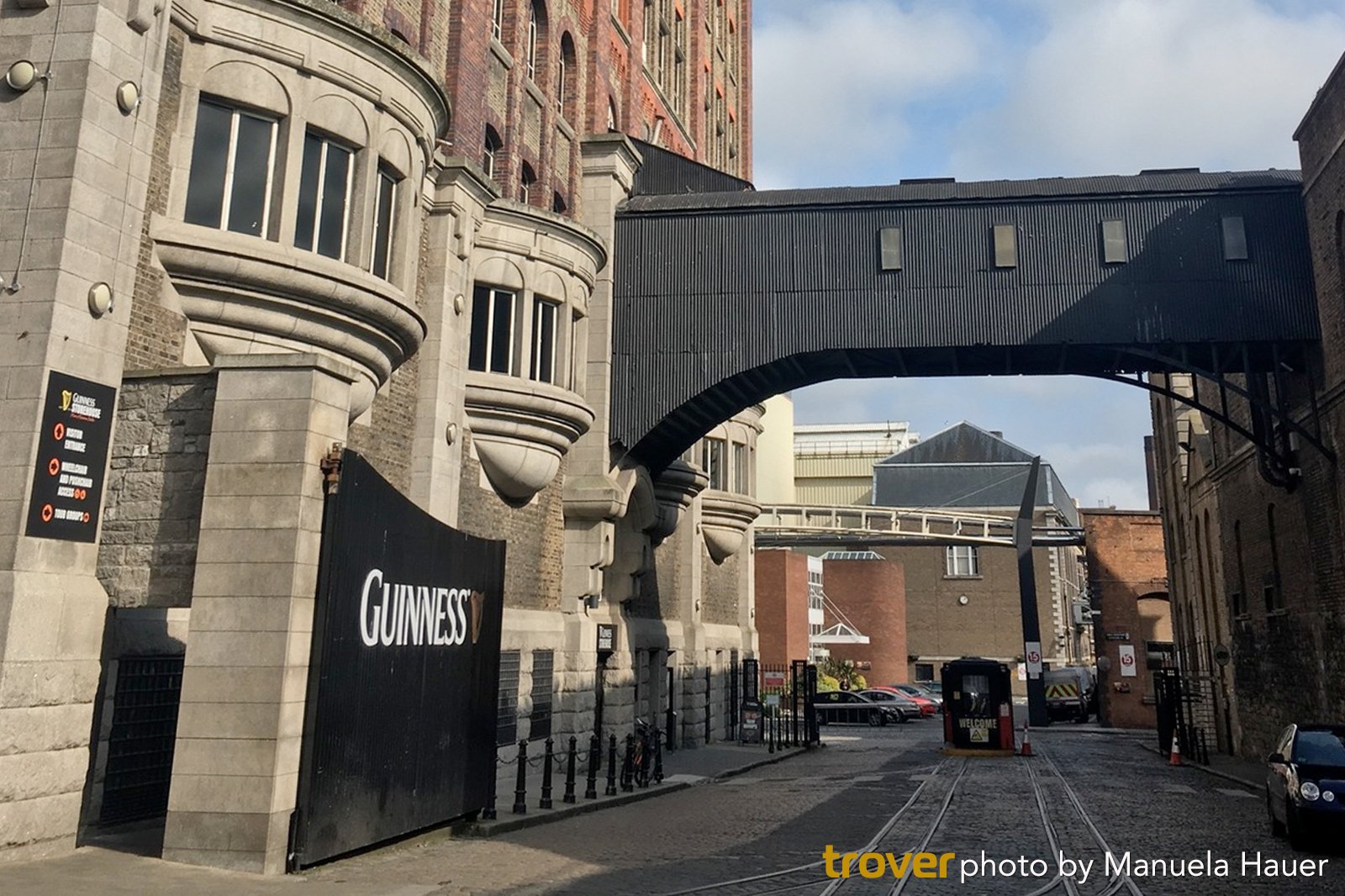 Enjoy a pint at The Guinness Storehouse
Offering more than just a tipsy tour, Guinness Storehouse brings you straight into the heart and history of Ireland's famous brew. Make your way through a series of immersive exhibits over 7 floors to learn the secrets of the brewing process and discover how the Guinness brand has prevailed for more than 250 years. Your burning questions like "Why is Guinness so dark?" and how to pour it perfectly are all answered here. Be sure to head up to the rooftop Gravity Bar to enjoy a panoramic view of the city along with your complimentary pint. To avoid the queues and get a discounted rate, book your tour online in advance.
Location: St James's Gate, Ushers, Dublin 8, Ireland
Open: Daily from 9.30am to 5pm
Phone: +353 (0)1 408 4800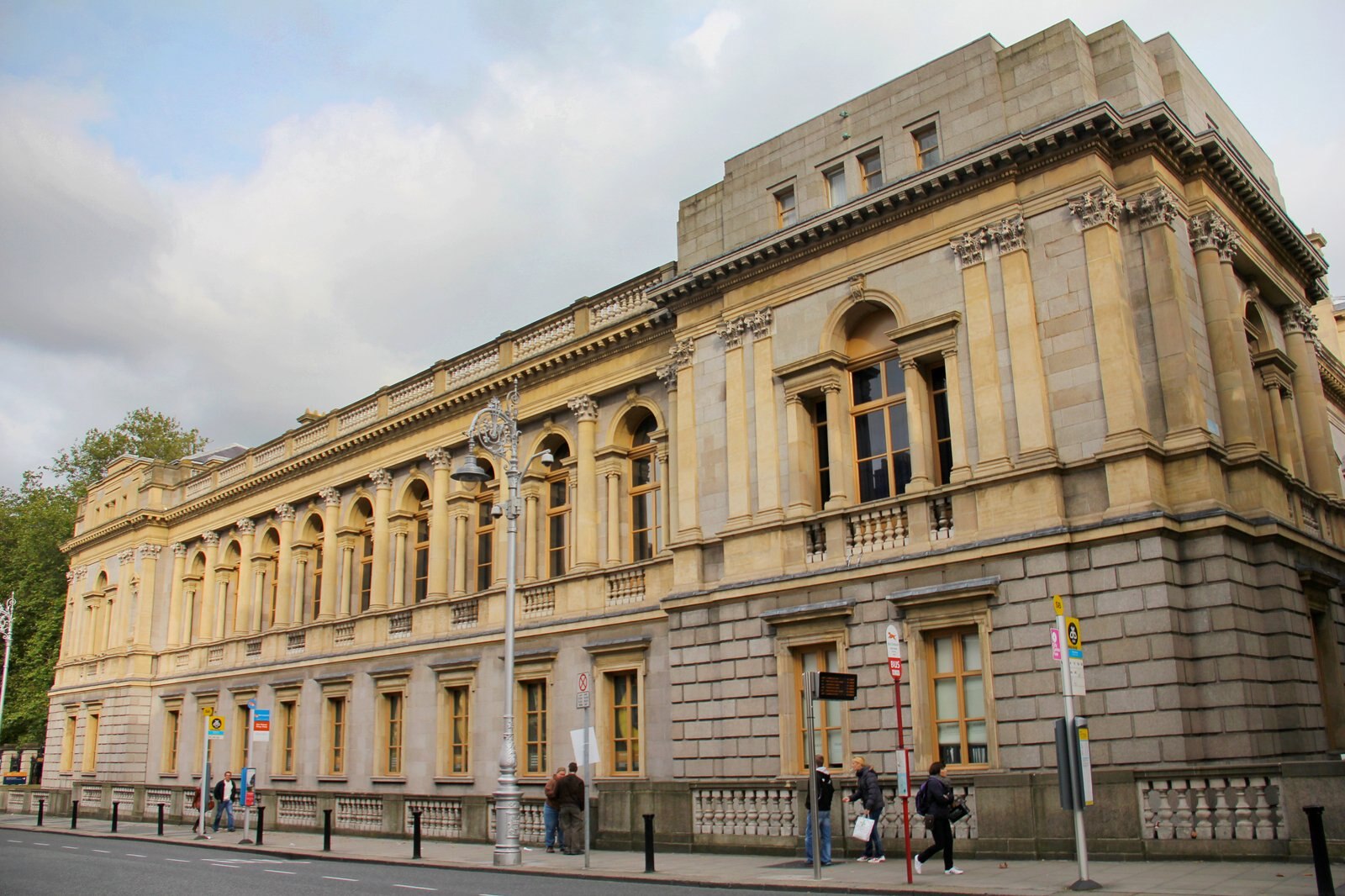 Learn about the "bog men" at the National Museum of Ireland
While Egypt has its mummies, Ireland has its bog men. These well-preserved human remains dating back to the Iron Age offer a striking look into Irish history and landscape. Displayed at the National Museum's Kingship and Sacrifice exhibit, the men are believed to have been killed and thrown into peat bogs as part of a ritual sacrifice. The peat bogs' unique properties kept the bodies in such good condition that even the men's fingernails and hair can be seen. If the thought of staring at ancient murdered bodies makes you squeamish, just skip past this section. With more than 2 million artefacts housed at the museum, there's plenty to see beyond the bog men.
Location: National Museum of Ireland – Archaeology, Kildare St, Dublin 2, Ireland
Open: Sunday and Monday from 1pm to 5pm. Tuesday—Saturday from 10am to 5pm.
Phone: +353 (0)1 6777444
photo by J.-H. Janßen (CC BY-SA 3.0) modified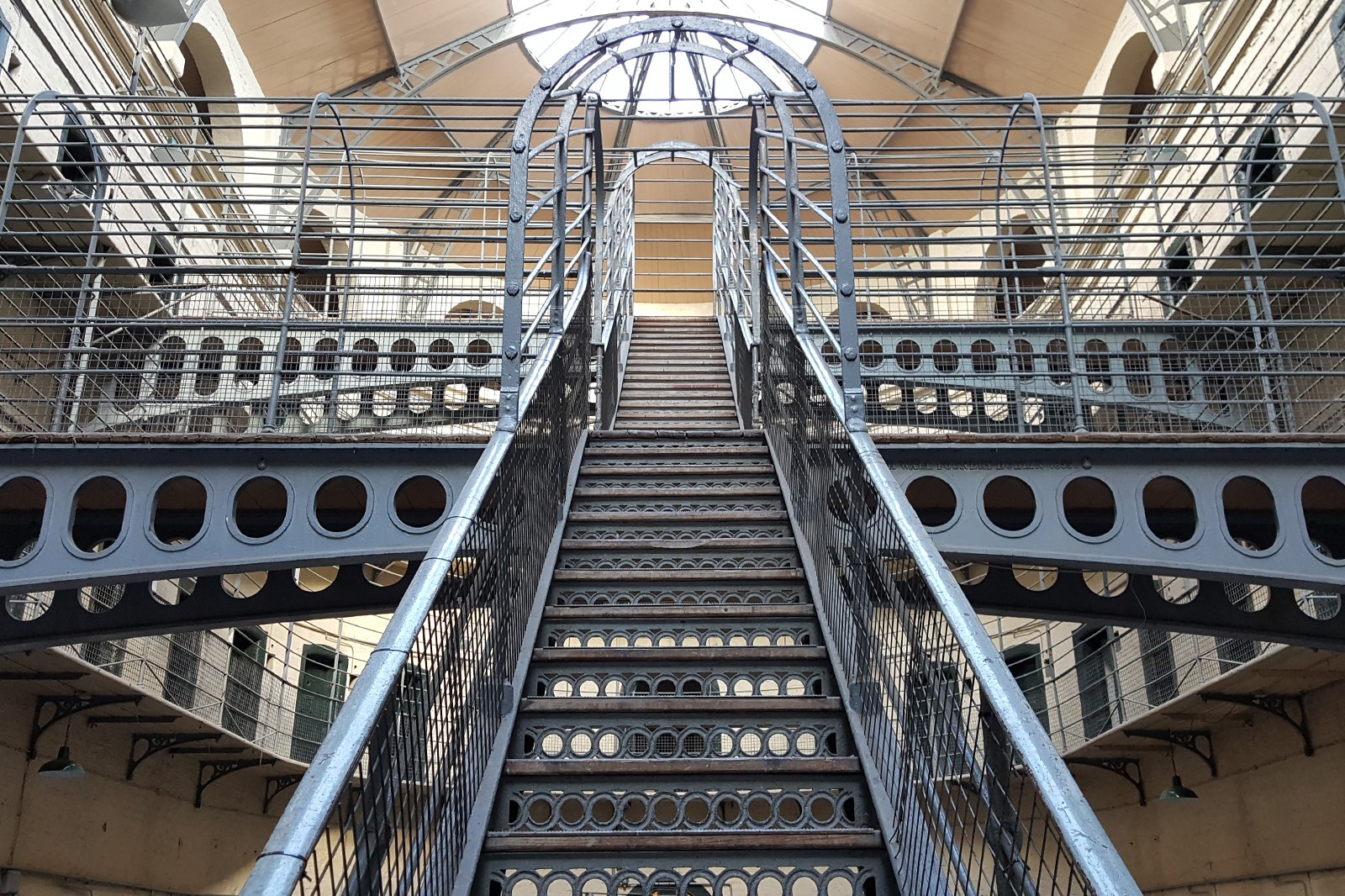 Must-See: Kilmainham Gaol
Where it once locked up militant rebels, Kilmainham Gaol is now a symbol of Ireland's centuries of struggles for independence. Life was harsh and punishments were brutal, with many inmates meeting their end with executions by hanging. During the first half of the 1800s some 4,000 of its prisoners were transferred to uncertain fates to a faraway convict colony: Australia. Before the prison finally closed in 1924, it held many political prisoners including leaders of the 1916 Easter Rising. After decades of neglect, Kilmainham Gaol was renovated and reopened as a museum, now offering a sobering look into Ireland's volatile past. Access is by guided tours only, best booked in advance due to visitor limits.
Location: Inchicore Rd, Kilmainham, Dublin 8, D08 RK28, Ireland.
Open: Daily 9.30am to 5.30pm from October to March. Daily from 9am to 6pm in April, May and September (June, July and August until 7pm).
Phone: +353 (0)1 453 5984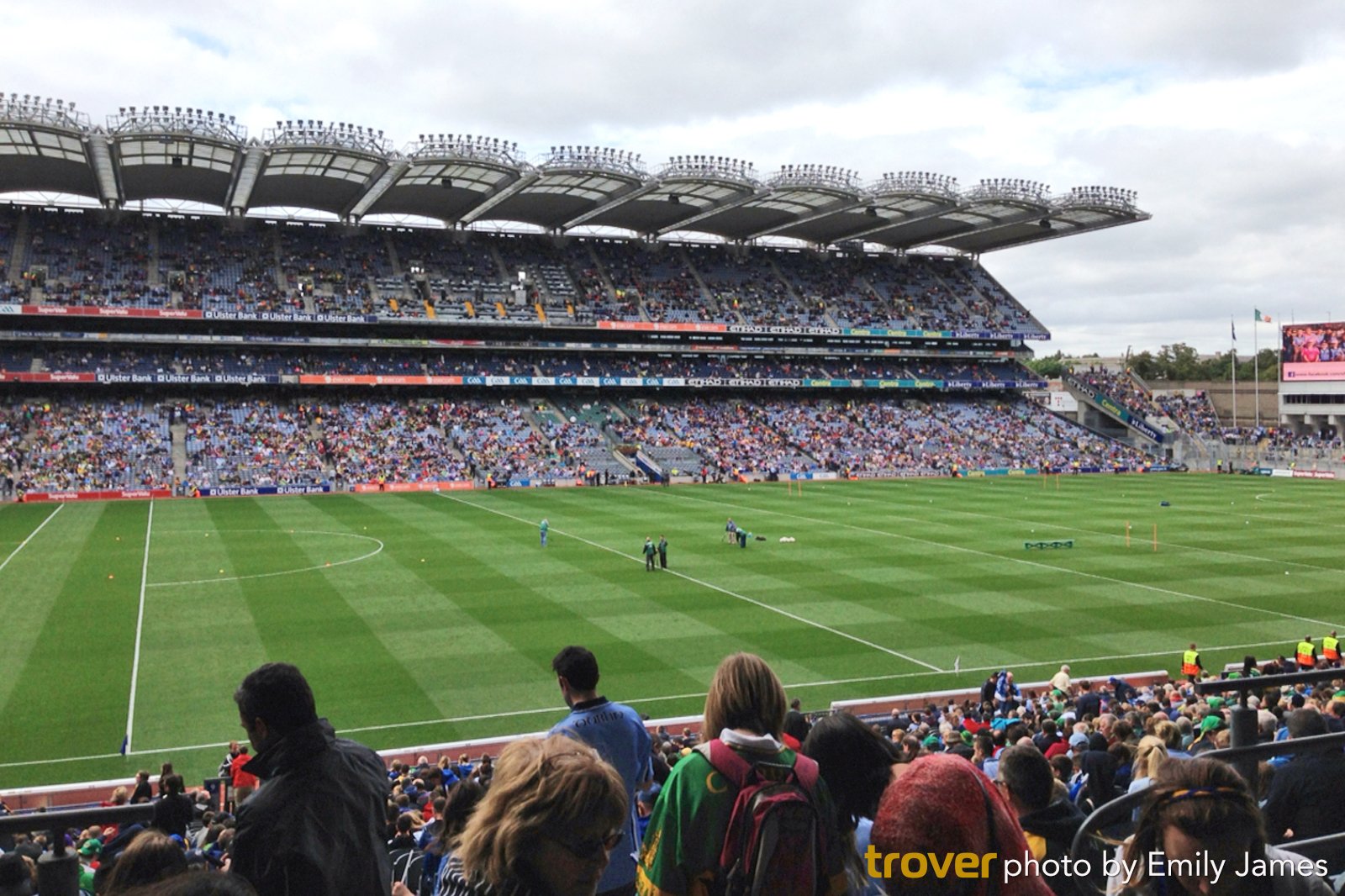 Watch an Ireland game at Croke Park stadium
What's hurling, you ask? No, it's not something that might have you rushing to the loo after a few too many pints, at least not in Ireland. Hurling is a beloved Irish sport that's been played in various forms for 4,000 years. Croke Park stadium is home to hurling, as well as the other uniquely Irish sport of grit and brute strength: Gaelic football. Book a seat to one of the big matches and get swept up in the excitement with crowds of 80,000 or more in Europe's third largest stadium. You could also learn more about Gaelic sporting history and even test your hurling and football skills on a tour of the stadium and adjacent GAA Museum (extra charges).
Location: Jones' Rd, Drumcondra, Dublin 3, Ireland
Phone: +353 (0)1 819 2300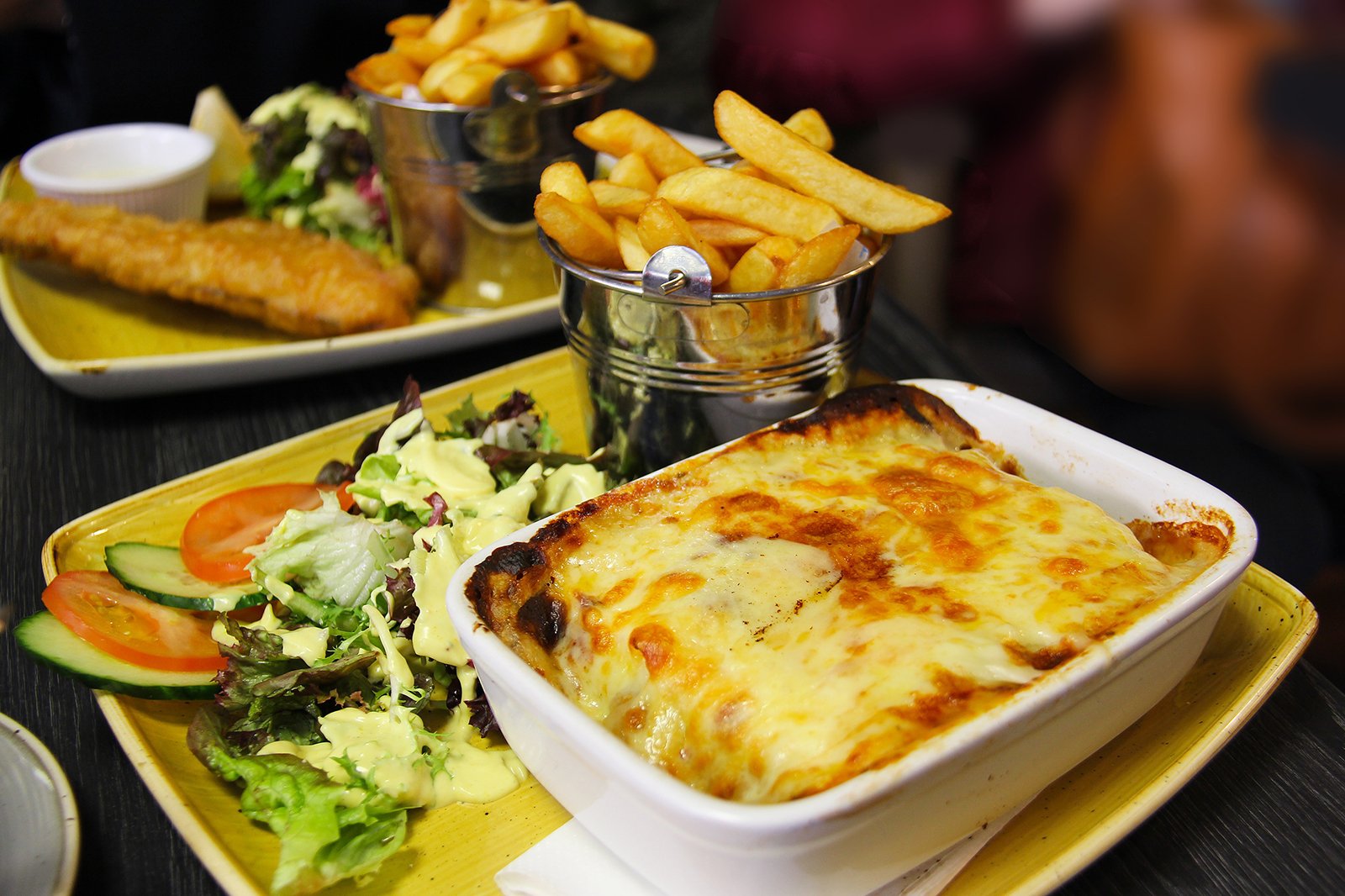 Have you been craving a meal of liver and onions lately? Probably not, but a visit to Delahunt might just whet your appetite for such foods that were more familiar to our great-grandmothers. Using old-fashioned cooking techniques and fresh local ingredients, head chef Dermot Staunton has earned accolades for re-invigorating Irish cuisine. The menu is simple, with only 4 starters, 4 main courses and 4 desserts, updated frequently with the changing of the seasons. And with the chef's "nose-to-tail" cooking ethos, don't be surprised to find tripe or tongue on the menu. Set in a restored historic building on Camden Street, Delahunt offers a tasty trip into the heart of traditional Irish cooking.
Location: 39 Camden Street Lower, Saint Kevin's, Dublin 2, D02 K277, Ireland
Open: Tuesday—Saturday from 5pm to 9.30pm.
Phone: +353 (0)1 598 4880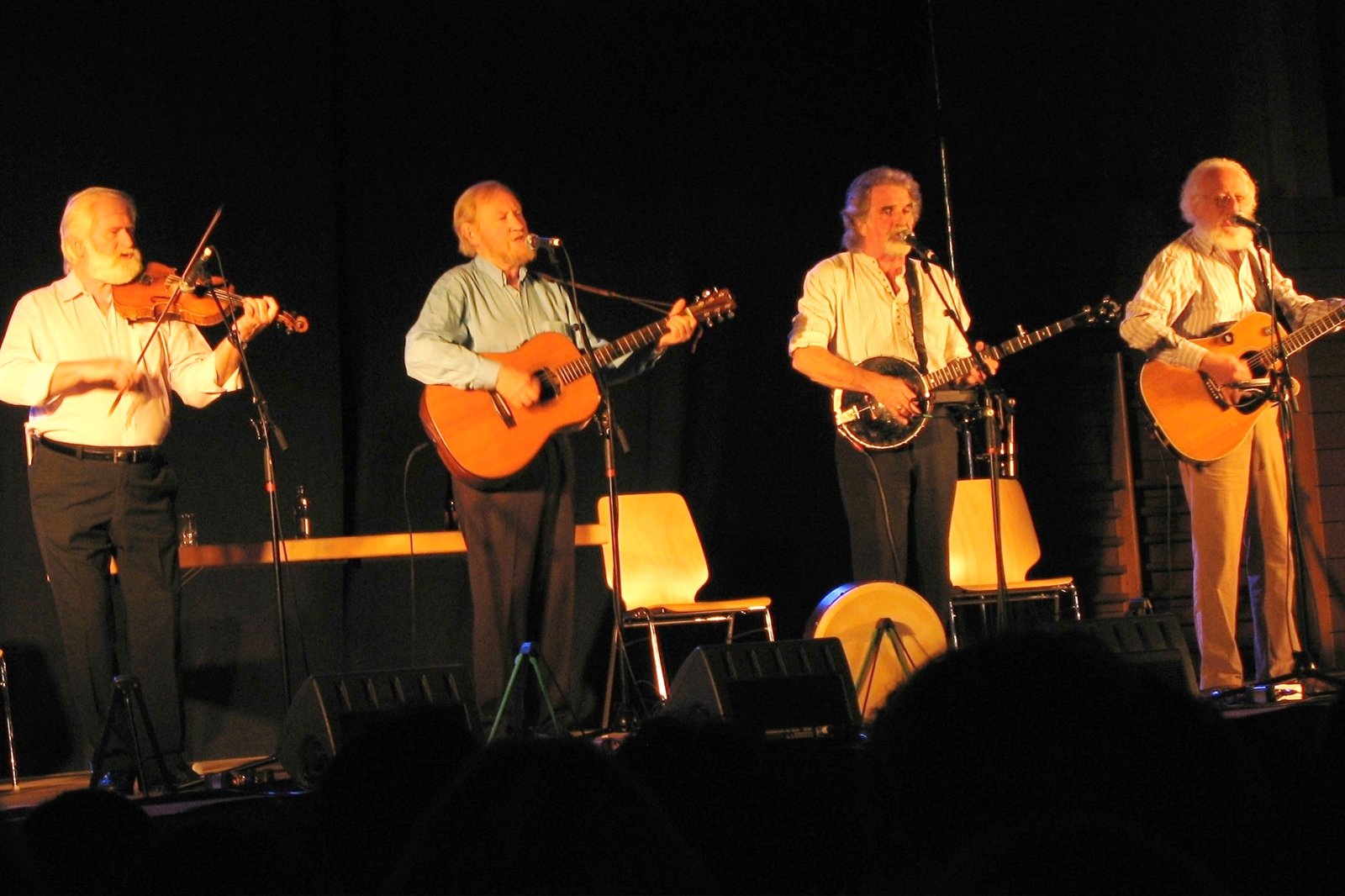 Listen to an Irish folk band
Love, loss, rowdy nights and fateful journeys. These are just some of the themes explored by Irish folk musicians who play into the night at pubs around Dublin. And of course, no visit to Dublin is complete without popping into at least one of these pubs to see for yourself why the music has endured across time and oceans. Wander down any busy street and you'll soon stumble upon a pub playing live music, or you could check out pubs known for attracting Dublin's best traditional Irish musicians. The Cobblestone is one such place, or you could stop in at O'Donoghue's pub, where Ireland's famed folk band The Dubliners got their start.
photo by LesMeloures (CC BY-SA 3.0) modified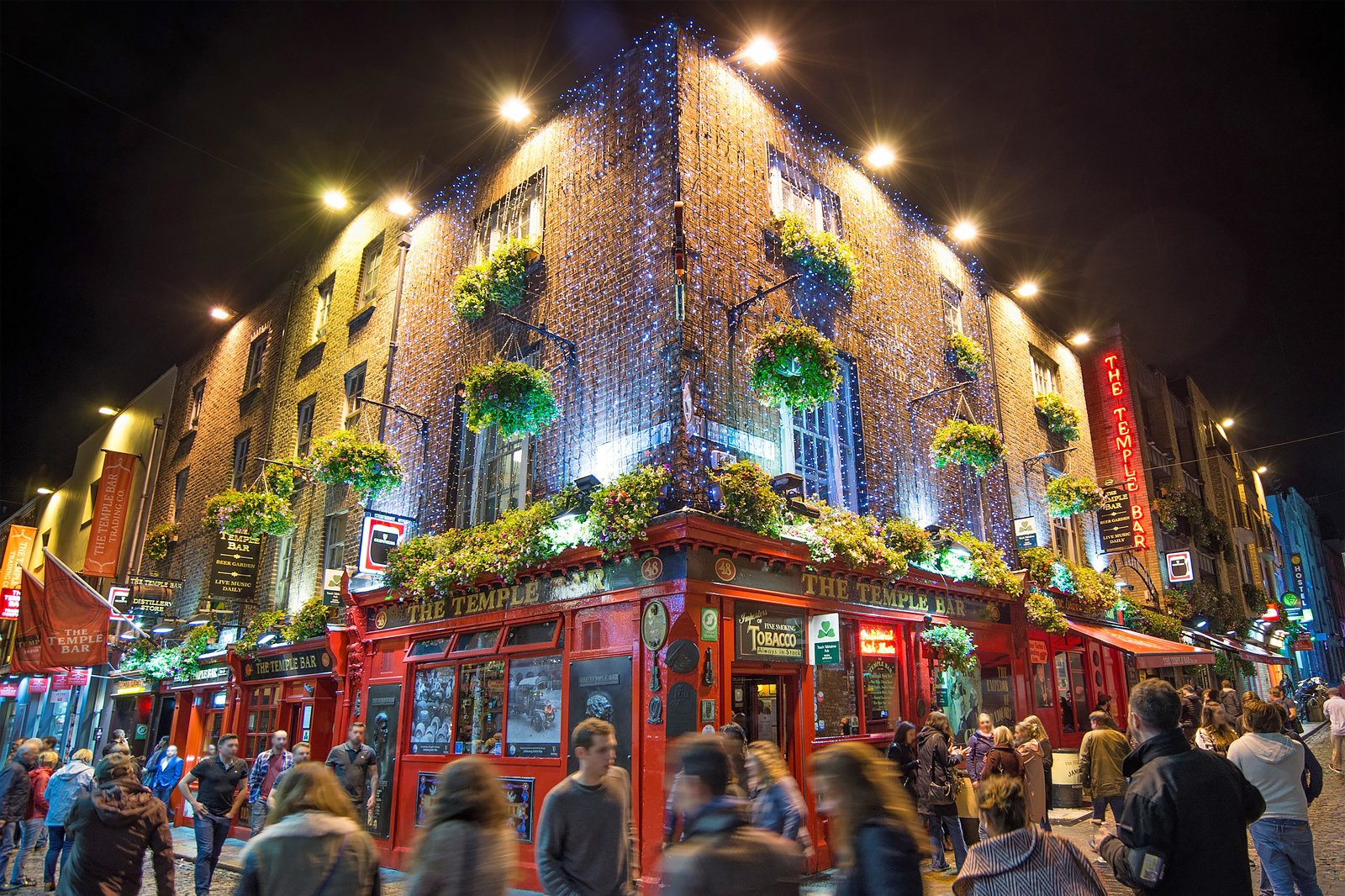 End the day on a pub crawl along Temple Bar
The heart of Dublin's nightlife scene, the Temple Bar area heaves with pubs, bars, live music venues and clubs. Many a reveller has staggered down these cobbled streets in search of the next good place for a pint and a dance. Yes, it's touristy but there's no shortage of fun and festivity so it's best just to dive in and let the merry Dublin night sweep you away. If you're unsure where to go, try joining some fellow craic seekers on an organized pub crawl tour. And for a good tipple beyond Guinness, find locally brewed and imported craft beers at The Porterhouse, or search for the secret door to the speakeasy-style Vintage Cocktail Club.
Location: Found south of the River Liffey, between Westmoreland and Fishamble Streets, Dublin 2, Ireland