15 Great Restaurants in Luang Prabang
Where and What to Eat in Luang Prabang
Restaurants in Luang Prabang cover a wide range of regional cuisine, from authentic Laotian dishes to modern French. Some of the town's best places to eat can be found on the banks of the Mekong River, along Sakkarine Road.
Most of Luang Prabang's high-end hotels have onsite restaurants with elegant dining rooms, garden or river views, and an extensive wine list to complement their food offerings. Some restaurants also transitions into lively bars in the evenings, and host traditional music and dance performances until late. Discover Laos' culinary scene with this guide of where and what to eat in Luang Prabang.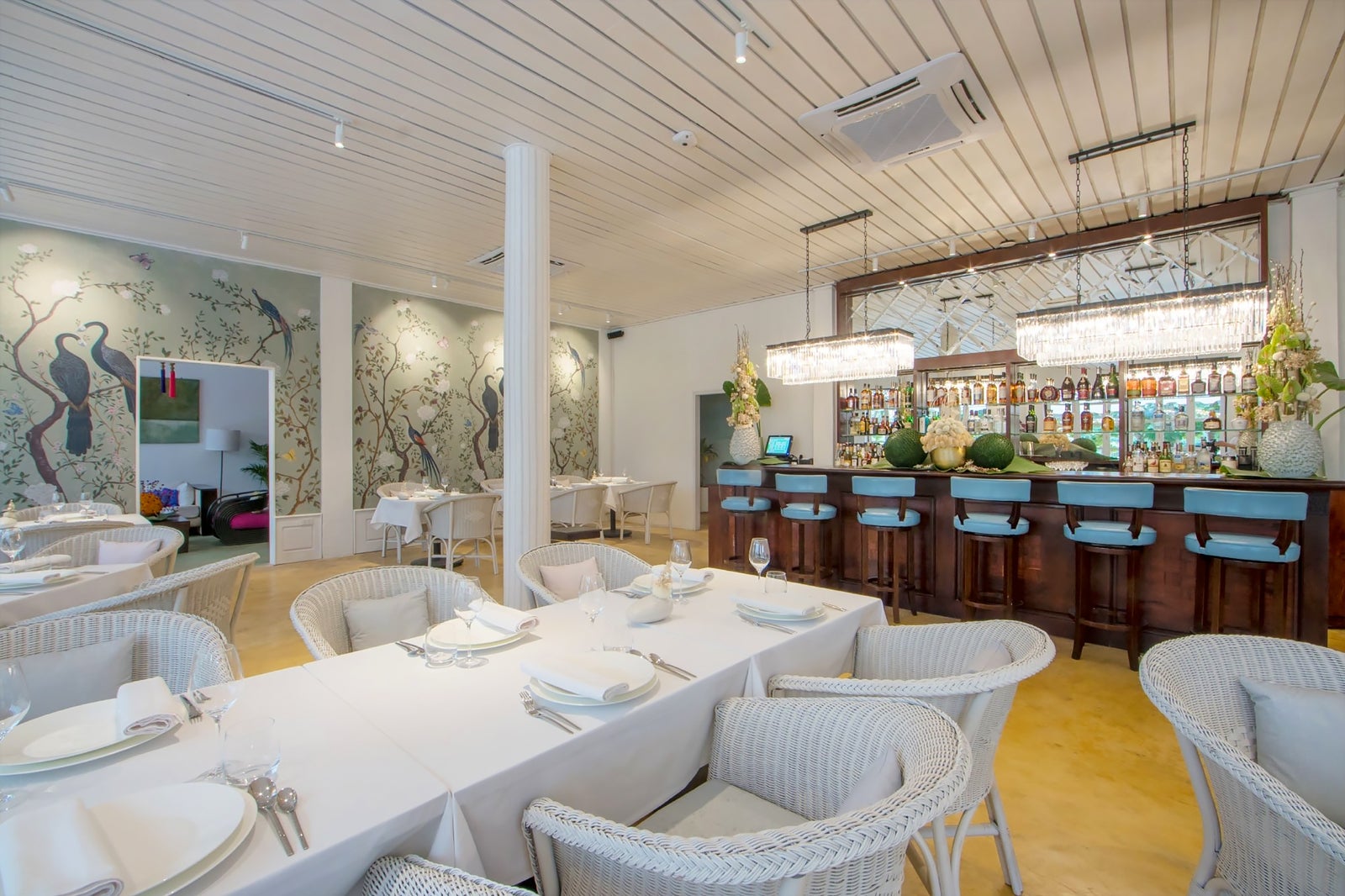 Paste at The Apsara is part of a luxury boutique hotel of the same name. Occupying a beautifully restored school building, its interior evokes a contemporary Oriental style, with colourful lanterns, polished concrete floor, and a wooden bar counter.
Classic Lao as well as Asian and western fusion dishes fill Paste's menu – standouts include sour river fish soup, larb salad, and coal-grilled pork loin. The atmosphere is especially lovely and cosy, making it suitable for romantic dinners and after-dinner drinks.
Location: Kingkitsarath Road, Luang Prabang, Laos
Phone: +856 71 254 251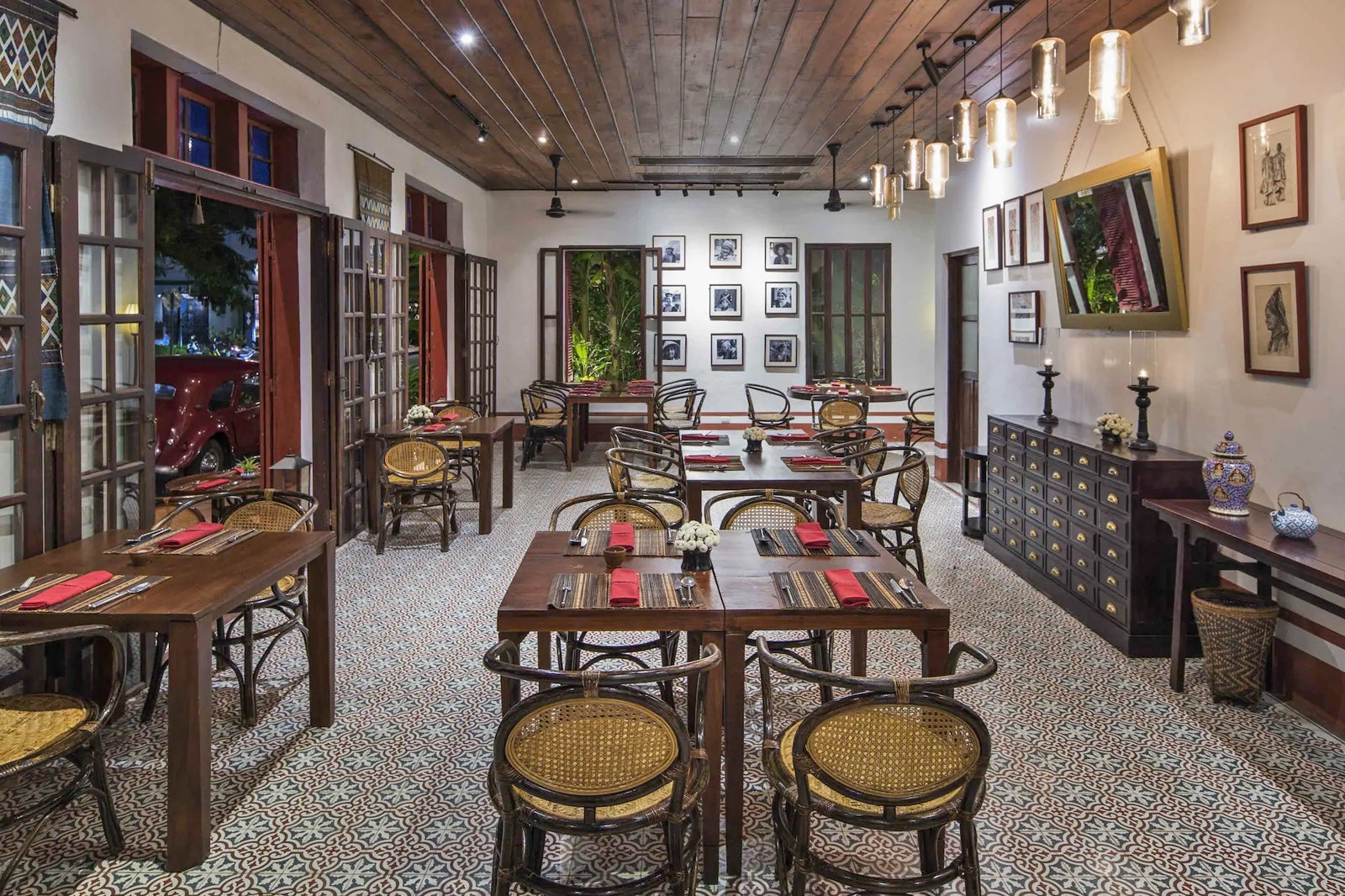 3 Nagas Restaurant & Bar is a classy venue within Luang Prabang's 3 Nagas MGallery by Sofitel. Featuring cosy indoor bistro and an al fresco courtyard, you can enjoy traditional Laotian dishes with traditional folk music playing in the background.
Its Lao degustation menu (250,000 kip per person) consists of classic dishes such as sticky rice with tom sompaa (fish soup with lemongrass and galangal) and phanaeng kai (minced chicken cooked in coconut milk and curry). 3 Nagas Restaurant also has ala carte options – a must-try here is chuem mak moung (flambéed mango in orange and Lao whisky), served with coconut sorbet.
Location: 3 Nagas MGallery by Sofitel, Sakkaline Road, Ban Vatnong Luang Prabang, Laos
Phone: +856 71 2538 88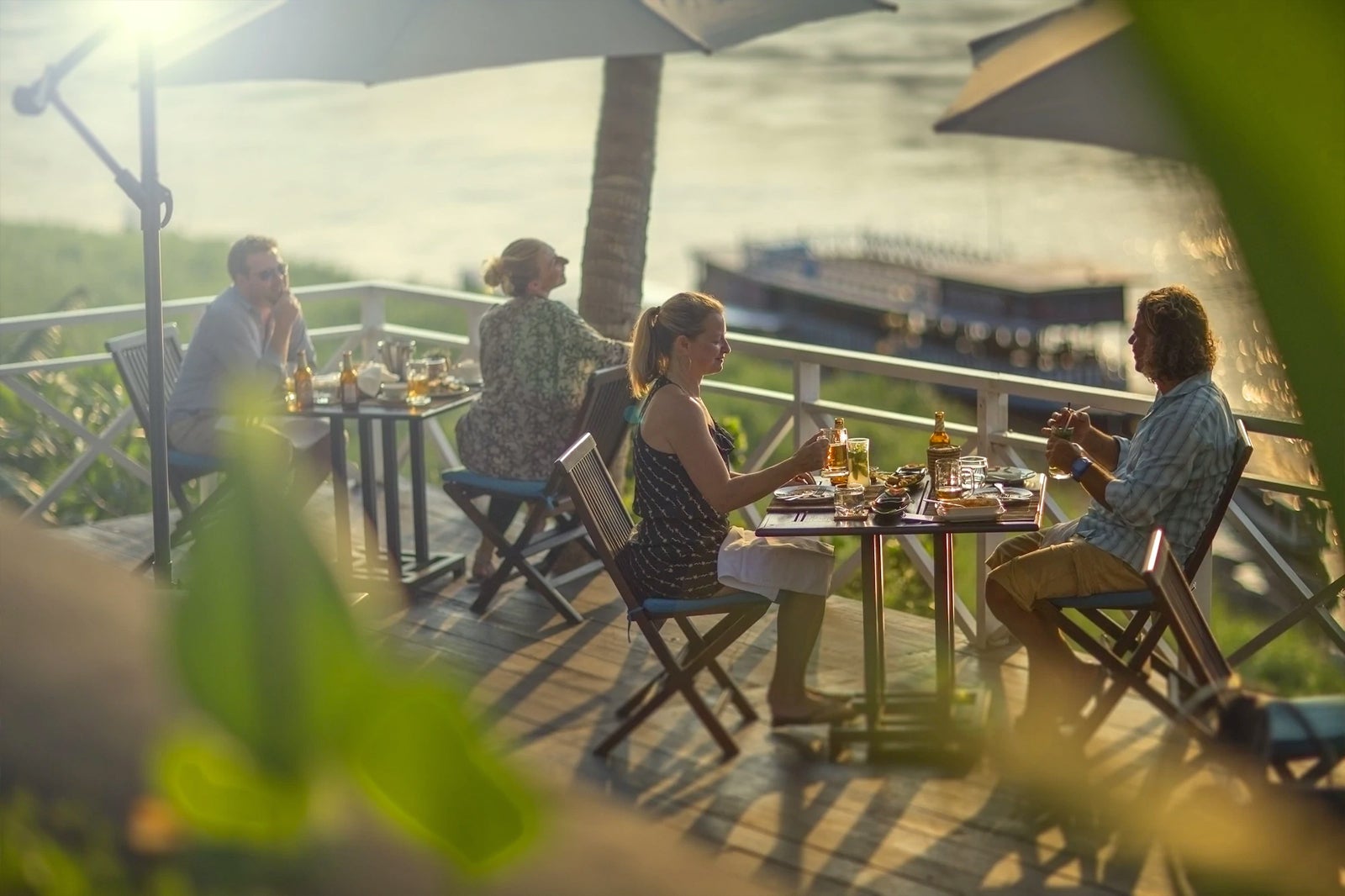 The Belle Rive Terrace is a riverside café behind Luang Prabang's Wat Sene. Part of The Belle Rive boutique hotel, it has 2 dining terraces overlooking the Mekong River and is surrounded by tamarind and palm trees.
You can enjoy classic Lao and Thai dishes, along with a good selection of beer, wine, and cocktails. The Belle Rive Terrace opens all day, where many travellers visit for breakfast, sundowner cocktails, and sunset dinners.
Location: 99 Baan Phonehueang, Luang Prabang 06000 Laos
Open: Daily from 7.30am to 10.30pm
Phone: +856 71 260 733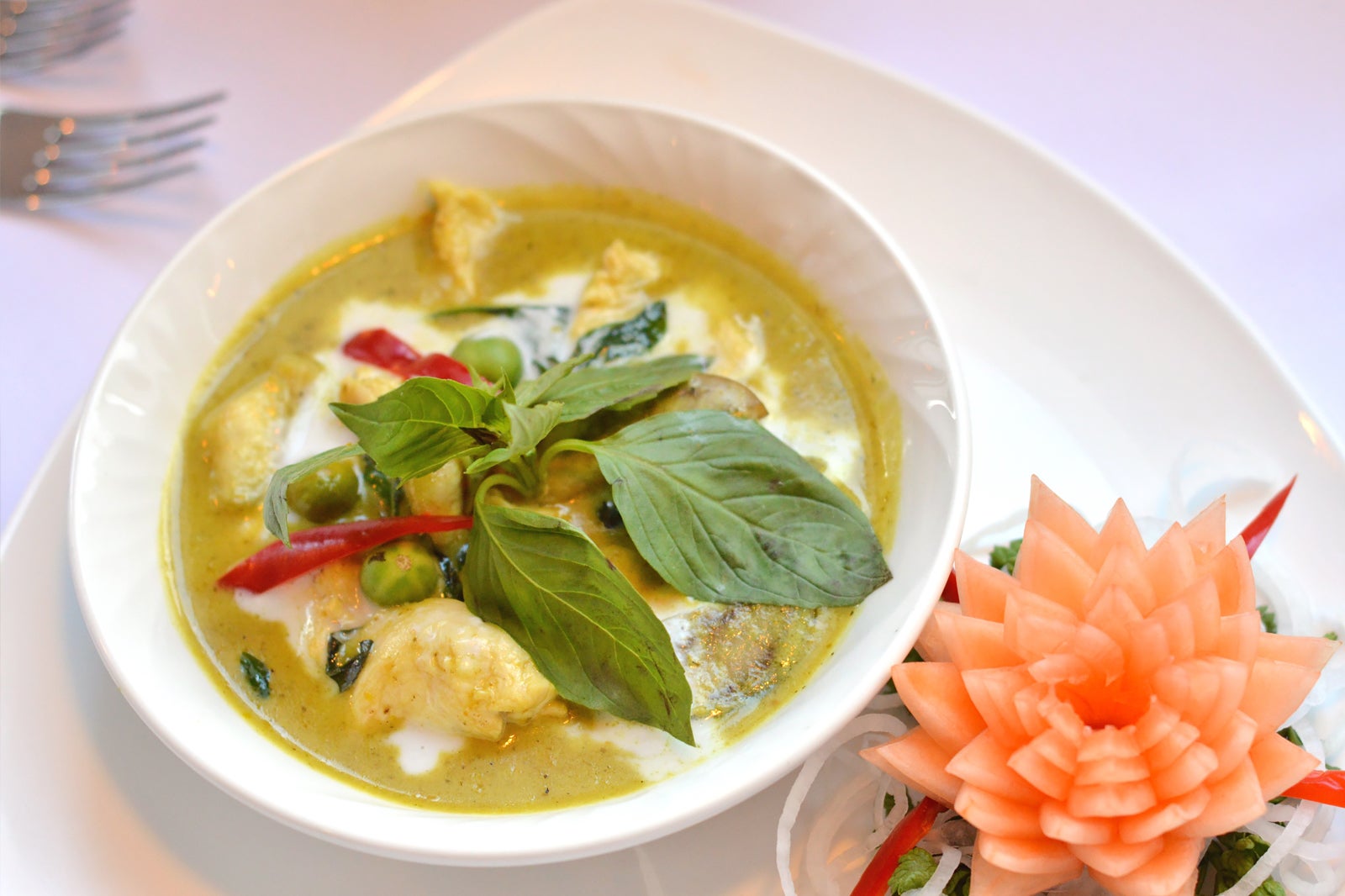 Tamnak Lao Restaurant serves traditional Lao cuisine, many of which are prepared vegetables collected from the local jungle. You can also take a cooking class to learn how to create dishes such as larp gai (minced chicken salad), panaeng kai (chicken in coconut curry), and fried morning glory.
Read more
Location: Sakkarine Road, Ban Watsene, Luang Prabang, Laos
Open: Daily from 9am to 4pm and from 6pm to 10pm
Phone: +856 71 252 525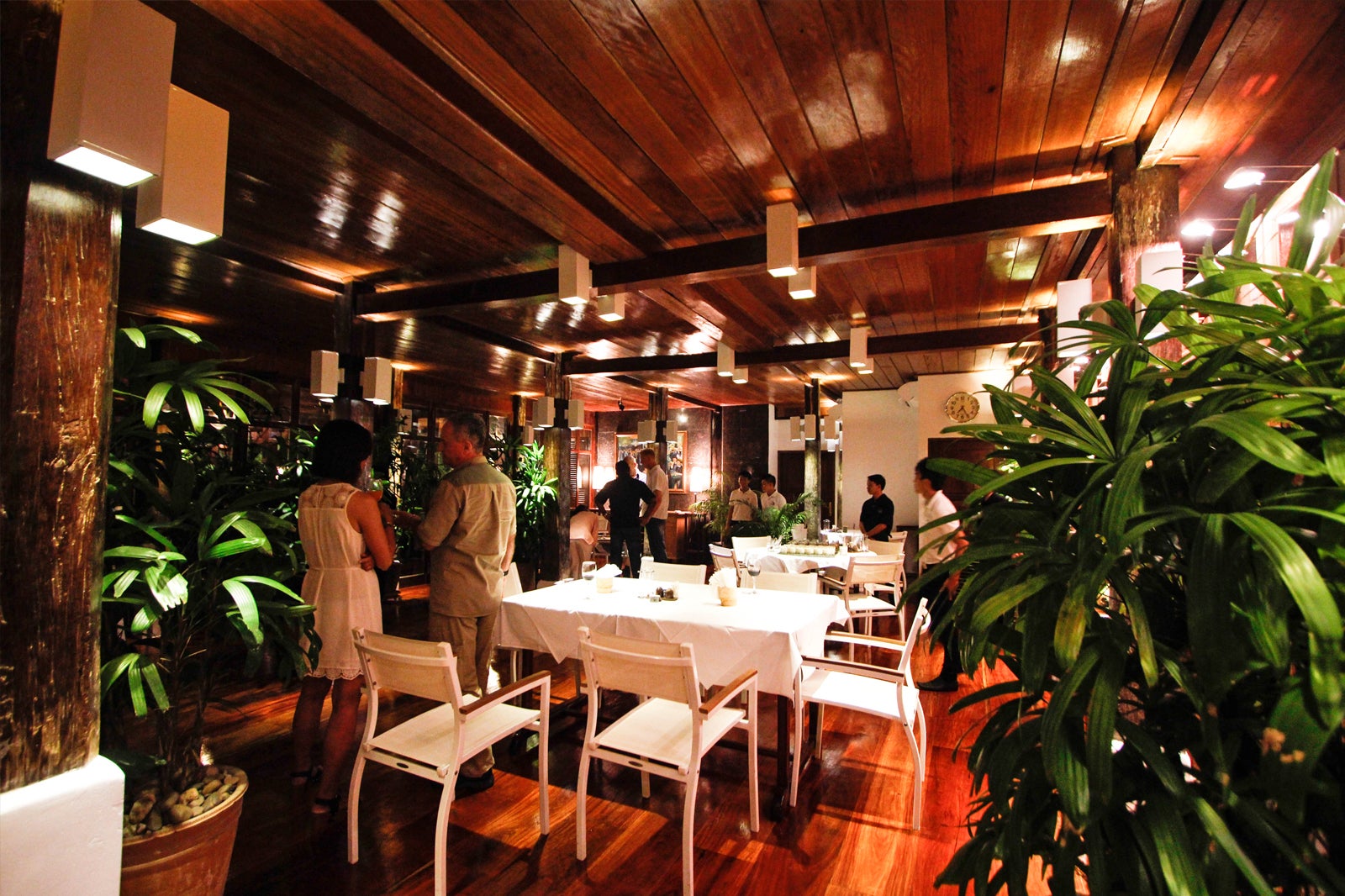 Blue Lagoon is an upscale restaurant that serves Lao and Swiss classics, as well as imported wines and cocktails. It features an outdoor bar with cocktail tables and lounges, as well as an outdoor dining terrace where lantern-lit tables offer views of the Royal Palace's golden spires.
A standout meal a Blue Lagoon is the Luang Prabang Specialties, which consist of chicken larb, mok pa (steamed Mekong perch fillet), pork sausage, and beef or lam (Lao stew). You can also opt for Swiss dishes such as rösti with Zürich geschnetzelte (veal ragout) and cheese fondue.
Location: Choumkhong Village, Luang Prabang, Laos
Open: Hours: Daily from 5pm to 11pm
Phone: +856 71 253 698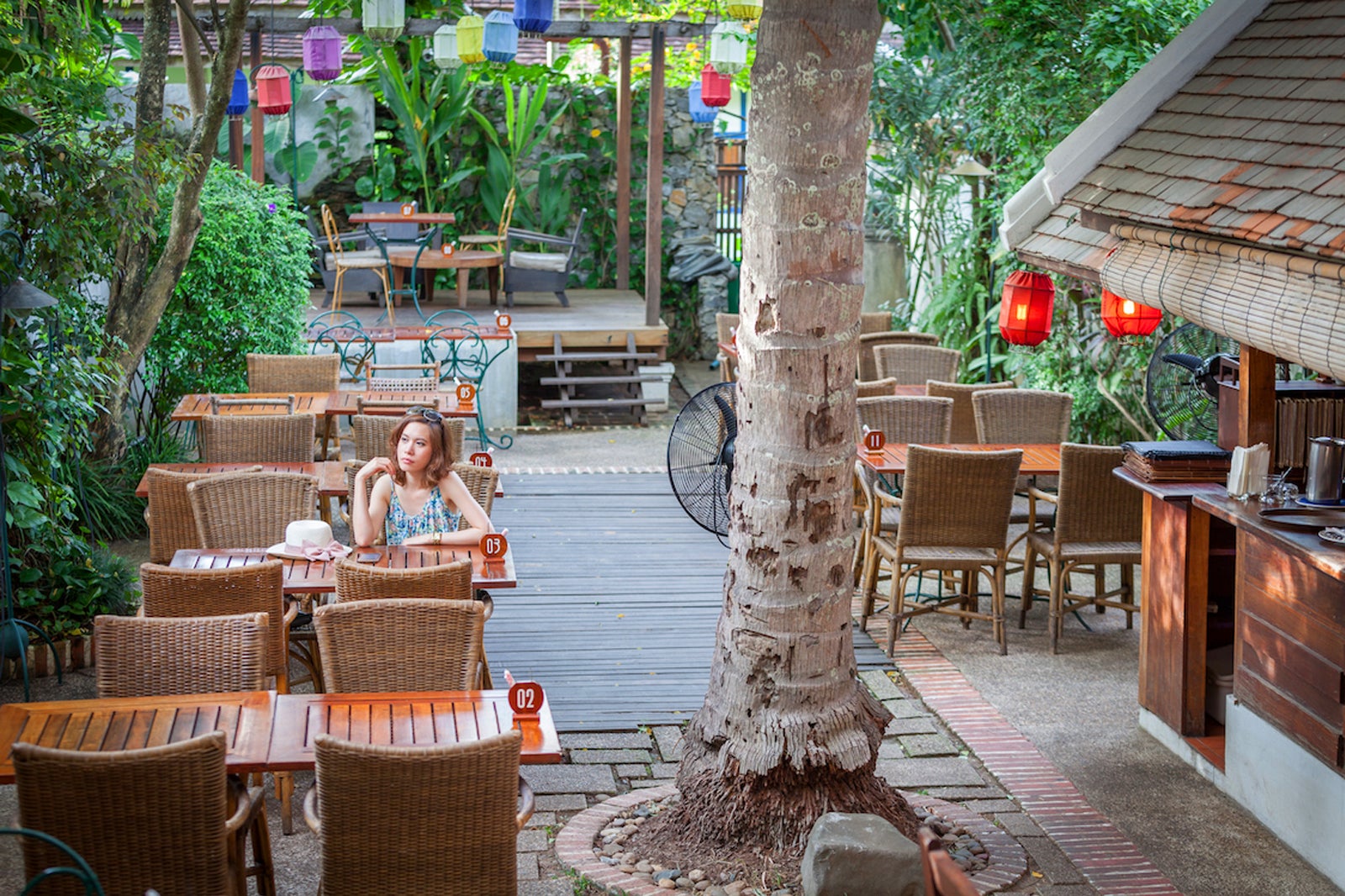 Coconut Garden features an intimate ambience and a delightful menu of traditional Lao and Western fusion dishes. The front garden overlooks the main street, while the rear garden offers more privacy, with views of decorative lights and water features.
Coconut Garden's set menus are suitable for diners who are new to Lao cuisine, with a choice of a 9-dish degustation menu, vegetarian set, and mini-Lao set. Some of its specialities include jaew bong (sun-dried chilli and buffalo skin paste), Lao omelette with dill and fresh herbs, and kroua moo saille kring (pork sautéed with ginger)
Location: Sisavong Road Luang Prabang, 06000, Laos
Open: Daily from 11am to 11pm
Phone: +856 71 254 504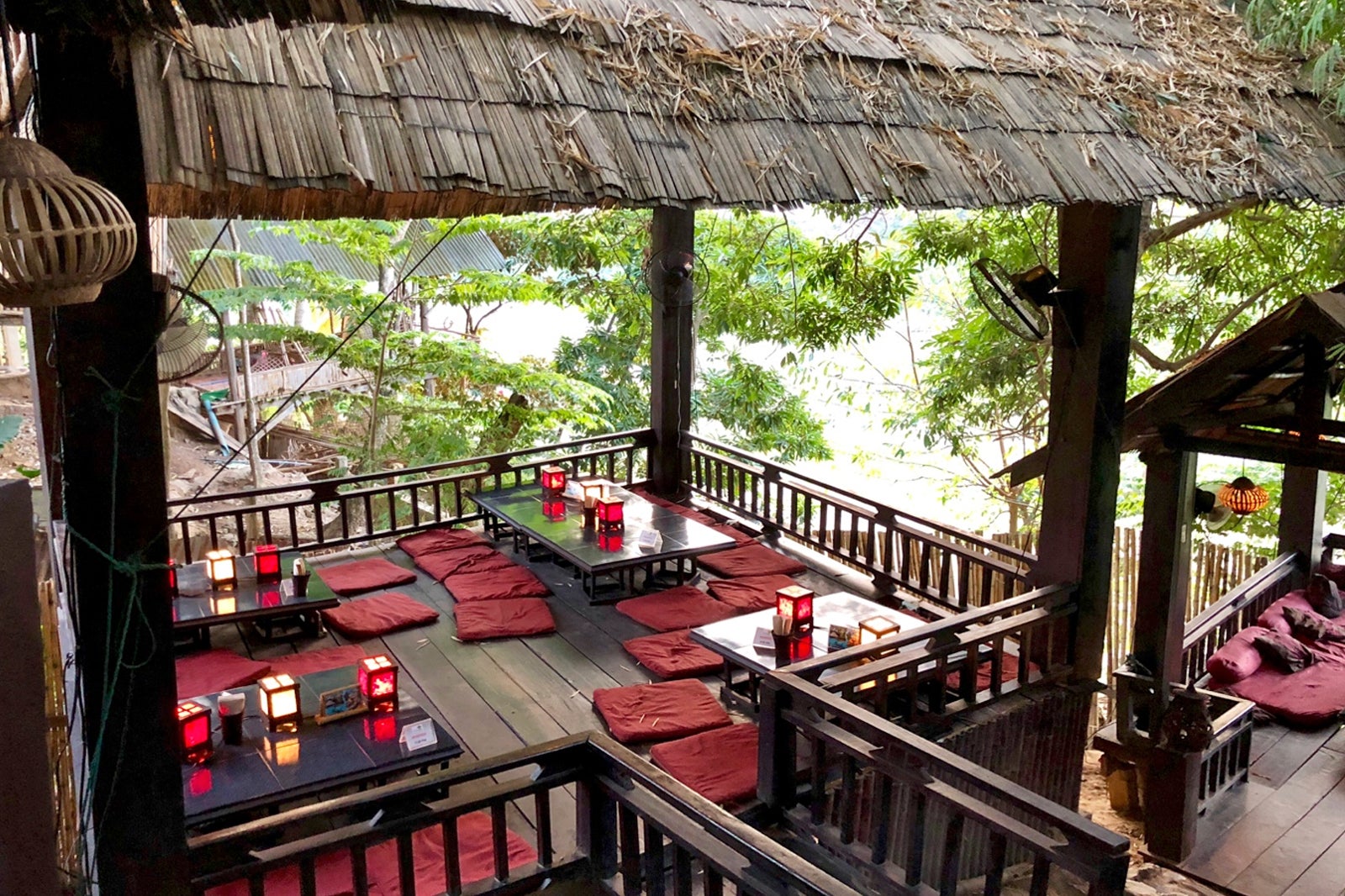 Dyen Sabai offers scenic views of Nam Khan River and Luang Prabang. The dining section has floor cushions, low tables and pillows set on wooden terraces. There's also an open garden for enjoying traditional Lao barbecue and individual bamboo huts for private parties. The food menu is extensive, with up to 77 varieties of cocktail and excellent Lao, Asian, and European fare.
Location: Ban Phan Louang PO Box 805, Luang Prabang, Laos
Open: Daily from 8am to 11.30pm
Phone: +856 20 5510 4817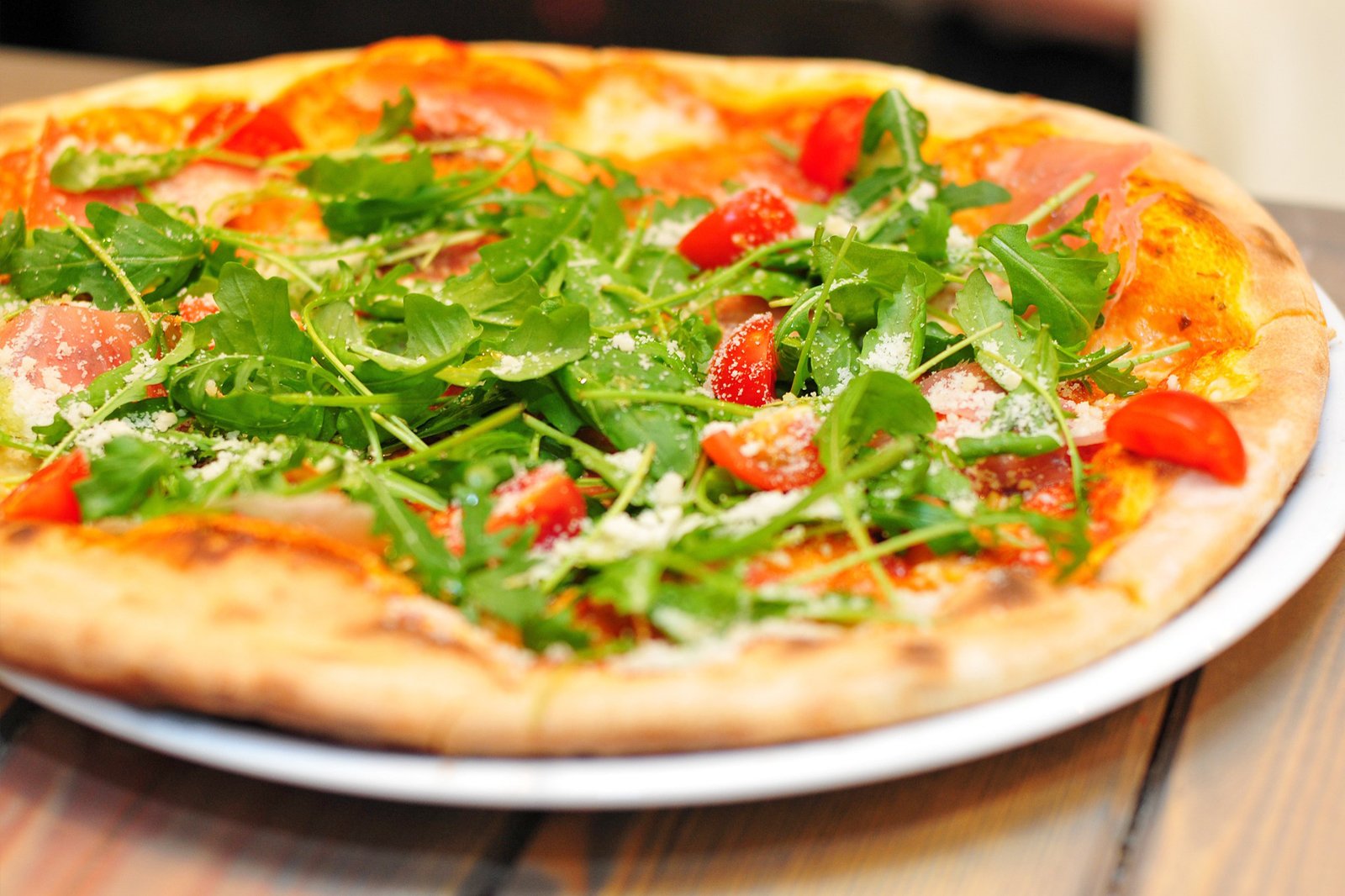 La Silapa Italian & Lao Kitche
La Silapa Italian & Lao Kitchen occupies a charming house with a spacious garden opposite Wat Aham. This modern restaurant serves wood-fired pizzas and pastas, as well as local dishes such as BBQ pork and yam nam tok (spicy meat salad).
On Wednesdays, La Silapa offers 2 pizzas and lasagnes for 99,000 kip, and 89,000 kip for 2 pastas. Its extensive wine list and happy hour promos attract those looking to relax after sightseeing in Luang Prabang.
Location: Pommathat Road, Luang Prabang, Laos
Open: Monday–Saturday from 12.30pm to 3.30pm and from 5pm to 11.30pm, Sunday from 5pm to 11.30pm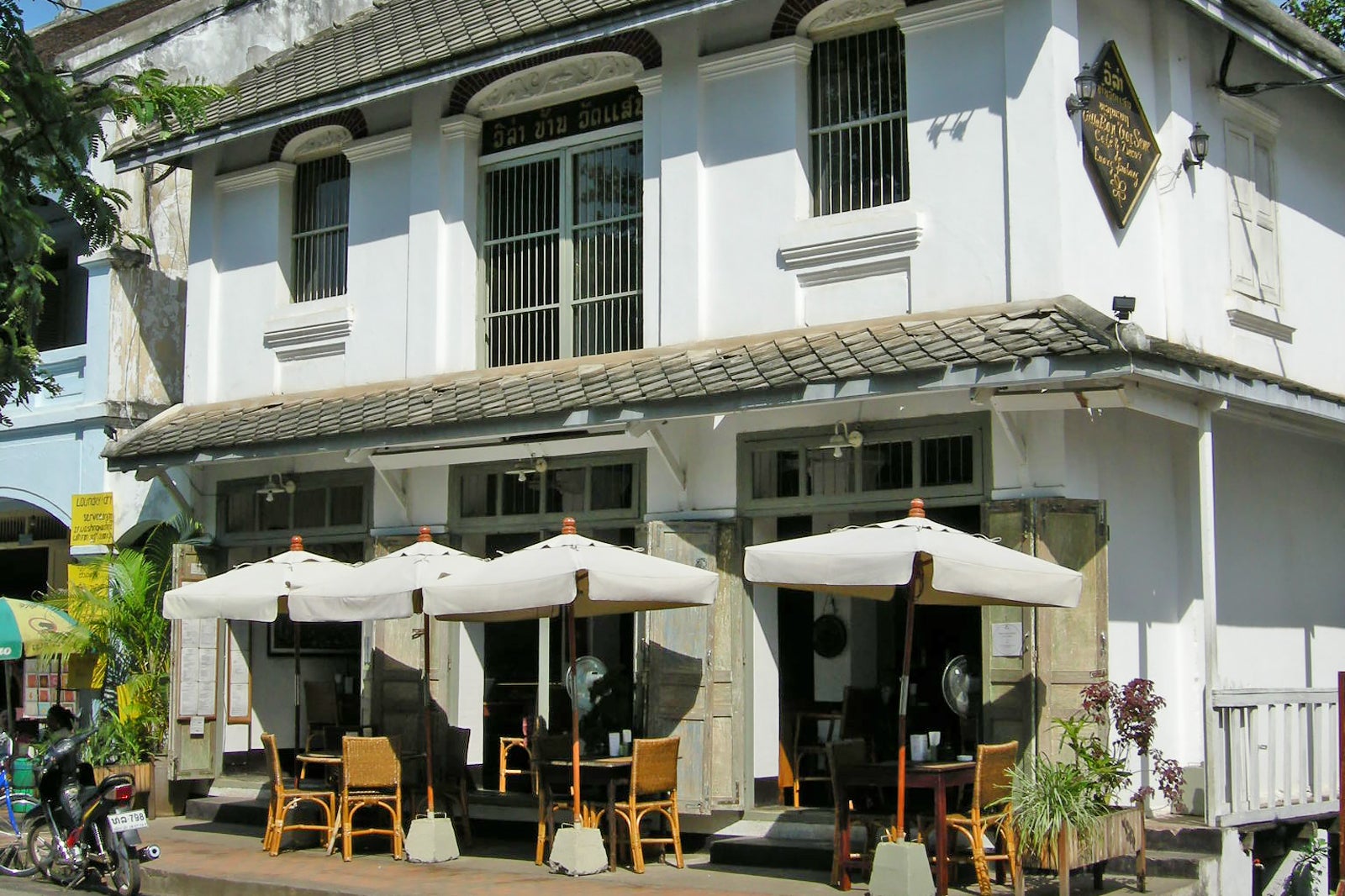 Le Cafe/Bistro Ban Vat Sene
Le Cafe/Bistro Ban Vat Sene occupies a lovely colonial-style building along Sakkarine Road. Enjoy a daily selection of pizzas, steaks and salads, as well as a dessert cabinet filled with French pastries such as éclairs, lemon tart, and raspberry mousse. There's also a bar section where you can enjoy imported wines, along with chilled out music and a small library of magazines, books and newspapers.
Location: Sakkarine Road, Luang Prabang, 06000 Laos
Open: Daily from 6.30am to 11pm
Phone: +856 71 252 482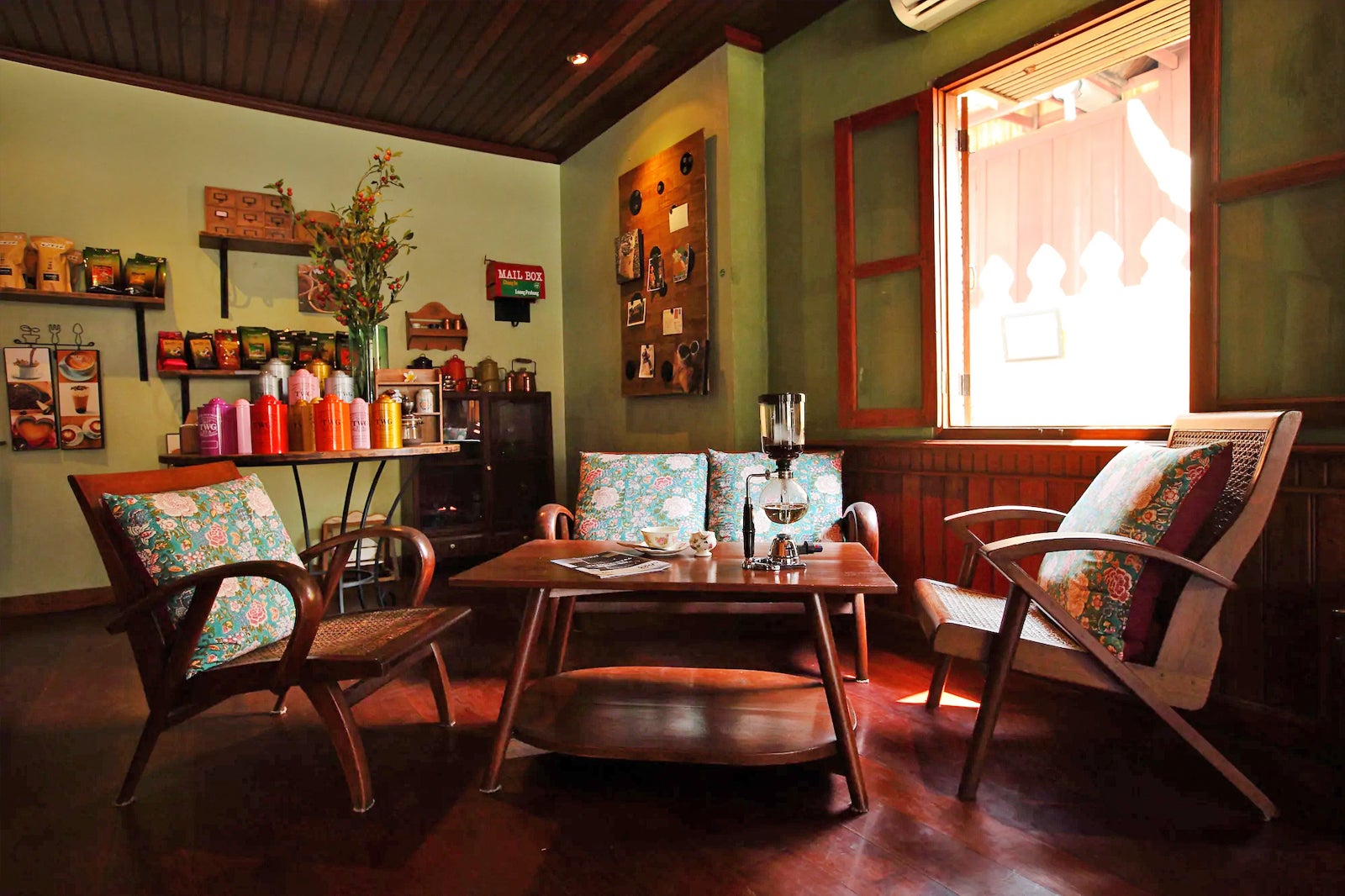 Café des Laos features a gallery of local artwork, along with coffee brewed in various methods. The café sources its coffee beans from farms near Luang Prabang and on the Bolaven Plateau – drinks are produced using vintage coffee makers such as French press, siphon, and Moka pot. Café des Laos has a simple food menu consisting of cakes, crepes, and tartines, though most visit the café for its quality coffee.
Location: 93/3 Phoneheuang Village, Sakharin Road, Luang Prabang, Laos
Open: Daily from 6am to 6pm
Phone: +856 71 253 553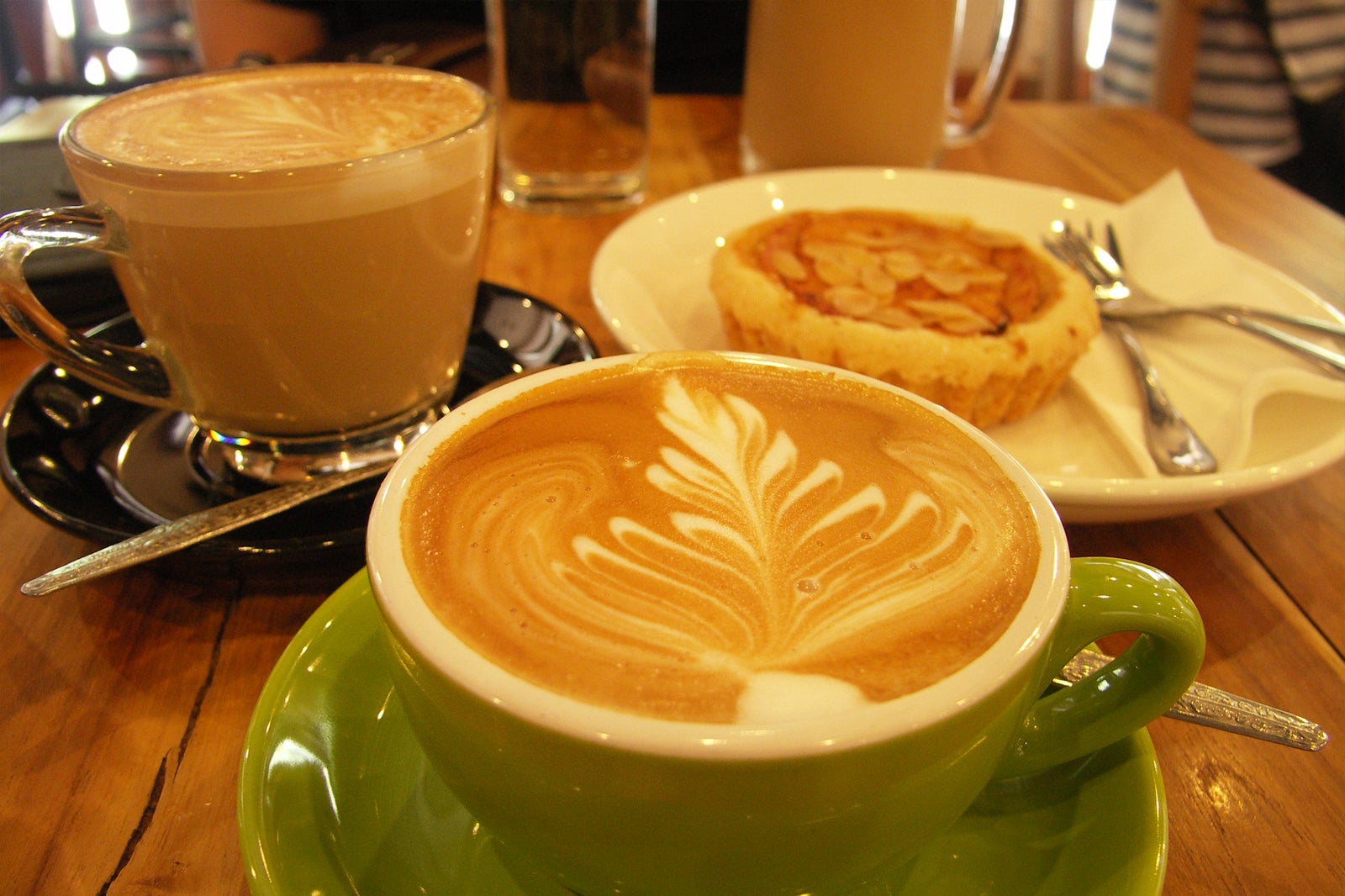 Saffron Coffee's Espresso, Brew Bar, & Roastery
Saffron Coffee brews a variety of coffee using Arabica beans sourced from the Hmong, Yao (Mien), Gasak, and Khmu villages. You can enjoy standard drinks like Americano, latte, and mocha, as well as unique variations such as Lao latte, espresso shake, and cold drip coffee.
Start your day on a sweet note with Saffron Coffee's gingerbread-spiced pancakes (topped with banana, vanilla ice cream, and chocolate-maple syrup) or, if you prefer a healthier alternative, granola with buffalo yoghurt, milk, and seasonal fruits.

Location: Khem Khong Road, Ban Wat Nong, Luang Prabang, Laos
Open: Daily from 7.30am to 5.30pm (hours vary by season)
Phone: +856 71 212 915
photo by Caitriana Nicholson (CC BY-SA 2.0) modified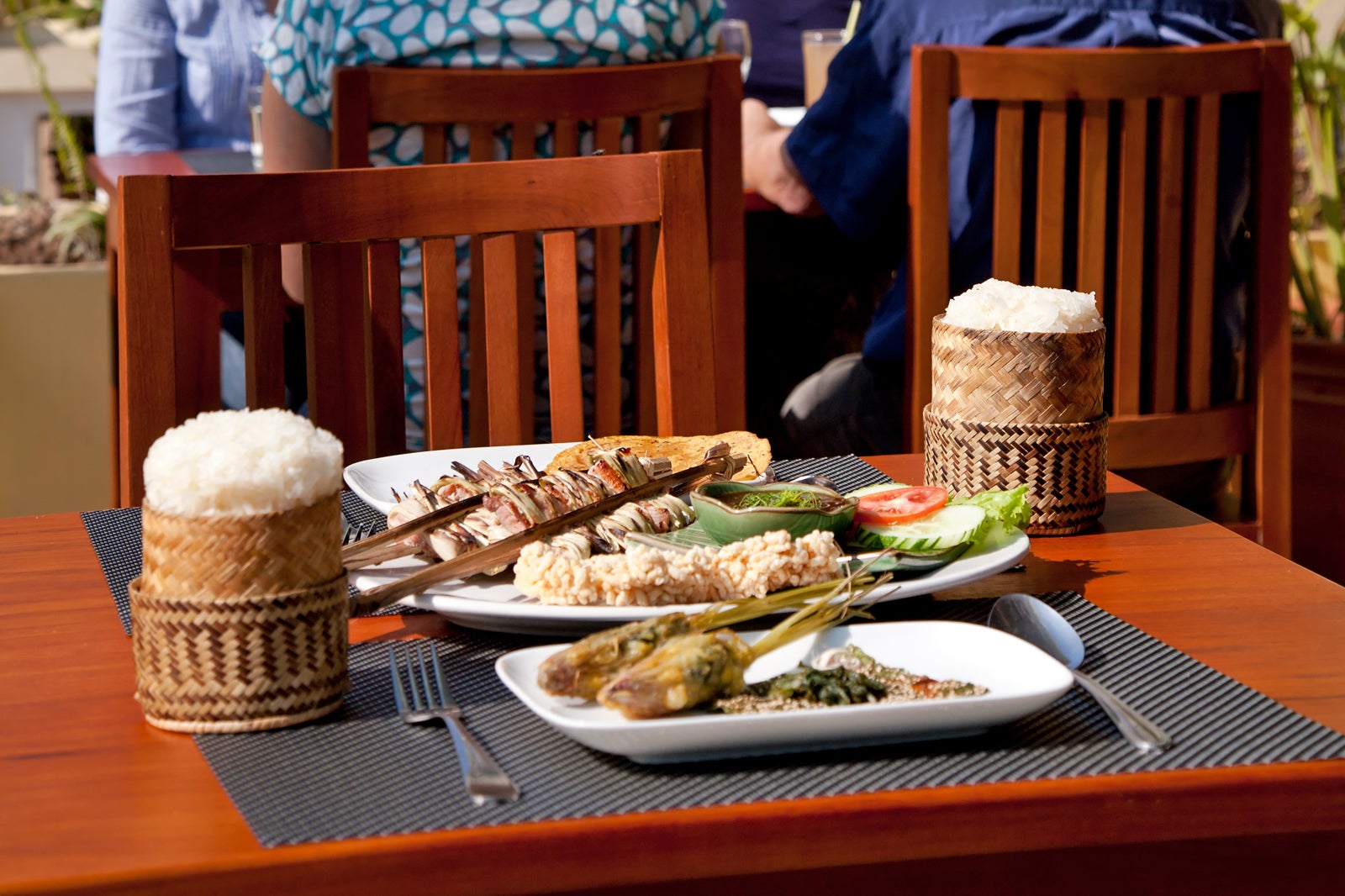 Tamarind: A Taste of Laos
Tamarind: A Taste of Laos serves tasty and healthy traditional Lao food in Luang Prabang. It's also a top-rank cooking school, where you can shop for fresh ingredients at a local market before returning to Tamarind and prepare local dishes and dipping sauces.
The restaurant is relatively busy and packed at meal times, so be sure to head there early. The menu ranges from platter combinations of dips and salads, to soups, miang (wraps), larb (minced meat salad), stir-fried and grilled a-la-carte dishes.
Location: Ban Wat Sene, Luang Prabang, Laos
Open: Monday–Saturday from 11am to 4.15pm and from 5.30pm to 9pm (closed on Sundays)
Phone: +856 71 213 128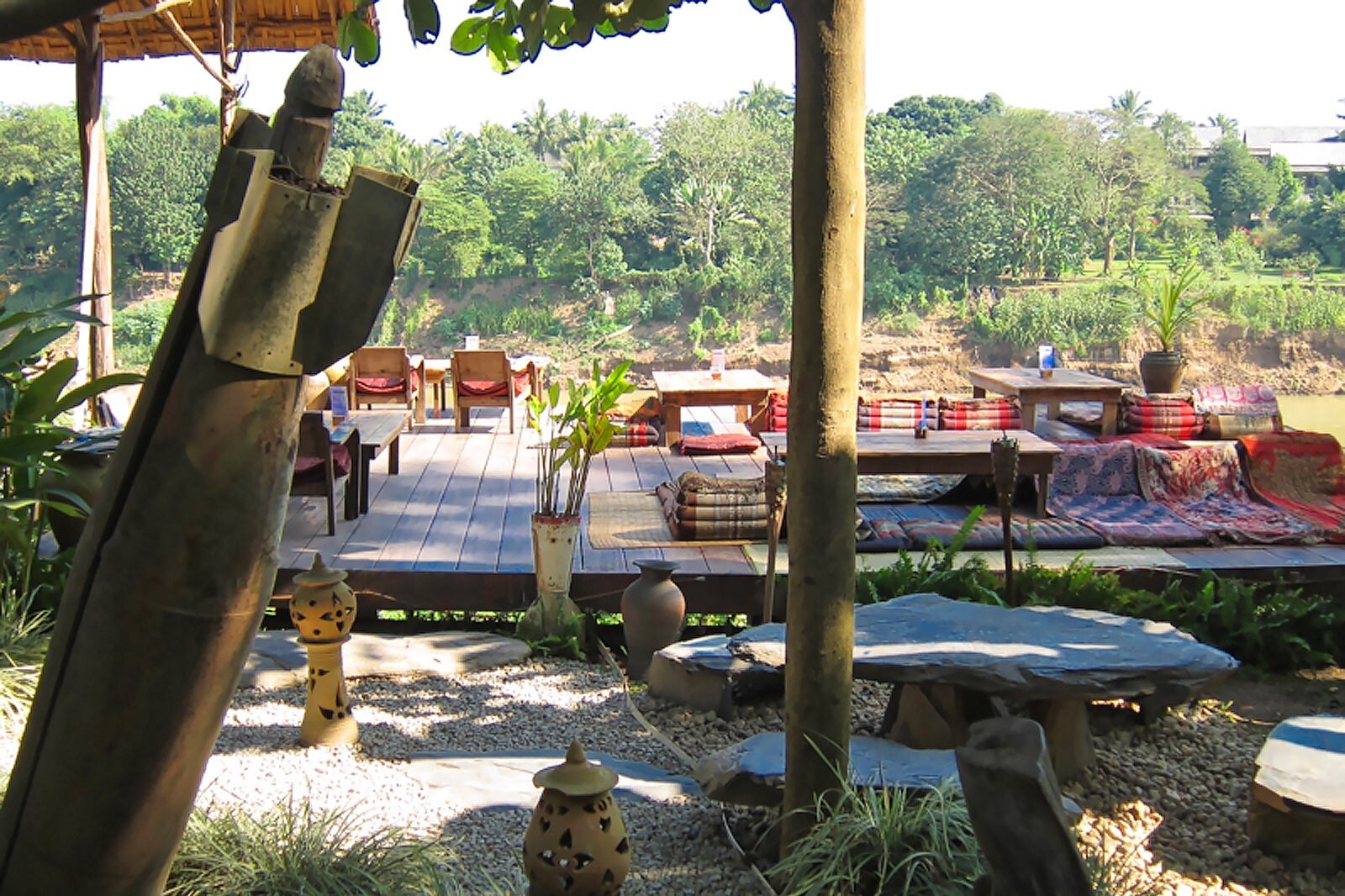 Utopia Restaurant and Bar
Utopia Bar and Restaurant is a rustic-style venue on the Nam Khan riverbank. You can relax in their tropical gardens or at the bamboo river decks, both of which offer views of the upcountry Utopia hosts beach volleyball and yoga during the day, and live music, board games, and movies in the evening. To get to Utopia Bar and Restaurant, there's a small lane opposite Wat Visoun that will lead you to the restaurant.
Location: Ban Aphay, Luang Prabang, Laos
Open: Daily from 8am to 11.30pm
L'Eléphant serves authentic French and Laotian cuisine in the UNESCO-listed town of Luang Prabang. The restaurant occupies a 1960s colonial building, about 500 m southwest of Wat Xiengthong.
Dishes include fried Provencal frog's legs, Lamb shank braised with Indochina cardamom, and mok pa for (mashed fish and coconut steamed in banana leaf). You can also opt for the vegetarian menu, which has cold ratatouille, perch poached in basil, and carrot salad.
Location: Ban Vat Nong, Kounxoua Road, 06000, Luang Prabang, Laos
Open: Daily from 11am to 10.30pm
Phone: +856 71 252 482
The Sports Bar & Guesthouse
The Sports Bar & Guesthouse is a good choice if you feel like having something different than Laotian cuisine in Luang Prabang. The menu might be small, but you'll get to enjoy western classics such as schnitzels, Aussie meat pies, chicken parmigiana, and fish with chips.
The Sports Bar & Guesthouse is one of the best places in Luang Prabang to watch live sports events, including rugby, football and Formula 1 races. The bar draws an international crowd of tourists and expats.
Location: Ban Aham, Sisouphan Road, Luang Prabang, Laos
Open: Daily from 7am to 11.30pm
Phone: +856 20 7125 4706