10 Most Romantic Places in Cabo San Lucas
What to Do in Cabo San Lucas for Couples
Cabo San Lucas is a lively resort town on the southern tip of Mexico's Baja peninsula, about 2.5 hours southbound from Los Angeles International Airport. This compact paradise is a mix of coastal beauty, sea cliffs, colourful underwater life and marine biodiversity.
Most attractions are nearby one another, and can be reached in a matter of minutes by car or water taxis. June and July are the busier months as the weather is ideal for swimming. Cabo's rainy season is August to September, while October to December is great for whales and large sea mammal sightings. Here are the best places in Cabo San Lucas to take your special someone.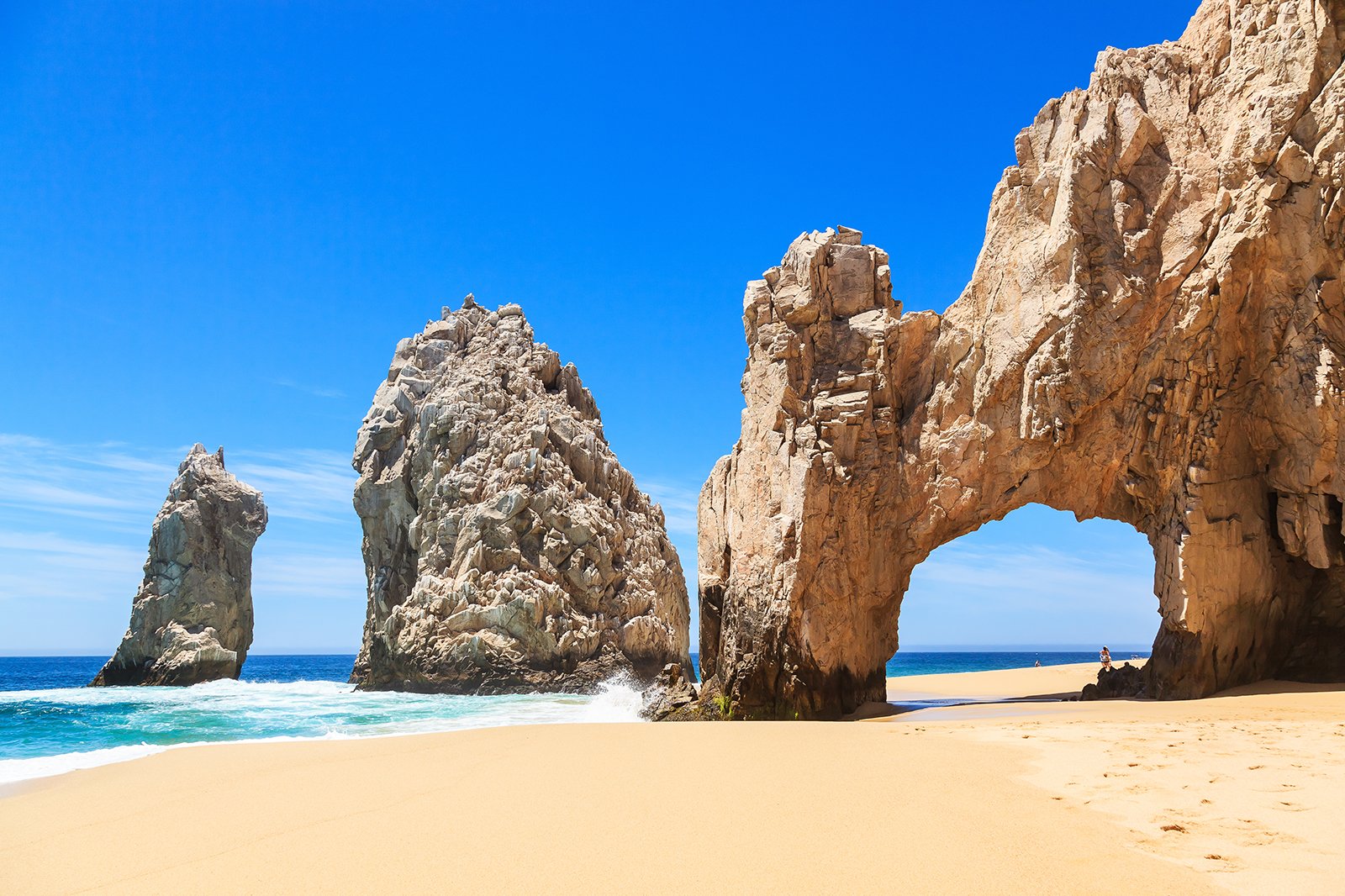 The Arch of Cabo San Lucas and Land's End
Beautiful coastline, rock formations and the horizon
The most prominent landmark in Cabo San Lucas is the Arch and the nearby Land's End (El Finisterra) rock. This location is the geological marking where the Sea of Cortez meets the Pacific Ocean. To get around, the usual mode of transportation is the local water taxi, as walking and hiking is much less preferred due to the safety of the shores and rogue tides. A typical boat ride from the main Marina Cabos San Lucas out to this Arch would take about 45 minutes to an hour, depending on what service you pick.
You'll see clusters of unique rock formations and a small but dense group of sea lions sunbathing around the coastal bend. The water is deep, clear and perfect for spotting fishes and some guided snorkelling tours. As for swimming, do keep an eye out for black and red flags, as black indicates a no-swim zone, and red for the caution zone.
Lover's Beach (Playa del Amor)
Swim in the famous Lover's Beach
Facing north towards the Sea of Cortez, Playa de Amor or Lover's Beach is a small, secluded beach, accessible by water taxi. The area is a narrow cove with low tides and bright, blue water. Lover's Beach is one of the few places in Cabo San Lucas that has gentle tides that are safe for swimming.
The opposite coast, facing south towards the Pacific side, is called the Divorce Beach and can be accessed in a few minutes' walk. This beach earned its name for the turbulent waves that are not favourable for swimming, with strong undertows to be taken seriously. As one of Cabo San Lucas' main highlights, Lover's Beach can be crowded with tourists, but not so many vendors, so bring some drinking water and personal supplies.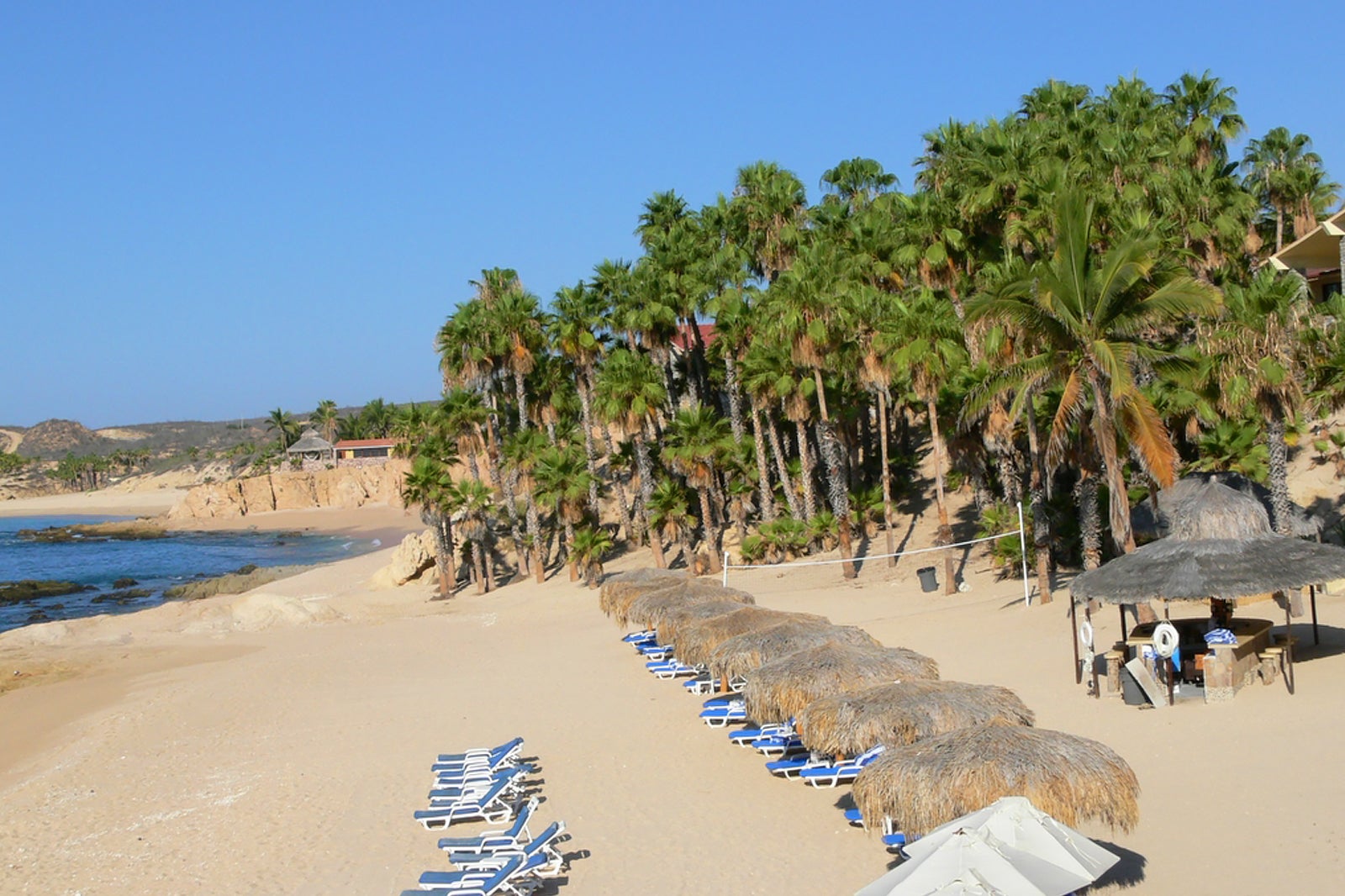 Chileno Beach
Chill and snorkel in the friendly waters of Chileno
For those who prefer people-watching and a livelier scene, Chileno Beach is a spot where visitors can enjoy mild waves and swim-friendly zones with a few tide pools that are perfect for snorkelling. During spring break months, this area can be a bit crowded. This beach is equipped with new and modern amenities from its recent park improvement.
Here on Chileno Beach, you will be greeted with seagulls, pelicans and crabs. The colourful fishes are happy to hang out with you in shallow water, along with other sea creatures that don't seem to mind the people too much, especially the sergeant-major fish that are glad to see visitors bringing corn chips. There aren't a lot of vendors in this area, so bring your own food and supplies. Also, swimmers beware as the waves can get rough in the afternoon.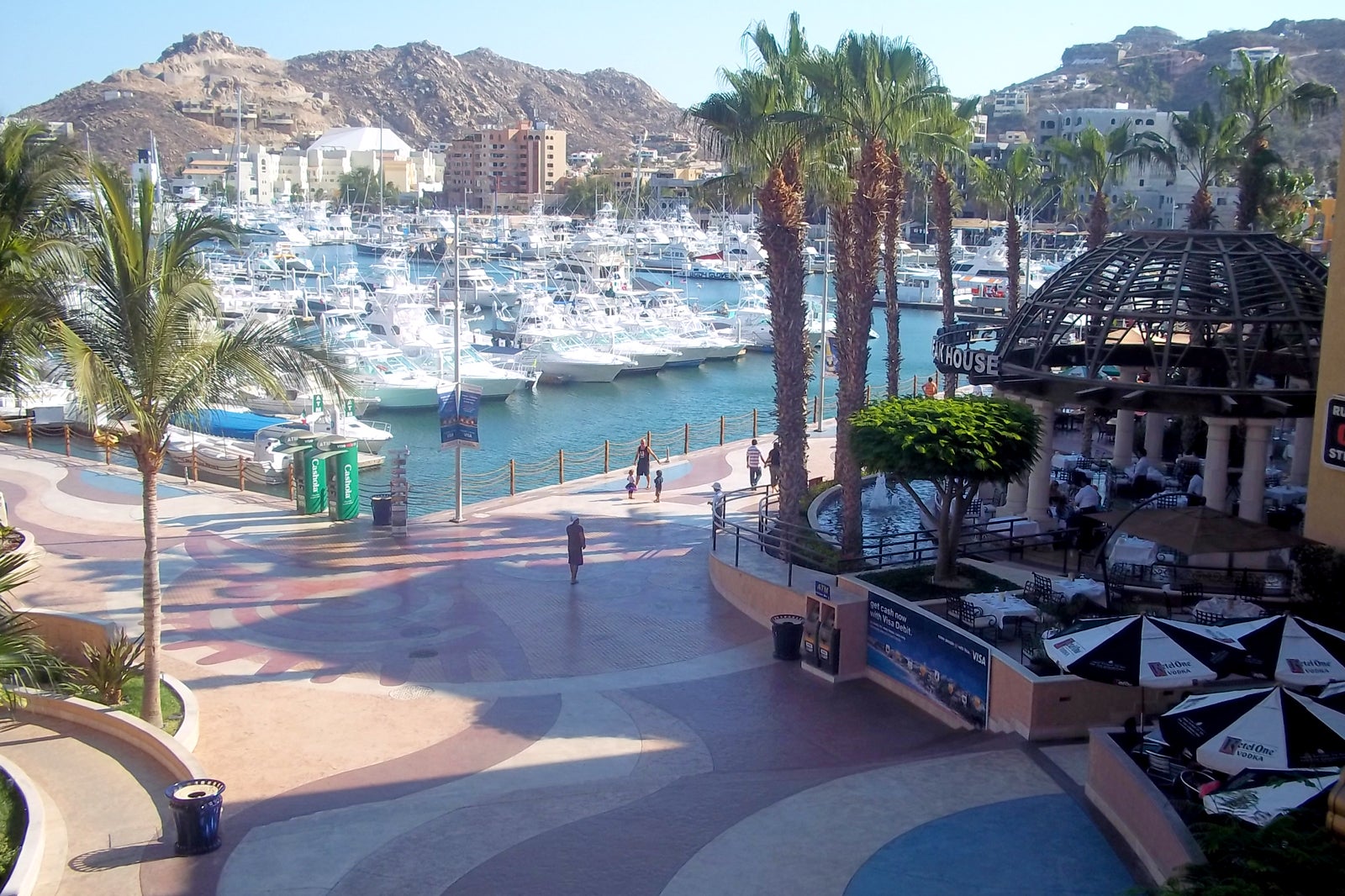 Marina Cabo San Lucas
Yachts, restaurants, bars and nightlife
The dredging of the harbour began in 1973 with the beginning of ferry and boat services. Today, this modern port hosts thousands of boats of all sizes. The yachts are fun to look around, from quaint fishing boats to multi-million-dollar catamarans that are docked near the surrounding shops, restaurants and bars.
As a coastal town, seafood here is a must, with places that serve mahi mahi, red snappers, and your variety of sushi and sashimi from their same-day catch. Because this is where most tourists plan their excursions, this marina is the busiest place in Cabo San Lucas with tourist information centres, souvenir shops, and local vendors. Night time on the harbour makes a romantic, sparkling sight with music and drinks under the moonlight and ocean breeze. Most restaurants and bars are open until midnight.
Location: Lote A-18 De la Darsena, Cabo San Lucas 23450, Mexico
photo by Marrovi (CC BY-SA 2.0) modified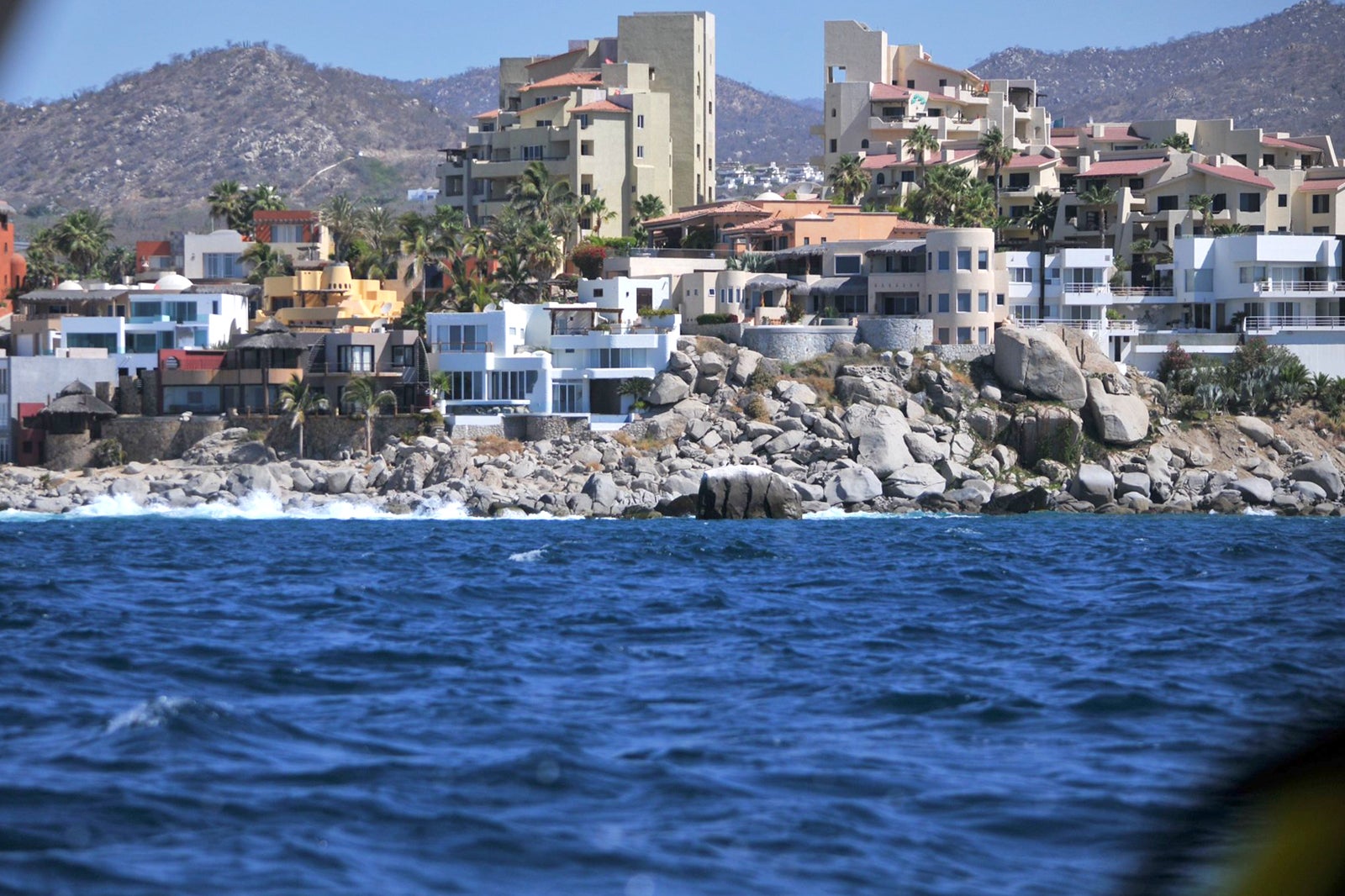 Pedregal Beach
Brilliant sunsets in a luxury resort town
Pedregal is a large chunk of coastal land facing south towards the Pacific Ocean. The area is home to high-end real estate developments with preserved architecture that resembles old Mexico with cobblestone lanes and beautiful hilltop villas.
Because of its prime location overlooking both the marina and the Pacific Ocean, Pedregal beach has quite a few luxury resorts that are mostly catered to honeymooners, with fine-dining restaurants and romantic spots for couples to enjoy the panorama. The ridge area offers views of brilliant sunsets and nice walkways over the bluffs that lead towards the vast beachfront. However, swimming is prohibited due to strong tides.
photo by Andy Blackledge (CC BY 2.0) modified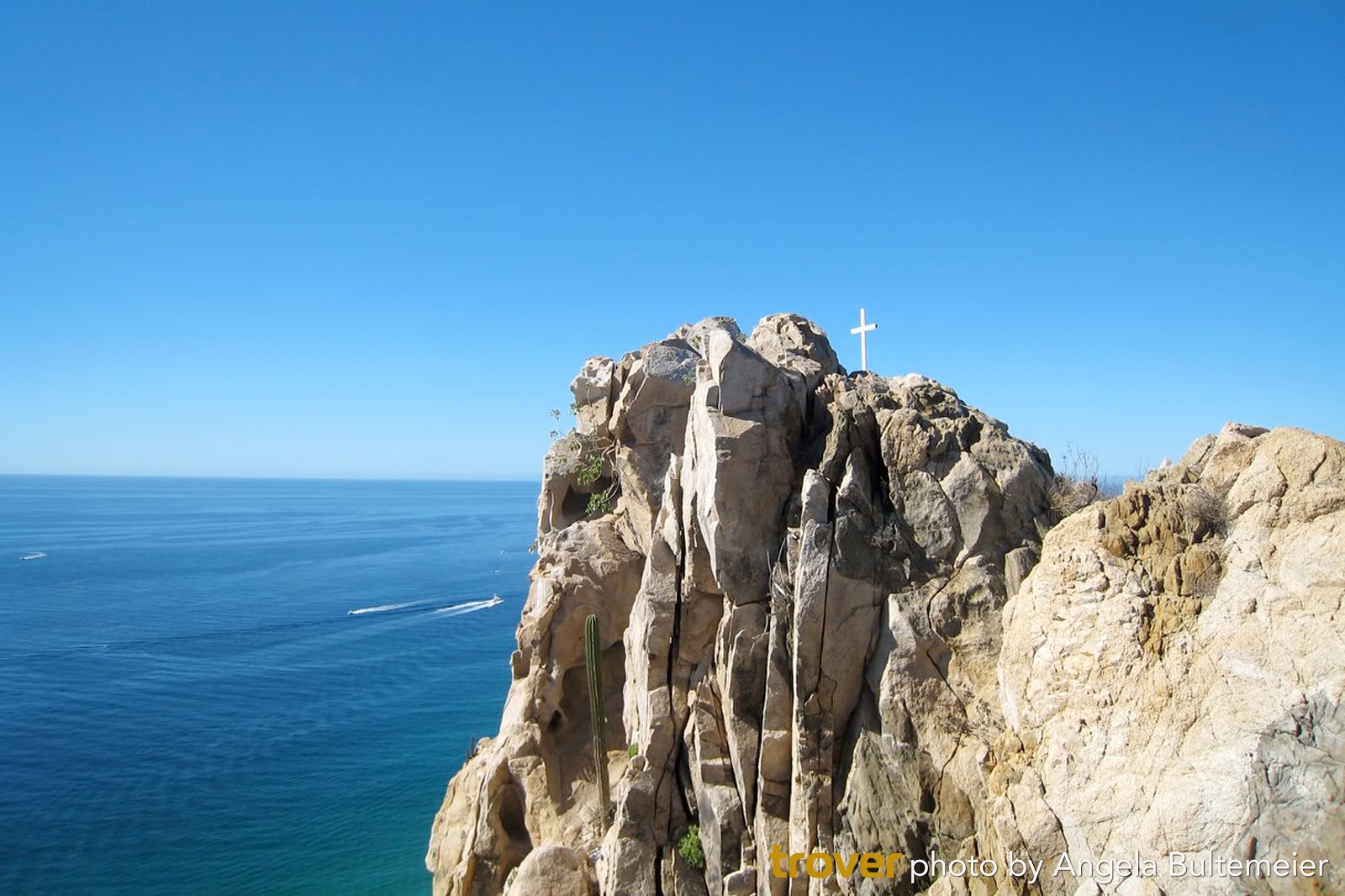 Mt. Solmar
Adventurous hiking with 360° spectacular views
For couples looking for some adventure, Mt. Solmar is a hilltop peak that requires some scrambling and hiking up the steep hills. Although it's a short journey, you will still need good shoes to get to this summit which takes about 25-30 minutes. It's highly advised that you get a guided tour, and trekkers are recommended to make a small donation as this place is a private property.
Local experts will help you navigate through Mt. Solmar via safer and quicker routes, as there are reported insect bites on some trails and some individual hikers that had taken unsafe routes and longer hours to get to the summit. Because the weather can get really hot during high noon, visitors should plan this trek in the morning with tour groups that generally start around 9.30am. Once there, you'll behold the exhilarating panoramic views of the marina, Lover's beach, Land's End and the Pacific Ocean point.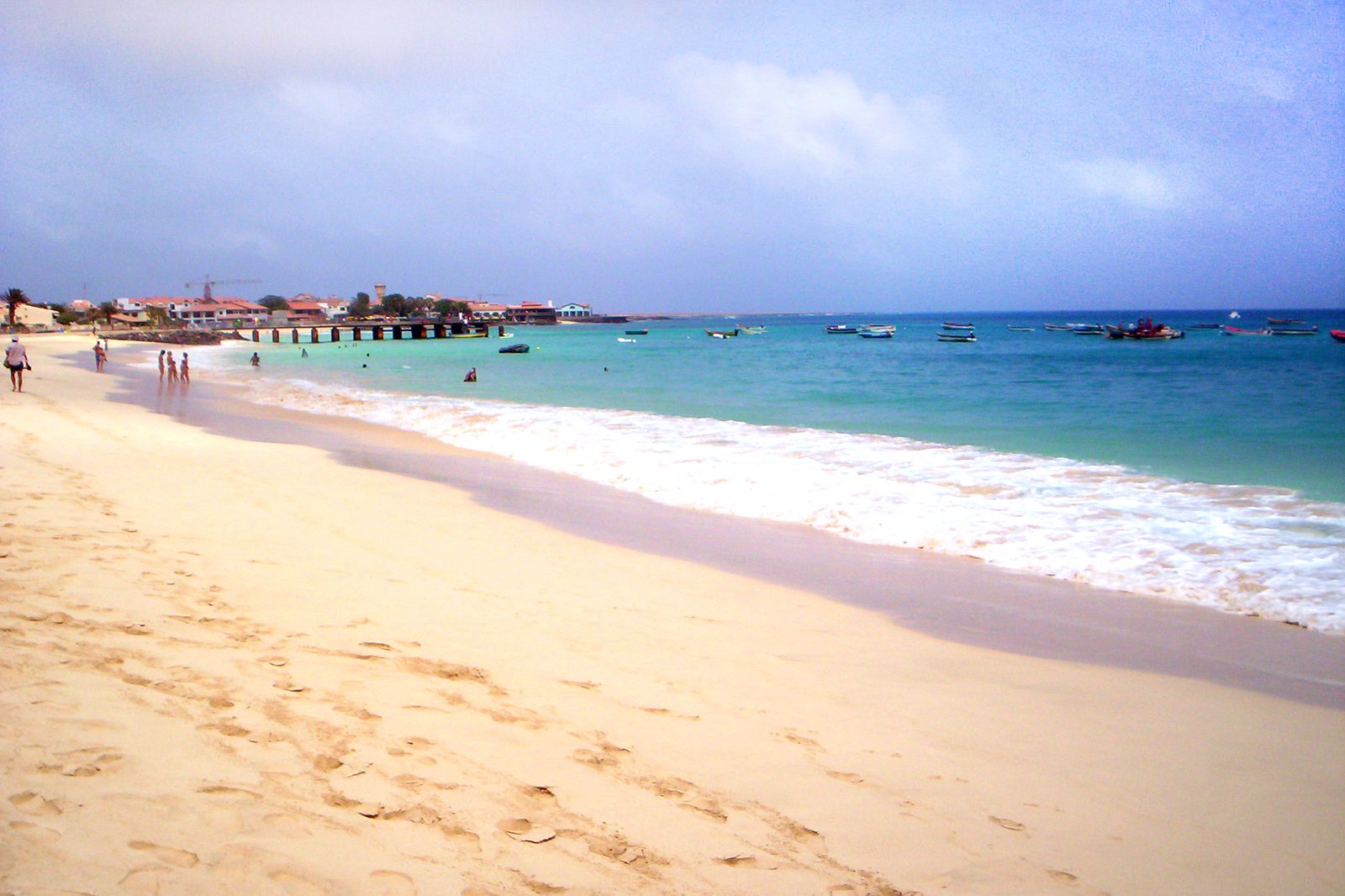 Playa Santa María
Clean, quiet, calm tides with spectacular underwater sightings
This public beach is only 15 minutes' drive north of Marina Cabo San Lucas. The Santa Maria beach is a wide, open bay with calm waters and amazing underwater views filled with angel fish, moray eels, hawkfish, pufferfish, sea stars, parrotfish, octopuses and also reef sharks.
The sand is a bit coarse and a bit harsh on the feet, so bring some sandals with you. There aren't restaurants or bars on this beach, so prepare your own food and essential items as well. To get some of the fishes' attention, try bringing some bread and corn chips along, and you'll make friends with them in no time.
photo by Adrião (CC BY-SA 3.0) modified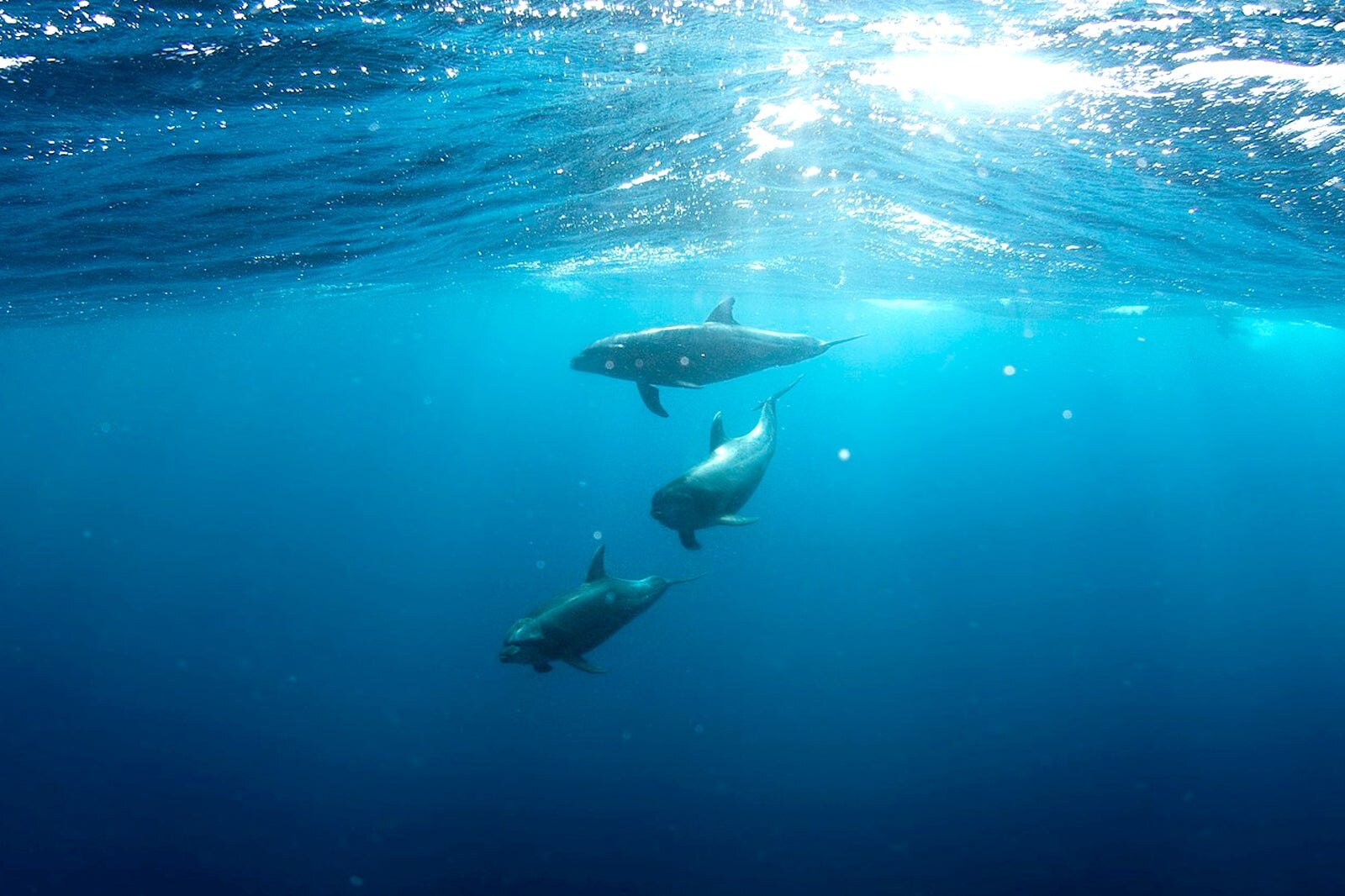 Socorro Island
Beautiful dive, exotic marine life
For once, be your own David Attenborough here in one of the rarest locations in the world. Socorro boasts as one of the best diving locations in Mexico with rich, unspoiled marine ecosystem. Its actual name is Revillagigedo Archipelago that is home to four main islands; Socorro, San Benedicto, Roca Partida and Clarion. These islands are dubbed as the "little Galápagos," with local birds, migrant birds, humpback whales and many other extraordinary island life and oceanic wildlife. There are quite a few dive boat operators docking around the island, with huge "liveaboard" vessels for experienced diving enthusiasts.
Unlike the clustered destinations close by the Marina Cabo San Lucas, this place is more than 200 miles southeast from the Cabo Marina. Therefore, a trip to Socorro is not likely to be planned on a whim. You will need to have more than a few days to spend on the itinerary for this island. Also note that this location is for seasoned divers, as the current can be unpredictable. Diving operators here are certified and professionally trained to safely navigate divers, and are on duty at all times during diving sessions.
photo by Talia Cohen (CC0 1.0) modified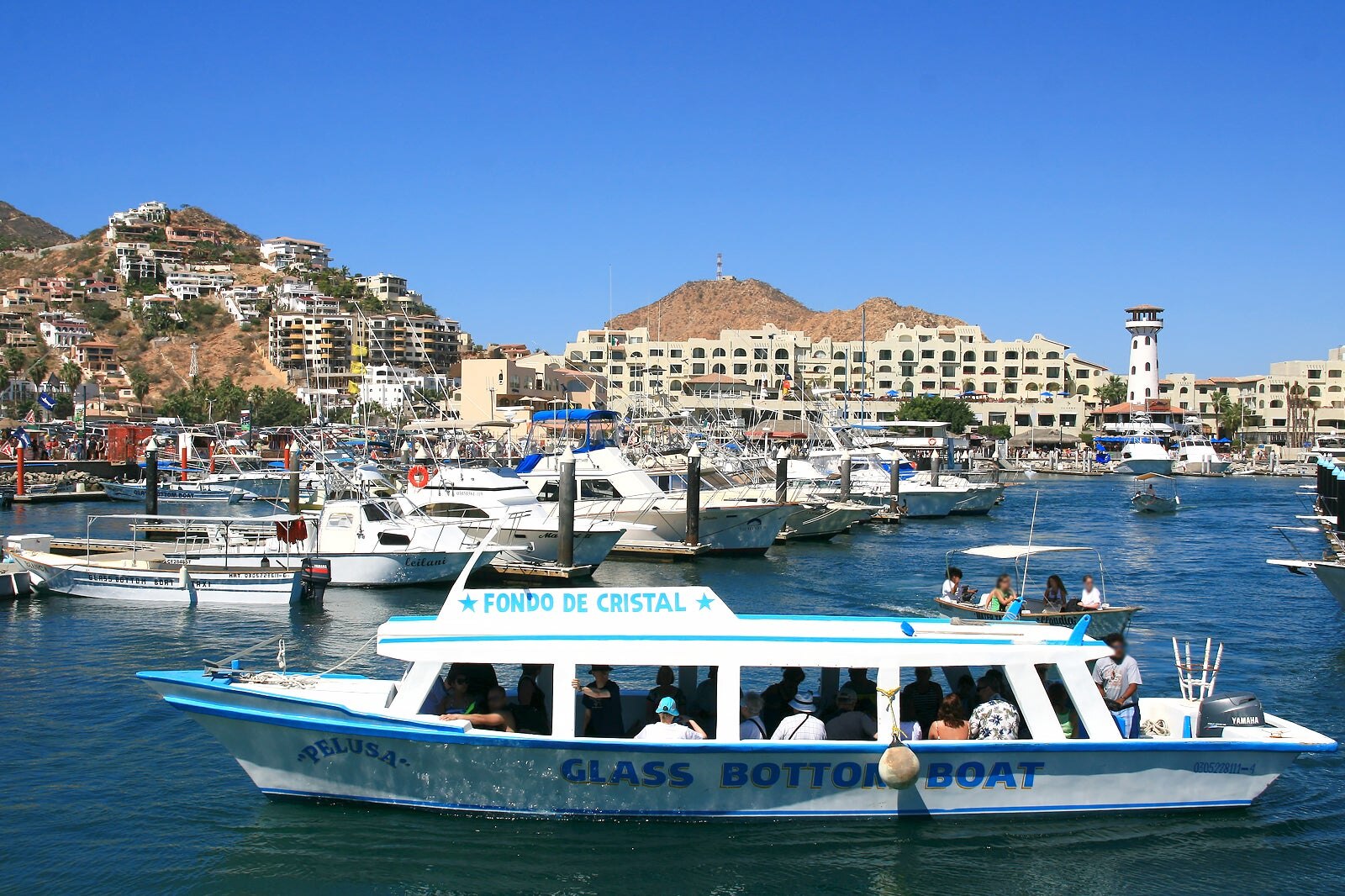 Glass-bottom boat tours and sunset tours
Vibrant ocean life, tropical drinks and beautiful sunsets
Many tour operators offer a daytime glass-bottom boats that bring visitors out to the peninsula point for about an hour. The boat will take you along the famous landmarks such as Land's End point, Neptune Finger, the sea lion commune, the Divorce Beach and Lover's Beach. As described, the glass bottom on the boat allows you to see the fishes underneath, but the panes are narrow and a bit cloudy. It's actually better to view directly in the water, as it is crystal-clear with crabs, reefs and eels. The fishes here are not shy and they love to interact with boats, along with friendly sea lions swimming around, and the almighty whales breaching above water in plain sight.
The evening boat tours will take you out for a gorgeous horizon view of the Arch, Land's End, and the Pelican's Rock. These evening excursions mostly come with drinks and meals, and departs about 2 hours before sunset from the main marina. Although sail boats can be romantic, but if you're prone to motion sickness, opt for motored boats and cruise such as the catamarans instead. Prices can range from basic drink package at $50 to a full course at $180.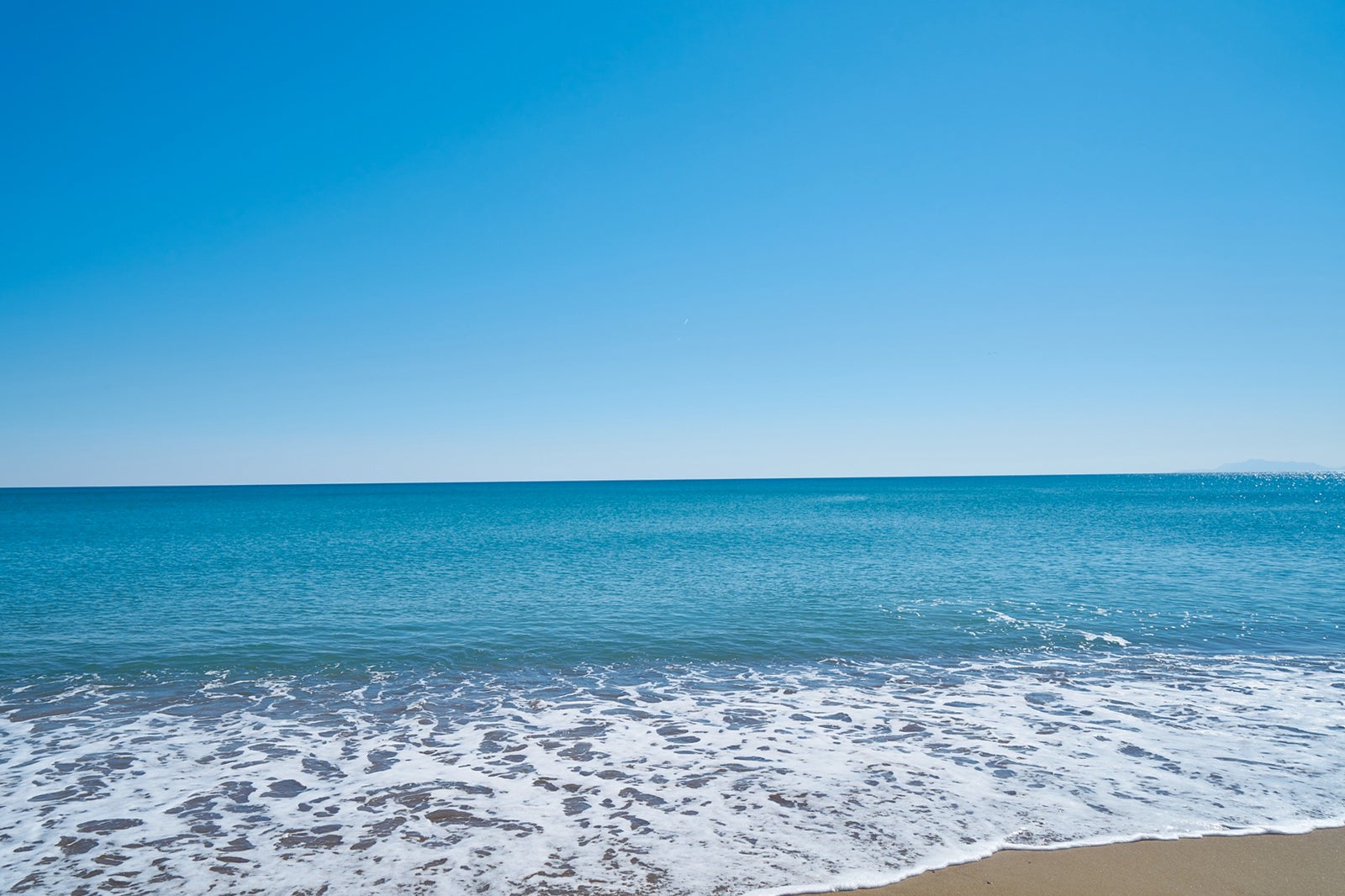 Cannery Beach (Playa Empacadora)
Best kept secret with soft tides and shallow snorkelling
For those not looking to wander too far from the main marina, Cannery Beach is conveniently located near the naval base, right on the marina entrance. Surprisingly, there aren't many tourists, considering the many boats passing by each day. This area has clear, calm waters for adults and kids to snorkel and swim safely, with stores and restaurants not too far from the beach. From this spot, you can also walk all the way to Lover's Beach via Solmar Road in just under 25 minutes.
Location: Marina Entrance and Old Tuna Cannery, Cabo San Lucas 23410, Mexico