15 Best Beaches in Portugal
Portugal's Most Beautiful Beaches
Portugal is blessed with varied and colourful coastlines. Most of the best beaches in Portugal are to be found along the rugged shores of the southern and western peninsulas of the Algarve region. The waves of the North Atlantic Ocean helped shape rocky limestone cliffs that shelter spectacularly secluded coves and sandy bays.
Some of Portugal's most beautiful beaches are home to otherworldly features, such as Benagil with its naturally formed sea grotto. Others are part of superb islands, with seemingly endless stretches of golden sand or blue lagoons on either side. This bucket list is specially compiled for beach-lovers with Portugal on their minds.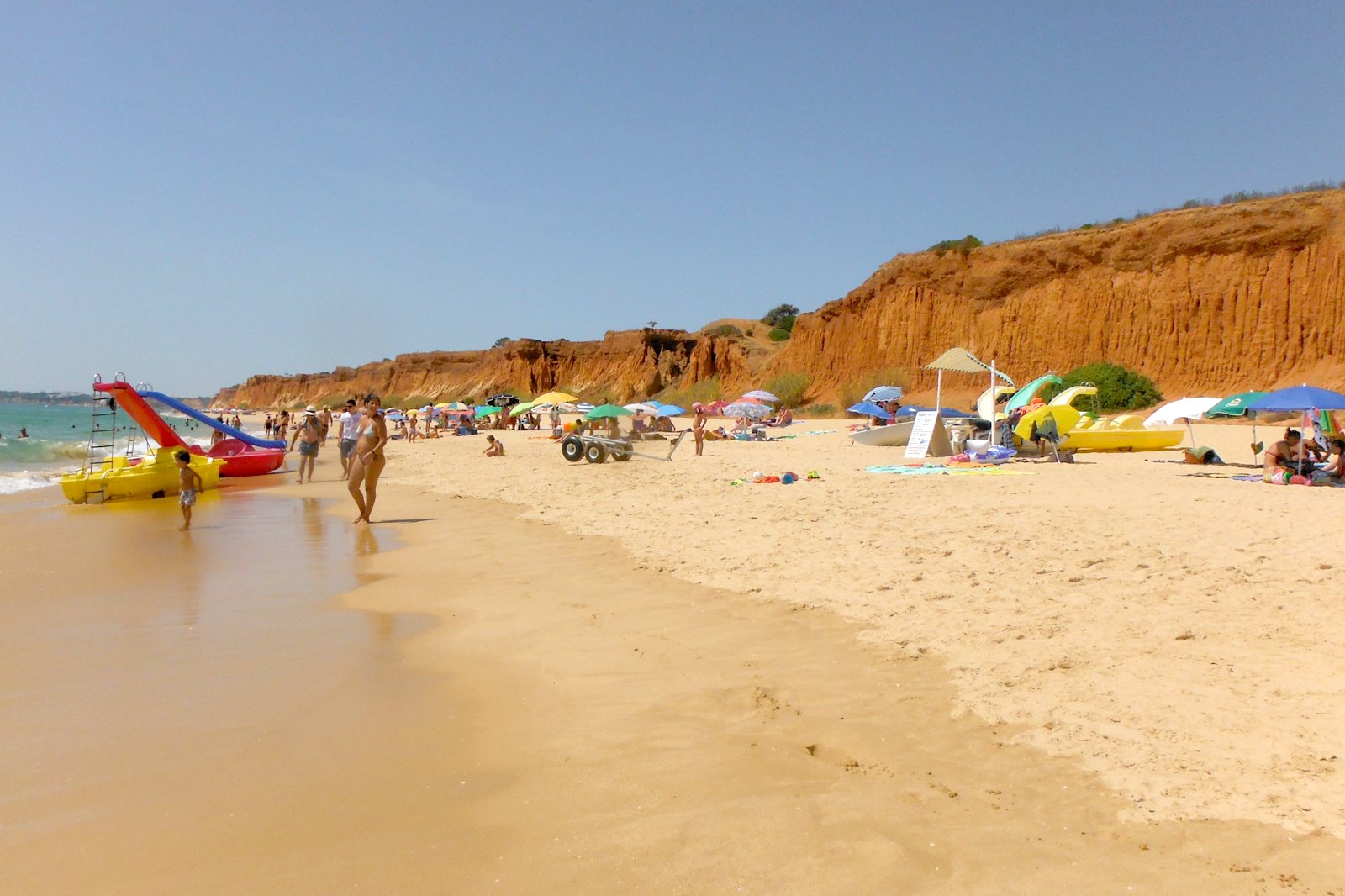 Falesia
A long, golden coast fringed by red bluffs
Praia da Falésia is strikingly beautiful – a 6-km-long stretch of golden sand bordered by bluffs that are green with vegetation on top but deep red with streaks of white across their faces. The blue waves and white foam of the North Atlantic complement Falesia's rich palette.
The beach is divided into halves. The eastern half starts at the resort of Vilamoura, with shorter cliffs and shallower waters that are water sports playgrounds. The western half near Albufeira has more spectacular cliffs, home to 5-star resorts.
Location: Praia da Falésia, Aldeia da Falésia, 8200-593 Albufeira, Portugal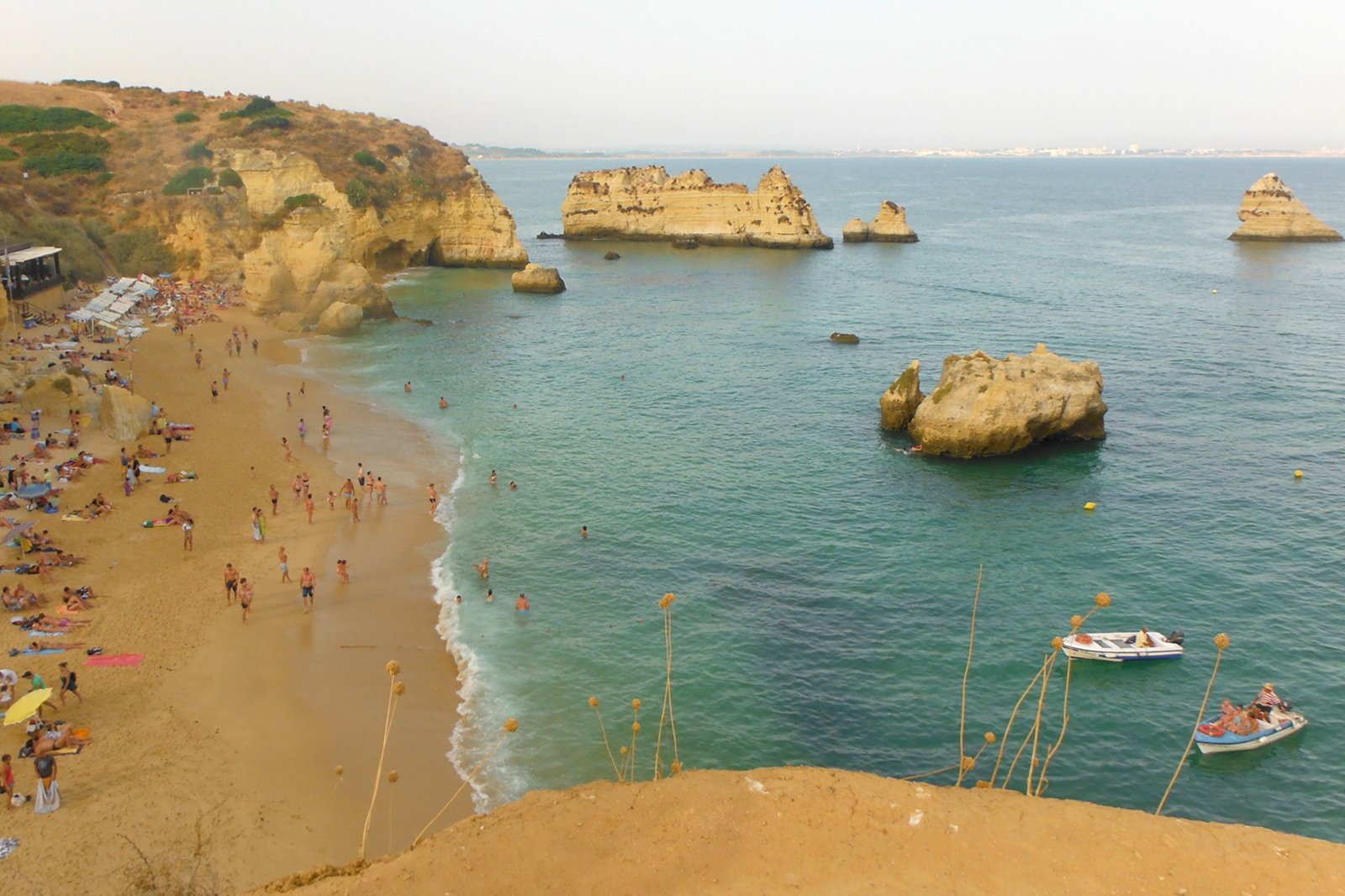 Dona Ana
Enter a small cove surrounded by steep and colourful cliffs
The sheltered cove of Praia da Dona Ana may be small, but the steep and colourful cliffs that surround the golden sand make it a spectacular sight. The addition of unearthly rock formations that speckle the coastline and tower over deep blue-emerald waters make it a must-see.
You can get down to the beach along a scenic flight of wooden stairs (not recommended for young kids or seniors). Once on the sand, there are beach chairs and parasols that you can rent for a whole day from €10.
Location: Dona Ana, 8600-315 Lagos, Portugal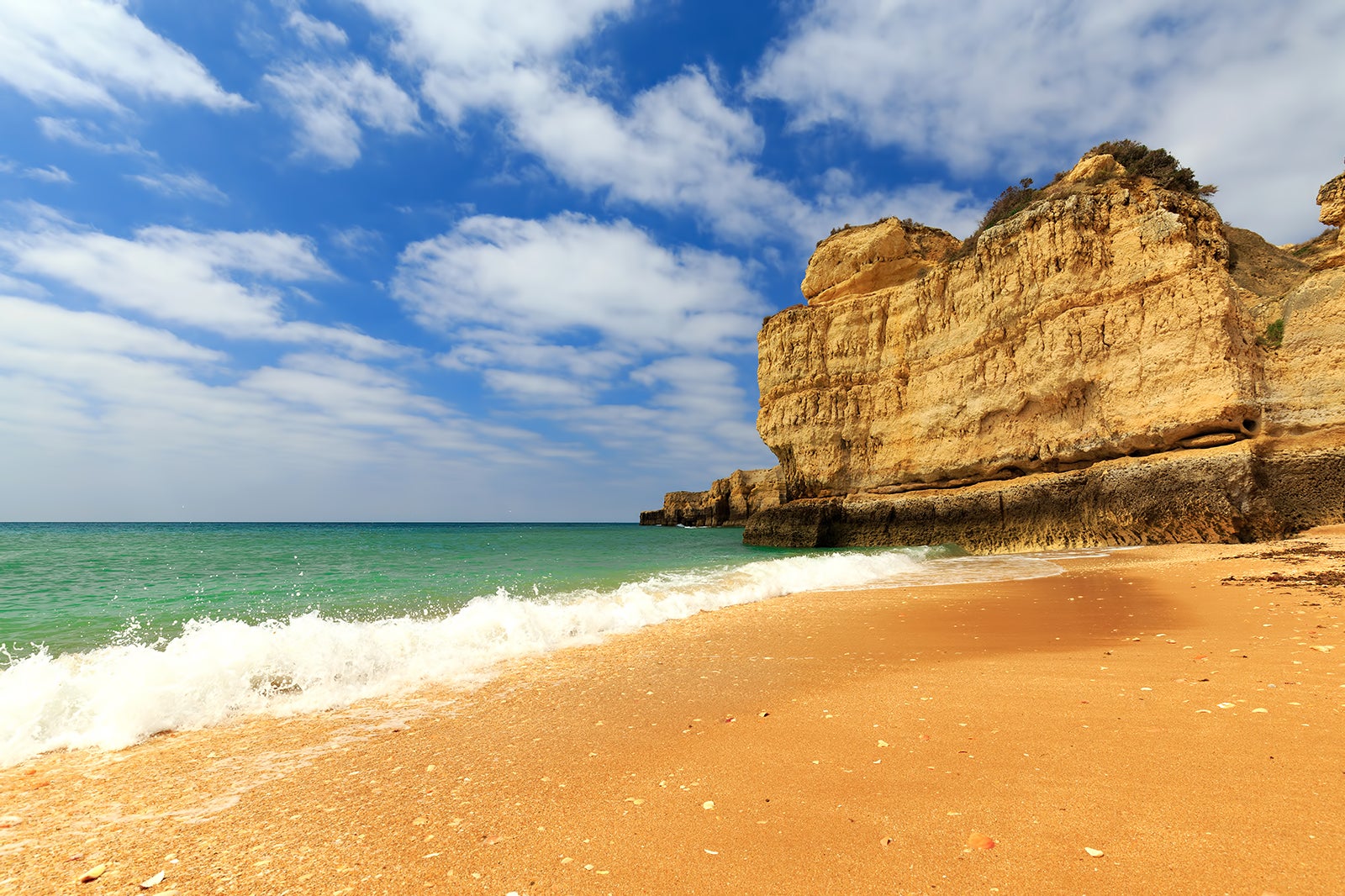 São Rafael
Kayak against picturesque caves and rocky outcrops
Praia São Rafael is a wonderful hidden cove where you can escape from the crowds of Albufeira while only being a 20-minute drive from the major Algarve holiday resort. You can walk over the cliffs and look over the scenic strip with its rocky formations set against the blue Atlantic backdrop.
Stairs lead you down to the soft and fine-grained sand, with plenty of crevices that you can explore on foot. You can access wondrous sea caves by paddling out in a kayak or on a stand-up paddleboard (SUP). Parasols and beach chairs are available for daily rents from about €16.
Location: Praia De Sao Rafael, 8200-613, Portugal
Couples
Photo
Budget
Adventure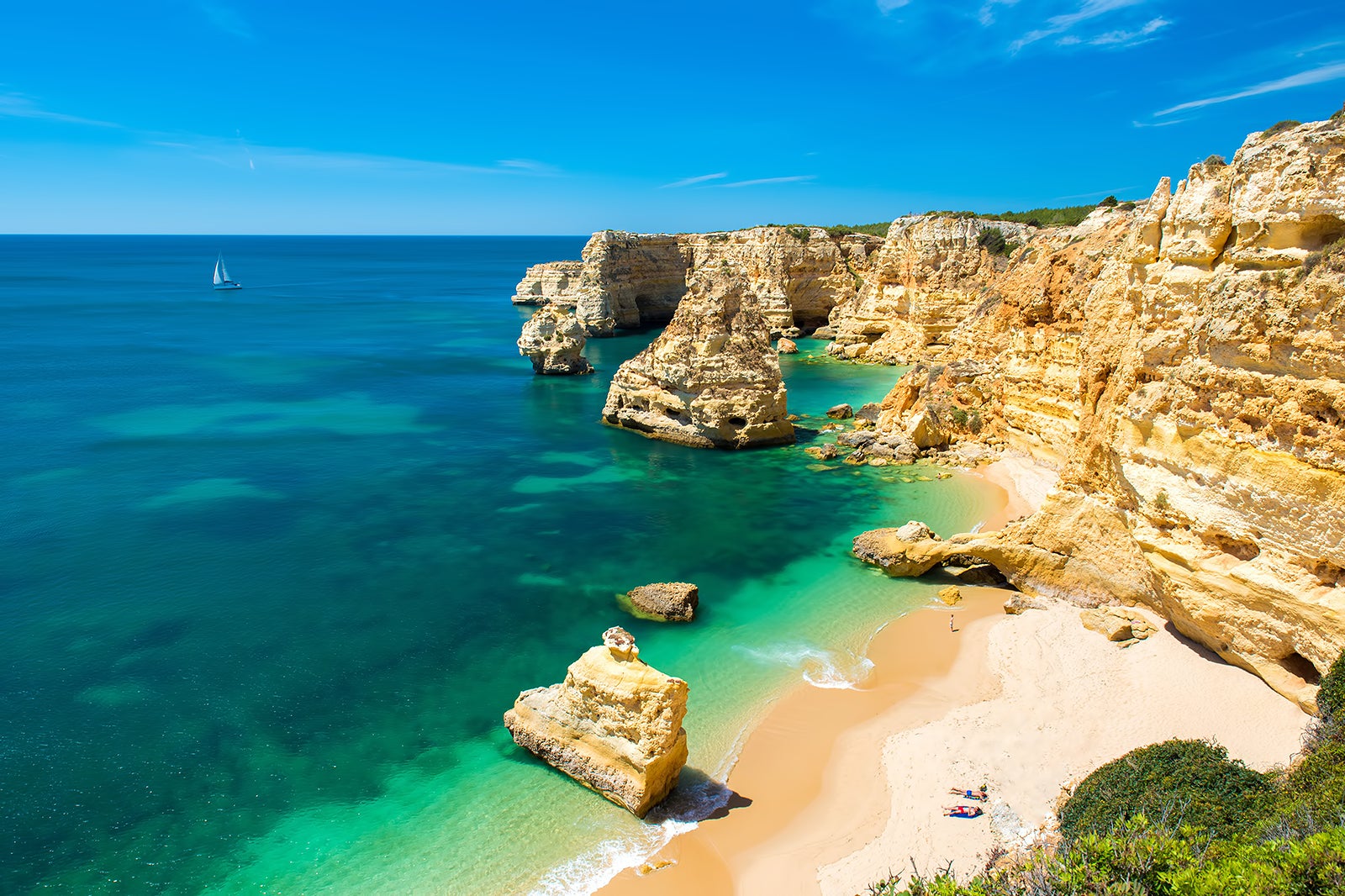 Marinha
Find your own small 'private beach' with hidden pit caves
Praia da Marinha draws beachgoers to truly Instagram-worthy, rock feature-filled seascapes. You can walk over the cliffs and admire Marinha's single standout rock formation: a magnificent causeway with a double arch straddling the waves.
The cove's stretch of golden sand is relatively small, and it's not the easiest to get to. If you're feeling adventurous and you're pretty fit, you can spend a couple of hours trekking down the cliffside and explore Marinha's series of hidden pit caves.
Location: Estr. da Marinha, Caramujeira, 8400-407 Lagoa, Portugal
Couples
Photo
Budget
Adventure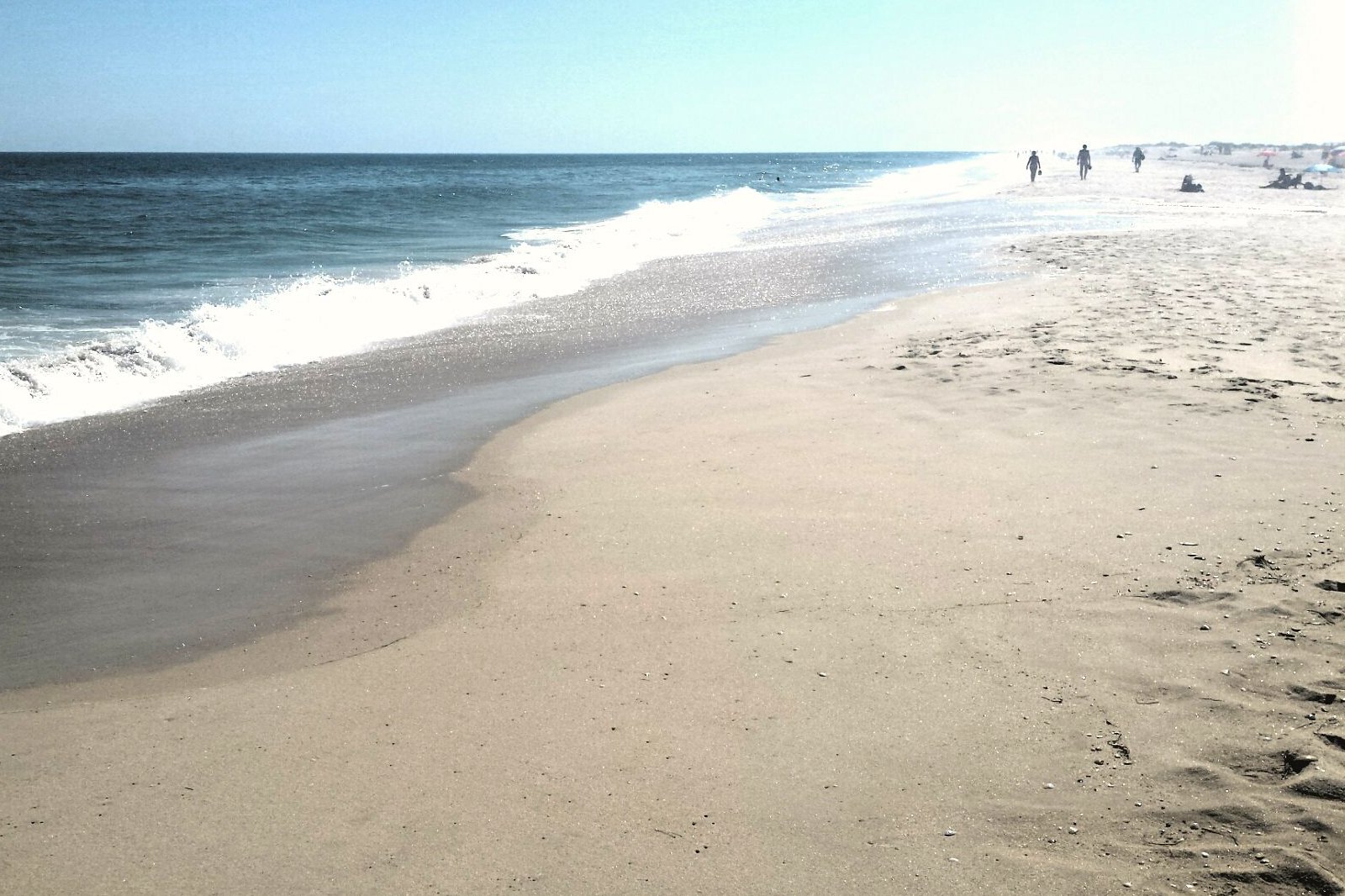 Barril
Stumble upon sand dunes with an 'anchor graveyard'
Praia do Barril is a long stretch of white sand on the southeast coast of Ilha de Tavira island. Getting to the beach is fun – you can hop off the ferry from Santa Luzia and onto a cute mini train that transfers you over the sandbars. Rides are about €1.50 one way, but you can always enjoy scenic walks to the beach.
The dune-lined coast is long and wide, complemented by bars, cafeterias, and changing-room huts. Check out the solemn Graveyard of Anchors, commemorating the long-gone tuna fishing community that once stood there.
Location: 8800-531 Aldeamento das Pedras D'El Rei, Таvira, Portugal
Couples
Families
Photo
Budget
photo by Sgt. Pepper57 (CC BY 2.0) modified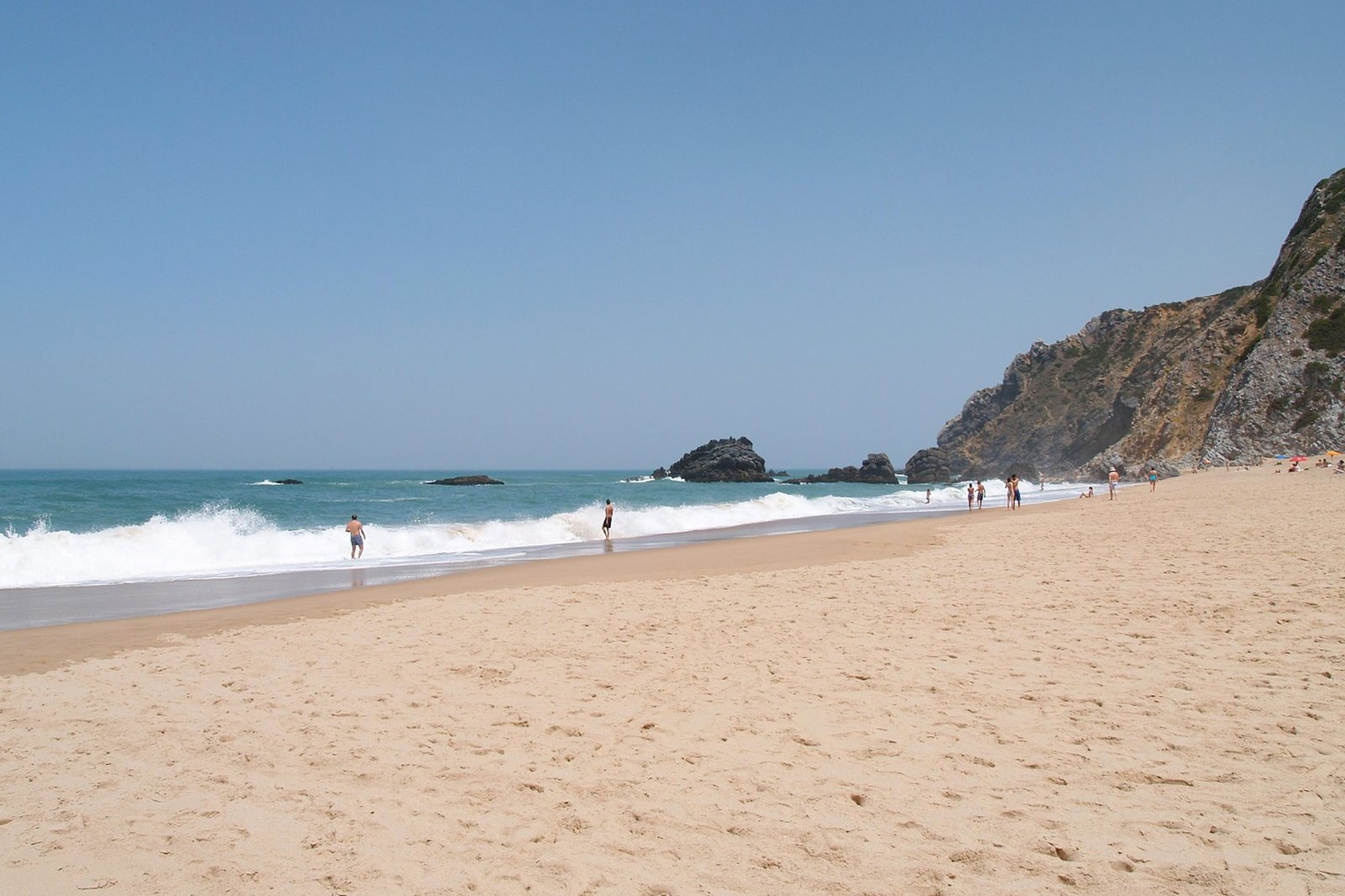 Adraga
A family-friendly, fully facilitated beach
Praia da Adraga is a small beach set between rugged outcrops near the village of Almoçageme in the Sintra municipality. Facing the North Atlantic, you have an arched rock to the left (great for photos), an enormous rocky hill to the right, and the 300-metre stretch of soft golden sand in between.
There are hardly any public transport services to get you to this secluded beach, but it does have shower and changing facilities, a great onsite restaurant, accessibility for the disabled and elderly as well as a team of lifeguards on standby.
Location: R. da Praia da Adraga, 2765-065, Sintra, Portugal
Couples
Families
Photo
Budget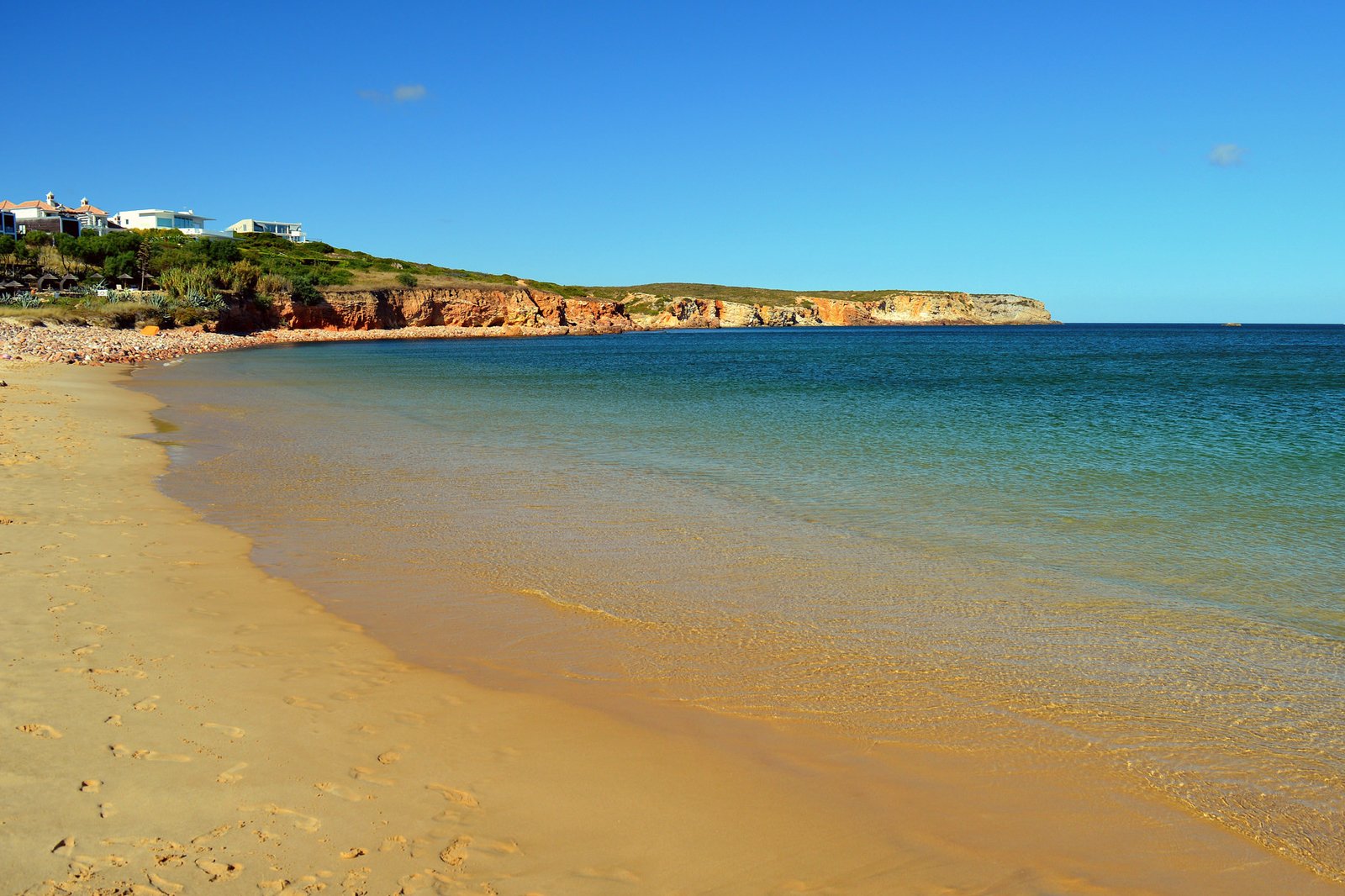 Martinhal
A small slice of coastal paradise on Portugal's south-westernmost tip
Praia do Martinhal is in Sagres, a civil parish on the south-westernmost point of the Algarve peninsula. Sagres has 4 other small beaches spread around the cape (Baleeira, Beliche, Mareta, and Tonel), but only Martinhal offers more than just a quiet stretch of golden sand.
Martinhal has a long coastal stretch and is right next to Baleeira beach with its fishing harbour. There are small rocky islets out from the coast and the lagoon-like area in between makes for pleasurable swimming. It's also popular for surfing and ocean kayaking.
Location: Q.ta do Martinhal 43, Sagres, Portugal
Families
Photo
Budget
Adventure
photo by Freebird (CC BY-SA 2.0) modified
Benagil
Seek out the magical cave
As one of the best beaches in Portugal, Praia de Benagil is a small, 130-metre-long beach near Lagoa, which has dramatic rock features complementing its beautiful stretch of golden sand. The awe-inspiring cave, Algar de Benagil, is popular with photographers – it has a round hole that opens to the blue sky, which illuminates the spacious cavity underneath it.
From the beach, the outside of the grotto only shows its 2 rock openings arching over the waves. The grotto itself is only accessible by renting a kayak or taking a boat tour from other nearby beaches.
Location: Praia de Benagil, Lagoa, Portugal
Families
Photo
Budget
Adventure
Franquia
Have fun in one of Portugal's most unique river beaches
Praia da Franquia is a unique beach that lies on the northern bank of the Mira River estuary, next to the charming summer resort town of Vila Nova De Milfontes. It's basically where the river meets the North Atlantic.
The water can get cold and strong, but you can swim in marked areas near the shore and enjoy kayaking or paddle boarding. It can be fun walking upriver and then letting yourself drift downstream. On the other side of the small cape is the long Praia do Carreiro das Fazendas, facing the ocean.
Location: R. dos Medos 6, 7645-258 Vila Nova de Milfontes, Portugal
Families
Photo
Budget
Adventure
photo by Hugo Cadavez (CC BY 2.0) modified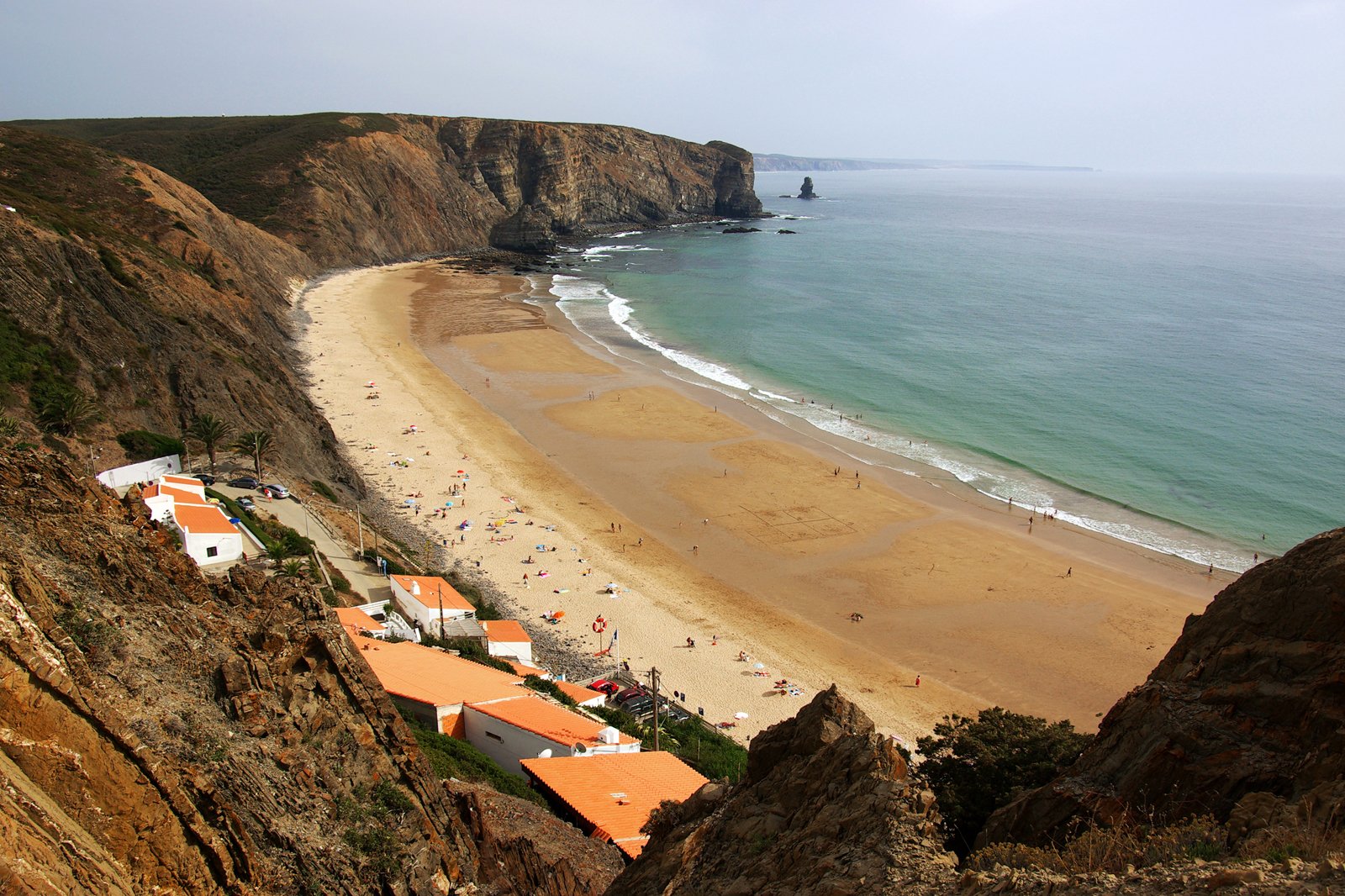 Arrifana
Capture a glorious sunset while paddling back from the Atlantic surf
Best viewed and photographed from the tall, grassy cliffs bordering it, Praia da Arrifana is a breathtaking half-kilometre stretch of fine, pale golden sand set against the Atlantic. The west-facing beach is popular among surfers and is magnificent at sunset.
You can go down to the beach via a boardwalk from the nearby village. The beach is also accessible for strollers and wheelchairs, thanks to a concrete ramp normally used by boats. Check out the 12th-century ruins of Castle Arrifana on the northern bluff above the beach.
Location: 8670-156 Aljezur, Portugal
Families
Photo
Budget
Adventure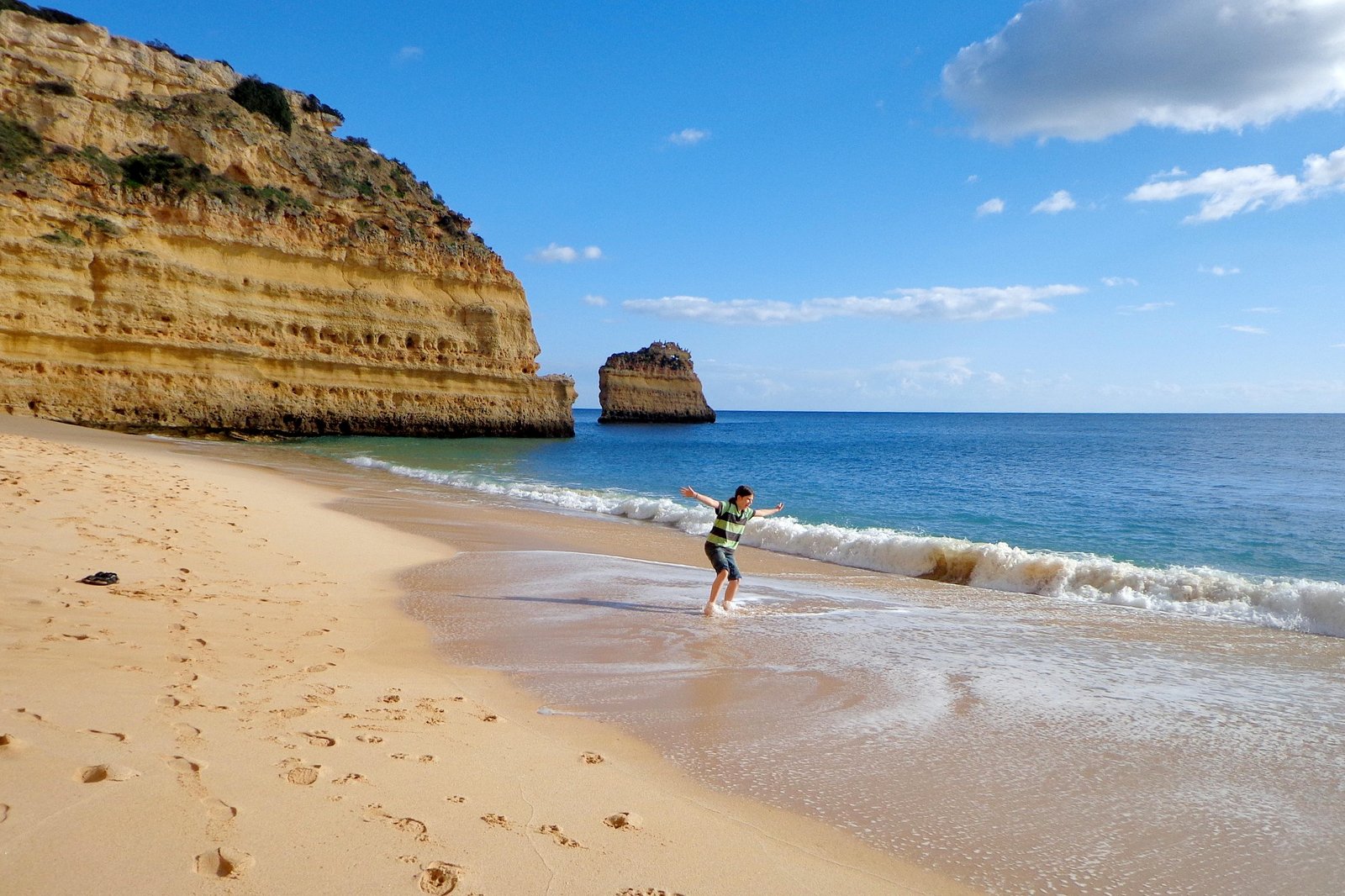 Cavaleiro (Knight Beach)
Wait for low tide to reveal a dramatic hidden cove
Praia do Cavaleiro – or Knight Beach – is a small cove near Cavaleiro village that's sheltered by dramatic rock formations. During high tide, the sand's hardly accessible. But when the waves subside, it reveals a hidden paradise of golden sand that you can get to down a flight of stairs from the long and slender cliff ledges.
The striped motifs of the surrounding rock faces add to the beautiful seascape. They shelter the cove from strong winds and you can usually see birds nesting around the rocks during springtime.
Location: 7630-174, Portugal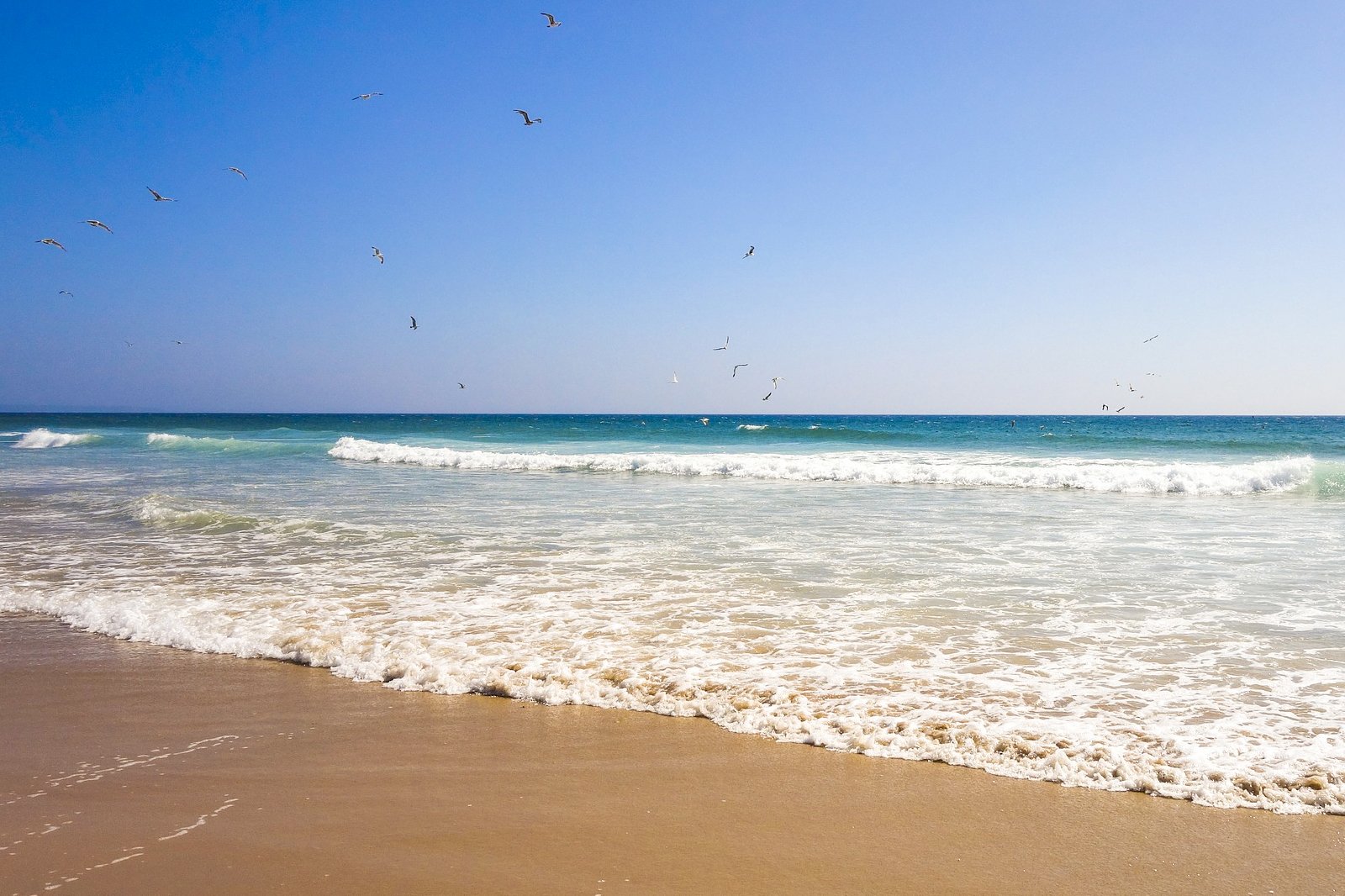 São Bernardino
Take in the peninsular views and claim your own rock pool
Praia de São Bernardino is a sandy cove on Portugal's west-facing Peniche coast. The relatively small, 250-metre-wide beach is a bit rocky and surrounded by rugged cliffs – but is complemented by public facilities such as parking spaces, access roads, casual dining and drinking spots with the view, as well as a lifeguard station.
The view from up on the cliffs includes the rockier contours of the peninsula. Summertime usually sees beachgoers sunbathing on the sand and wading around the rock pools near the beach's southern end.
Location: R. das Berlengas 24, Atouguia da Baleia, Portugal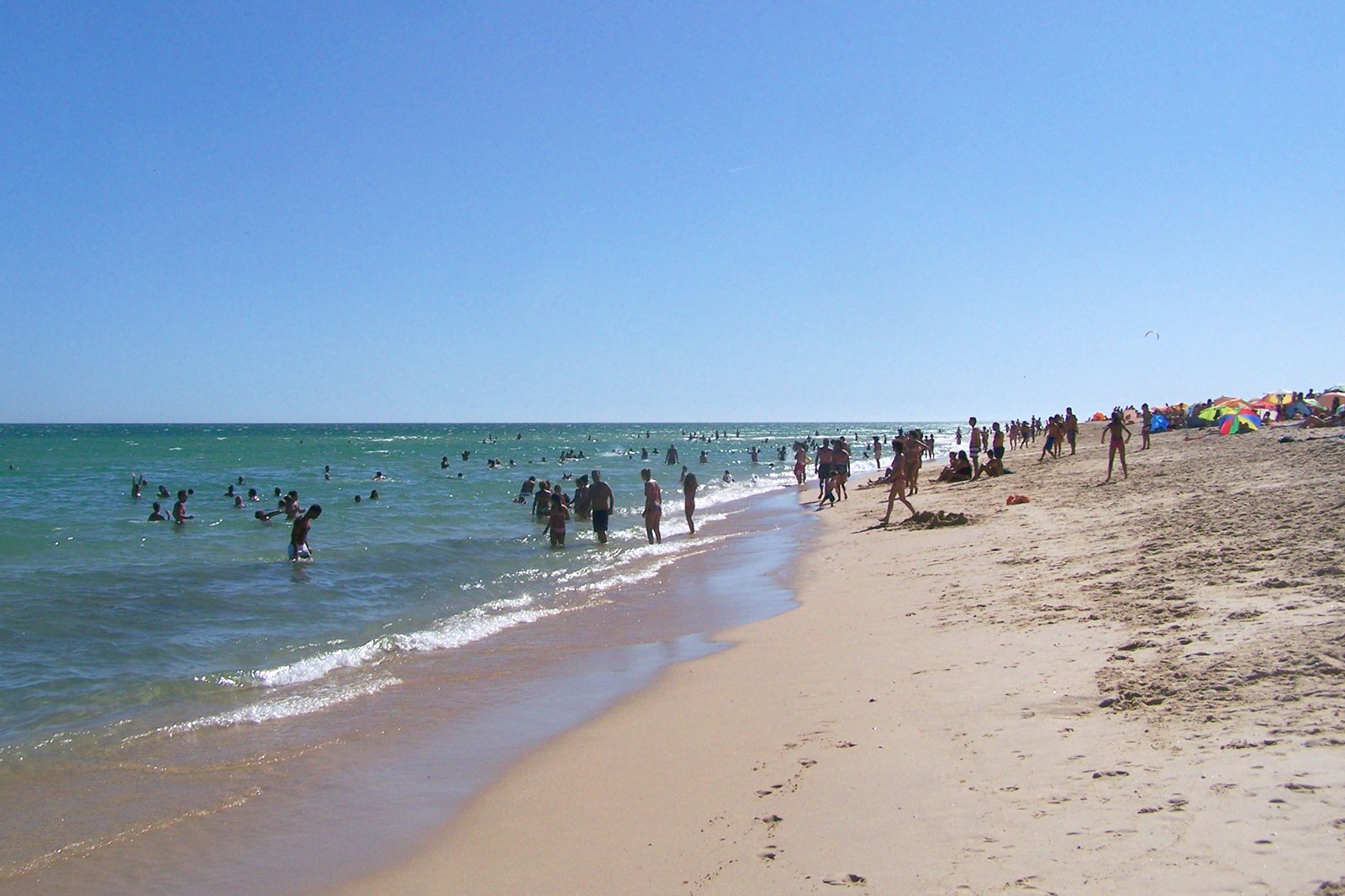 Fuseta
Swim in beautiful lagoons on the eastern Algarve
Ilha da Fuseta is a long island on the eastern end of the Algarve. The island offers plenty of options for seascape hunters and beachgoers. The long beach of Praia da Fuseta faces the waves of the North Atlantic, while a series of gorgeous, deep-blue lagoons border the opposite northwest coast.
Fuseta beach is a hit in the summer, with holidaymakers and weekenders playing in the surf right along its length in their droves. In the off season, you're likely to enjoy the dreamy seascapes on your own.
Location: Fuseta, Portugal
Families
Photo
Budget
Adventure
photo by Cornelius Kibelka (CC BY-SA 2.0) modified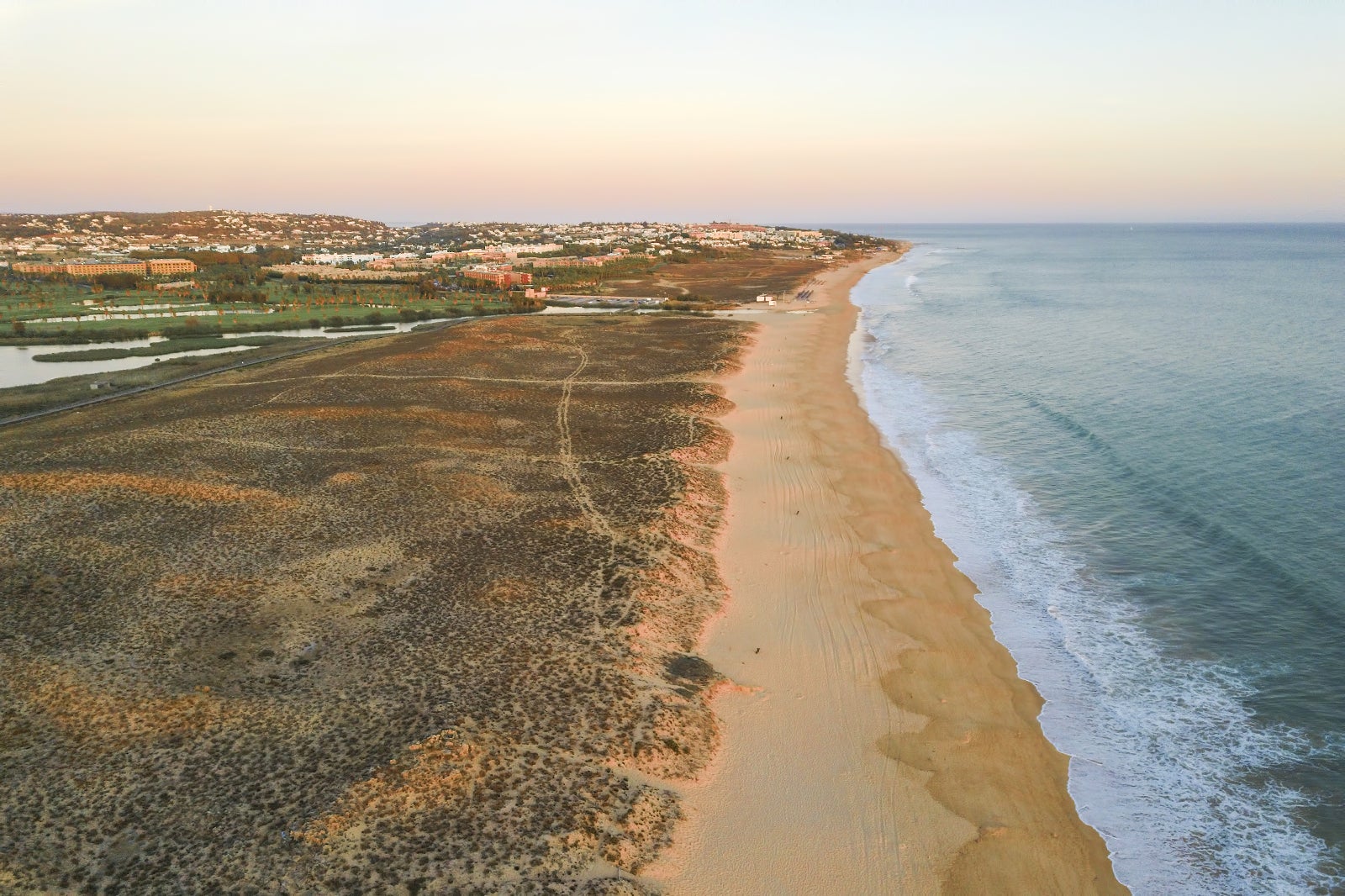 Galé Oeste
A golden coast that stretches for as far as the eyes can see
Praia da Galé Oeste (or Galé Oeste beach) is a long sandy coast near the parish of Armação de Pêra, in the southern Algarve. The sheer length of the beach lets you take in sweeping coastal views with protected dune landscapes, with plenty of great sections for swimming.
There are plenty of access points to the beach, with various roads leading to it from the west of Albufeira. The area around the beach has modern resort facilities, such as chic hotels and golf courses, with many casual bars and restaurants by the beach.
Location: Rua das Dunas, Guia Albufeira, 8200-424 Guia, Portugal
Couples
Families
Photo
Budget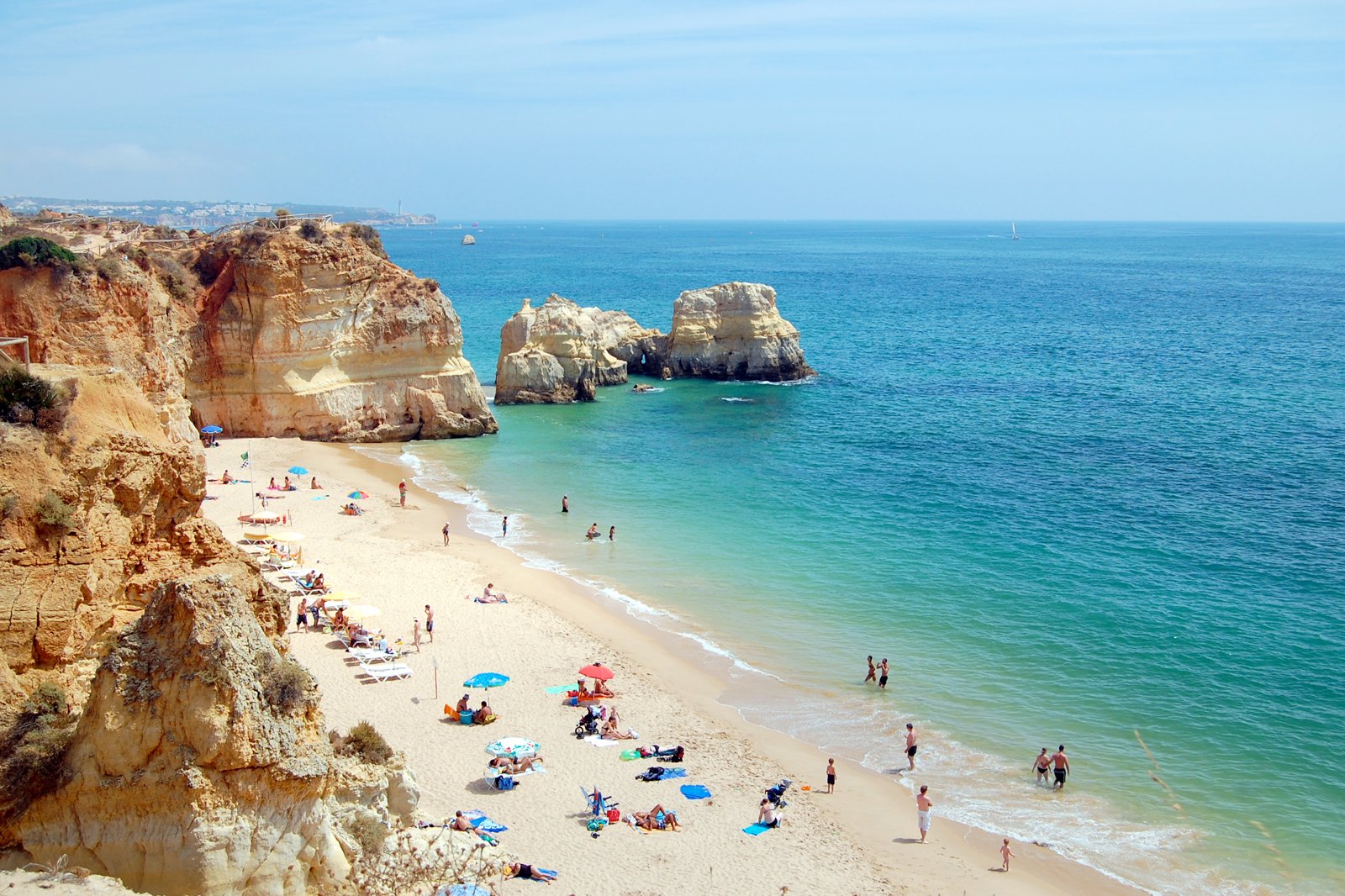 Rocha
A rugged beach under the modern skyline of Portimão
Praia da Rocha, which translates to 'Stone Beach' in Portuguese, is the main resort beach near Portimão, the largest coastal city in the western Algarve. The seascape consists of the wide golden coast dotted with standing limestone rock features and framed by rugged strata cliffs, with the high-rise buildings of the city along the distant skyline.
Climb up to the Fortaleza da Santa Caterina fort at the eastern end of the beach for a great view over the gorgeous coast, as well as the adjacent marina with its colourfully painted buildings. It can be magical at sunset.
Location: Av. Tomás Cabreira, Portimão, Portugal
photo by Steven Fruitsmaak (CC BY-SA 3.0) modified