10 Best Things to Do in Qatar
What is Qatar Most Famous For?
Qatar comes with an eclectic mix of museums, architecture and hidden historic sites. Throw in stretches of arid desert, a long Persian Gulf shoreline packed full of private, peaceful beaches, plus a little dune bashing, and you have the recipe for your own Qatar adventure.
From the spectacular skyscrapers and unique architecture of its capital city, Doha, to desert safaris, shopping excursions and Arabic culture revealing itself on street corners, here are some of the best things to do in Qatar.
What are the best things to do in Qatar?
1
Go for a desert safari tour
Rolling dunes and a spectacular inland sea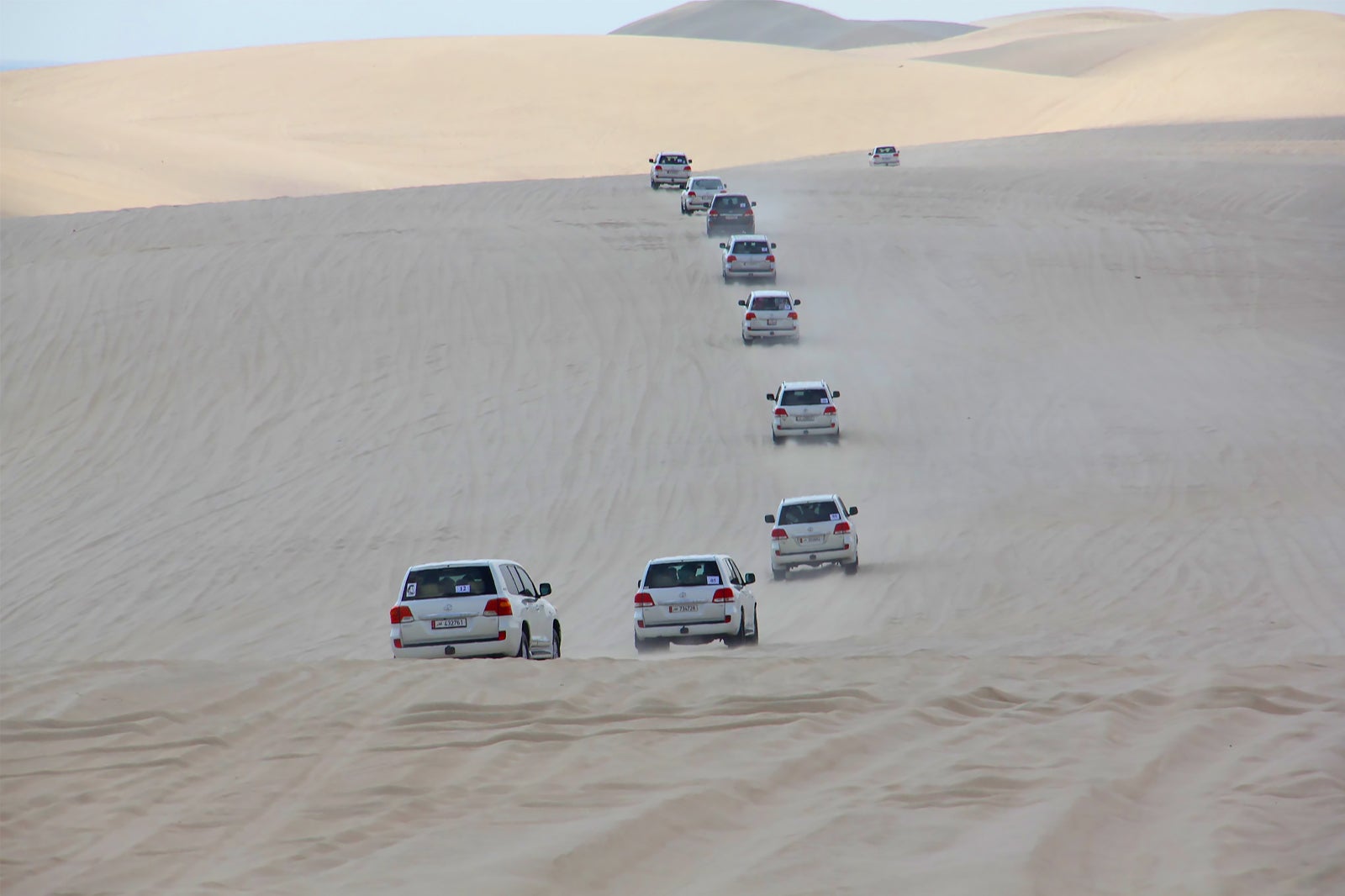 The modern city of Doha is surrounded by starkly beautiful desert terrain that offers an adventurous day out. The Mesaieed desert to the south is dotted with high peaks of sand that are thrilling to navigate by ATV or 4WD vehicles for some dune bashing.
Venture further south to the inland sea Khor Al Adaid to find an otherworldly landscape where the ocean meets the desert. You could also organise a camel riding trip for a taste of some traditional-style transport. When venturing out to the desert, it's best to book a tour so you'll be led by guides who are familiar with the dunes. Read more...
2
Al Zubarah Archaeological Site
A bricks-and-mortar example of Qatar's not-so-distant past
The Al Zubarah Archaeological Site is an essential stop if uncovering a little history is on your Qatar agenda. While the fort that forms the centrepiece of the archaeological site was built in 1938, the coastal town of Al Shamal dates back to the 1760s. It showcases Qatar's rich history throughout the early pearl trade.
Located over 100 km north of Doha, you may need 1 hour of driving to reach this UNESCO World Heritage site. But the scenic route across the desert will transport you back to the old days. Finish your history lesson with a wander to the abandoned village of Al Jumail, just next to the Al Zubarah Archaeological Site.
Location: Al Zubarah, Qatar
photo by Vincent van Zeijst (CC BY-SA 2.0) modified
3
Banana Island
Enjoy the sun, sea and sand at this luxury resort island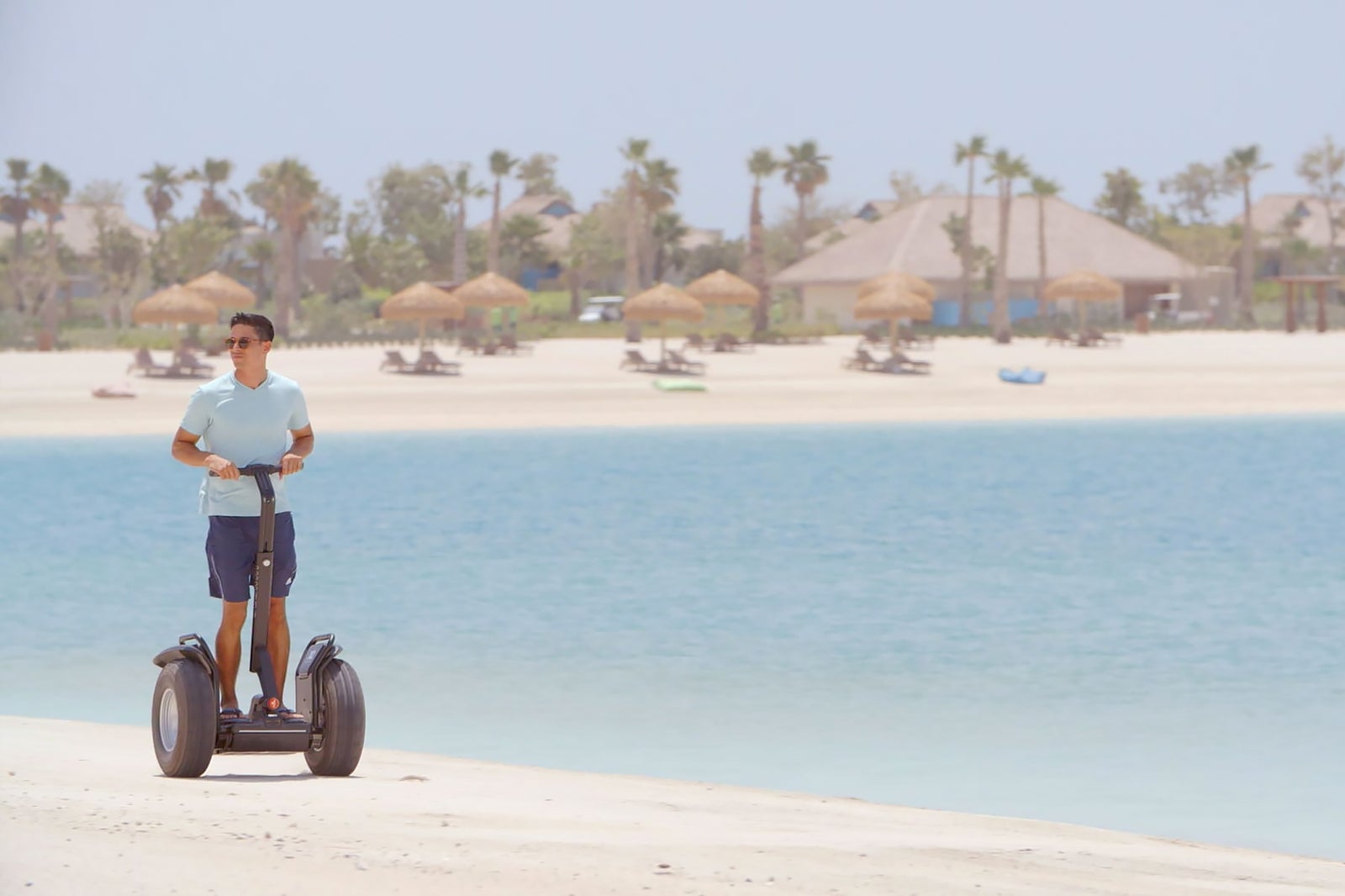 Situated just 20 minutes from central Doha, Banana Island is a whole world away from the vibrancy of the city centre. After lounging on a luxury yacht ferry to take you across the turquoise waters, kick off your shoes and explore a world of private beach bliss. The private island is owned by the Anantara hotel chain, but day passes are available to non-guests for a fee.
From the delicious Arabic cuisine to the attentive staff, world-class service is the theme of this peaceful island. Choose from activities both on and underneath the water, such as climbing aboard a paddleboat, zipping around on jet skis or watching the kids play on the water slides.
Location: Banana Island Resort Doha by Anantara, 23919, Doha, Qatar
4
Sheikh Faisal Bin Qassim Al Thani Museum
An eclectic picture of Qatari history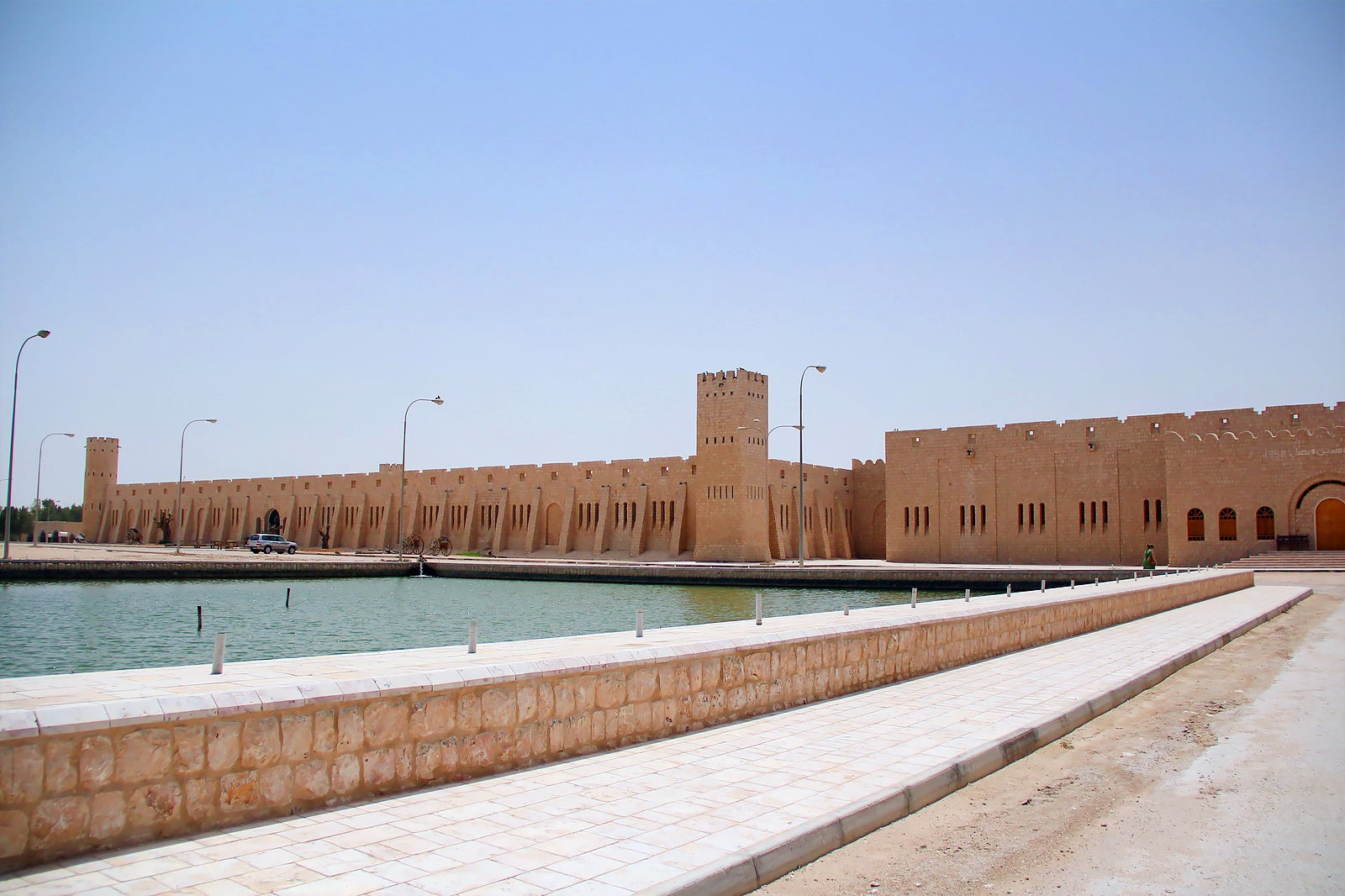 The Sheikh Faisal Bin Qassim Al Thani Museum is one of the most truly unique museums in the whole of the Middle East. Here, you can admire a vast collection of artefacts from various times in history. Among its tangible treasures are over 600 vintage automobiles and exotic handwoven rugs from around the world.
An adult ticket will set you back around 45 riyals and you can expect to spend a little over 2 hours at this entertaining spot. Take the time to uncover Sheikh Faisal's personal collection alongside private collections of calligraphy, steam-powered cars, carpets and traditional costumes.
Location: Al Samariyah, Qatar
Open: Monday–Thursday from 9 am to 4.30 pm, Friday from 2 pm to 7 pm, Saturday from 10 am to 6 pm, Sunday from 9 am to 4 pm
Phone: +974 4486 1444
photo by Lawrence WangLawrence Wang (CC BY-SA 2.0) modified
5
Al Dhakira Mangroves
Kayak through lush coastal greenery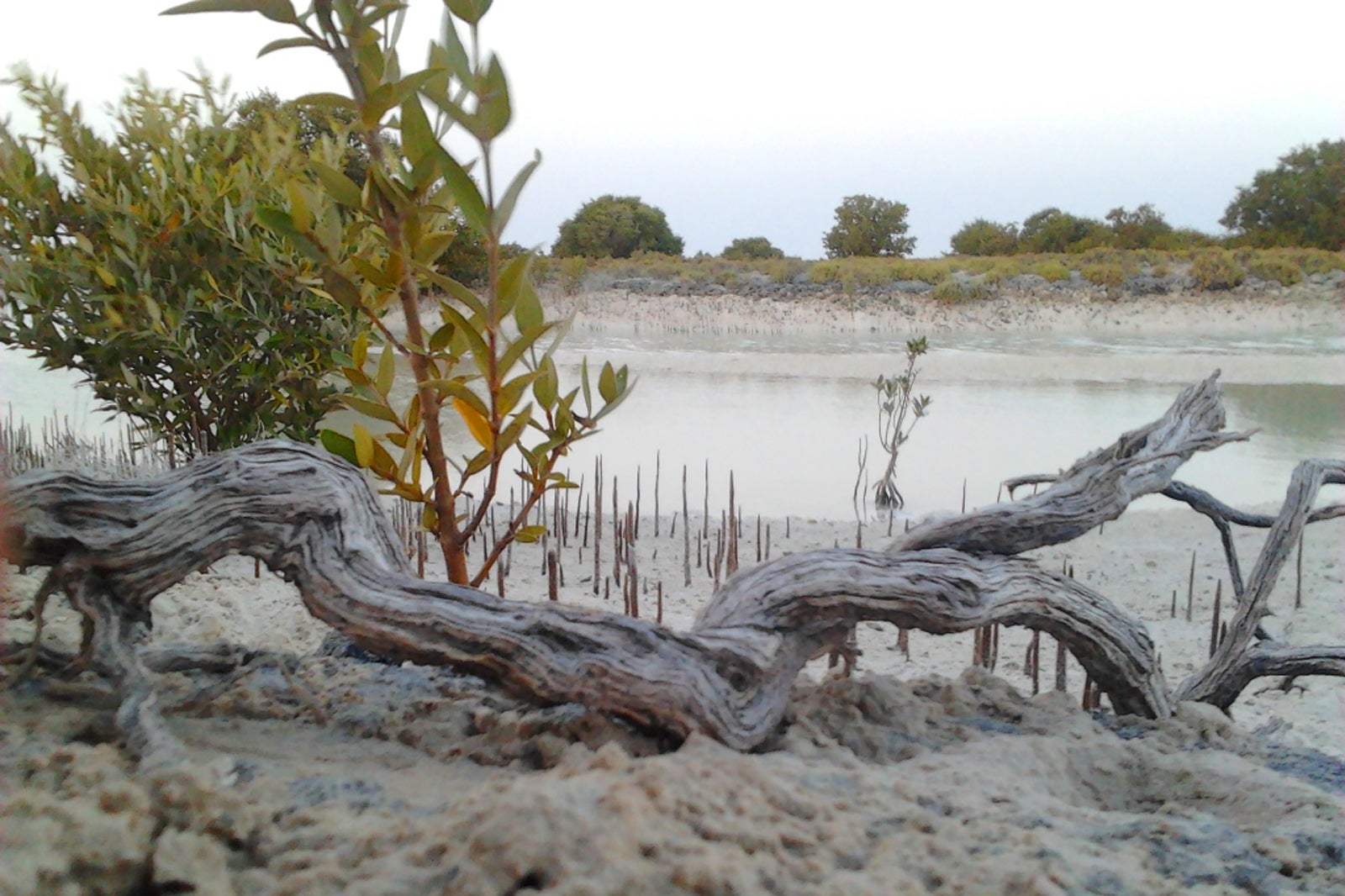 When the heat of the city becomes a little too much, make your way to Al Dhakira Mangroves, situated in the Mangrove Bay. The best way to explore this Arabic jungle is by hopping into a kayak.
As you paddle along the north-eastern coast of the country, make sure to take in all the local wildlife, from reef egrets to terns and herons. You might even catch a jumping fish or 2 if you're lucky. Al Dhakira is also a popular fishing spot, but it's best to go in the morning or late afternoon to avoid the heat.
Location: Mangrove Bay, Al Dhakira, Qatar
photo by Irshadpp (CC BY-SA 3.0) modified
6
World-class sporting events
Watch the world's best athletes from multiple sports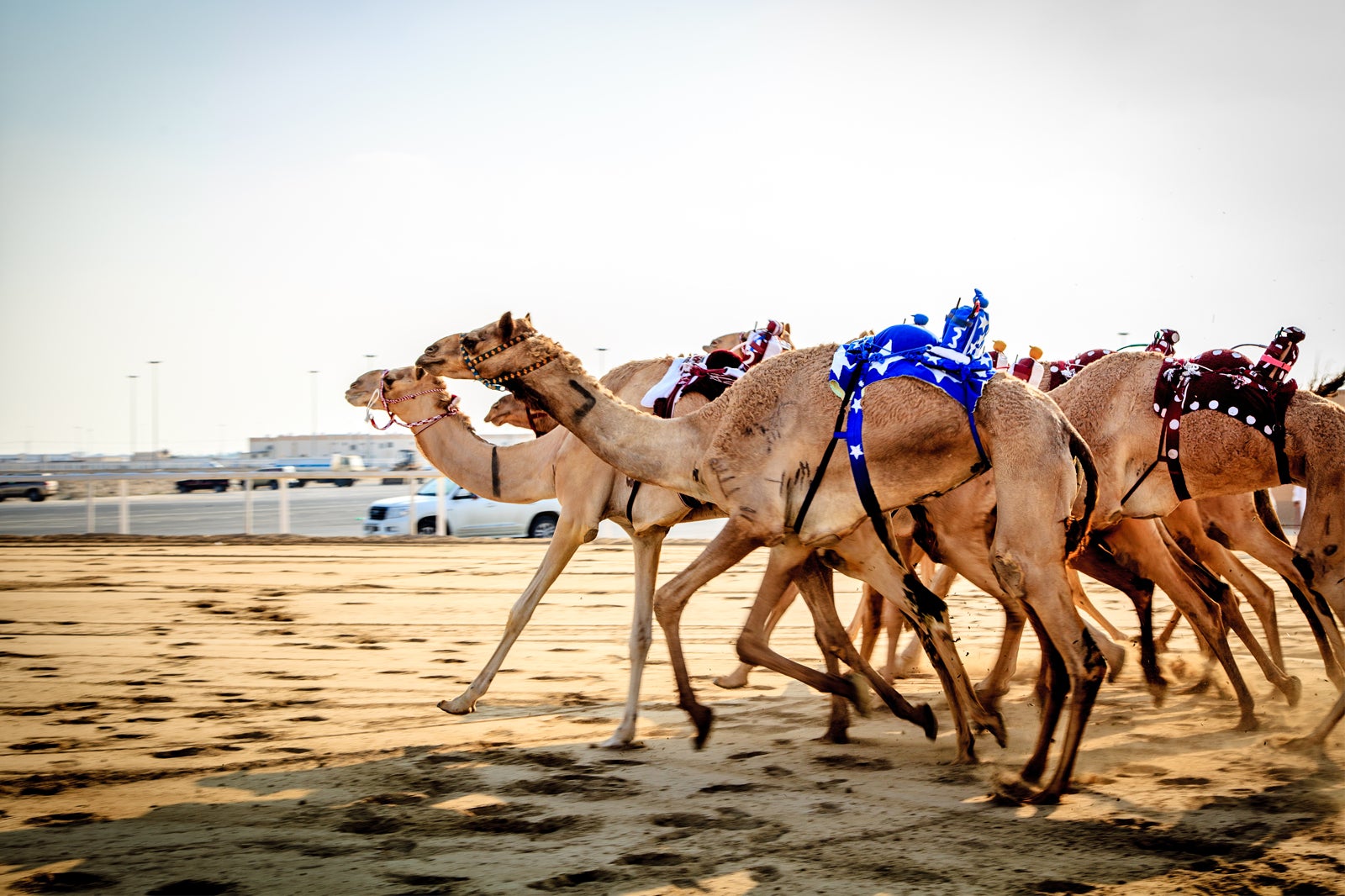 From football and cricket to horse racing, handball and even camel racing, Qatar offers a wealth of major sporting events throughout the year. The 2006 Asian Games was a catalyst for the country, with larger and more extravagant competitions being staged every year.
Whether you're watching a football game at the Khalifa International Stadium or cheering on the underwater efforts of the athletes at the Doha Corniche, Qatar has several world-class stadiums and spectacular oceanfront locations that make excellent sporting arenas. Prominent competitions include the 2019 World Beach Games and the 2022 FIFA World Cup.
7
Fuwairit Beach
It's worth the challenging journey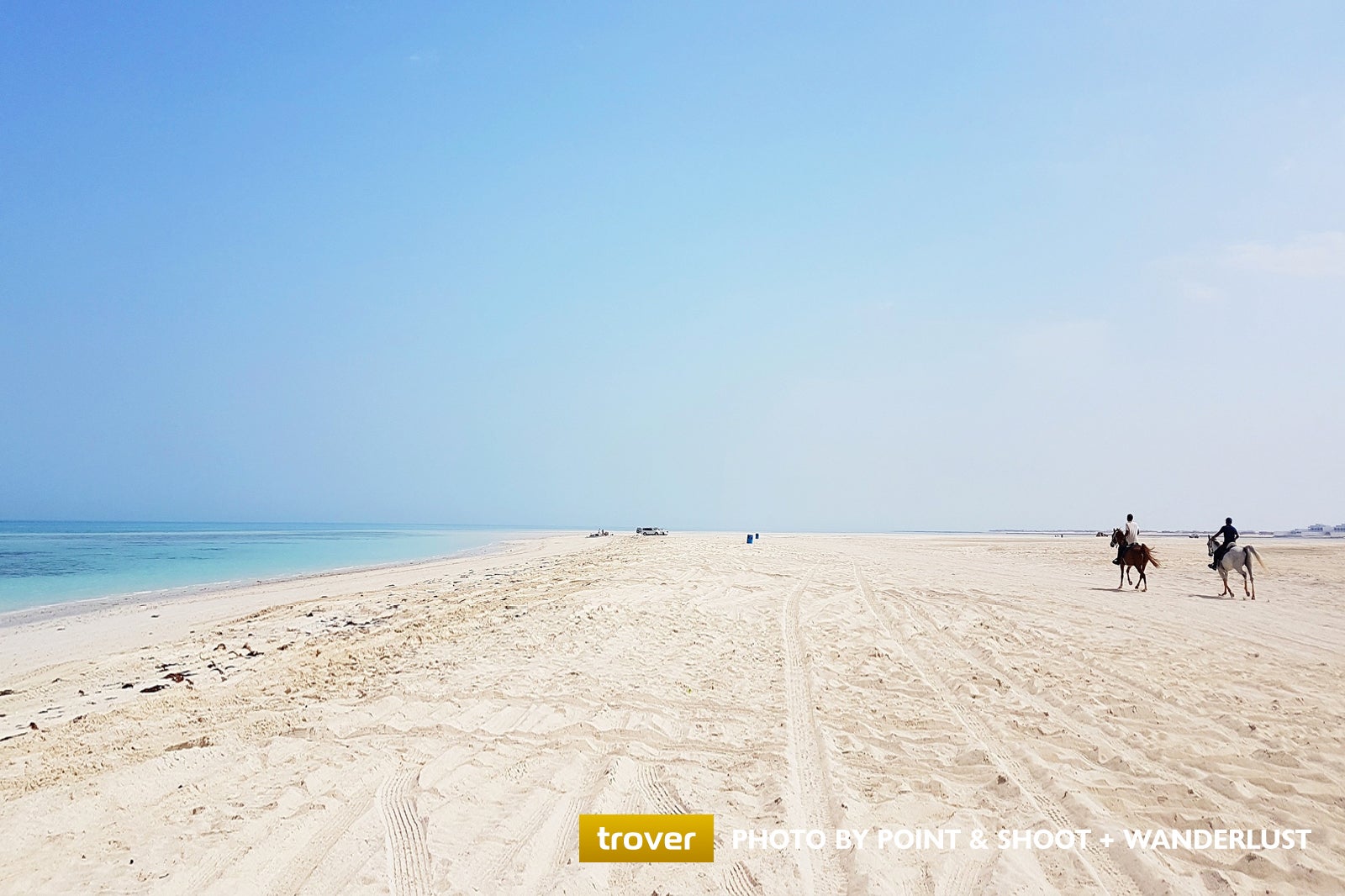 Fuwairit Beach, one of Qatar's most beautiful beaches, is located almost 100 km north of Doha. As there's no direct approach to this popular spot, you'll have to prepare for a little off-road driving experience. Once you've set up camp with friends or family, head left to Coral Hill for some Insta-worthy snaps. The water is shallow and the waves gently lap the shore making Fuwairit Beach suitable for even novice swimmers.
You may need to navigate the rockier parts of the beach but there are plenty of areas for blissful relaxation and a spot of sunbathing. Note that the beach is closed for some parts of the year – usually in November – since it's a nesting ground for hawksbill sea turtles.
Location: Al Ghārīyah, Qatar
8
Al Wakrah Souq
Spend the evening soaking up traditional Qatari market scenes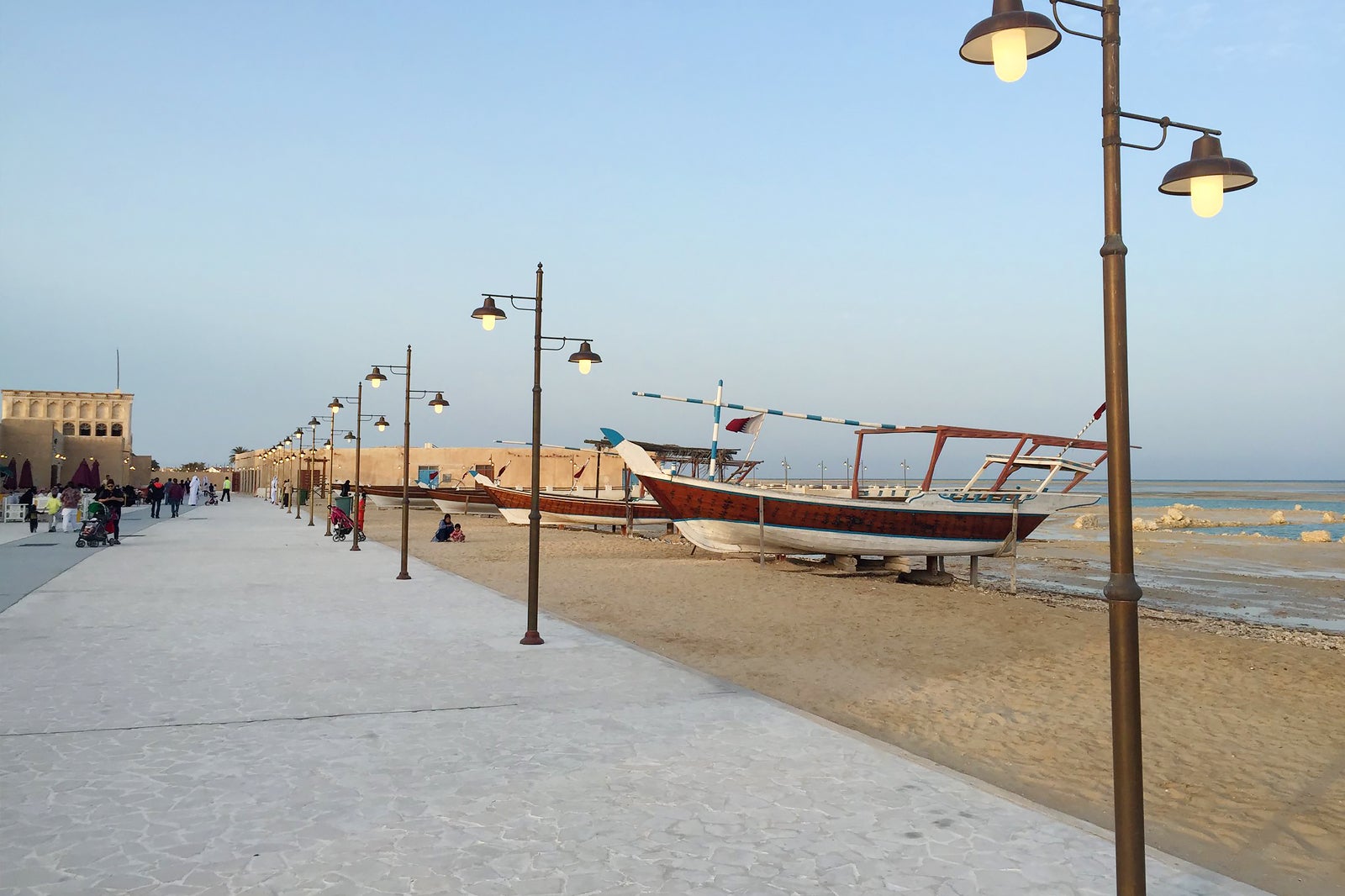 Shoppers
History
Photo
Food
Nightlife
Get ready to wind your way through the cobbled alleyways and gleaming courtyards of Al Wakrah's enchanting souq. Alongside traditional Arabic architecture, a dazzling mosque and stalls selling spices and souvenirs, you can take a seat in any one of the traditional eateries on offer. Pick up a traditional paratha at Baba Chapatea for sumptuous dining on the go.
It's easy to get lost in the magical atmosphere of Souq Al Wakrah, so if you feel like a peaceful spot of reflection, make your way to the beachfront next door to unwind and reflect on your unique purchases. You can also check out the traditional dhows drawn on the shore here.
Location: Al Wakrah, Qatar
photo by Mohamod Fasil (CC BY 2.0) modified
9
Khor Al Adaid
A great spot for dune bashing and wildlife spotting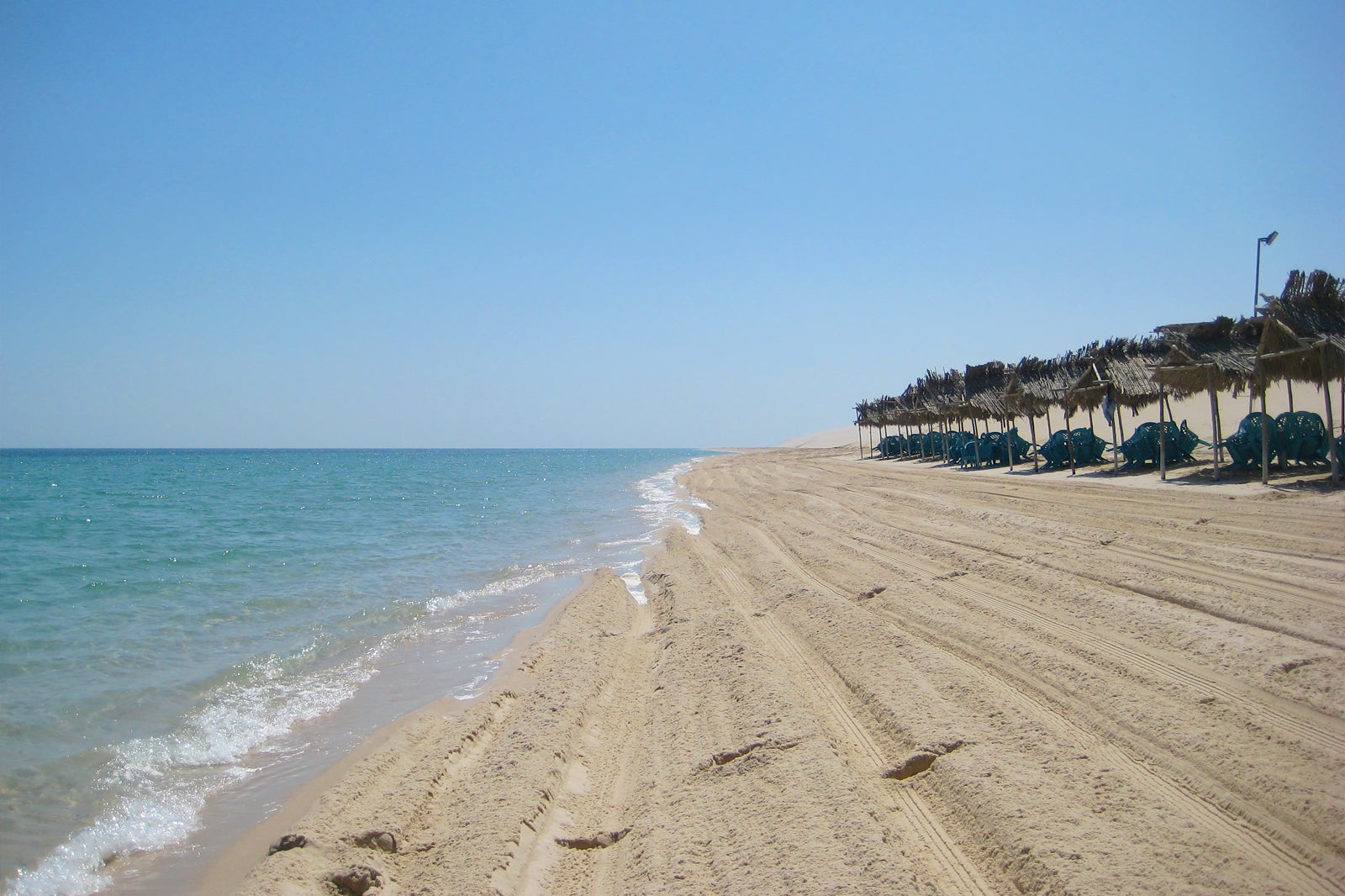 Adventure lovers can rejoice with a day trip to the splendour of Khor Al Adaid (Khawr al Udayd). Sitting spectacularly in the Qatar Desert, there's an abundance of activities to try out, from traditional camel rides along the beach to an unforgettable paddle in the Arabian Gulf.
Also known as the 'Inland Sea', the scenic landscape provides an ideal backdrop for envy-inducing photos to take back home. And don't leave until you've indulged in a beachside driving experience across the golden sand dunes with a beautiful sea view to boot. Khor Al Adaid is a UNESCO recognised natural reserve, so be on the lookout for local flora and fauna, too.
Location: Khawr al Udayd, Qatar
photo by Isabell Schulz (CC BY-SA 2.0) modified
10
Al Jassasiya Rock Carvings
Some are thought to be over 1,000 years old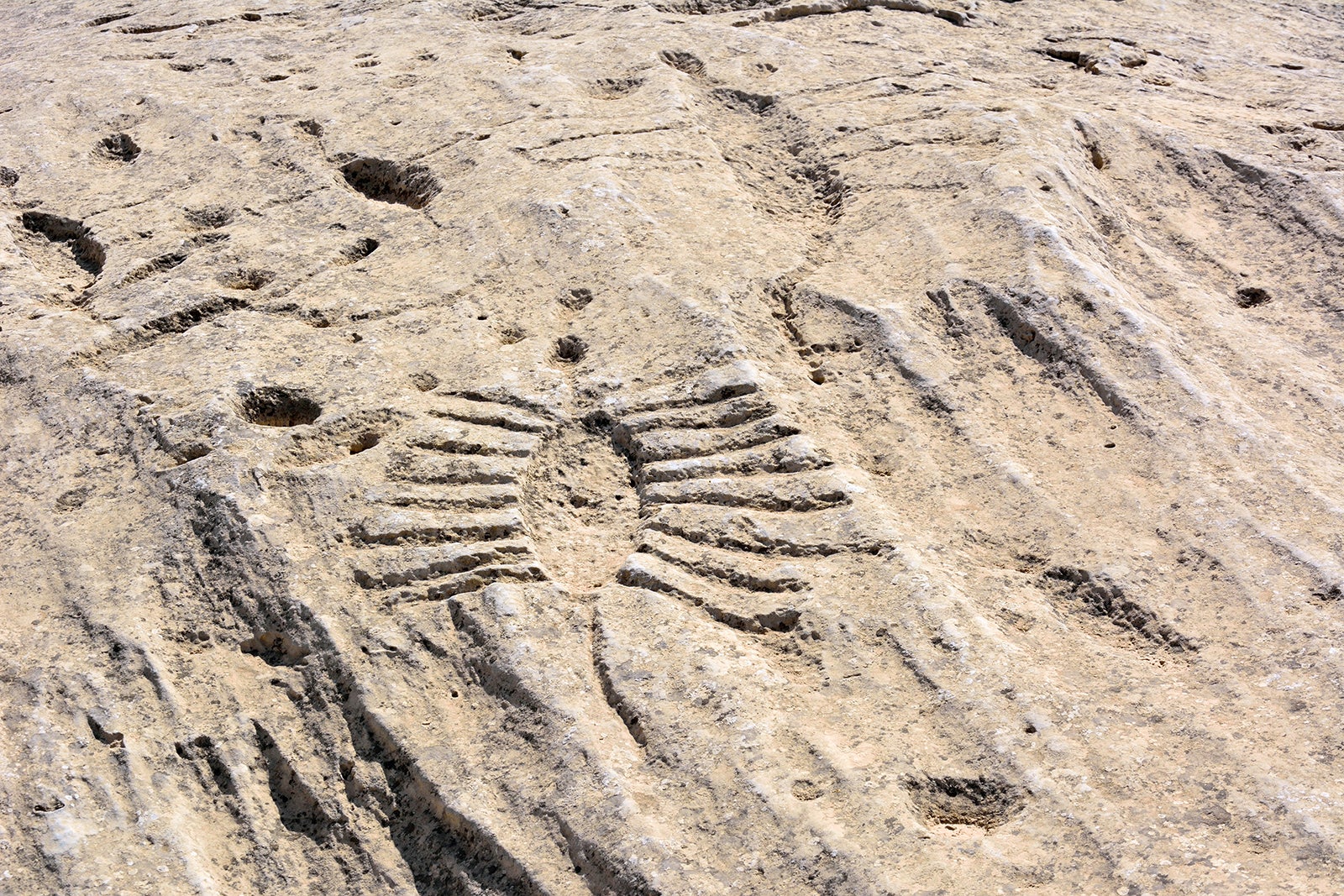 Head to northern Qatar for a truly unique petroglyph snapshot of fish, footprints and ship markings. Once a limestone quarry, the rock carvings of Al Jassasiya are as important a part of Qatar's heritage as the nation's many mosques, museums, and souqs.
Sitting 60 km north of Doha and beyond the openness of the Qatar desert, this memorable site remains largely untouched. But if you plan your trip with a local tour guide, it won't be long until you come across the wide array of roughly 900 carvings depicting traditional ways of Qatari life.
Location: Al Jassasiya Rock Carvings, Qatar