Lau Pa Sat is one of the most popular food markets, or what locals refer to as a 'hawker centre', in the heart of Singapore's financial district. The foodie's paradise is surrounded by the tallest buildings in Singapore. Come here to try the local delicacies, chicken rice, satay, and kaya toast, as well as the other dishes that make up the city's varied cuisine.
Although there are plenty of places to try such dishes, Lau Pa Sat is the ideal location to find them all under one roof. The setting is also considered to be far more romantic than most other hawker centres in the city – especially at night when the satay vendors set up stalls outside.
Lau Pa Sat Hawker Centre in Singapore - one of the highlights of 21 Best Restaurants at Marina Bay and 10 Best Singapore Hawker Centres (Read all about Singapore here)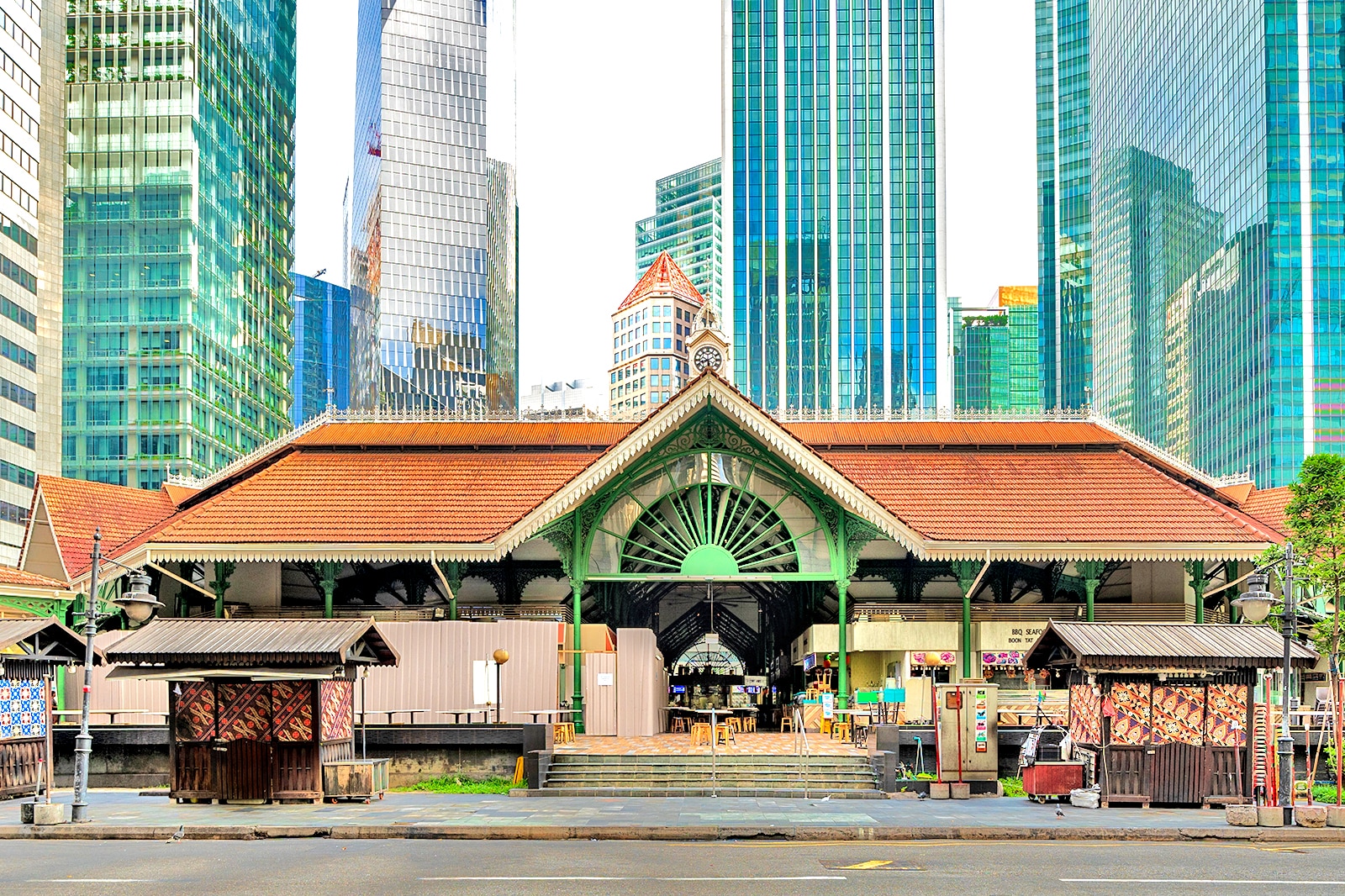 You can find Lau Pat Sat on the corner of Boon Tat Street, an easy 5-minute walk from Raffles Place MRT station. From the outside, the food market looks like it belongs to a Victorian seaside town – ornate cast iron pillars hold up a terracotta roof with a distinctive clock tower, which makes little impact compared to the skyscrapers that surround it.
Inside Lau Pa Sat, stalls are set up in rows leading to the centre of a hexagonal building. If you are lucky enough, your meal may have musical accompaniment, as a band plays nightly in the centre. On our visit, we caught the tail-end of the jazz band and then got to enjoy a scratchy recording of 80s hits instead.
There are plenty of stalls to choose from, so have a walk around and check out what's for sale and what others are eating – the perfect way to avoid food envy. The prices are reasonable, with dishes starting from about S$5. Recommendations can be found on boards displayed in the centre, and there is a map to help you navigate.
Try the Hainanese chicken and rice, served by stalls such as Whampoa Nanxiang (Stall 52) – the simplicity of chicken and rice has a rich, meaty flavour and is a fail-safe option for most people. A Malaysian favourite that's popular in the city is roti prata, which you can order at Mohamed Restaurant (Stall 61).
Although usually served at breakfast, the spicy chickpeas in the prata curry, together with freshly made roti-bread, make a good meal at the end of the day too. Other dishes people crave for and order here include chilli crab, carrot cake, and Laksa which is a noodle dish in curry sauce.
Different stalls are open throughout the day. Come for breakfast and try kaya toast, the reinterpretation of colonial toast and jam, spread with a paste made of coconut and egg accompanied by kopi-O, a Malaysian style coffee. The stall at Quay 18 called Kopitiam is popular in the morning and at the end of the day for dessert.
For a snack, try curry puffs from Power Puff (stall 24) or some sweet potato from the jolly staff Visa Fortune (Stall 50A). We recommend going after 7pm, as this is when Satay Street opens. Situated just behind the building, the road is closed from traffic every evening. This is when the sellers set up their barbeques and tempt you in with tasty meat on a stick.
It might not be the best quality meat around but sitting on the plastic tables with a beer and the famous snack is a fun way to end your time at Lau Pa Sat. Locals may say that Lau Pat Sat is not the best place to try Singaporean dishes, but most visitors would disagree.
The atmosphere is convivial, and all the dishes are fresh and tasty. Given that Lau Pa Sat is such a picturesque venue, it's a great initiation into the food Singapore is famous for. And given that it's open 24 hours a day, 7 days a week, fitting it into any itinerary is easy.
Lau Pa Sat Hawker Centre in Singapore
Location: 18 Raffles Quay, Singapore 048582, Singapore
Phone: +65 6276 0521
Back to top