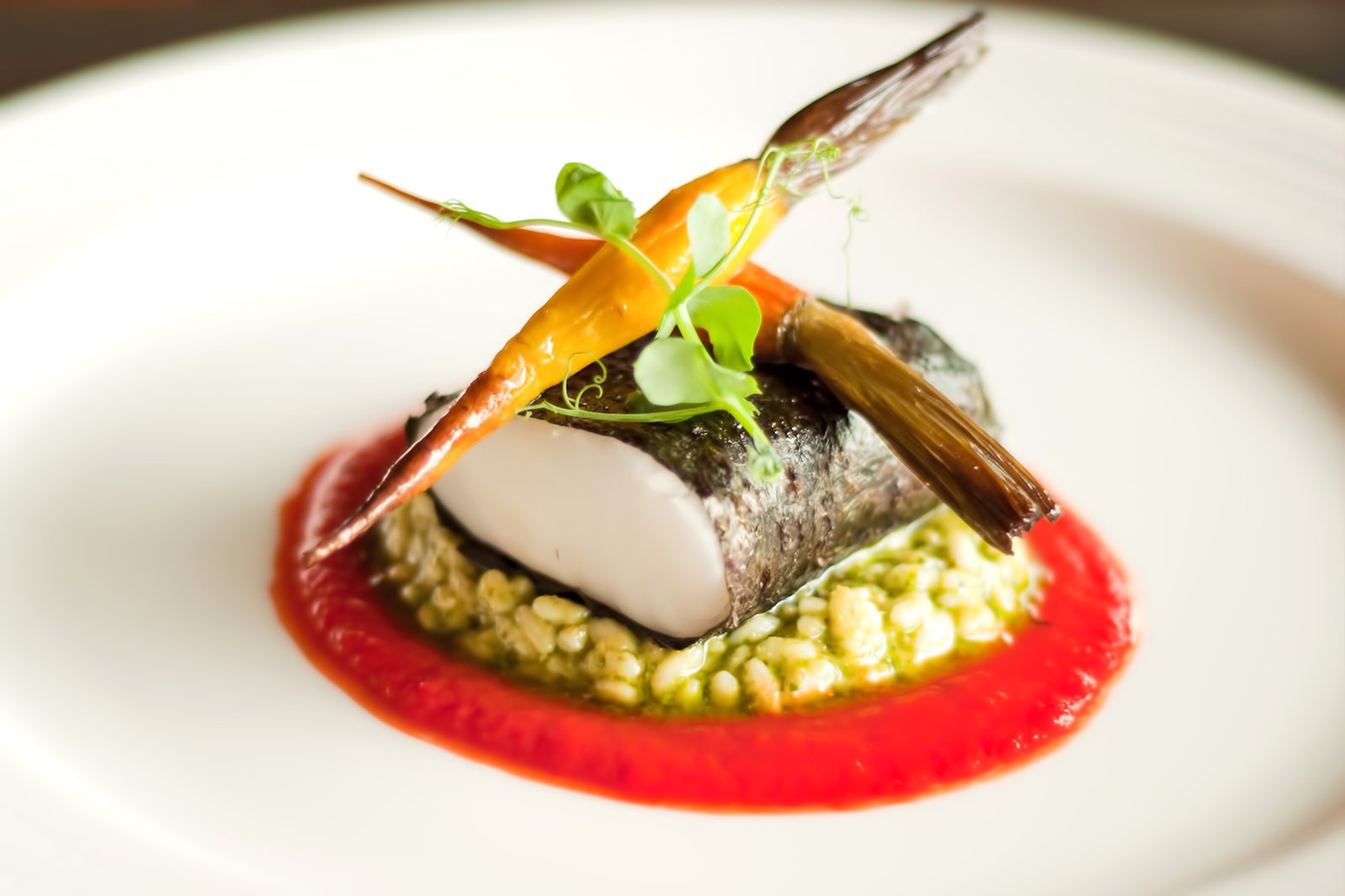 Les Amis, one of Singapore's most famous and popular restaurants, sits behind a discreet glass frontage on Scott's Road. The restaurant serves up an inviting blend of classic and innovative French dishes and is also known for presenting an impressive wine list, with an in-house cellar valued at around S$5 million.
Along the side of the Shaw Centre, which is 5 minutes' walk from Orchard MRT, you'll find a row of restaurants owned by the Les Amis group – a wine bar, Vietnamese and Japanese restaurants, and the jewel in their crown, the eponymously named, Les Amis.
Les Amis Restaurant, Orchard Road - one of the highlights of 11 Best Restaurants in Singapore and 21 Best Restaurants in Orchard Road (Read all about Singapore here)
For a restaurant with so many awards, there is very little fanfare and you could easily walk past the restaurant and not notice it. Inside, the decor is stylish but simple – a subtle palette of cream and gold with a beautiful band of red wallpaper running around the main dining room.
This theme is very similar to many Michelin starred restaurants in Paris or London and helps to keep the focus and the colours on the plate. In another nod to France, there are beautiful, gold, Louis XIV-inspired chandeliers hanging from the ceiling. Spaces are intimate with the main dining room seating only 30, but there's also a private dining room with a glass window offering a direct view of the kitchen (perfect for a cosy dinner for 6 people).
For dinner, you can choose from the 'Clasique' set menu, with dishes that include Omi beef with pomme soufflé and the chef's own bearnaise sauce rendition. The restaurant also offers a selection of innovative signature dishes that can be included in any of the set menus. Those with a sweet tooth won't be disappointed either – attractively displayed choices include a baba infused in aged French rum and accompanied by lightly whipped crème fleurette.
There are around 2,000 wines to pick from but if you aren't a wine buff, fear not as the sommelier selects around a dozen wines served by the glass to complement the changing menu – the staff also offer their knowledge in a helpful and friendly manner.
If you still have room at the end of the meal, there is always the opportunity to peruse the cheese trolley. Les Amis keeps the fine-dining tradition alive by allowing you to select your slices at your table from a greater choice than most restaurants.
With great attention to detail in the food, wine, and service, Les Amis restaurant is the perfect place to visit as a treat and spending an evening here would be an ideal way to celebrate a special occasion. Both lovers of French food and fine wines will be well looked after here.
Les Amis Restaurant, Orchard Road
Location: 1 Scotts Road #02-16, Shaw Centre, Singapore
Open: Monday–Saturday from midday to 2pm and from 7pm to 9.30pm (closed on Sundays)
Phone: +65 6733 2225
Back to top