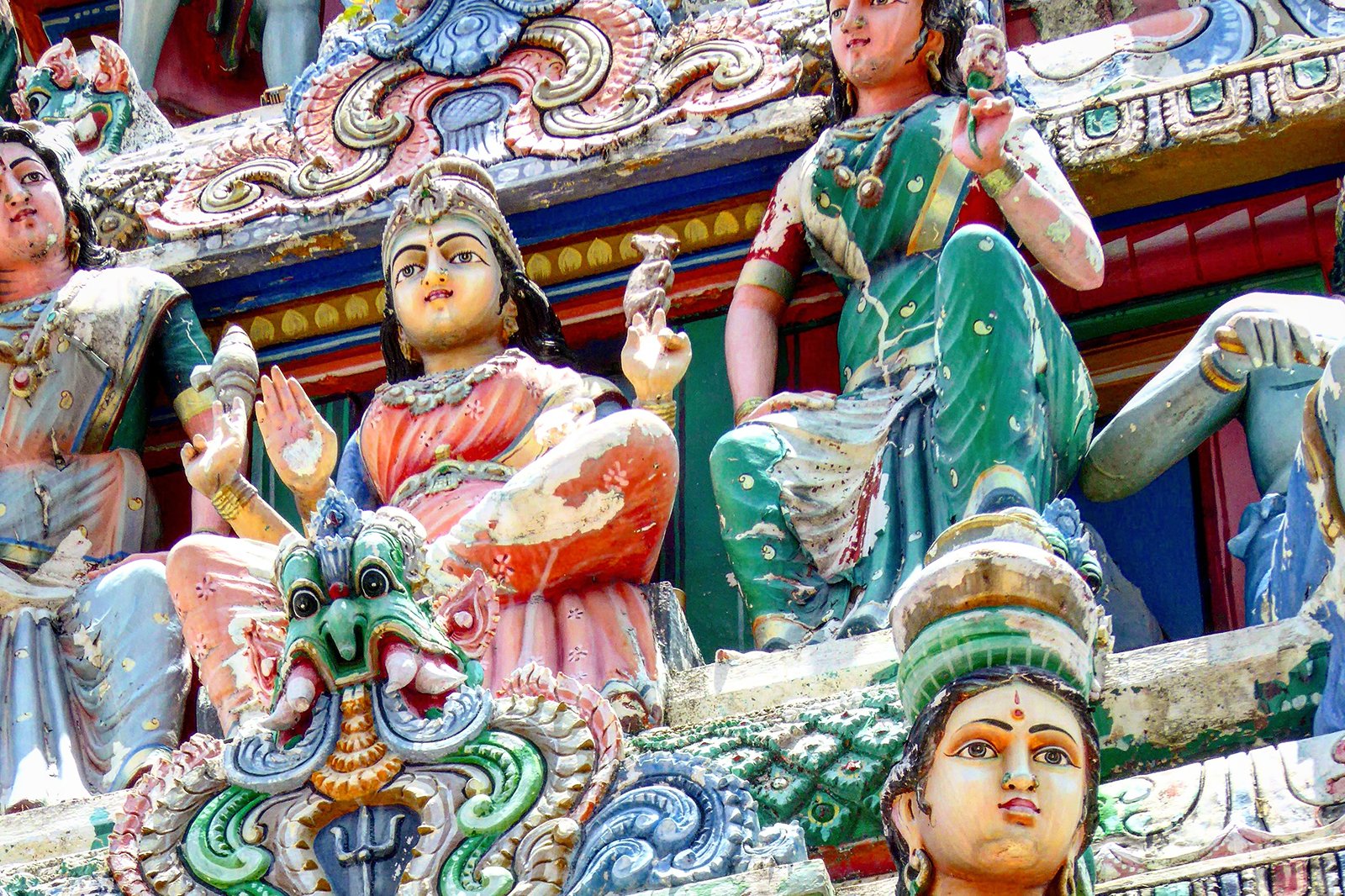 Sri Srinivasa Perumal Temple in Singapore
Historical Singapore Attraction in Little India
Sri Srinivasa Perumal Temple is a temple complex on Serangoon Road in Singapore's Little India. The temple largely reflects the style of South Indian shrines. On the walls of its entrance is a row of statues of gods and goddesses. A visit to Little India is incomplete without taking a tour of this astounding structure with its host of paintings and sculptures.
Perhaps the most striking of its highlights is its six-tiered 'gopuram' that was erected as a part of a renovation in the 1960s. This 20-metre tall gopuram is embellished with sculptures that throw light on Lord Vishnu's diverse manifestations. Stepping into the temple courtyard you'll find a well, once a stream that served as the devotees' main source of water.
Sri Srinivasa Perumal Temple in Singapore - one of the highlights of 7 Best Things to Do in Little India Singapore and 21 Best Temples in Singapore (Read all about Singapore here)
Equally remarkable is the unique elaborate geometric design that graces the ceiling of the main temple, and which embodies the 9 planets. The main temple is enshrined with the image of Lord Perumal (Vishnu), along with the statues of his consorts (Lakshmi and Andal) and his bird carrier – Garuda. Within the temple complex stands a wedding hall that has been a site for Hindu weddings since its construction in the 1960s.
Earlier known as Narasinga Perumal Kovil, the temple was built in the 1850s when a group of leaders from the Hindu community purchased a piece of a plot from the East India Company to convert it into a shrine dedicated to Lord Vishnu. The temple and its precincts came under the control of Mohammedan Hindu Endowments Board in the early 1900s. Later, the board took initiative for the renovation of the temple that had only a main hall and pond.
As such, it was done up under the supervision of a wealthy merchant, Mr P Govindasamy Pillai, and officially opened in 1965 by the then president of the country, Enche Yusoff Bin Ishak. In 1993, it was registered as a society. Declared as a national monument in 1978, Sri Srinivasa Perumal Temple is now one of Singapore's most significant attractions.
Above all, Sri Srinivasa Perumal Temple is the venue for Thaipusam – a festival to honour Lord Murugan. It falls on the Tamil lunar month that corresponds to late January or early February. During the festival, devotees lead a procession to Layan Sithi Vinayagar Temple, piercing their cheeks or tongues with metal skewers and attaching a kavadi decked with peacock feathers to their bodies.
You can easily access the temple from Farrer Park Station on the north-east MRT Line. Other important landmarks nearby include Sri Veeramakaliamman Hindu temple, Aguillia Mosque, and Vairavimada Kaliamman temple.
Sri Srinivasa Perumal Temple in Singapore
Location: 397 Serangoon Road, Singapore 218123, Singapore
Open: Daily from 6.30am to midday and from 6pm to 9pm
Phone: +65 6298 5771
Back to top