10 Best Places Where Locals Love to Go in Nantou
Most Popular Places Locals Love to Go in Nantou
As the only non-coastal county in Taiwan, Nantou has beautiful green mountains and forests. You can immerse yourself in the natural beauty and fresh air of the lush green spaces and wooded mountains, including Huisun Forest Area, Qingjing Farm, Xitou Forest and the Green Tunnel. The famous Sun Moon Lake is located in Nantou. You can take a boat on the lake or cycle around it to enjoy the incredible scenery. You can also take the Jiji train to Jiji Train Station or drive to Puli to visit the Shuili Snake Kiln or other local attractions. A visit to see the unspoiled landscape of Nantou is an enjoyable and memorable experience. Want to find out more about Nantou's unique ecology? The Endemic Species Research Institute is an excellent place to visit, where the entire family can learn about biological conservation. The wooded mountains of Nantou offer splendid views no matter what time of year you visit.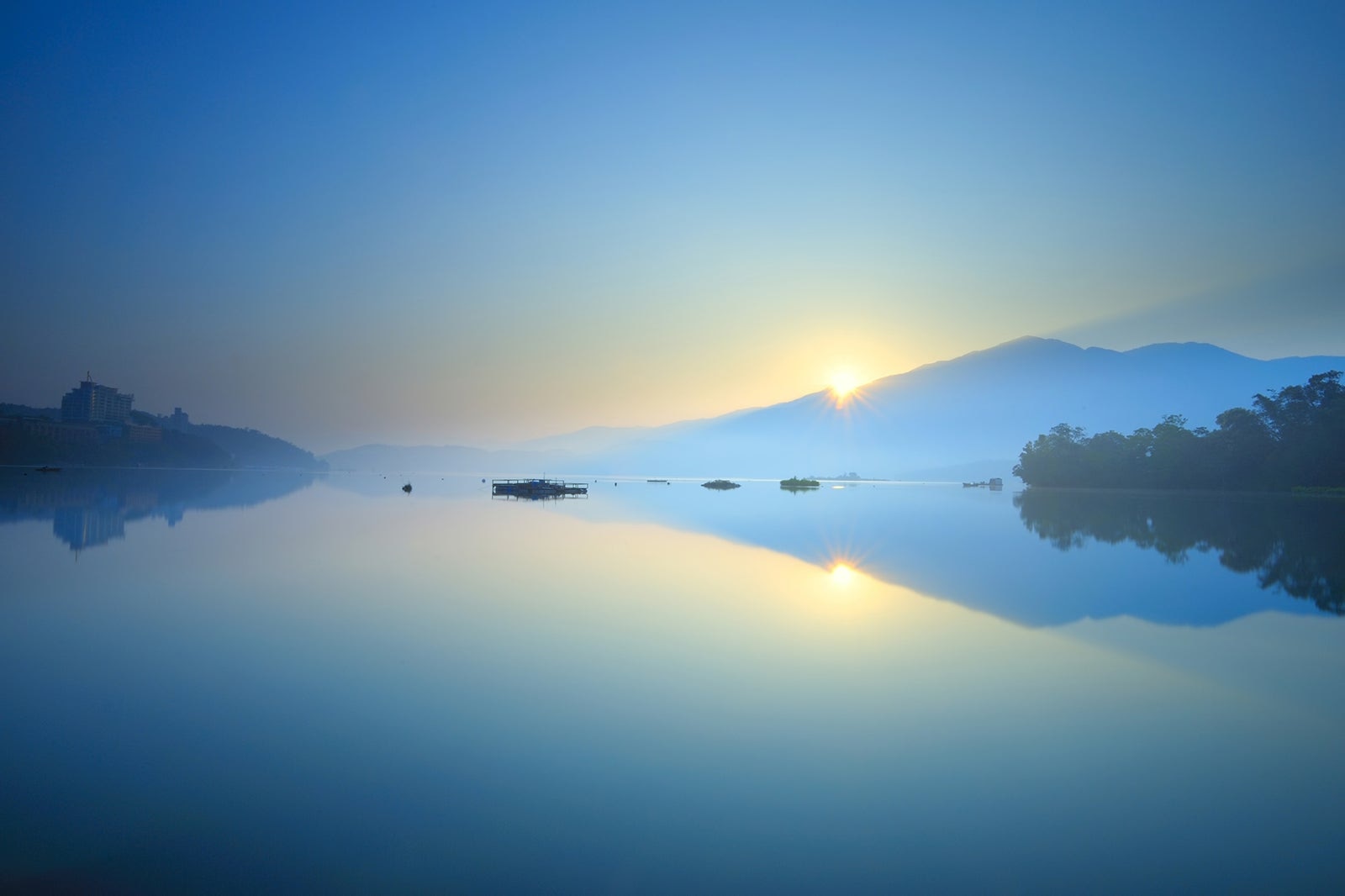 Sun Moon Lake, nestled in the mountains, is the collective name of Sun Lake and Moon Lake. It was formerly known as Shuishalian and is the largest lake in Taiwan. Sun Moon Lake is blessed with a beautiful lake landscape. The sky and mountains are reflected in the mirror-like waters, forming a stunning vista that attracts tourists from all over the world. Sun Moon Lake has plenty to offer tourists. Stroll along the secluded lakeside trails, or take a ride on the cycle path alongside the lake while enjoying the enchanting scenery of the lake and mountains. You can also take a cable car to see the lake from above. The incredible panoramic view will make you feel as if you're in a fairytale land.
Location: Yuchi Township, Nantou County, Taiwan 555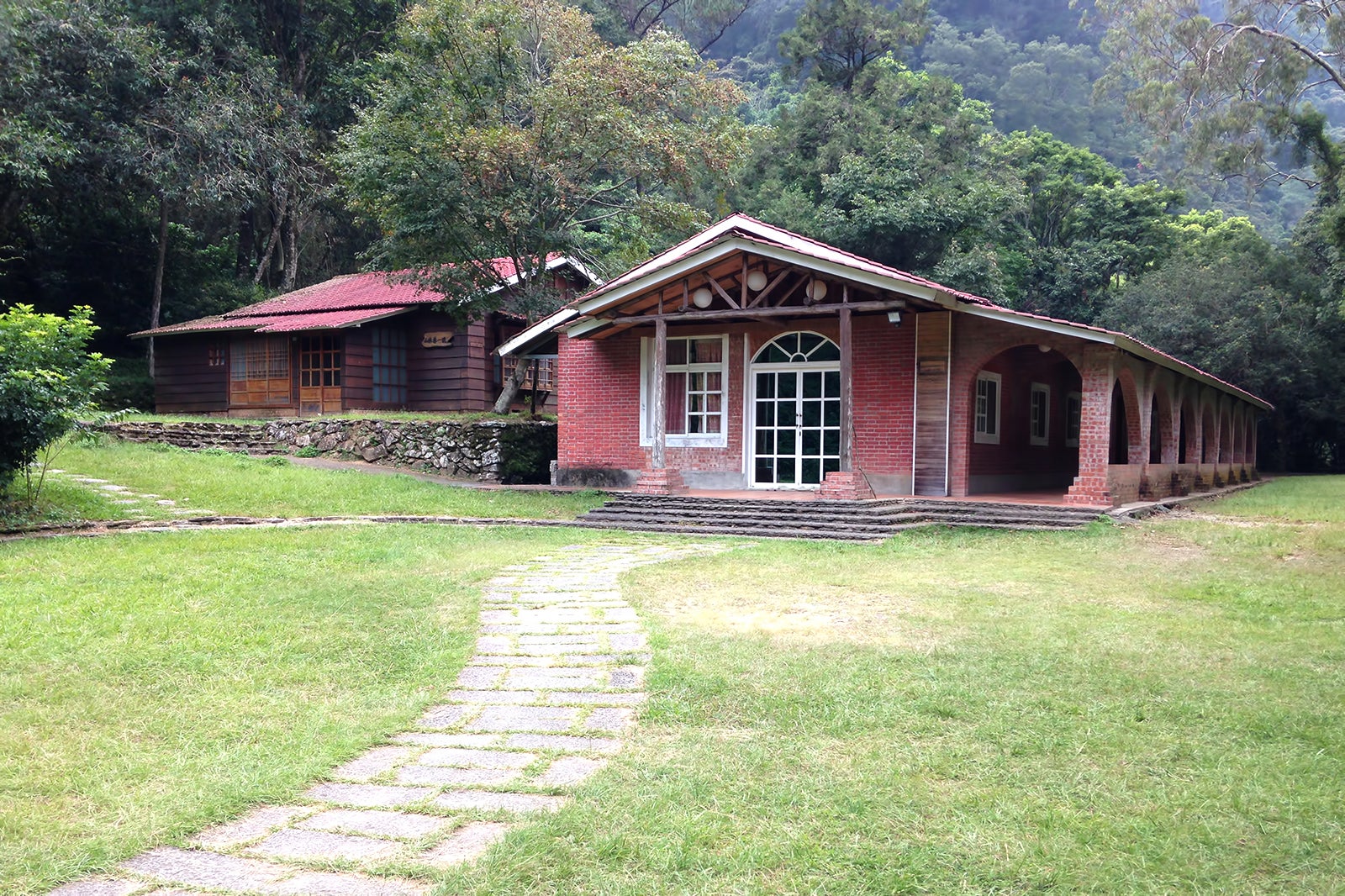 An experimental forest of National Chung Hsing University, Huisun Forest Area covers 18,467 acres (7,477 hectares), with altitudes ranging from 1,476 feet (450 metres) to 7,933 feet (2,418 metres). As altitude increases, vegetation varies from subtropical to temperate forest. You can also see different types of forest terrain, including canyons, mountains and streams. It is a showcase of diverse geographical landscapes full of natural treasures. Huisun Forest Area is a mountain and forest resort with enchanting scenery. Spend a few nights in a house or cabin and wake up to the delightful chirping sounds of birds and insects. You can hike the forest trails or take a guided eco-tour. As you walk between the Shanlan Trails and Dujuan Ridge Trails, you'll feel as if you've entered a sea of peach blossom. Another attraction here is Huisun Hot Spring, which has pristine water from Beigang Stream Spring. Soaking in a hot spring in the mountains is an enjoyable and memorable experience.
Location: No. 1, Shanlin Lane, Xinsheng Village, Ren'ai Township, Nantou County, Taiwan 546
Open: Daily from 7 am to 8 pm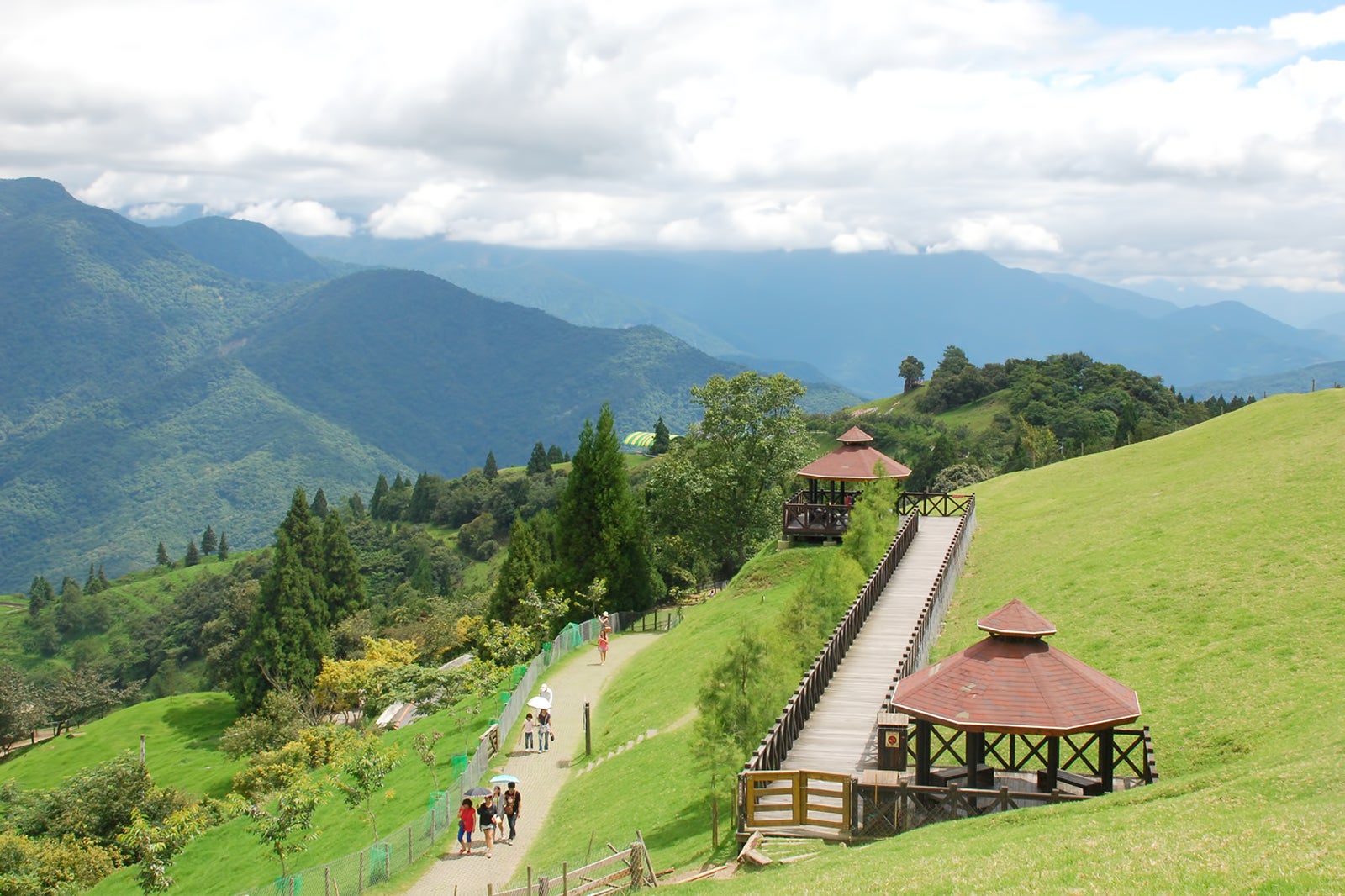 Located in Renai Township, Nantou County, Qingjing Farm covers an area of 934 acres (378 hectares), with altitudes ranging from 5,577 feet (1,700 metres) to 6,889 feet (2,100 metres). Its cool temperate climate makes it a popular summer resort. Qingjing Farm, an important tourist attraction in Nantou, has a vast green grassland surrounded by floating clouds and mist. Cows and sheep graze leisurely on the green pasture. The scenery is reminiscent of a European mountain forest and attracts tourists throughout the year. Sheep and cattle are bred on Qingjing Farm, and there are sheep-shearing demonstrations as well as the chance to interact with the animals. The climate here is suitable for hardy vegetables and fruit that grow in cold and temperate climates, so you can treat yourself to delicious organic kiwi, peaches and apples. You can also learn more about the cultivation process of Suwu tea, and taste the fragrant Suwu tea produced by local farmers. Your family will love a morning walk around the farm, where you can escape from the hustle and bustle of city life and re-energise among the tree-covered mountains.
Location: No. 170, Renhe Road, Datong Village, Ren'ai Township, Nantou County, Taiwan 546
Open: Daily from 8 am to 5 pm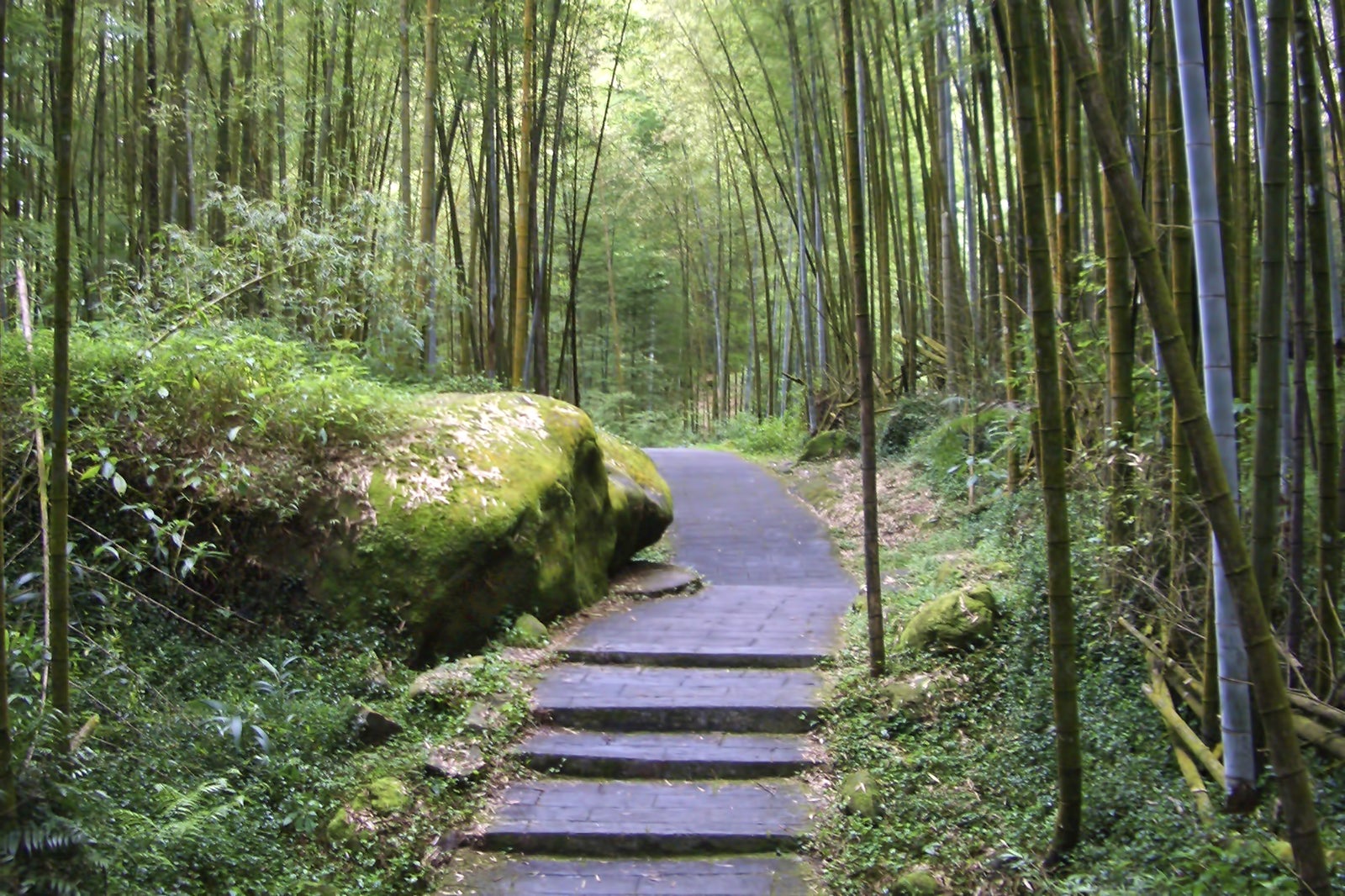 Xitou is a great place to spend a few nights. Walk in the ginkgo, bamboo or red cypress forest surrounded by floating clouds and mist, feel the gentle breeze on your face and immerse yourself fully in this relaxing green woodland environment. Xitou Forest, the experimental forest area of National Taiwan University, is located at the source of Beishi River. The forest has many precious native Taiwanese trees. The ancient majestic trees and famous arch bridge over the green University Pond make the forest a unique tourist attraction in Nantou. You can take a guided tour to learn more about the original tree species of Nantou Mountain Range and forest conservation. At the entrance to the forest you'll encounter Monster Village, featuring Japanese-style shops and restaurants. Once inside the village, you'll feel as if you are living amongst a monster tribe in the depths of the forest. This quirky and unique attraction is hugely popular with tourists.
Location: No. 9, Forest Lane, Neihu Village, Lugu Township, Nantou County, Taiwan 558
Open: Daily from 7 am to 5 pm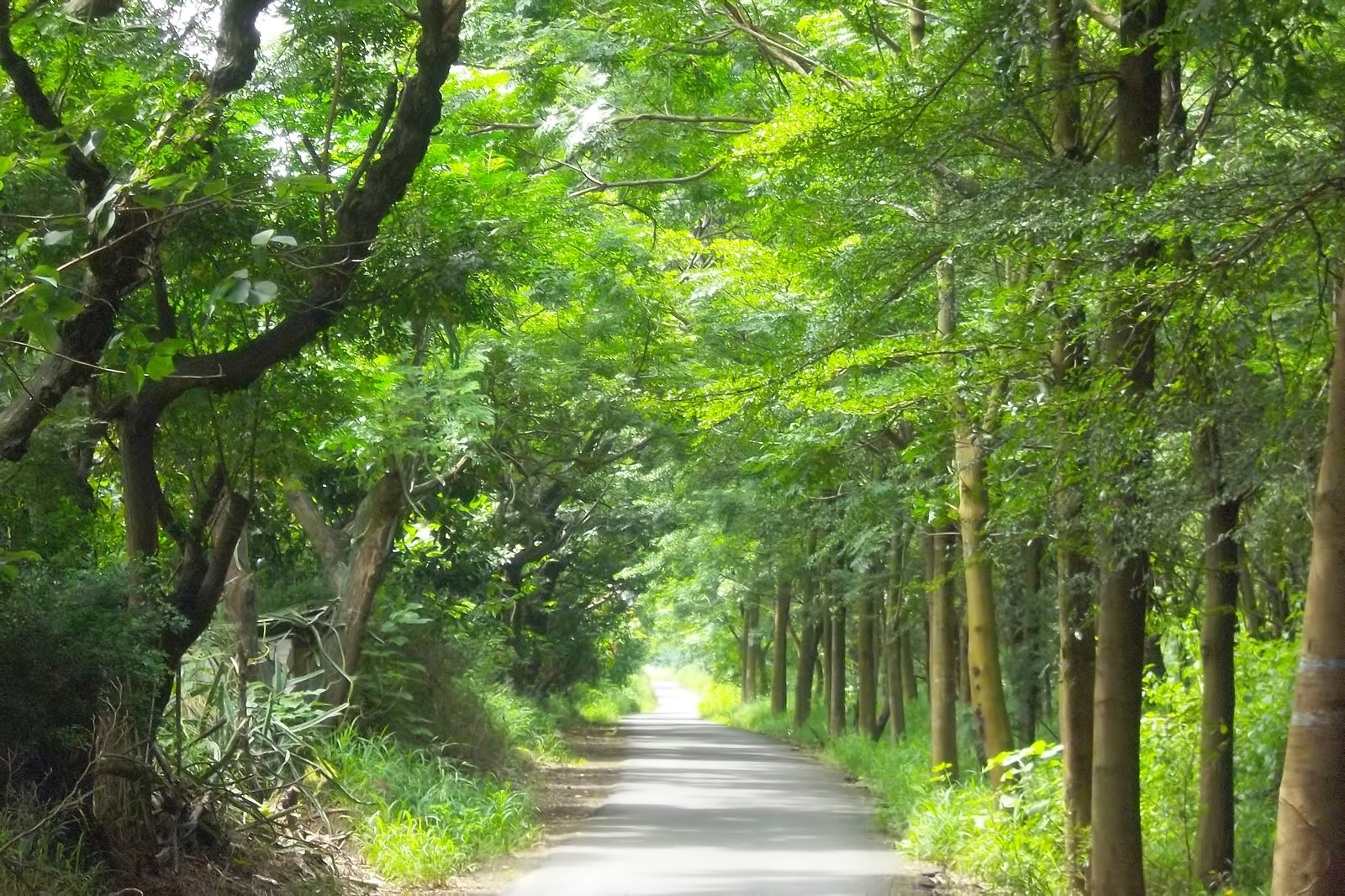 Located between Minjian Township and Jiji Township in Nantou County, the Green Tunnel is actually a 2-mile-long (4.5-kilometre-long) secluded country road with lush camphor trees on both sides. The branches form an arch, making the road look like a tunnel, hence the name "Green Tunnel". These camphor trees were planted in 1940. When passing this section of the road, drivers like to slow down to appreciate the beauty of the Green Tunnel. A tourist train runs next to the Green Tunnel. If you happen to be here when the train passes by, you'll get to see the wonderfully picturesque image of the train against the backdrop of the lush camphor trees. Many newlywed couples come here to take wedding photos in the romantic surroundings of this secluded tunnel.
Location: Green Tunnel, Line A, Provincial Highway 16, Jiji Township, Nantou County, Taiwan 552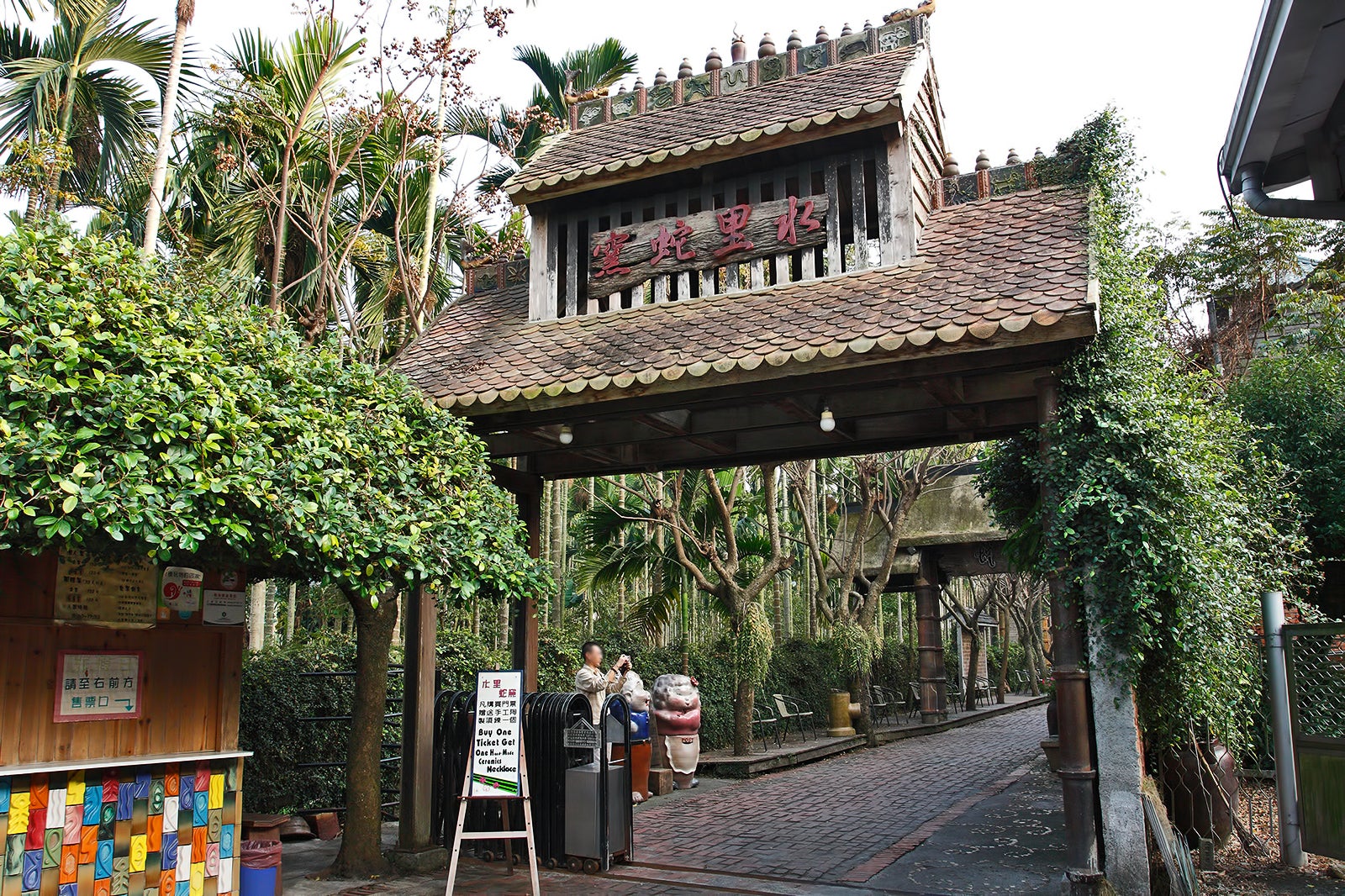 Located in Shuili Township, Nantou County, Shuili Snake Kiln was established in 1927 and is the oldest traditional wood-burning kiln in Taiwan. The kiln was named "Snake Kiln" because the body of the kiln twists and turns for several feet and looks like a giant snake when viewed from a distance. At Shuili Snake Kiln, pottery is fired by wood in the traditional way. The wood ash lands on the pieces as they are firing, creating a beautiful effect that cannot be achieved by modern kilns. The kiln was badly damaged during the 921 earthquake. After being repaired, the kiln was opened to tourists again and continues to produce beautiful pottery. You can take part in pottery workshops and experience the fun of kiln firing. Want to try your hand at pottery throwing? Under the guidance of professional potters, you can make your very own ceramic souvenir of your trip.
Location: No. 21, Lane 512, Section 1, Shuixin Road, Dingkan Village, Shuili Township, Nantou County, Taiwan 553
Open: Daily from 8.30 am to 5.30 pm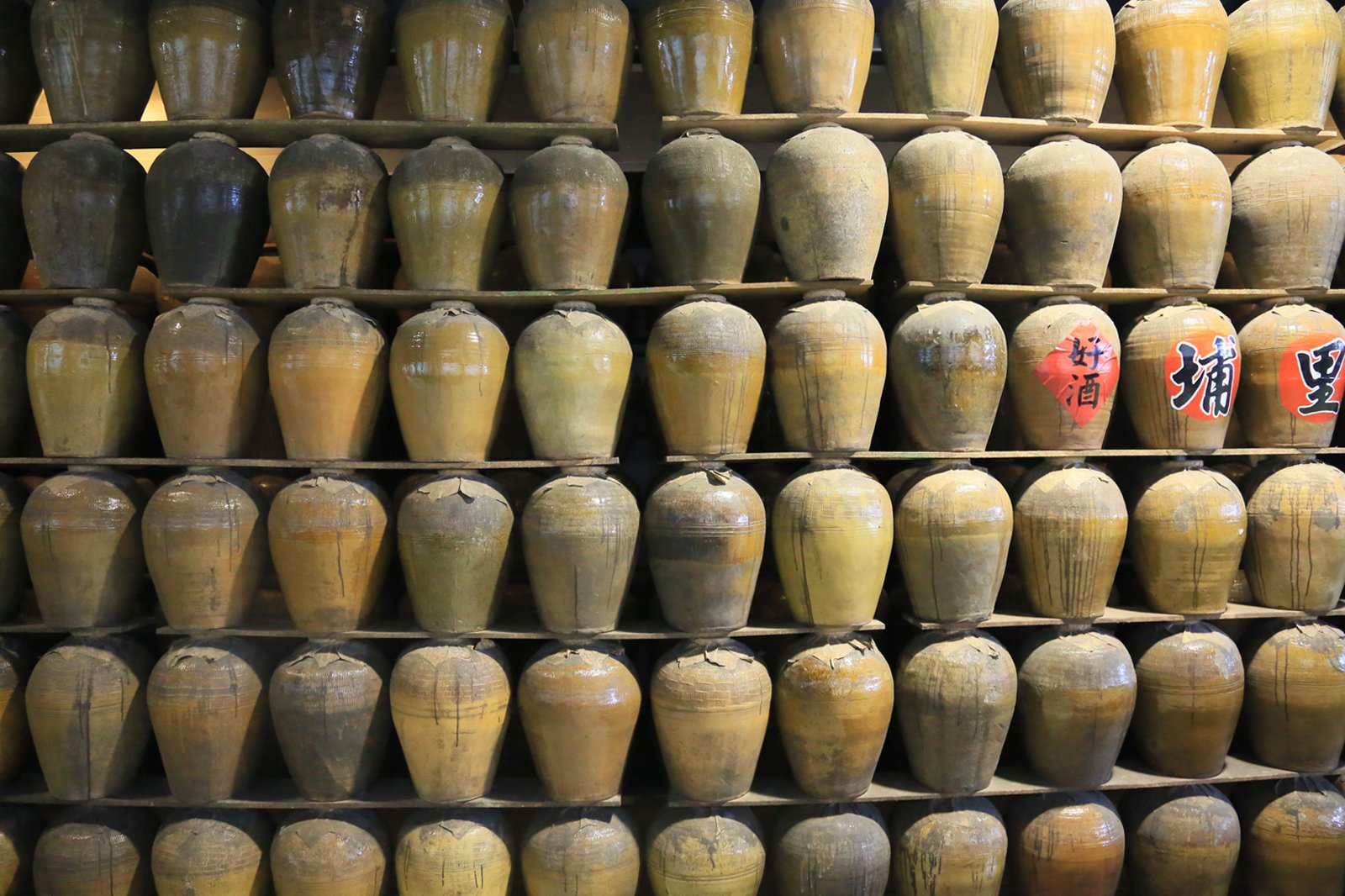 Couples
Families
History
Adventure
As an important tourist town in Nantou, Puli Township boasts rich tourism resources and has retained its pristine landscape. This beautiful town in the Puli Basin is well worth exploring. Fancy a drink? Don't miss Puli Winery, which produces widely praised Shaoxing wine, Ailan white liquor, single malt whiskey and sorghum wine. You can also try the grilled sausages and ice lollies made by the distillery. The town also has Buddhist attractions, such as Chung Tai Chan Monastery and Chung Tai World Museum, which attract large numbers of Buddhists. Puli is also blessed with enchanting natural landscapes, such as Liyu Lake, Guanyin Waterfall and Shuishalian Ancient Road.
Location: Puli Township, Nantou County, Taiwan 545
photo by Ray Swi-hymn (CC BY-SA 2.0) modified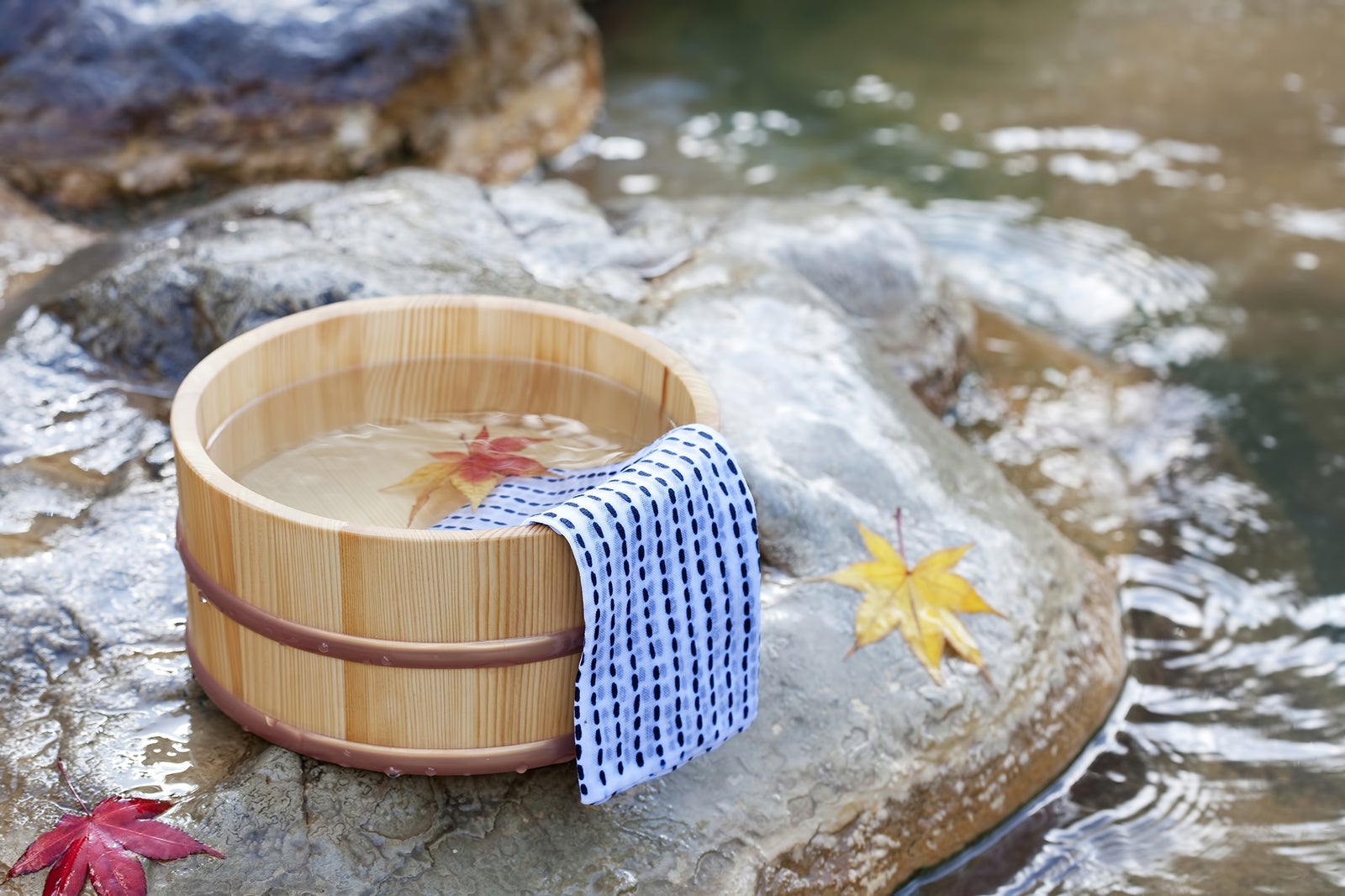 Dongpu Hot Spring is located in Xinyi Township, Nantou County, close to Chenyoulan River and Yushan National Park. It's a popular mountain destination with a landscape that changes with the seasons. You'll see beautiful flowers in spring and stunning vistas in autumn. It's a summer resort as well as a perfect place for visiting hot springs in winter. The hot spring water of Dongpu Hot Spring comes from natural rock gaps in the valley. The temperature is about 48 °C and the pH value is between 7.5 and 8.5, making it ideal for bathing. Soaking in the warm spring water in cold weather has an instantly warming and re-energising effect. Regular hot spring bathing is said to offer a number of health benefits. Dongpu also has many stunning natural landscapes, such as Batongguan Ancient Road, Lover Valley, Rainbow Waterfall and Fuzi Cliff. It is an ideal place to appreciate the beauty of nature.
Location: Dongpu Village, Xinyi Township, Nantou County, Taiwan 556
9
Endemic Species Research Institute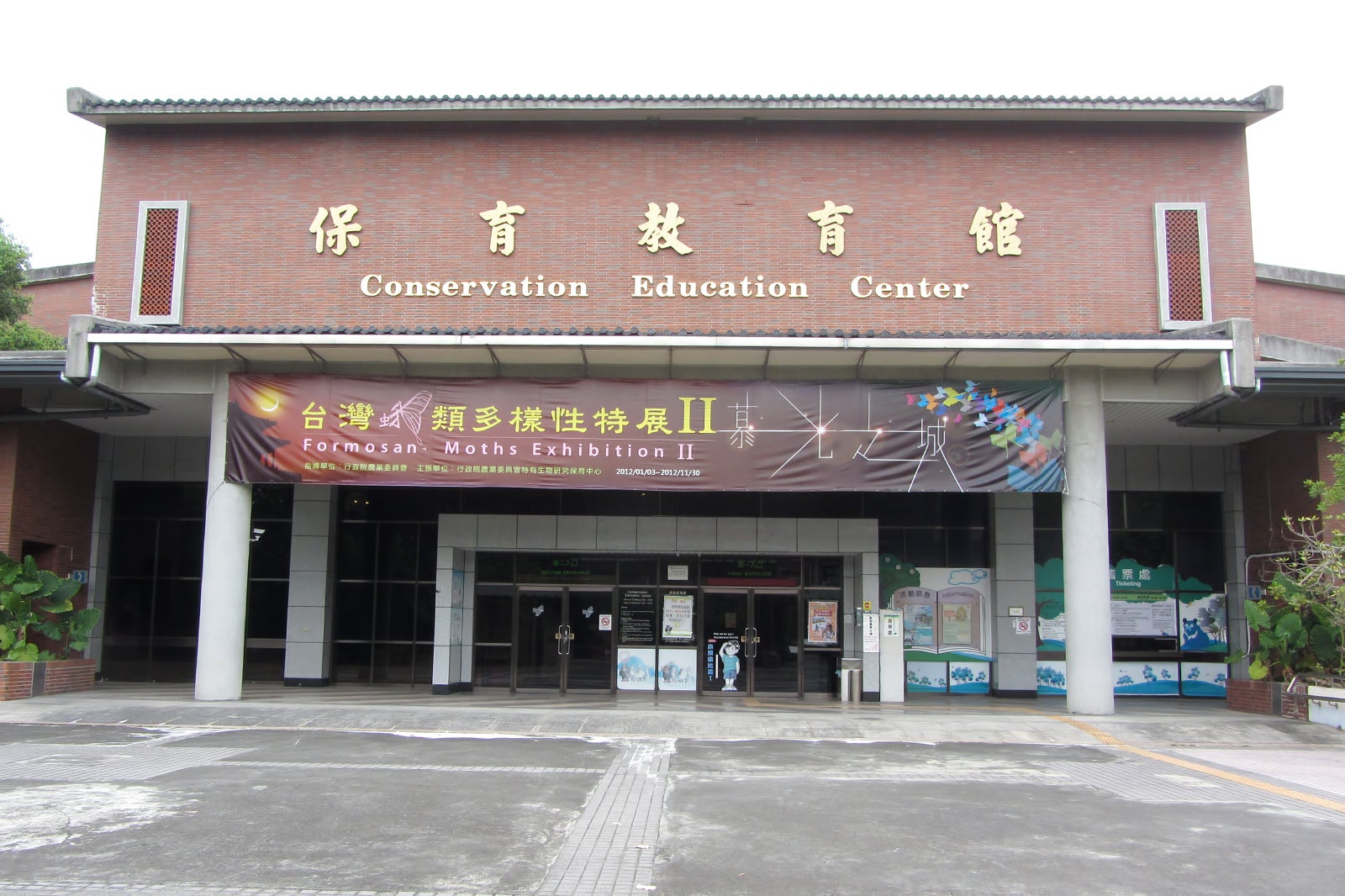 The Endemic Species Research Institute, located in Jiji Township, Nantou County, is an excellent place to learn about biological species endemic to Taiwan. Established in 1992, the Institute is affiliated to the Council of Agriculture, Executive Yuan, and is an important research centre for ecological conservation, restoration and habitat in Taiwan. The Institute has a Conservation Education Centre, which is open to the public and provides exhibitions themed in Taiwan's native ecosystem, featuring interesting interactive multimedia installations and detailed explanations. The exhibitions give you a fascinating insight into the rich flora and fauna of Taiwan's diverse landforms, and help you learn to cherish the treasures on the island as well as contribute to conservation in your daily life. There's also an outdoor butterfly garden and an ecological education park where you can get close to the brightly coloured butterflies of various species and immerse yourself in Taiwan's wonderfully diverse ecosystems.
Location: No. 1, Minsheng East Road, Jiji Township, Nantou County, Taiwan 552
Open: Daily from 9 am to 4.30 pm, closed on Mondays
photo by SSR2000 (CC BY-SA 3.0) modified
Jiji Train Station has a long history dating back to its opening in 1922. Farmers once used it to distribute their produce, and it became an important transport hub. As a station on Taiwan Railway's Jiji Line, Jiji Train Station plays an important role in Jiji Township. It welcomes tourists flooding to Jiji on holidays with its classic Japanese-style building, providing a perfect background for taking photos. Jiji Train Station still uses old-style Edmondson railway tickets, which are much loved by the tourists who come here. The station, which was built from cypress, was severely damaged in the 921 earthquake and the building was slanted as a result. It was subsequently reconstructed in its original style and reopened. When you walk out of the station, don't forget to take a moment to admire this quaint building.
Location: No. 75, Minsheng Road, Jiji Township, Nantou County, Taiwan 552
Open: 24/7
photo by 王彥翔 (CC BY-SA 3.0) modified
Back to top