10 Best Taichung Foods Everyone Should Try
A Guide to Local Specialties You Should Try in Taichung
Taichung's famous treats include sun cakes (tai yang bing) and chicken feet jelly (ji jiao dong), which are great for your own or as gifts. Taichung is also a big producer of taro, water chestnuts, almonds and red beans, so be sure to taste the popular local delicacies such as taro balls (yu yuan), deep-fried water chestnuts (ling jiao su), almond tea (xing ren cha) and bean milk (dou sha niu ru). Delight your taste buds with the appetising and tasty local ingredients.
For seafood lovers, a must-try is oyster congee (ke zi zhou), which is popular among Taichung locals. The fresh and sweet taste is achieved by blending rice porridge with fresh and fleshy oysters. If you're hungry for more, be sure to try pork belly rice (kuang rou fan) and the fried-noodle sandwich (chao mian mian bao). These street snacks come in satisfying portions. After dinner, you can enjoy the special flavour of Fengren ice (feng ren bing). A bowl of this sweet and tangy ice is a great dessert – it cleanses the palate and leaves a pleasing aftertaste.
1
Bean milk (dou sha niu ru)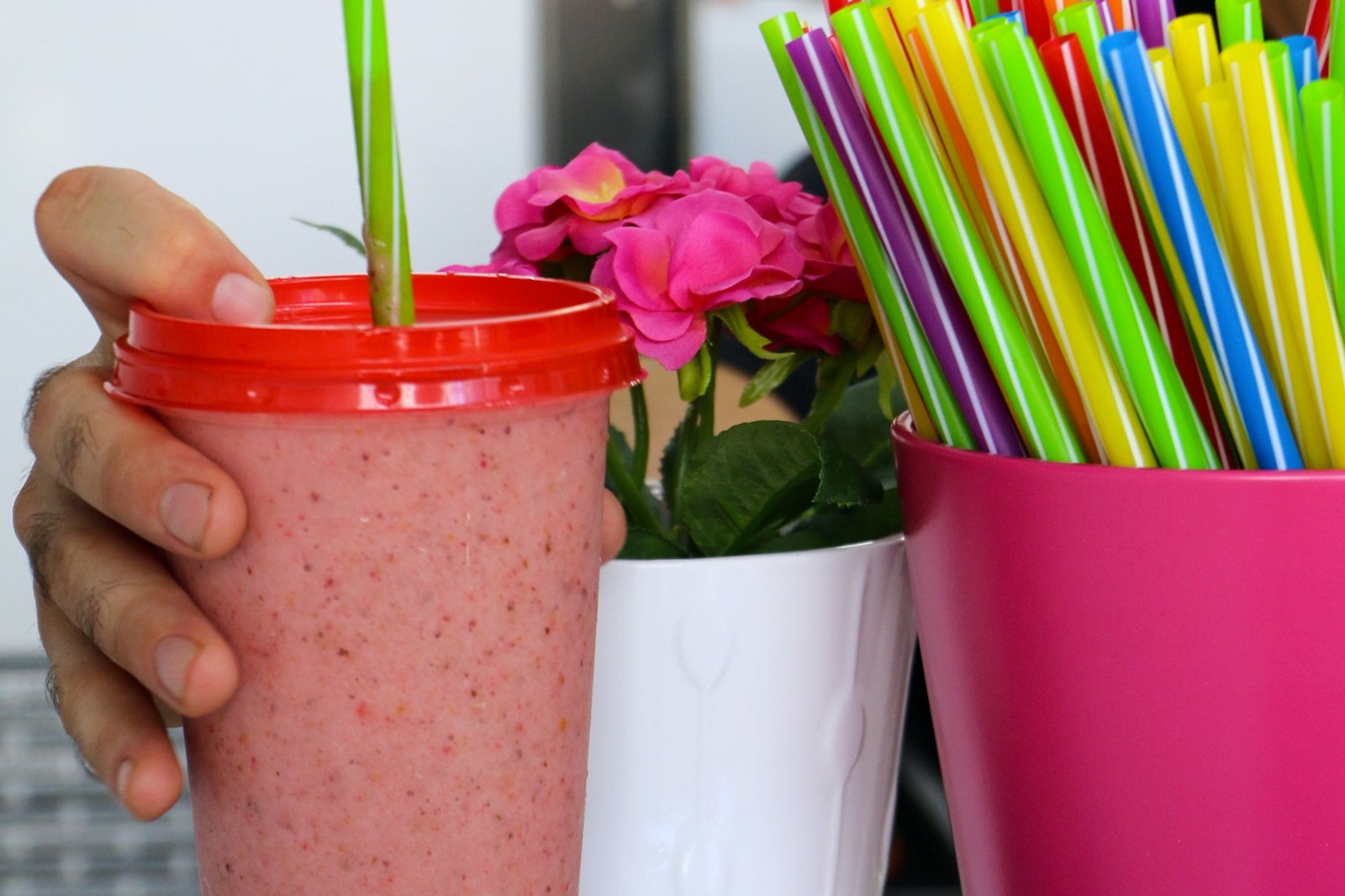 Many local sellers in Taichung use beans, such as red beans from Wandan, to make special bean milk with a rich, mellow taste. It has become a popular food in Taichung with the introduction of the Internet and food programmes. Bean milk includes red bean milk and mung bean milk. Red bean milk, made of strictly selected Wandan red beans, is particularly popular.
To make a good cup of bean milk, the first step is to ensure the quality of red beans or mung beans, then boil them for a long time until a thick slurry of and soft beans forms. Add high-grade sugar, fresh milk and ice, and pass all through a juicer to produce a cup of bean milk from rich ingredients. Some sellers will add tapioca balls to bean milk for a richer result. Drinking a cup of cold red/mung bean milk in sunny Taichung lets you refresh with the aroma of milk and beans that is soothing to the throat.
2
Sun cakes (tai yang bing)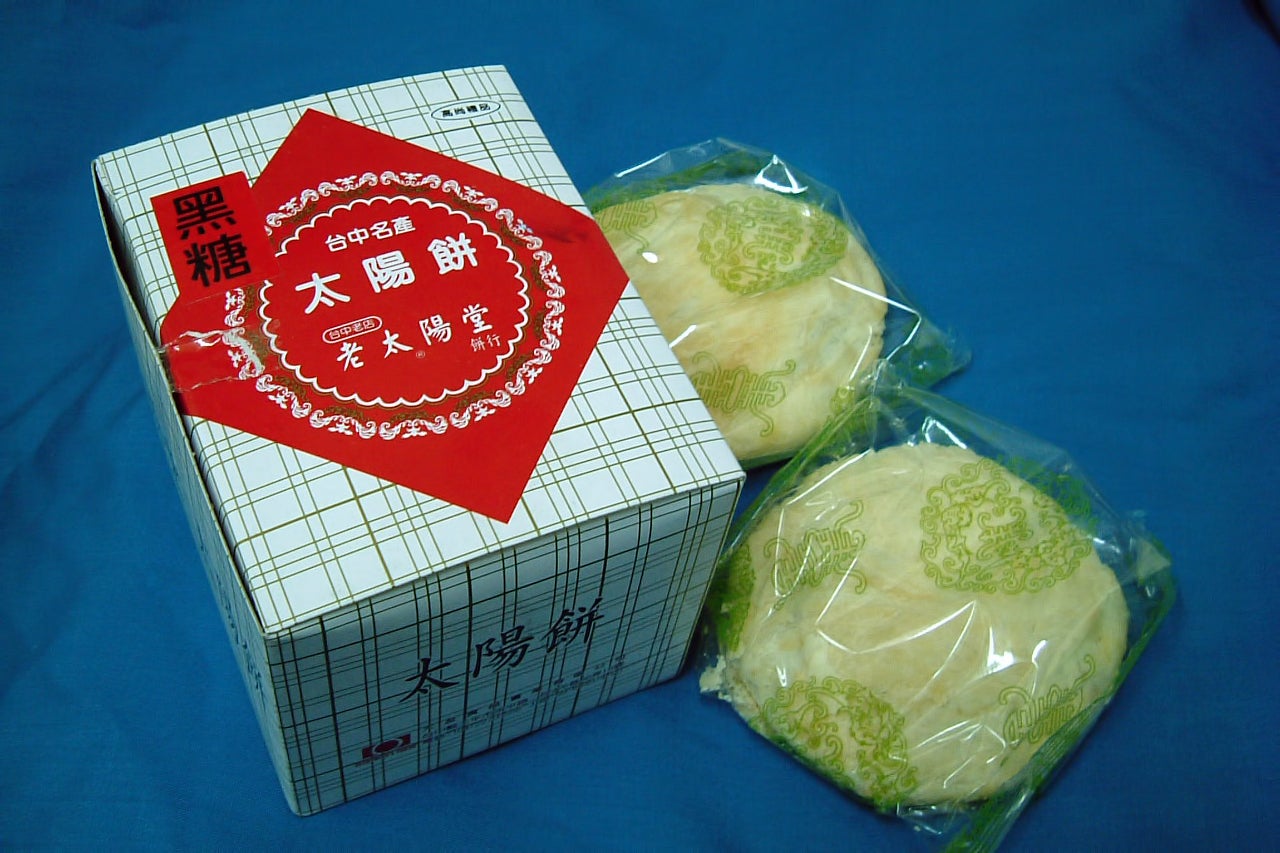 Sun cakes are a Taichung speciality, which are round pies with maltose filling wrapped in a crispy pastry. The taste is soft and dense, and one is often never enough. It is said that sun cakes originated from the malt cake of Lin Jia Kun Pai of Shengang District, Taichung, and evolved into today's sun cakes after improvements by many local bakers.
Years ago, when travellers went to Taichung for holiday or on business trips, many would take back boxes of sun cakes as souvenirs. The snack gradually evolved into a representative speciality of Taichung. Sun cakes taste sweet and go well with coffee or tea. They're suitable for both young and old. They can be an afternoon dessert or a snack for a journey. There are many bakeries selling sun cakes in Taichung, each with its own recipe of malt, so different brands of sun cakes will taste slightly different and visitors may choose according to their own preferences.
photo by 竹筍弟弟 (CC BY-SA 2.0) modified
3
Deep-fried water chestnut (ling jiao su)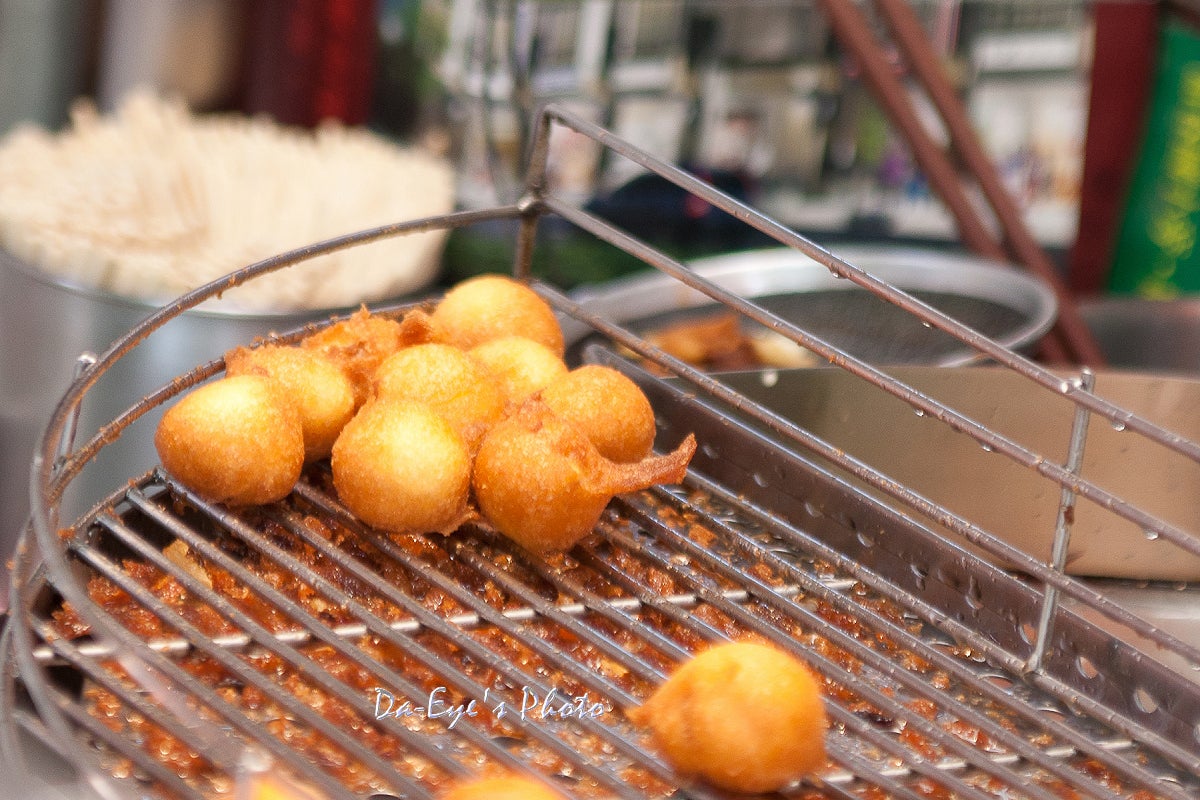 The water chestnut is an aquatic plant that forms a hard-shelled bulb with a pair of sharp thorns. When the shell is opened, the white flesh inside is the delightful water chestnut. The most common way of cooking water chestnut is to boil them, but the water chestnut served in Taichung is very special. After shelling, the water chestnut are coated in batter and fried in hot oil. After frying, the batter is crispy, and the coated water chestnut is soft and fragrant.
Deep-fried water chestnut has become a popular street snack. After draining the oil, they are packed in a paper bag, and you can enjoy them with a bamboo stick. One deep-fried water chestnut is just a mouthful and one is never enough. Enjoying a bag while out taking a walk in Taichung is simply part of the experience.
photo by Da-Eye (CC BY-SA 2.0) modified
The Dajia district of Taichung has fertile black sandy soil that's good for growing taro. The taro is fresh, sweet and delicious. This is why Taichung is known for its many taro-related delicacies, including taro balls, a very common street dessert. Making taro balls is quite simple. You steam the taro until it is soft, then add sweet potato flour and the proper amount of water. Knead them into a ball by hand, then divide it into small pieces and boil them in hot water.
The handmade taro balls are particularly sweet, delicious and chewy. There are many ways to enjoy them. In hot weather, you can add ingredients such as ice, milk, red beans and mung beans. In winter, you can put taro balls into warm sweet soup or red bean soup for a warm bowl of delicious dessert to help keep you warm.
5
Oyster congee (ke zi zhou)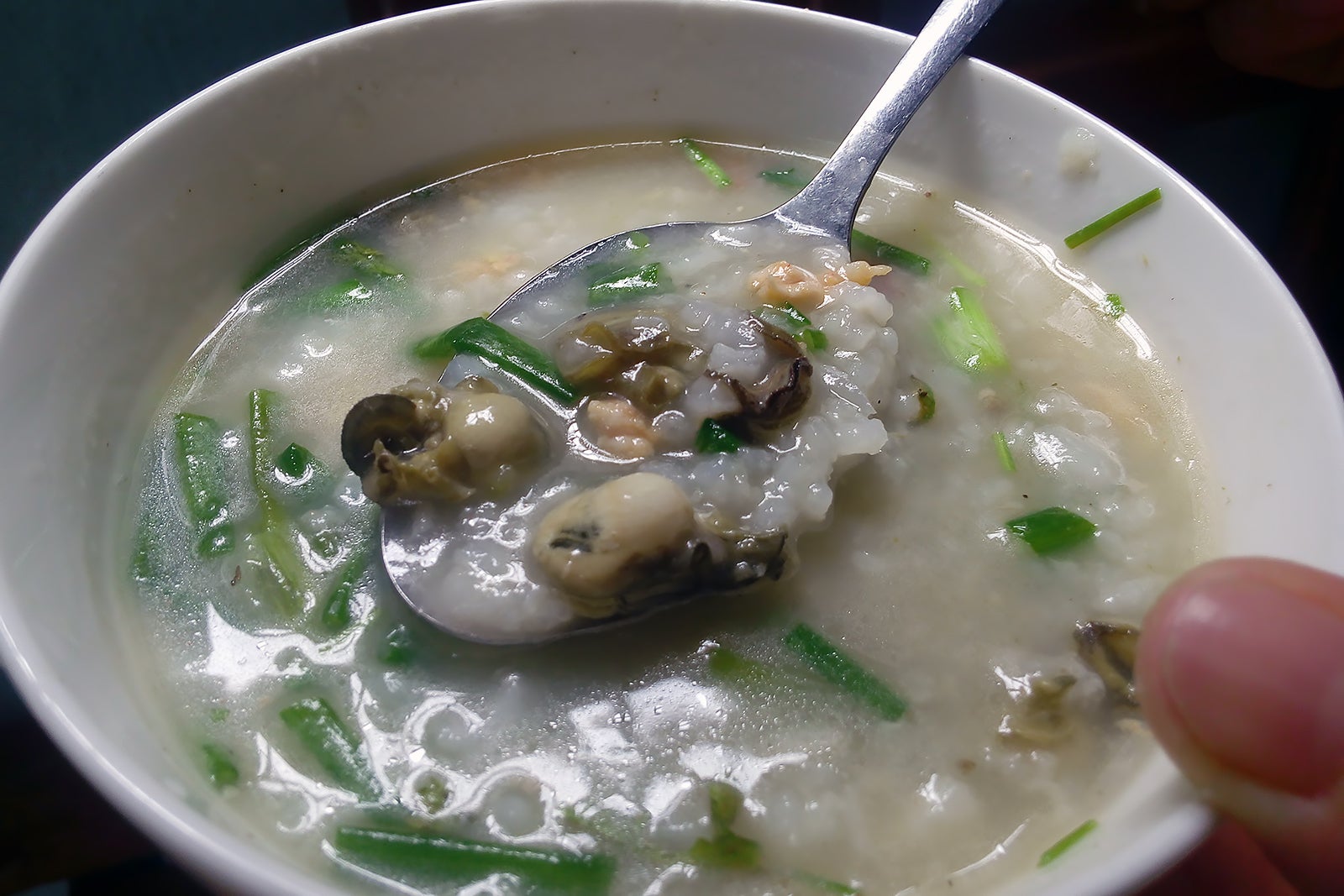 Oyster congee is one of the most popular seafood delicacies in Taichung. From its name, it may sound simple. But a tasty oyster congee requires careful preparation. Some of the famous vendors selling oyster congee in Taichung only use fresh oysters that don't smell fishy at all. The congee is made of Taiwanese rice, which is cooked slowly with the oysters to ensure their natural sweetness is fully absorbed. With a single bowl of oyster congee on the table, you can enjoy the taste and the chewy texture of the rice, a refreshing soup and sweet oysters at a time.
Expect long lines for this delicacy. Some sellers sprinkle fried shallots and chopped celery on oyster congee before it is served, and you can add chilli or pepper powder according to your preference. Scoop out each full oyster with a spoon and chew it slowly to enjoy the fresh taste in your mouth.
6
Almond tea (xing ren cha)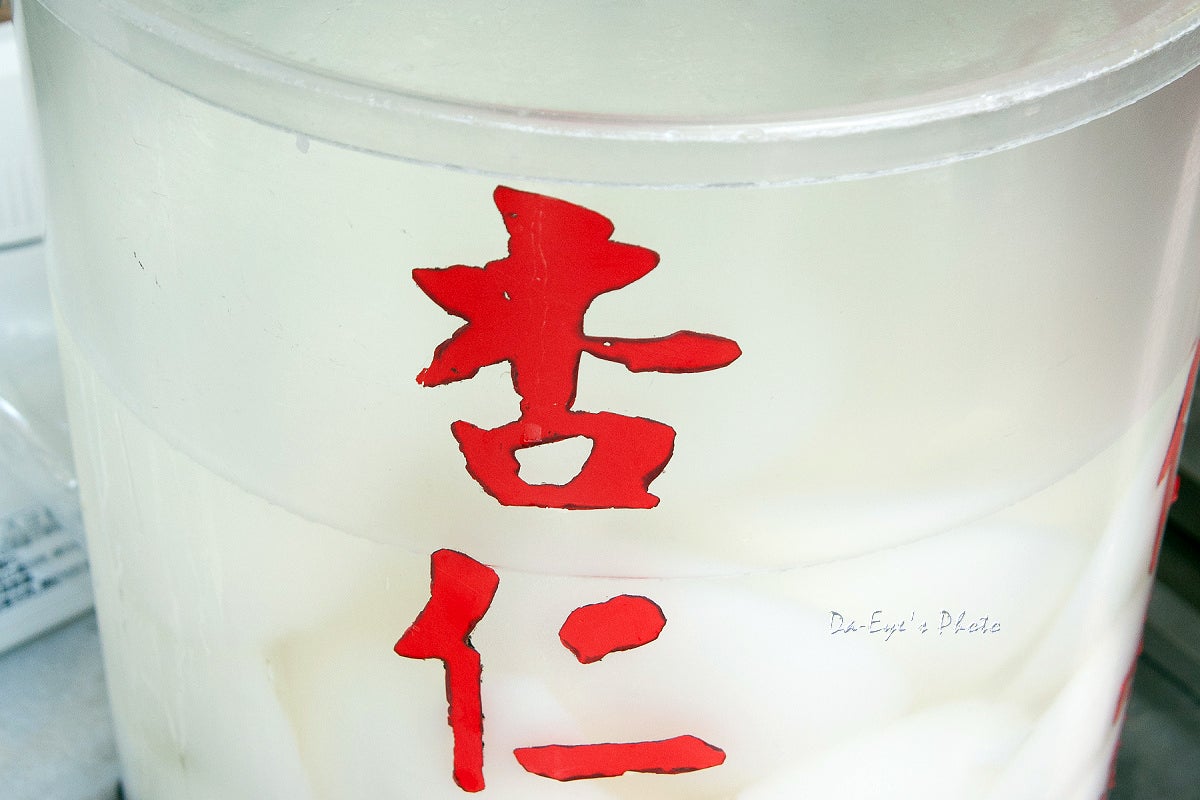 Almond tea is a traditional dessert that is both nourishing and highly popular in Taichung. Almond tea is made by grinding almonds into powder after steeping and boiling them together with rock candy. Although there is no tea in the whole boiling process, the finished product is as refreshing as tea, hence its name. There are many sellers in Taichung that mainly focus on almond tea. Their tea is made following ancient methods. Therefore, it has the natural aromas of almond, which is sweet and refreshing. Many believe that almonds are good for the lungs and in relieving cough.
Drink a cup of warm almond tea to moisten the throat. Some sellers also offer almond dregs. Customers can pack them in their own containers, and take them home for skin exfoliation or face care, or even to fertilise plants.
photo by Da-Eye (CC BY-SA 2.0) modified
7
Fried-noodle sandwich (chao mian mian bao)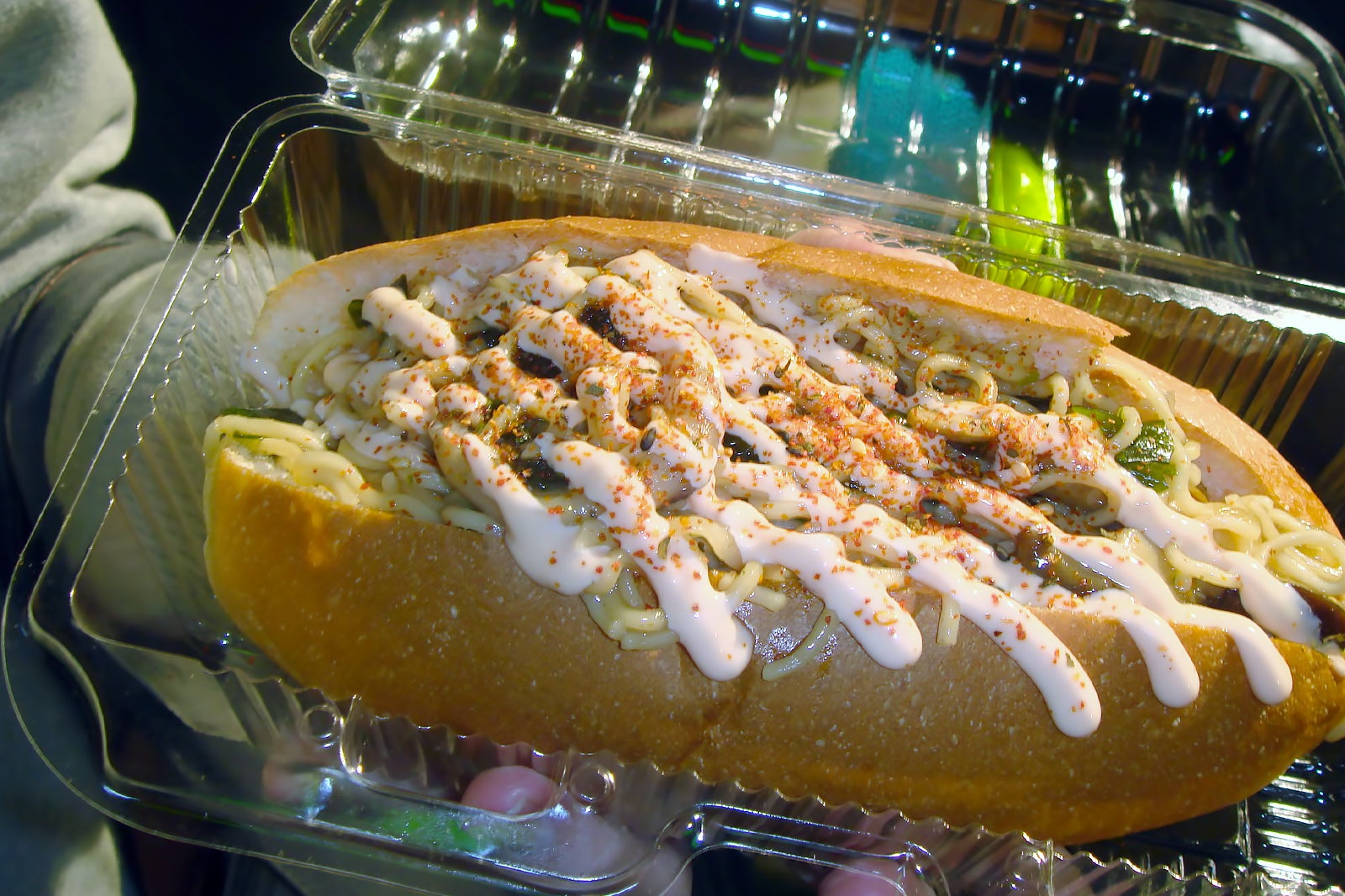 Fried-noodle sandwich originated in Japan and quickly became a popular dish after its introduction in Taichung. The hot fried-noodles are put into a long bread and added with special sauce. You can take it in hand to enjoy while it is hot. The aroma of the fried-noodles is perfectly integrated with the bread, which is very tasty and satisfying.
The secret behind fried noodle sandwiches is to make them fresh. That's why you can often see long queues at the stalls, waiting for the freshly ordered fried-noodles and bread to be made ready. Despite its Japanese origin, there have been many different flavours developed by local sellers in Taichung. In addition to the original flavours, they also come with Thai and Italian white sauce. Each is unique, making customers willing to queue for a long time to try the wonderful tastes.
photo by 我是小豪 (CC BY-SA 3.0) modified
8
Chicken feet jelly (ji jiao dong)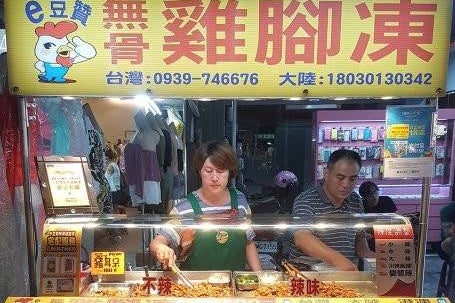 Chicken feet jelly is a unique delicacy in Taichung. Many who dare not have chicken feet can try this chewy delicacy. While the more common marinated chicken feet often have an appearance and texture that some find unpleasant, chicken feet jelly looks gelatinous, made by freezing the marinated chicken feet and marinade together.
Opening a box of chicken feet jelly, you'll find chicken feet in a dark brown gelatin shape. It's bright and transparent and more appealing. Chicken feet jelly is soft and tender, without any unpleasant textures. Moreover, the freezing process makes it taste fresher and sweeter. It's so soft that it melts in the mouth, and it can be enjoyed without heating.
photo by KAICHEN (CC BY-SA 4.0) modified
9
Pork belly rice (kuang rou fan)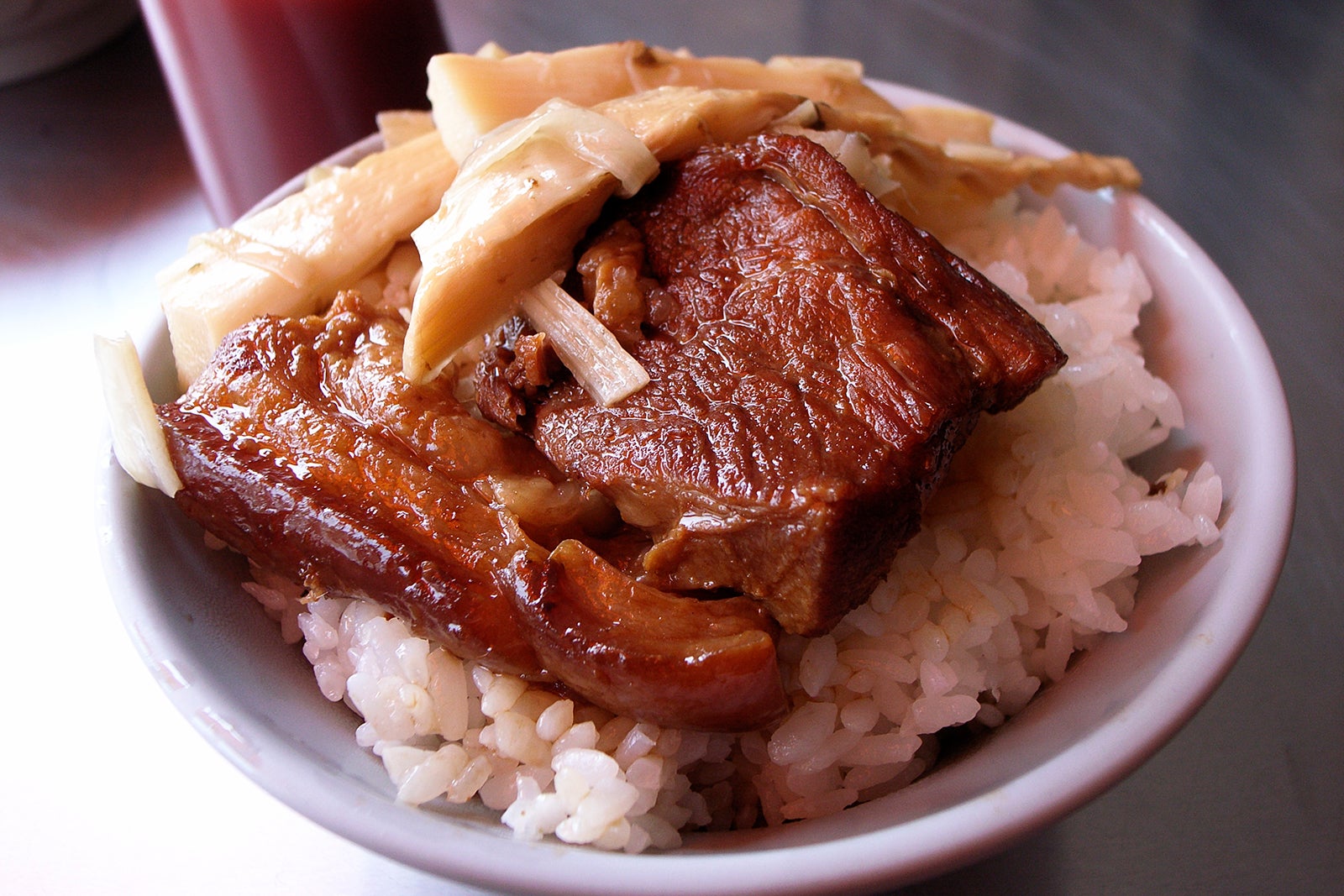 Pork belly rice is popular in Taichung, with many stalls often selling it in the traditional markets. Taichung residents would have their own favourite pork belly rice stalls. The ingredients for pork belly rice are simple: cooked rice covered with a piece of braised pork belly. To make delicious pork belly rice, the essential ingredients are fragrant and sweet rice and marinated pork belly that's moderately fatty.
Popular pork belly rice stalls in Taichung are always packed with customers. For a seat, you'd often have to wait in line. You can ask for fattier or leaner braised pork when ordering your pork belly rice. Some sellers will pour more of the delicious braising stock on the rice, making way for even bolder flavours. It's one of the enticing Taichung food experiences you should try.
photo by chia ying Yang (CC BY 2.0) modified
10
Fengren ice (feng ren bing)
Fengren ice is one of Taichung's most representative ice desserts. The origin of its name is very interesting. It is said that in the winter, many people would rather wear coats and continue to have this delicious ice on the street, just like crazy people (also pronounced 'fengren' in Chinese), hence the name. What makes this ice product so good that even cold weather doesn't dampen people's enthusiasm for it? The amazing combination of ingredients is ice cream, red kidney bean and plum ice.
The balance of sour and sweet tastes is quite pleasing. On your visit to Taichung, taste each ingredient separately first, and then mix the 3 ingredients. You'll find that these ingredients add layers to the palate, offering an indescribably wonderful taste. You may find that you've reached the bottom of the bowl all too soon, but you can always order another.
Back to top