10 Movie Locations in Chicago
Iconic Chicago Places Depicted in Films
Chicago is a city that's known for its beautiful skylines, with iconic skyscrapers that blend rich Art Deco and magnificent Beaux-Arts stylings. With such an ideal backdrop, the city has become one of the most favourable playgrounds for filmmakers. It's widely believed that Chicago was the inspiration for Batman's Gotham City, so many movies based on the comics shoot on location here.
From high-speed underground street chase sequences, to mobster dramas set against convincing historical settings, you might've seen a bit of Chicago in your favourite blockbusters. Let's take a director's eye across the city with some of these notable movie locations in Chicago.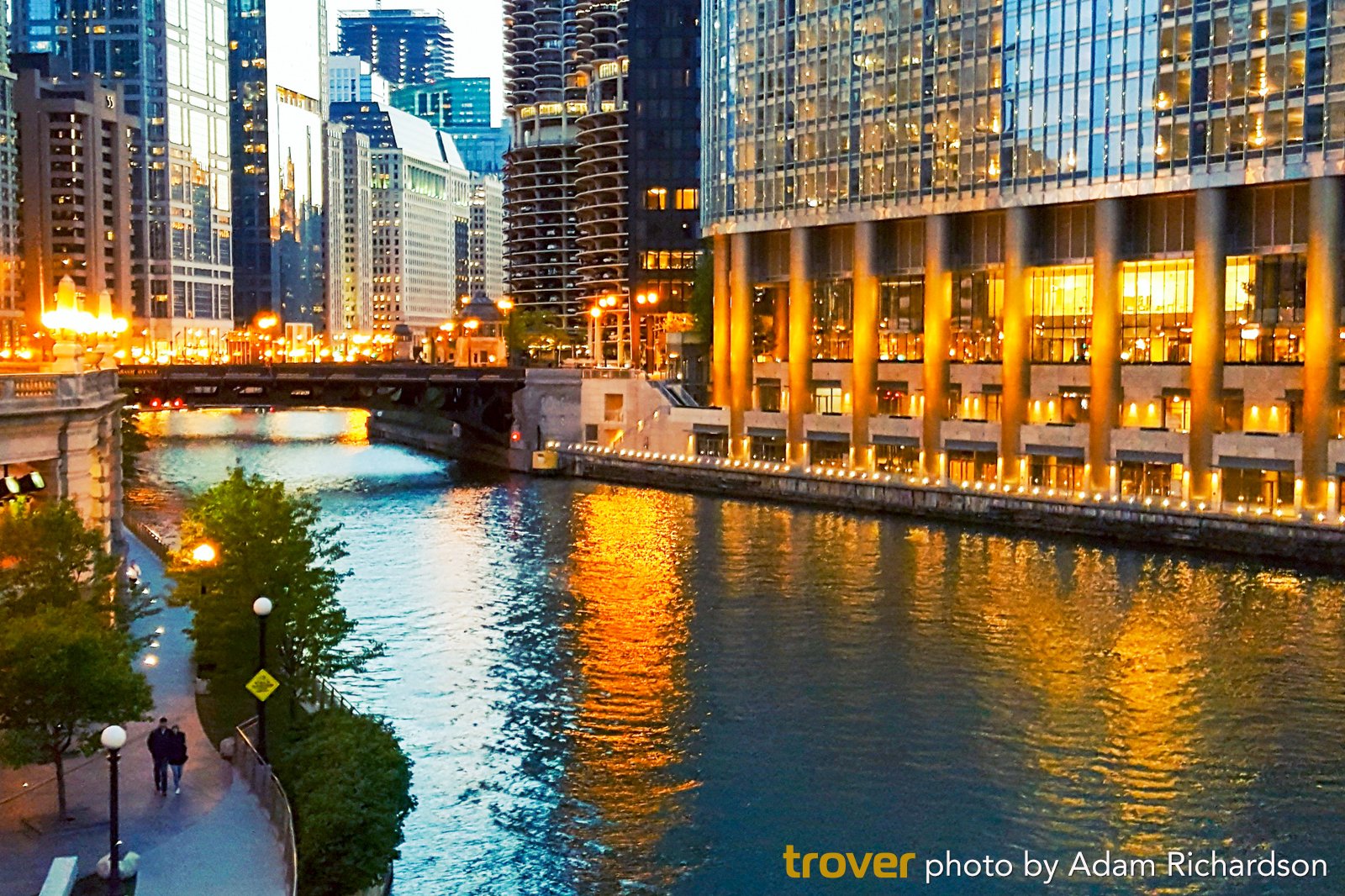 East Upper Wacker Drive
Transformers: Dark of the Moon (2011)
Michael Bay has a knack of blowing up stuff in his films, and Chicago has seen more than its fair share of on-screen destruction. It so happens that most of the on-screen mayhem and aftermaths of battling alien robots in his Transformers movies were shot in and around Chicago – even for depictions not really set in the city.
In the third Transformers instalment, we see the Chicago Post Office building on West van Buren Street as NEST headquarters. We also get to see explosive sequences in front of The River Hotel on Wacker Drive, just south of DuSable Bridge. Again, Wacker Drive stands in for Hong Kong in the fourth instalment, with reversed traffic and covered street signs.
Location: East Upper Wacker Drive, Chicago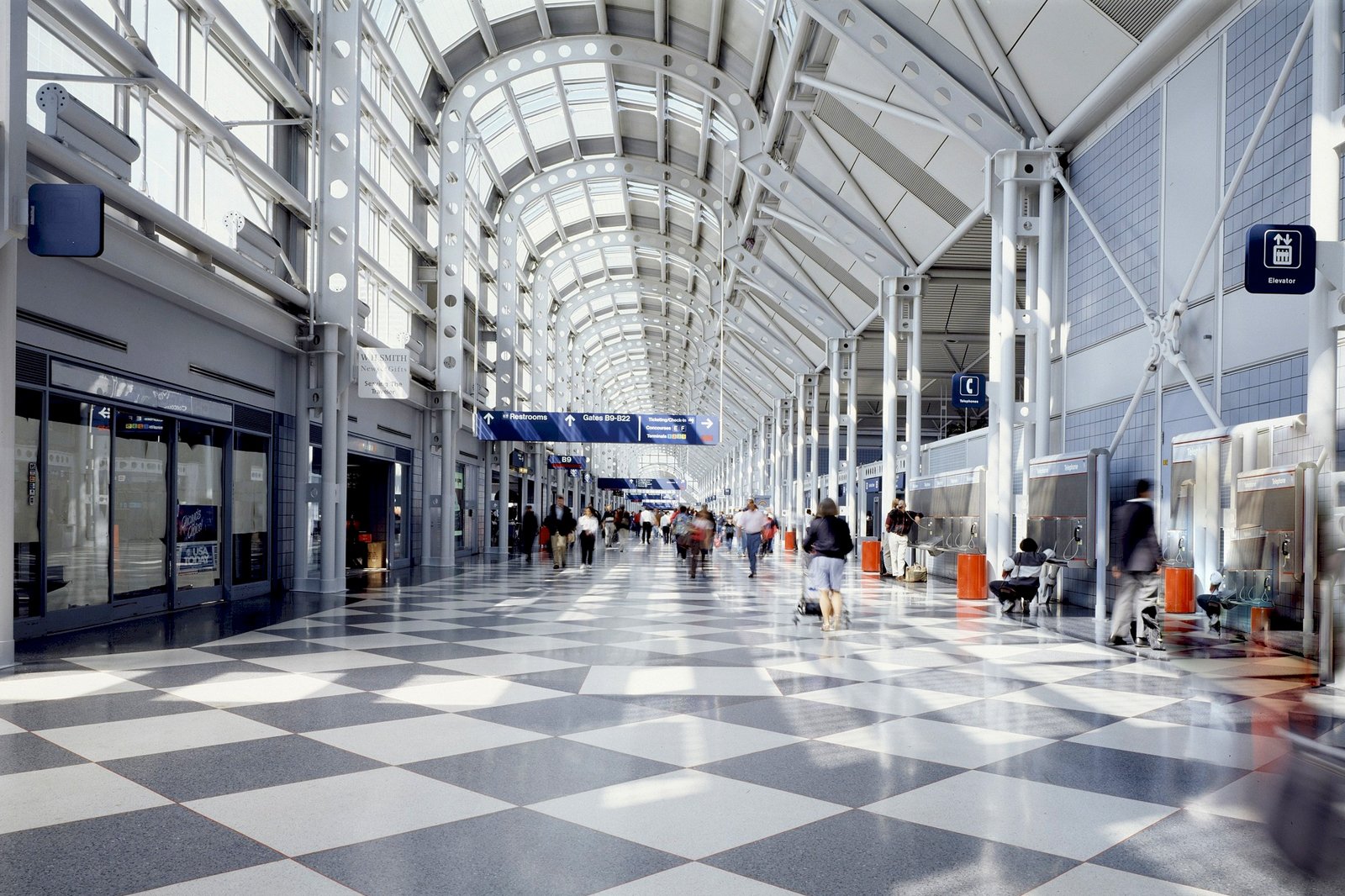 O'Hare International Airport
Home Alone (1990)
This classic adventure comedy starring Macaulay Culkin was shot entirely in the Greater Chicago area. Chicago's O'Hare International Airport partly stood in as the Paris Orly Airport. The young protagonist's home where most of the hilarious burglar booby-trapping scenes take place is at 671 Lincoln Avenue in Winnetka, a short drive north from downtown Chicago.
A snowy Hubbard Woods Park with a skating rink was where Culkin's character fled and slid away from a police officer after unintentionally stealing a toothbrush in a local pharmacy across the road.
Location: 10000 W O'Hare Ave, Chicago, IL 60666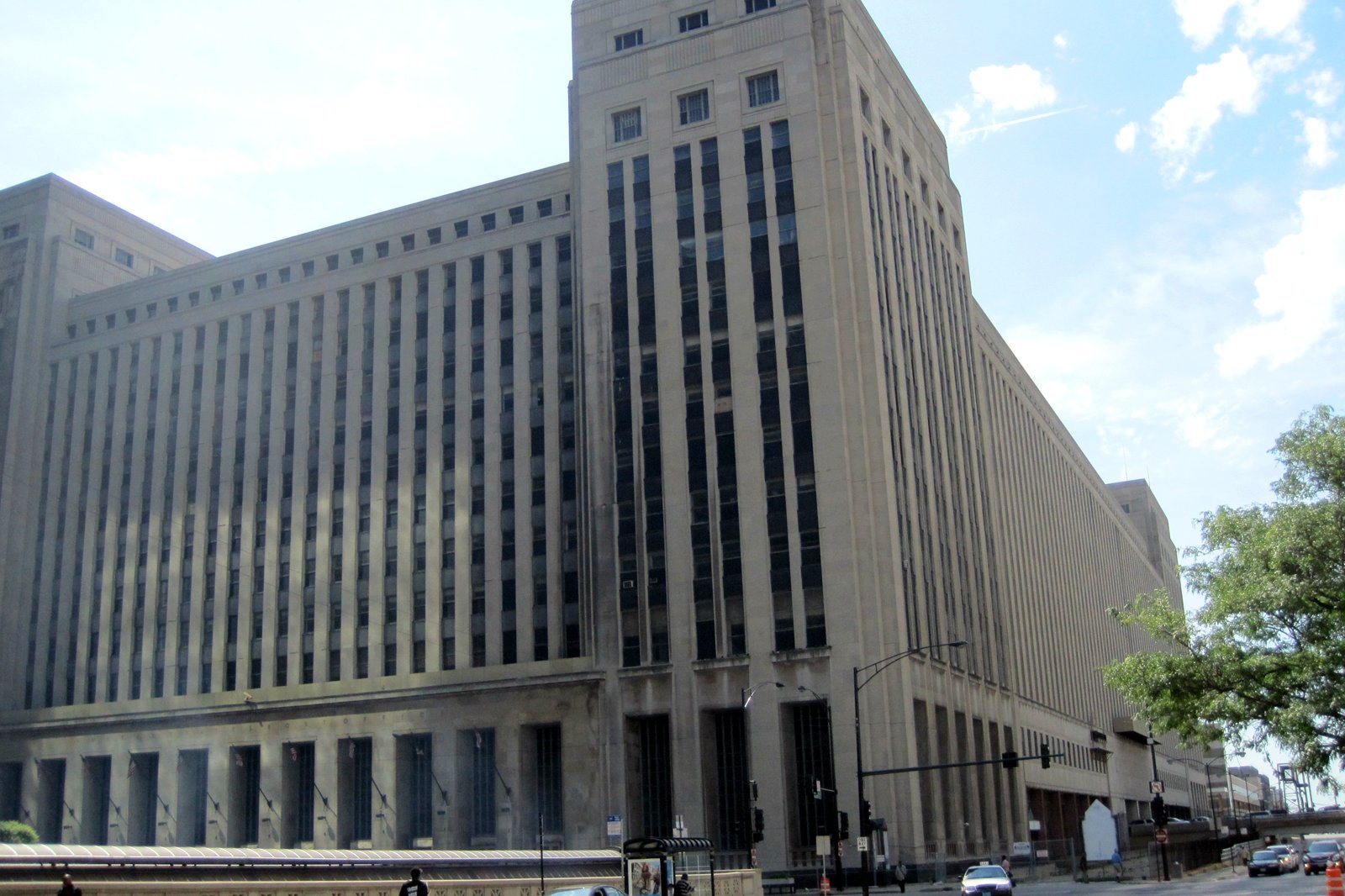 The Old Main Post Office
The Dark Knight (2008)
The Old Main Post Office on West Van Buren Street is one of Chicago's most imposing historical landmarks. It was built in the 1920s and served as a base for postal business services until 2016.
The grand structure and classic art deco of the building made it a backdrop of choice in a few blockbusters. Its north-eastern corner stood in as the façade for the Gotham police station in Christopher Nolan's Batman Begins (2005) and its north-western corner was the set for the intense Gotham city heist opening sequence in the sequel, The Dark Knight (2008).
Location: 433 W Van Buren St, Chicago, IL 60607
photo by Teemu008 (CC BY-SA 2.0) modified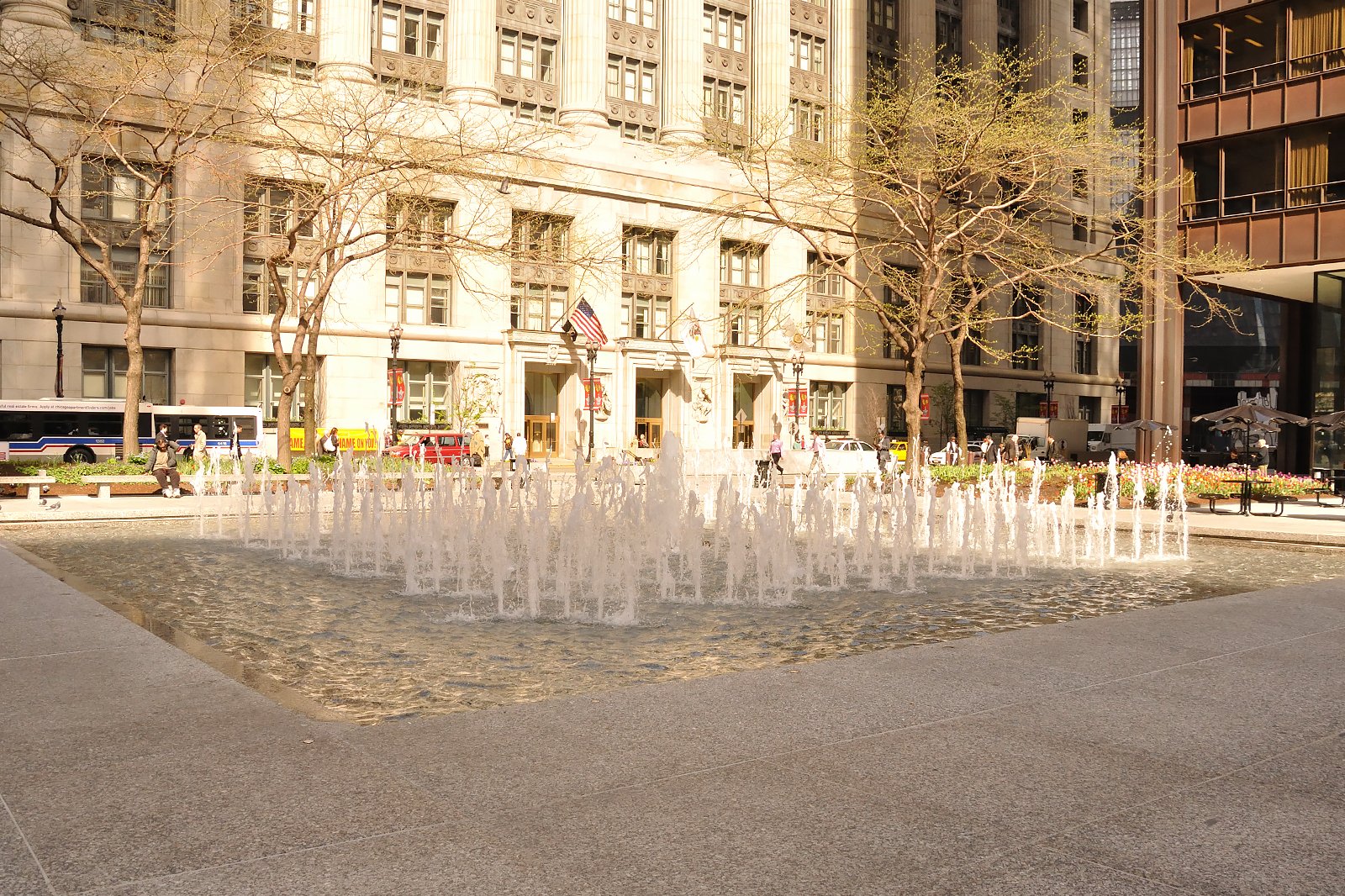 Daley Plaza
The Fugitive (1993)
In one of Harrison Ford's most memorable roles, he goes cross-country to flee the law after he's been wrongfully accused of murdering his wife. We're shown the Chicago cityscape, as well as the streets below it, as he combs through the city's neighbourhoods and back alleys.
Among the few memorable sites depicted are Wells Street Bridge, where he uses a payphone to call his lawyer, and the civic centre of Daley Plaza, which he runs through before blending in with the St. Patrick's Day Parade crowd on North Dearborn Street.
Location: 50 W Washington St, Chicago, IL 60602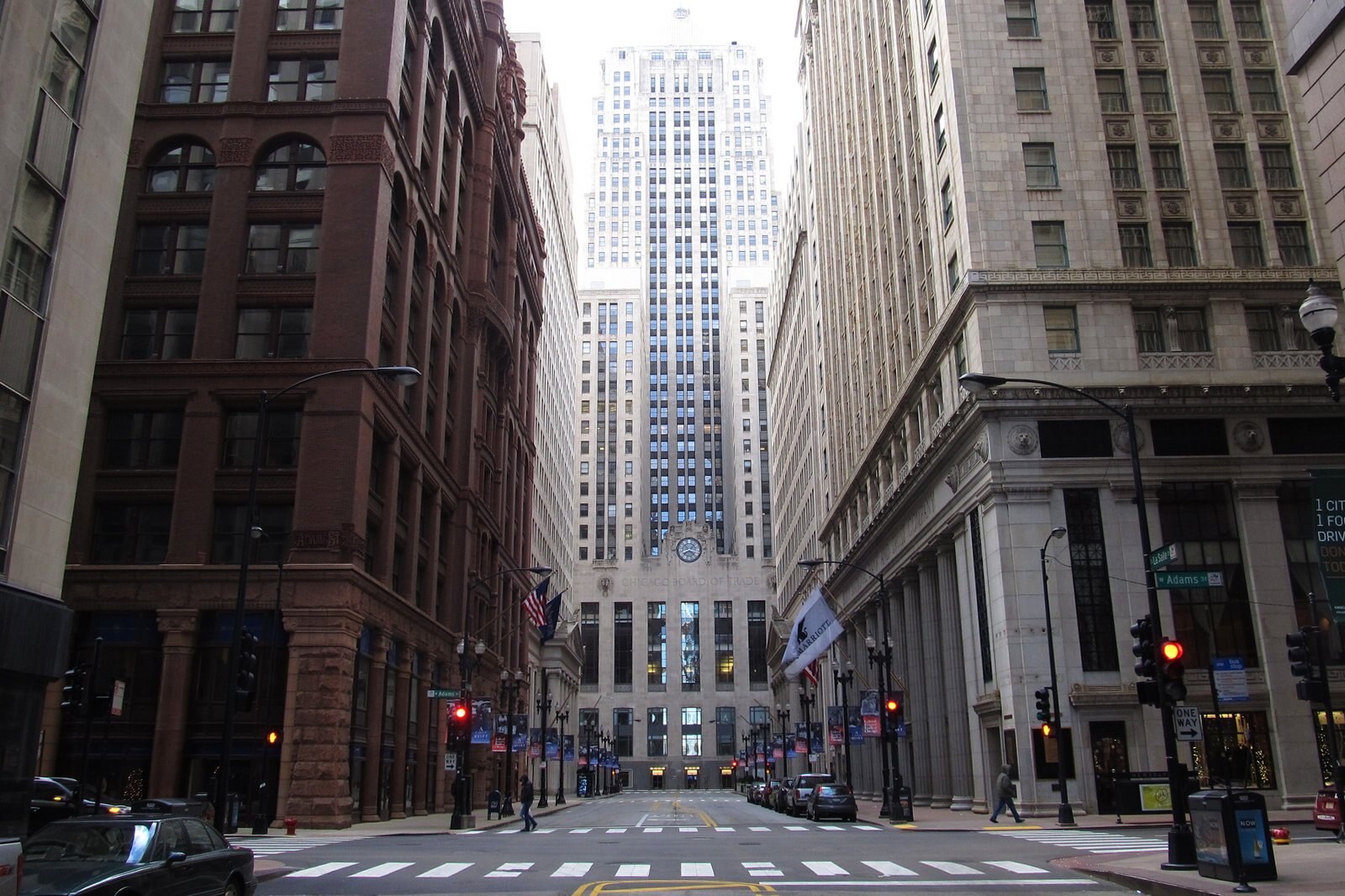 Chicago Board of Trade
The Untouchables (1987)
The Chicago Board of Trade building is an iconic Art Deco skyscraper on West Jackson Boulevard. In film, it stood in as Bruce Wayne's corporate HQ in Batman Begins (2005). One of its trading floors was shown in Ferris Bueller's Day Off (1986).
Autobots battled Decepticons there in Transformers: Dark of the Moon (2011). Perhaps the building's biggest role was in the classic crime drama, The Untouchables (1987), which showed it in many of its scenes.
Location: 141 W Jackson Blvd, Chicago, IL 60604
photo by Ken Lund (CC BY-SA 2.0) modified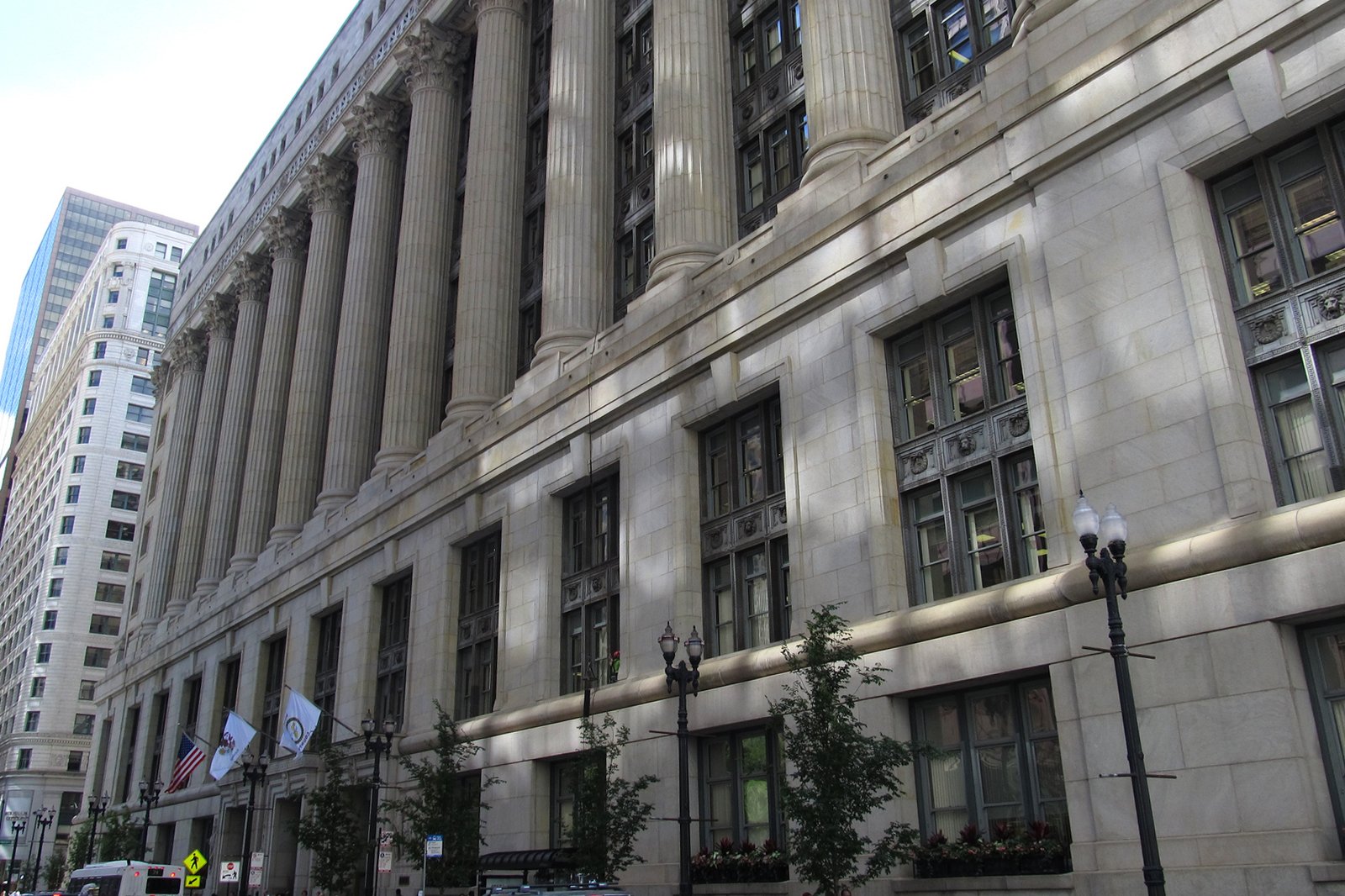 Chicago City Hall
The Blues Brothers (1980)
In the climactic high-speed chase scenes of John Landis' whacky action flick, we see the paroled convict duo, played by career funnymen John Belushi and Dan Aykroyd, race through Chicago in their loudspeaker-topped 1974 Dodge Monaco, nicknamed the "Bluesmobile". They do crazy manoeuvres with a dozen siren-blaring police on their tail.
Crashing through Daley Plaza, they dash into the Chicago City Hall, looking for the clerk office (cameoed by Steven Spielberg) to pay their taxes – just in time when the SWAT Team and National Guard barge in and apprehend them.
Location: 121 N LaSalle St, Chicago, IL 60602
photo by Ken Lund (CC BY-SA 2.0) modified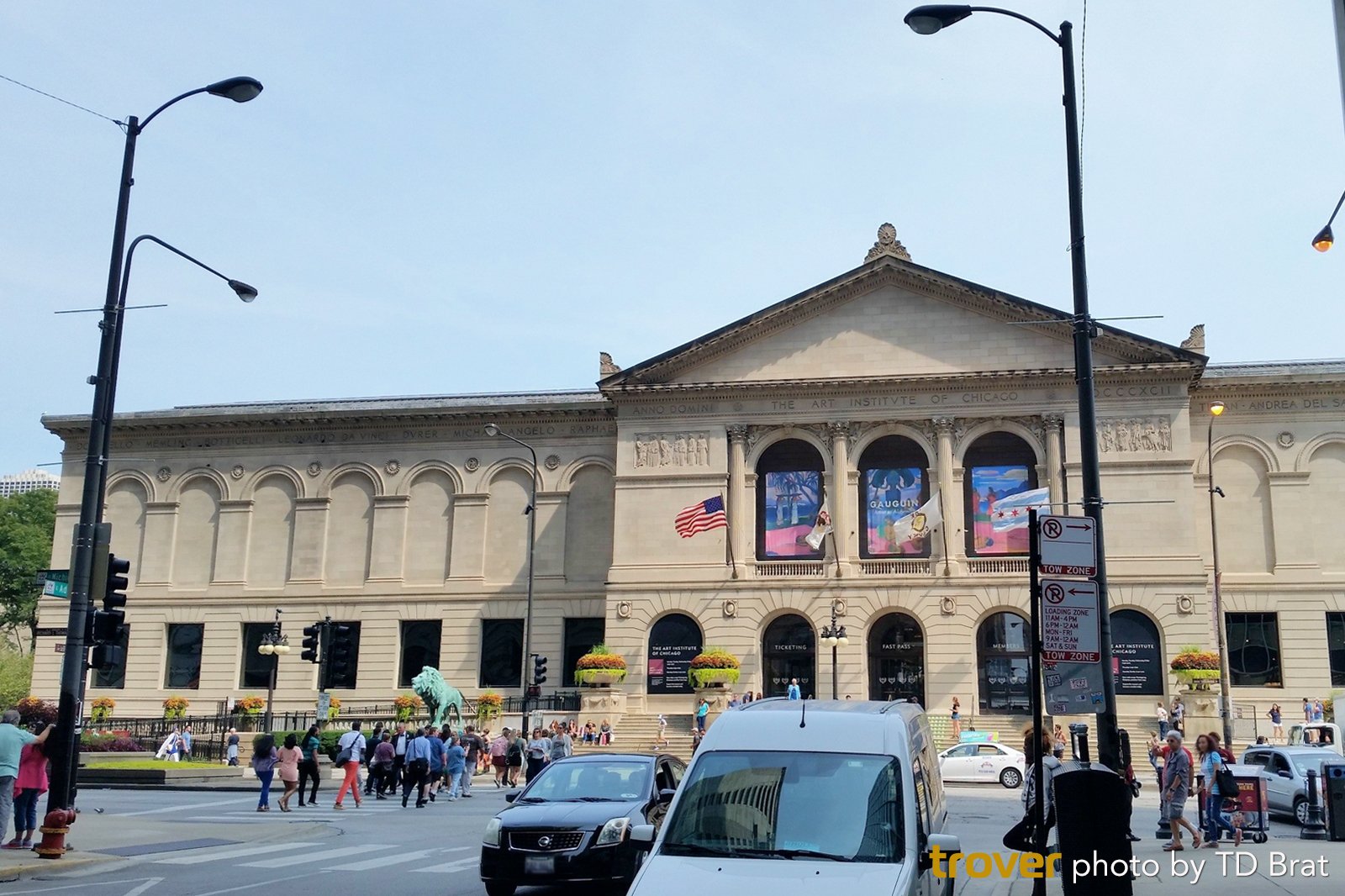 Art Institute of Chicago
Ferris Bueller's Day Off (1986)
Ferris Bueller, played by Matthew Broderick, has a habit of cutting classes in this '80s teen comedy flick. After calling in sick before graduation, he goes on one of his last escapades, somehow managing to get his hands on his dad's red 1961 Ferrari 250GT California Spyder.
Ferris and his friends take on the streets of Chicago, with a drop-by at the Art Institute of Chicago. One of the artworks Ferris stares at very deeply here is a pointillist painting by the French post-Impressionist artist, Georges Seurat, whose works you can still see there today.
Location: 111 S Michigan Ave, Chicago, IL 60603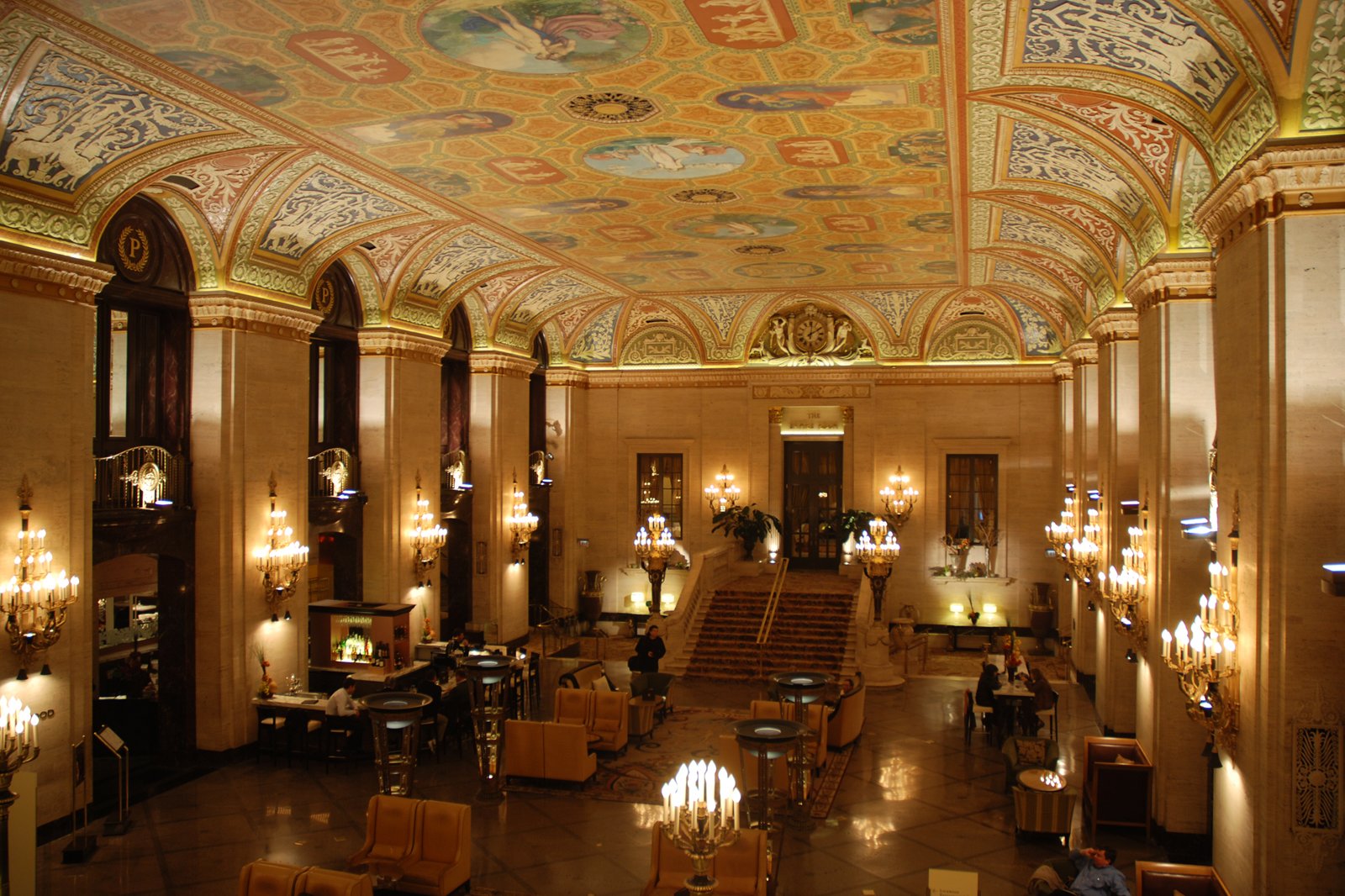 The Chicago Hilton & Towers
Little Fockers (2010)
This hilarious sequel to Meet the Parents (2000) and Meet the Fockers (2004) by Paul Weitz was shot entirely in Chicago. We get to see an overview of Chicago with its skyline in the opening, as well as some scenes around Lincoln Park, Grant Park and the front of The Chicago Hilton & Towers on South Michigan Avenue.
The Chicago Hilton's magnificent Beaux-Arts style and its majestic grand lobby shows up in other movies, including Tom Hanks' crime drama, Road to Perdition (2002).
Location: 720 S Michigan Ave, Chicago, IL 60605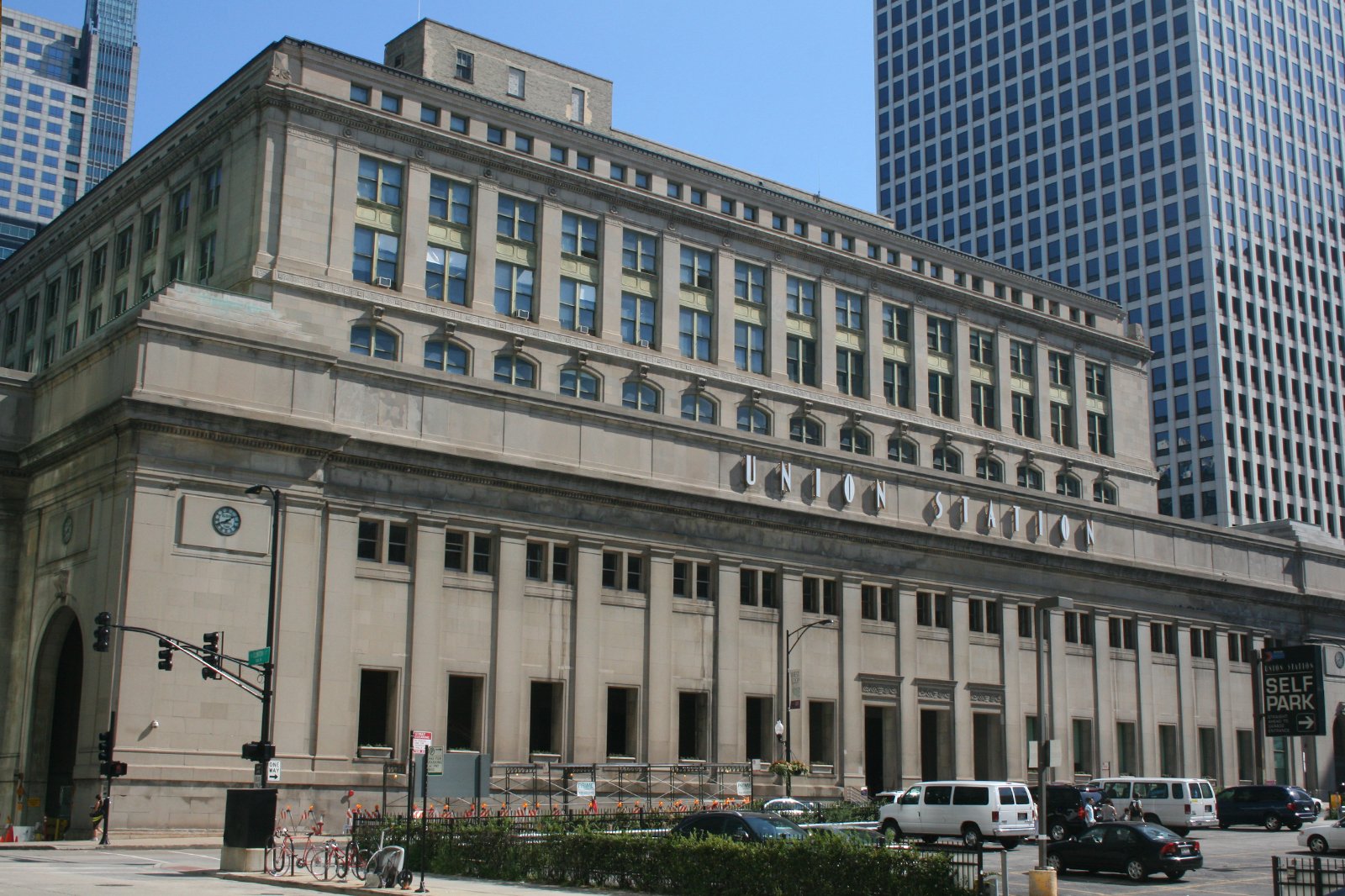 Union Station
Public Enemies (2009)
As one of Chicago's most iconic and historical landmarks, Union Station serves as backdrop to various scenes in movie history. It's the city's primary terminal for commuter trains, covering over 9 city blocks underneath Chicago's network of streets and skyscrapers.
We can see the station's vast and beautiful interiors in Michael Mann's thriller, Public Enemies (2009), where Christian Bale's FBI agent character meets up with other field agents, before starting their hunt for the bank-robber (played by Johnny Depp).
Location: 225 S Canal St, Chicago, IL 60606
photo by Jeramey Jannene (CC BY 2.0) modified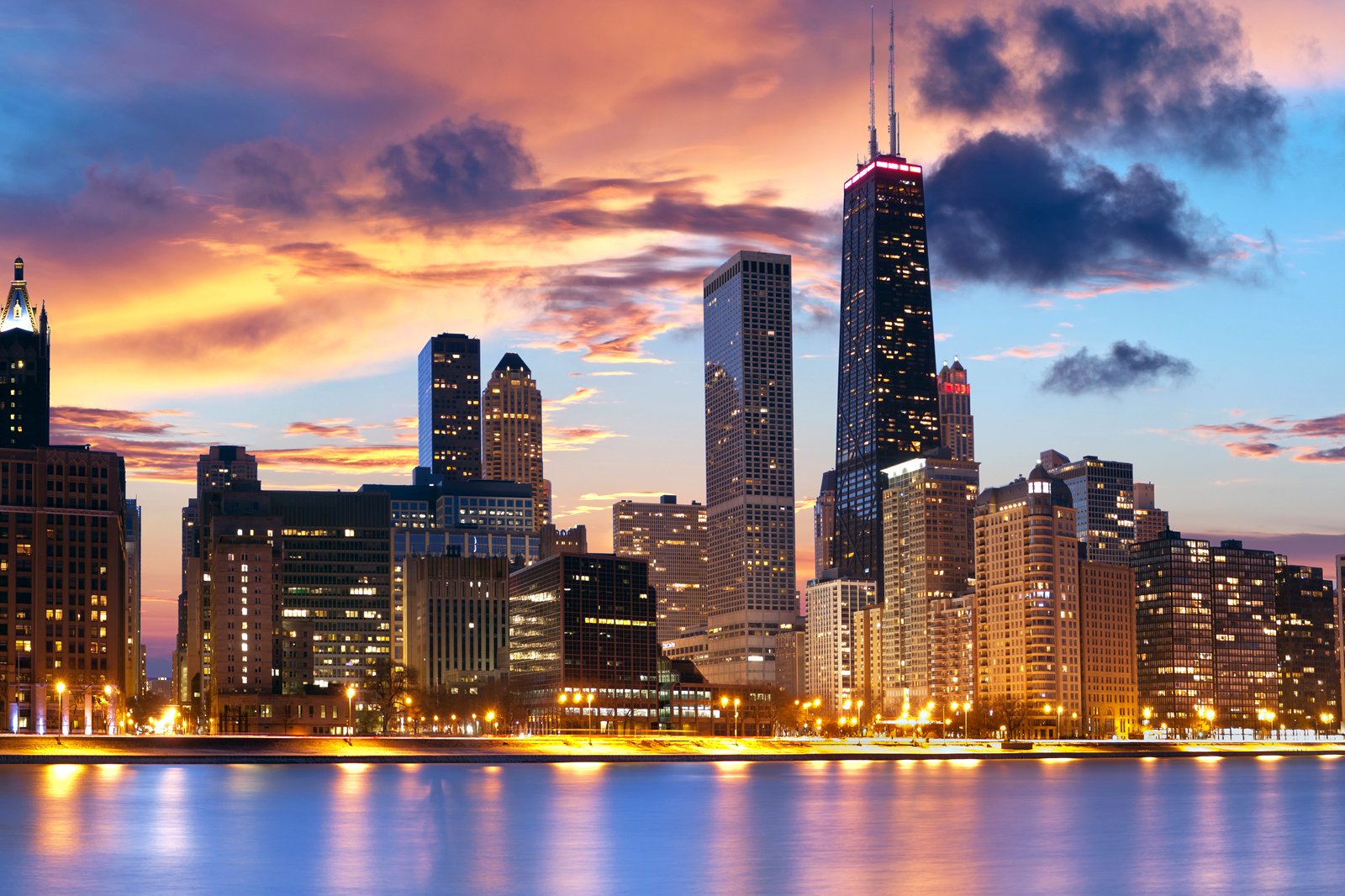 Willis Tower
Rampage (2018)
If San Francisco's Golden Gate Bridge makes its way high up on the list of monumental damage movie tropes, Chicago has its own landmark that somehow gets its fair share of catastrophic damage in movies. This honour goes to Willis Tower, formerly Sears Tower.
In the climax of Rampage (2018), we see the movie's mutant beasts get lured to the top of Willis Tower. The ensuing mayhem sees a plane crash, fight sequences, and the tower ultimately toppling over from the damage.