10 Best Nightlife Experiences in Myrtle Beach
Where to Go in Myrtle Beach After Dark
Myrtle Beach is known as a fun seaside escape by day, but the festive vibe cranks up well into the night here, too. Broadway at the Beach is lined with several bars, pubs and dance clubs where party-seeking crowds wander in search of boozy refreshments and hot spots for live music or dancing.
For a more low-key night out, thirsty punters head to Murrells Inlet with its strip of waterfront bars. Away from the bar and club scene, places like Pirates Voyage dinner theatre and the Carolina Opry are among the more family-friendly nightlife attractions. Looking for more ideas on Myrtle Beach nightlife? Here are a few suggestions.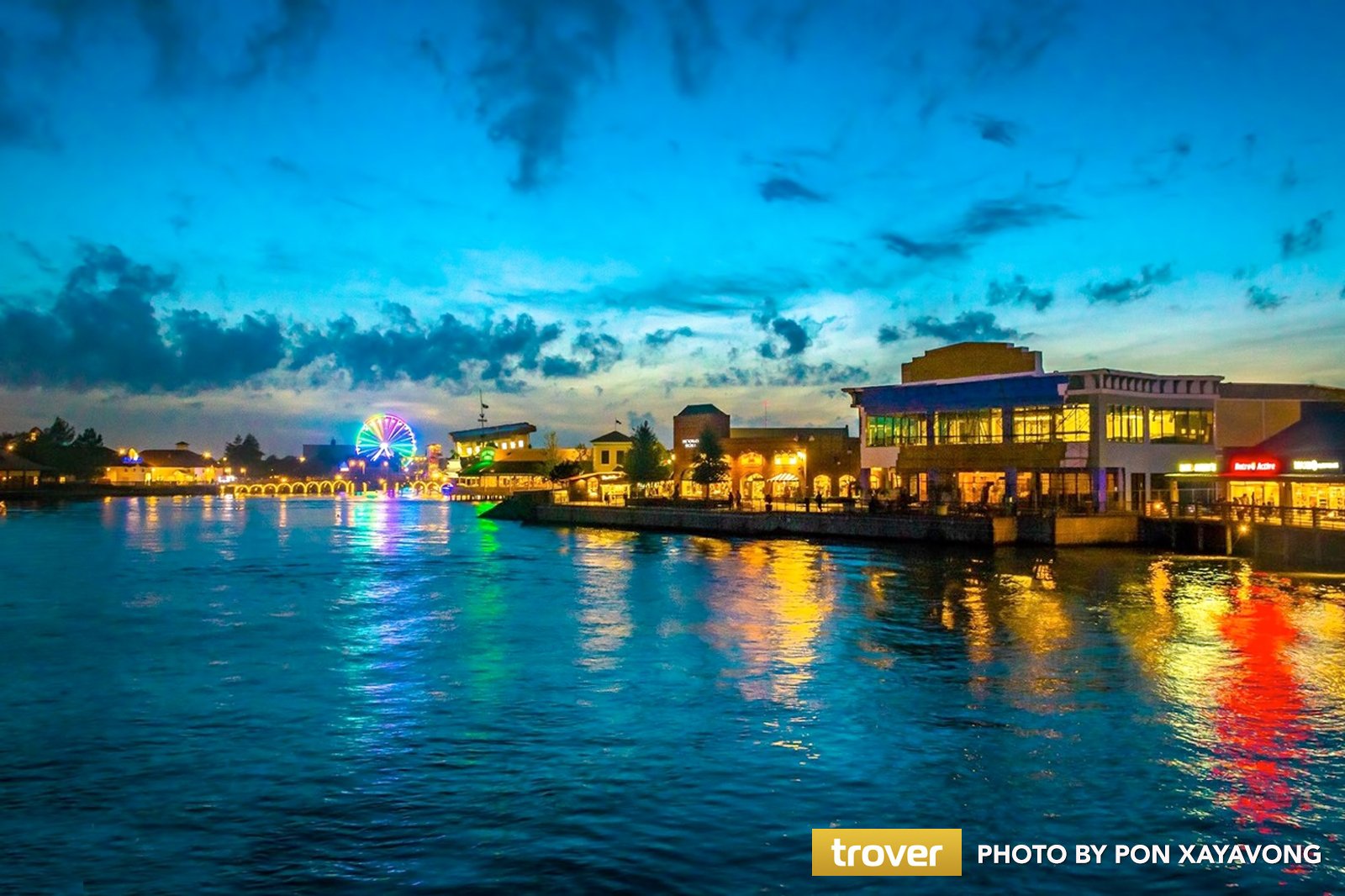 Go bar-hopping along Broadway at the Beach
Prime spot for cocktail hour and beyond
If you're not sure where to go at night in Myrtle Beach, you can't go wrong by heading out to Broadway at the Beach, a lively avenue jam-packed with bars, clubs, shops and restaurants. The long-running Wet Willie's bar is a good place to start with some 20 daiquiri flavours to try.
If the bar scene's not your thing, then go to a movie or book a show at the Legends in Concert theatre. With nightly tribute concerts of music legends past and present, this might be your only chance to see Elvis, Elton and Aretha all in one evening.
Location: 1325 Celebrity Circle, Myrtle Beach, South Carolina, USA
Phone: +1 843 444 3200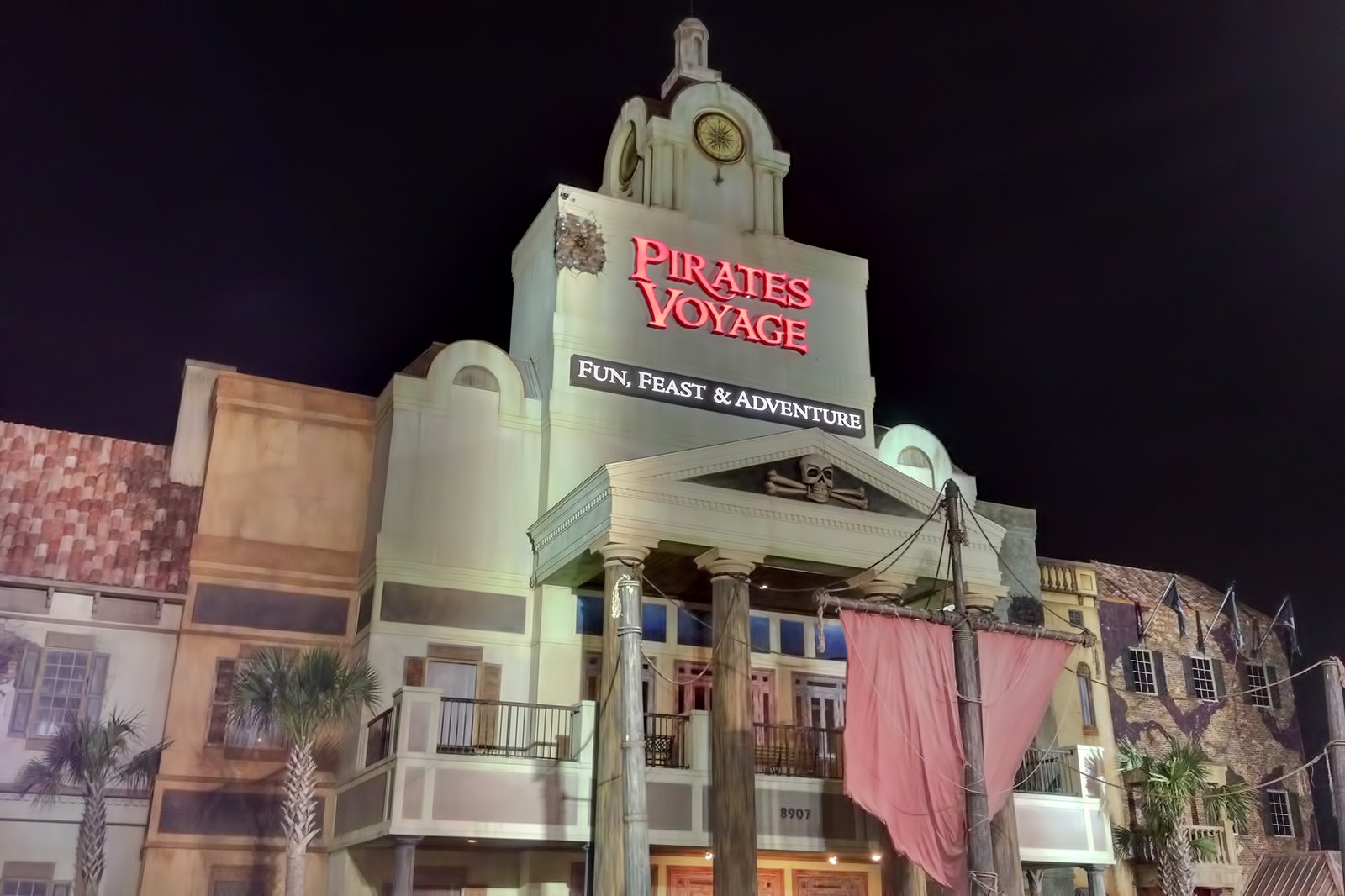 Go for an epic dinner show at Pirates Voyage
For a swashbuckling good-time, ahoy!
This dinner theatre gives you an all-sensory immersion into the adventurous life of a pirate. Arrive before the show to explore the pirate's village and its realistic setting of pirate ships and a lagoon. Watch thrilling acrobatics, a mermaid show, swordfights and scenes of pirates battling to uncover lost treasure all while enjoying a hearty 4-course meal.
Ticket prices start at about $49 with discounts for kids, with showtimes at 6pm nightly and a second show at 8.30pm on Saturdays. Vegetarian and gluten-free meals are available by request.
Location: 8907 North Kings Highway, Myrtle Beach, South Carolina, USA
Phone: +1 843 497 9700
photo by Myrtle Beach TheDigitel (CC BY 2.0) modified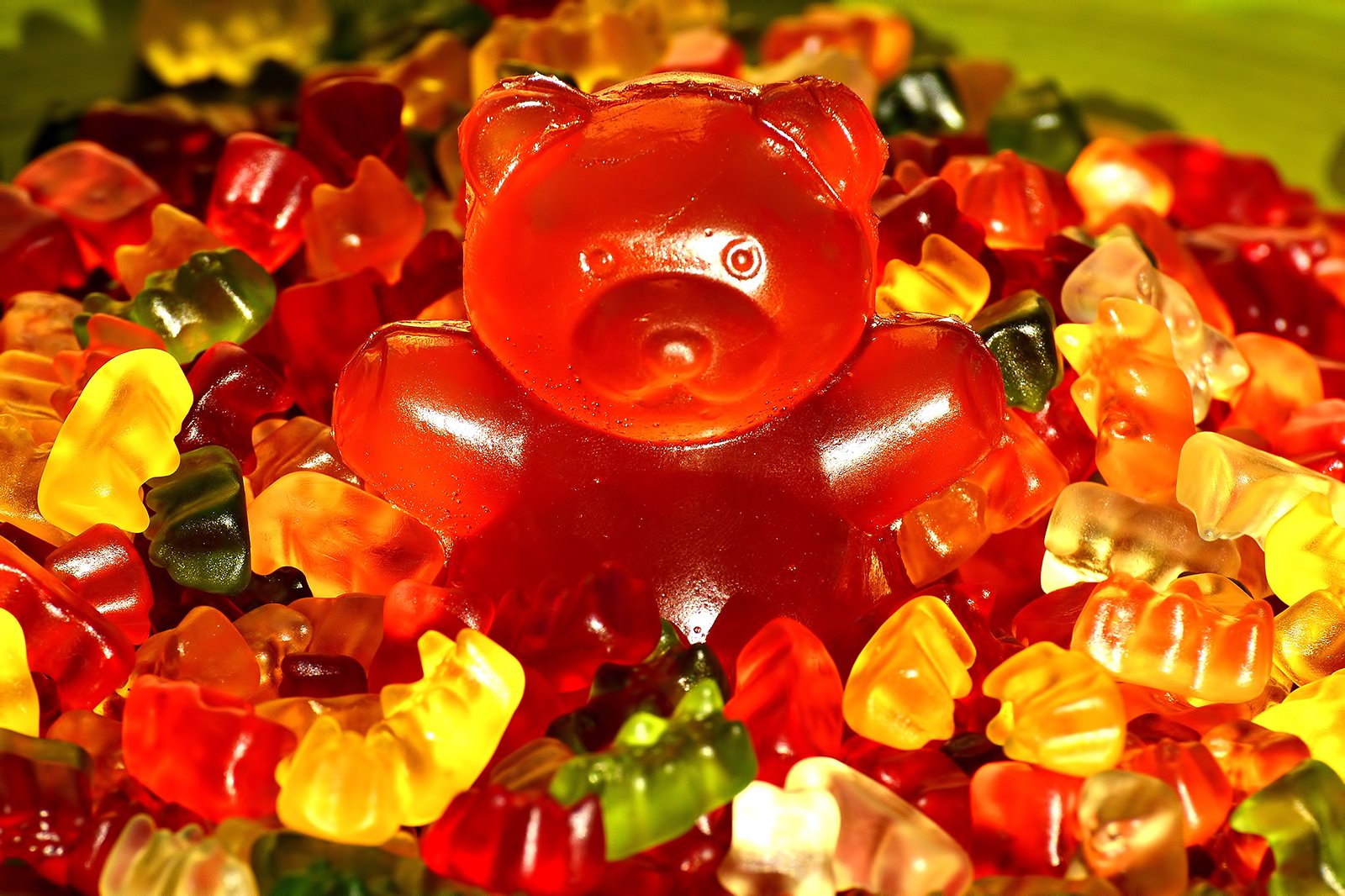 Sample booze-infused gummy bears at Fat Tuesday
The Grand Strand's stiffest and slushiest cocktails
This offshoot of the original New Orleans bar claims to serve the strongest daiquiris on the Strand. Try deadly-sounding frozen daiquiri mixes like 44 Magnum, Mudslide and 190 Octane at the self-service bar, then go for a $1 shot to chase it all down. Or get your sweet fix with a sharp kick by downing gummy bears soaked in Everclear.
Drink specials are offered daily, with a generous happy "hour" that lasts from 4pm to 8pm. Every night the fun spills out to the outdoor patio, where you can sit and watch the wandering crowds on Broadway at the Beach.
Location: 1318 Celebrity Circle, Myrtle Beach, South Carolina, USA
Open: Monday-Friday from 4pm to 1:30am. Saturday and Sunday from 12 noon to 1:30am
Phone: +1 843 444 3255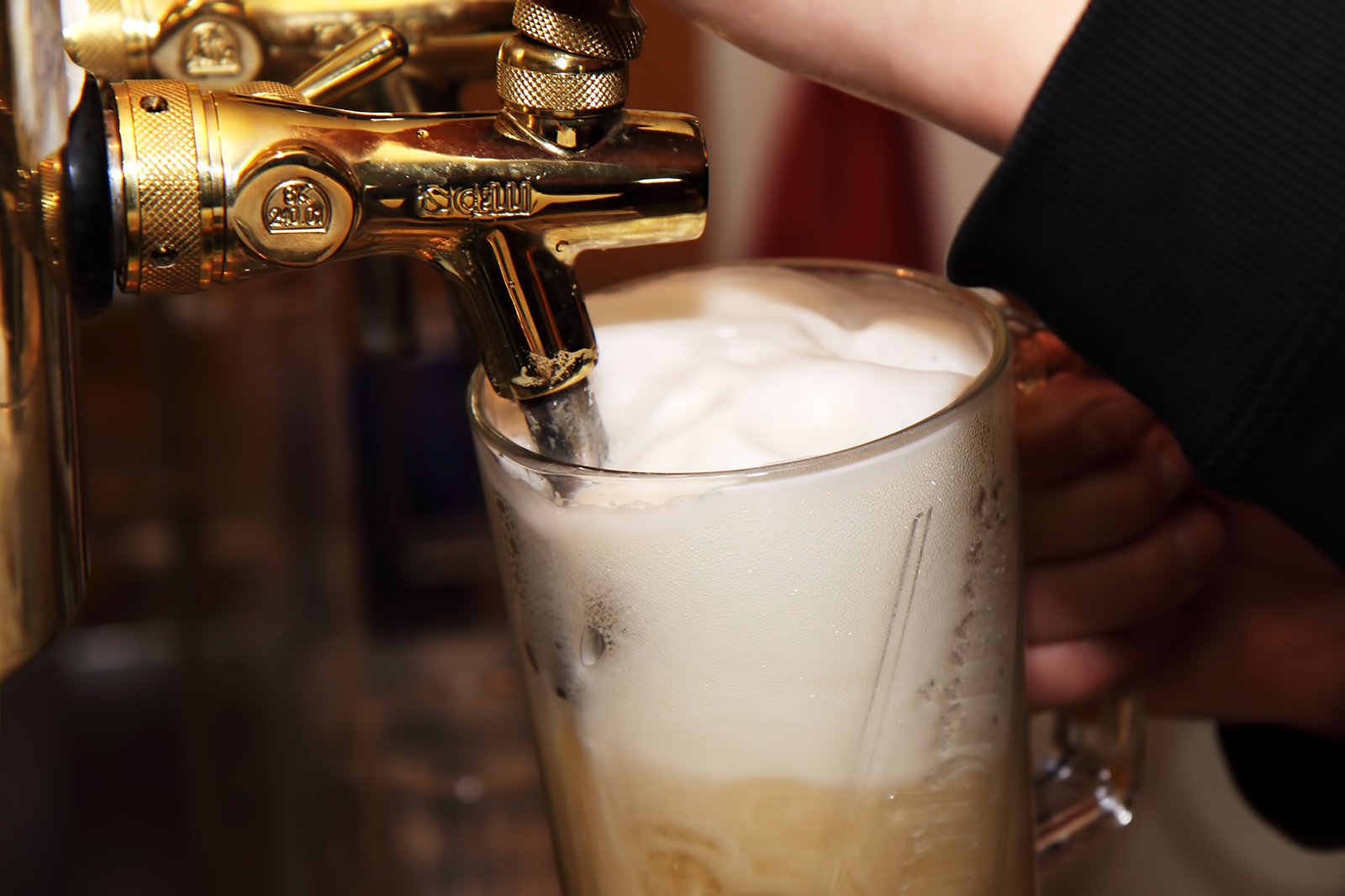 Try a beer sampler at Liberty Brewery and Grill
One of South Carolina's first brewpubs
As one of the few craft breweries in Myrtle Beach, the Liberty offers a tempting choice of draught brews in a relaxed lakeside setting at Broadway at the Beach. Go for a sampler of 8 varieties or enjoy a full pint of one of their quirkily-named brews like Wheat the People or Honest I.P.Abe.
Many choose to stay for dinner to enjoy Angus beef steak, prime rib or chicken wings to pair with the beer. It's a family-friendly place with plenty of food items on the menu that appeal to all ages (for the beer, of course, you'll need to be over 21).
Location: 1321 Celebrity Circle, Myrtle Beach, South Carolina, USA
Open: Daily from 11am to 9pm
Phone: +1 843 626 4677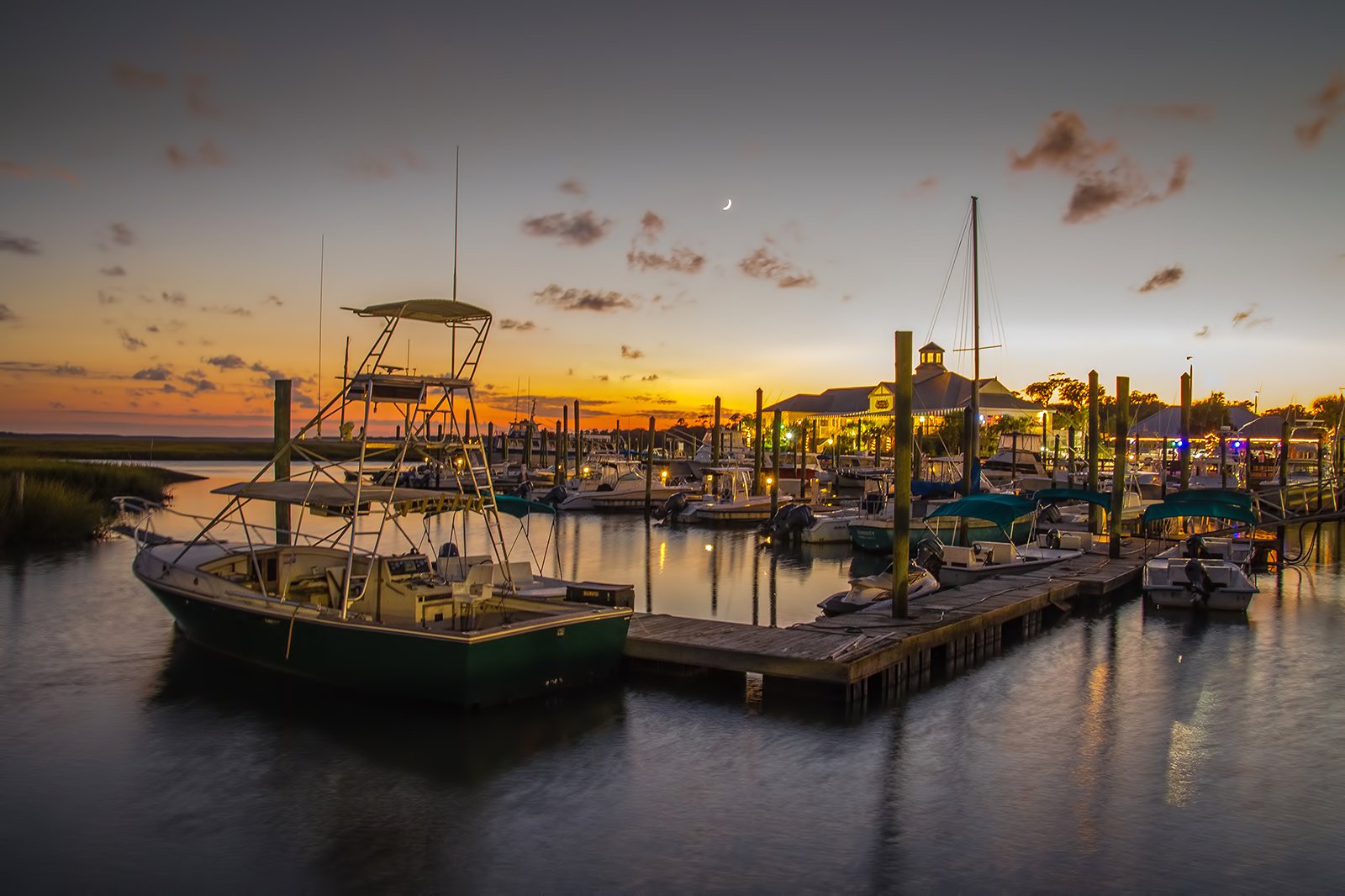 Wet your whistle on the waterfront at Dead Dog Saloon
Unwind here after a day of fishing
Murrells Inlet has earned a reputation as "a drinking town with a fishing problem", and at least part of the blame for this must lie with the Dead Dog Saloon. One of a handful of bar-restaurants along the MarshWalk, the Dead Dog is a friendly hangout spot that's apparently haunted by the ghost of Dudley the Dog – not to worry, no ghoulish dog-bites have ever been reported.
Seafood is a must here, and you'll also find a good selection of beer and cocktails to enjoy with the live music. Find a table out on the patio for a prime view of the fishing boats coming back to shore. Murrells Inlet is around 13 miles south of downtown Myrtle Beach
Location: 4079 Highway 17 Bus, Murrells Inlet, South Carolina, USA
Open: Daily from 8am to 12 midnight
Phone: +1 843 651 0664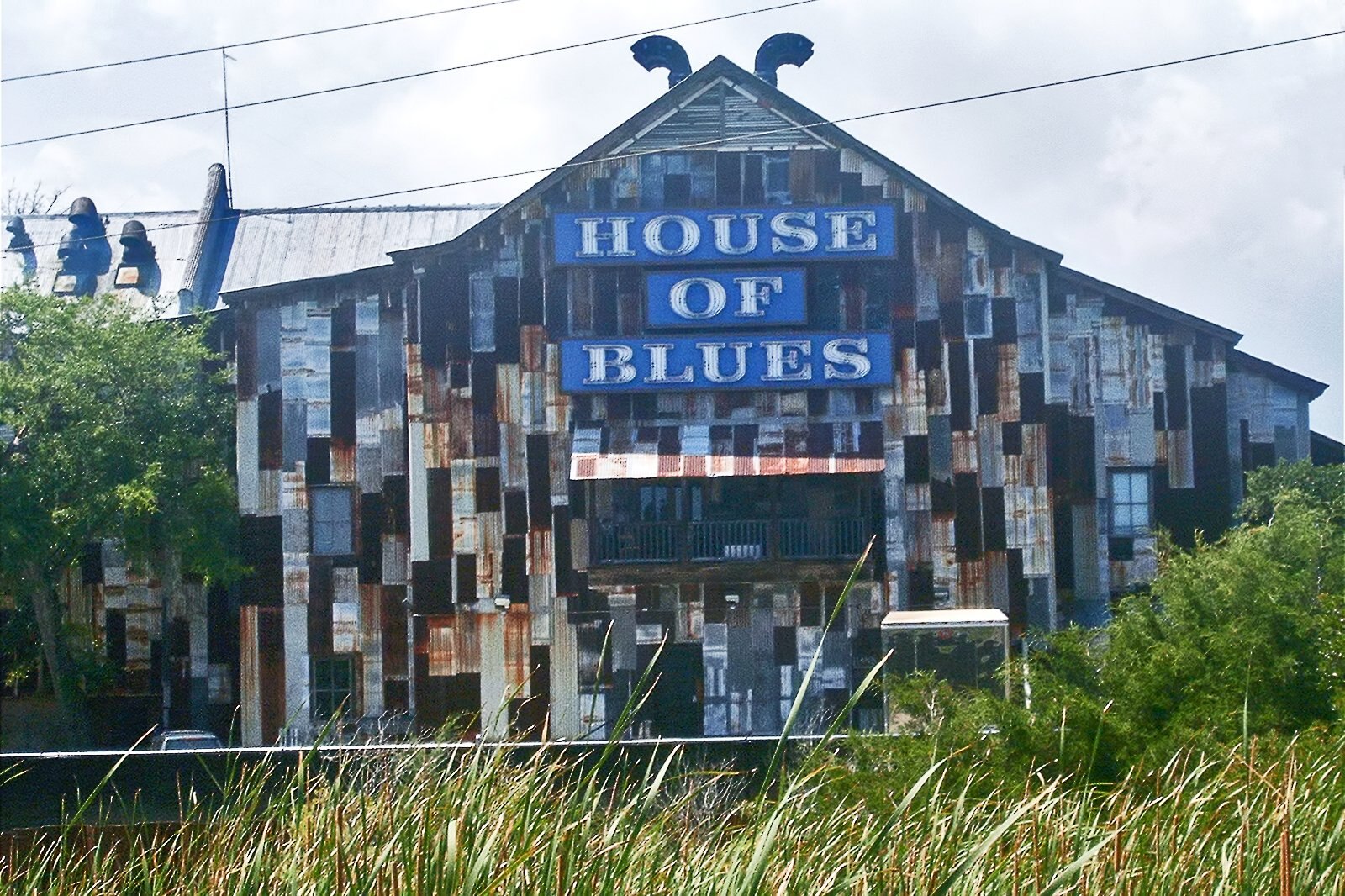 Enjoy live music at the House of Blues
Blues tunes and murder mysteries
If you're in the mood for some soul-stirring blues music and Southern-style cooking, the House of Blues is the place to go at night in Myrtle Beach. Go for some voodoo shrimp and jambalaya, washed down with a beer or margarita. The venue also hosts regular Murder Mystery dinner theatre nights, and on Sundays there's a brunch with Gospel music – perfect for a soothing recovery from your big night out.
This venue usually welcomes all ages, unless otherwise stated on your ticket, making it a popular family nightlife option. Check the schedule to see what big-name act might be playing in the concert hall during your visit – not only blues music but country and rock bands also play here.
Location: 4640 Highway 17 South, North Myrtle Beach, South Carolina, USA
Open: Monday–Saturday from 8am to 9pm. Sunday from 9am to 9pm
Phone: +1 843 272 3000
Dance the night away at Malibu's Surf Bar
Saturday is ladies' night
Found at Broadway at the Beach, Malibu's is the place for a big night out with its huge dance floor and tropical party atmosphere. The resident DJ revs up the crowds with a mix of new and retro music, while the elaborate sound and light system transports you into dance fever mode all night long.
Check Malibu's schedule for special events and theme nights like masquerade parties or pub crawls. The cover charge is about $10, which also gives you entry to the connected Oz bar. As one of the best nightlife options in Myrtle Beach, Malibu's Surf Bar is a popular spot for spring break and bachelor/bachelorette parties.
Location: 1320 Celebrity Circle, Myrtle Beach, South Carolina, USA
Open: March 1 to October 1 daily from 9pm to 2am (till 3am Monday–Friday). Hours vary from October through February, but it's always open on Thursday, Friday and Saturday.
Phone: +1 843 444 3500
Catch a show at the Carolina Opry
Great live music with a touch of glitz
The highlight of this long-running live music venue is its nightly Opry performance of music, comedy and dance. You'll get a bit of toe-tapping country music, twirling dancers in sparkling dresses and more in this 2-hour variety show.
Another popular show to see here is Thunder & Light, where classic rock and pop hits are played along with a dazzling laser light show. From early November through to the end of December, the Opry puts on its annual holiday-themed extravaganza, with Christmas music, festive lights and a visit by Santa for the kids.
Location: 8901 North Kings Highway, Myrtle Beach, South Carolina, USA
Phone: +1 843 913 4000 or 1 800 843 6779
Drink and dine with ocean views at the rooftop Riptydz bar
A one-stop spot for late-night action
Set over 3 floors with a huge dining area and rooftop bar, Riptydz offers fine sea views and a bird's eye view over the Myrtle Beach Boardwalk. You could spend your whole evening here, starting with dinner where the surf-and-turf selections include mahi mahi fish tacos, shrimp appetisers in a sweet chili aioli and juicy beef burgers. Then head up to the rooftop to dance off your dinner and sip cocktails under the starry South Carolina sky. A resident DJ and nightly live music set the beach party mood.
Location: 1210 North Ocean Boulevard, Myrtle Beach, South Carolina, USA
Open: Daily from 11am till 2am
Phone: +1 843 945 1204
Have a laugh at the Comedy Cabana
A Myrtle Beach staple with nightly acts
Serving up live comedy for more than 2 decades, the Comedy Cabana has showcased some talented comedians over the years. Its intimate setting, friendly service and boozy drinks help ease the crowd into a merry mood.
Relax in the lounge and play some pool before the show, and if you get hungry while laughing your guts out there's a choice of burgers, pizza, salads and wraps to order. If you're feeling brave and ready for your moment in the spotlight, call ahead and book a slot for the club's open mic night.
Location: 9588 North Kings Highway, Myrtle Beach, South Carolina, USA
Open: Sunday-Thursday from 10am to 11pm. Friday and Saturday from 10am to 1am
Phone: +1 843 449 4242