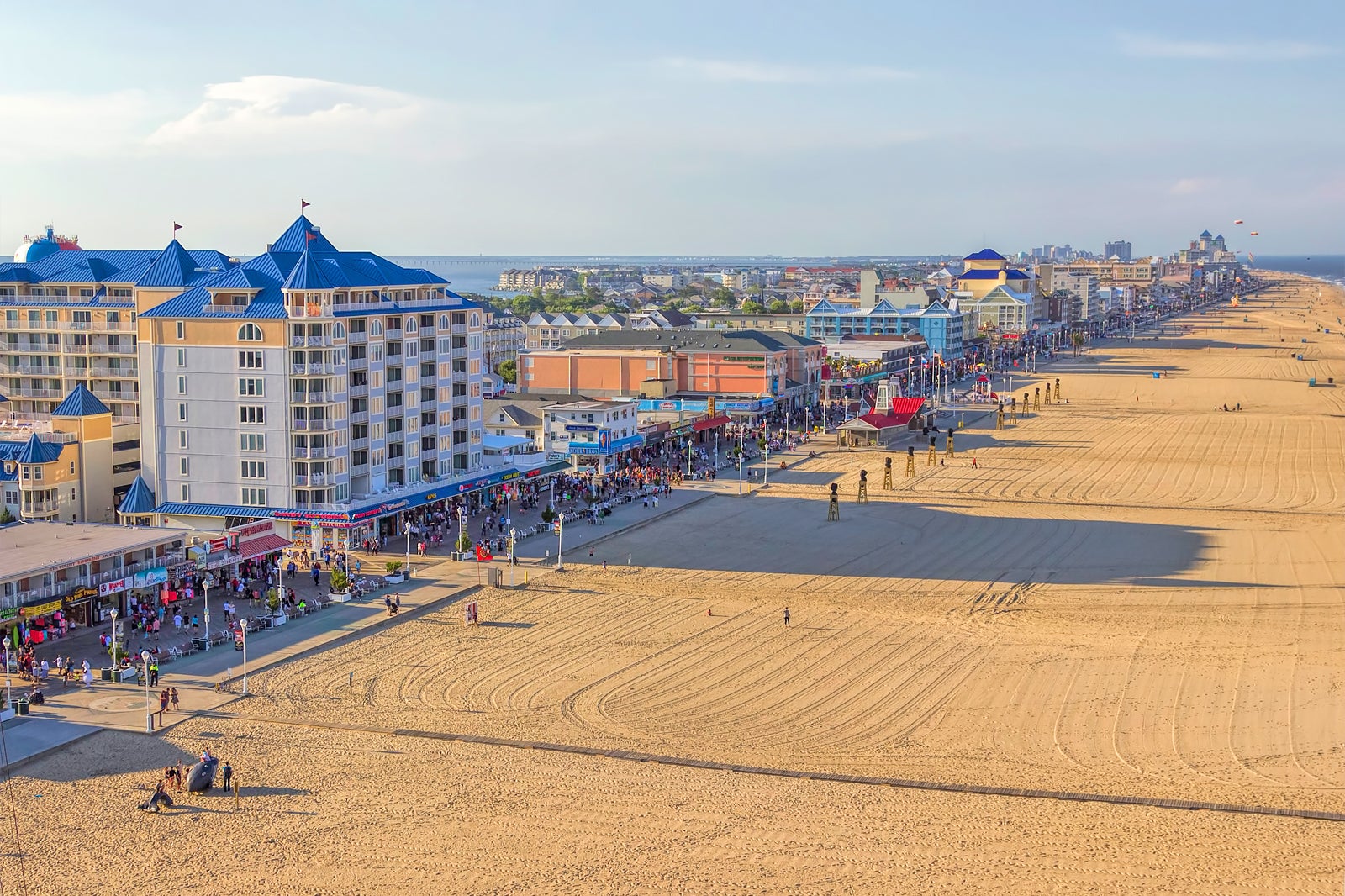 10 Best Things to Do in Ocean City, Maryland
What is Ocean City Famous For?
Ocean City is a seaside resort town in Maryland that lures in holidaymakers with its coastal beauty and fun, friendly vibe. The sandy Atlantic shoreline is fun to explore, and the many watersports are a must at Ocean City, with surfing, fishing, and kayaking among the top activities.
It's the kind of place where people get out and about. The boardwalk is lined with seafood restaurants, boutique shops, bars, amusement parks and other family attractions like mini-golf and Ripley's Believe it Or Not. If you're keen to explore Ocean City and not sure where to start, here are a few ideas on what to see and do on your first day.
What are the best things to do in Ocean City?
1
Ocean City boardwalk
Shop, stroll, snack and take in the sea views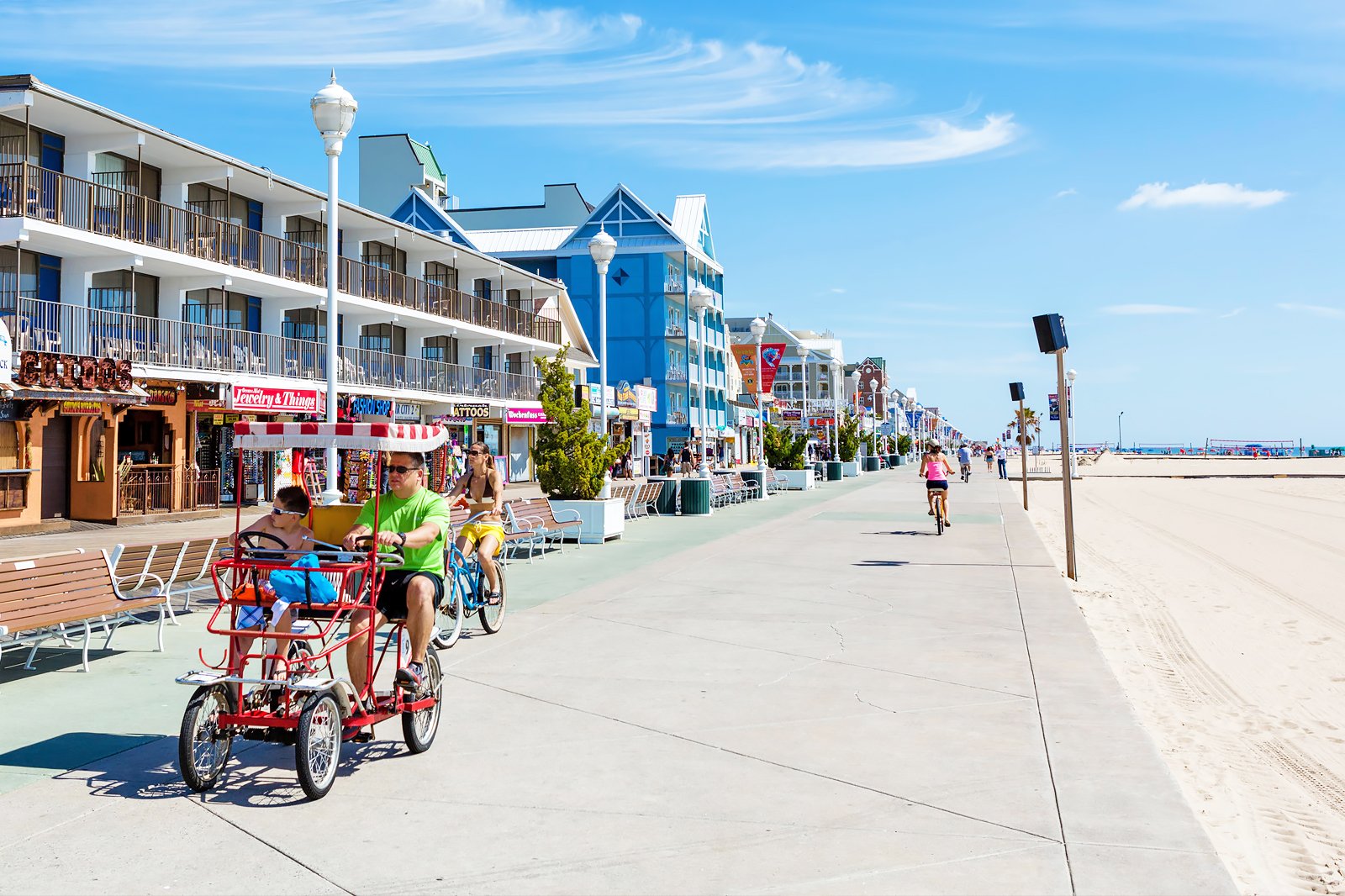 Families
Couples
Photo
Budget
Walk, jog or take a bike ride along the Ocean City boardwalk, which extends up the seaside for nearly 5 km. Soak up the sea views and stop to watch the street performers. Check out the amusement parks and arcade games, or shop for souvenirs and surfing gear along the wooden walkway's length.
Stop by the Life-Saving Station Museum and learn about brave rescue efforts in storms and shipwrecks off the Maryland coast over the past 200 years. Don't forget to grab some French fries with plenty of vinegar at Thrasher's for a salty treat to enjoy while you stroll along.
Location: Atlantic Ave, Ocean City, MD, USA
2
Trimper's Rides
A classic American seaside amusement park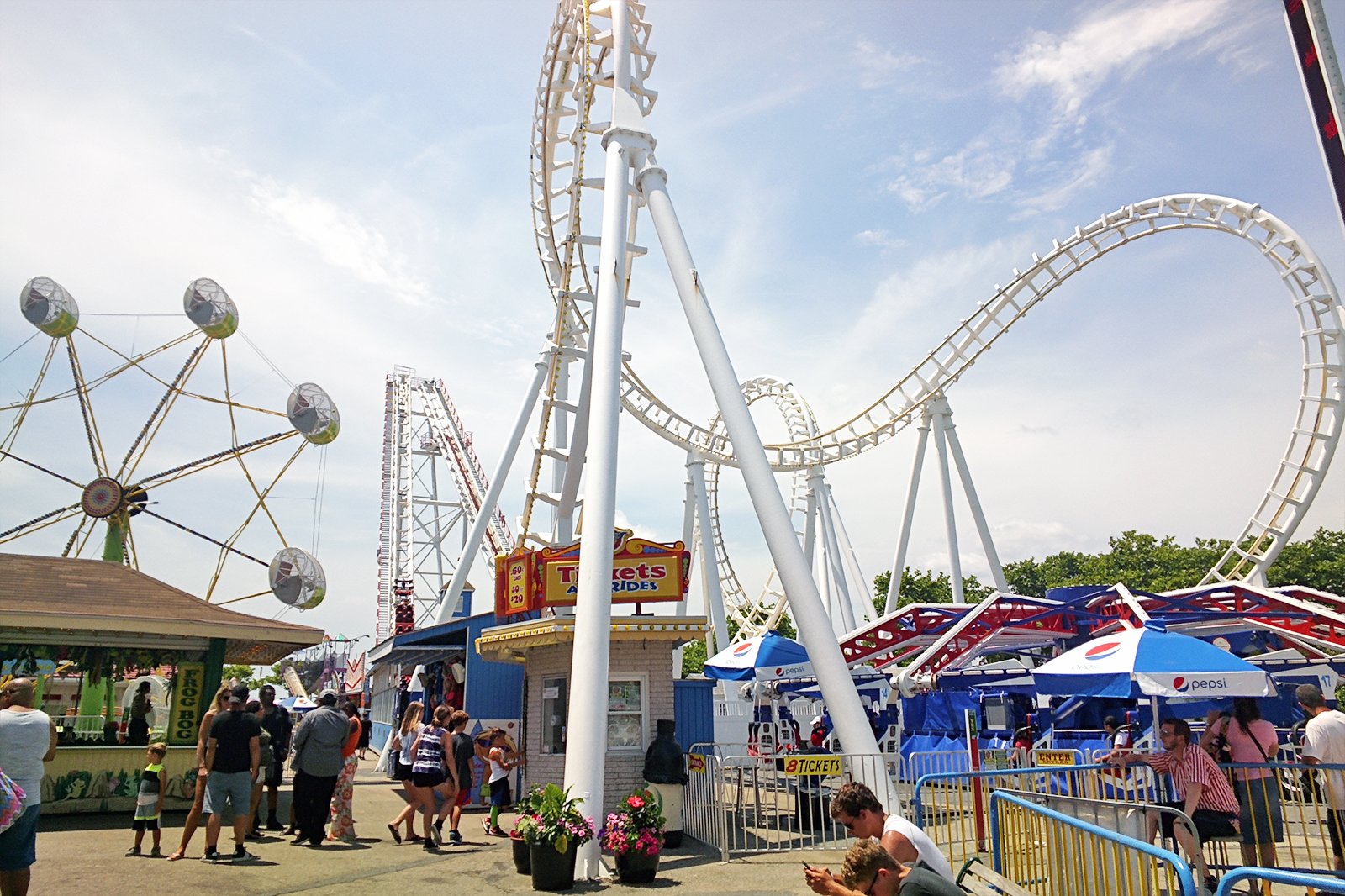 One of the boardwalk's most popular attractions, Trimper's offers a fun mix of new and nostalgic rides and games to try. Take a spin on the vintage carousel – complete with its wooden hand-painted animals – or get the heart racing on a roller coaster ride. Venture into the Haunted House or Pirate's Cove, or hitch a ride on the Wild West train.
Younger kids will love the bumper cars and mini Ferris wheel, with many rides found inside to enjoy on a rainy day. Indoor rides, like the carousel, are open year-round, while outdoor rides run from mid-June to early September.
Location: 700 S Atlantic Avenue, Ocean City, Maryland, USA
Open: Daily from 1 pm to 11 pm (Wednesday, Saturday and Sunday open at 12 noon)
Phone: +1 410 289 8617
3
Ocean City Beach
Miles and miles of soft sand to explore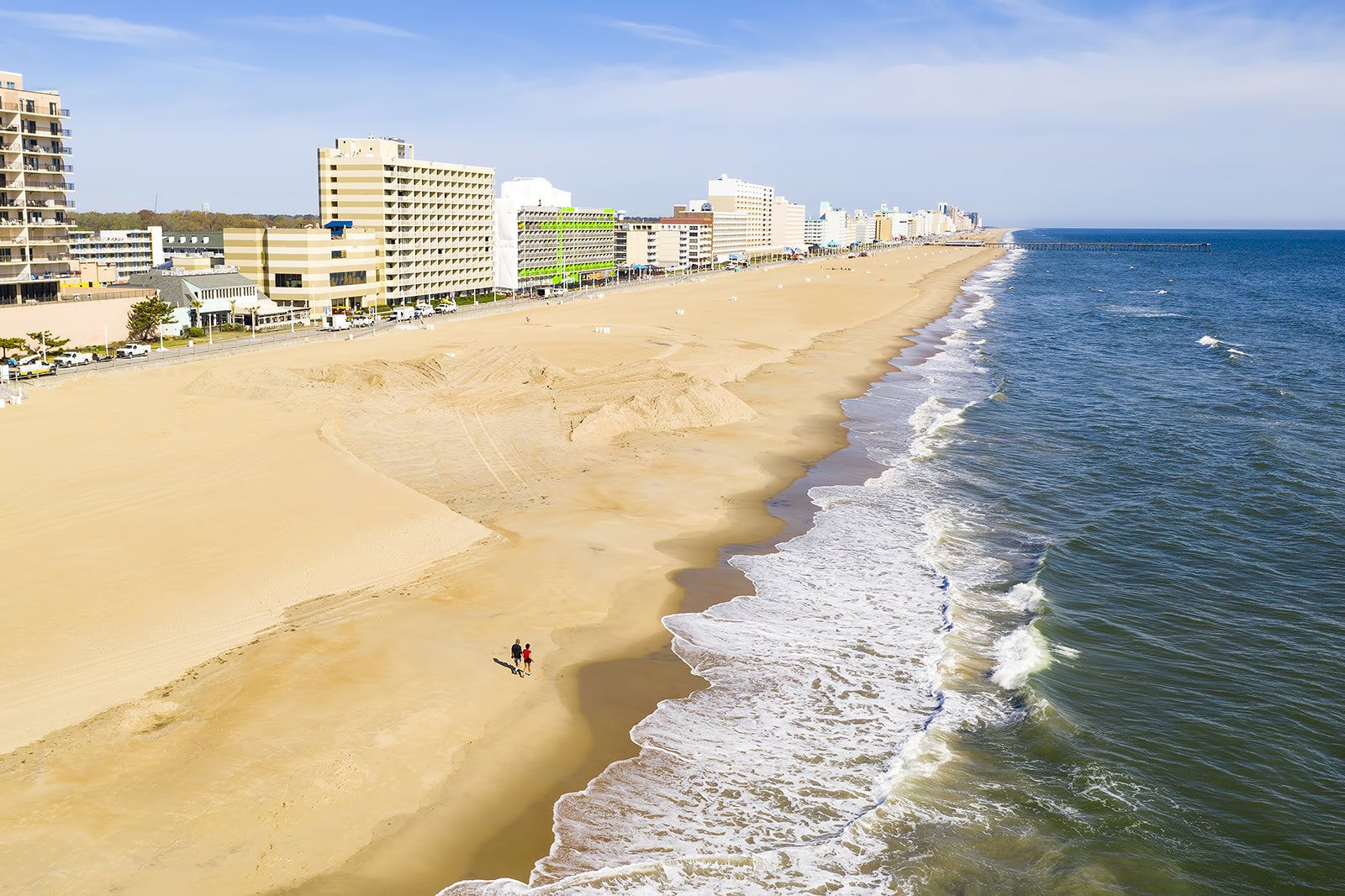 With its spectacular sandy beach stretching more than 15 km, Ocean City is a sea lover's dream destination. The beach is public and free for all to use, with some limitations on frisbee use and sports activities during the busy summer months. Enjoy a refreshing dip in the Atlantic or simply pitch your beach umbrella and relax on the sand.
Kids (and the young at heart) will love running free on the powdery sand, building sandcastles or honing their surfing skills. Note that late-night visits aren't possible as the beach is closed overnight from 10pm to 6am for cleaning.
Location: Ocean City Beach, Ocean City, MD 21842, USA
4
The Atlantic coastline by kayak
A peaceful paddle-powered trip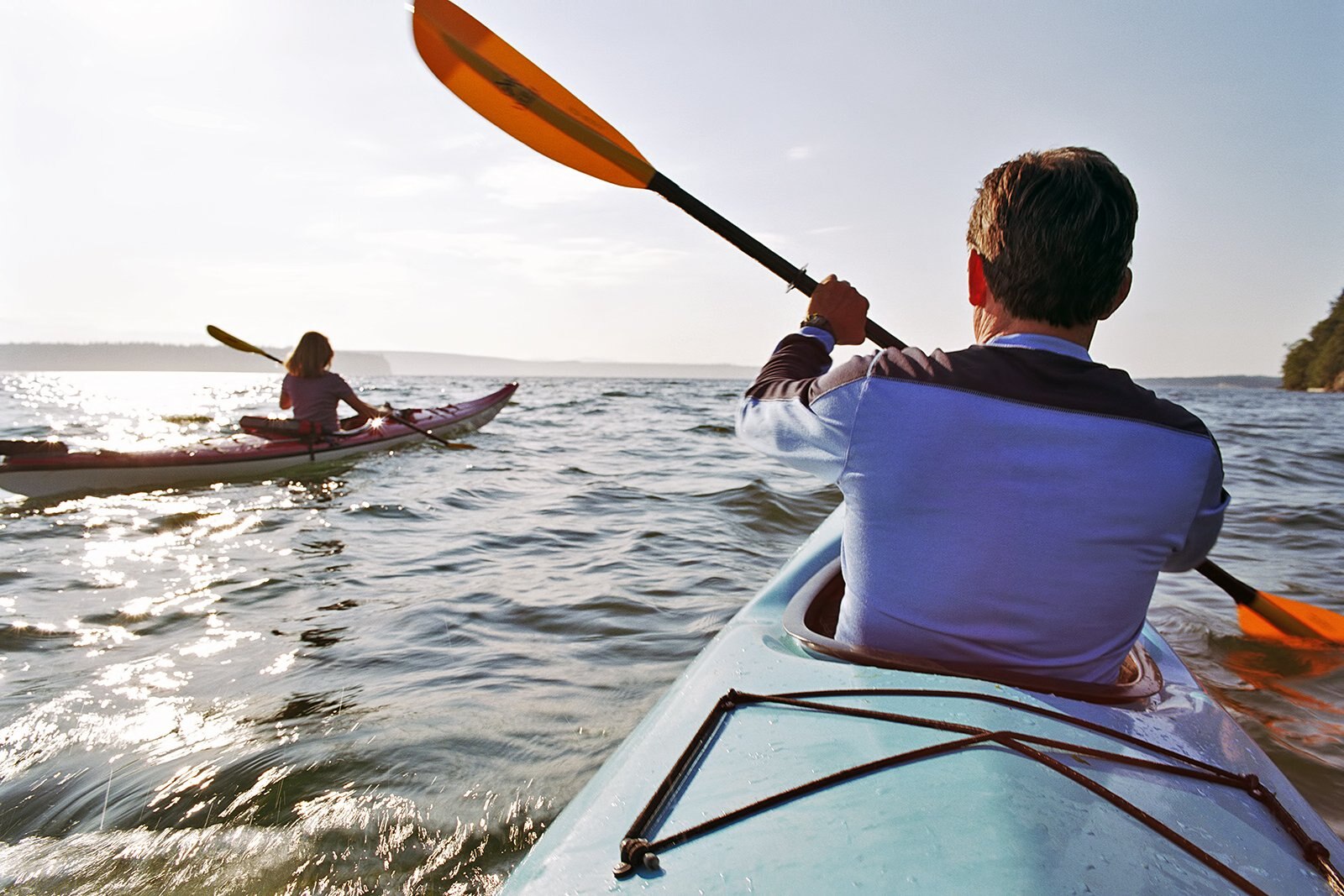 Gliding across the sea in a kayak gives you a tranquil way to discover the Ocean City coast and its diverse wildlife. Look around as you paddle, and you might spot sea turtles swimming nearby, or see egrets, herons and hawks swooping and swirling overhead.
You'll find some shops like Odyssea Watersports and 48th Street WaterSports renting out kayaks and standup paddle boards by the hour, or you could go for a guided kayak trip for a more in-depth exploration. If you've never wielded a paddle in your life, don't worry, kayak lessons are available, too.
5
Assateague Island
Escape the crowds on this windswept coastal wilderness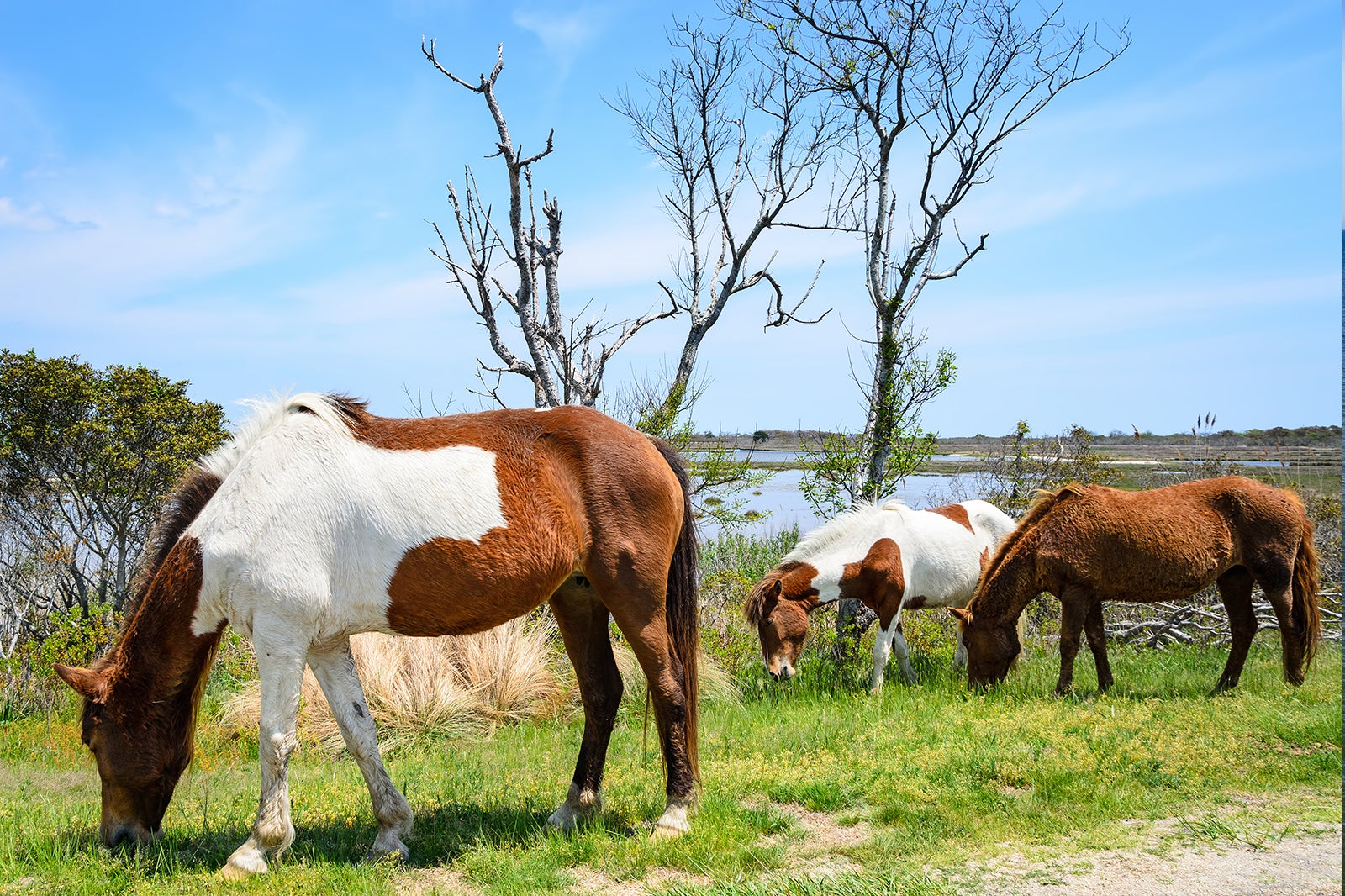 Couples
Photo
Budget
Adventure
Travel just 13 km south of bustling Ocean City to find a natural wonderland of beaches and marshland on this protected island park. Hike the trails and be on the lookout for the wild ponies that roam the island freely, believed to have arrived to the island after surviving a Spanish shipwreck just offshore centuries ago.
Part of the island is a state park with services like food shops, bicycle and kayak rentals, a marina and hot showers, while the part under the national park system has more basic facilities. Each park charges an entry fee.
6
Big-game fishing
Get ready to battle some feisty fighting fish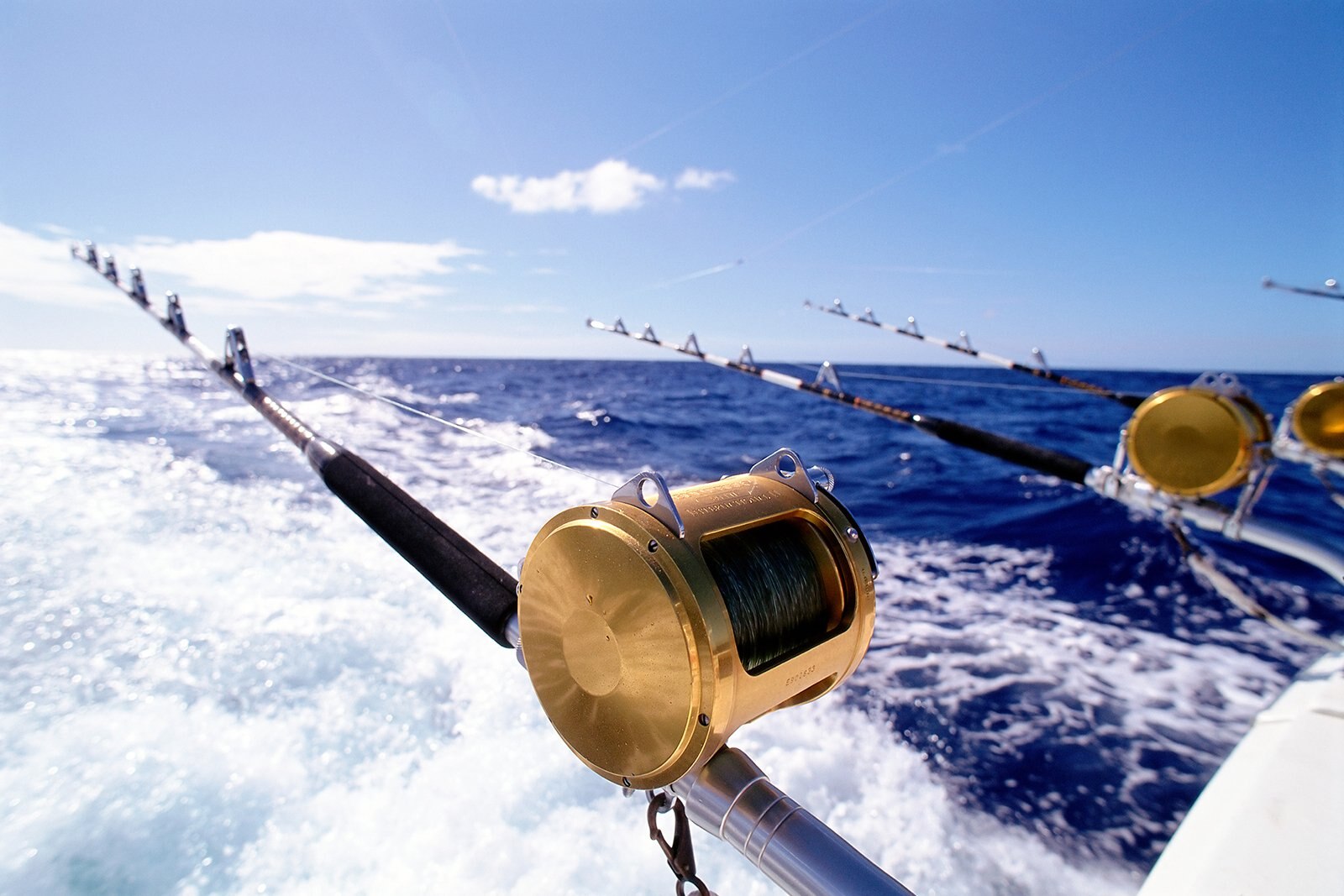 With the fertile Atlantic Ocean at its doorstep, there's no question that fishing is an integral part of life in Ocean City. Climb aboard a boat, breathe in that brisk Atlantic air and get a taste for fishing glory by reeling in a big one. Peak fishing months are May through September when you've got a good chance to land a prized white marlin, wahoo, bluefin tuna or yellowfin tuna. Crewed boats of various sizes and levels of luxury are available to charter for a full or half day trip.
7
Sunset Park
Enjoy a free concert as you watch the sun go down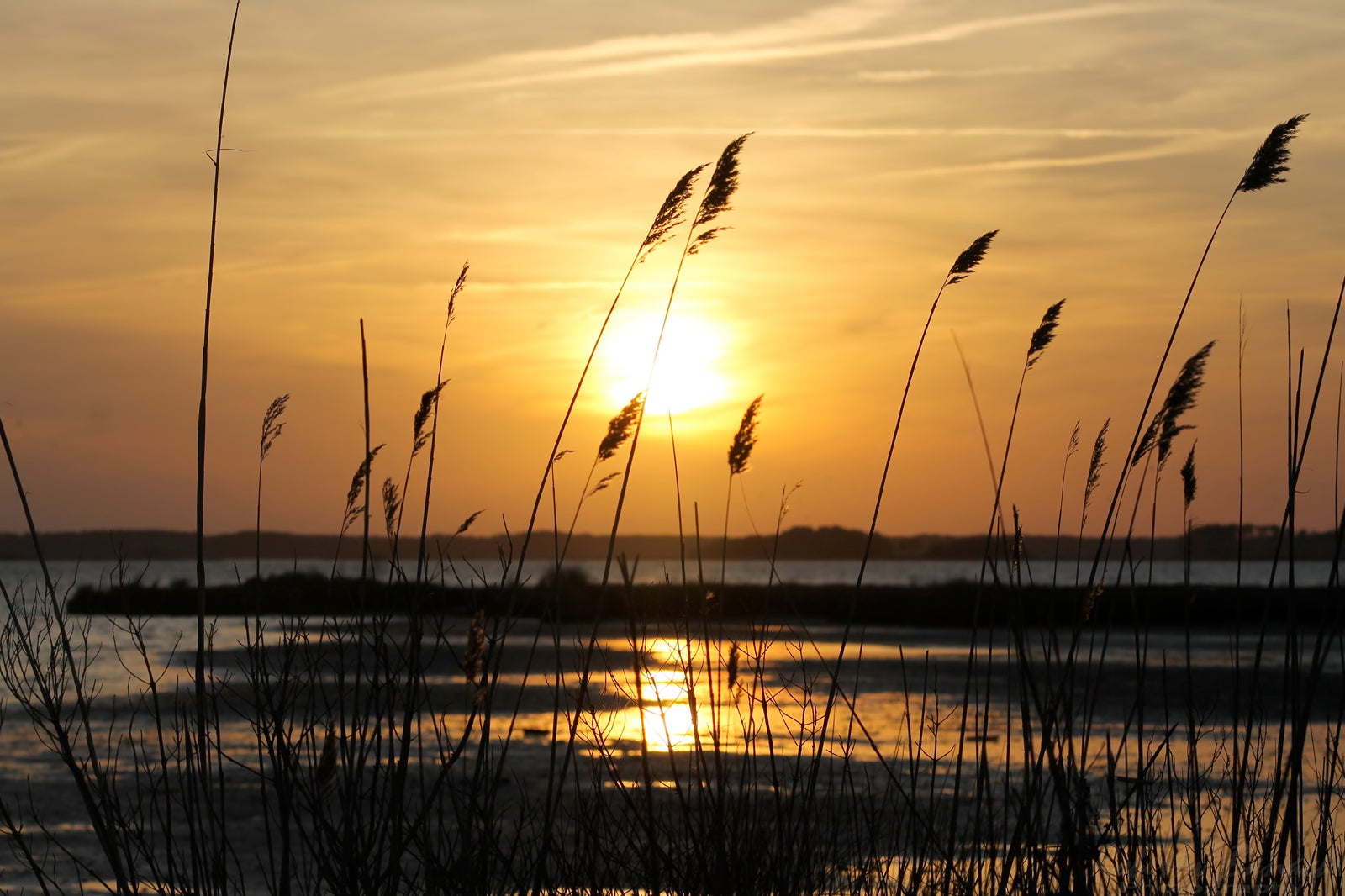 Families
Couples
Photo
Budget
With a scenic promenade offering superb ocean views, tiny Sunset Park is the perfect place to unwind. Visit any time of year to enjoy the sunset views over Isle of Wight Bay, or try your hand at fishing or crabbing.
Things get festive during the summer months when the park hosts free concerts and other events. And don't forget to bring your binoculars. Though it's only a half-acre in size, Sunset Park attracts a big variety of migratory birds that seek shelter here. Among the 140 bird species you might see are flycatchers, gulls, terns, shorebirds and loons.
Location: 700 S Philadelphia Ave, Ocean City, Maryland, USA
Phone: +1 410 250 0125
photo by Robert J Banach (CC BY-SA 4.0) modified
8
Ocean City Ghost Walk
Discover where the town's wandering spirits dwell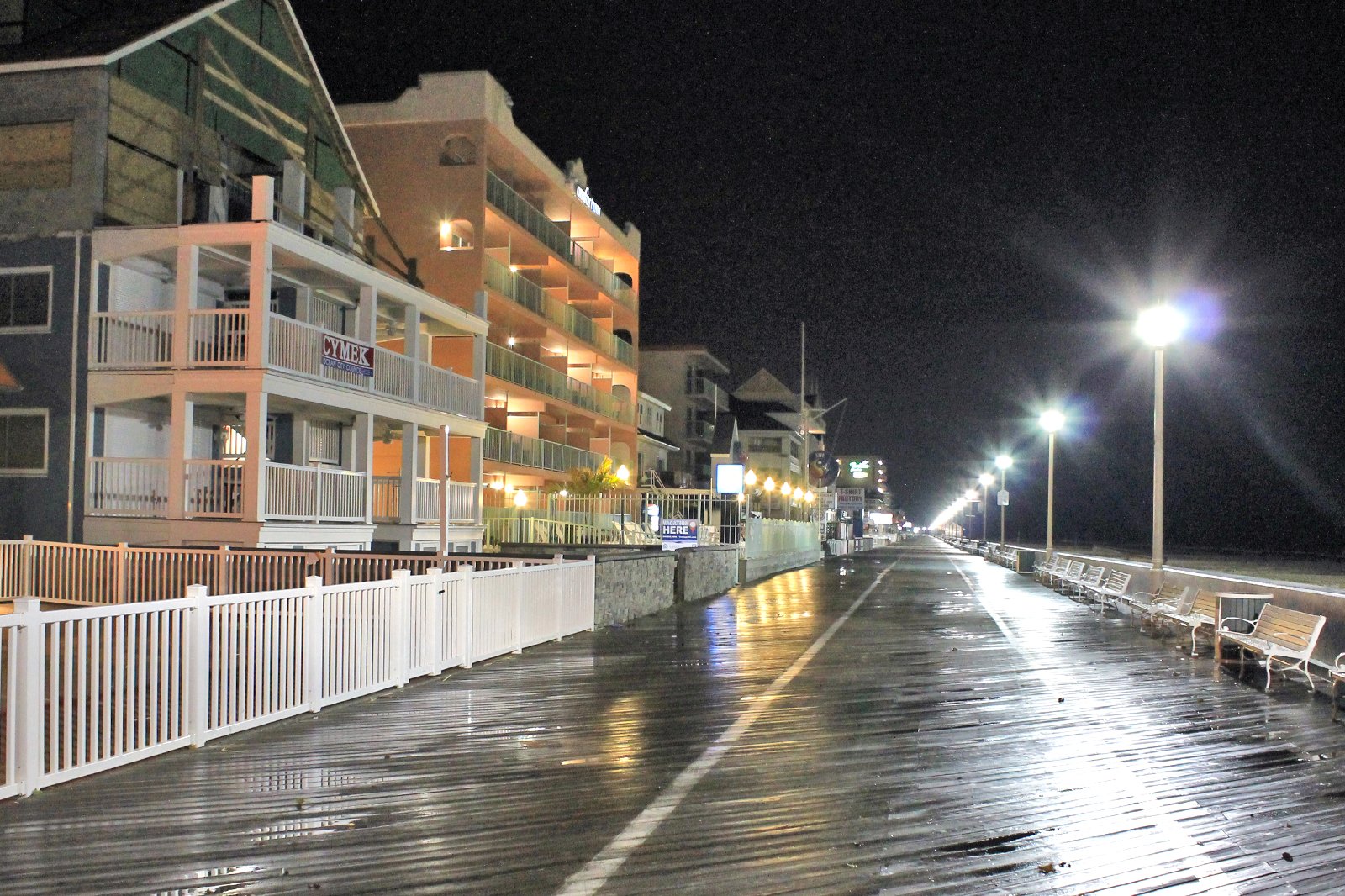 Join this entertaining guided tour of Ocean City's historic and haunted places with spooky tales of shipwrecks, candy-eating ghosts, hotel murder mysteries and sailors lost at sea. The 90-minute walking tour weaves its way along Ocean City's boardwalk and Baltimore Avenue after dark, enlivened all the way by ghostly stories told by a local expert.
You'll learn about the town's rich history with several stops in front of heritage hotels and historic sites. All ages are welcome to join, and the tours run to schedule, rain or shine. Advance booking is essential.
photo by Patrick Nouhailler's… (CC BY-SA 3.0) modified
9
Performing Arts Center
Perfect for a dressed-up date night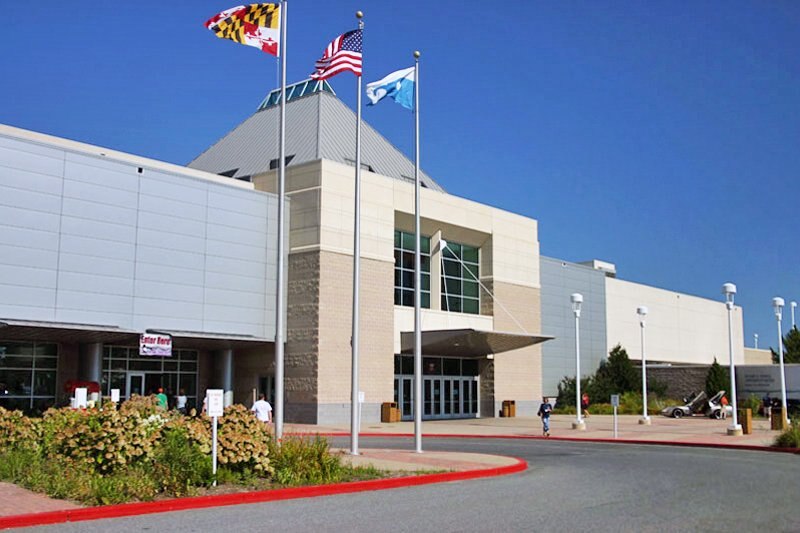 If you're looking for a change of pace after spending your days at Ocean City in casual beachwear getting sand between your toes, an evening out at the Performing Arts Center might just be the ticket. Get ready for a night of quality entertainment watching a play, dance performance or live music show in a modern, comfy theatre.
The 1,200-seat centre offers an intimate setting and good views of the stage whether you've chosen balcony or orchestra seating. Past shows include traditional Irish music by The Chieftans, the popular musical Fiddler on the Roof, and concerts by the Mid-Atlantic Symphony.
Location: Roland E. Powell Convention Center, 4001 Coastal Highway, Ocean City, Maryland, USA
Phone: +1 410 289 2800
photo by Ocean City Shown by Photos (CC BY-SA 4.0) modified
10
Maryland crab
Grab a mallet and get cracking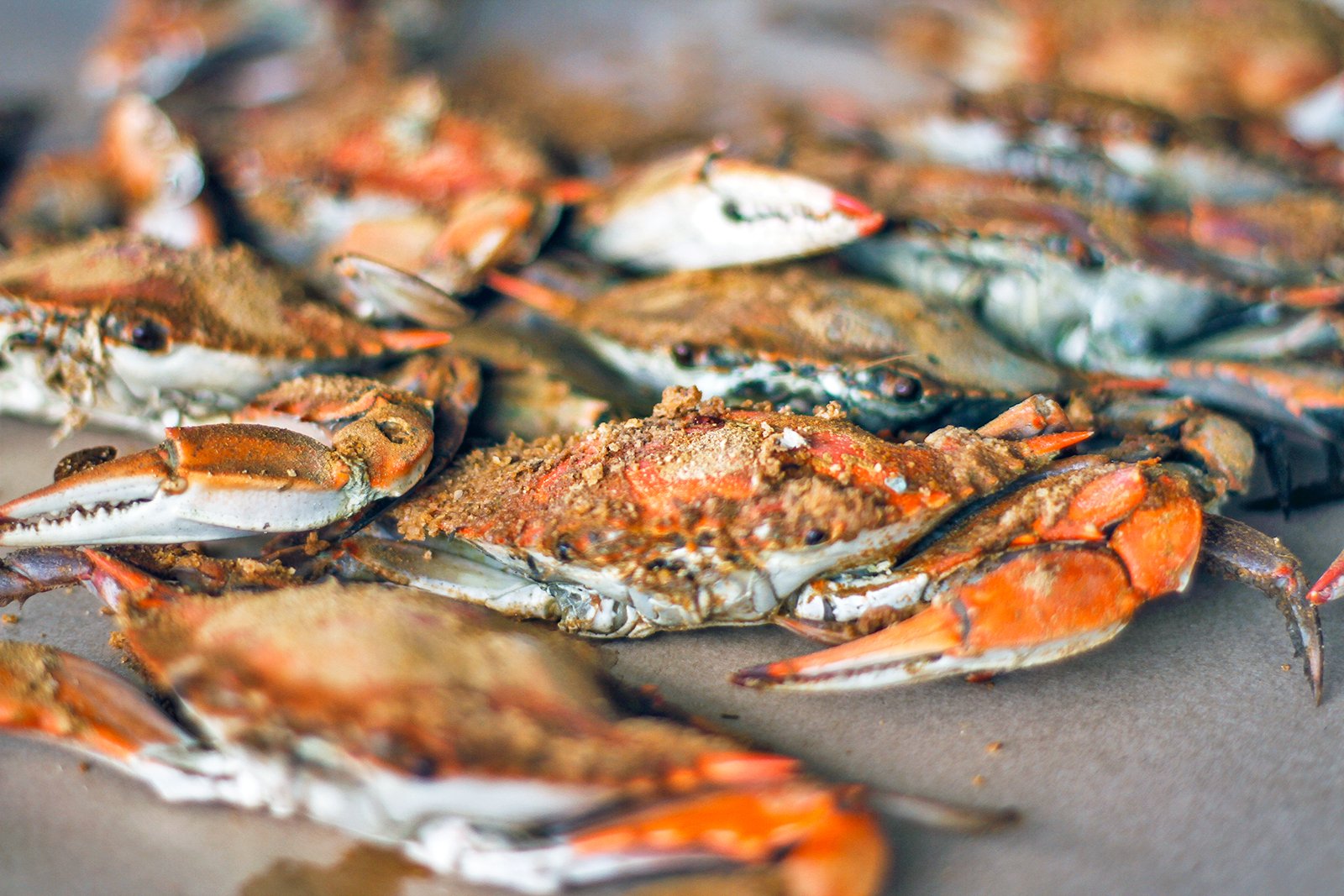 If you've never had a crab picking party, Ocean City's a great place to try it out. It's messy, but well worth the effort. Order up a fresh pile of crabs and dig in for a session of wrestling the succulent flesh out of the hard shells – don't be shy to ask a local how to do it the right way.
If you'd rather just enjoy some fresh seafood without the mess, then go for a crabcake sandwich or crab soup. Crab shops galore around the city offer the catch of the day, including Crab Alley, Crabcake Factory, Ocean City Fish Co and Shark on the Harbor.
Back to top