No. 70 Yanyue Hutong, Dongcheng District, Beijing, 100010, China
What guests say
Beautiful architecture
Stylish hotel
Pleasant hotel grounds
Friendly service
Narrow reviews:
117 verified guest reviews
The following English reviews were posted by hotel guests from other countries
Old world charm in an up scale Hutong
Old world charm and upscale Hutong style is what Hotel Cote Cour was for us. We loved the antiques in each room, the gathering areas (lower reading room, upper dining and multiple outdoor decks), as well as amazing staff. The breakfasts were as artful as they were delicious! We would love to come back and see the gardens in full bloom!
Verified Hotels.com guest review
Fabulous Hotel , Great experiece
The hotel was BEAUTIFUL and very comfortable. The Service amazing as well as the room, environment and dinner
Verified Hotels.com guest review
Like's hotel and friendly staff, delicious breakfast and dinner want to enjoy the Hutong life Very recommend. Excellent.
Verified Expedia guest review
Not was we expected!
Not very pleased...The breakfast was limited of choice,location not reachable by taxi drivers, they refused to take us to the hotel due to very narrow road.The rooms are to old and the smell was awkward.
Verified Hotels.com guest review
Very well managed and friendly staff. Loved my stay and would happily come back on my next visit to Beijing. Only challenge is finding it the first time.
Verified Orbitz guest review
Good experience.
Good experience. Be prepared that cabs might not go in due to narrow alleyways. But overall, it's a good place to stay. Better than expected.. Resident cat is cute.. 😂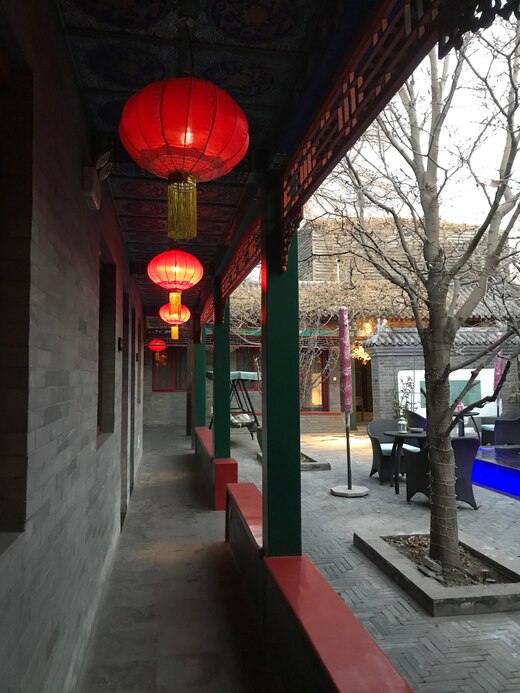 Verified Hotels.com guest review
Good location close to subway station and good restaurants. Hotel located in Hutong the atmosphere is perfect. Hotel staff was very friendly and helpful on information about the city.
Verified Expedia guest review
Wonderful hutong courtyard hotel. Central to everything with extremely helpful staff.
Verified Expedia guest review
DO NOT STAY IN THIS PLACE!
This hotel was located down an alley with no signs at all. It took the taxi an hour to find it. It looks nothing at all like the pictures shown on this website- the rooms are time with concrete block walls and glass bedroom doors leading to a tiny courtyard with laundry hanging in it.
Verified Hotels.com guest review
Hotel itself is good. A good experience for Hutung but should bear in mind that taxi wouldn't go into the small lane.
Verified Hotels.com guest review
We loved the location within the Hutong. It had a calm quiet ambience within a busy city. The breakfasts were unique and outstanding. And our dinner became a private affair with only two of us. Excellent service with beautiful serving wear. The manager with his English was extremely helpful. The rooms were cosy and bedding delightful.. And the minibar was free - so unusual from the other 5 star places we had stayed. It really is a boutique hotel. It was walking distance to shops and eating places and a metro train station. It was clean and serene. We chose it to relax after 40 days touring China and Mongolia and it did not disappoint. Highly recommend.
Verified Expedia guest review
This a beautiful hotel, and it is hard to believe that you are in the centre of Beijing, a 30 minute walk away from the Forbidden City, when you sit in one of the many sitting areas in the gardens, surrounded by trees, roses and birdsong. our bedroom was delightful. The staff are fantastic and speak great English. They arranged restaurant bookings and a trip to the great wall with their driver.
Verified Expedia guest review
I honestly can't praise this hotel enough. Fantastic room, great location and the staff were so helpful and friendly. If I go back to Beijing, I am only staying here. The upstairs terrace is a lovely sun trap and the downstairs courtyard is so welcoming and relaxing. If I was being picky, I would say that breakfast could do with another option to eggs as a week of fried or scrambled eggs is a bit much. However we're splitting hairs at this point and breakfast was delicious regardless. It's hard to give something constructive to something already very near to perfect. Top marks!!!
Verified Expedia guest review
we choose this property for it's proximity to the high-end brand name hotels but preferred the more local decor and its setting in the hutongs ...traditional courtyard residences lining alleyways.
Verified Expedia guest review
Fabulous in every way
Amazing stay at amazing hotel. Room was beautiful, comfortable bed with premium sheets, top notch amenities, lovely bathroom, staff was exceptional. Meals and breakfast was great. A peaceful oasis in Beijing, easy walk to Forbidden City. Everything was spectacular. Would give it many more stars if you offered the chance.
Verified Hotels.com guest review
Interesting & authentic -glad we experienced it
This small hotel is located along a hutong, which was new for us. All of the hotel staff was fantastic both at the front desk and at the restaurant - just impeccable, friendly service. Our breakfasts were works of art and all meals were delicious. The rooms face out onto a small courtyard that is beautifully planted and has a lovely koi pond. The rooms are furnished with some antique Chinese furniture, including a beautiful blue & white porcelain bowl sink in an updated bathroom.
Verified Hotels.com guest review
Beautiful little hotel, loved the location which is very traditional Chinese. Food is amazing and the staff couldn't do enough to help us. Standard rooms a bit small but we had the suite which was lovely.
Verified Expedia guest review
An Oasis in Beijing
A wonderful oasis of serenity and excellent service in a charming hutong in the heart of Beijing.
Verified Hotels.com guest review
The hotel oozed the characteristics of Beijing. It is so beautiful. Its location makes traveling very convenient whether you are going to the airport or strolling at the Tiananmen Square. The hotel staff was so friendly and gave great recommendations on eateries, sightseeing locations and directions. The breakfast they provided was also excellent. The restaurant was nicely decorated and the food was healthy and delicious. Will be back.
Verified Expedia guest review
Staff service good
Expensive, good service
Verified Hotels.com guest review
This hotel was my sanctuary from the busy streets and tourists. It's away from the fray but still close enough to all key stores. It's a boutique hotel that is very courteous, attentive and just overall friendly. The amenities were outstanding and the comfort i found on the bed is like no other. If I have to say something negatuve, was the WiFi connection. At times it waseloe. Another Criticism that I wanted to express is while the hotel is absolutely lovely, getting to the hotel at times is quite arduous you know whether by walking up my car there's just a lot there's not a lot of space for cars at the bikes or even pedestrians to walk so it kind of loses its appeal however when you get there all that goes behind
Verified Expedia guest review
Beautiful historic hotel and the staff speak English. if you go to China, this is the biggest problem, just imagen you can't order food, you can't ask for a taxi, you can't ask the staff where to go etc. I will stay again many times, They two guys that speak English worth GOLD, help me to ask for a taxi and explain the taxi driver where I need to go and give instruction because I don't speak Chinese, that is very important, many hotels ONLY call you a driver and hope the driver understand you, the staff help me and wait with me outside for the taxi. Thank You!!!
Verified Expedia guest review
This is a small intimate hotel with rooms located around an interior courtyard. Furnishings are very tasteful. Staff is very friendly and extremely helpful. Breakfast is very good.
Verified Expedia guest review
Perfect!
Couldn't say enough good things about this hotel! They were very responsive to my emails prior to getting there, and as requested had a driver waiting for us at the airport for a very smooth pickup- despite our flight getting in 3 hours late (this cost 300 yuan charged to our room, FYI.) If you get in after dinner hours like we did, I suggest having food to eat with you as the hotel restaurant won't be open, but thankfully the room was so inviting we forgot about our hunger. The next morning, we enjoyed a beautiful and delicious breakfast to start our first day right… and the breakfast was phenomenal every day. There was always bread for toasting, various cereals, and fruit on hand to grab quickly. But if you have time, which we always were sure to have… they will cook you eggs and various other local foods (like dumplings) to go with. They also had a full blown espresso/coffee machine to be able to make whatever you'd like for your morning beverage. The restaurant staff as well as the front desk staff were always super helpful and there was always somebody there when you needed them. I particularly enjoyed a gentleman by the name of Ye that worked the front desk… he spoke flawless English, which helped me as I can't speak Chinese, and he was always willing to offer suggestions and tips for things to do and places to eat. The room itself was very comfortable and clean and the cleaning staff did a great job keeping it that way. It also had a fancy Japanese toilet!
Verified Hotels.com guest review
Super
Excellent
Verified Hotels.com guest review
Excellent hospitality and services from the staff. The chef can really cooked good dishes. Dined twice for dinner during the four nights stay.
Verified Expedia guest review
Lovely small hotel within walking distance of the Forbidden City, metro and shopping. Wonderful staff. Restaurant on site.
Verified Expedia guest review
This is a super cute traditional Chinese courtyard hotel. It is tucked away in a Hutong so you get the authentic feel of Beijing. The hotel staff hands down was the best part of the stay- they were so helpful and took care of all our needs from arranging transportation to a secluded section of the Great Wall to recommending local places to go. The breakfast was included and was at times the best meal we had that day. The hotel is decorated nicely - lines were fresh and clean, hot water abundant and internet worked fine. Beds are a little firm but actually it was not bad. Would highly recommend this hotel to those who want a more authentic experience.
Verified Expedia guest review
I will definitely come back. One of the best managed hotels in the world. It was perfect!
Verified Expedia guest review
Charming and quaint.
We enjoyed our Family room stay, the bed was comfortable and we had a large bathroom with lots of hot water. The breakfast was very good as well. We enjoyed the charming and quaint environment and the staff is great. Getting to the hotel in the evening might be difficult if late at night.
Verified Hotels.com guest review
Unique hutong hotel
The hotel is a located in a hotong and a little hard to find. However, the hotel staff is very friendly and helped us book the online tickets to visit the palace. Breakfast is tasty and the overall decor of the hotel is very unique and beautiful.
Verified Expedia guest review
Boutique hotel in Beijing
Wonderful boutique hotel in Beijing. Excellent service that went above and beyond. Great breakfast in the morning. Comfortable rooms and beds, though felt maybe a little warm and humid (but really not bad at all). In a quiet neighborhood, but walking distance to major sites and the subway line. Absolutely would recommend this place.
Verified Hotels.com guest review
Easy and comfortable stay for the weekend , the staff were very helpful and informative about local activities.
Verified Expedia guest review
Hutong happiness in Beijing's Cote Cour
If you want to stay in a unique and charming boutique hotel with a guest house atmosphere, I very highly recommend Hotel Cote Cour in one of Beijing 's Hutongs. This neighborhood houses the court musicians 500 years ago and the feeling is still there:) I loved it and want to stay there again in March when the magnolia trees are blooming. I loved Hotel Cote Cour. The staff is simply amazing and the location is excellent. Dining up on the rooftop is fabulous!
Verified Hotels.com guest review
Hotel staff is warm and nice however it is over price. there were a lot of flies and mosquito in the room. Bathroom shower drain was slow and clog. The worst part was leak from the roof due to the rain. I had to take sleeping pills to fall into sleep because of time change, my sleep was interrupted by splashing water on my face. Hotel staff was nice to put a bucket to hold the water since they couldn't fix the leak till next morning, all repair guys were off. And they don't have any other room available.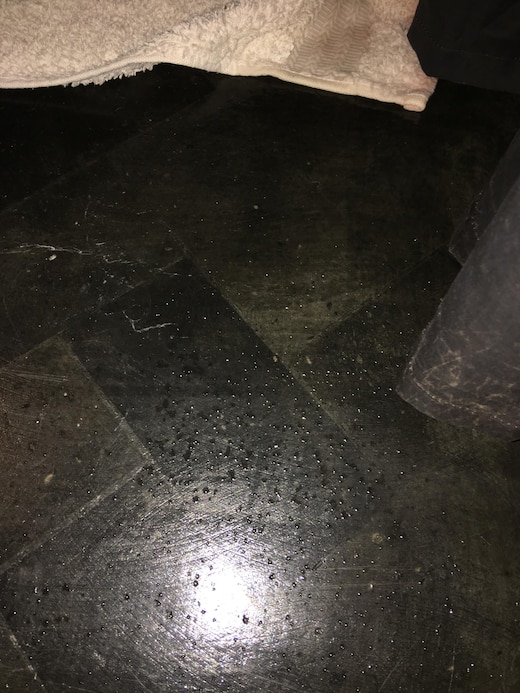 Verified Orbitz guest review
The Hotel Cote Cour has a beautiful courtyard, restaurant featuring breakfast and dinner with amazing food.
Verified Expedia guest review
The staff was friendly and helpful. The property is really beautiful. The room was great (my wife loved it), and the breakfast was also excellent. Awesome value. Glad we chose this place.
Verified Expedia guest review
A week in Beijing
Situated in a hutong this boutique hotel is fabulous. Beautiful gardens, exotic, elegant, nice breakfasts but the real plus is the staff who is so pleasant & helpful. We spent 7 nights & loved it.
Verified Hotels.com guest review
Comfortable stay in central Beijing
We enjoyed our short stay at this hotel in Beijing. The room was very small. Other than that it was a quiet and central location; easy walkable area; wonderful selection and good food in their charming restaurant (breakfast and dinner); and a front desk with an English speaker. They were kind enough to drive us to our next hotel (we met a tour group) a couple kilometers away and when we had forgotten a bag in the bathroom they later brought it to us. Should we come to Beijing again we would enjoy staying at this hotel longer. We would certainly recommend it.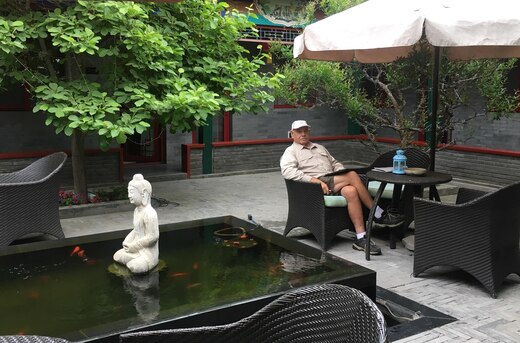 Verified Hotels.com guest review
Memorable!
Wonderful introduction to Beijing. The hotel offers tasteful comfort and gracious service.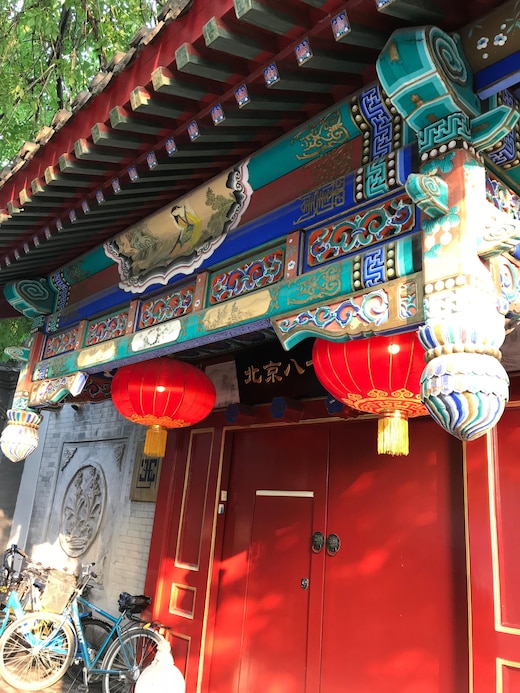 Verified Travelocity guest review
One of the best hotels we have stayed in for a while, it was so unique & to stay in a Hutong was experience. Sara, E & Joyce were just wonderful, they helped us by providing a driver for some of the places we wanted to go to, thanks to all 3 of them & Chung our driver. The breakfast was beautiful, should be tried by all its very well presented & tasty. The garden area was just fantastic to relax in after a long day, so comfortable & restaurant with bar on site was added bonus. All the staff were friendly, happy & nothing was ever a bother. Room was great, we got a family room which was very spacious & comfortable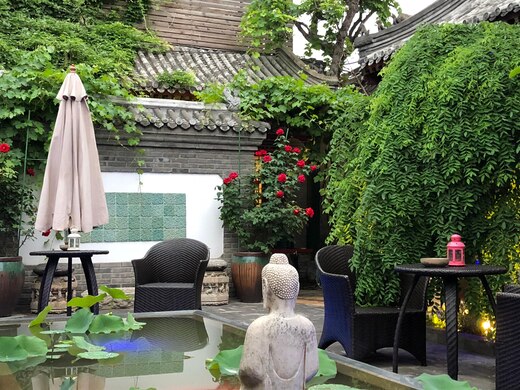 Verified Expedia guest review
Speechless
This hotel was the most beautiful I have ever stayed in, with the most helpful and considerate staff to match
Verified Hotels.com guest review
We had a wonderful time at this hotel. The courtyard and upper deck were full of well cared for plants and the roses we're in full bloom. The staff were very helpful.
Verified Expedia guest review
Lovely typical Chinese hotel in quiet alley.
Very comfortable room in a well-situated single-storey hotel in central Beijing - only 14 rooms around goldfish pond in a pretty courtyard! Staff were all lovely - friendly & helpful, without being fawning. Fixed menu for lunch/dinner had several dishes suitable for vegetarians,
Verified Hotels.com guest review
More authentic Beijing experience
Forget those American-style hotels. This hotel is located in a hutong--a little narrow passageway where real people live. The hotel itself is so charming. There are about 10 rooms situated around a courtyard with a decorative pool. We were not so impressed with the one dinner we had. However, the made-to-order breakfast was a delight to look at and eat. Another plus is that it's walking distance from one of the best Beijing duck restaurants: Siji Minfu.
Verified Orbitz guest review
Full Beijing experience!
Thoroughly enjoyed our 6 night stay. Staff are willing to attend to any request. Breakfasts are fabulous - the presentation is lovely. Dinner was good too. The hutong area is safe, convenient, and "real". Rooms are average size, but have everything needed. Beds, pillows, chairs are comfy.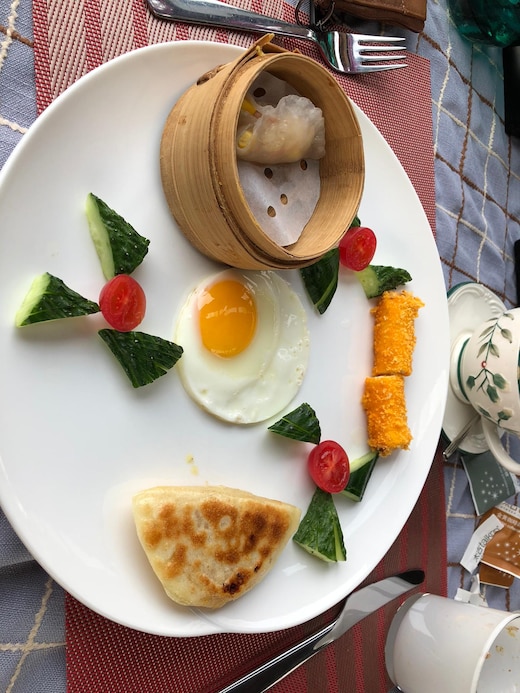 Verified Expedia guest review
Great stay
What a great stay!!! This place was an absolute gem! If you want an authentic Chinese stay this is the place. One of the tiny hutongs it is truly in the heart of Beijing. Close to the subway and many attractions. I definitely will be back one day!
Verified Hotels.com guest review
great welcoming hotel in a wonderful clean hutong...close to many cafes & shops
Verified Expedia guest review
Beautiful small hotel conveniently located.
Stayed there for two nights to visit Beijing and the Great Wall.
Verified Expedia guest review
Quaint and Unique
If you are looking for a warm, unique, boutique experience this is a great choice. It's not a luxury hotel, but it is very nice, with special touches. The staff is very helpful. The breakfasts far exceeded our expectations.
Verified Expedia guest review
Reviews and ratings contained within this site are the subjective opinions of customers and suppliers; they do not represent or reflect Hotels.com's position. Neither Hotels.com nor the parties involved in providing review content shall be held liable for any damages of any sort resulting from use of these reviews