Vista del Angel Hotel Boutique
Narrow reviews:
27 verified guest reviews
The following English reviews were posted by hotel guests from other countries
The hotel was closed for renovations. It was very difficult to teach this property due to protests in the surrounding area and to find that it was closed was very aggravating. I shouldn't have had the option to book it.
Verified Hotels.com guest review
Boutique Hotel with City View
Vista Del Angel Hotel Boutique is a beautifully appointed hotel in the historic heart of Quito with amazing views of the city. The staff is excellent. We were picked up at the airport by a hotel staff member who met us upon arrival. Our dinner and breakfasts in the hotel restaurant were very good as well. Would stay here again!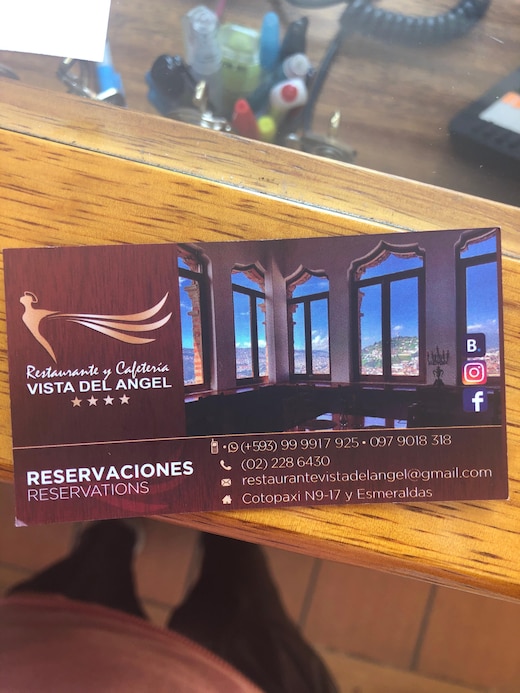 Verified Hotels.com guest review
Unbelievably amazing stay. Truly unique experience and one we will never forget. If you go to Quito you need look no further. This is the place you need to stay.
Verified Hotels.com guest review
Response by Gissela
Dear Mitchell we are glad to see that! We hope to see you soon! Kind regards!
A lovely view at night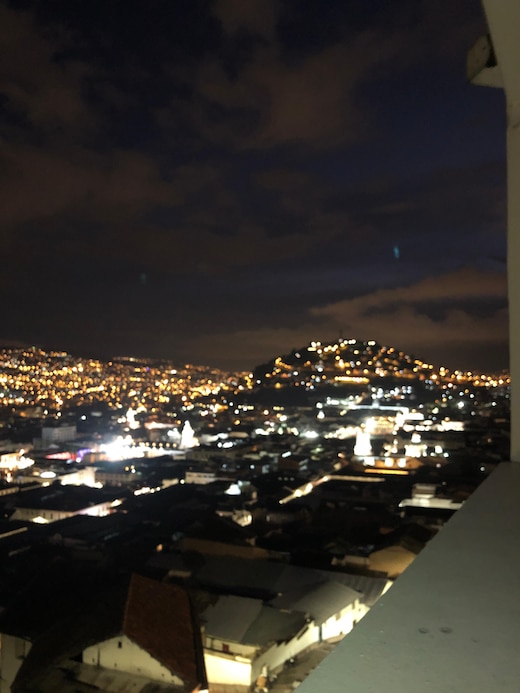 Verified Hotels.com guest review
Response by Daniel
Thank you very much for your comment, we hope you return to the hotel and give us the pleasure of serving you
Lovely inn with spectacular view
Verified Hotels.com guest review
The location is excellent at the top of Quito with incredible views of the city. Friendly staff and great rooms
Verified Expedia guest review
Excellent service particularly when I was sick. Solicitous. Guide on tour was young sweet but didn't know anything. Needs to go on a day tour with experienced guide so she can learn by experience.
Verified Expedia guest review
The hotel is gorgeous with a magnificent view. Room was lovely but bathroom and shower were small; shower was almost uncomfortably small. While the hotel had an extraordinary view, to walk there you had to walk up a very steep street or take a cab. I recommend the hotel for its beauty and warm service but logistically it was a little uncomfortable
Verified Expedia guest review
Location location location location location location location
Verified Expedia guest review
This hotel is close enough to the historic center of Quito to easily walk in, yet is far enough out to give you more of a tranquil stay in busy Quito. The views are magnificent.
Verified Expedia guest review
Breathtaking view of the city. Excellent food. Lovely atmosphere all around. Would highly recommend this hotel.
Verified Expedia guest review
jewel in Quito
Vista del Ángel is a gorgeous place. Thimo is very knowledgeable and profesional. I was treated very well and the people that work there make everything to make you feel at home. The view of Quito is breathtaking, Vista del Angel is very conveniently located.
Verified Hotels.com guest review
The hotel has wonderful view for the Quito old town and the facility is very good. Due to the demonstrations in Quito during our staying, We had breakfasts and dinners in the hotel, the foods are very good! The driver provided by hotel in our last day (Sept 9, 2019) was very good and responsible person, he had to drive more than 2 hours than normal time to get us to the airport due to the demonstration situation. He is only kind and very honest person. We really appreciated. Even he could not speak English, he used Google translation to communicate with us. All of the people in Ecuador that we met are very friendly.
Verified Expedia guest review
Exceptional Hotel
A beautiful property in an excellent location for those touring Quito. The hotel staff (Antony, Raquel, Daniel, Quisella) is exceptional, as is the breakfast included each morning and the dinners, which are customized each night by the chefs (Jefferson, Antony, Angelo), who converse with the guest about food and taste preferences. The bedroom and bathroom have ample space, the bed is comfortable, plenty of outlets for charging electronics, and a free vase of filtered water each day. The only occasional negative is that the hot water can temporarily go cold. However, the temperature returns fairly quickly. In addition, those not in shape may find it difficult to walk up the very steep street in which the hotel is situated. Personally, I enjoyed the challenge. With the combination of early altitude acclimation and the steep pitch I initially had to stop 2x to catch my breath when returning from the Old Town to the hotel. However, by the end of the week I could run up the hill without stopping. Nevertheless, those who are not fit, very overweight, have respiratory problems, or are disabled may find the steep walk a major negative. Overall, I thoroughly appreciated the hotel and highly recommend Vista del Angel to anybody that wishes to tour Old Town Quito.
Verified Hotels.com guest review
Really nice and clean. Staff was very polite and informative. Loved the view from the terrace, highly recommend!
Verified Expedia guest review
Staff was very helpful, facilities were great and the food spectacular
Verified Expedia guest review
Service was outstanding, food excellent, and most beautiful views!
Verified Expedia guest review
The location is exelent the rooms 👌 and the services👍 Big sorprce to us😉
Verified Orbitz guest review
Vista del Angel Hotel Boutique is the princess on the hill! The building, over 200 yrs old has been thoughtfully and thoroughly renovated and appointed. The views are astounding. Hotel staff have exceptional hospitality, kindness and customer service. I am not one to review but felt I must in this case.
Verified Expedia guest review
Beautiful hotel in Old town of Quito
Beautiful hotel in old town of Quito. Great restaurant. Very comfortable rooms. Very tastefully designed with wonderful art on the walls. Very classy atmosphere. And very friendly and helpful stuff. It's a jewel. I'll definitely stay here again if I come back to Quito.
Verified Hotels.com guest review
Excellent location with view of Old City Quito. Very near to landmarks in the old city, but a steep walk (this is how you earn the view). Helpful staff, excellent breakfast, newly furnished & remodeled historic building. Would prefer unscented paper products & detergents.
Verified Orbitz guest review
Amazing view. Great location
Nice room with great vista of Quito. Breakfast was excellent (non buffet style) with fruit and eggs and lots of good coffee.
Verified Hotels.com guest review
The following reviews were posted by hotel guests from other countries
Very beautiful, well kept boutique hotel. Centrally placed and with stunning city views. The personnel is extremely kind and professional yet young and fresh. Food is also refined and delicious
Verified Hotels.com guest review
Verified Expedia guest review
Verified Expedia guest review
Verified Hotels.com guest review
Verified Expedia guest review
Reviews and ratings contained within this site are the subjective opinions of customers and suppliers; they do not represent or reflect Hotels.com's position. Neither Hotels.com nor the parties involved in providing review content shall be held liable for any damages of any sort resulting from use of these reviews