10 Best Restaurants on Hong Kong Island
Where to Eat on Hong Kong Island
Some of the best restaurants on Hong Kong Island are famous for serving cheap yet authentic Chinese cuisine, but this bustling area has also become famous for its fine-dining scene. You'll find many critically-acclaimed venues that are awarded with Michelin stars, attracting foodies with their gastronomic masterpieces.
Hong Kong Island also has quality restaurants, most of which are close to popular areas such as Lan Kwai Fong, Sheung Wan, Wan Chai and Causeway Bay. Covering just about any budget level, check out our guide on where to eat on Hong Kong Island.
208 Duecento Otto has been a mainstay of the Shueng Wan dining scene for many years. With a downstairs bar and a cosy-yet-cool upstairs bistro, the restaurant is known for its fantastic Neapolitan pizzas, along with a range of classic and signature recipes.
The intriguing appetisers and light bites are also outstanding – cured meats and Italian cheeses are prominently featured on the menu. You can also enjoy a roasted lamb rack or slow-braised ossobucco if you want the complete Italian dining experience.
Location: 208 Hollywood Road, Tai Ping Shan, Hong Kong
Open: Monday–Friday from 12 pm to 10 pm, Saturday–Sunday from 11 am to midnight
Phone: +856 2549 0208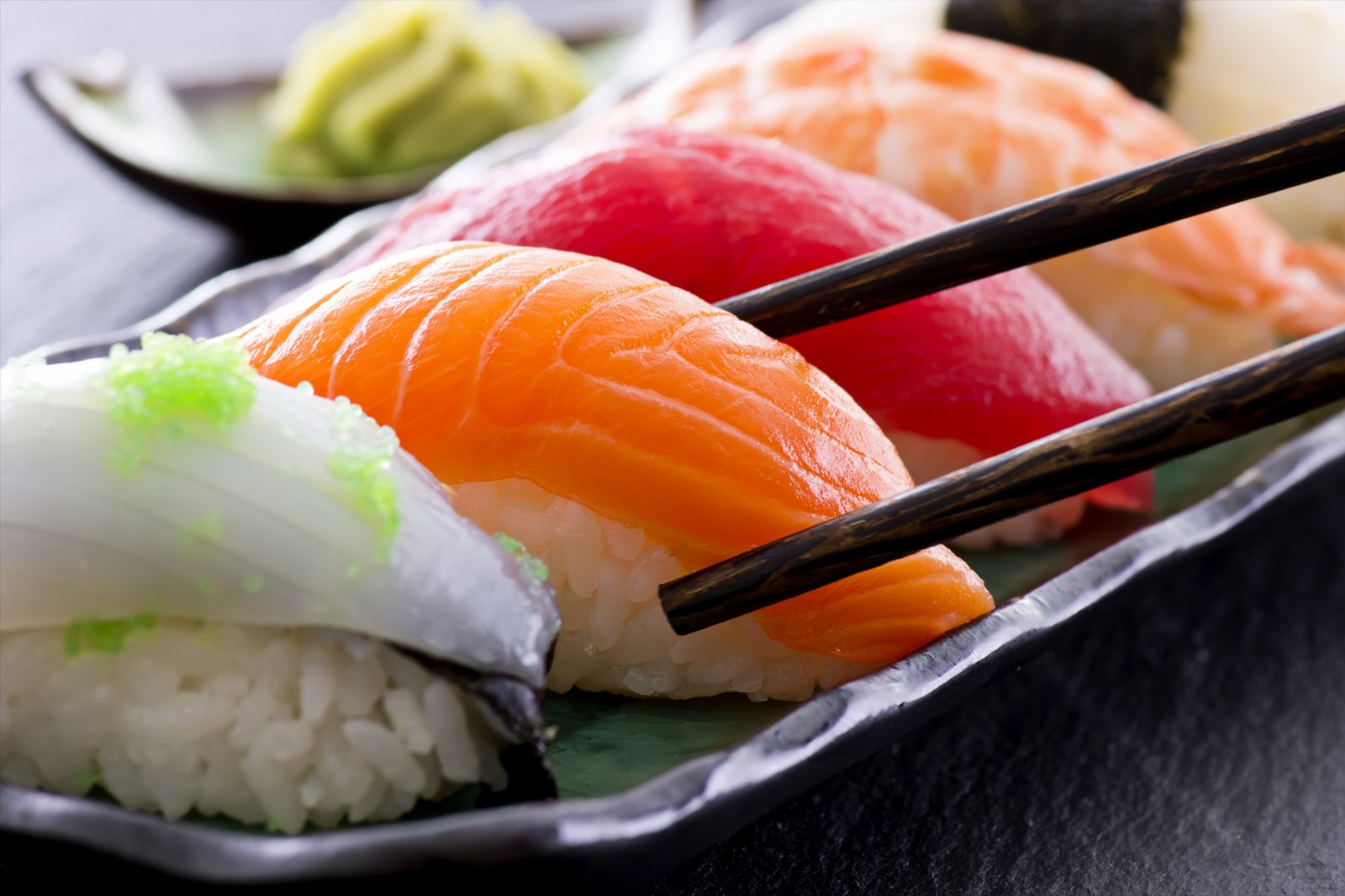 Itacho Sushi is a Japanese chain restaurant in Hong Kong, where you can enjoy fresh sashimi and sushi at affordable prices. Standouts include the jumbo scallop sushi, sea urchin suchi, and fried softshell crab, all served up with no fuss in a modern setting. There are over a dozen Itacho Sushi branches throughout Hong Kong, most of which are in busy areas like Central, Causeway Bay, and Tsim Sha Tsui.
Location: Shop 137, 1/F, Sun Hung Kai Centre, 30 Harbour Road, Wan Chai, Hong Kong
Open: Daily from 10 am to 10 pm (hours vary by outlet)
Phone: +852 2511 2826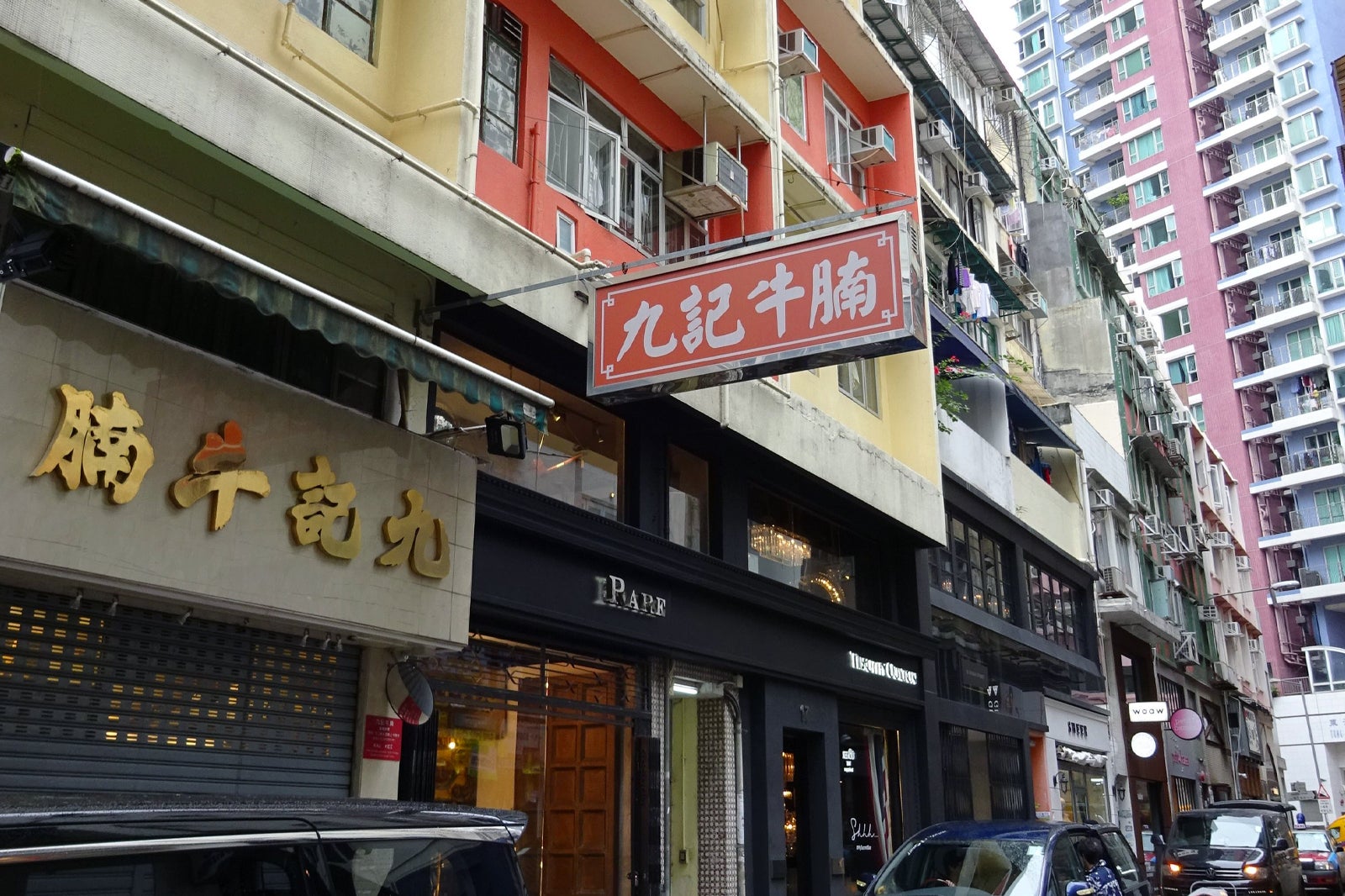 The classic Hong Kong noodle dish – beef brisket with yellow egg noodles – is best enjoyed at Kau Kee Food Cafe. The queue is pretty much constant at this Central Hong Kong eatery, located just off the mid-level escalators on Gough Street.
The broth is incredibly rich, the beef tender and soft, and the 'yee-fu' flat wheat noodles are silky smooth. As with all the most famous local restaurants in Hong Kong, expect long queues (usually about 10 to 20 minutes) to get a seat at peak times.
Location: Ground Floor, 21 Gough Street, Central, Hong Kong
Open: Monday–Saturday from 12.30 pm to 10.30 pm (closed on Sundays)
Phone: +852 2850 5967
photo by THRUM w Posechoa (CC BY-SA 4.0) modified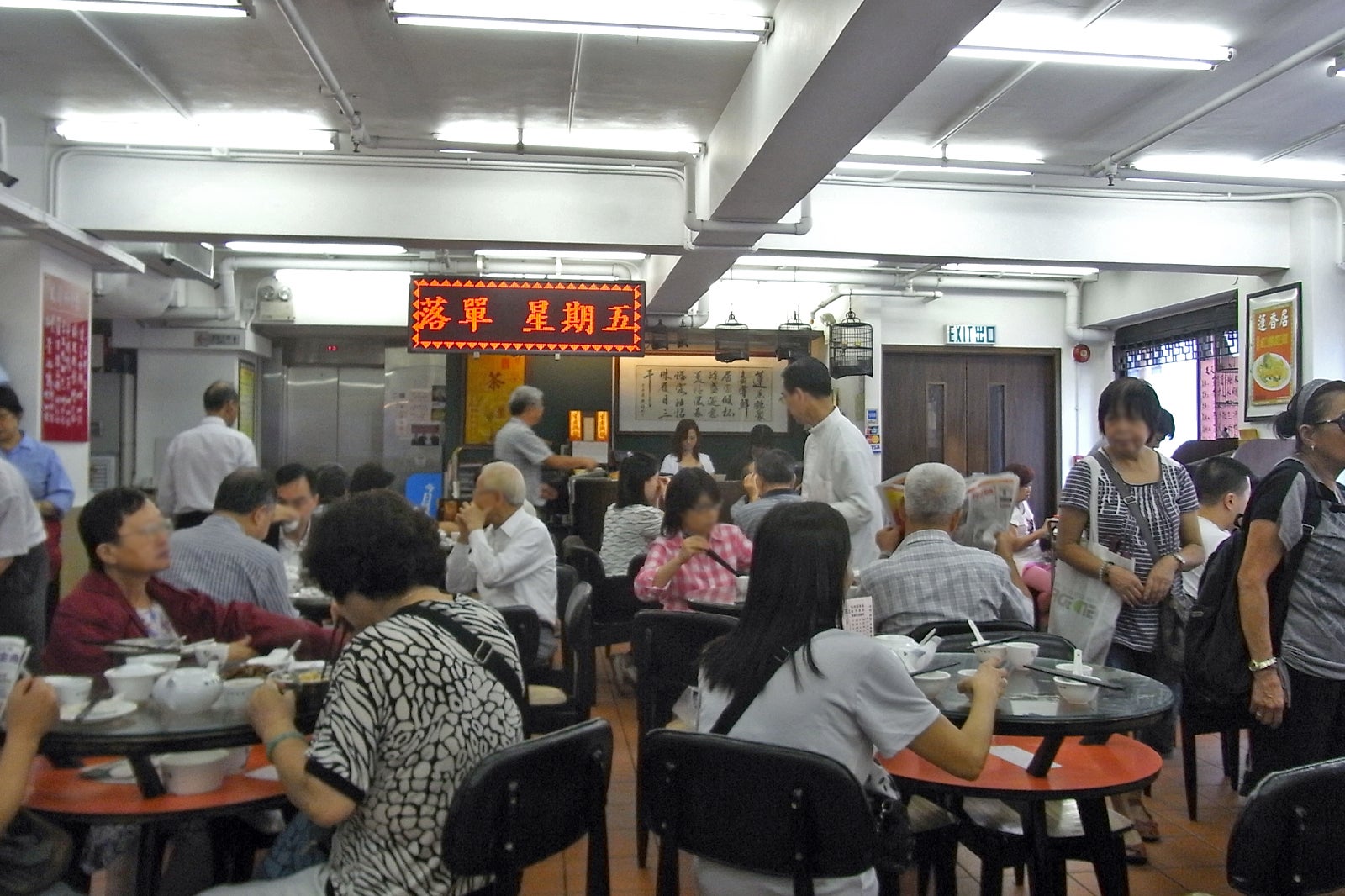 Lin Heung Kui is certainly one of the best places for Cantonese food in Sheung Wan. Unlike most dim sum spots in Hong Kong, this restaurant maintains the traditional style of serving dim sum, where a staff pushes a trolley with various types of bite-sized dishes.
Lin Heung Kui is often packed at lunchtime, so it's best to visit in the morning to secure a table. Standouts include the radish cake, rice noodle rolls with shrimp, and lo mai gai (steamed sticky rice wrapped in lotus leaf).
Location: 40-50 Des Voeux Rd W, Sheung Wan, Hong Kong
Open: Daily from 6 am to 10 pm
Phone: +856 2156 9328
photo by EahJoseph (CC BY-SA 3.0) modified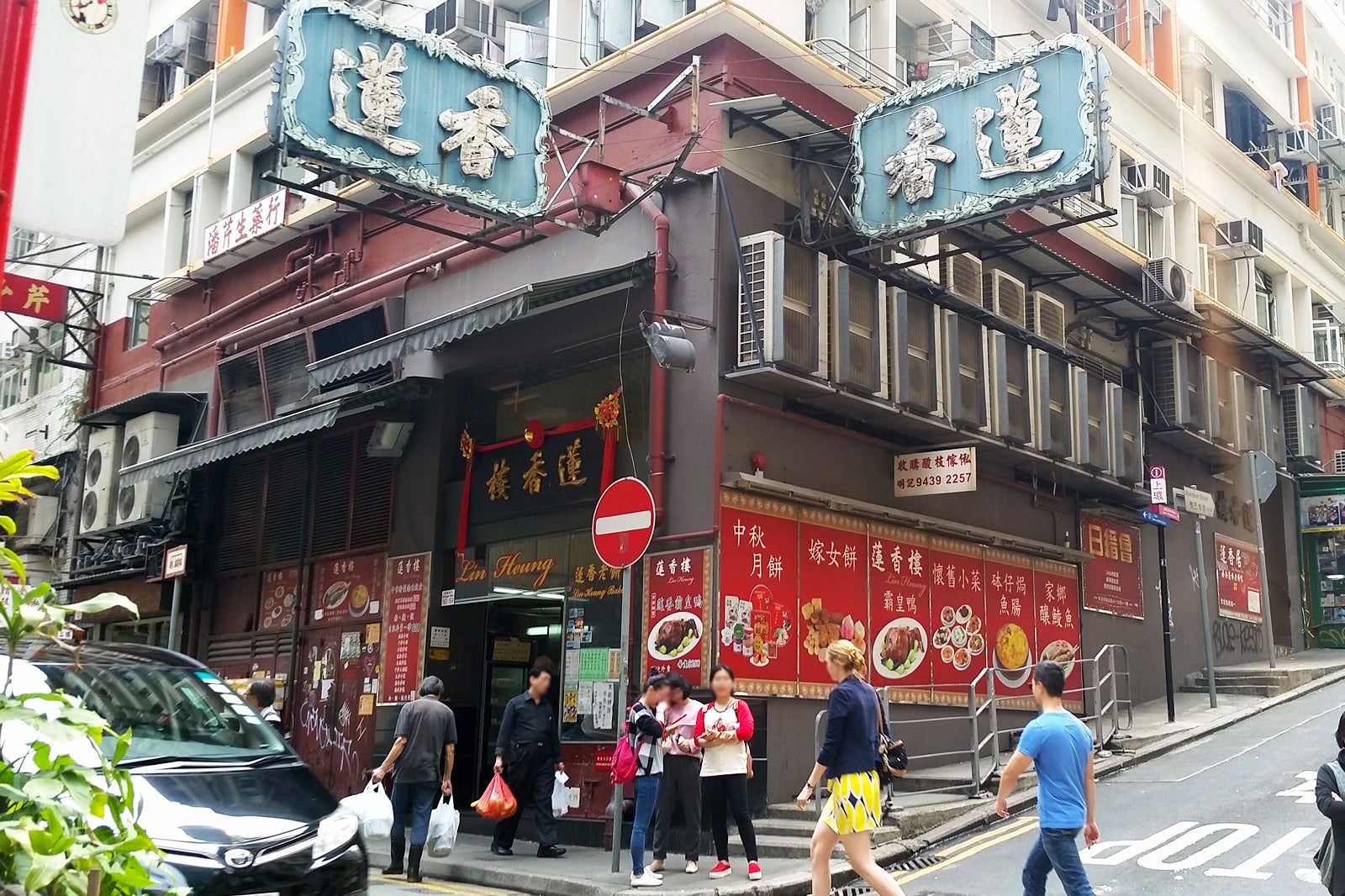 Lin Heung Tea House does dim sum the way they did back in the '50s. Old aunties push the freshly steamed dumplings around on a cart and you just stop her and point. Tables are packed and piled high with bamboo baskets, fans whirl overhead and the whole vibe harks back to days gone by.
If you want something in particular, Lin Heung Tea House has order sheets (though you may need some help unless you can read Cantonese). Thanks to the number of tourists, the staff can speak a bit of English.
Location: 162 Wellington Street, Sheung Wan, Hong Kong
Open: Daily from 6 am to 5 pm
Phone: +852 2544 4556
photo by Reimaginegp3 (CC BY-SA 4.0) modified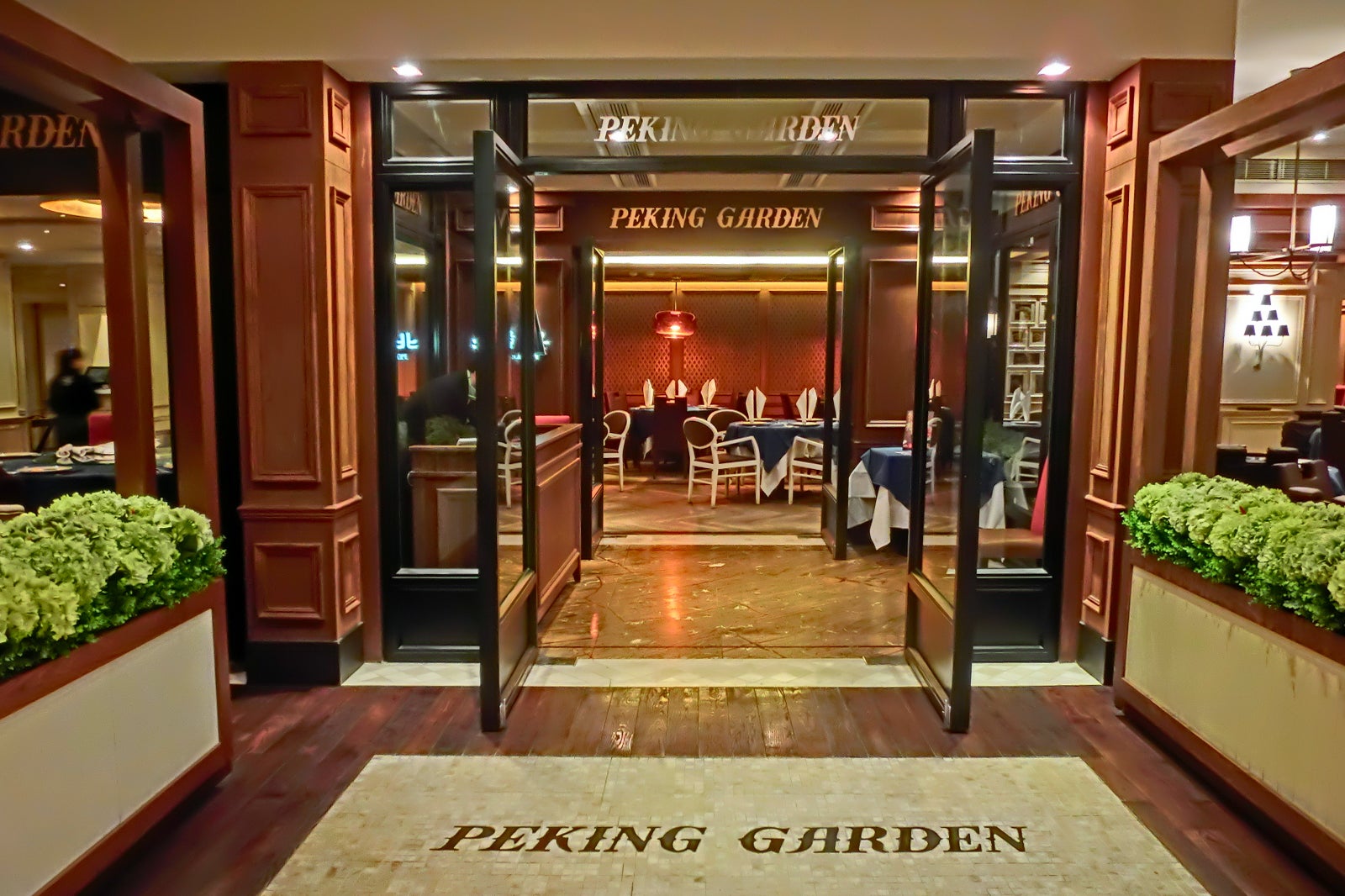 Peking Garden may sound like a generic Chinese takeaway, but this Hong Kong Island restaurant has been at the forefront of fine Cantonese dining since 1978.
Peking Garden's speciality is, of course, the Peking duck – expect an entire duck arriving at the table, before it's carved right in front of you by an experienced waiter. Stir-fried prawns and fried fish with sweet-sour sauce are also must-tries at Peking Garden.
Location: Alexandra House, Shop B1, Basement 1, Central, Hong Kong
Open: Daily from 11.30 am to 3 pm and from 6 pm to 11.30 pm
Phone: +852 2526 6456
photo by Ciegorctamoa (CC BY-SA 3.0) modified
The Boathouse is a 3-storey building with a rooftop section offering great views over Stanley Bay. You can't miss it – the corner lot restaurant stands out with its European exterior. It's one of the best places to head for if you're after a quaint seaside atmosphere and a memorable dining occasion. The Boathouse's international a la carte menu spotlights fresh seafood, with an incredibly diverse menu offering everything from curry crab to African chicken and tandoori swordfish.
Location: 88 Stanley Main Street, Stanley, Hong Kong
Open: Sunday–Thursday from 11.30 am to 10 pm, Friday–Saturday from 11.30 am to 11 pm
Phone: +852 2813 4467
8
Under Bridge Spicy Crab 橋底辣蟹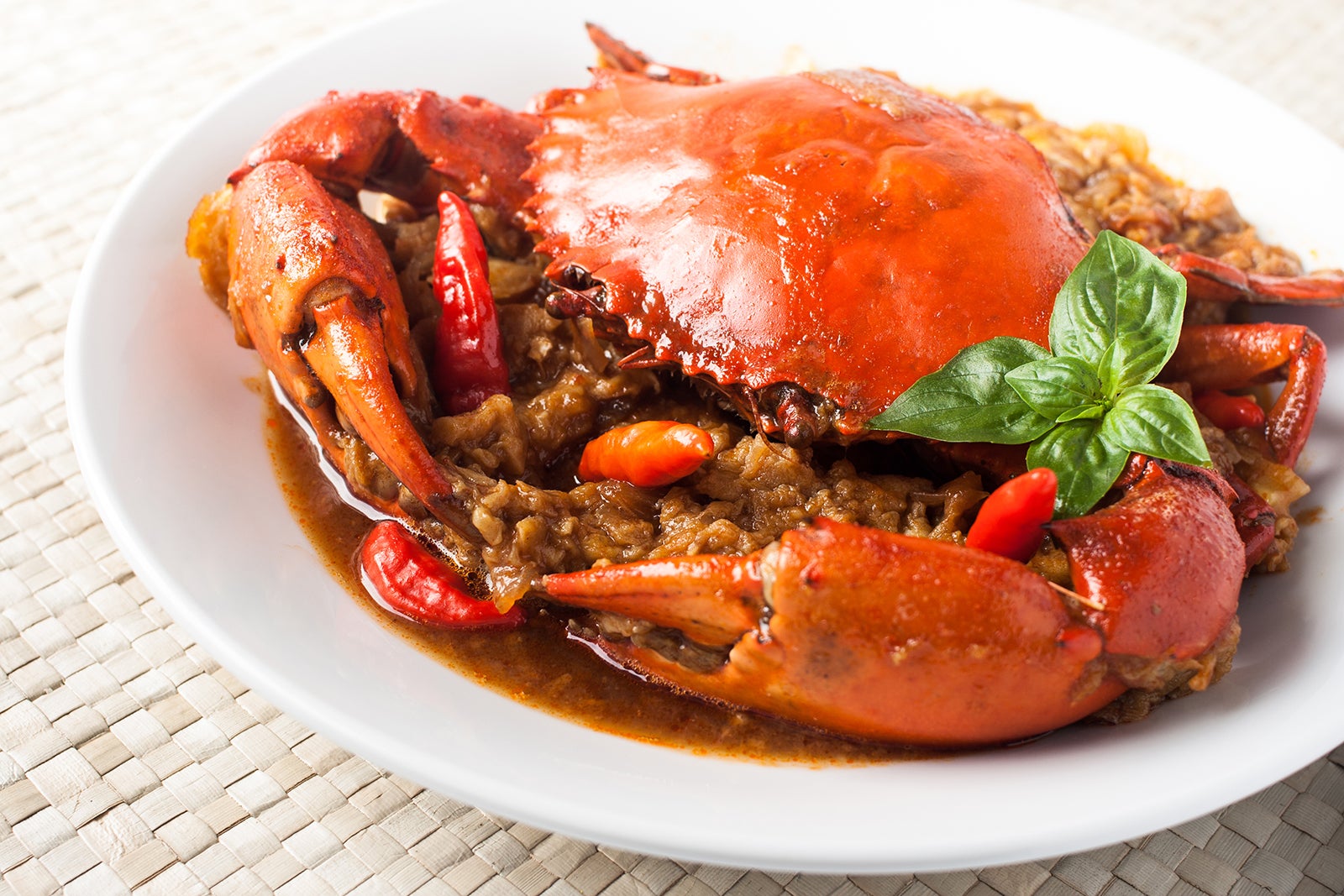 Under Bridge Spicy Crab has pictures of local and international celebrities adorning the walls, all of whom have sampled its signature dish: spicy crab topped with deep fried garlic and chilli. Under Bridge Spicy Crab also specialises in seafood offerings such as mussels, shrimp and grouper. There are 3 restaurants owned by the same group, which are located on Jaffe Road and Lockhart Road.
Location: G/F-3/F, Ascot Mansion, 421-425 Lockhart Road, Wan Chai, Hong Kong
Open: Daily from 11 am to 3 am
Phone: +852 2893 1289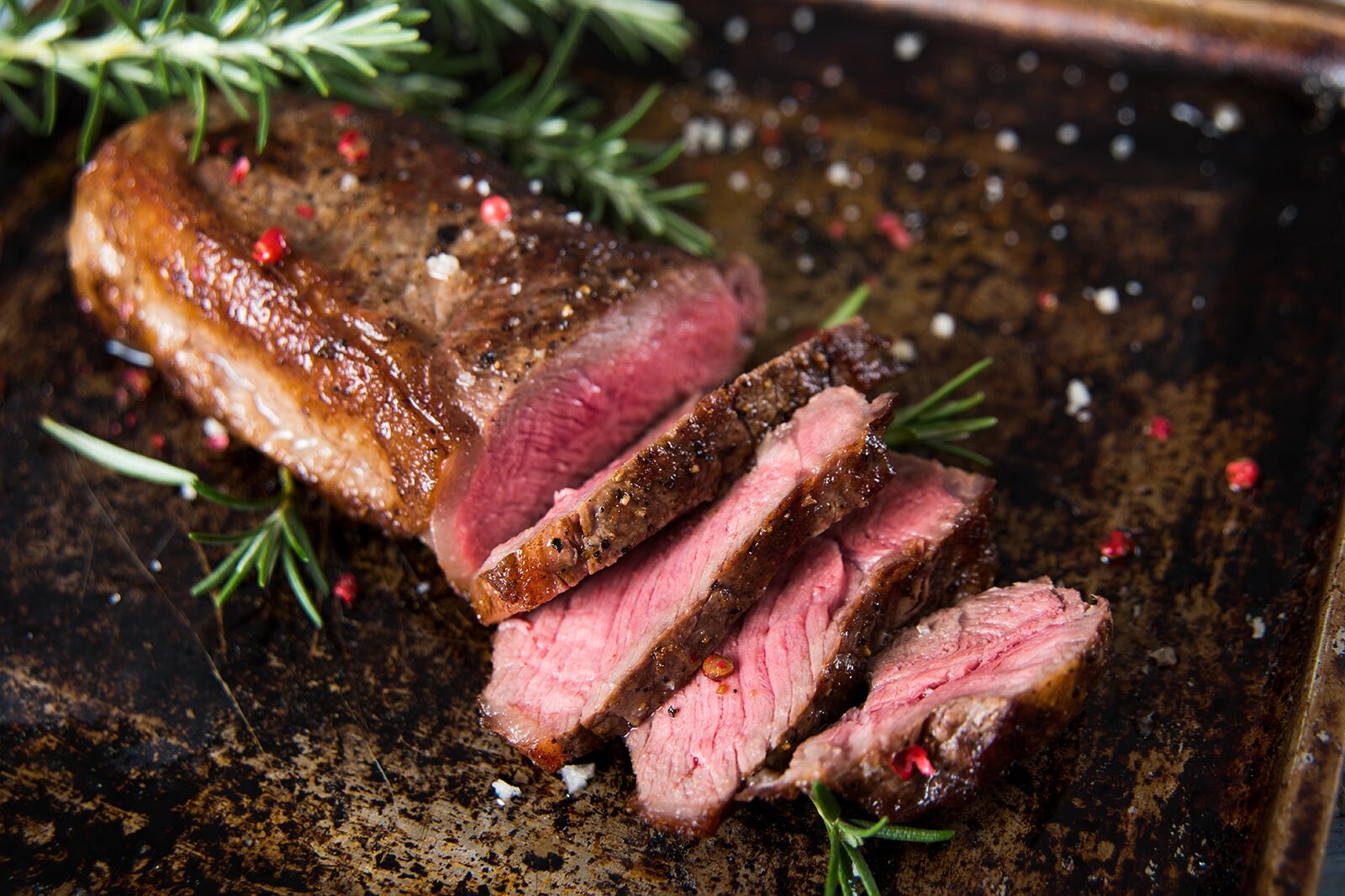 Takumi by Daisuke Mori is an award-winning restaurant in the Wan Chai district of Hong Kong. With 1 Michelin star to its name, Takumi's expert team of chefs create unique Japanese dishes based around seasonal produce from Japan, France, and Europe.
The restaurant has an open kitchen concept, with 12 leather seats fronting a Japanese-style bar. A 10-course dinner at Takumi by Daisuke Mori costs around HK$ 2,080, while its 4- and 6-course lunch sets are priced at HK$88 and HK$1,280.
Location: Shop 1, G/F, The Oakhill, 16 Wood Road, Wan Chai, Hong Kong
Open: Monday–Saturday from 12 pm to 2.30 pm and from 6.30 pm to 10.30 pm (closed on Sundays)
Phone: +852 2574 1299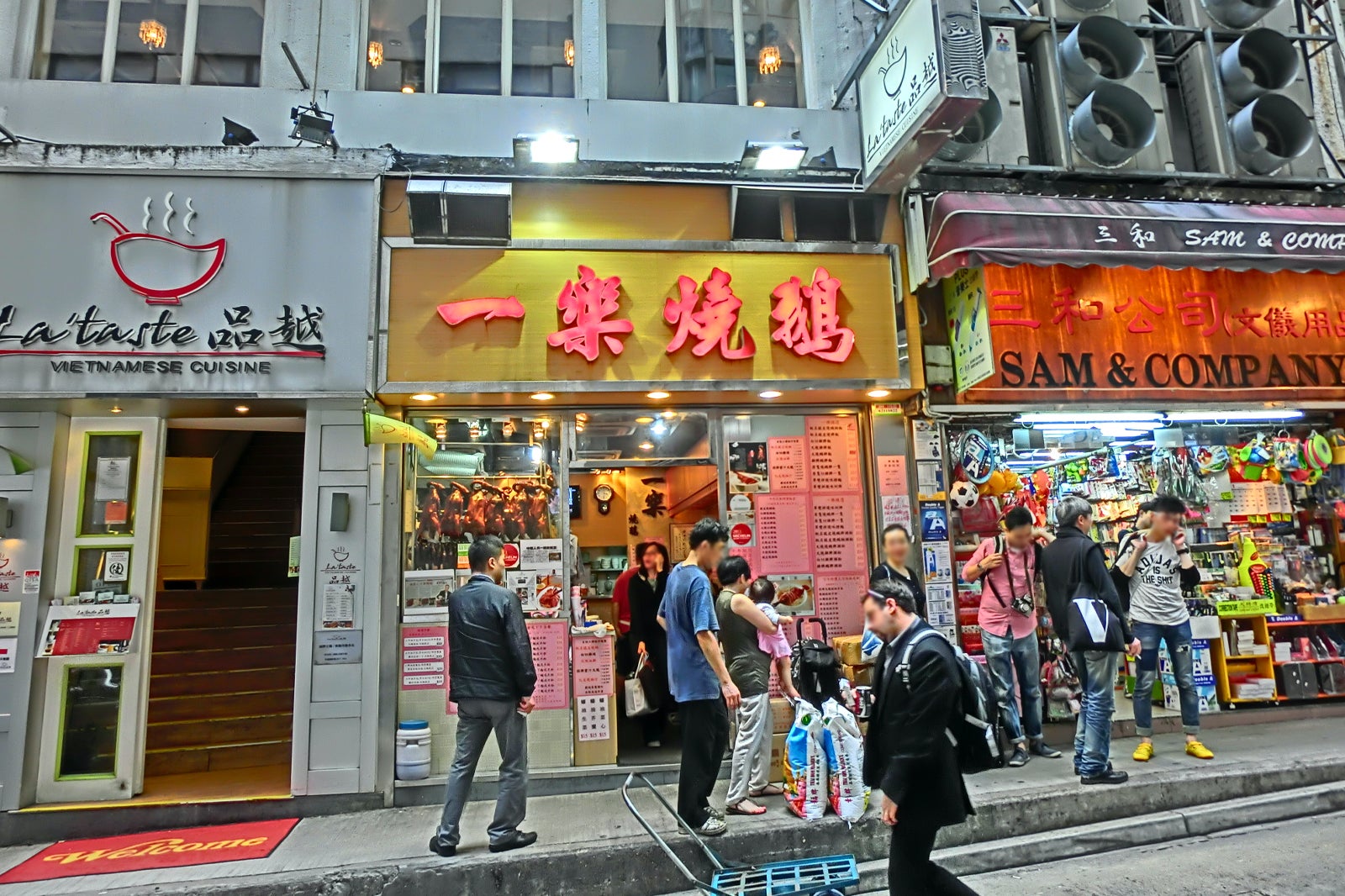 Yat Lok Restaurant serves a variety of roasted meats, but its signature roast goose is the one that attracts people from all over the world. The dining experience is typical of local Hong Kong joints, with Chinese-speaking staff and abrupt service.
But if you are looking for a fill of delicious roast goose, head to Yat Lok in Central – you won't be disappointed. Roast pork belly and soy-marinated chicken are also must-tries at this Chinese restaurant.
Location: 34-38 Stanley Street, Central, Hong Kong
Open: Monday–Tuesday and Thursday–Saturday from 10 am to 9 pm, Sunday from 10 am to 5.30 pm (closed on Wednesdays)
Phone: +852 2524 3882
photo by Eakzowuweb (CC BY-SA 3.0) modified