15 Best Things to Do in Tanjung Benoa
What is Tanjung Benoa Most Famous For?
Tanjung Benoa is a small peninsula in the south of Bali that's famous for its many water sports, which continuously draw adrenaline junkies to its tropical shores. Located just north of the 5-star resort enclave of Nusa Dua, the combination of white sand and calm seas make it a great alternative tourism destination, where you can enjoy the thrills of jet skis, fishing tours, parasailing and banana boat rides – and that's just for starters.
Apart from the endless action to be had, Tanjung Benoa is also home to cultural attractions like one of the island's leading Balinese cooking schools and some especially interesting temples. Look out for shrines made of coral, as well as one of the island's oldest Chinese temples.
What are the best things to do in Tanjung Benoa?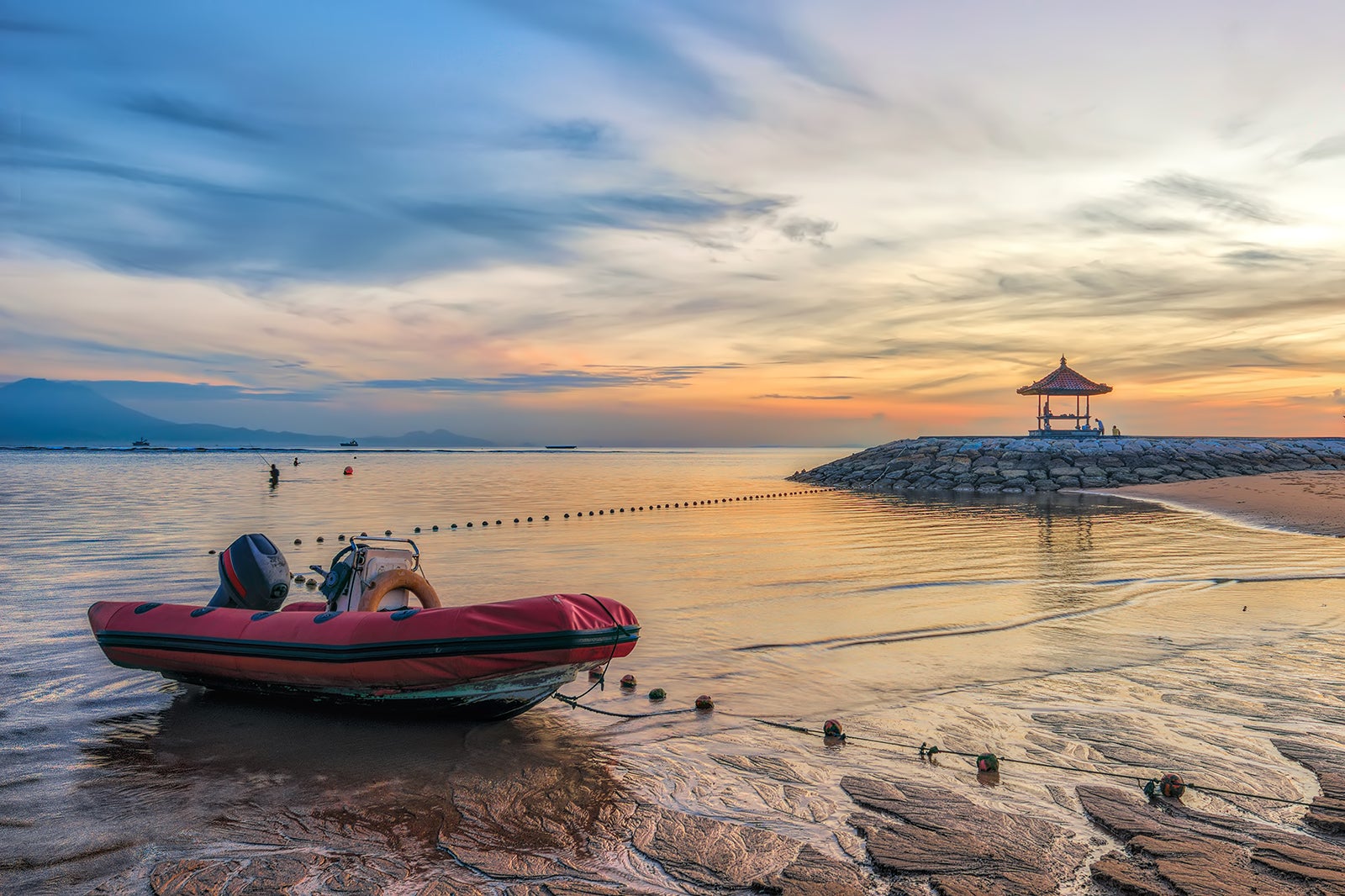 Couples
Families
Photo
Budget
Adventure
The main beaches of Tanjung Benoa are found along its 3 km eastern coastline, easily accessible from the Nusa Dua hub. A single road – Jalan Pratama – runs parallel with the coast, connecting the collection of beachfront resorts, restaurants, art shops and water sports operators.
The waves here are generally much calmer when compared to Bali's other beaches, including neighbouring Nusa Dua. Beaches nearer to the north of the peninsula are dominated by water sports, while those to the south are great for swimming and snorkelling. The clean, white sand here is ideal for strolling or sunbathing.
Read more
Location: Jalan Pratama, Tanjung Benoa, Badung, Bali 80361, Indonesia
2
Tanjung Benoa Water Sports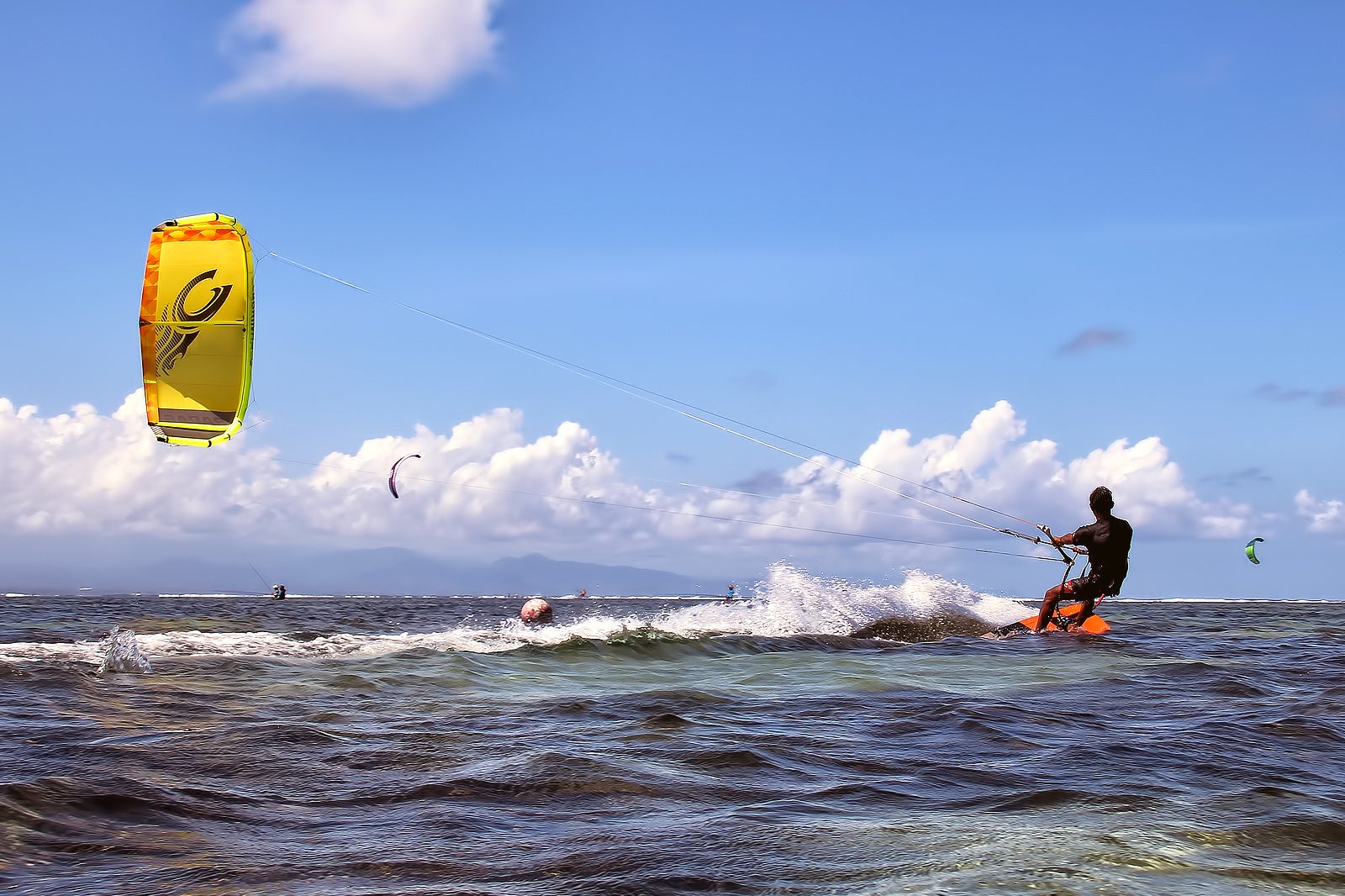 Tanjung Benoa is home to Bali's main water sports playground. It's the place to go to zip across the waves on a jet ski or hover high up in the air for a bird's-eye view of the peninsula from a speedboat-towed parasail. Jet ski rides usually have an instructor riding on the back while you take the controls, and they last about 15 to 20 minutes of fun and splashing thrills.
You can also take a ride on banana boats and flying fish, neither of which is for the faint of heart. The latter glides 2-5 metres up in the air as it gains speed! Water jetpacks are also available letting you soar above the sea like Iron Man. Underwater adventures include scuba diving, sea-walking adventures, underwater scooters, which let everyone enjoy the lush coral gardens. Most of the operators are found along the northern coastline.
Location: Jalan Pratama, Tanjung Benoa, Badung, Bali 80361, Indonesia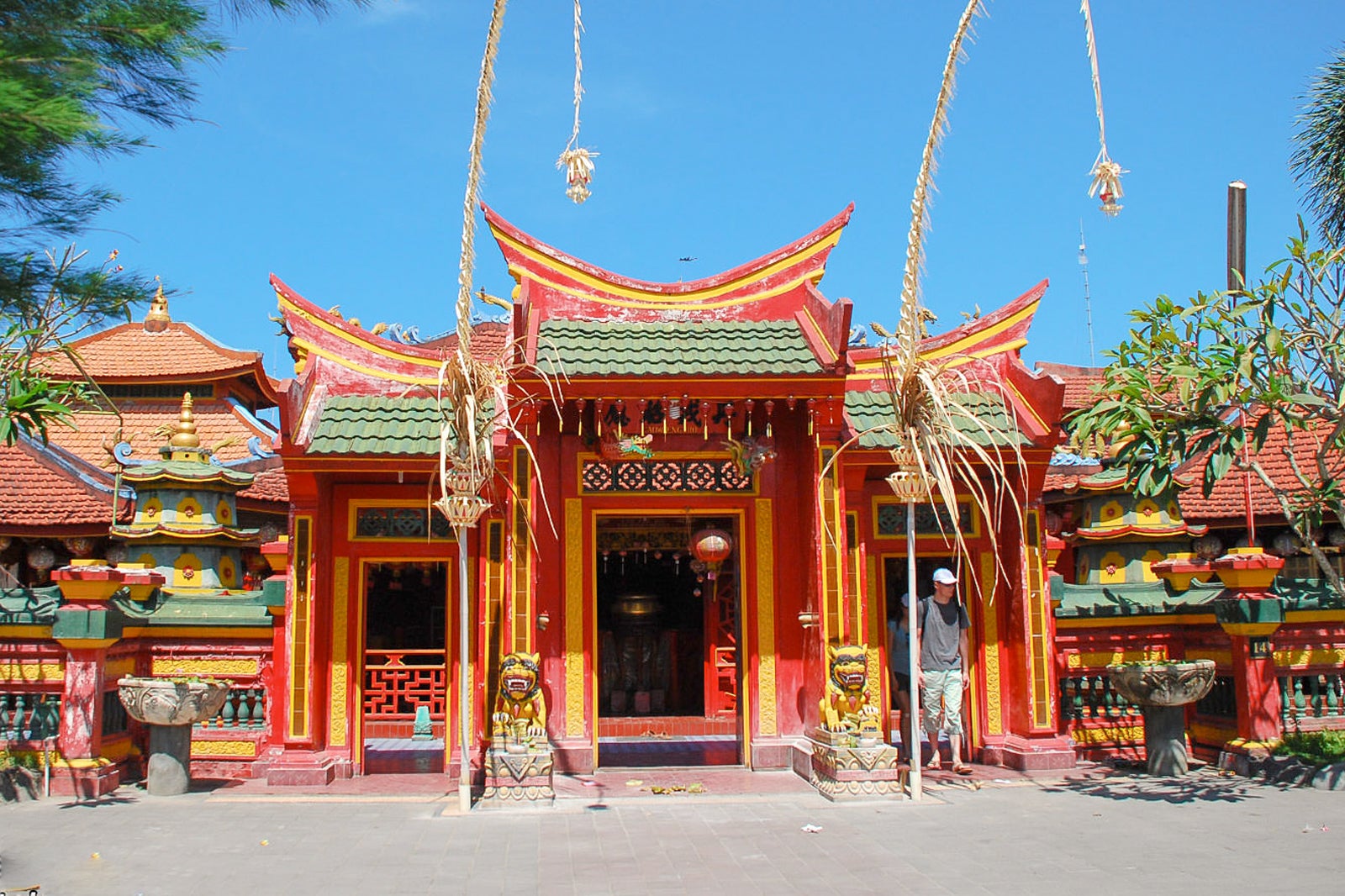 Couples
Families
History
Photo
Caow Eng Bio is one of Bali's oldest Chinese temples. It's certainly worth a visit for the culturally inclined, especially as it serves as a contrasting highlight against the modern hotels, boutique resorts and the buzzing water sports action of the coast. The Chinese temple, built by Chinese merchants and early immigrants of a bygone era, is also said to predate some of the Balinese Hindu temples along the peninsula.
Through an ornate wooden door, the central pavilion filled with statues of Chinese deities is only for those praying. Open every day, the best time to visit is around the Lunar New Year, usually between February and April each year.
Read more
Location: Jalan Segara Ening No.14, Tanjung Benoa, Badung, Bali 80361, Indonesia
Open: Daily from 6 am to 9 pm
4
Bumbu Bali Cooking School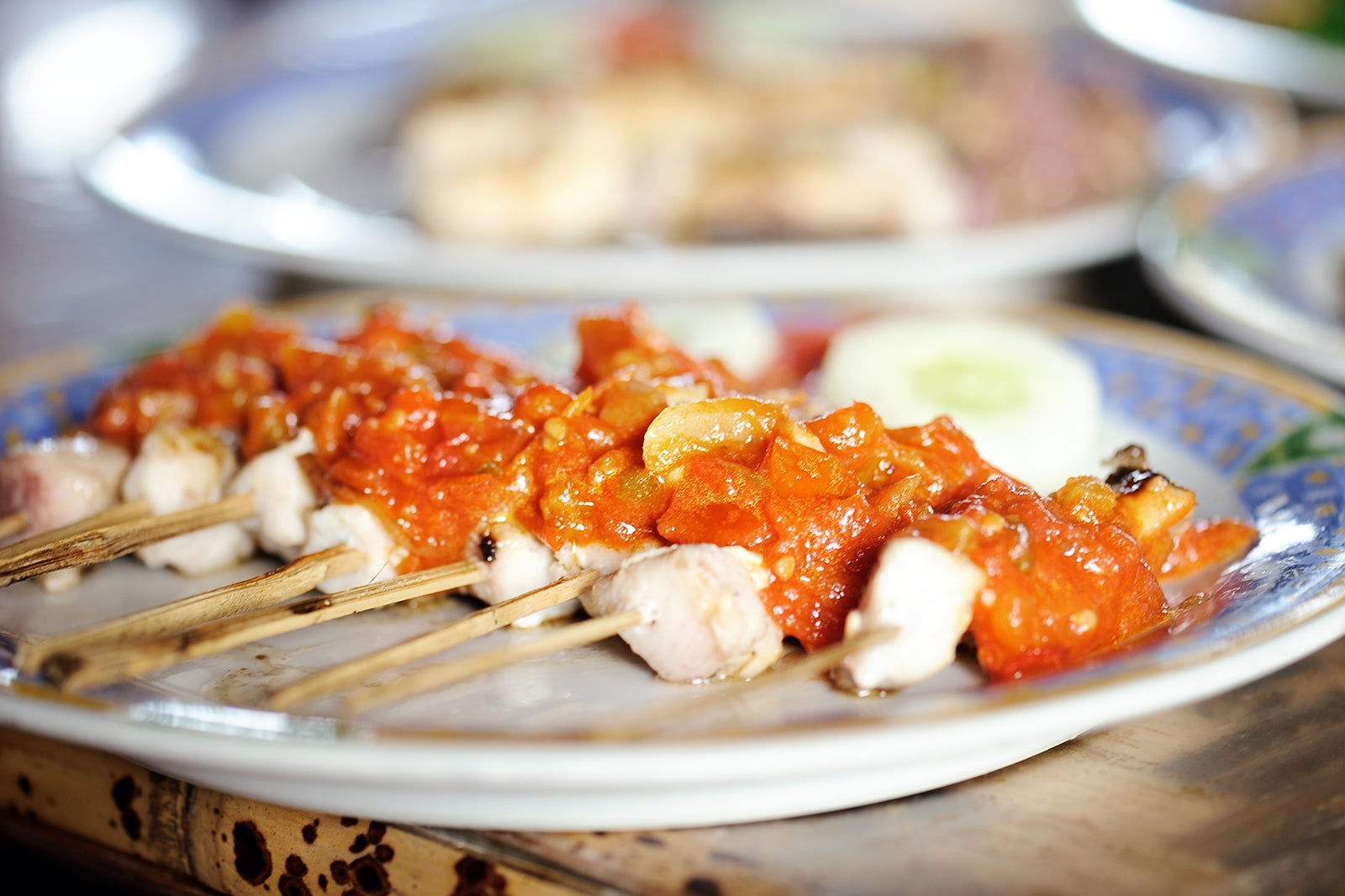 Bumbu Bali is a pioneering Balinese cooking class that also takes you to a traditional morning market and shows you the many fresh ingredients that make up Balinese cuisine. Having haggled for the necessary ingredients, you head back to the kitchens in Tanjung Benoa to turn them into great dishes.
The kitchen is built to closely resemble a traditional Balinese one, complete with unique utensils that you might never have seen or handled before. You don the black and white aprons and learn the many secrets, flavours and techniques from Heinz von Holzen, author of several highly acclaimed cookbooks and former chef of a 5-star resort in Nusa Dua. The joy of lunching away on your own Balinese dishes is unparalleled.
Location: Jalan Pratama, Tanjung Benoa, Nusa Dua, Bali 80361, Indonesia
Open: Mondays and Wednesdays from 8 am to 2 pm
Phone: +62 (0)361 772299
5
Pura Dalem Ning Lan Taman Beji Temple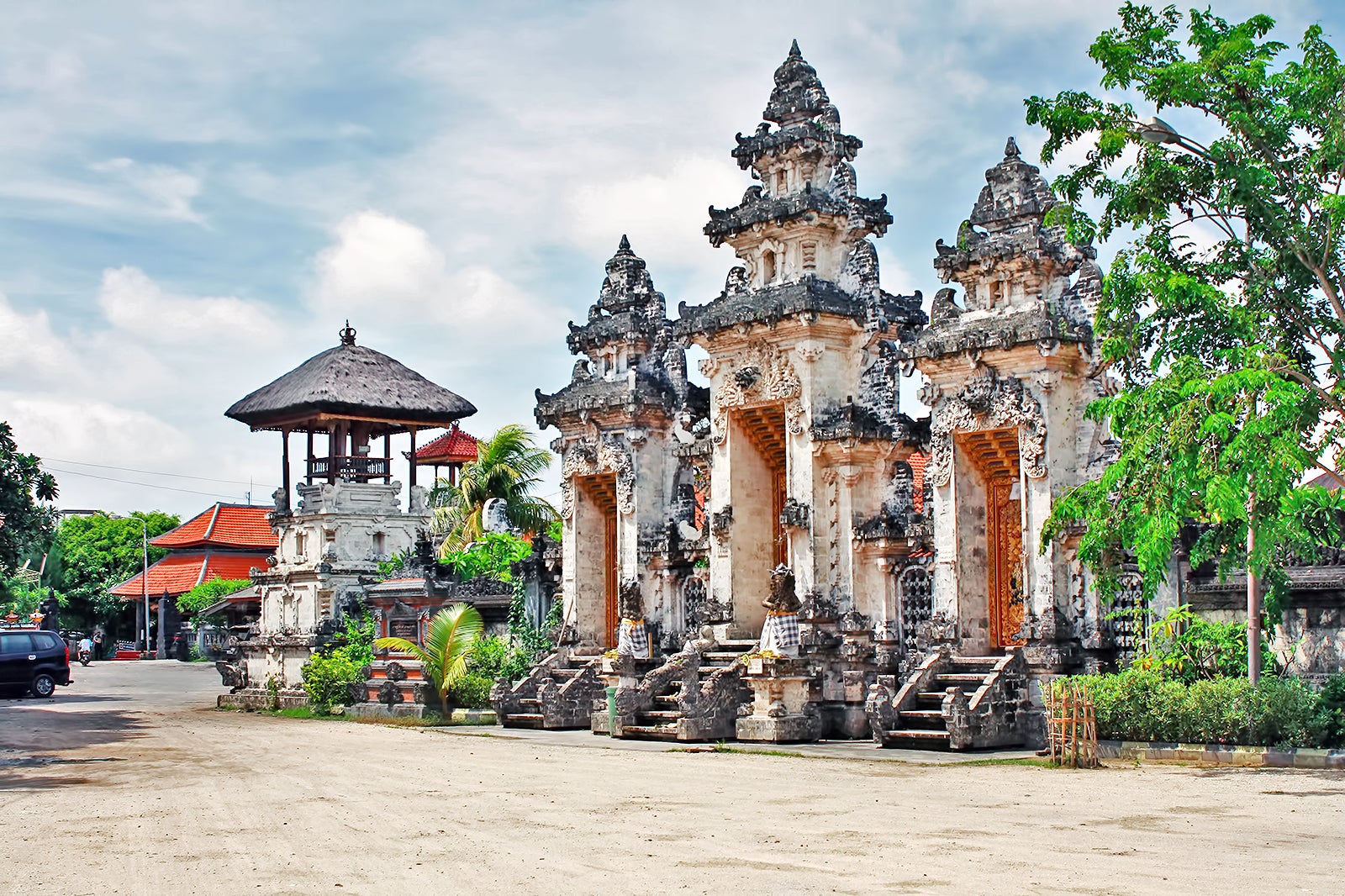 Pura Dalem Ning Lan Taman Beji in Tanjung Benoa consists of 2 temples – Pura Dalem Ning and Pura Taman Beji. The first used to belong to the royal family of Pemecutan while the second is where people come to cleanse their pretimas (Bali's statuettes of each deity, made of sandalwood). Details to look out for include the 3 majestic gates of white sandstone around gold-painted doors. Taman Beji's shrine is made of cut coral stones and is also worth a look
Buddhists are allowed to come and pray in the Hindu Pura Dalem Ning, as agreed between ancestors from both religions. While the temples are only open for special holidays, there are at least 12 of them a year. Some ceremonies last for 24 hours while the bigger ones last for at least 3 days.
Location: Jalan Pratama, Tanjung Benoa, Badung, Bali 80361, Indonesia
6
Glass-bottomed boat rides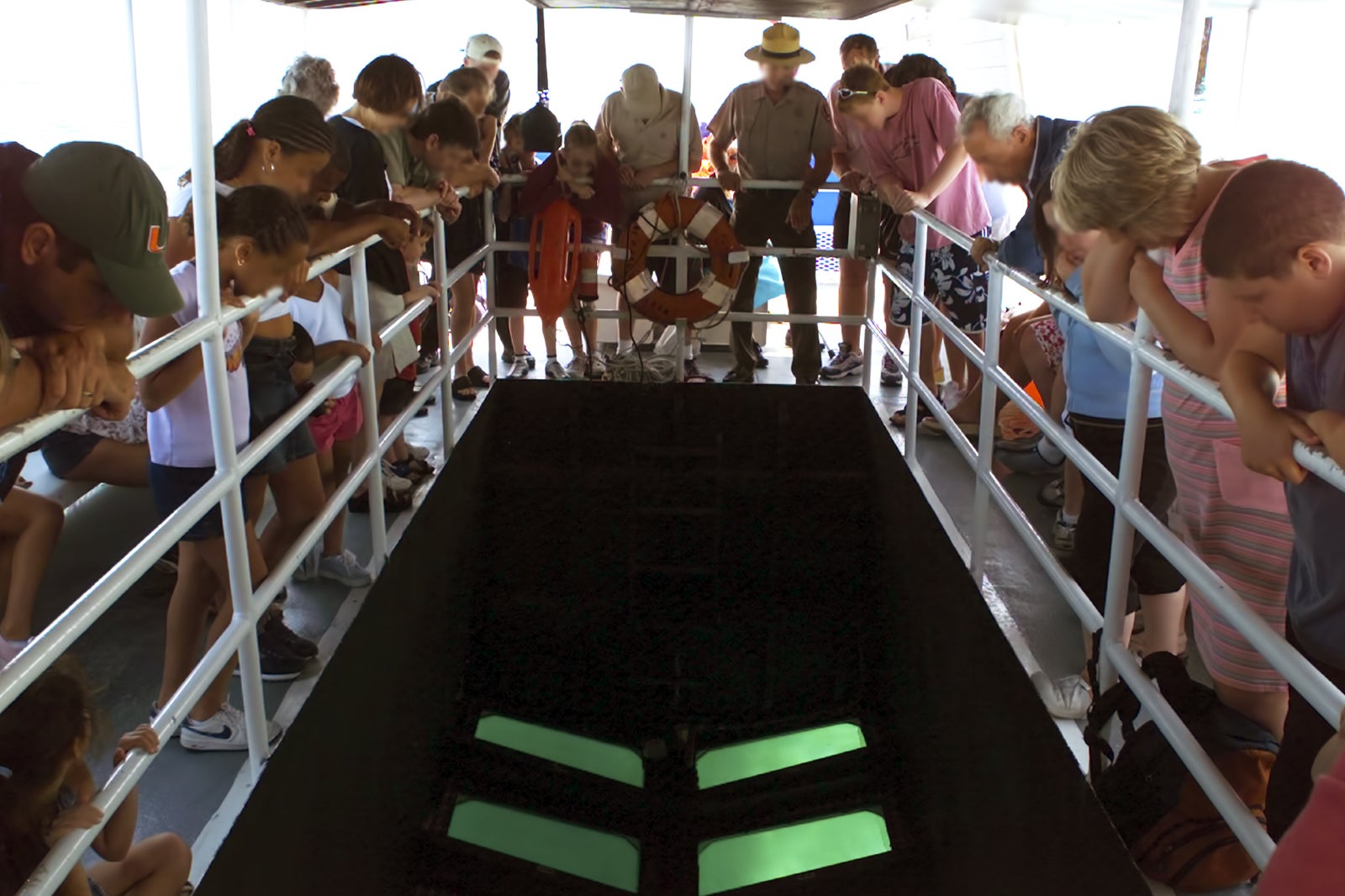 Glass-bottomed boats are a great option for those of you coming to enjoy the underwater world near Tanjung Benoa. Through the clear panel in the floor, you can get a good view of the shallower reefs and the wealth of marine life they support. You can also scatter pieces of bread into the water to attract hundreds of colourful fish.
As part of the trip, you'll often be taken to Turtle Island (Pulau Serangan) to visit a turtle breeding pen – a journey of about 20 minutes. In addition to observing various turtle species, you'll usually see wild animals such as sea eagles, hornbills, bats, and snakes there.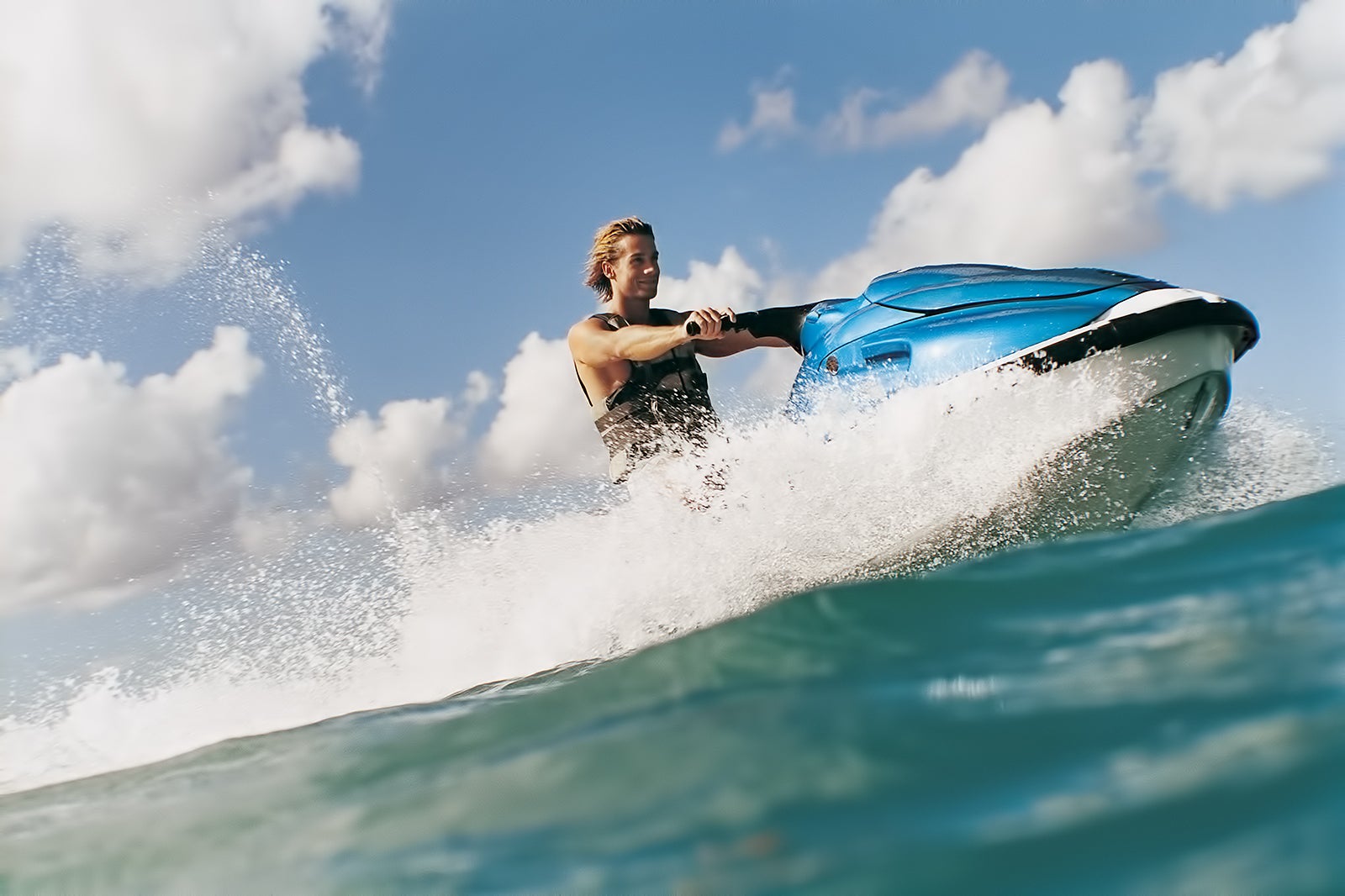 Jet skiing across the sea off Tanjung Benoa can be a truly exhilarating experience. Beginners riding a jet ski without an instructor is not allowed here since the water park is so busy. An instructor will get on the back seat and leave the handlebars to you when you're far enough from the beach and they're sure that you understand the basic techniques and precautions.
When you're in control, enjoy the 15 minutes of fun speeding on the water or even making crazy turns if you're an adrenaline lover!
8
Speedboat-towed activities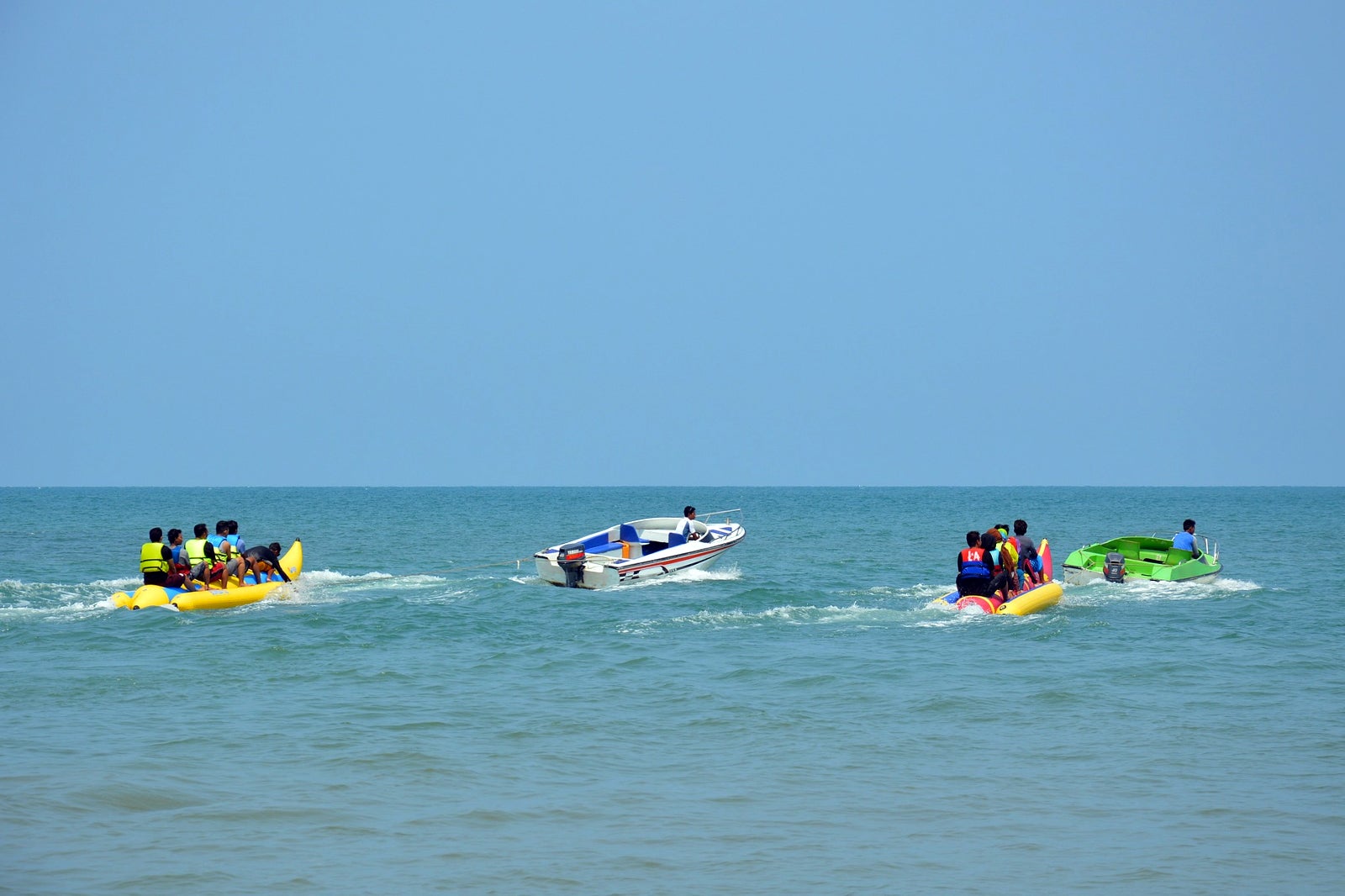 A lot of the marine activities in Tanjung Benoa involve being towed by a speedboat. The banana boat, the rolling doughnut, and the flying fish are all inflatable rides. The first 2 are rough rides, even sometimes throwing you off into the sea, while the flying fish rises 2-5 metres into the air on a rubber float like a kite.
Water skis and wakeboards are also available along the beach, as well as parasailing up to 100 metres above the water. You can request for an instructor to guide and accompany you if you don't want to do it on your own. Speedboat-drawn rides last approximately 15 minutes, while parasailing lasts for about 5 minutes.
9
Tanjung Benoa spa centres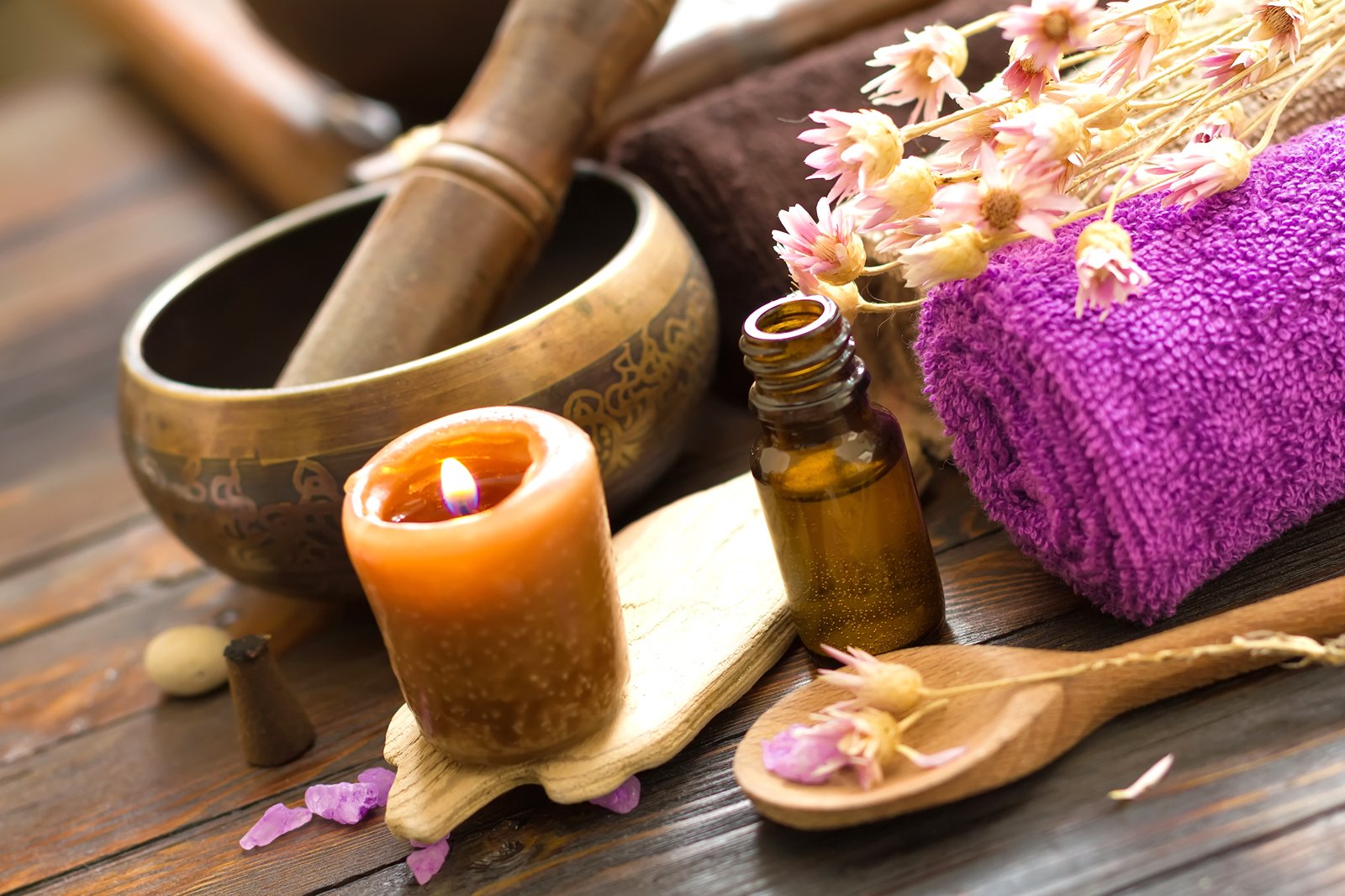 Tanjung Benoa is sprinkled with 5-star hotels and resorts, most with spa centres ready with calming, rejuvenating, and revitalising treatments. Thalasso Bali at the Grand Mirage Resort claims to be more than just a spa, offering healthy interventions and therapies using elements fresh from the sea. The trained masseurs at the 4-star Bali Tropic Resort & Spa can help you regain your youth and uplift your spirit, while Mahalaya Spa at the Bali Khama aims at relieving your tension as well as indulging you with beauty treatments.
For options outside hotel complexes, you'll find a wide range of soothing spas along Jalan Pratama. Baliwis Spa is the biggest stand-alone Balinese spa centre to rebalance your mind, body and spirit with its private rooms (VIP and standard), villas, beauty salons, Jacuzzis, sauna, as well a jet pool. Jari Menari stands out for its blend of 'long massage strokes', rocking, stretching, and palm pressure therapies.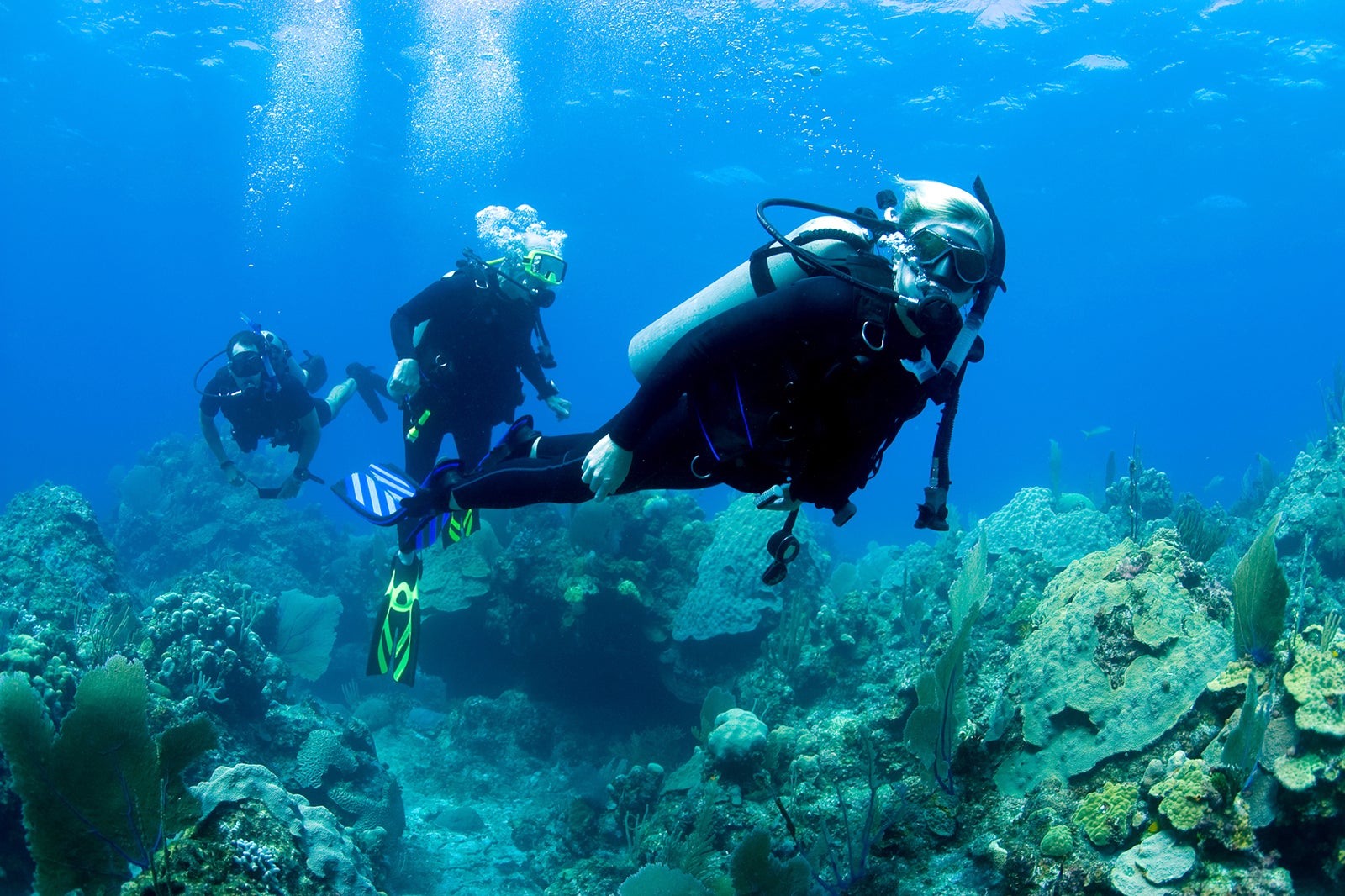 While most of the marine fun around Tanjung Benoa is on the surface, observing the underwater world is just as enjoyable. Scuba diving and sea walking will allow you to enjoy the beautiful scenery on the sea bed, while snorkelling gives you the views beneath the waves with relatively little effort.
Business operators along Jalan Pratama will provide you with the appropriate equipment, depending on your choice of activity: masks, fins, vests, snorkels, wetsuit, underwater helmet, weight belts, gloves, boots, and breathing apparatus. You can usually hire underwater cameras from them, too.
Bali Wake Park is hard to miss, located near the entry into the Bali Mandara toll road and Benoa Marina in Pesanggaran. It has 6 hectares of artificial lakes and verges sculpted and landscaped out of a marshy plot. It broke grounds with a splashing wakeboarding festival in mid-April 2015, as Bali's only water sports arena of its kind.
The main activities available here are cable water-skiing and the floating obstacle course – Aqualand. Both are challenging and take practise to master, but easily provide a day or more's fun. If you've already got some wakeboard experience, you'll be happy to learn that the course here includes 4 kickers, 8 boxes and 8 rails you can pull tricks off.
Read more
Location: Jalan Raya Pelabuhan Benoa No.7X, Pesanggaran, Denpasar, Bali, Indonesia
Open: Open daily from 10 am to 6 pm
Phone: +62 (0)361 846 8866
Aqua Star Bali lets you ride tandem around a coral reef using specially designed submersible vehicles. Cruise at a steady speed of up to 7 km/h at a depth of about 4 metres. You don't need any prior experience or qualifications as you would on a diving trip.
You depart from a pontoon that's a 15-minute boat ride off the main coast of Tanjung Benoa, then climb down a ladder into the water as air steadily flows into your helmet. Take a seat and, after a signal from the instructor, you're in control of the scooter, with around 4 instructors aiding and escorting you throughout your exploration of the coral gardens.
Location: Jalan Tukad Punggawa, Serangan, Denpasar, Bali 80229, Indonesia
Open: Daily from 8 am to 10 pm
Phone: +62 (0)812-3759-6410
13
Tanjung Benoa fishing village
A sharp contrast to the expensive and up-market tourist town of Tanjung Benoa is the fishing village at the northern end of the peninsula. Here, from 4am to 6am, local fishermen sell their catch at Pasar Desa Pakraman (the village market) after fishing from the early evening until midnight. Prices are very cheap but there's only enough catch to supply local kitchens.
Before foreigners discovered the peninsula's potential for water sports around 1975, everything in this village was strictly traditional. Since then, many of the fishermen have turned to the marine recreation business. However, you can still see conventional fishing boats side by side with more modern vessels at the harbour near the Segara gas station.
Location: Jalan Segara Lor No.21, Tanjung Benoa, Badung, Bali 80361, Indonesia
14
Pura Dalem Setra lan Merajapati
People come to Pura Dalem Setra to ask for blessings before ngaben (Balinese cremation) ceremonies and Pura Meraja Pati before a funeral. Typical to every village in Bali, the Pura Dalem, Merajapati, Kahyangan and Setra (cemetery) feature statuettes and engraved characters of the netherworld in Balinese mythology.
Location: Jalan Pratama, Tanjung Benoa, Badung, Bali 80361 Indonesia
Pura Desa lan Puseh translates to 'village and central temple'. True to its name, Pura Desa functions as the main village temple while Pura Puseh hosts ceremonies related to prosperity and fertility. People come every 15 days to conduct a ritual to pray to Barong (a Balinese mythological character).
At the small intersection, a tall banyan tree shades this temple. In the middle of the crossroads of Jalan Segara Ening and Jalan Segara Windu stands Pura Catus Pata – a small shrine that acts as the guardian of these streets. It's easily seen in front of the Pura Desa lan Puseh.
Location: Jalan Segara, Tanjung Benoa, Badung, Bali 80361, Indonesia