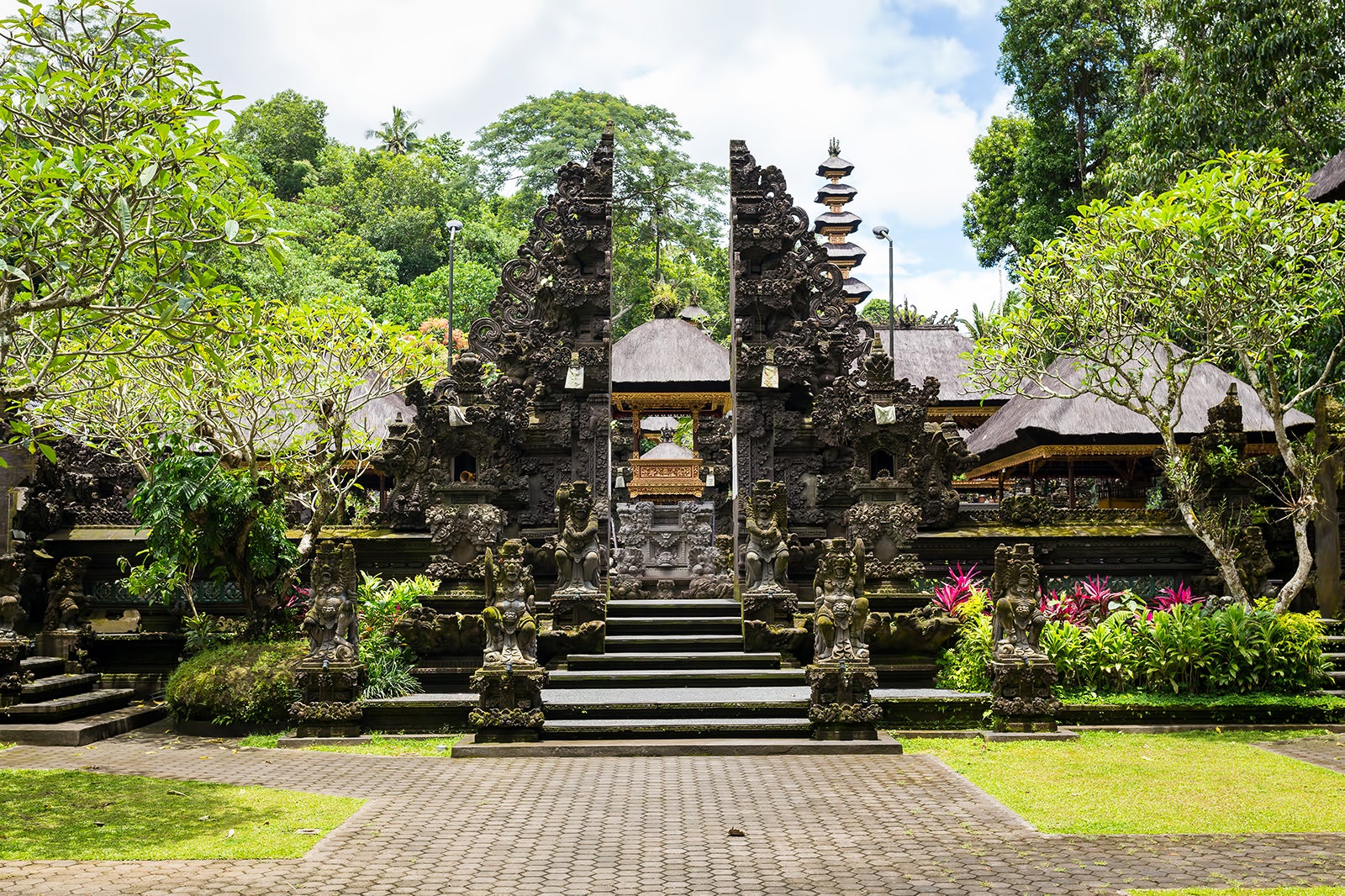 Pura Gunung Lebah, or Gunung Lebah Temple, is one of Ubud's central landmark temples. You can find the 8th-century temple at the western end of the Jalan Raya Ubud main road, overlooking the eastern side of Ubud's Campuhan valley. The name loosely translates to 'mountain valley temple' in old Balinese.
The temple's origin dates back to the journeys of the historical Hindu priest Rsi Markandeya. He is responsible for building most of the major temples on the island with Gunung Lebah being one of them within the Ubud area. You can freely visit the temple and it's usually most colourful during its piodalan temple anniversary which occurs every 210 days on a Wuku Sinta Wednesday as marked on the Balinese pakuwon calendar.
Gunung Lebah Temple in Ubud - one of the highlights of 26 Must-See Temples in Bali and 31 Best Things to Do in Ubud (Read all about Bali here)
Highlights of Gunung Lebah Temple
Like most of the ancient temples in Ubud, Pura Gunung Lebah is beautifully set among lush natural settings. It's surrounded by bamboo forests, with the Campuhan River flowing below it. It is positioned at a good distance away from the main road and at a low elevation.
The temple complex comprises 3 courtyards. You can easily enter the first outer courtyard and admire the Balinese temple features. You'll instantly see the towering shrines of the Padmasana from the centre. The 2 inner courtyards are usually open during ceremonies. Even so, you can try your luck anytime while paying close attention to proper temple attire (a sarong and sash around your waist at a minimum).
Inside, you'll find the Bale Gong or gamelan pavilion where the orchestra is staged to accompany ceremonies. Dancers also usually prepare for performances here. A majestic Bale Kulkul tower houses the temple's wooden bell. The complex's main shrines feature varying numbers of roof tiers.
You can find Pura Gunung Lebah temple at the eastern end of Ubud's landmark Campuhan bridge. It's possible to walk down to the temple from most of the hotels in the immediate area. The pathway to the right of the temple leads you down to the scenic Campuhan Ridge Walk, which offers a pleasant light trek or a refreshing jog with lush green views over the Campuhan valley.
Gunung Lebah Temple in Ubud
Location: Jalan Raya Ubud No.23, Sayan, Ubud, Gianyar, Bali 80571, Indonesia
Back to top