10 Best Things to Do in Mallorca
What is Mallorca Most Famous For?
Mallorca, also called Majorca, is the crown jewel of Spain's Balearic Islands. The most popular destination the Mediterranean, Mallorca is known for its beautiful coastline, secluded coves, limestone mountains, Spanish architecture, wineries and fresh produce farms, and stunning beaches.
From quaint mountain villages to dynamic nightclubs, you'll have no trouble finding an adventure that matches your mood and liking. You can experience snorkelling in Mallorca's remote and clear beaches or go on road trips along the stunning mountain ranges with your friends, stopping every now and then to take pictures or grab a coffee. In this list, we'll share some of the destinations where you can experience Mallorca at its best.
What are the best things to do in Mallorca?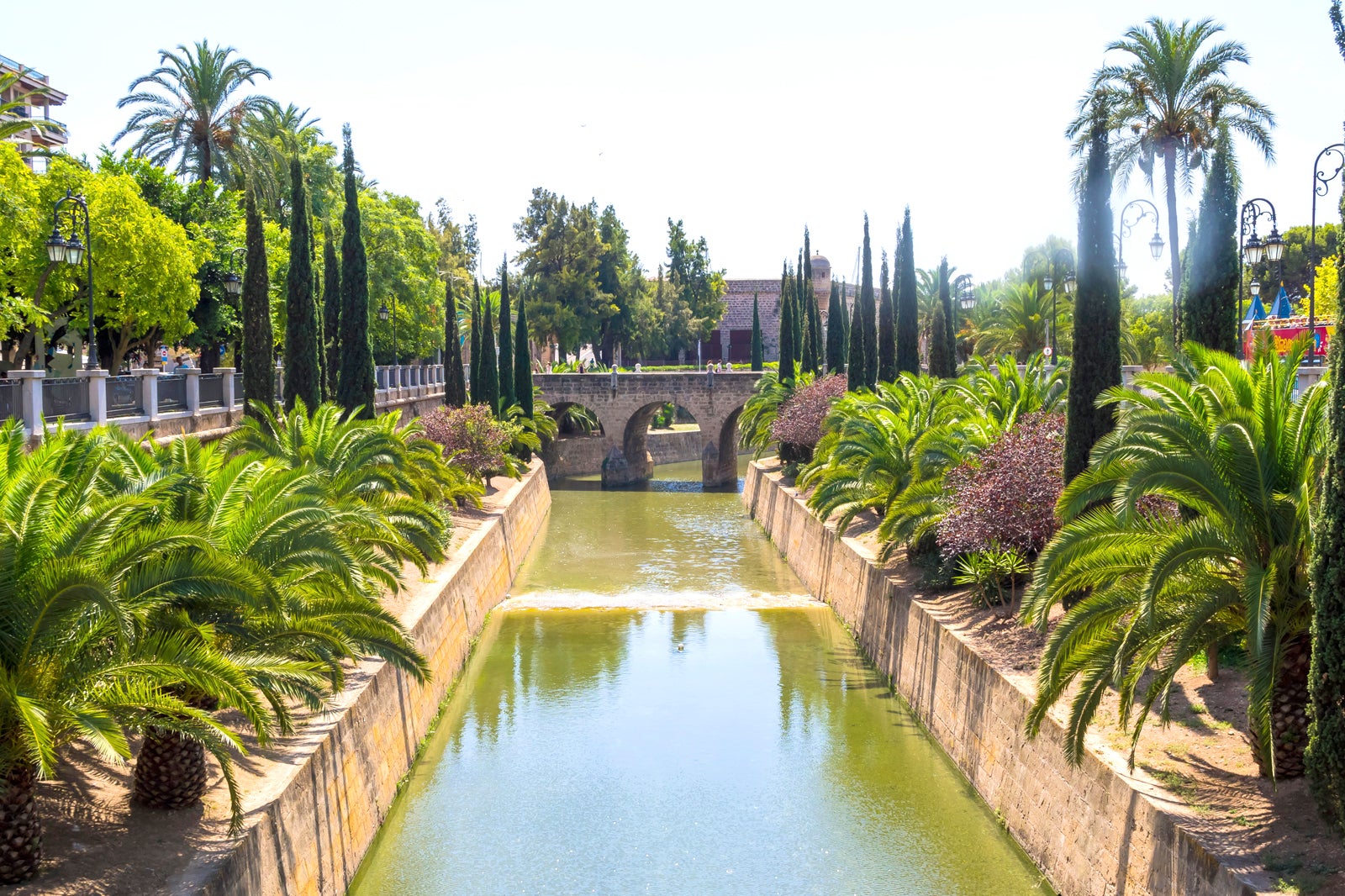 Palma
Check out Mallorca's capital city
No trip to Mallorca is complete without visiting its capital, Palma. Palma is a vibrant but laid-back city full of street-side cafés, high-end shopping, and beautiful Spanish architecture. It's also home to the large Gothic Roman church, the Cathedral of Santa Maria of Palma – or La Seu, as it's more commonly known.
The city can get quite hot during the day, so the best time to go exploring is early morning or late afternoon. By nightfall, the city's plaza comes to life with outdoor restaurants, artisans selling crafts, and music on the streets.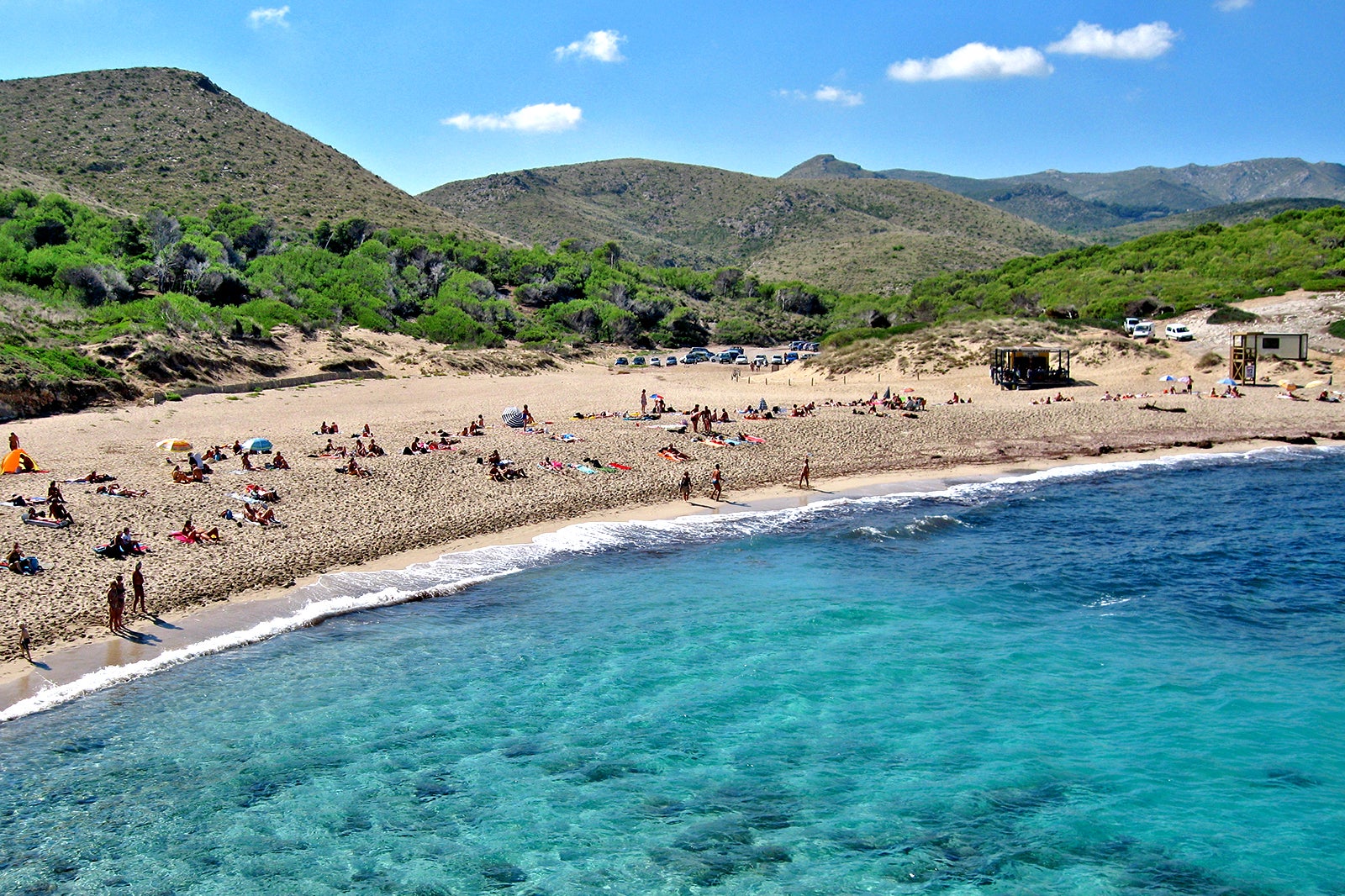 Choose your Mallorca beach
Enjoy Mallorca's glittering coastline
You can't visit Mallorca without going to the beach. There are several beautiful beaches, which can make choosing one challenging, but if you want a long and luxurious stretch of sand with vibrant waters, then visit Cala Mesquida Beach in Northeastern Mallorca. Cala Mesquida has over 300 metres of sandy shoreline coupled with a long stretch of clear shallow waters.
Another beach in Northeastern Mallorca that's worth seeing is Cala Torta. It has a wide expanse of shoreline, making it popular for families who enjoy beach volleyball or picnics on the sand.
photo by Olaf Tausch (CC BY 3.0) modified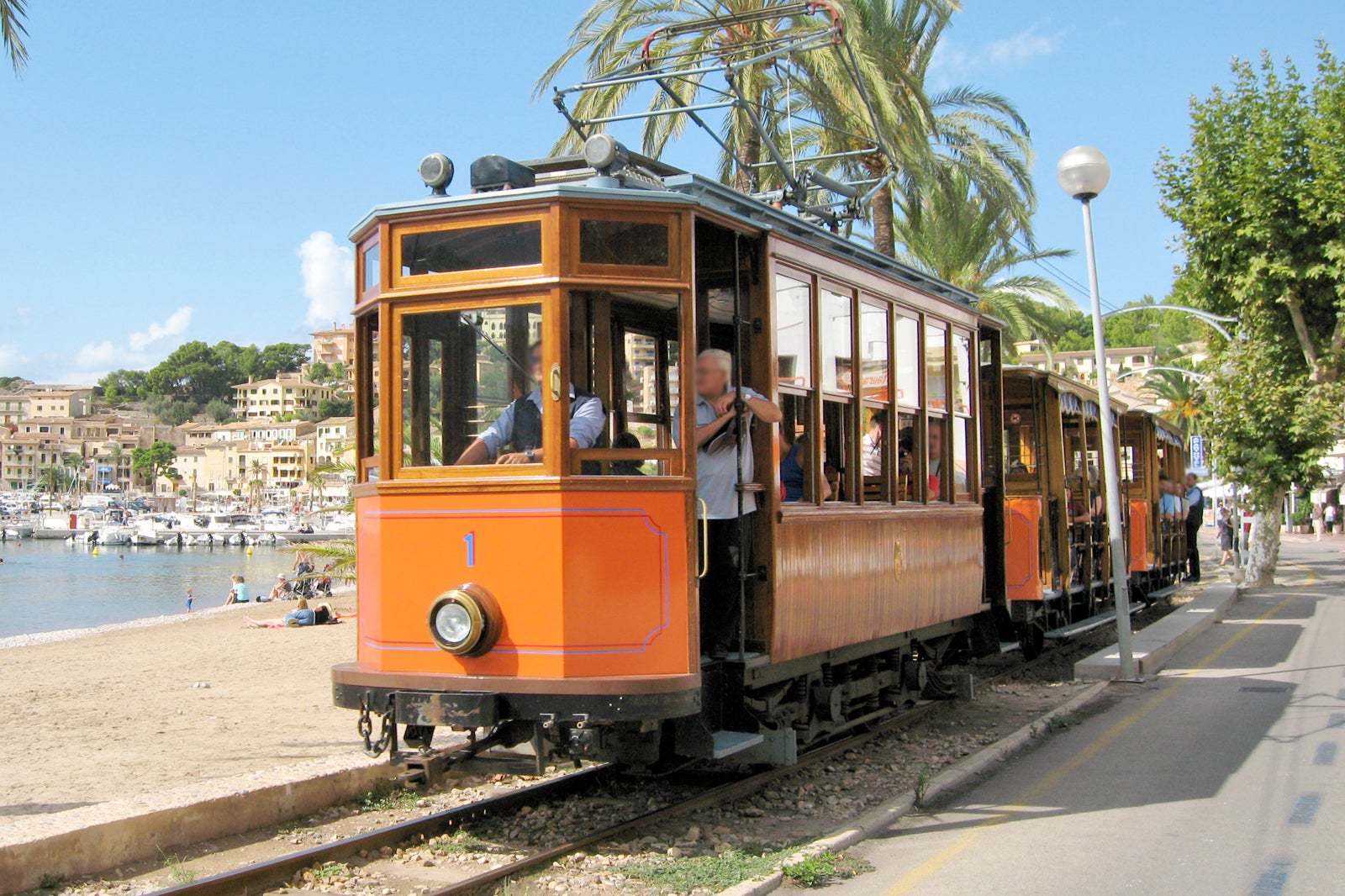 Port de Sóller
Hop on a wooden tram in this quaint seaside city
Located in a valley between 2 mountain ranges, Sóller is a picturesque town with old-world charm. Narrow streets dotted with Spanish cottages, ice cream stores, and cafés lead to the city's main plaza called the Plaza Constitucion where you can enjoy street performances and delicious local cuisine like tapas.
One of the most popular things to do in Sóller is to take a trip on the vintage wooden tram that runs from the city centre to the Port de Sóller. The trip takes roughly 30 minutes and transports you through the town in beautiful wooden carriages.
Location: Plaça d'Espanya, 6, 07100 Sóller, Illes Balears, Spain
Open: Trams run regularly, but check the timetable as it changes depending on the time of year.
photo by Olaf Tausch (CC BY 3.0) modified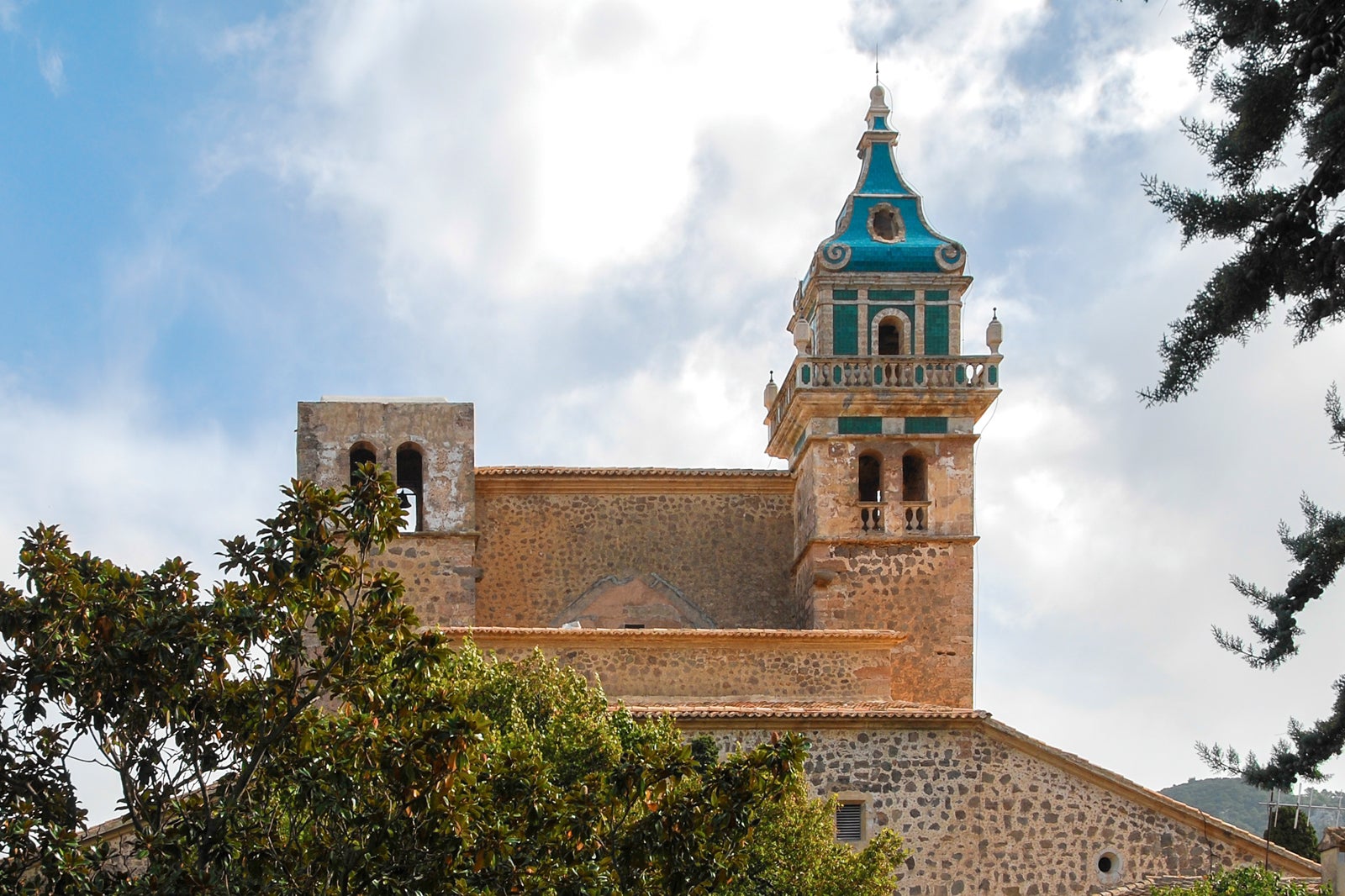 Royal Charterhouse in Valldemossa
See where Frederic Chopin spent his winters
Characterised by high ceilings and lavish art, the Royal Charterhouse was built in the 14th century as a royal residence and was later turned into a monastery. Set within the Tramuntana Mountains, it became the winter home of famous composer Frederic Chopin.
When you visit, you can roam through the gardens, explore the library, and enjoy panoramic views of the city from the terraces. If you're lucky, you may even catch a piano concert performance of Chopin's most famous compositions.
Location: Plaça Cartoixa, S/N, 07170 Valldemossa, Illes Balears, Spain
Open: Monday–Saturday from 10am to 4.30pm (closed on Sundays)
photo by Abrget47j (CC BY-SA 3.0) modified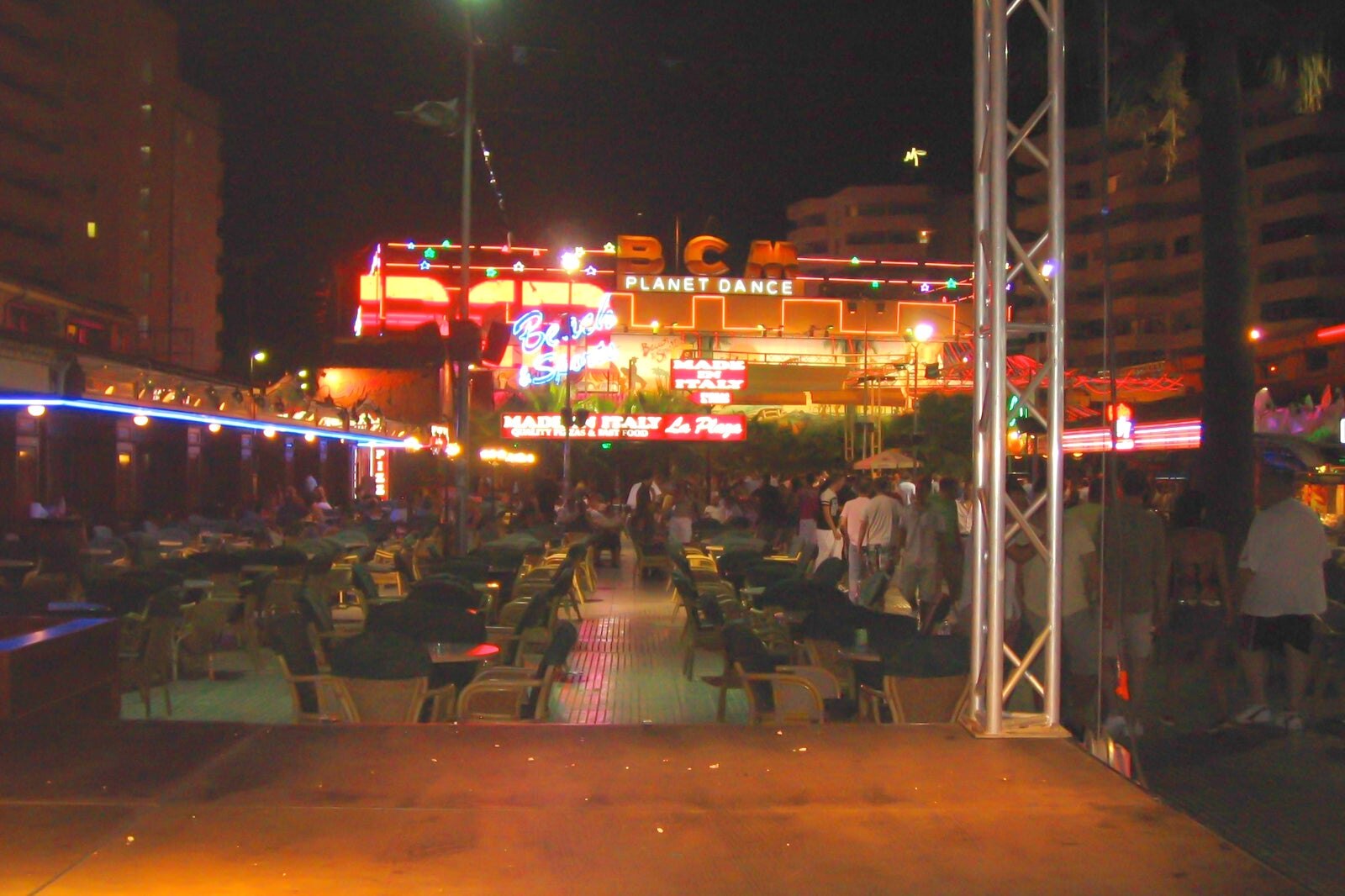 Magaluf nightlife
Party the night away at the famous clubs on the Magaluf strip
If you want activities aside from relaxing on the beach and appreciating the charm of local villages, a night out for some drinks and dancing can certainly add some thrill to your schedule. Visit Magaluf for the best nightlife choices. On the main strip, known as the Punta Ballena, you'll find over 50 different bars, nightclubs, tattoo parlours, and fast food options. Popular hotspots to try include Piano Bar, Oceans Beach Club, and the re-opened world-renowned BCM Planet Dance.
Restaurants and some bars are open all day, but the strip really picks up once the sun goes down with nightclubs usually opening around 11pm until 6am.
photo by Rafael Ortega Díaz (CC0 1.0) modified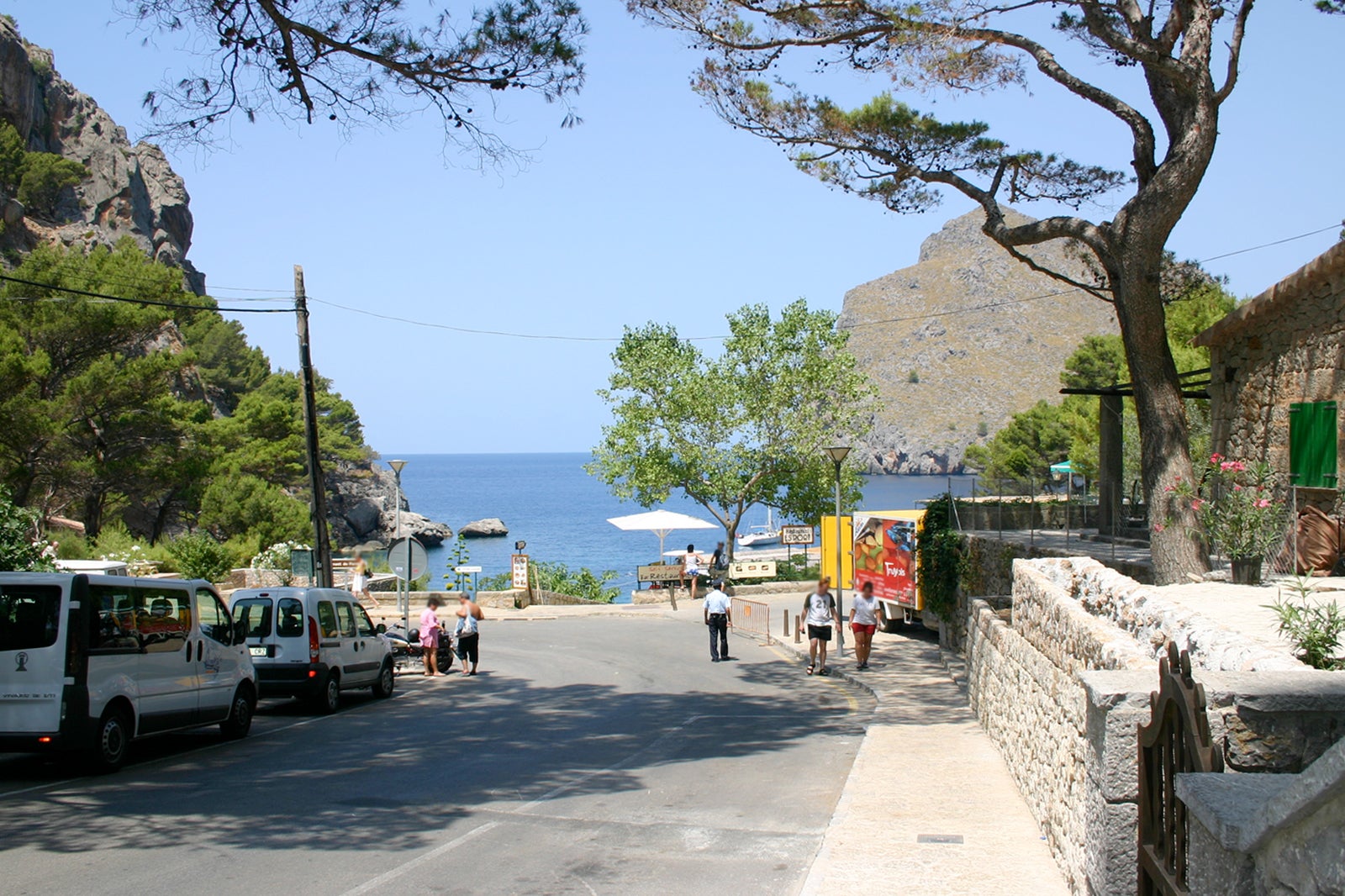 Sa Calobra scenic drive
Picture-worthy turns await you
A must-do in Northwest Mallorca is to rent a car so that you can take the scenic drive on the Sa Calobra road. The road winds through the mountains, and each narrow hairpin turn is even more stunning than the last. You'll spot roaming animals, seaside views, mountains, cliff faces, and glistening lakes. You'll be stopping more than once to snap a photo or just to enjoy the panoramic views.
Give yourself an entire day to make this journey as cars drive through very slowly, and it's not uncommon for some traffic to build up.
Location: Sa Calobra, 07315, Illes Balears, Spain
photo by T.M.L.-KuTV (CC BY-SA 3.0) modified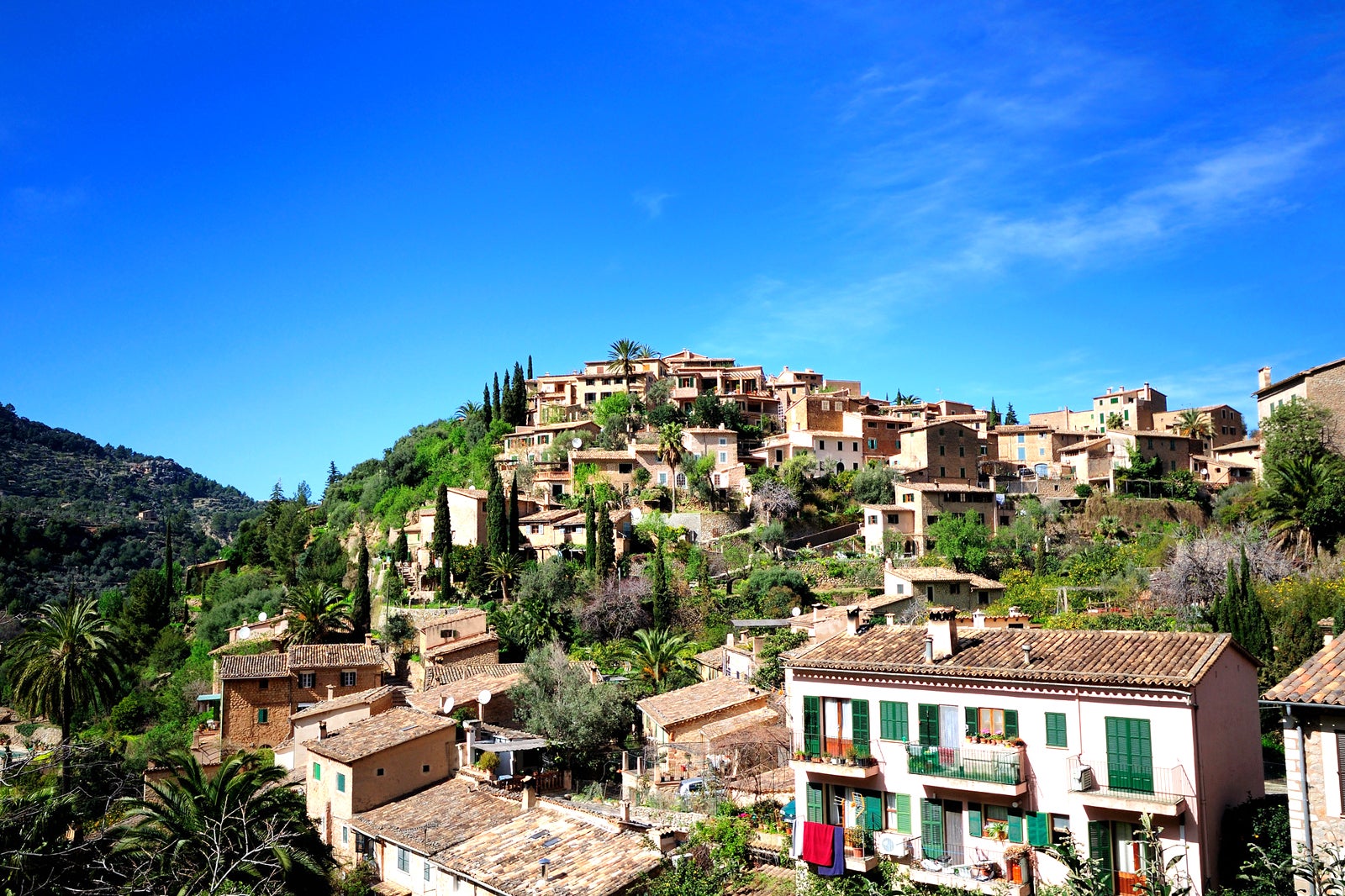 Deia
See the artist town where celebrities like to stay
Deia is a pretty western coastal village in Mallorca that's characterised by clay-coloured houses with deep-green shutters. Through carefully controlled urban expansions, this little village has retained the old world charm and unique beauty that made poet and artist Robert Graves decide to call it his home. You can even visit his house, which has been turned into a museum to document his life in Deia.
Today, the town is still quite the artist's hideaway, and you can visit a variety of art galleries and gift shops. It has become a top destination for the rich and famous, including celebrities like Andrew Lloyd Webber, Princess Diana, and Kate Moss.
photo by Random_fotos (CC BY-SA 2.0) modified
Serra de Tramuntana
Photograph where the mountains meet the sea
The impressive Serra de Tramuntana mountain range, known as the backbone of Mallorca, was honoured as a UNESCO World Heritage site in 2011. The mountain range stretches over 90 km and looms over the sea.
Rent a car and make the drive through the Serra de Tramuntana so you can stop for photos at any time. There's a variety of landmarks you don't want to miss on your trip, including an ancient watchtower, the serene Lluc Monastery, rustic hilltop villages, wineries, and several hideaway restaurants.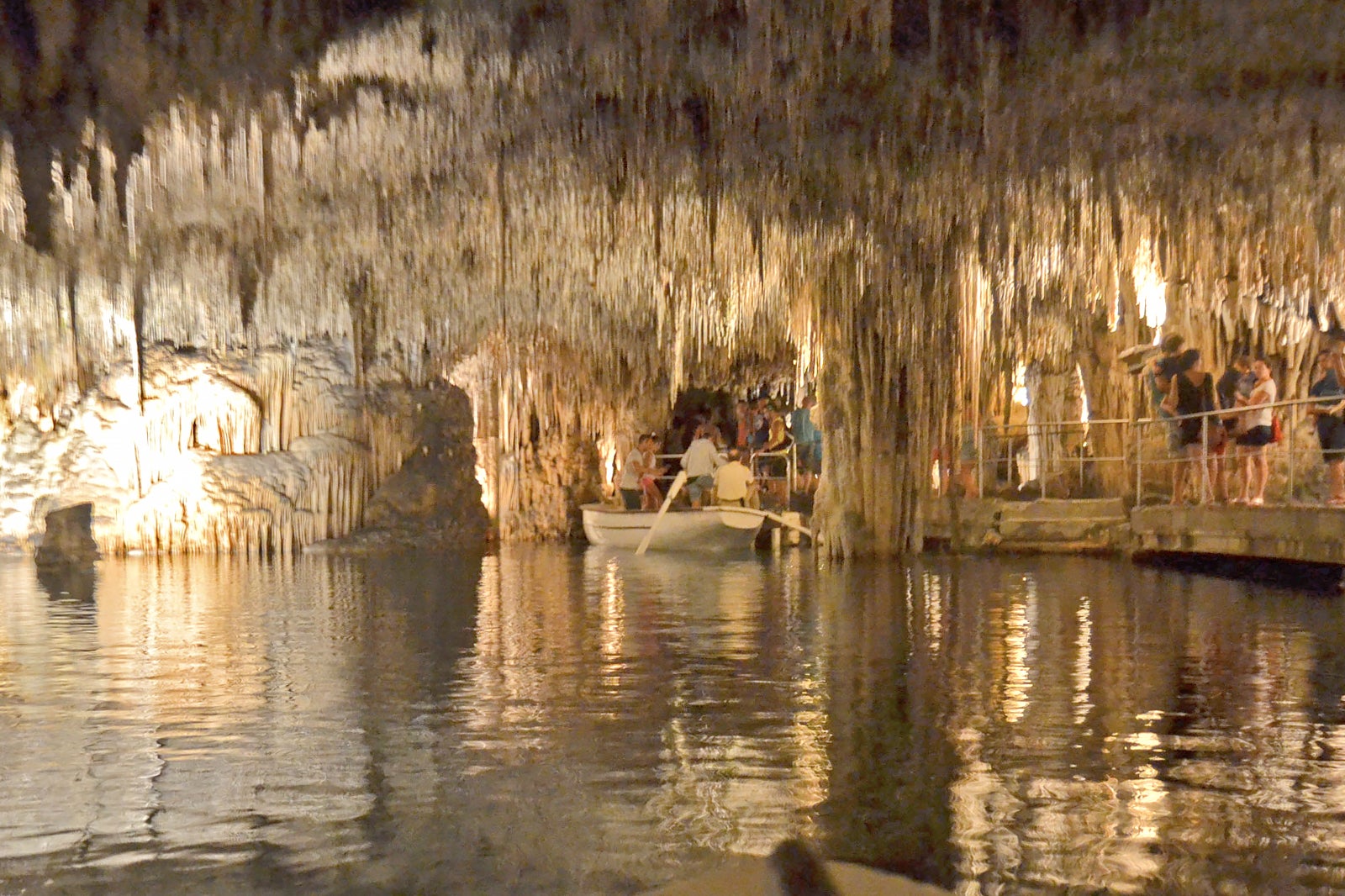 Coves del Drach and dels Hams
Experience spectacular underground views
Mallorca is known for secluded caves, and if you're the adventurous type, you should make the trip to see the Coves del Drach and dels Hams in Porto Cristo. These caves are a top tourist attraction and have food outlets, shops, and bathroom facilities. They also run organised tours and walkthroughs for travellers who would like a guide.
Be sure to wear good shoes, because you'll be trekking over rocks and uneven terrain. The payoff is worth it though, as you experience gorgeous underground stalactites and stalagmites. In the end, you may even be treated to a musical concert on the underground lake.
Location: Ctra. Cuevas s/n, 07680 Porto Cristo, Illes Balears, Spain
Open: Daily from 10am to 5pm
photo by Lolagt (CC BY-SA 3.0) modified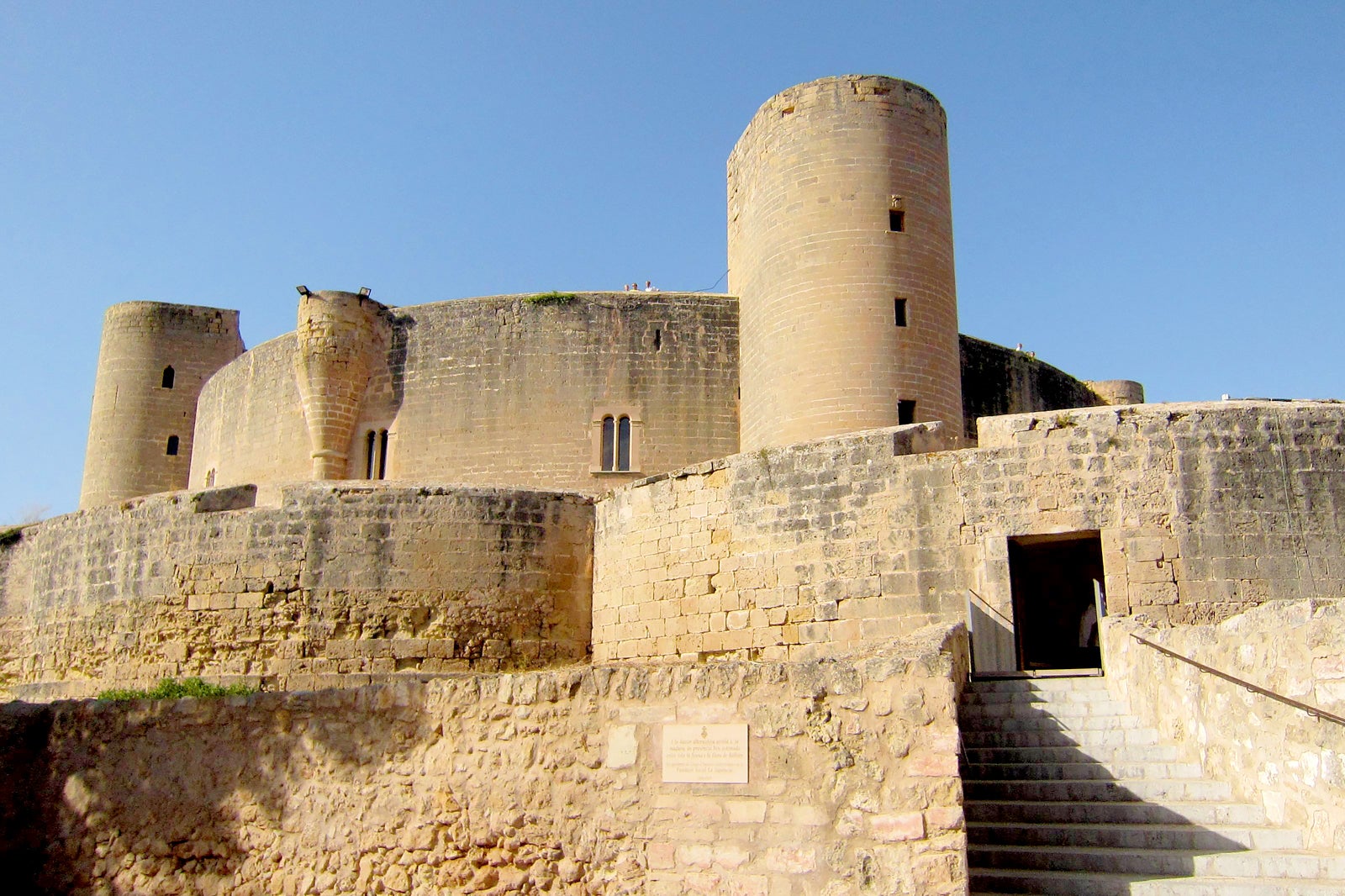 Bellver Castle
Visit a well-preserved 14th-century royal fortress
Bellver Castle was once a stunning castle built in the 14th century before it was turned into a formidable royal fortress. The impressive circular structure has a central courtyard surrounded by 3 towers and offers beautiful views of Palma Bay.
If you've ever wanted to visit a completely round castle, then Bellver Castle is for you. You can also enjoy the Palma Museum of Municipal History, which showcases artefacts from the Roman, Arab, and Spanish periods of the island's history.
Location: Carrer de Camilo José Cela, 07014, Palma, Illes Balears, Spain
Open: April–September: Tuesday–Saturday from 10am to 7pm, Sundays from 10am to 3pm. October–March: Tuesday–Saturday from 10am to 6pm, Sundays from 10am to 3pm (closed on Mondays)
photo by Martin Furtschegger (CC BY 3.0) modified