7 Best Local Markets in Sao Paulo
Sao Paulo's top local markets
If you love to shop, then Sao Paulo's likely to be a real treat. It's got plenty of local markets and shopping streets, and many of them specialise in specific kinds of goods.
Whether you're looking for high-end fashion or costume jewellery, records or antiques, Italian ingredients or Asian flavours, chances are Sao Paulo's got a shopping district or market for you. Good food is a big part of life here in Sao Paulo, and on a trip to the market you'll often find people clustered round fragrant stalls serving tasty local and international street food.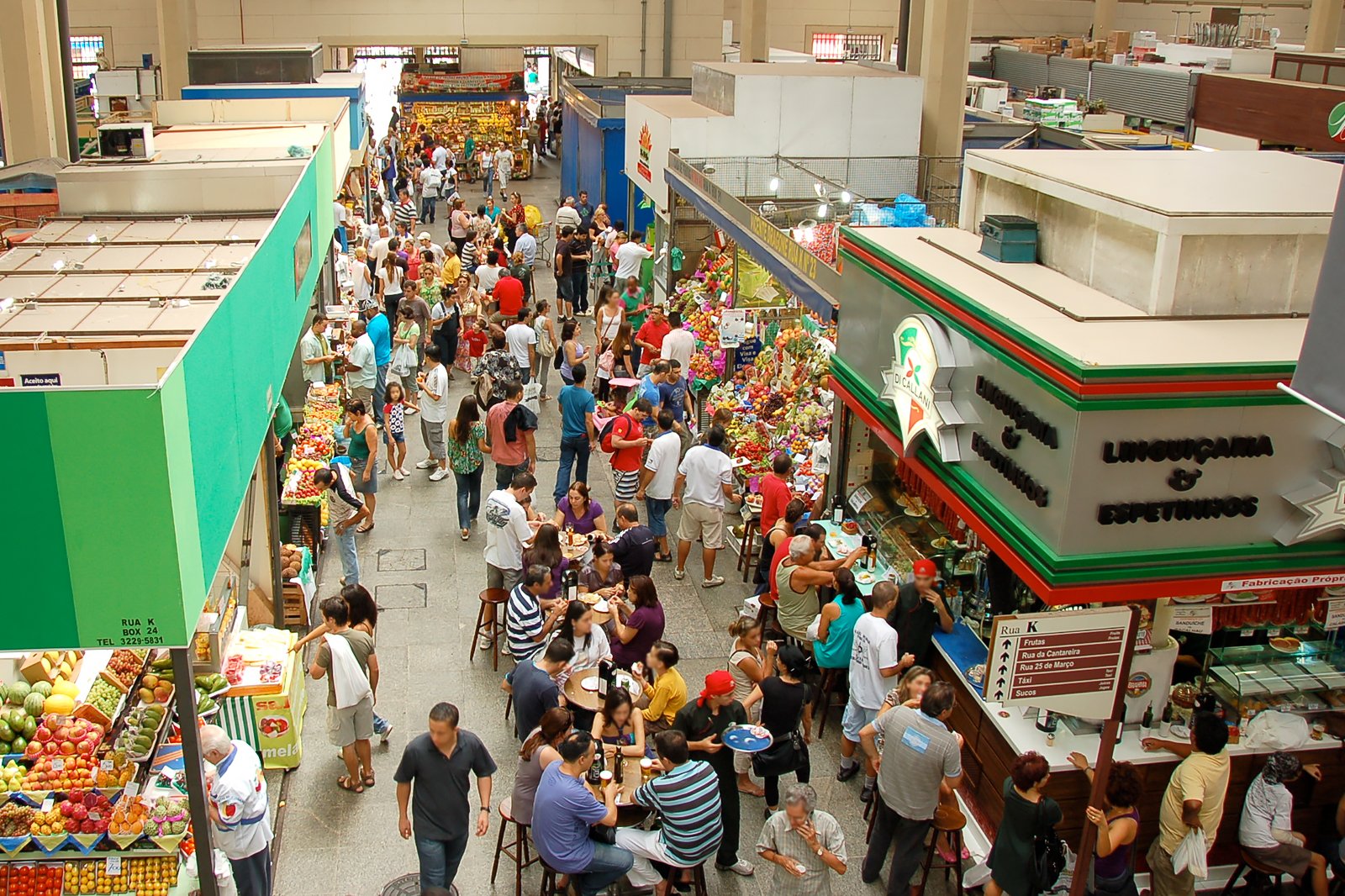 Mercadão Market
Sample sweet and savoury delights at Mercado Municipal
The Mercadão – also known as the Mercado Municipal – is a sprawling food market, and is one of the top tourist spots in Sao Paulo. Opened in the 1930s, it's well-known for its ornate architecture and gorgeous stained-glass windows.
The Mercadão is set in central Sao Paulo, and is within a 15-minute walk of Luz rail and Metro station. The market covers an area of more than 135,000 sq ft, and you can either buy your local delicacies direct from the stallholders or enjoy a more leisurely meal in the restaurant area.
Location: R. Cantareira, 306 - Centro, São Paulo - SP, 01103-200, Brazil
Open: Monday–Saturday from 6am to 6pm. Sunday from 6am to 4pm
photo by Felix Tansil (CC BY-SA 3.0) modified
Praça Benedito Calixto
Take in a lively Saturday market on Benedito Calixto Square
Praça Benedito Calixto is a square in Sao Paulo that's home to a popular Saturday market. Somewhere between an art show and a flea market, it's known for its lively, informal atmosphere, and the various cafes and bars around the square are usually full to bursting with a young crowd.
It's set in the hip Pinheiros district of western Sao Paulo, about half an hour out of the centre by car or Metro. If you turn up to the Saturday market between 2.30pm and 6.30pm, you can catch traditional Brazilian chorinho music being performed in the centre of the square.
Location: Praça Benedito Calixto, Pinheiros, São Paulo - SP, 03178-200, Brazil
Open: Saturdays from 9am to 7pm
photo by Vinicius Pinheiro (CC BY-SA 2.0) modified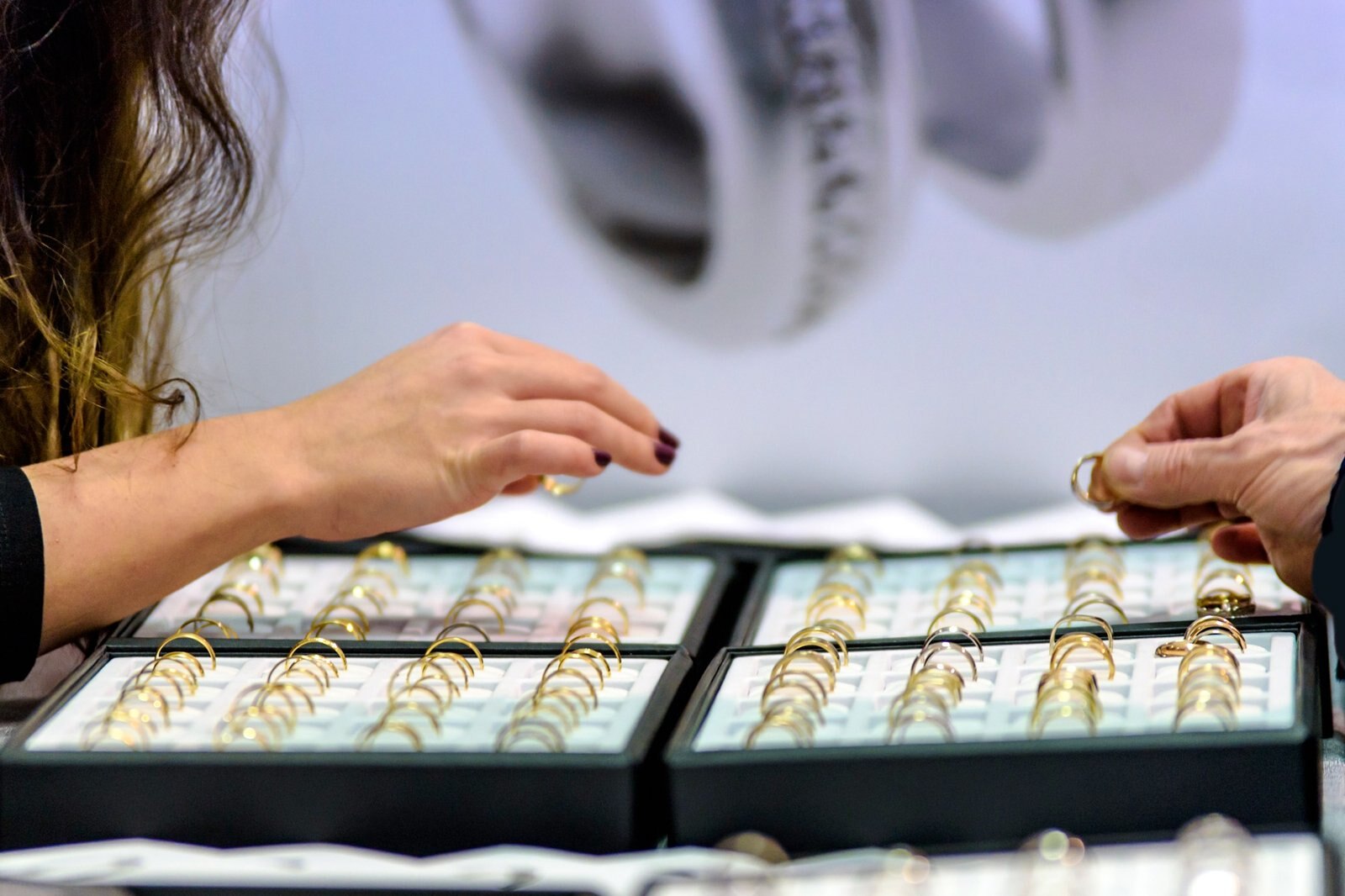 Ladeira Porto Geral
Shop for jewellery and costume supplies in the heart of Sao Paulo
Ladeira Porto Geral is a busy shopping street in the centre of Sao Paulo, a minute's walk from São Bento Metro station. A long, sloping road just off the popular Rua 25 de Março, it's rammed with shops, street stalls and shopping centres.
Ladeira Porto Geral is particularly well known for its craft shops, many of which specialise in haberdashery supplies or costume jewellery components. If you're looking for some finery in preparation for the famous Sao Paulo carnival, Ladeira Porto Geral could be a great place to sort yourself an outfit.
Location: Ladeira Porto Geral - Centro, São Paulo - SP, 01022-000, Brazil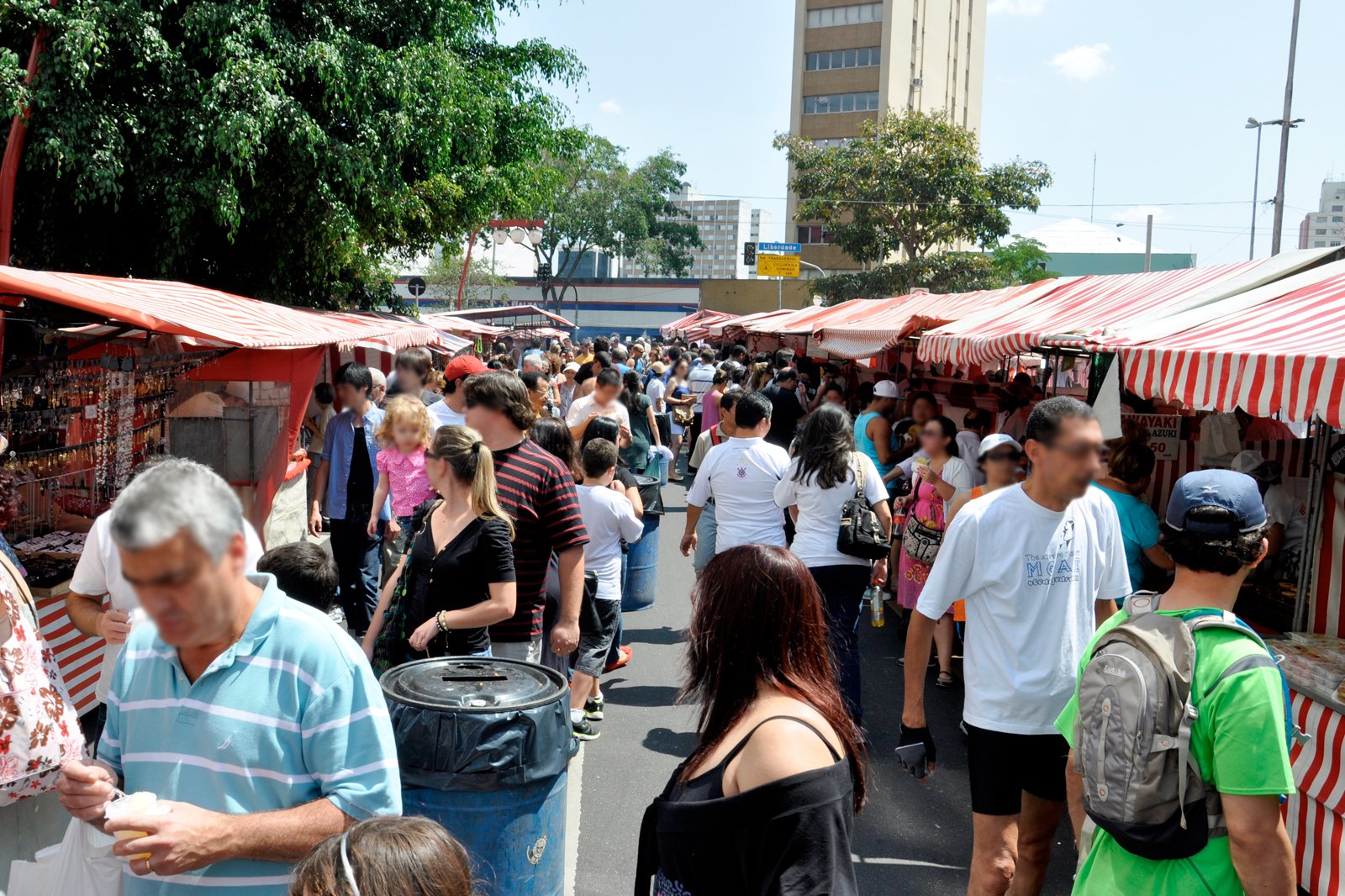 Liberdade Market
A weekend market with an Asian twist
The Sao Paulo district of Liberdade holds a weekend street market with a distinctly Asian flavour. Located just a 5-minute Metro ride south of central Sao Paulo, Liberdade is home to the largest Japanese community outside of Japan itself, along with big Chinese and Korean groups too.
You won't want to miss this weekend market, where you'll find Japanese handicrafts, along with stalls selling mouth-watering Asian dishes like bibimbap and takoyaki. When you're done at the market, you could always pop for a bit of karaoke at one of the nearby bars.
Location: Liberdade, São Paulo, Brazil
Open: Saturday–Sunday from 8am to 6pm
photo by Vitor Leite (CC BY-SA 3.0) modified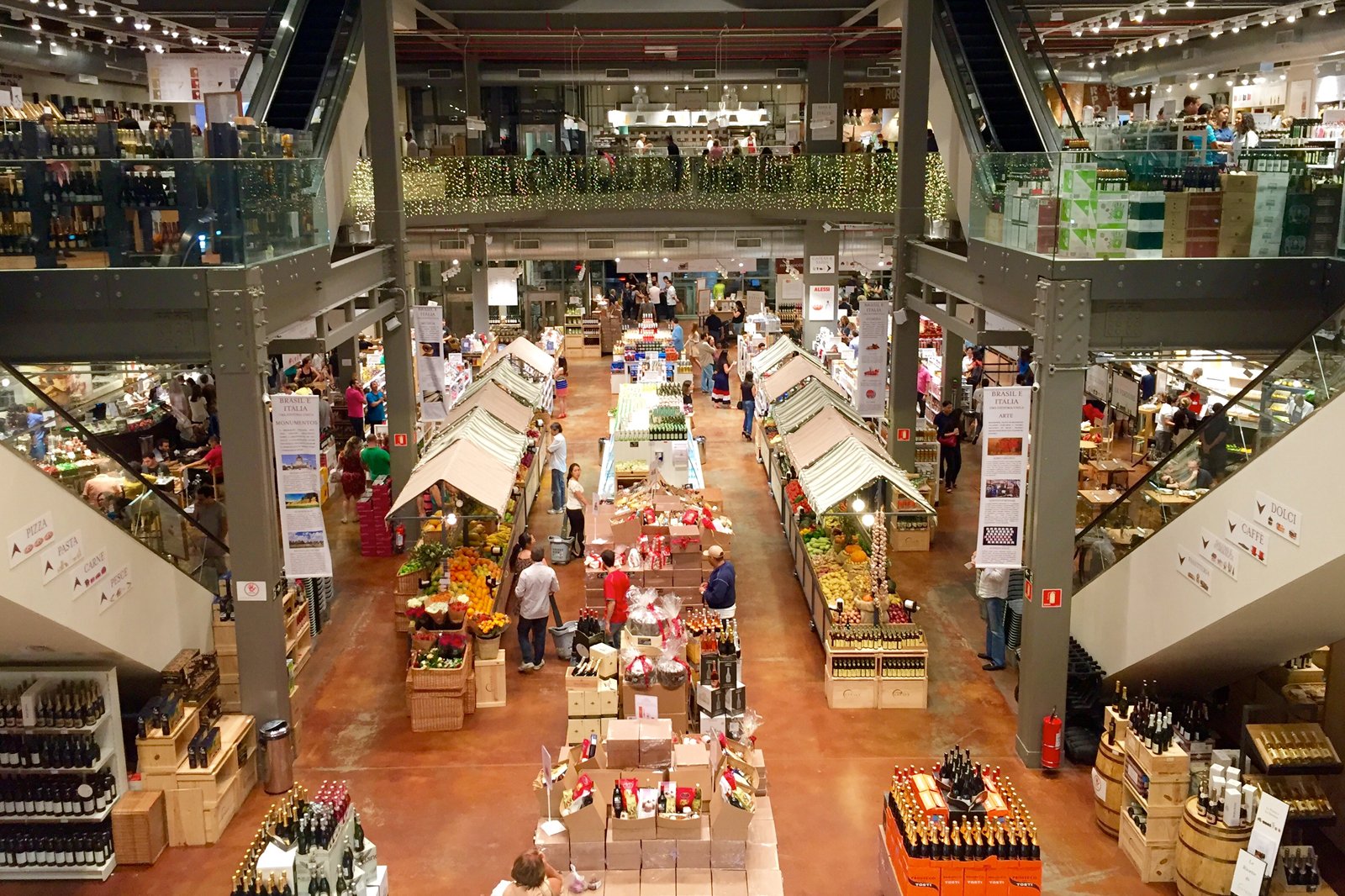 Eataly
Italian dining, food stalls and a cooking school
Eataly is a large foodie venue in Sao Paulo with Italian-style dining, shopping and events. Located in the upmarket Vila Olímpia neighbourhood in western Sao Paulo, it's about an hour from the centre by public transport. Part of an international brand, Eataly features 50,000 sq ft of dining and shopping space spread over 3 storeys. It's got 7 restaurants – each serving a different take on Italian cuisine – plus 3 cafes and a variety of stalls selling Italian foodstuffs and cookware.
If you really want to go the extra mile, there's also an on-site cooking school offering regular tasting experiences.
Location: Av. Juscelino Kubitschek, 1489 - Itaim Bibi, São Paulo - SP, 04543-011, Brazil
Open: hours: Sunday–Thursday from 8am to 11pm. Friday–Saturday from 8am to midnight.
photo by Sérgio J. Neto (CC BY-SA 4.0) modified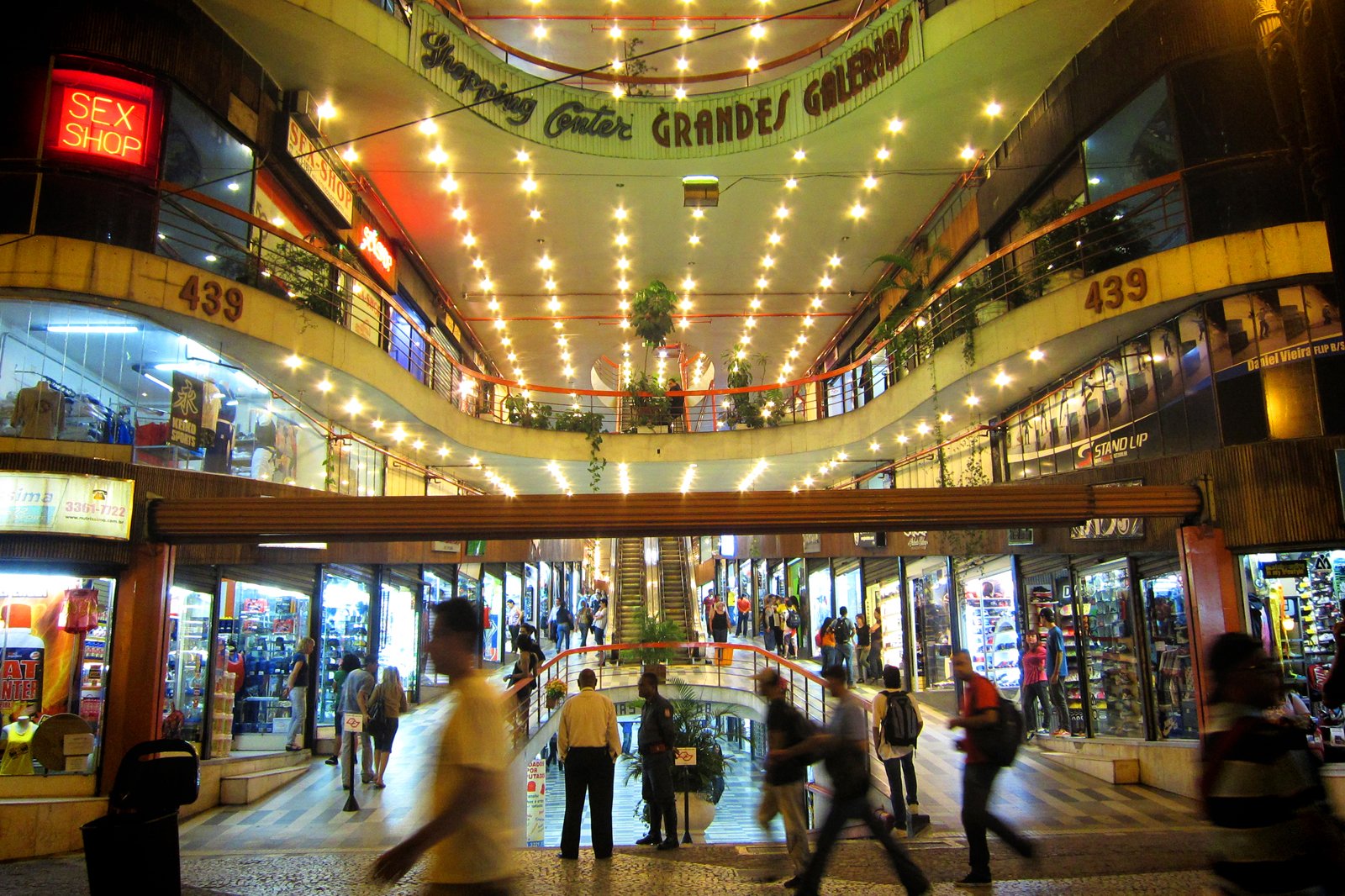 Galeria do Rock
A shopping centre for rockers and skaters
Galeria do Rock is a shopping centre that's geared around rock music and skater subculture. It's set in Sao Paulo's República neighbourhood, right near the historic centre of the city. In Galeria do Rock, you'll find plenty of places selling niche CDs and vinyl records, along with skate shops and clothes stores. It's also where lots of Paulistanos come to get inked, thanks to the on-site tattoo artists.
The mall hosts street art exhibitions and music performances, and you can even book onto a walking tour of the striking 1960s building, finishing up with glorious views of Sao Paulo from the roof garden.
Location: Av. São João, 439 - República, São Paulo - SP, 01035-000, Brazil
Open: Monday–Saturday from 10am to 6.30pm (closed on Sundays)
photo by Carlos Ebert (CC BY 2.0) modified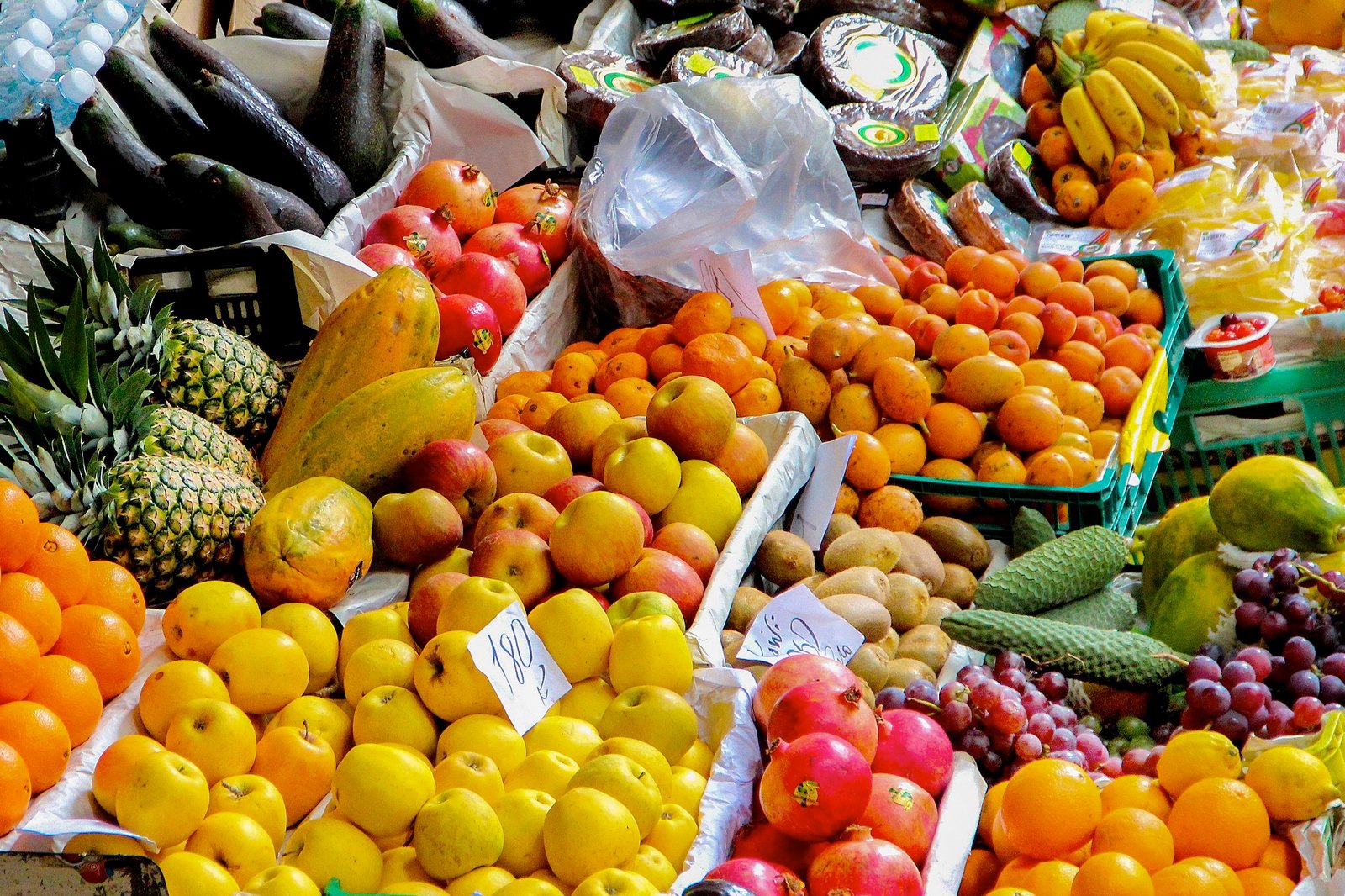 Rua Oscar Freire street market
One of the most upmarket shopping streets in Sao Paulo
Rua Oscar Freire is most famous as a place to find Sao Paulo's high-end fashion stores, but head to the northern end of the street to find a bustling local market. Located close to the underpass of the freeway, you'll find local fruits, snacks and other delicacies being sold at stalls developed in long lines. This chic shopping street runs for about a mile and a half through Sao Paulo's posh Jardins district, and is lined with great eateries – from cute ice cream parlours and cafes to refined international restaurants.
Location: Sao Paulo, Brazil