5 Best Daytrips from Hong Kong
Hong Kong's Most Popular Day Tours
Hong Kong has a wealth of day trips to tempt visitors who want to get away from the bustling downtown streets. Mainland China is no more than a few hours away, with several different day trips on offer. The regions surrounding Hong Kong thrive as places where the old meets the new and the urban meets the country. While more than 70% of Hong Kong is made up of sprawling parks and protected reserves, the majority of activity is centered on and around Hong Kong Island.
Daytrips to surrounding regions are popular for those looking to immerse themselves in as much culture as possible in a short period of time. Leave the city limits behind to explore the modern skyscrapers of Shenzhen, the historic landmarks of Macau, or the Buddhist sites of Guangzhou.
1
Lantau Island & Tian Tan Buddha full-day excursion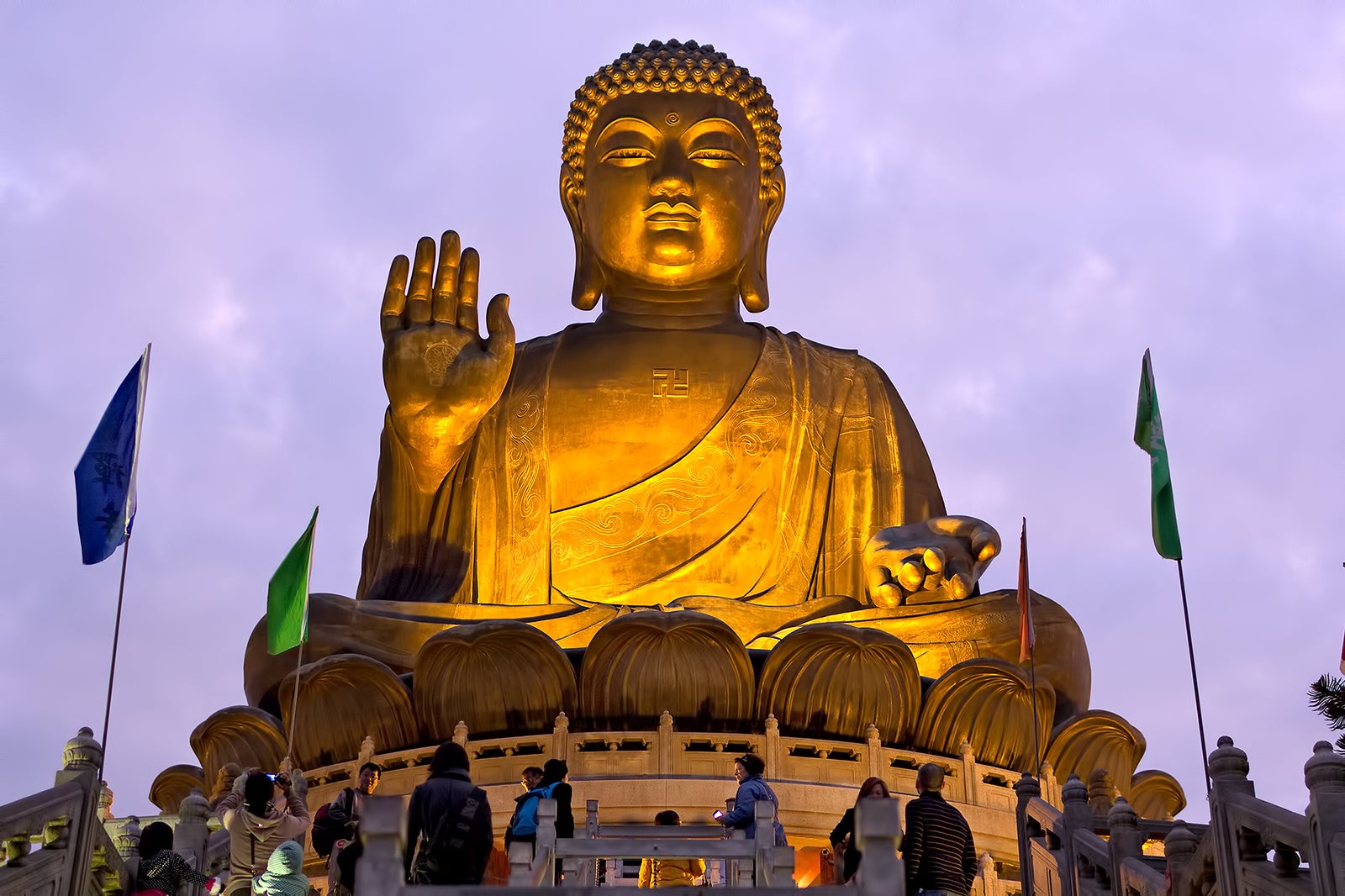 Escape the bustling urban jungle and cruise to Hong Kong's largest island, Lantau. On this full-day tour, board an express ferry for a ride through the fresh sea breeze of the Sulphur Channel. Upon arrival at Lantau Island, travel by coach to the ancient Po Lin Monastery. Marvel at the intricate Chinese architectural designs and discover important Buddhist scriptures and statues.
From here, climb the steps to see Tian Tan, the largest seated outdoor Buddha in the world. After a break for a delicious vegetarian lunch, make your way to an idyllic fishing village. Learn about their unique way of life before ending your tour with a ride down to the charming town to Tung Chung on the Ngong Ping Cable Car.
photo by travelwayoflife (CC BY-SA 2.0) modified
2
Private cruise to Hong Kong UNESCO Global Geopark
Get up close to the spectacular rock formations of Hong Kong Global Geopark with your own private guide. From Victoria Harbour, board your choice of a sailboat or catamaran and cruise the crystal waters past landmarks like the Hong Kong Space Museum and the Hong Kong Observation Wheel. As you continue on along the coast, the city falls away to reveal beautiful beaches and verdant mountain backdrops.
Your seafaring adventure culminates at Hong Kong Global Geopark, a site featuring distinct rock formations and educational exhibits. Admire the volcanic structures of High Island, the strange shapes of East Dam, and the eroded cliffs of Sea Arch.
Just north of the Hong Kong border sits Shenzhen, a modern Chinese city known for its high-rise buildings and shopping destinations. Travel by the Mass Transit Railway to reach the metropolis and then embark on a full day of exploration.
Bask in panoramic views of Shenzhen's skyline from atop the 384-metre-tall Meridian View Center, peruse the arts and crafts at a local market, and break for a tasty lunch at a locally loved restaurant. At the end of your tour, you're given plenty of free time to shop the boutiques at 5-storey Luohu Commercial City Mall before hopping on the train back to Hong Kong.
See a different side of China on a full-day tour to Macau. Centuries of colonial rule shaped the city into a fascinating mix of Portuguese and Chinese influences, which today are glammed up by slick shopping centers and lavish casinos. After a ferry ride from Hong Kong, your guide leads you to the A-Ma Temple, a 15th-century UNESCO World Heritage Site built in honor of sea goddess Mazu. Next, make your way to the Ruins of St. Paul's, a hauntingly beautiful structure dating back to the 16th century.
Refuel with a buffet lunch and then delve into the colonial history of Macau with a stroll to a 1569 Portuguese defensive barrier and the cannon-laced 1626 Mont Forte. For unparalleled views of the city, get whisked to the top of 223-metre-tall Macau Tower. Once back down on the ground, you can try your luck at the Sands Macau, a sprawling casino that rivals that of anything in Las Vegas.
Explore Hong Kong's major neighboring cities with a daytrip to both Shenzhen and Guangzhou. After a ferry ride to Shenzhen, your day begins with admission to the Shenzhen Zoo for the chance to spot tigers, elephants, and a variety of other exotic wildlife. Don't miss an opportunity to get up close with China's national treasure, the adorably furry giant panda.
From here, continue on to Guangzhou for a mouthwatering local lunch before setting off on a tour to see the Buddhist sites of the country's third-largest city. Visit the Temple of the Six Banyan Trees, an ancient complex built in 510 AD, and the Dr. Sun Yat-sen's Memorial Hall, a site dedicated to the founding father of the Republic of China.
Back to top