13 Best Things to Do in Nagoya
Nagoya Attractions
Nagoya is a mix of both the old and the new. After suffering heavy bombing in WWII, the city has been extensively rebuilt and carefully rezoned. These days, Nagoya is full of interesting attractions for visitors. Crisscrossed with ultra-modern highways and beautiful modern edifices, this central Japanese city also boasts cultural icons such as Nagoya Castle, Atsuta Jingu, the Toyota Museum, and the Tokugawa Art Museum.
Its location between Tokyo and Kyoto makes it a popular hub for travellers and many appreciate Nagoya's comprehensive subway system, making it one of the easiest cities in Japan to get around in. Using Nagoya as a base, visitors can take daytrips to other, close-by locations.
What are the best things to do in Nagoya?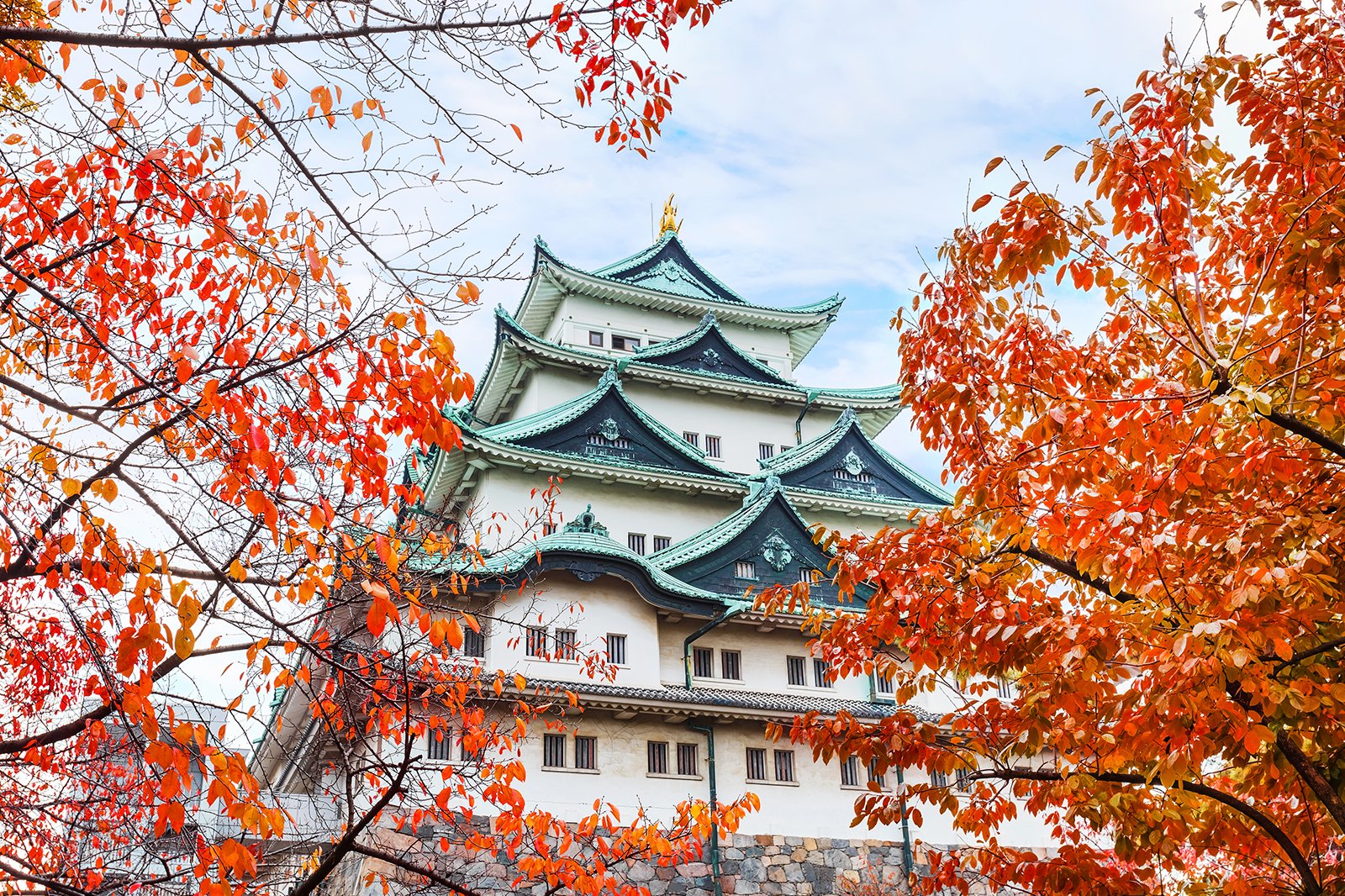 It's a sad fact that the original Nagoya Castle, built in the early Edo Period, was destroyed in a 1945 bombing raid. The castle was eventually reconstructed in 1959, keeping to its original look but with a more modern interior featuring air conditioning and elevators. It now serves as a museum and visitors will still find the original gates and structures in the castle grounds.
Inside the castle are many vintage exhibits from the Edo Period, including sliding doors and beautifully painted screens, swords and helmets. Take the elevator up to the 5th floor where you can enjoy the views of Nagoya City. The best-known artefact in the castle is a pair of golden, tiger-headed dolphins (kinshachci) on the roof. Each weighing 88 kg, they are plated in 18k gold. In late March and early April many people come to enjoy the beautiful cherry blossoms in Meijo Park, surrounding the castle.
Location: 1-1 Honmaru, Naka Ward, Nagoya, Aichi Prefecture 460-0031, Japan
Open: Daily from 9am to 4.30pm
Couples
Families
History
Photo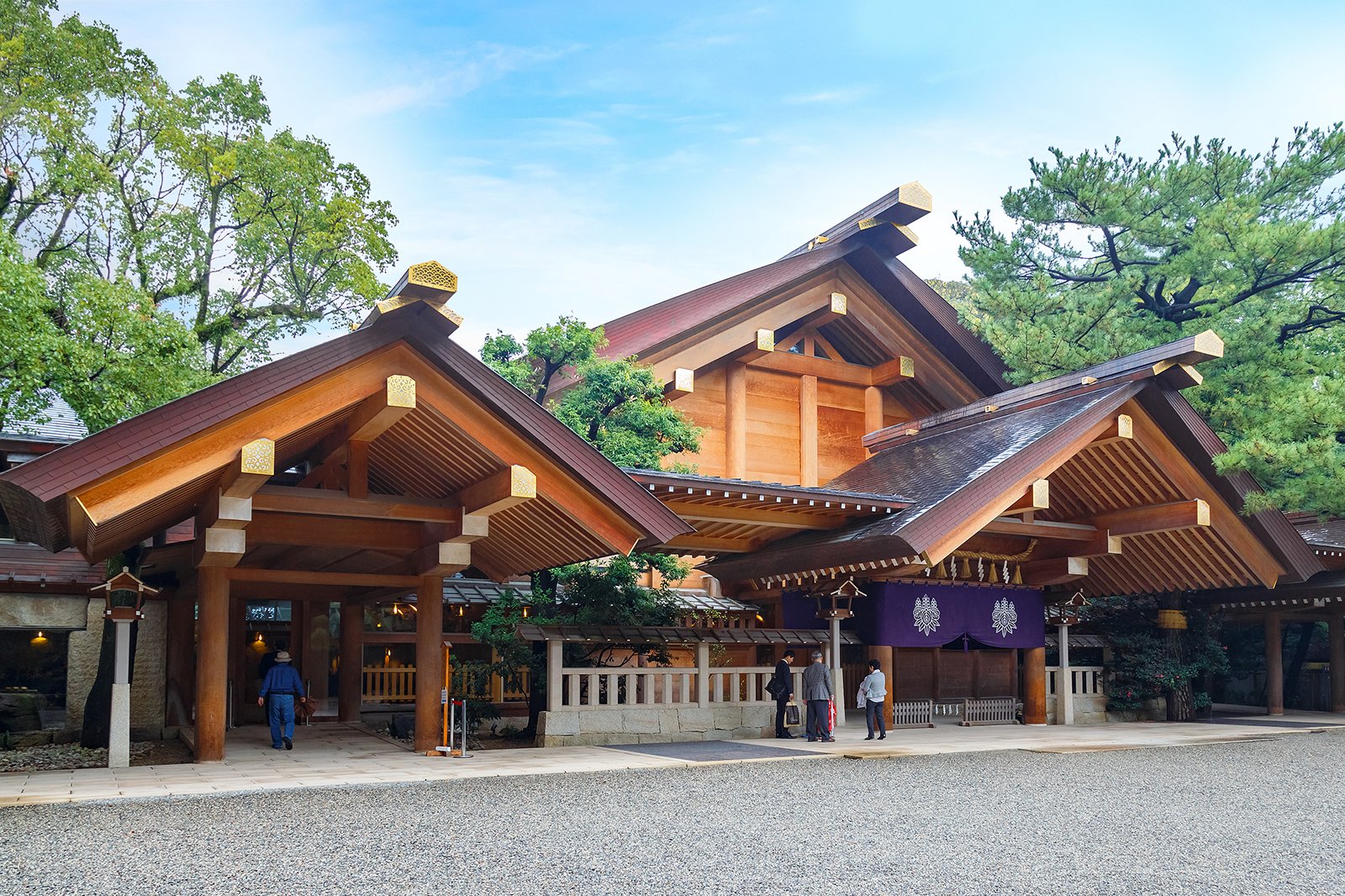 Considered one of the most important shrines in the country, Atsuta Jingu was founded about 1,900 years ago. It's famous in Japan as the home of the legendary Kusanagi-no-tsurugi sword, one of the 3 sacred treasures of the Imperial House and an extremely important Japanese icon (note: this item is not for public viewing).
There are also thousands of traditional and important cultural artifacts on display, all donated by the Japanese people, such as sacred garments, furniture, mirrors, ancient masks and documents. The Atsutajingu Shrine is located in a large compound, along with several minor buildings for weddings and tea ceremonies. To reach the shrine, take the subway to Jingu Nishi Station on the Meijo line or Jingu-Mae on the Meitetsu line.
Location: 1 Chome-1-1 Shrine, Atsuta Ward, Nagoya, Aichi Prefecture 456-8585, Japan
Open: Daily from 9am to 4.30pm (closed on the final Wednesday and Thursday of the month)
Couples
History
Photo
Budget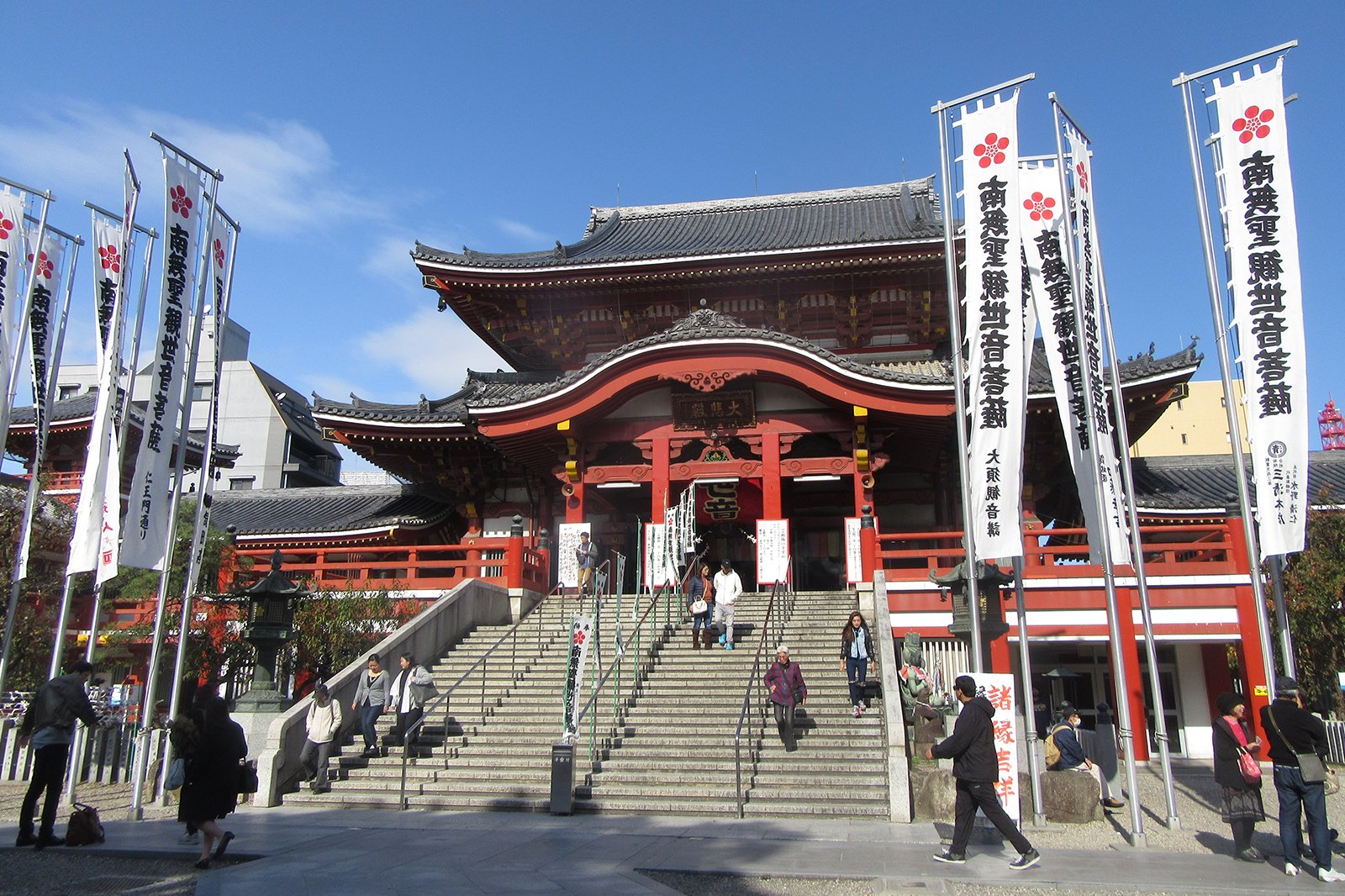 Osu Kannon Temple offers you the unique opportunity to both visit a sacred site and do some shopping. The temple, built in 1612, was moved to its present location in the 17th Century. The current temple was built in the 1970s with a Japanese pagoda, several dozen Buddha statues and a huge red paper lantern among many other interesting things.
There is a flea market held on the 18th and 28th of each month, but the Osu outdoor shopping mall, which is right next to the temple, is always active and full of life with many stores and shops selling souvenirs, household items, traditional crafts, food as well as antiques.
Location: 2 Chome-21-47 Osu, Naka Ward, Nagoya, Aichi Prefecture 460-0011, Japan
Phone: +81 (0)52-231-6525
photo by Alan & Flora Botting (CC BY-SA 2.0) modified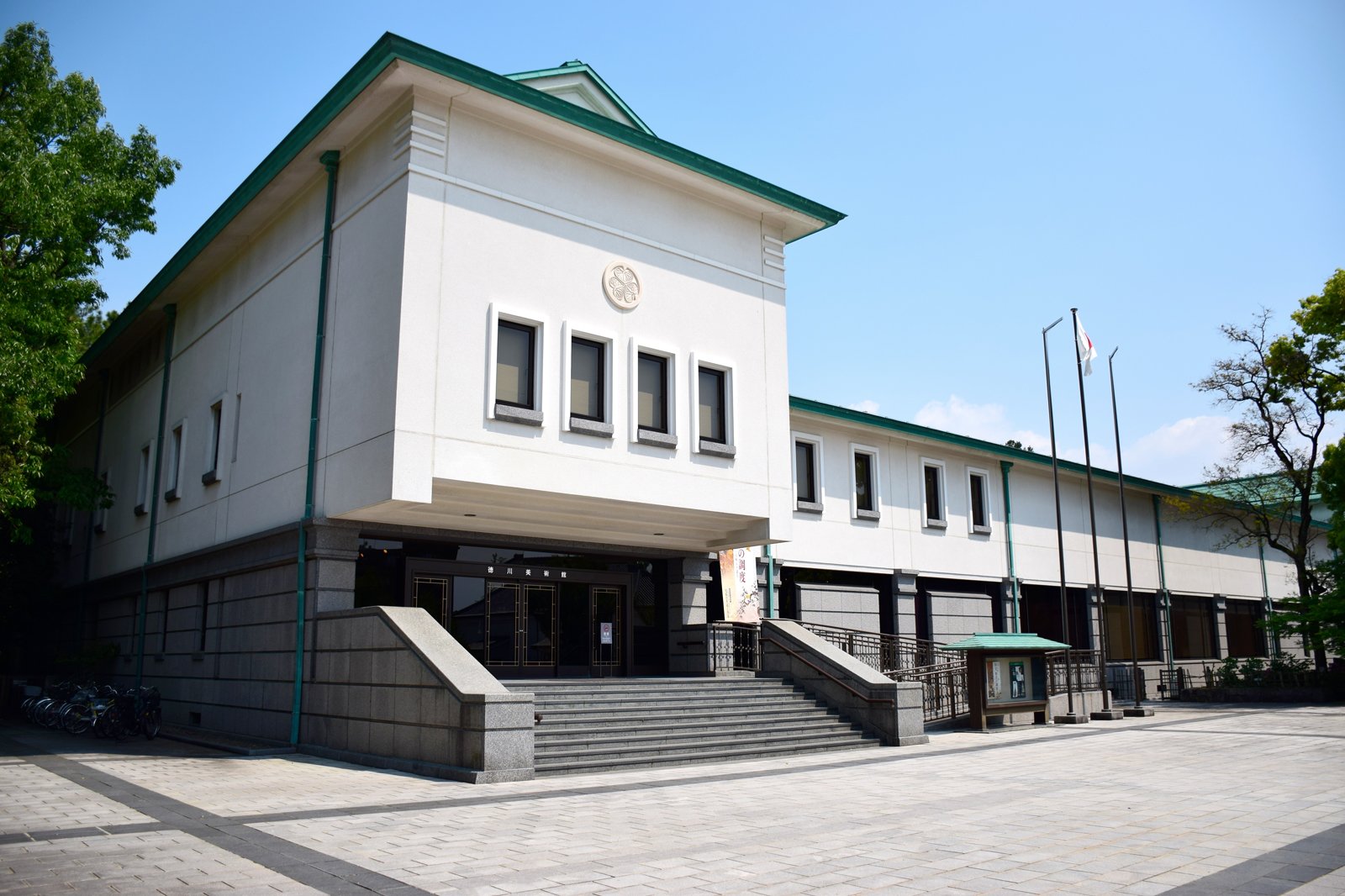 The Tokugawa Art Museum was first opened in 1935 and exhibits artefacts of the first shogun, Tokugawa Ieyasu. The museum displays several sections of the 12th Century illustrated hand-scrolls of The Tale of Genji (the world's first novel) of which you can buy a copy. Other impressive items include samurai swords, long swords, arrows and armour, the shogun's personal items, household utensils and educational tools.
You will also enjoy viewing a partial replica of a daimyo (territorial lord) residence, a noh theatre and a traditional tea house. The museum's grounds are well laid out with beautiful Zen gardens and there are many special exhibitions held throughout the year.
Location: 1017 Tokugawacho, Higashi Ward, Nagoya, Aichi Prefecture 461-0023, Japan
Open: Tuesday–Sunday from 10am to 5pm (closed on Mondays)
Phone: +81 (0)52 935 6262
photo by Bariston (CC BY-SA 4.0) modified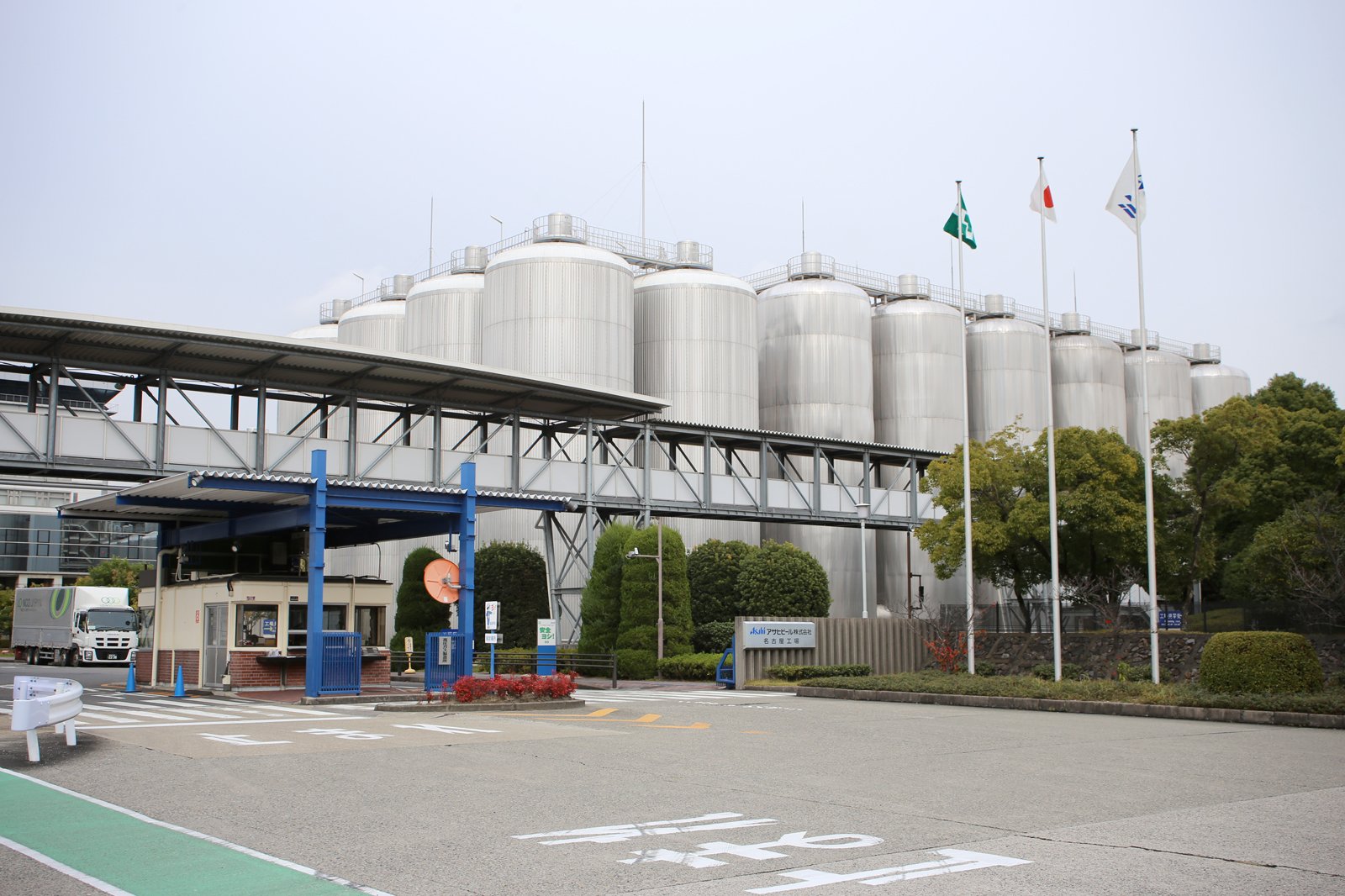 Asahi Breweries is one of the major Japanese beverage companies and has a factory near Nagoya. The place is huge and visitors who have the time can join in their full-day workshop called 'My Beer Studio' to learn first-hand how to produce beer but ostensibly they would have to come back after a month to test 'their' beer when it is ready. If you don't have that much time, a 90-minute tour of the factory will give you a good idea how Asahi produces beers. The tour starts from the beginning of production; finding the best selections of ingredients and ends at the packaging section. Afterwards visitors can taste a range of beers or Asahi non-alcoholic drinks.
Location: 318 Nishigawaracho, Moriyama Ward, Nagoya, Aichi Prefecture 463-0089, Japan
Open: Free tours Monday–Friday from 9.30am to 3pm
photo by 円周率3パーセント (CC BY-SA 4.0) modified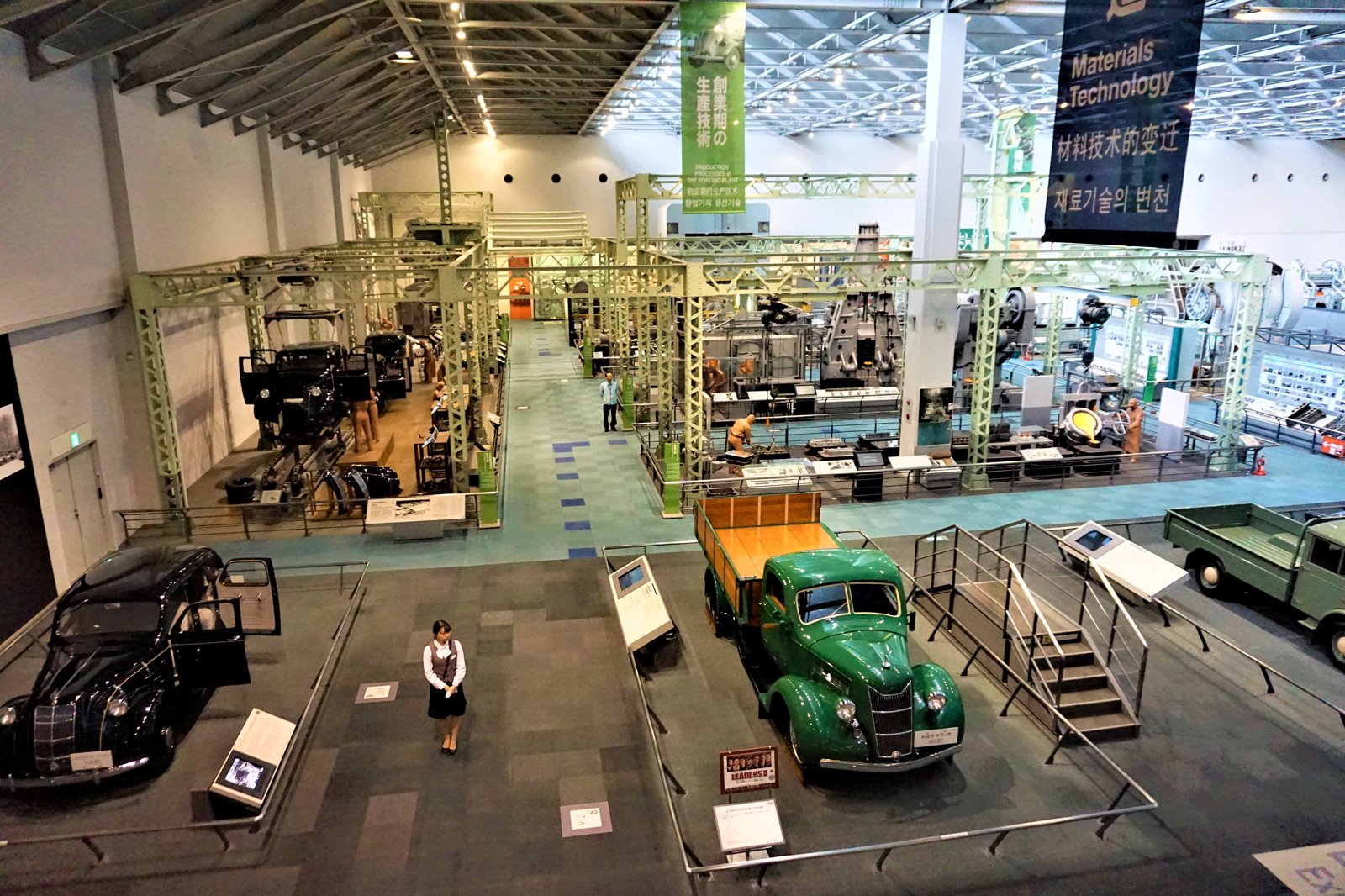 Toyota Commemorative Museum of Industry and Technology
Many people can't help but associate Nagoya with Toyota, Japan's leading car manufacturer. In fact, Toyota has its headquarters in a place called Toyota Town, one hour east of Nagoya. If you are interested in Japan's development, why not make a stop at the Toyota Commemorative Museum of Industry and Technology where they have as many as 4,000 exhibition pieces – dynamic displays of original equipment, demonstrations by operators, instructive videos, and more. This museum was designed to show visitors about textile machinery (Toyota was previously a textile weaving company), and to show the major transitions in industry and technology. Sakichi Toyoda founder of Toyota contributed greatly to the modernization of Japan and its industrial revolution. The famous Toyota 'Partner Robot' also performs frequently in the south lobby.
Museum brochures are available in 16 different languages: Japanese, English, French, German, Spanish, Italian, Russian, Arabic, Portuguese, Chinese (simplified), Chinese (traditional), Korean, Malaysian, Thai, Indonesian, and Vietnamese. A 2-week advance booking is suggested.
Location: 4 Chome-1-35 Noritakeshinmachi, Nishi-ku, Nagoya, Aichi Prefecture 451-0051, Japan
Open: Tuesday–Sunday from 9.30am to 5pm (closed on Mondays)
Phone: +81 (0)52 551 6115
photo by Joyofmuseums (CC BY-SA 4.0) modified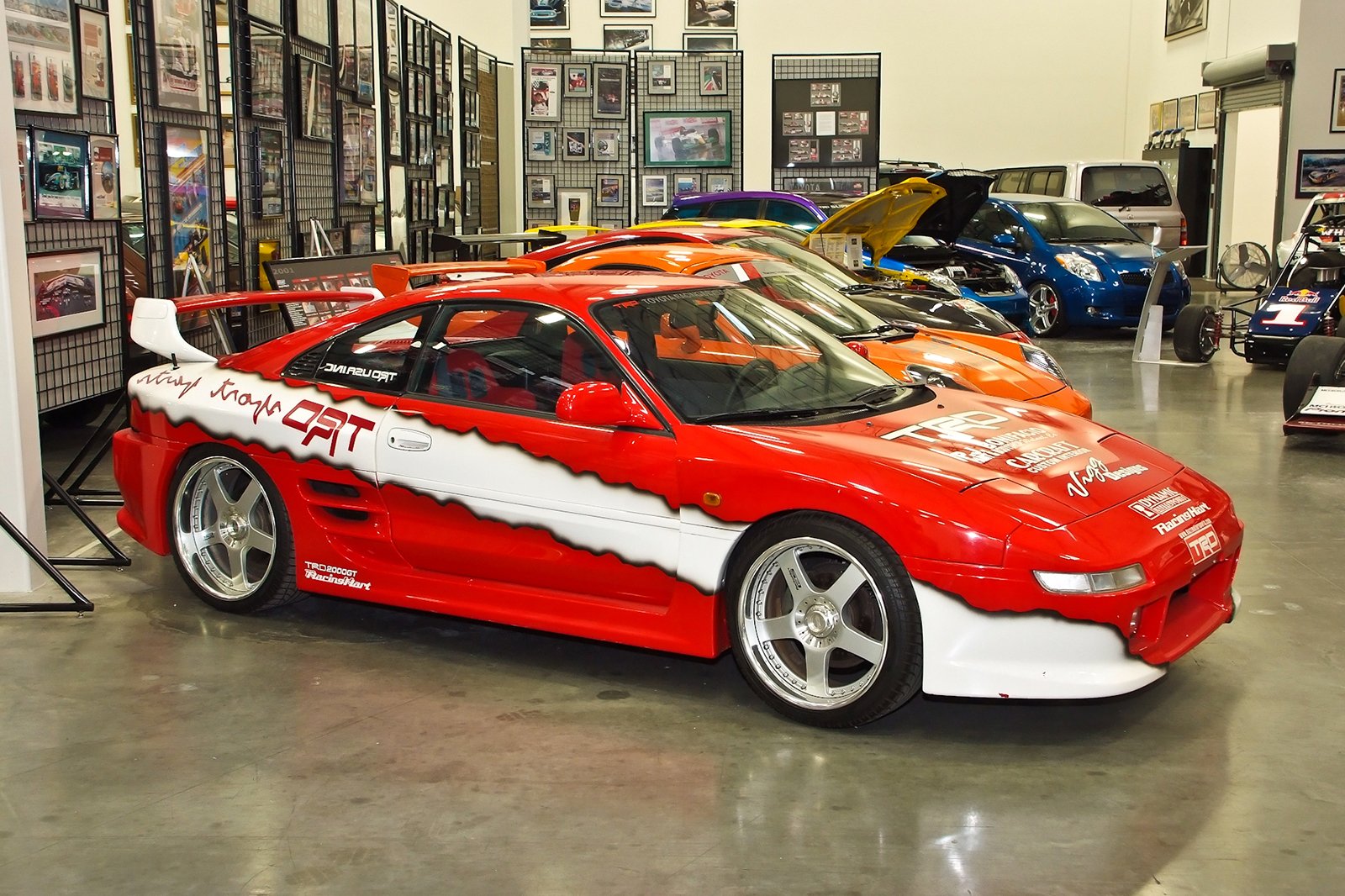 While the Toyota Commemorative Museum of Industry and Technology is focused more on Toyota's overall history, their Automobile Museum is all about cars, from Japan, America and Europe. According to their site, "The automobile has significantly influenced not only our lifestyles, but also our social structure". In the main building of the museum, which was opened in 1989, there are about 120 automobiles, dating from the end of the 19th Century when the first gasoline-powered car was built, to the present. The annex building, which was opened in April of 1999 to commemorate the 10th anniversary of the Toyota Automobile Museum, exhibits the history of Japanese motors, elaborating on the influence of the automobile on our lives and culture. Advance booking is recommended.
Location: 41-100 Yokomichi, Nagakute, Aichi Prefecture 480-1118, Japan
Open: Tuesday–Sunday from 9.30am to 5pm (closed on Mondays)
Phone: +81 (0)56 163 5151
photo by Moto "Club4AG" Miwa (CC BY 2.0) modified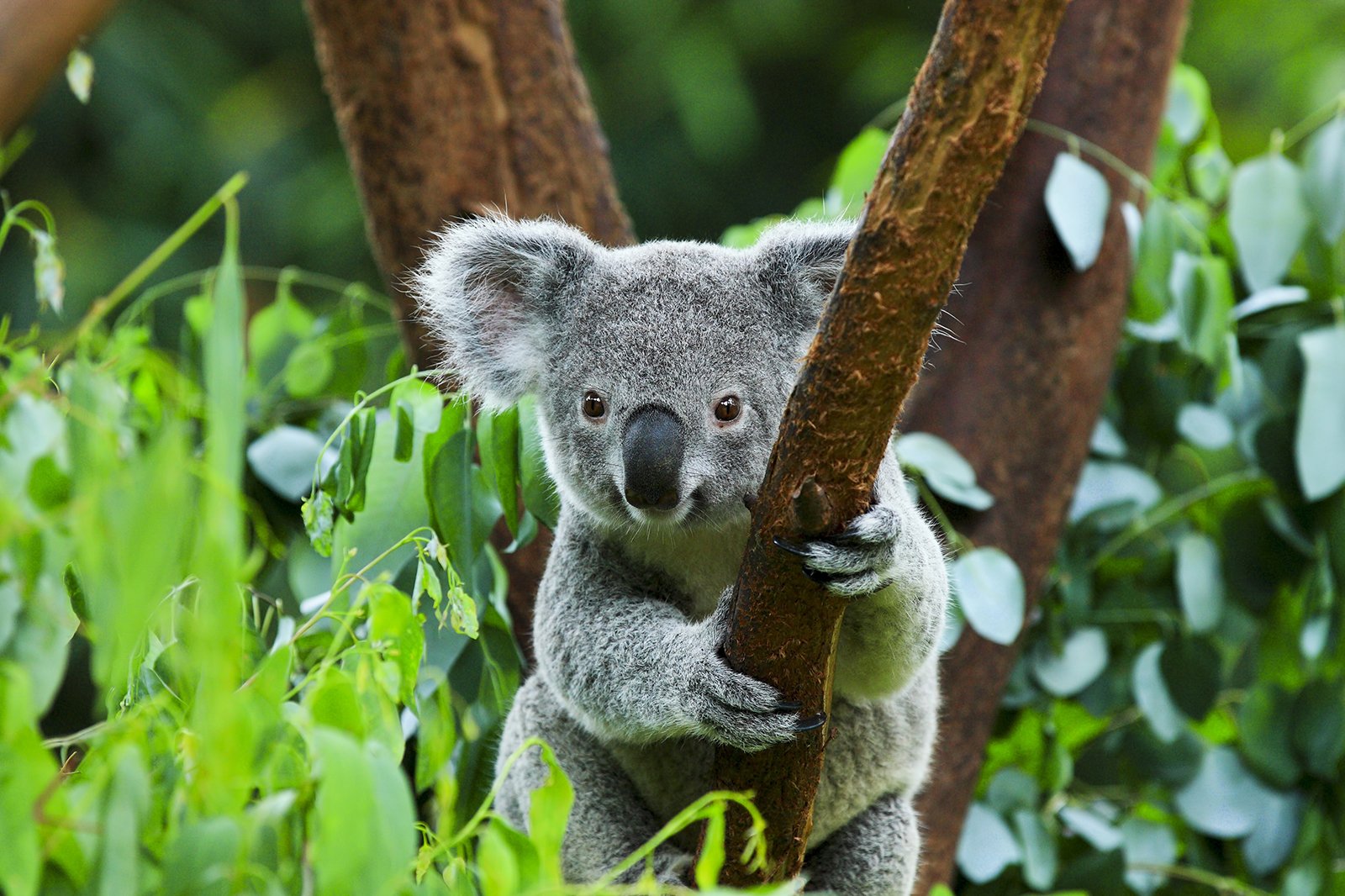 Higashiyama Zoo and Botanical Gardens
Families with young children will enjoy Nagoya's Higashiyama Zoo. Established in 1937, it's one of Asia's largest zoos and features various animals from polar bears to lions, tigers, elephants, giraffes, koalas, birds, fish and more. The Higashiyama Sky Tower, with observation decks and a 100-metre high restaurant, offers a panoramic view of the area.
The botanical gardens feature 3,000 beautiful cherry trees that blossom in spring, traditional Japanese gardens, English-style gardens, a greenhouse and an insectarium. Many locals come here to picnic or just to relax in this calm and peaceful atmosphere. The park covers quite a large area, which includes an amusement park. You will need several hours to see everything and it's best to bring some mosquito repellant.
Location: 3-70 Higashiyama Motomachi, Chikusa-Ward, Nagoya-City, Aichi Prefecture, Japan
Open: Tuesday–Sunday from 9am to 4.50pm (closed on Mondays)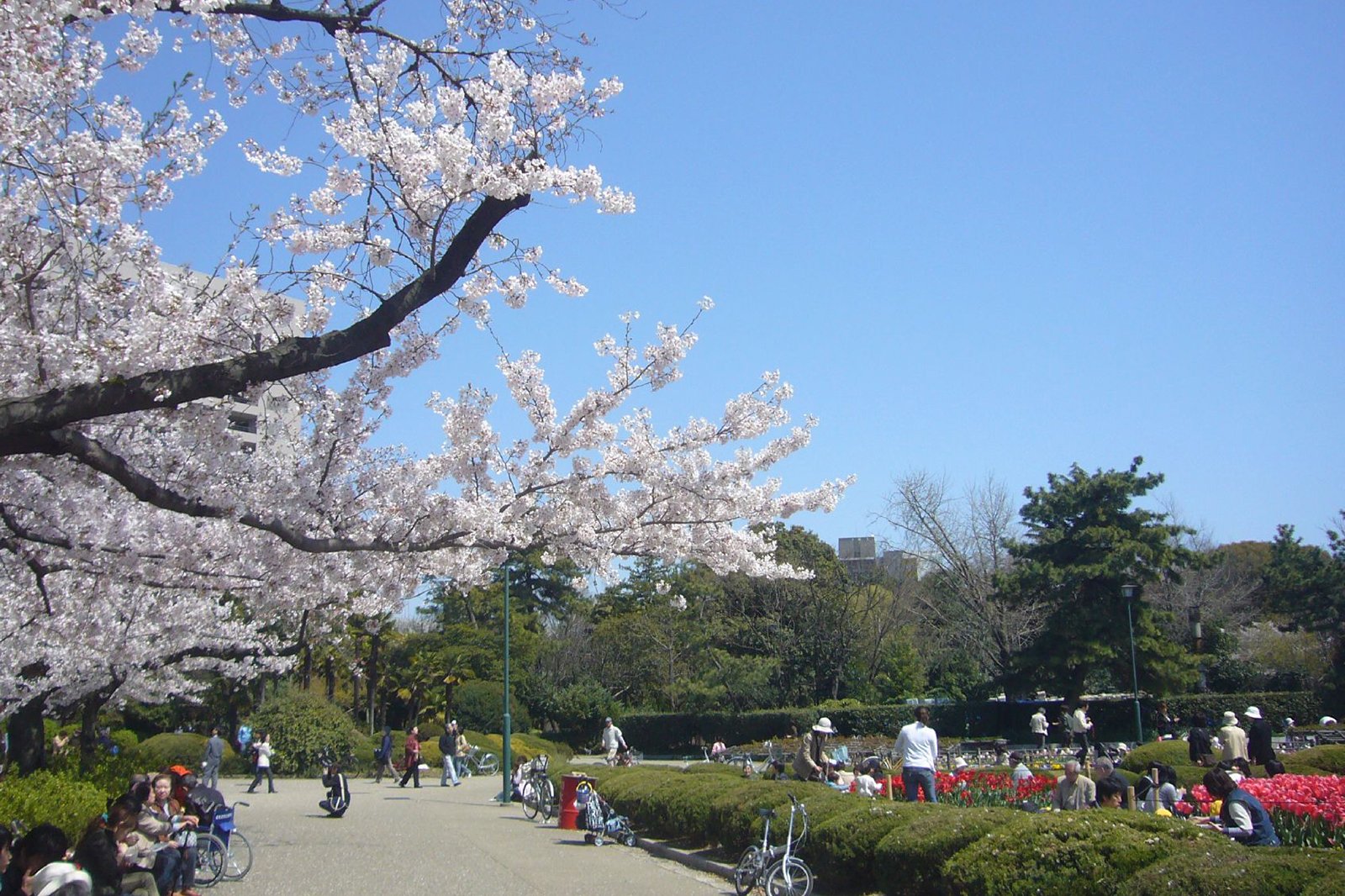 Tsurumai Park is probably at its busiest and most interesting when it is cherry blossom season from late March through April. Located in central Nagoya, this is where residents spread out blue plastic sheets under the trees and place their name cards to reserve a place. Here, you will see many families and friends picnicking, including company salary men enjoying their sake or beer after a long day at work. To reach the park, take the subway to Tsurumai station.
Location: 1 Chome Tsurumai, Showa Ward, Nagoya, Aichi Prefecture 466-0064, Japan
Couples
Families
Photo
Budget
photo by Yazan Badran (CC BY 2.0) modified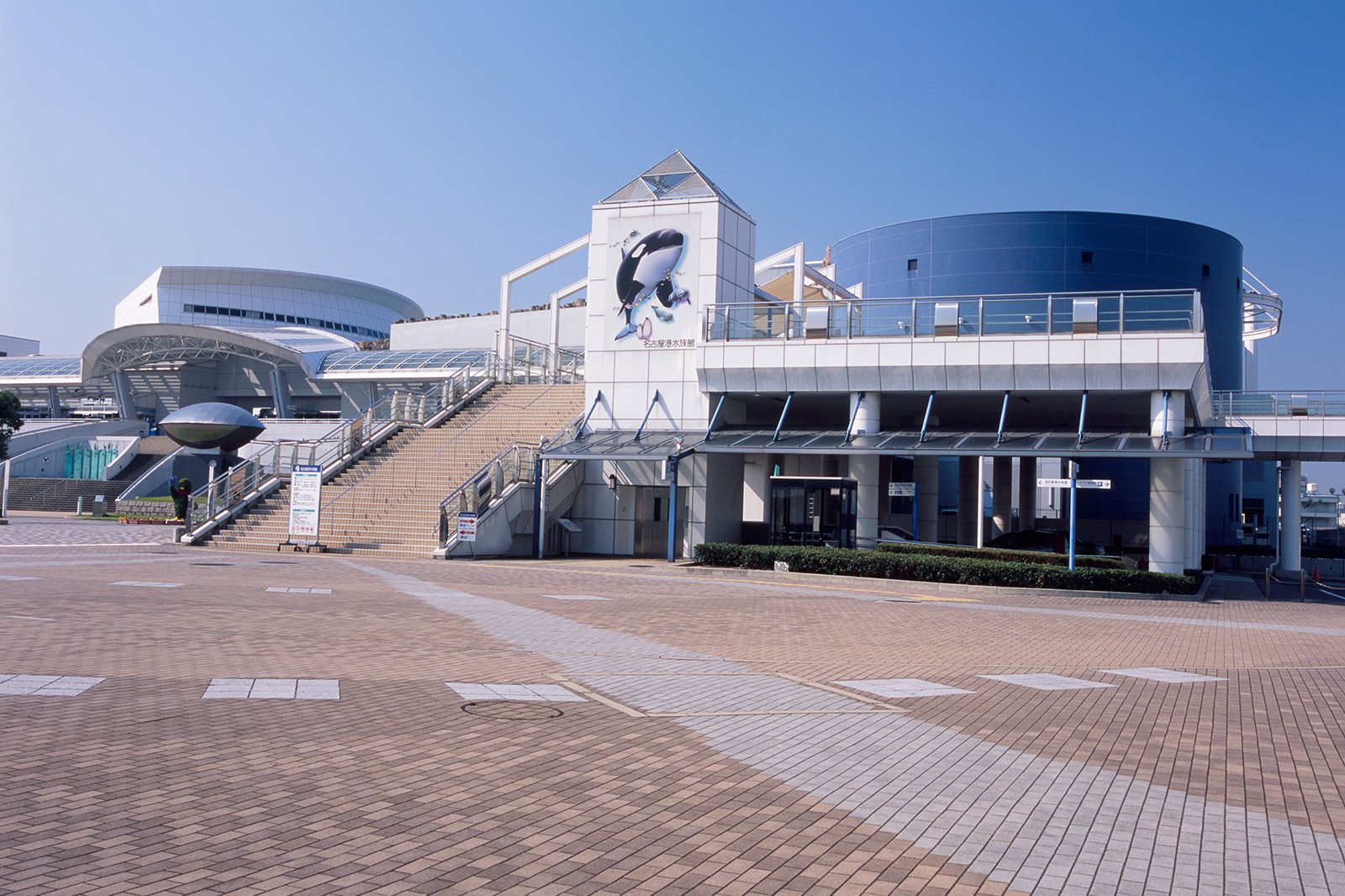 Port of Nagoya Public Aquarium
It is hard to find people who have visited and did not enjoy the Port of Nagoya Public Aquarium. This aquarium, one of Nagoya's major landmarks and one of Japan's largest aquariums, is located at the popular Nagoya Port area. The selection of marine life there is huge, ranging from penguins to turtles, Beluga whales to sharks and stingrays. The 3,000-seater dolphin show is a must and many people considered it the highlight of their trip. The aquarium is definitely a great place to take children for a half day out, plus there are many attractions within the port including a big Ferris wheel, a floating ship museum, shops and restaurants. Weekends can get crowded.
Location: 1-3 Minatomachi, Minato Ward, Nagoya, Aichi Prefecture 455-0033, Japan
Open: Tuesday-Sunday from 9.30am to 5.30pm (with some seasonal variations)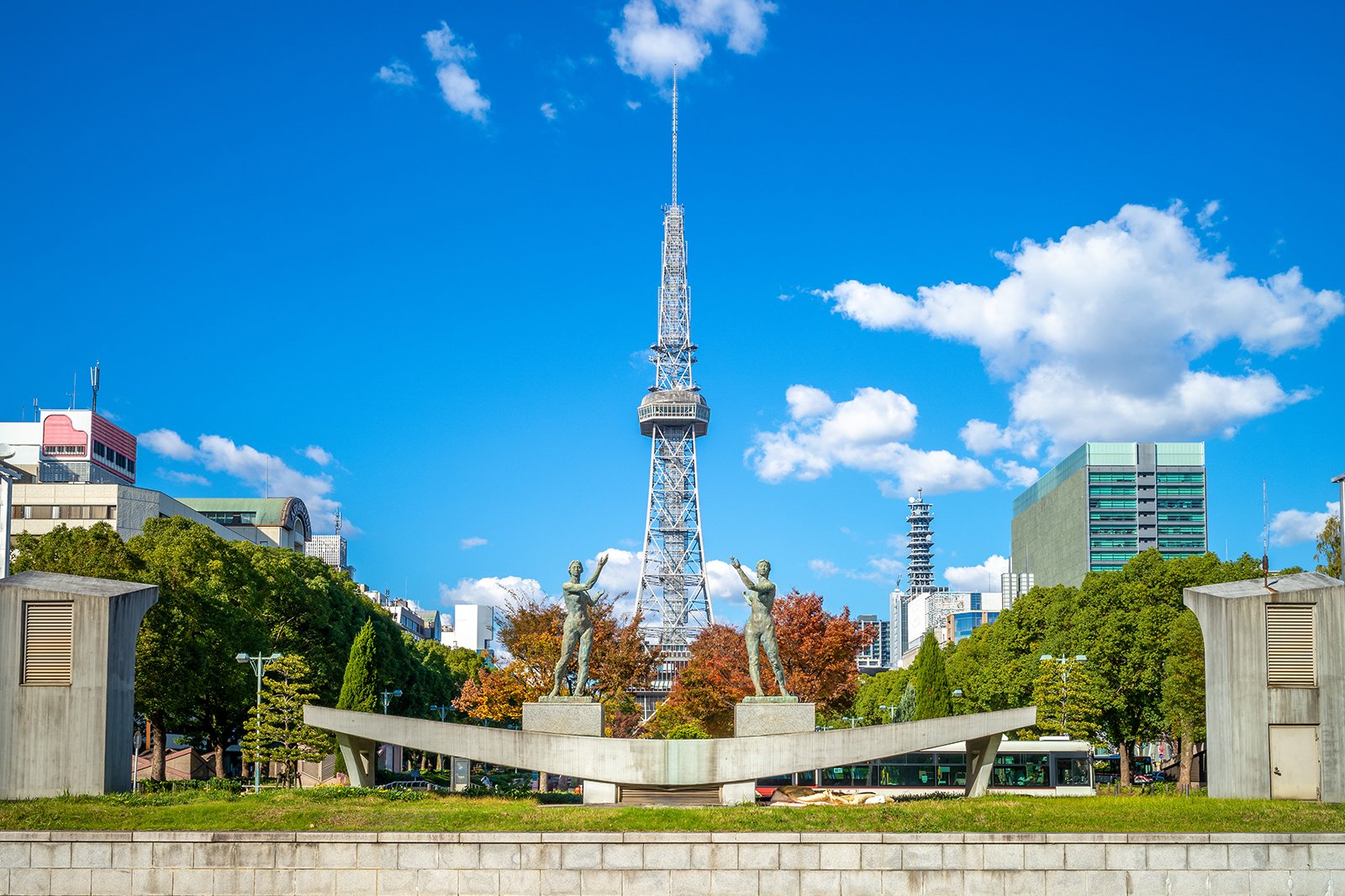 It seems that every large city in Japan has a TV tower but the tower in Nagoya is special as it happens to be the first one ever constructed in Japan. Built in 1954 and modeled on Paris's Eiffel Tower, it's located in Hisaya Odori Park in the Sakae District and is famous for its 100-metre high observation balcony. The tower itself stands 180 metres tall and has been one of Nagoya's major landmarks since its inception. It looks prettiest when lit up of an evening.
Location: 3 Chome-6-15, Nishiki, Naka Ward, Nagoya, Aichi Prefecture 460-0003, Japan
Open: Daily from 10am to 10pm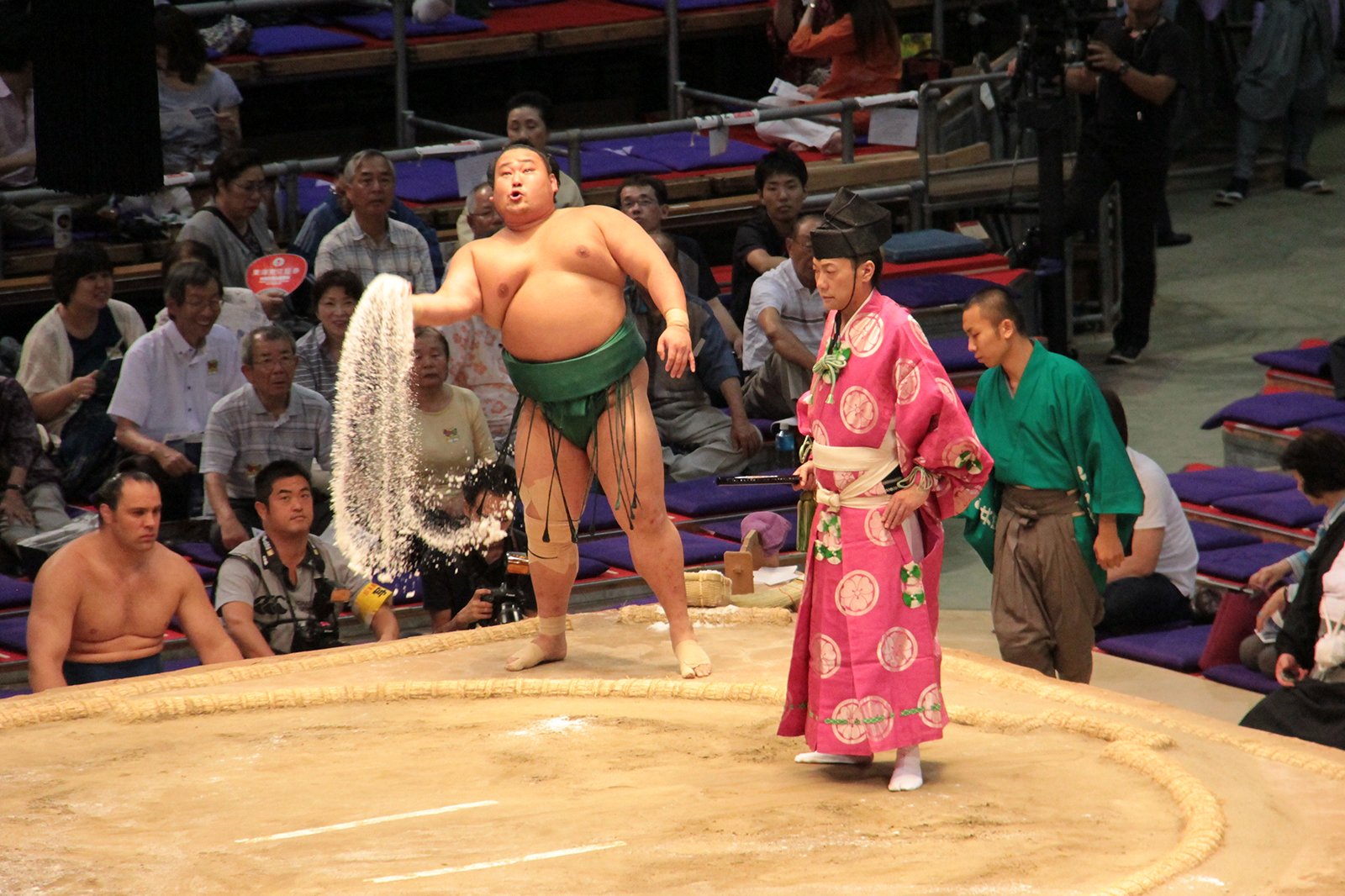 Nagoya Grand Sumo Tournament
A must for everyone who is visiting Nagoya in July is to see Japan's most beloved sport; sumo wrestling. This ancient sport has a long history dating back some 1,500 years with deep connections in the Shinto religion, and it still plays a big part in Japanese culture. People who attend a sumo tournament will have the chance to witness real sumo rituals. It is considered rude to get up and walk away right after the final match ends, and you're expected to stay for the ending ceremony which only takes a few minutes but is very important for everyone involved in the sport. There are 6 tournaments held in Japan each year and each tournament lasts 15 days. The Nagoya Grand Sumo Tournament is held in Aichi Prefectural Gymnasium.
Location: 1-1 Ninomaru, Naka Ward, Nagoya, Aichi Prefecture 460-0032, Japan
Open: From the second until the fourth Sunday in July each year.
photo by Cesar I. Martins (CC BY 2.0) modified
This small temple is famous for its 15-metre high dark-green Buddha statue, or Daibutu. Many locals go to Toganji to touch a huge wooden block, said to have healing and purging powers. The temple can get very crowded during the Benzaiten Festival held every year in early May because artists such as musicians and actors come to pay respect to the Hindu Goddess Saraswati.
Though it's located in the heart of Nagoya, Toganji's lovely gardens are surprisingly peaceful – quite a contrast to the hustle and bustle of the streets outside. Oda Nobuyuki, the lord of Suemori Castle, built this temple during the Temmon period (1532-1535) in memory of his father, Oda Nobuhide (1510-1551). The temple was named after Nobuhide's posthumous Buddhist name. It was moved to this location in 1714.
Location: In central Nagoya
Open: Daily from 09:00 – 18:00